Located in the north of Argentina, the province of Salta is one of the most wonderful areas to explore in this country.
Not only is that down to the incredible landscapes, the strong cultural traditions and beautiful wine of the region, but also to the fact that this part of Argentina is still considered off the beaten track… for foreign tourists at least!
Although well known to the Argentinians themselves, they've been keeping this remote region, which borders Bolivia, a secret for ages, but thankfully (or perhaps unthankfully) it's now creeping more onto the traveller radar!
I actually spent most of my time in Argentina in the Salta province after I fell in love with its desert colours, hot dry altitude views, relaxed pace of life and vast array of places to explore.
So if you're up for bucking the trend in Argentina (ta trend which seems most travellers scurrying south to Bariloche and Patagonia), then why not consider visiting the north of the country instead.
And to wet your wanderlust whistle a little more, here's my list of the 13 top things to do in Salta Argentina, as well my 7 top tips for travel in this region…
---
Related Posts
---
This page contains affiliate links meaning Big World Small Pockets may receive a small commission on any purchases at no extra cost to you.
---
A Quick Word About Salta, Argentina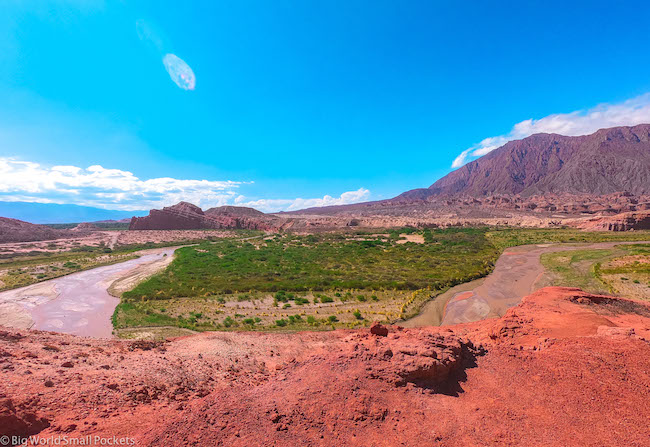 To save any confusion later on, I thought it might be worth a quick note at the beginning of this article to point out that Salta refers to both the name of the Argentinian province, as well as this province's capital.
As such, Salta is both a region and a city.
For the purposes of this article, I'm going to discuss the best 13 things to do in the province of Salta because, for me, it's actually outside of its capital city that the greatest treasures lie.
And, if you're looking to include the Salta region as part of a wider Argentina trip, which you definitely should (!) then check out this itinerary I put together for some top planning tips.
Tip #1 Where To Base Yourself in Salta?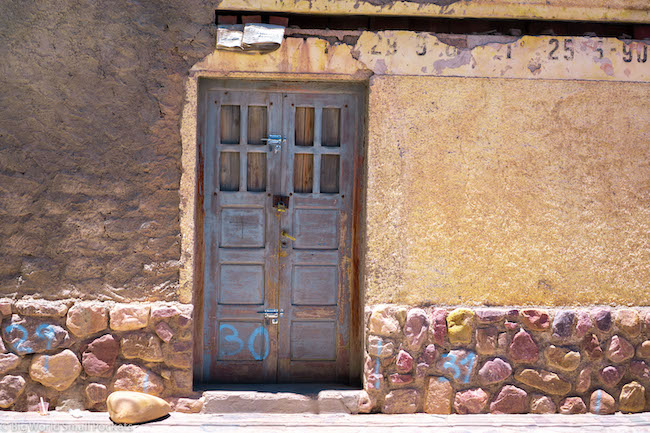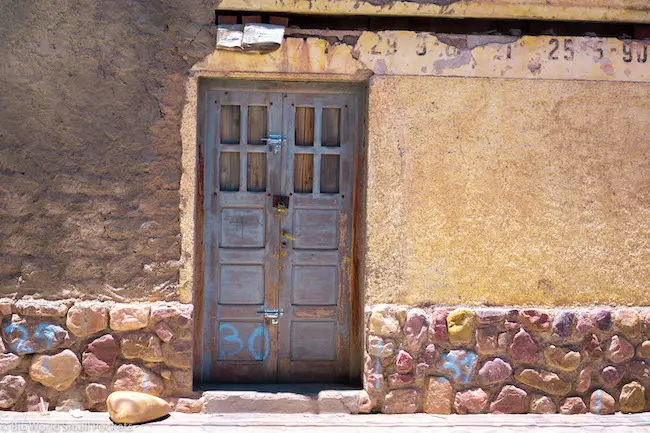 And it's for exactly that reason that I actually recommend bucking the trend and basing yourself outside of the city when you explore the Salta region.
There's no question most travellers don't realise how amazing this province is, or how much there is to do around, so they tend to base themselves in the city of Salta and simply, day trip from there.
But in my opinion, if you do this, you are doing the region a serious injustice!
Salta is huge and, as I said before, most of its top attractions lie in the surrounding countryside.
For that reason, I really recommend basing yourself in destinations beyond its main city.
If you're travelling independently and want to have a base, then the towns of Humahuaca and Cafayate make lovely spots from which to explore their respective surrounds and both are chock full of things to do.
If you're travelling with a vehicle, so able to road trip and move more freely, then I suggest changing your base location every night / couple of nights so you get to see as much of Salta as possible.
Other good base towns include Tilcara, Purmamarca and Cachi.
Check out top accommodation options in this region below…
Tip #2 How Long to Visit For?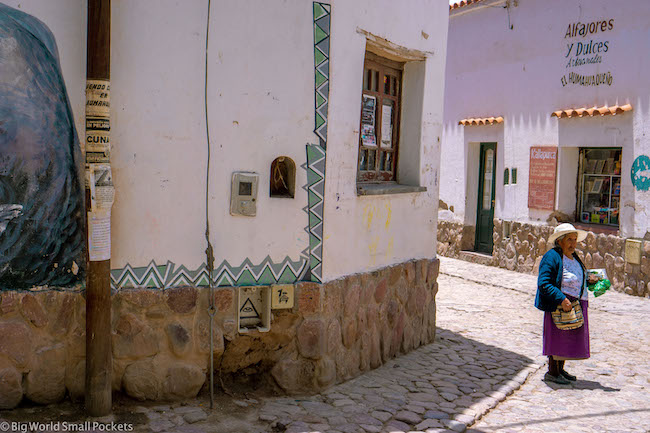 Which leads me on nicely to my next Salta travel tip, which is about how long should you spend in this region.
The answer, of course, depends on your overall trip length, but the one thing you shouldn't do is underestimate distances and the amount of things to explore in this part of Argentina.
At a minimum, I'd allow for a stay of 3 nights in Humahuaca and 2 nights in Cafayate.
Depending on your transport connections, you may need to spend a night in the city of Salta too and if you want to get off the beaten track, to say the town of Iruya, then allow a couple of extra nights as well.
Don't forget it also takes time to get around here.
Travelling from Humahuaca to Cafayate will take you a full day, especially if you're on public transport, so you may want to allow extra days for journeys or for stops in between too.
All in all, 7-10 days is a great amount of time to spend in the area of Salta.
Anything less than 4 and you're likely to leave feeling more frustrated about the amount you didn't see compared to the amount you did!
Things to Do in Salta, Argentina
And on that note, it's now time to get on with exactly that list of what you can see and do here – the 13 best things to do in the Argentinian province of Salta.
Once they've convinced you to visit the area, scroll down to the bottom of this article to read the other top 5 Salta travel tips I've got to share.
#1 Marvel at the Quebrada de Humahuaca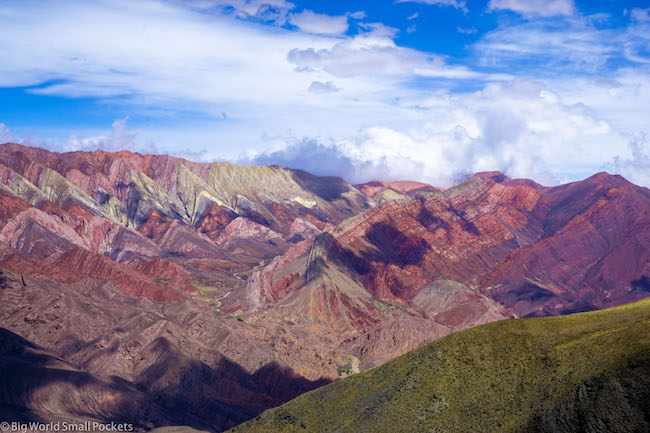 Have you heard of Rainbow Mountain in Peru?
The one that has 7 colours?
Well, move aside crowded and expensive Rainbow Mountain, because there's a new kid in town!
Yup, the Quebrada de Humahuaca, located in the province of Salta, is a 14 coloured mountain with hardly any tourists and sits at a much more manageable altitude!
Formed by minerals in the rock, this spectacle is absolutely huge, cheap to enter and UNESCO-listed.
It's situated just a short drive from the town of Humahuaca (meaning you can visit in a few hours as opposed to a whole day) and is absolutely one of this country greatest marvels.
It's best to visit in the afternoon when the sun shows the colours at their best and a return 4×4 drive from the town costs 500 pesos for 4 people.
Don't forget your camera!
#2 Explore the Historic City of Salta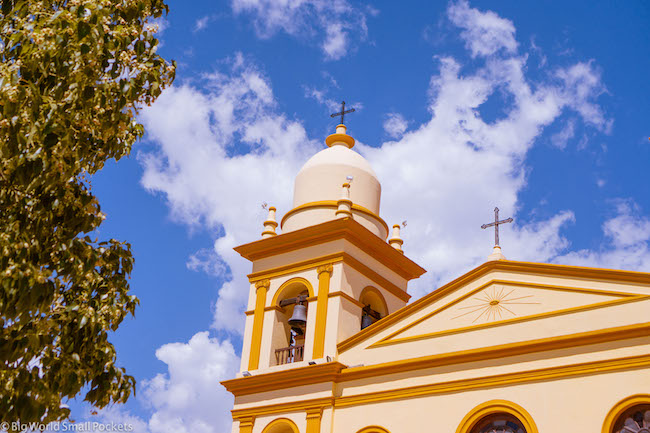 The provincial capital, Salta, is worth 1 night of your itinerary in this region and the top thing to enjoy here is wandering the historic centre of this charming city.
The central square is thronged by stately buildings and statues, as well as leafy squares and benches with great people-watching opps.
San Lorenzo Church is worth a visit too, as are the parklands you will find between the city's bus station and central square – Plaza 9 de Julio.
Chiromoyo Vegetarian Restaurant and Greeners were my choice for top cafes in Salta!
It's also useful to know that there's left luggage at Salta Bus Station, so if you have a few hours between bus connections you can wander in and enjoy the city without having to spend the night.
#3 Sip Wine in Cafayate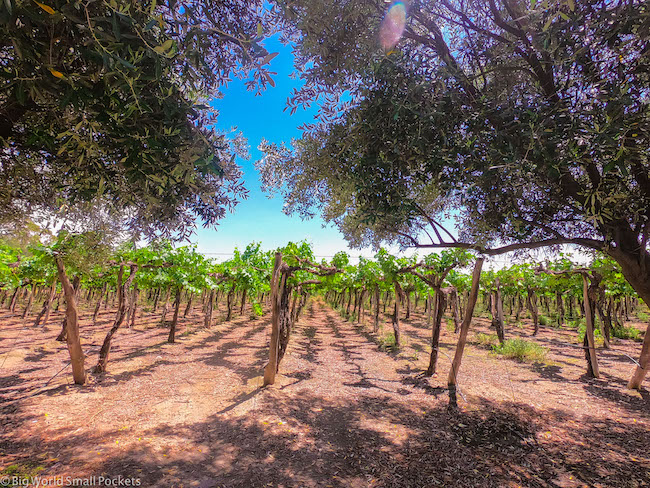 And one of the places you're likely to connect through Salta for is the amazing town of Cafayate, famous for its wine-growing.
Heading to this cute-as-a-button ,small town is absolutely one of the best things to do in Salta, Argentina because, even if you're not into the wine, the gorgeous scenery and chilled vibes here are hard to beat.
Wander the town in the morning before hitting up the bodegas to enjoy tastings of the local tipple in the afternoon.
Alternatively, you can hire a bike (easily arranged from the travel agent in the central square) and cycle Route 40 to discover more vineyards and views.
There's also some ruins just outside the town you can head to, otherwise the semi-alternative vibes of Cafayate mean there's plenty of cute shops, yoga studios, local markets and health food stores to get lost in!
There's also a lovely waterfall you can cycle as well, but sadly, at the time of my visit, it was closed due to a community issue.
The bus station for Cafayate is set just out of the town (it's walkable) and bus tickets for transport to neighbouring cities need to be booked a day in advance.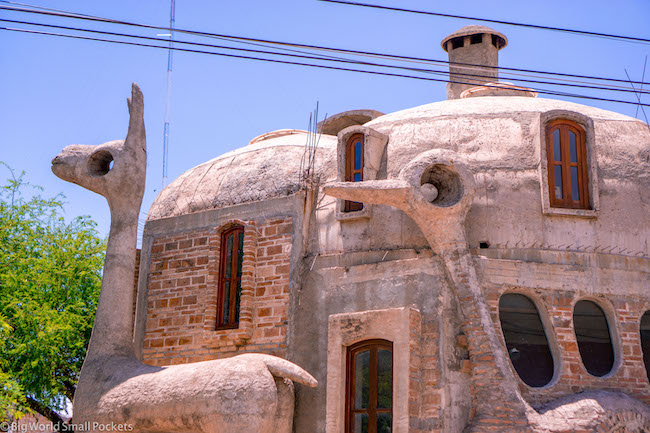 #4 Head Up to Cerro San Bernardo
Now we head back to the city for number 4 on this list of the best things to do in Salta.
The Cerro San Bernado is the hill that dominates the province's capital and you can't miss it!
Getting to the top to admire the view is a must – I suggest catching the teleferico up there and then walking down, especially if you're visiting during the midday sun like I did!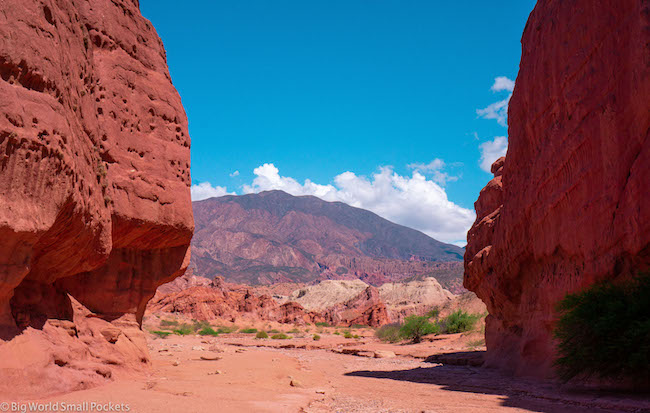 #5 Snap Salinas Grandes
When you head north of out Salta, towards the city of San Salvador de Jujuy, the first town you'll reach after Jujuy is Purmamarca.
This is where most day-trippers from Salta head, and while it can become overcrowded as a result, there's still a couple of the great things to see here.
One of these is the Salinas Grandes, essentially some giant Salt Lakes.
If you've been to Uyuni in Bolivia, you'll have some idea about what to expect, but personally, these giant white flats situated at altitude amidst a dry desert never fail to amaze me!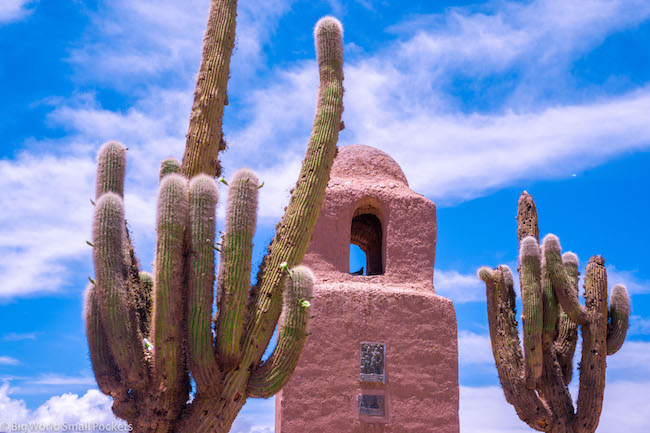 #6 Take the Cloud Train
Not a cheap option on this list of the best things to do in Salta, but certainly very novel all the less, this is one of the best train journeys to enjoy in South America.
El Tren a Las Nubes is the 5th highest railway in the world and is now considered a heritage line as it runs for primarily for tourists.
Departing from Salta, the unique zigzag formation allows the train to climb the necessary heights, making it quite the experience.
#7 Go Remote in Iruya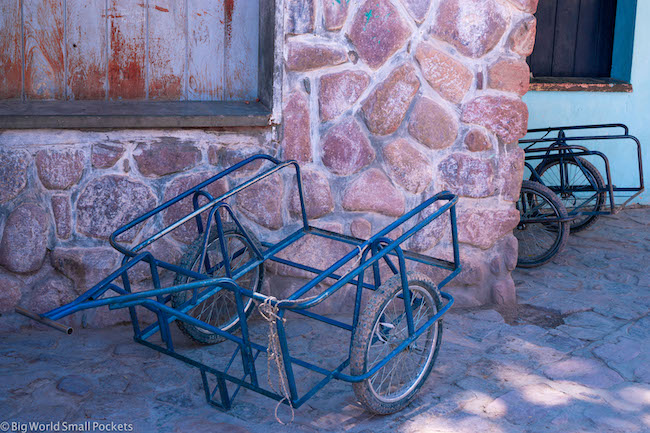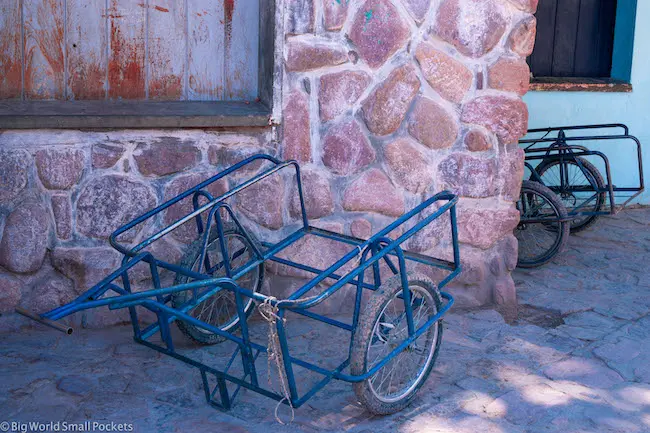 And now for something totally different, it's time to get off the beaten track in Salta, far away from tourist trains and head to Iruya.
Right in the north of the province, this remote destination is accessed from Humahuaca, but still takes around 3 hours from there as you travel deep into the mountainous desert.
Known to Argentinian travellers but not really to foreign ones, Iruya is a treat to find if you want to stop, chill and hang for a few days amidst some pretty stunning surrounds.
The nearby village of San Isidro is another hotspot to check out while you are here.
#8 Hike to Gargantia Del Diablo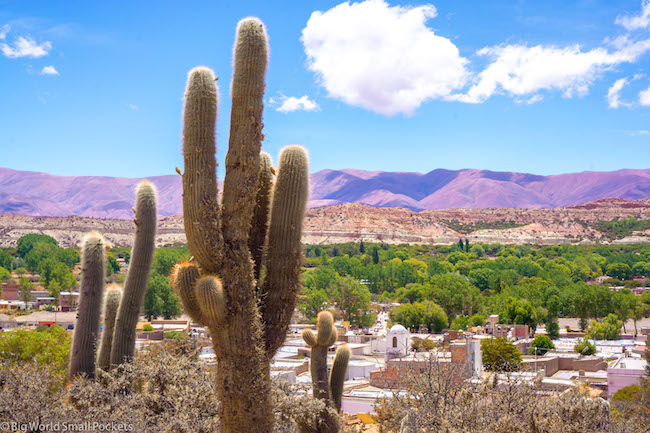 Now back down south we go to the town of Tilcara.
Many people base themselves here instead of Humahuaca, but personally I found it a bit more commercialised.
Nevertheless, the fabulous waterfall at Gargantia Del Diablo here (the Devil's Throat) and the famous pre-Inca ruins of Pucara de Tilcara dating back 10,000 years are certainly worth a visit.
Hiking to both is possible from the centre of town (about 15 minutes for the ruins) where the bus will drop you off and there's plenty of photo opps on the way.
It's good to know that you can day trip to Tilcara from Humhuaca if you don't want to stay here – this would certainly be my suggestion.
#9 Explore Quebrada De Las Conchas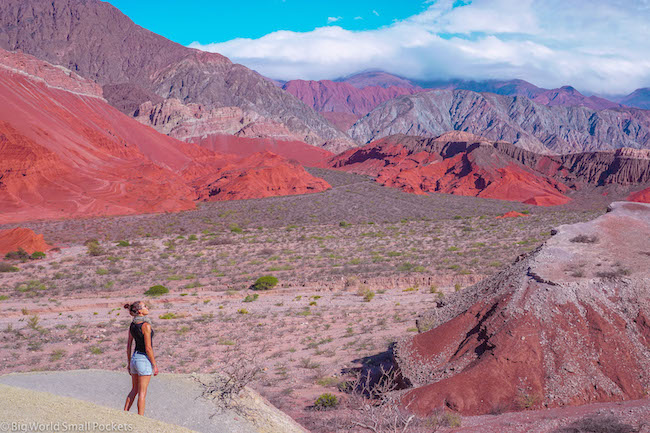 And talking of photo opps, it's hard to beat the second Quebrada (ravine) in this region, which sits outside the town of Cafayate.
Also known as Quebrada de Las Conchas (ravine of the shells), it's hard to believe how closely this insane desert landscape is situated next to fertile vineyards.
Taking an afternoon trip to visit the spectacular natural features of this landscape is the best option if you don't have a car and costs roughly 800 pesos per person.
Group tours run daily and are operated by the tourist agency in Cafayate's central square, beginning at 2:30pm and dropping you back in town at 7:30pm.
Make sure to take sunscreen, sunhat, water, camera and walking shoes.
If you're looking for somewhere to stay in Cafayate, I highly recommend Casa De Huesped as a great choice for budget travellers.
I loved the homely feel, cute garden and sense of tranquility there.
#10 Day Trip to the 7 Coloured Mountain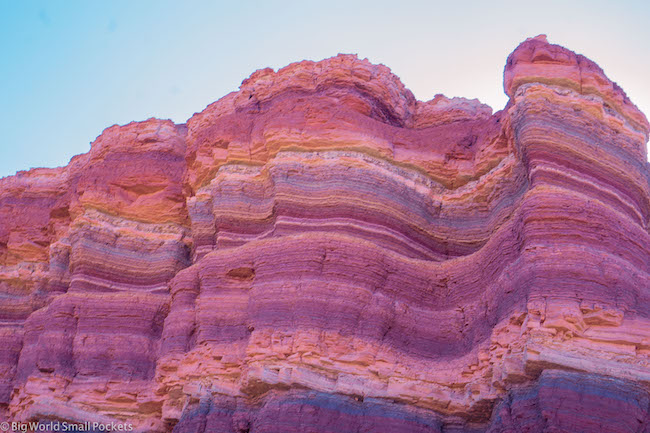 We touched on Purmamarca when we discussed #5 on this list of the best places to visit in Salta – Salinas Grandes.
But Purmamarca is also famous for another attraction outside the salt lakes, and that is the 7 coloured mountain.
Personally, I don't think it's a patch on the 14-coloured bad boy in Humahuaca, but if you only have a short time to visit the region from Salta, you may have to settle for this guy!
Sorry, I'm being facetious, but I was spoilt on coloured mountains by this point after Peru's version too!
If you haven't seen one before you'll be delighted, just as I would have been!
#11 Don't Miss Cachi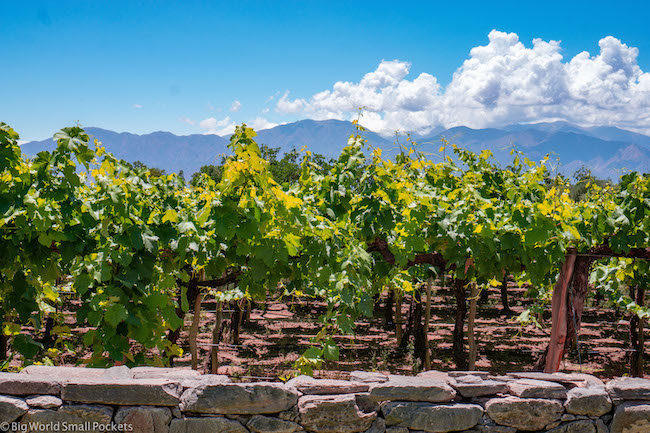 Sorry, we're skipping around all over the place here, but sometimes that's just how it goes!
Because, for number 11 on this list, we hop back towards Cafayate and the nearby town of Cachi – again a wonderful town full of wine tasting possibilities and magnificent desert scenery, Cachi is a great option for those with their own transport
That's because it's hard to get here on public transport and also difficult to get around, which you'll want to when you learn about all its amazing vineyards and the area's snow-topped mountain backdrop!
#12 Experience the Local Vibes in Humahuaca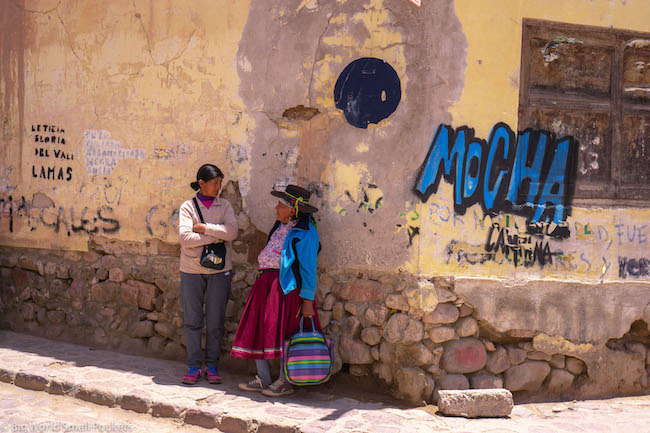 And now we skip back to Humahuaca as the list draws to a close, just because it was probs my favourite place in the whole Salta region.
I'm not sure why, but I just fell in love with the feels and views in this wild west, dry desert, cowboy cobbled town.
Humahuaca has the strongest sense of traditional culture this part of Argentina is known for too and, despite the tourists, it still feels delightful authentic and quaint.
That's why I recommend this town as a base in Salta and when it comes to great places to stay on a budget, you can't overlook the delightful Hostel Le Humahuaca with its top location and friendly staff.
Stroll the central town in the morning, visiting the church, the central plaza, the market and the memorial, before hitting up the nearby village of Uquia in the afternoon where some great hikes await, including to La Quebrada De Las Señoritas.
#13 Eat!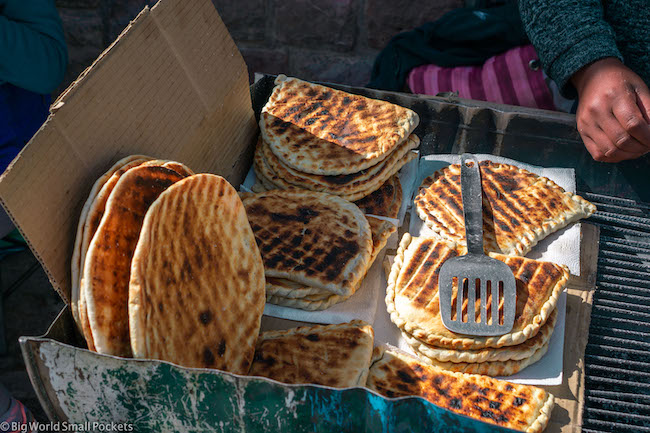 And part of the unique culture found in this part of Argentina is the food!
Yes Salta is famous for its food the country over, and sampling the best of it right here should not be missed.
Whether that's hitting up a local restaurant for dinner, browsing a local market for lunch or picking up a hot steaming Tortilla Relleno off a street grill for 50 pesos as a snack, the choice is yours.
Although personally, I suggest doing all 3!
And now it's time to get back to my Salta travel tips!
Tip #3 How To Get From Buenos Aires to Salta?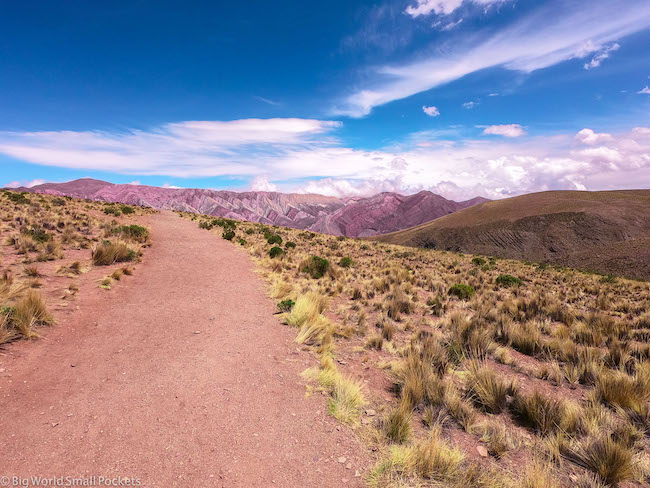 Salta is a heck of a long way from Buenos Aires because, if you weren't already aware, Argentina is a massive country.
I actually reached Salta after travelling over the border from Bolivia, which is actually a shorter journey that coming from Argentina's capital.
From the border town, it took me just 2.5 hours to reach Humahuaca.
Learn more about how I made this border crossing independently in this post I wrote about travelling from Uyuni in Bolivia to Salta.
If you are coming from Buenos Aires to Salta however, it's likely you're going to take a domestic flight.
Regular flights leave Buenos Aires (just always double-check which airport, because this city has 2) and arrive into both the city of Salta and the province's second city of San Salvador de Jujuy.
If you're heading to Cafayate and Cachi first, then the city of Salta is closest.
If you're heading north to Purmamarca, Tilcara or Humahuaca, then Jujuy may be the better option for you.
As always, I recommend checking Skyscanner for the best deals on flights, because these guys also include low-cost carriers in their flight comparison and this is definitely key in Argentina.
Salta also makes a good stop enroute to the Argentinian wine region of Mendoza or the famous Atacama Desert in Chile.
If you're watching your carbon footprint, like I was, then you may be prepared to catch the bus to Salta.
But do be prepared this will take a LONG time!
To break up the journey, I suggest stopping in the fun student city of Cordoba enroute.
You can get night buses here and it makes getting from Buenos Aires to Salta much more manageable.
Always book your buses in Argentina using Platforma 10 – the greatest tip a local ever gave me!
Tip #4 How to Get Around Salta?
Once you're in the province of Salta, you've got 2 main options to get around.
First up is taking local buses, the second is renting a car and organising a self-drive.
The third is hitchhiking, but I'm not going to go into that here!
If you're travelling alone or on a budget, then local buses will work well for you.
There are central stations in both the cities of Salta and Jujuy, which you can use to connect to all the regional towns in the area you may want to visit or base yourself.
Buses in Argentina are very organised – you need to buy a ticket at the counter, head to the relevant platform and then pay to store any luggage in the hold.
Generally buses run on time, and are pretty frequent Mon-Sat during the day.
As an example of distance, it will take you around 4 hours to get from Salta to Cafayate (at a cost of 435 pesos) on a bus and around 5 hours to get from Salta to Humahuaca on a bus.
For those short on time, travelling in a couple or group, or with a bit more cash, hiring a car is a great option when it comes to exploring the Salta region.
Doing this will give you a lot more independence, flexibility and the chance to get off the beaten track, which is what this part of Argentina is all about!
Renting cars is possible in the city of Salta and driving around is quite straightforward due to the rural and relaxed nature of life here. Get a great deal here.
Tip #5 Top Salta Tours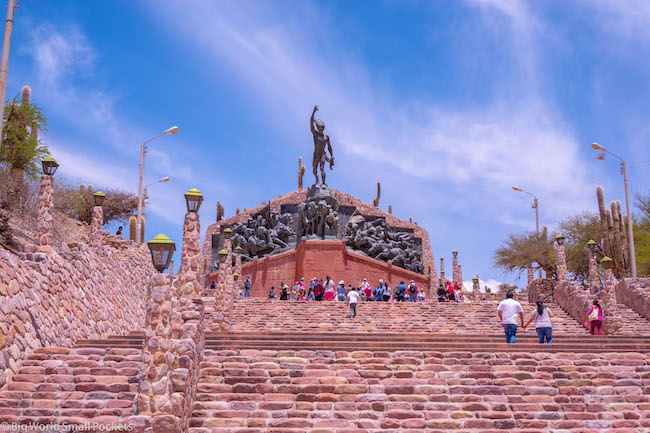 Of course, if you don't fancy buses or renting a car, you can also take a Salta tour.
Tours from the city of Salta include both multi-day excursions that take you to many different sights and towns, as well as day trips to some of the attractions nearer the city.
If you want to take a day trip from the city of Salta, check out these 4 great options:
Otherwise, if you're not totally comfortable with travelling this region independently, then a mulit-day tour is a great option that will have you seeing the best of Salta safely, securely and easily.
Check out these top picks for some super ideas and prices.
Tip #6 Safety in Salta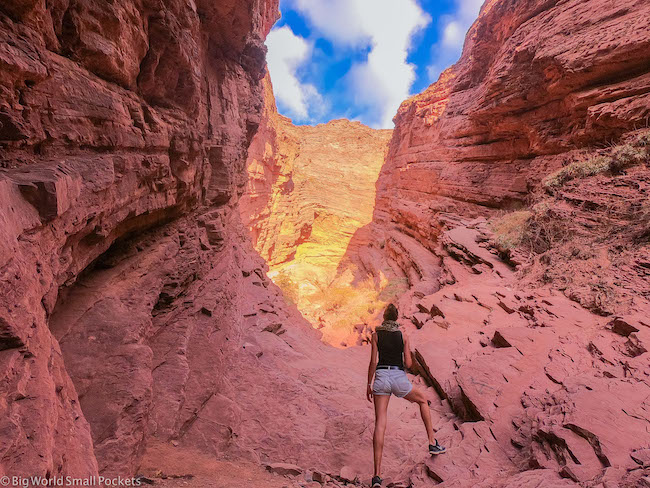 I travelled in Salta as a solo female backpacker and felt incredibly safe the whole time.
The rural and small-town feel of much of this province added to the sense of ease and comfort I felt.
Public transport was easy and night buses seemed very secure.
World Nomads offers simple and flexible travel insurance. Buy at home or while travelling and claim online from anywhere in the world.
Alternatively, if you're a long-term traveller, digital nomad or frequent remote worker seeking travel health cover, check out Safetywing's Nomad Insurance policies.
To further help feeling safe when travelling in Argentina, I highly recommend picking up a local SIM card when you arrive.
That way, you can always communicate with people, check maps and book accommodation when you're on the move or if plans suddenly change.
Tip #7 Essential Packing Items for Salta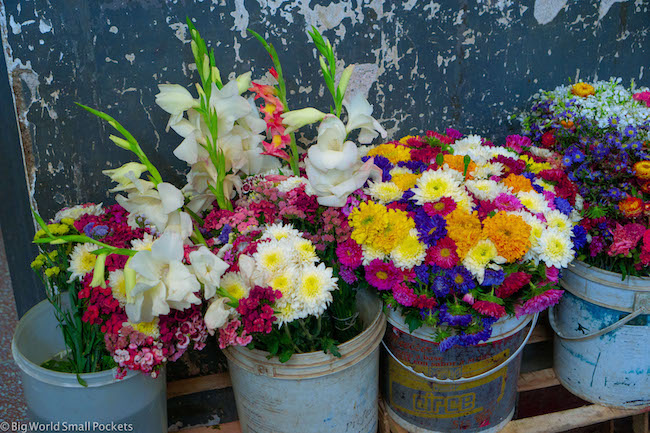 Another area of feeling safe when travelling in Argentina is ensuring you have the right gear with you, so here's 5 packing essentials I recommend if you're heading to Salta.
#1 LifeStraw Go Water Filter Bottle – An absolute must on my travel packing list, my LifeStraw Go Water Filter Bottle safely removes 99.9% of bacteria found in tap water and, as such, allows me to drink tap water around the world knowing it's safe. Great for your health, but also for the planet, as it massively reduces your plastic bottle usage – this item is a double winner!
#2 Good Walking Shoes – Getting out in nature is what time in Salta is all about, so definitely ensure you have some good walking shoes so you can enjoy the incredible landscapes here to the fullest. I highly recommend these New Balance Cross Trainers which are perfect for city strolling and canyon clambering.
#3 High-Sided Travel Pillow – Whichever you look at it, there's a lot of travel time involved in adventuring in a country like Argentina, so make sure you're prepared with a good high-sided travel pillow that will save you on night buses and flights alike.
#4 Argentina Lonely Planet – My go-to when it comes to travel guidebook, the Argentina Lonely Planet is still a great source of information including tons of useful information on where to visit in this country and how to get there.
#5 Reliable Camera – There's no doubt you'll want to capture your Argentina memories and ensuring you have a reliable camera to do just that is super important. I love my Sony A6000, which I used throughout my time in Argentina, as well as my GoPro which was ideal for snapping during those wilder adventure days!
PIN IT TO PINTEREST!
Well, well, well, there they are, my list of the 13 best things to do in Salta Argentina, as well as my top 7 travel tips for visiting the region.
I hope they've been helpful for you.
If you have any questions about travelling in this gorgeous part of South America, then just drop them into the comments box below and I'll do my best to answer them…