Can you believe it, I honestly almost missed Iguazu Falls during my trip to northern Argentina!
Hard to believe now, but it does beg the question, just what was I thinking?
Well in my defence, I was incredible pushed for time and had just narrowly escaped a state of national emergency in Bolivia, so it's probably far to say I wasn't cognising at my clearest!
Thank goodness then that I came to my senses and got it together enough to realise I needed to visit Iguazu Falls – one of the largest waterfalls in the world and undoubtedly the most spectacular I've ever seen!
Yes, even beating Victoria Falls on the Zambian / Zimbabwean in Africa to the top spot (although this guy is pretty good too it must be said!) Iguazu Falls was not only my highlight in Argentina, it was one of my highlights across the whole of South America.
Nothing can prepare you for the sheer force, magnitude and power of such a body of water hurtling over a cliff face with such momentum surrounded by thick rainforest!
Magical doesn't even touch the sides!
So yeah, I definitely want to make sure you don't miss this bucket list brilliance, like I almost did, and here to help you is my full guide on how to get from Buenos Aires to Iguazu Falls.
Pens and paper at the ready guys!
---
Related Posts
---
This page contains affiliate links meaning Big World Small Pockets may receive a small commission on any purchases at no extra cost to you.
---
Where is Iguazu Falls?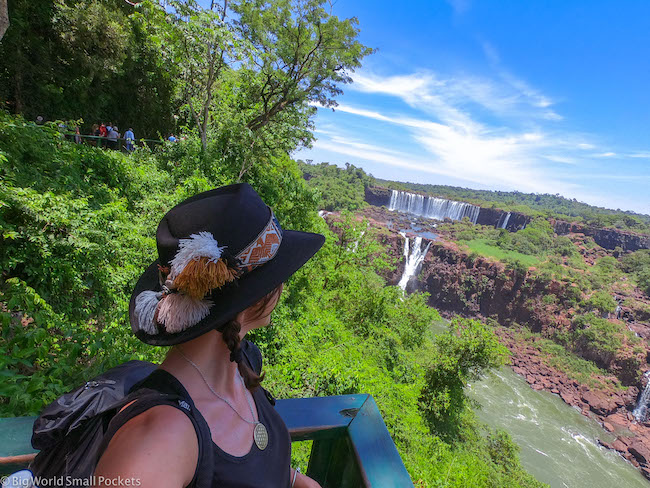 The first thing we need to do when talking about how to get from Buenos Aires to Iguazu Falls is set the scene and describe exactly where the falls are.
Located in the remote northeast area of Argentina, Iguazu Falls actually straddle the border between Brazil, Argentina and Paraguay and are in the thin corridor of Argentina that snakes up from Buenos Aires.
Situated in a rainforest area, in the province of Misiones, this part of Argentina feels very different, with its humid climate and dense green jungle feels.
Although it is technically located south of the tropic of Capricorn, the setting of Iguazu Falls, within the Iguazu National Park, feels very tropical and more akin to a climate I would associate with Brazil or Paraguay.
How to Get to Iguazu Falls?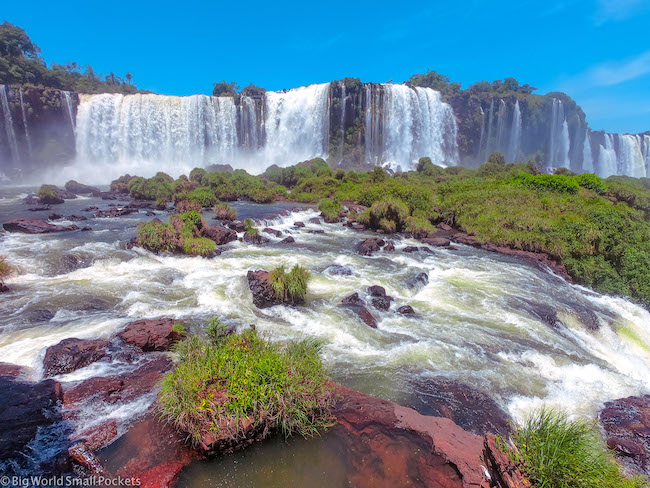 With the falls demarking the 3 national boundaries of Brazil, Paraguay and Argentina, it's good to know that you can access Iguazu from all 3 of these countries.
However for the purposes of this article, I'm going to concentrate on how you can get from Buenos Aires to Iguazu Falls – there are a few different ways depending on your time or budget.
Regardless of which way you take however, all routes end in Puerto Iguazu, which is the main town on the Argentinian side of the falls and therefore acts as the main access point for visitors wanting to head into the park.
You'll also be pleased to know that from Puerto Iguazu you can access not only the Argentinian side of the Falls, but also the Brazilian side too, but more about this later.
Let's tackle the journey there from Argentina's capital first…
Buenos Aires to Iguazu Falls: Flight Option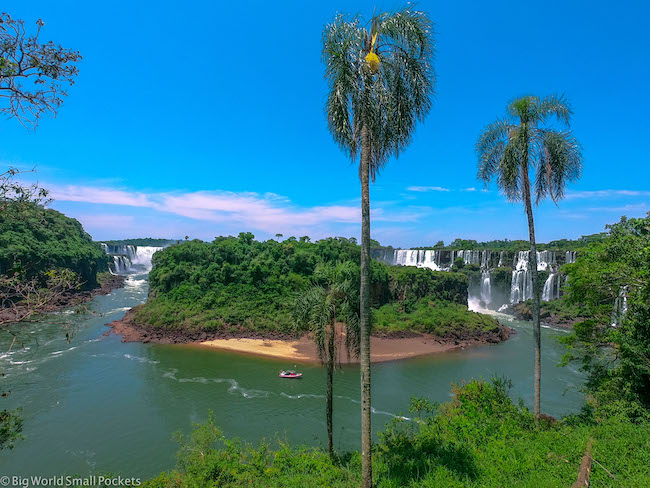 The first option, if you want to travel from Buenos Aires to Iguazu Falls, is to fly.
Obviously this is going to be the quickest method, but is also likely to be the most expensive and the worst for your carbon footprint.
Nevertheless, I know that for those of you with short timeframes or larger pockets, this will be your option of choice and it's great to know there are around 9 flights daily that make this route direct.
The airlines who ply the route are Aerolineas Argentina, LATAM, Norwegian Air and JetSmart.
Norwegian Air normally offer the best prices, starting from around $50 USD if booked in advance, but as always, I use Skyscanner to compare the best rates.
If you have Airmiles with a One World Alliance member like British Airways or American Airlines, then it may be helpful to know that flying with LATAM can get you some points.
Flights leave from 2 of Buenos Aires' airports:
Jorge Newbery (AEP), which is a domestic hub, closer to the Buenos Aires' districts of Palmero or Recoleta where you're likely to be staying
Aeropuerto Internacional Ezeiza (EZE), which is a larger international airport situated much further out of the city
If you're on a tight budget, a flight to AEP might be something to consider as the taxi fare to your accommodation will likely be less.
That is unless you're connecting straight with an international flight, in which case a Buenos Aires to Iguazu Falls flight from EZE might suit you better.
Remember to search for flights to Puerto Iguazu (the Argentina town at the falls) not Foz do Iguaçu, which is on the Brazil side, unless you want to change planes and pay more!
If you do want to get to Brazil, I'd still fly to Puerto Iguazu, stay there, see the Argentina side of the falls and then cross the border by bus to Foz do Iguaçu, which is quick, easy, safe and cheap to do.
From here you can then access the Brazil side of the falls and then continue your journey into this country if that's the plan.
Iguazu Falls Airport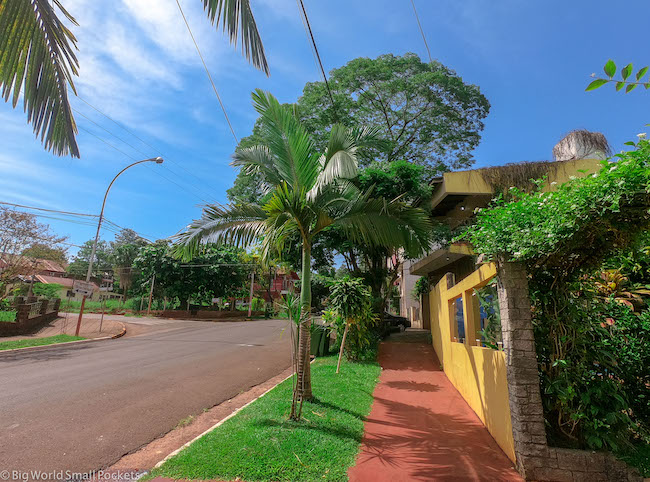 But anyway, back to the Argentina town of Puerto Iguazu, where you can arrive on a flight from Buenos Aires in just under 2 hours.
And yes, when you take a look at the map, you'll now realise just how huge Argentina is!
There is only one airport in Puerto Iguazu (IGR) because it's a tiny town, but it's currently being refurbished (at least when I was there in late November 2019) and is pleasant enough.
The airport is a taxi ride from the town itself (it's actually closer to the falls than the town), so you can either take a pricey taxi ride to your accommodation (or the falls directly) or join the shuttle bus service run by Four Tourist Travel, which comes to meet each arrival flight at Puerto Iguazu Airport.
I paid 250 Pesos for this shuttle journey (around $4 USD at the time) and they took me straight to the door of my hostel in Puerto Iguazu (Hostel Bambu, which was brilliant FYI), so it couldn't be easier!
Simply book onto the shuttle via the desk in the arrivals hall at Iguazu Falls Airport after you've collected your luggage.
Day Trip to Iguazu Falls from Buenos Aires
I really do advise planning a stay of at least 2 full days in Iguazu Falls, but if you only have time for a day trip, then it's worth noting that flying from Buenos Aires to Iguazu Falls is your only option.
Take an early morning flight and after arrival at IGR take a taxi straight to the National Park entrance, buy your ticket here and enter the park just after it opens at 8am.
You'll then have until 6pm to visit the park, before returning via taxi to Puerto Iguazu Airport and catching a late flight back to Buenos Aires.
There is luggage storage at the park entrance facility on the Argentina side if you require it, as well as places to buy food and water within the park itself.
If you'd rather not see the falls independently, but with a guide, then check out these bestselling day tour options for some ideas about itineraries and prices.
Buenos Aires to Iguazu Falls: Bus Option
Travelling from Buenos Aires to Iguazu Falls is definitely the slowest option, but also one that's better for your carbon footprint.
If you've got the time then, this is the option for you!
It's supposed to be that bus travel is a lot cheaper, but comparing prices I actually found most bus routes started for around $60 USD one way, which means you can actually get a flight for a little cheaper.
That said, choosing an overnight bus will save you on accommodation, making it an overall cheaper option.
Although do be prepared, the bus journey takes a gruelling 18 hours! Get downloading those Netflix episodes or Amazon Audible books I say!
There are 6 companies that ply this route and they can all be booked through Bookaway – a secure booking site I used to buy all my bus tickets in Argentina.
You just have to register with this site first, but it's free and this then allows you to compare a range of bus services based on price, class etc.
Buses that leave from the main city bus station in Retiro will be most convenient for those already staying in Buenos Aires and the bus services of Andesmar, Via Bariloche, Rio Uruguay and Expreso Singer are all reliable in my experience.
Buses from Buenos Aires to Iguazu Falls arrive throughout the day into Puerto Iguazu's bus station, which is right in the centre of this small town.
You will then easily be able to walk to your accommodation or get another Rio Uruguay bus straight to the Iguazu National Park to see the falls.
Although quite frankly, who would really be up for that after an 18 hours bus ride!
Much better, in my opinion, would be to take a bus that leaves Retiro station in Buenos Aires around 9pm, giving you all day in the city first, and then taking you overnight up to Iguazu.
You'll then arrive into Puerto Iguazu between 3-6 pm the next day, meaning you can just head to your accommodation and chill out for the rest of the afternoon, so you are fresh and ready to take on the Falls in the morning.
As I've said before, I highly recommend Hostel Bambu if you're looking for a budget place to stay in Puerto Iguazu.
With aircon in all dorms / private rooms, great wifi, and onsite café /bar, centrally located, clean and with great staff, this place is an absolute steal!
Iguazu Falls Tours from Buenos Aires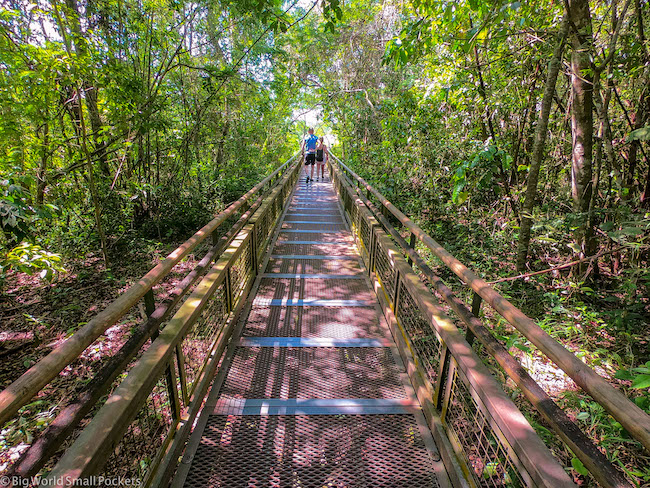 The third option when it comes to getting from Buenos Aires to Iguazu Falls is to take a tour that includes the journey.
This is definitely going to be the most expensive option, so not something I'd consider when independent travel is so easy, but I know many people don't have time to research and would rather just pay a travel agency to sort it for them.
Some include flights and some don't (so be careful to check that) but all include airport pick-ups, accommodation and guides etc.
Plus they will certainly be able to help you book flights.
Iguazu Falls Tours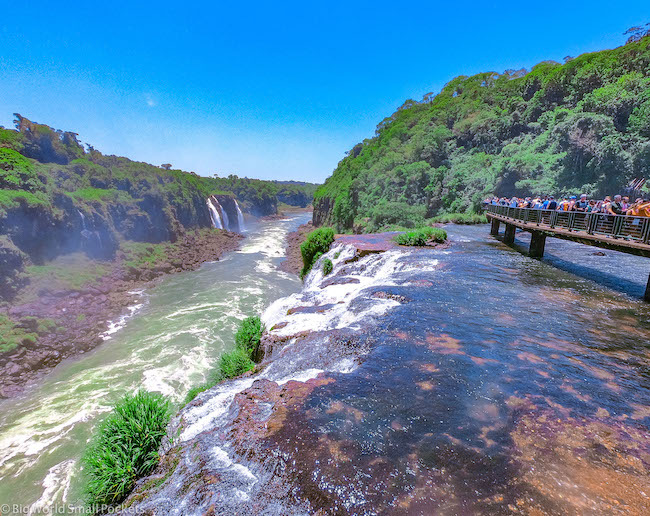 Otherwise, if you're happy to just take a tour when you get to Iguazu, i.e one that includes the falls, but doesn't cover you from Buenos Aires, then check out these top options, that run from Puerto Iguazu to either the Argentina side, or both the Argentinian and Brazilian side of the falls.
Do remember however, that you don't need to take a tour and can easily wander the trails and pathways of the Iguazu National Park by yourself, using local buses to get to the entrances on both the Brazil and Argentina sides from Puerto Iguazu.
Learn more about the best tours, as well as self-guided itinerary for trips to Iguazu Falls here.
There are 2 things to do in Iguazu Falls that you will need to book if you want to enjoy them however, these will be the:
Visiting Iguazu Falls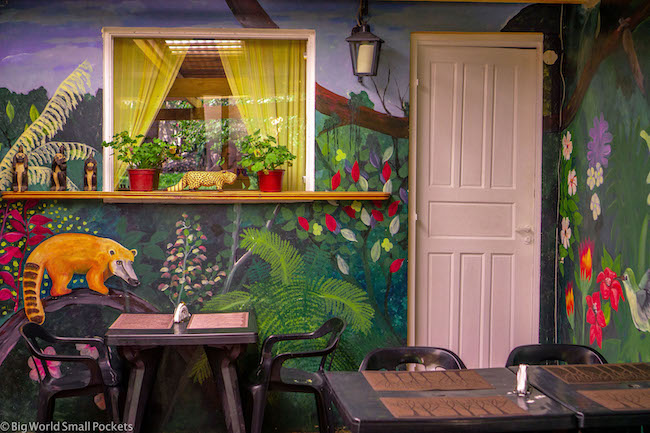 I've said before that I really do advise 2 full days to visit these amazing waterfalls – 1 full day for the Argentina side and 1 full day for the Brazil side.
Depending on your travel times, this will mean a stay of either 2-3 nights, which I suggest you do in Puerto Iguazu (it's a nicer town) at the great Hostel Bambu.
Having full days to see the falls, will allow you to avoid the early morning rush, when people on day trips, or those crossing the border, crowd to get into the park and arriving at 9-10am instead will still give you plenty of time.
Don't forget to take your camera with you – my Go Pro Hero 7 was perfect for the job of capturing this huge natural spectacle.
You'll also want to ensure comfortable walking shoes, like these New Balance trainers, and good walking socks for all the miles you'll cover, plus sunscreen, sunglasses and a hat to shield you from the UV rays.
I wore leggings, a t-shirt, to ensure my shoulders where protected from the sun, and a cap when visiting Iguazu Falls and this was perfect.
A day pack, like this brilliant one from Osprey, would be ideal for carrying all maps, snacks, water, guidebooks, cameras and sunscreen in as you walk through the park.
And don't forget you'll absolutely need a waterproof jacket (or swimwear) if you're planning on taking the boat trip to the bottom of the falls! This North Venture 2, which is thin and waterproof would be perfect for the job!
Iguazu Falls to Buenos Aires
And then, of course, we get to the sad point where you've seen this amazing spectacle and it's time to retrace your steps.
So you can either head back from Iguazu Falls to Buenos Aires using one of the methods I describe above (albeit in reverse!)
Otherwise, it may be useful to know that you can also fly (or catch a bus) from Iguazu Falls to other cities in Northern Argentina, including Cordoba, which is exactly what I did.
Rather than having to retrace your steps therefore, you can actually head straight onto your next destination in this country, saving you time and money.
Best Time to Visit Iguazu Falls
And now a quick word about the best time to visit Iguazu Falls.
After all, you don't want to go all that way only for the falls to be shrouded in cloud or crowds, or for it be raining all day.
Being close to the tropics, it's possible to visit Iguazu Falls almost any time of the year, but probably the best time is during the months of either March and May (essentially Autumn in Argentina) and avoiding the Easter holidays in April in between.
It's not as rainy then and the temperatures are not too hot.
Alternatively, the months of September to November (essentially Spring in Argentina), which avoids the Christmas holidays in December, have less visitors too and temperatures are again reasonable.
Rain can start to increase as you head into November, but this does give the chance to see the falls at their highest and on a sunny day – as I did!
What a result!
Mini Argentina Travel Guide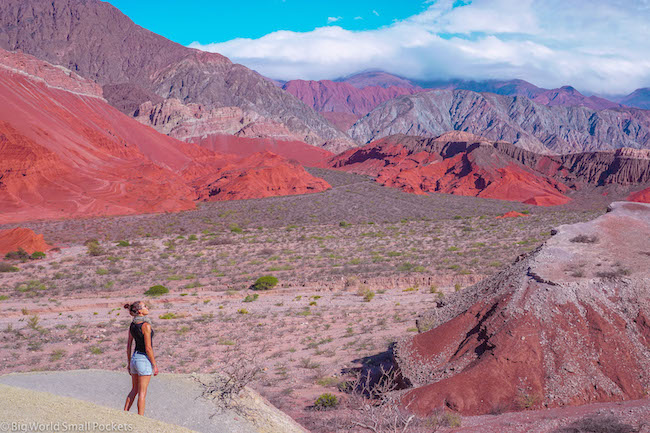 When to Visit?
I highly recommend visiting Argentina during the country's summer months, which run from November to February.
How Long to Spend There?
Argentina is a huge country and you really need at least 1 month to do this destination justice.
If you do not have that much time, then choose one section of the country only and enjoy that!
More ideas can be found in my ideal 10 day Argentina itinerary post here.
Travel Insurance for Argentina
World Nomads offers simple and flexible travel insurance. Buy at home or while travelling and claim online from anywhere in the world.
Alternatively, if you're a long-term traveller, digital nomad or frequent remote worker seeking travel health cover, check out Safetywing's Nomad Insurance policies.
Recommended Argentina Tours
One of the best ways to discover the marvel of Argentina if you're short on time, is to take a day trip there with a local.
You can find a list of guided tours (including costs and reviews) here at GetYourGuide.
Otherwise, if you're looking for multi-day tours of Argentina, check out these great picks.
Travel Money in Argentina
When it comes to paying for things in Argentina, you can't get better than a Wise card.
The easy way to spend abroad with real exchange rates, no markups and no sneaky transaction fees, you can use your Wise card just like a debit card here… and it links easily with Google and Apple pay – sold! Grab yours here.
PIN IT TO PINTEREST!
So there you have it, my full guide on how to travel from Buenos Aires to Iguazu Falls and back, as well as some crucial information for enjoying your visit when you are there.
If you have any further questions, then don't hesitate to put them into the comments box below and I'll get back to you!
Otherwise, whatever way you do get there, just make sure you get there!