Disclaimer! I'm going to be straight up from the start and say I'm not a huge fan of tours, especially to destinations like Iguazu Falls where they are not really needed.
Yes that's right, you don't need a tour to go to Iguazu Falls!
Easy to access via flight or bus, easy to sightsee around the falls and easy to find somewhere to stay, there really is no need to take an Iguazu Falls tour.
Ha, what a good start to a tour recommendation blog post… but stick with me here!
Because it's for this exact reason that I've included a self-guided option at the end of this article that will have you seeing the best of this might spectacle with a tour, just like I did!
That said, I do understand that many people do feel more comfortable with taking organised tours in South America and for that reason, I'm also including my pick of the bunch for you here.
Having visited the amazing place that is Iguazu Falls myself, I know exactly what to look for when it comes to finding the best tour and have included here a range of 10 that should suit what you're looking for.
From day tours to boat ride tours, private tours to package tours, Iguazu Falls tours that just cover the Argentina side, or that just cover the Brazil side or that cover both… I've got you covered!
So read on to discover my pick of the bunch – that's right the 10 best Iguazu Falls tours based on the value, experience and ease of travel they offer…
---
Related Posts
---
This page contains affiliate links meaning Big World Small Pockets may receive a small commission on any purchases at no extra cost to you.
---
Top Things to Do at Iguazu Falls
As a quick intro to this list of the 10 best Iguazu Falls Tours, as well as self-guided itinerary you can follow if you don't want to take a tour, I want to start by outlining the things there are to do in Iguazu Falls.
This will help you know what to look for in a tour, what to expect and how to choose the best option for you.
Of course, the best thing to do in Iguazu Falls, is experience the falls, but don't roll your eyes at me just yet, because there's a heap of different ways you can do this.
First up, you need to be aware that there are 2 different sides to the falls – the Argentina side and the Brazil side.
Both have their own access towns – namely Puerto Iguazu in Argentina and Foz do Iguaçu in Brazil – and you should stay in these towns, but there's little else to do there.
Instead, I suggest just using them as bases to access the National Park or to travel to the border so you can view the falls from the other side as well.
Once at the Falls, the main thing to do there is to walk the many trails around them to take in this giant spectacle of nature.
That said, boat rides under the falls, as well as helicopter rides and skydives above them, are also popular.
Learn more about incorporating these things to do at Iguazu Falls into your time here below…
#1 The Best Private Tour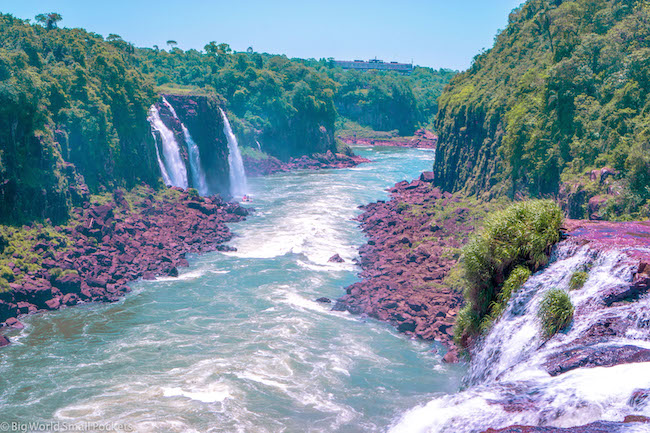 MMC Receptivo Tours
If you don't want the hassle or lack of flexibility involved in sharing your guide with other tourists, then a private Iguazu Falls tour is the way to go.
Benefitting from a private guide and aircon transport, this private tour offers great value for money, especially given that it builds both sides of the falls into a one day itinerary, and it includes your admission tickets.
A hotel pick-up / drop-off is also included in the price and there's free cancellation up to 24hrs before the start of the tour if you change your mind.
Informative guides, punctual pick-ups and skip-the-line efficiency make this a top-rated option.
#2 & #3 The Best Day Tours
Falls Vision Receptivo Tours
If you want to see the Argentinian side of the falls, but you're staying on the Brazil side (and don't want to navigate the border independently), then this great tour that takes you across the border and round the Argentinian National Park is a top option.
With a stop built-in so you can grab some Argentinian Pesos at the best rate in the morning to help you enjoy your day, and a guide to accompany you through the border, this tour takes in all the walking trails + the train ride on the Argentina side as well as a hotel pick-up / drop-off back in Foz do Iguaçu.
MMC Receptivo Tours
With a ride up the panoramic elevator included in this Iguazu Falls tour and small groups guaranteed, this is definitely one of the best tours if you are staying in the Argentina side of Falls, but want to check out the action in Brazil too.
Giving you great views of all 270 waterfalls incorporated in this massive spectacle, this tour doesn't rush you, but allows almost a whole day and ample time for you to explore and photograph at your leisure.
#4 The Best Boat Ride Tour
An Iguazu Falls boat ride is a must for adventure lovers and while they operate from both sides of the falls, it's the Argentinian side that I recommend you enjoy one from, because of the amazing access and angles of the falls they give you.
This tour takes you from Brazil to explore the Argentinian side of the Falls, including the walking trails here as well as an epic ride on the water.
With skip-the-line boat tickets included, as well as a bilingual guide and a hotel pick-up / drop-off, the great reviews of this tour praise the excellent organisation and top-notch guides.
Book this boat ride tour here!
#5 The Best Small Group Tour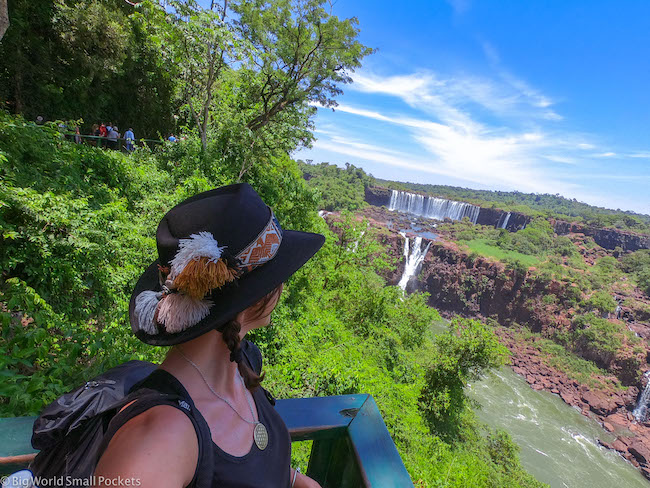 This brilliant small group tour is unique because it takes visitors to both the Argentinian and Brazilian sides of the falls in just 1 day!
Perfect for those on a tight time frame, this really is a whistlestop tour of the falls highlights, with a local, English-speaking guide to explain the wonders you are seeing.
Starting and ending on the Brazilian-side, this small group tour promises a maximum of 12 people and offers exceptional value with a hotel pick-up, transport and empanada tasting in the price.
Rave reviews praise the good organisation of this tour, the degree of flexibility it offers and the knowledge of the guides.
Book this top small group tour here!
#6 Best Tour with a Specialised Guide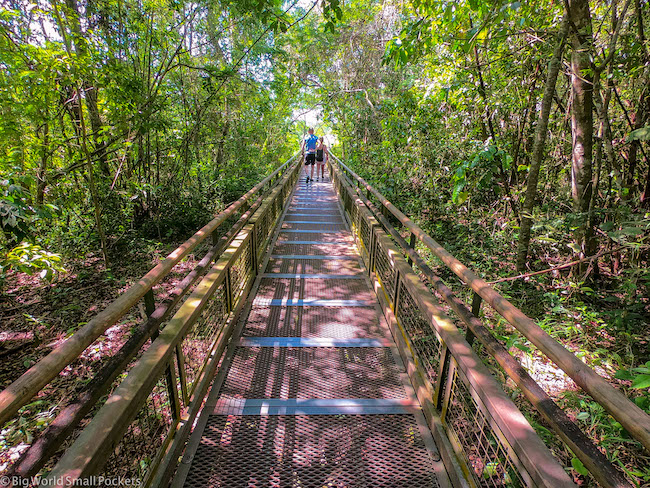 MMC Receptivo Tours
This awesome tour is quite different in that it includes not only a specialised bilingual guide, but also the option to upgrade and include a trip to the bird park and a helicopter ride over the falls too if you wish.
Different upgrade options include the above activities, so you can really customise this tour as you see fit.
Even if you don't upgrade, then a ride in the Panoramic Elevator, followed by a visit to the Porto Canoas Space are all included in the price.
So too are entrance tickets and hotel pick-up / drop-off.
Previous guests repeatedly say that guides and helicopter ride were superb.
Book this tour HERE!

#7 Best Tour from Rio
Globus Tours
This 9 day tour, which starts in Rio de Janeiro and ends in Buenos Aires, allows for ample time at the falls and a good mix in general of organised excursions and downtime.
Food costs, accommodation, guide services and a good number of activities are included in the price and vegetarian / vegan-friendly food options are available.
The addition of a day in the Pampas, as part of your time in Buenos Aires, is a great addition and really sets this tour apart.
#8 Best Tour from Buenos Aires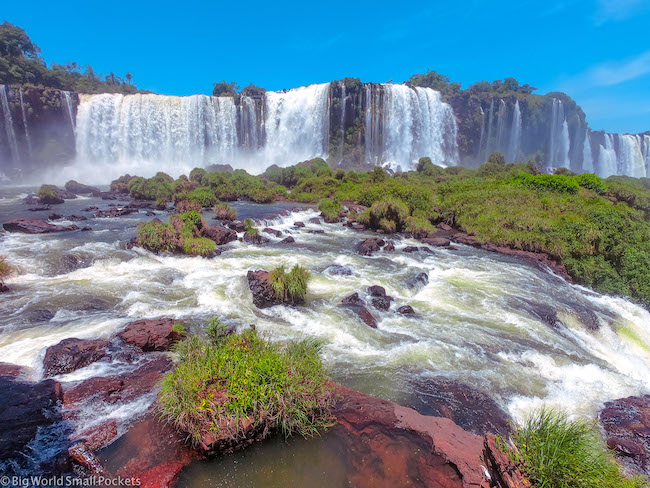 Signature Tours
This 9 tour begins in Buenos Aires and ends in Rio, meaning it's an excellent way to take in both sides of the falls, as well as plenty of time in these 2 great cities as well.
2 nights at the Falls means this won't be a rushed visit either, with 1 day spent at the Brazil side and the other on the Argentinian one.
Accommodation is in 4 star hotels and is included in the price along with a guide, meal, transport (except flights) and admission tickets.
Reviews praise the great organisation of the tour, the professionalism of the company and the varied nature of the itinerary.
#9 The Most Flexible Tour
G Adventures
This 4 day tour is based out of the Brazil side of the falls, but takes you to the Argentina side too, and includes the ability to cross into Paraguay as well if you wish to add this on (although do check your visa status first!)
You can also add boat rides and helicopter trips into this tour, which makes it one of the most flexible around.
With guides to help you organise these add-on activities, as well as navigate the borders and skip the lines, this is a great tour to take if you don't want the hassle of organising all the separate components of a jam-packed trip to Iguazu Falls yourself.
Local guides throughout also add value to this tour, which offers a great price, especially given that all accommodation, ground transport and main meals are included and specialised dietary requirements can be catered for.
All in all, this makes for a very flexible tour.
#10 The Great Value Tour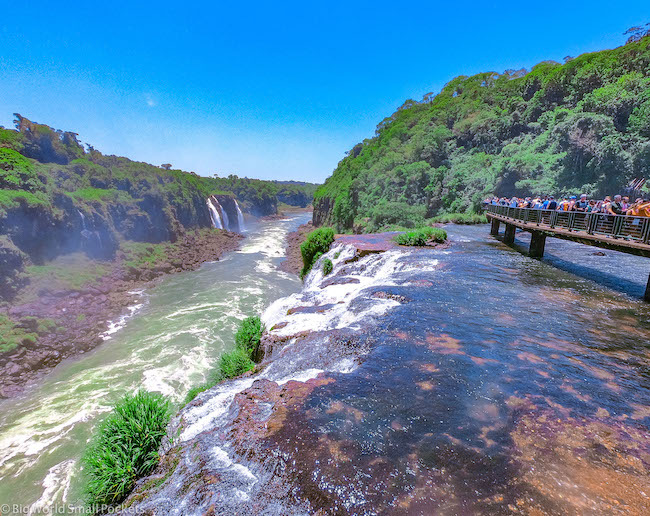 Milhouse Hostel Tours
Offering exceptional value this 2 day Iguazu Falls tour has you seeing both the Argentina and Brazil sides and includes accommodation costs and breakfast as well as a boat ride and 4×4 excursions.
If budget is your main concern and you don't mind a backpacker-style trip with tons of adventures, then this is the tour for you!
Visiting parts of the national park closed to the public, as well as a thrilling boat ride where you get showered by the falls, this one is really hard to beat in terms of price and experience.
You'll also have a specialised and experienced guide with you and get to base yourself on Argentina side, which I think is more favourable.

Brazil Vs Argentina: Which Side of the Falls is Better?
Because the best thing about a tour that covers both the Argentina and Brazil sides of Iguazu Falls is, of course, the fact that you can assess for yourself which side is better!
And honestly, it's a hard choice to make.
In my personal experience, I found the Brazil side more organised, but it is smaller meaning you can take it all in with half a day up your sleeve.
You are closer away from the main falls from the Brazil side, but this does mean you get a better perspective and you can walk out on a platform right over a river that sets you in front of the falls.
Most Iguazu tours visit the Brazil side first.
The Argentina side is larger and involves a lot more walking and trails, which if, like me, you enjoy being outside, is wonderful.
The Argentina side gives you more angles to see the falls from too – including above and below perspectives and the opportunity for you to stand right over the main section of the falls is here as well – it's pretty impressive.
Most Iguazu Falls tours visit the Argentina side on the second day.
Boat ride tours are available from both sides of the falls, but more common (and probs better) from the Argentinian one.
Self-Guided Tour Option for Iguazu Falls
And this pattern of the Brazil side on the first day and the Argentina side on the second day is exactly what I would suggest following if you're going for the self-guided option when you visit Iguazu Falls.
And that's because, despite what you might have heard, a tour guide is absolutely not necessary for this place!
Nope, you can easily take yourself around both sides of this huge national park, as well as across the border easily and simply.
If you want to choose this option, over a tour like I did, then I would suggest visiting the falls from Buenos Aires (read more about how to make this journey in a post I wrote exactly about that here).
I would then suggest staying on the Argentinian side of the Falls in the access town of Puerto Iguazu and from here visiting both sides of the national park.
How Many Days for Iguazu?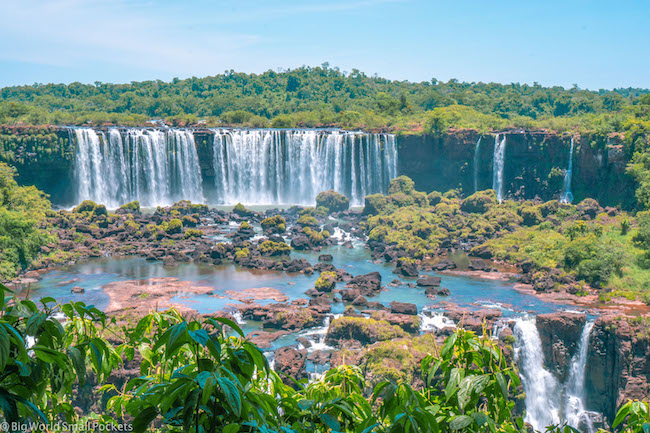 In general, I'd recommend a stay of 2-3 night / 3-4 days in the Iguazu Falls area to independent travellers, depending on how long it take you to get here and when you arrive.
That's because on day 1, you're likely to just arrive, find your accommodation and settle in -get some food, get your camera charged and generally get ready for day 2.
On day 2, I'd visit the Brazil side, leaving Puerto Iguazu after 10am so that you avoid the worst queues at the border.
Use the bus company Rio Uruguay, from the public bus station in Puerto Iguazu, to shuttle you across the border to the Brazilian entrance and back again.
Spend day 2 visiting the Brazil side of the falls – essentially this involves walking 1 trail that takes you closer to and out over the river and the falls.
You can then use Rio Uruguay to return to Puerto Iguazu.
Spend day 3 visiting the Argentina side of the falls, again using the Rio Uruguay bus service to take you to this entrance around 10am
Hit up the walking trails on the Argentina side in this order:
Green Trail
Superior / Upper Trail
Inferior / Lower Trail
And saving the train ride to visit the Devil's Throat as the grand finale.
This route will help you avoid the crowds and also have you seeing the falls in the most impressive way.
There's also maps available throughout the park to ensure you know what I'm talking about!
At the end of Day 3, you can then head out of Puerto Iguazu to your next destination via an evening bus or flight – it might help you to know that you can pay to store your luggage securely on the Argentina side of the falls and then catch a taxi straight to the airport if you need.
Otherwise, you can return and spend another night in Puerto Iguazu before leaving the following day at a more relaxed pace.
And while we're on the subject, I can't recommend Hostel Bambu in Puerto Iguazu enough to budget travellers!
Definitely stay here if your accommodation is not included in your tour – the place is brilliantly located, safe, secure, spotlessly clean and the staff are super helpful when it comes to planning your trip.
Iguazu Falls Costs & Admission Tickets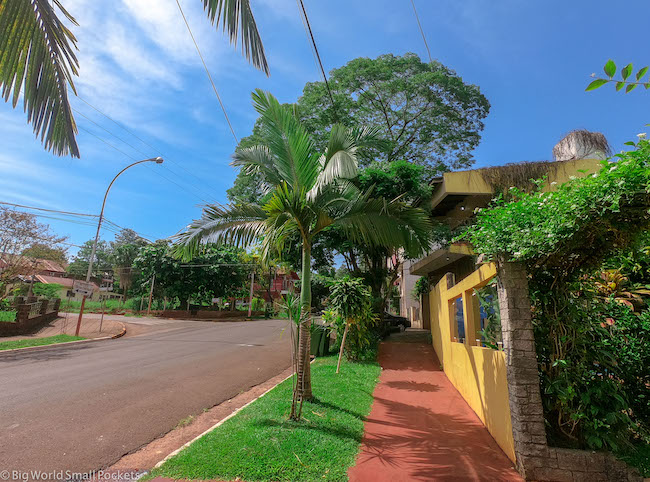 No question that making a self-guided tour of Iguazu Falls is the cheapest option.
That said, there's also no question it does involve a little bit more planning too – booking transport, booking accommodation and looking at a few maps!
If you're happy to put in the effort however, the rewards can be big in the cost department.
Here's some example prices to help you cost it out and see how much you might save:
One Way Flight to Puerto Iguazu from Buenos Aires – $75 USD BOOK HERE
Shuttle Bus from Puerto Iguazu Airport to Puerto Iguazu Accommodation – $4 USD
1x Night Accommodation in Hostel Bambu, Puerto Iguazu – $13 USD BOOK HERE
Return Rio Uruguay Bus to Brazil Side of Falls from Puerto Iguazu – $6 USD
Brazil Side Admission Ticket – $16 USD
Return Rio Uruguay Bus to Argentina Side of Falls from Puerto Iguazu – $3 USD
Left Luggage at Argentina Side of Falls – $5 USD
Argentina Side Admission Ticket – $13 USD
Taxi From Argentina Side of Falls to Puerto Iguazu Airport – $12 USD
Obviously these prices are just rough guides, as they have been exchanged from the country's currency to USD at the current rate, which may fluctuate.
Nevertheless, they should help you piece together a sense of what an independent experience might cost you versus an Iguazu Falls tour.
Iguazu Falls Weather
And now we come to a few tips for visiting Iguazu Falls in general.
First up, the issue of weather!
Being close to the tropics, it's possible to visit Iguazu Falls almost any time of the year, but probably the best time is during the months of either March and May (essentially Autumn in Argentina) and avoiding Easter holidays in April in between.
It's not as rainy then and temperatures are not too hot either.
Alternatively, September, October and November (essentially Spring in Argentina) and avoiding the Christmas holidays in December, are months which have less visitors and when, yet again, temperatures are reasonable.
Rain can start to increase as you head into November, but this does give the chance to see to the falls at their highest and on a sunny day – as I did!
5 Things to Remember When Visiting Iguazu Falls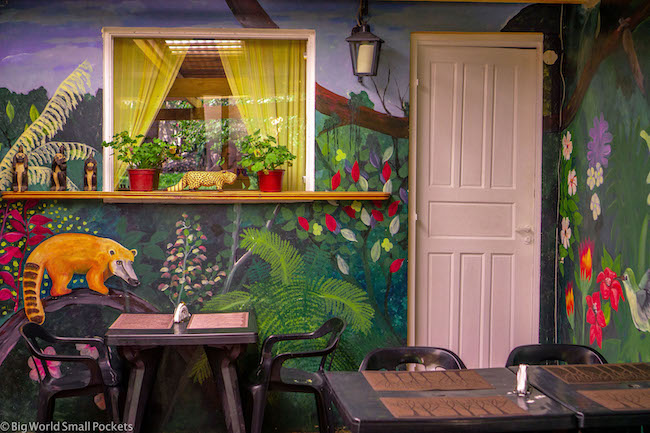 #1 Don't forget to take your camera with you – my Go Pro Hero 7 was perfect for the job of capturing this huge natural spectacle, but the latest Go Pro Hero 8 would be even better!
#2 You'll also want to ensure comfortable walking shoes for all those trails in Iguazu Falls. These New Balance trainers, and good walking socks for all the miles you'll cover, plus sunscreen, sunglasses and a hat to shield you from the UV rays are a must!
#3 A day pack, like this brilliant one from Osprey, would be ideal for carrying all maps, snacks, water, guidebooks, cameras and sunscreen in as you walk through the park.
#4 And don't forget you'll absolutely need a waterproof jacket (or swimwear) if you're planning on taking the boat trip to the bottom of the falls! This North Venture 2, which is thin and waterproof would be perfect for the job!
#5 World Nomads offers simple and flexible travel insurance. Buy at home or while travelling and claim online from anywhere in the world.
Alternatively, if you're a long-term traveller, digital nomad or frequent remote worker seeking travel health cover, check out Safetywing's Nomad Insurance policies.
PIN IT TO PINTEREST!
Tah-da!
That's my list of 10 best Iguazu Falls Tours based on the value, experience and easy they offer, as well as my full guide to visiting the falls without a tour if you wish too.
I hope this information was useful and will help you plan your trip to this amazing place even better.
Any questions still?
Drop them into the comments box below and I'll do my best to answer…