It might be small, but it packs a mean punch!
Yes the beautiful historic city of Krakow in Poland is one of my top recommendations for a European city break.
Manageable, walkable, pretty, safe and easy to reach, Krakow has a lot going for it, not to mention the great day trips you take out of the city if you have a little longer for your trip too.
So let's great straight to it shall we, my list of the 23 top things to do in Krakow including 8 that are free!
---
Related Posts
---
This page contains affiliate links meaning Big World Small Pockets may receive a small commission on any purchases at no extra cost to you.
---
#1 Stroll Rynek Główny – FREE
We start this list of the best things to do in Krakow in the heart of this historic city at its huge central square – Rynek Główny.
The biggest Medieval square in Europe, the plaza was designed in 1257 and is a whopping 40,000 sqm in size.
If you're after some historic feels, this main market square located in Krakow's Old Town, an area known as the Stare Miasto, is the place to come to get you started.
Surrounded by old churches and traditional townhouses, this is the cultural and social epicentre of the city and shouldn't be missed
#2 Ride a Horse Drawn Carriage
And once you've had a wander around the Rynek Główny square and taken it all in, then an absolute tourist classic of an activity awaits you.
Yes, riding a horse-drawn carriage around Krakow might seem a bit cliché, but if you want to travel the city in style, this really is the only way to do it!
Negotiate your route and price direct with the driver and try to fill a carriage (4-5 people) if you're looking for the most cost-effective trip.
#3 Get Your Art Fix at Wawel Royal Castle
And sticking with the flagship vibes, the next item on my list of the best things to do in Krakow is also one of the main attractions in this city, namely – Wawel Castle.
One of the largest castles in Poland and situated almost slap bang in the middle of Krakow up on a hill, I think it's fair to say this guy is fairly hard to miss!
And miss it you shouldn't!
Filled with some wonderful art collections and now UNESCO-listed, Wawel castle was built in the 13th century and was then the resident address for Polish kings for hundreds of years.
Tickets for Wawel Castle can be bought online in advance here for as little as £6 and include an audio guide.
Otherwise, you can buy skip-the-line access tickets, which include a full guided tour here.
#4 Visit St Mary's & St Francis' Basilica – Free
And sticking with the history theme, there's no question that another of the best things to do in Krakow is to check out some churches.
St Mary's Basilica is a gothic religious building, located in the heart of the city around Rynek Główny.
It's open every day from 11.30am until 6pm, is free to enter and hosts regular mass, confession and concerts.
You can also take a tour of this Catholic church which cost around 15 PLN. Learn more here.
St Francis' Basilica, also located in Krakow's Old Town, was built in the 13th Century and is one of the most colourful and pretty religious buildings in this city with wonderful stained glass windows.
#5 Catch a Movie at Pod Baranami
We might as well keep the Stare Miasto theme going, by listing another of the top sights in Krakow's Old Town that you definitely should put on your list of places to visit when you're here
Pod Baranami, which was founded in 1969, is located in a former palace off Rynek Główny, the main square.
It has been wonderfully regenerated and is now home to an independent, arthouse cinema screening the latest movies, as well as many offbeat, small-budget offerings, in both English and Polish.
If you're looking for a feel-good, non-alcohol-related thing to do in Krakow, catching a film at Pod Baranami could be a good solution.
Check out what's on there in English here.
#6 Get Your Art on at Bunkier Sztuki
And if you're into arts and culture, then another of the top things to do in Krakow's historical centre is to visit the Bunkier Sztuki (translated as the Bunker of Art).
Housing important contemporary collections and performances, this is a great way to experience some modern Krakow culture in the midst of all its history.
#7 Relax in Planty Park – FREE
One of the best green spaces in Krakow, Planty Park, which actually encircles the Old Town is the best place I found to relax in the city.
With tons of benches, gentle paths and shady trees, this is a great place to take it all in.
Especially nice in the summer, obviously, Planty Park is one of the largest green spaces in Krakow and a hit with locals and tourists alike.
#8 Find a Free Walking Tour – FREE
And one of the best ways to take in all these sights located within Stare Miasto, Krakow's Old Medieval Town is, to hop onboard a free walking tour.
With several companies operating these, it's worth asking other tourists which company they enjoyed, because these free walking tours really are made (or unmade) by their guides, making recent reviews by other travellers, your best quality compass.
#9 Cycle, Scooter or Segway
Alternatively, if you want a smaller group or to get away from more walking, then taking a bike, Segway or electric scooter tour in Krakow could be the way to go.
With professional guides accompanying you, meaning you have the chance to learn a lot about the history, politics and culture of the city, these are all unique ways to see Krakow that are not only a lot of fun, but allow you to cover more ground as well.
You can check out prices and book your tours using the following links:
#10 Check Out the River and its Bridges – Free
This may be included in the above tours, but if it's not, then strolling along Krakow's famous river – the Vistula – is certainly one of the best things to do in Krakow.
Passing right next to Wawel Castle, cycle tracks, walking paths and green spaces that run alongside much of the city part of this river make it a lovely place to stroll.
You can also enjoy hot air balloon rides along here, or check out some of the many bridges, including my favourite Father Bernatek's Bridge, which provides a nice architectural diversion.
#11 Stay in a Boutique Hostel
And after all that activity, it's likely you'll want a nice place to stay and put your feet up in Krakow too.
And just because you might be travelling on a budget, doesn't mean you have to compromise this.
Dizzy Daisy Downtown Hostel is one of Krakow's first-ever hostels, and despite the bad name, is an absolute dream to stay in!
Newly renovated, with many lovely design features, this centrally located, spotlessly clean backpackers has both private rooms as well as dorms to welcome travellers of all ages.
Helpful friendly staff, secure lockers, free bag storage and a wonderful outdoor terrace, complete the picture at this top-rated Krakow hostel.
Altnatively, if you're looking for budget accommodation in the heart of Krakow's Old Town – and the action – then there's few better locations than that of Greg & Tom Hostel!
Just outside Stare Miastro, making it just a 10 minute walk away if you do want to grab those early morning snaps, this independent backpackers boasts a cosy vibe, free wifi, free walking tours and free guest breakfast and dinners!
Otherwise, for something a bit more comfortable and spacious, check out this amazing apartment in the heart of Krakow.
It gets amazing reviews and sleeps up to 4 guests, making it a total bargain!
#12 Try Some Pierogi
And after sleeping, we move on to the next most important thing when it comes to reviving yourself in Krakow and that is, eating and drinking!
And quite simply, you can't come to Poland and not get involved in at least a bit of pierogi sampling, which is why trying some of the country's national delicacies is absolutely one of the best things to do in Krakow.
And my tip for the best places to try them?
Either Przystanek Pierogarnia or Pierożki u Vincenta, both of which are located in central Krakow and offer some delicious pierogis that aren't too pricey either!
#13 Caffeinate at Café Camelot
As you know, I can rarely get through a 'best things to do in a city' list on this blog and not mention coffee… and Krakow is no exception.
Ignoring all the large-chain coffee houses that can be found in the touristy centre of this city, I was delighted to find there were are also many local options, many of which have a distinct whiff of hipster about them.
And my favourite?
Café Camelot, located just off the main square, definitely won my heart with its yummy blends and delightful setting.
Heading here to caffeinate and perk yourself up for another round of sightseeing is certainly one of the best things to do in Krakow.
#14 Drink Craft Beer at Miejscówka
But as things start to draw on through the day, there's no question you might feel more like a beer than a coffee and you're in luck, because Poland certainly doesn't disappoint on this front.
With tons of bars to choose from in Krakow, I nevertheless like to recommend something a bit unique and so it was I discovered Miejscówka, one of the best craft beer dispensaries in the city.
Head here to try some local tipples and find some local people for a night of fun!
#15 Explore Kazimierz – Free
But now it's time to get back to the sightseeing, so after you've explored the Old Centre of Stare Miasto in Krakow, it's time to move on to Kazimierz.
Actually my favourite part of this city, Kazimierz was formerly an integrated Jewish district with the oldest Synagogue in Poland located here.
This all tragically changed in 1941 however, when the vast majority of the area's Jewish inhabitants were forcibly relocated by the Nazis to the ghetto of Podgórze located on the other side of the river.
There are parts of this area that still tangibly hold the ghosts of the past, but since the early nineties (when large parts of the film Schindler's List were shot here), much has been done to regenerate the area and pay homage to its former inhabitants through the restoration of important buildings and a rise in Jewish-owned business.
Today Kazimierz is a key cultural hub in Krakow and exploring it is definitely one of the best things to do in this city.
#16 Grab a Falafel
An example of the growth of Jewish-owned businesses in Kazimierz can be seen through the range of delicious, traditional food on offer here.
If you absolutely love Middle Eastern dishes like me, then grabbing a yummy falafel at either Szalom or Hamsa is a must!
The latter is very veggie / vegan friendly and preaches a message of peace and sustainability.
All the wins!
#17 See Oskar Schindler's Factory – Free on Mondays
And near to Kazimierz, in the Podgórze District over the river, and made famous thanks to Spielberg's movie, visiting Oskar Schindler's Factory has certainly become one of the top things to do in Krakow.
A former metal item factory, this building now houses a permanent exhibition entitled Kraków under Nazi Occupation from 1939 to 1945.
In it there are 45 rooms, set out like real places, making this a fascinating museum to walk around and learn how Oskar Schindler is credited with saving over 1000 Jewish people during WWII by employing them in his factories.
You can take a guided tour here, or visit yourself.
On Monday, it's free to enter but you need to arrive early to bag one of the limited tickets.
Visiting hours are from 9am to 8pm daily during the summer, except Mondays when it closes at 4pm.
Last admission is 90 minutes before closing time.
#18 Wander the Mocak Museum of Contemporary Art – Free on Thursdays
And just next to Oskar Schindler's Factory – in fact, it's kind of part of it – is the Museum of Contemporary Art in Krakow aka MOCAK, which was my favourite gallery in the whole city.
First opened in 2010, it's free to visit exhibitions on Level -1 here on Thursdays, otherwise ticketed entry to the exhibitions runs Monday through Saturday.
Learn more at the English version of their website here.
#19 Head Out to Botanic Gardens
And now starting to move further from the centre of Krakow, we came to the Botanical Gardens – heading here is definitely one of the best things to do in Krakow between the months of April and October (it's closed the other months!)
Covering almost 10 hectares, Krakow's Botanic Gardens are a lovely way to escape the city hustle and are filled with paths to wander and amazing flowers, trees, ponds and gardens to explore.
Outdoor concerts are also held here in the summer, in what is Poland's oldest botanical garden dating back to 1783.
#20 Climb Kościuszko Mound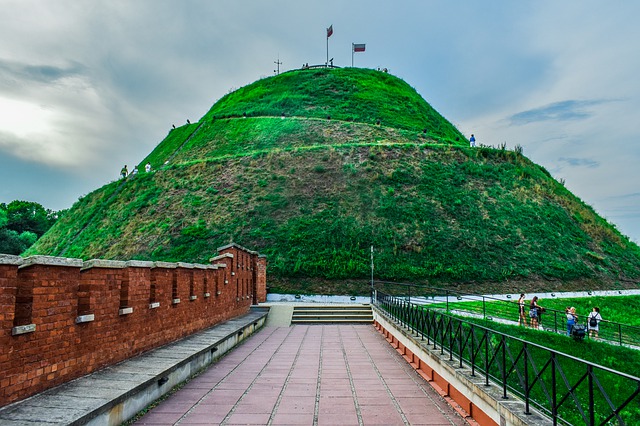 And now we start moving further yet out of Krakow to take in some of the top day trips around this city.
First up, it's the Kościuszko Mound.
This is an artificial mound, drawing inspiration from Krakow's prehistoric mounds, and was built to honour a Polish national leader.
The mound is 326m high and a path leads you to the top for stunning views across the whole of the city and its river.
The mound is open from 9am until sunset daily and the cost to enter is 20 PLN.
#21 Go Underground at the Wieliczka Salt Mines
Going underground at the Wieliczka Salt Mines is surely one of the most popular day trips and definitely one of the most fascinating things to do in Krakow.
This amazing UNESCO World Heritage Site gives you a direct insight into life deep underground in salt mines that were still operational until only a few decades ago.
Situated 14km outside of the city, you can make your way to the Salt Mines independently and then take a tour when you reach there (cheaper!) or take a fully guided tour from Krakow itself (easier!)
Book your Wieliczka Salt Mines tour here!
Tours of the mines last around 2 hours and give you a unique opportunity to experience the bizarre microclimate and history of these subterranean chambers, lakes, chapels and galleries, as well as the chance to ride in a traditional mining lift!
#22 Take a Zakopane Thermal Springs Tour
But if it's something a bit more relaxing you are after, then maybe consider hopping on a day tour to Zakopane Thermal Springs Tour from Krakow instead.
A town located in the south of Poland, very near to the Tatra mountains, this is a beautiful natural area to escape to.
And while skiing and hiking are both popular here, it's probably the thermal baths in their glorious settings that pull most visitors from the city.
With several different ones to choose from, heading here with a top-rated tour, so that you can harness local knowledge and don't have to worry about trying to navigate public transport in this remote, rural area, is a great idea.
#23 Pay Respect at Auschwitz
And finally, last on my list of the best things to do in Krakow is a strange one – it's a day trip to Auschwitz.
Now I know "dark tourism", as it's called, is an ethically fraught and difficult moral landscape to traverse, but personally, I think the importance of bearing witness and ensuring the narratives of human suffering don't fade into invisibility, is very important.
And it's in this vein, that I "recommend" a trip to Auschwitz.
Do be aware that this is a full and emotionally draining day trip, but it will give you an utterly unforgettably real and vivid perspective on the horrific events that took place here during World War II.
Like with the UNESCO Salt Mines, you can take a fully organised tour to Auschwitz, or you can use public transport to get there (bus is best) and then take a guided tour of the camp on-site with one of the train "educators".
Entrance to Auschwitz is free and you can wander the museum and former concentration camp yourself, however paying the small fee of roughly 85 PLN for a guide will exponentially increase your depth of experience and understanding.
I would recommend visiting Auschwitz in the afternoon when the crowds are less and you won't have to rush to leave Krakow early in the morning.
You can read more in this post I wrote about visiting Auschwitz, which includes info about how to plan your visit, prepare for it and what to expect.
I won't say any more about this Krakow day trip, except it's that incredibly powerful and you should go.
Mini Travel Guide to Krakow, Poland
Best Time to Visit Krakow?
I would never dream of visiting Krakow during any other time than the summer, simply because I hate the cold!
I also heard pollution, due to widespread domestic fires, was a real problem in this city during the winter months too.
As such, I'd really recommend visiting Krakow in the summer months of May through to September.
If you want to avoid the crowds, then give July and August a wide berth, as this is peak tourist time across northern and eastern Europe, and instead stick to the shoulder months either side.
How to Travel to Krakow?
Krakow is easily accessible from many other mainland European destinations via bus or train.
As always, I recommend Flixbus as the cheapest option going when it comes to getting around Europe on a budget, otherwise check out Trainline if you want to compare the prices of buses against trains.
If you're coming from further away, then it's good to know Krakow boasts an international airport.
Check out Skyscanner for the best deals on flights that land here.
You can then get to the city from the airport either via train or by private transfer. Check out this top-rated service for more info.
5 Packing Essentials for Krakow
#1 Good Camera – You will be pretty much snapping non-stop in Krakow and will need a good camera to do this gorgeous destination justice.
I highly recommend the Sony A6000, which I use for all my travels and which I love not least because it's light, compact and robust!
#2 Comfy Walking Shoes – There will be a lot of walking in Krakow, it's as simple as that!
Make sure your feet are comfortable therefore with a pair of New Balance Trainers.
Perfect for stylish city strolling, I love mine
#3 Metal Water Bottle – All that city sightseeing is thirsty work, so make sure you have a metal water bottle, like this one from Kleen Kanteen that you can refill as you go, because Polish tap water is drinkable… and free!
#4 Good Backpack – And to carry your water bottle, camera and guidebook, you're going to need a decent backpack that will help you balance the weight as you walk the city streets.
In my opinion, you can't go past the Bobby Anti Theft Backpack which is also perfect for helping you avoid pickpockets too.
#5 Travel Insurance – World Nomads offers simple and flexible travel insurance. Buy at home or while travelling and claim online from anywhere in the world.
Alternatively, if you're a long-term traveller, digital nomad or frequent remote worker seeking travel health cover, check out Safetywing's Nomad Insurance policies.
Top Poland & Eastern European Tours
And if you want to visit Krakow as part of a wider tour, either in Poland or across eastern Europe, check out this great selection.
They provide the perfect option for those who either don't want to travel solo or want someone else to sort all the organisation for them!
SAVE THIS TO PINTEREST!
And that's it, my list of the best 23 things to do in Krakow, including 8 which are free!
Do let me know if you plan to visit this gorgeous city soon and drop any questions you may have into the comments box below…