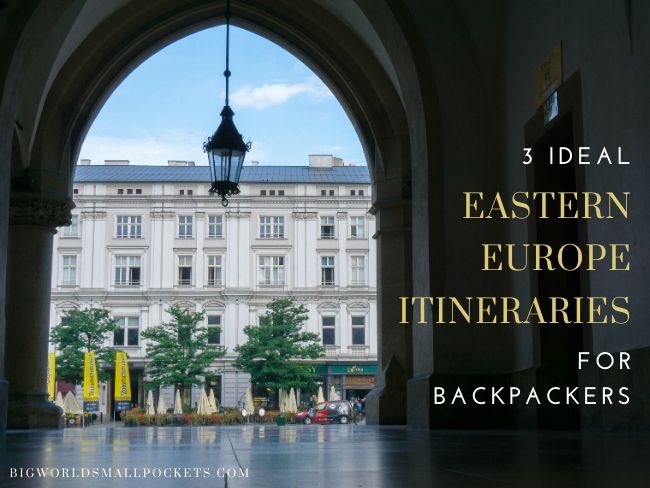 Eastern Europe really is a treasure trove for travellers.
From incredible architecture and epic nightlife to gorgeous mountains and beautiful beaches, this diverse and delightful part of the world really does pack it all in.
That's not to mention the fairytale castles, the quirky coffeehouses, the rattling trams and the fiery Rakija!
And who can forget the people, wild, welcoming and a whole lot of fun, from the Baltics to the Balkans, the Bulgarians to the Bosnians, I doubt you'll ever be made to feel more at home, or be invited to more parties as you will in this part of the world.
But perhaps best of all for us backpackers, is the fact that the vast majority of countries here are still incredibly well-priced, making them easy on the pocket and the eye!
For Eastern Europe is a land where a first-class night train sleeper will cost you less than $20, a night at the ballet less than $10 and a delicious meal easily less than $5!
So read on to discover my 3 ideal Eastern European itineraries that will show you how to see the best of this region for less.
---
Related Posts
---
This page contains affiliate links meaning Big World Small Pockets may receive a small commission on any purchases at no extra cost to you.
---
2 Week Eastern Europe Itinerary
My 2 week Eastern Europe itinerary is all about seeing some of the most famous highlights in this part of the world – great if it's your first time travelling here.
Covering 14 nights, this itinerary combines history and culture with some world class icons and a bit of off the beaten track beauty as well.
LOOKING FOR CHEAP TRAIN & BUS TICKETS IN EUROPE?
When it comes to the quickest and easiest way to book train and bus tickets across Europe, look no further than Trainline.
Offering the best prices, with a handy journey planning feature and live departure updates, this is my one-stop shop when it comes to organising all my Europe adventures on a budget.
Prague, Czech Republic : 3 Nights
Stay – Dakura Vintage Hostel
Start your time in the incredible city of Prague.
Yes it's well and truly on the tourist map, but just a few hours here and you'll quickly realise why!
Looking like something out a fairytale, from Charles Bridge to Malá Strana, Hradčany (the hilltop castle) to St Nicholas and Týn Church, it's hard not to fall in love with this city.
And when your feet get tired from all the cobblestone walking, simply retire to one of the many green parks or islands that are easily accessible and free from the crowds!
LEARN MORE: Ultimate Prague Itinerary for Backpackers: 48hrs on a Budget
Krakow, Poland : 3 Nights
Stay – Tutti Frutti Hostel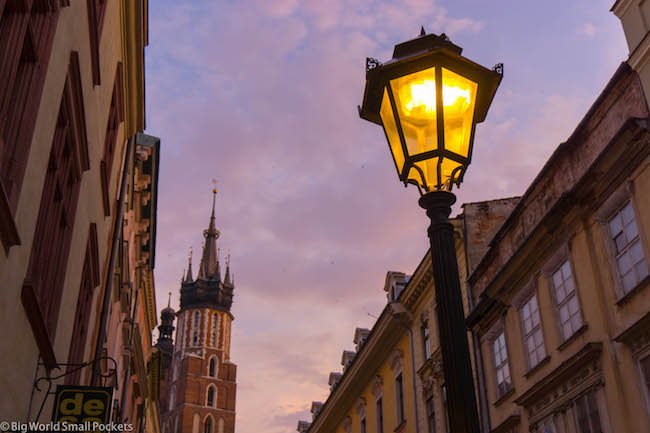 From Prague, hop on a cheap bus to Krakow across the border in Poland for more gorgeous Old Town action.
A small city, you can easily cover the main areas of the Old Town (Stare Miastro) and Wawel Castle in an afternoon.
The following day, set out to explore Kazimierz, which is the (former) Jewish Quarter.
This was actually my favourite part of downtown Krakow – a historic area that has a vibrant sense of regeneration around it.
From the eerily quiet synagogues, which still stand as testimony to the tragedy of the Jewish community in Poland, through to youthful cafes, bars and vintage shops, this is a great part of Krakow to explore via your own 2 feet.
With any time left on day 2, you might want to check out the Wieliczka Salt Mines, otherwise, save your day trip out of Krakow until your 3rd and final day here.
A full day trip and an emotionally drowning experience, heading to Auschwitz will give you an utterly unforgettably real and vivid perspective on the horrific events that took place during World War II.
It sounds weird, but it's a must during your time in Krakow and highly recommended is this full-day guided tour which includes return transport to and from Krakow with an english-speaking guide, as well as a tour of the memorial, museum and visits to both Auschwitz I and Auschwitz II-Birkenau.
READ MORE: 3 Days in Krakow Itinerary : Complete Guide to the City
Lviv, Ukraine : 3 Nights
Stay – Jam Hotel
An off the beaten track beauty, I've decided to include in this itinerary the Ukrainian city of Lviv as it is a truly delightful gem indeed.
Not yet a fixture on the backpacker circuit, despite being UNESCO World Heritage listed, Lviv really is a chance to take in something different, very different indeed.
Not only will crossing the border to Ukraine take you out of the EU, but you'll soon discover that Lviv is a wonderfully quirky destination in its own right too.
From rooftop bars with old cars on them, to yards of lost toys, bunker restaurants, squares filled with Old Soviet furniture, streets with 7 names, beer theatres, cafes filled with postcards, shops hidden behind doors, famous cemeteries and underground coffee mines, this place is a feast for culture vultures, coffee addicts, architecture buffs and craft beer fans alike.
Just go and discover it for yourself before everyone else does!
DISCOVER MORE: 25 Unforgettable Things to Do in Lviv
Budapest, Hungary : 3 Nights
Stay – Das Nest
Back on the main route, it's time to wave goodbye to Ukraine and hit up the 4th country on this itinerary.
The show-stopping city of Budapest is an absolute favourite of Eastern European backpackers and rightly so.
For not only is it jam-packed with history, but the public baths and party bars, make it one of the most fun cities too.
Spend one day seeing the main bucket-list attractions in the city, which are mostly located on the Buda side of the river, before donating the rest of your time to the parks, ruin pubs, quirky cafes and amazing baths of Pest.
LEARN MORE: The Ultimate Budapest Itinerary for Budget Travellers
Belgrade, Serbia : 2 Nights
Stay – Arka Barka Hostel
Finish up your 2 week Eastern Europe itinerary with another slight surprise city, but one that you won't regret visiting.
Belgrade is a wild place to party, but also an amazing city to explore on foot as well.
My favourite parts were down by the river, where cool cafes and restaurants nudge shoulders with cycle tracks and green parks.
The wonderful island playground of Ada Ciganlija can't be missed either, especially in the summer!
DISCOVER MORE: 10 Brilliant Things to Do in Belgrade for Backpackers
4 Week Eastern Europe Itinerary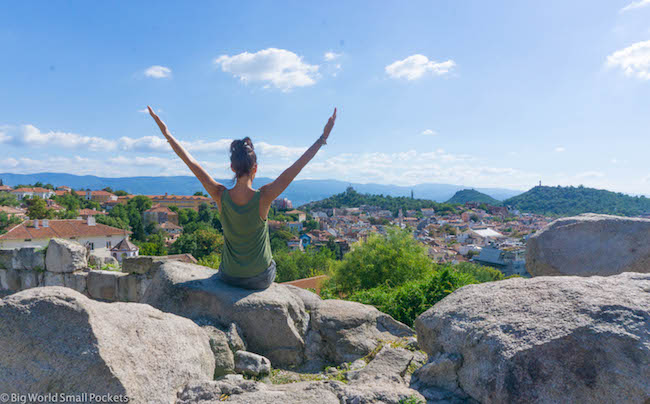 My 4 week Eastern Europe itinerary carries on from the 2 week one above, so following this for the first 14 nights, before adding on the following destinations will give you a greater chance to explore the less discovered countries of Romania and Bulgaria too.
Timisoara, Romania : 1 Night
Stay – Downtown Hostel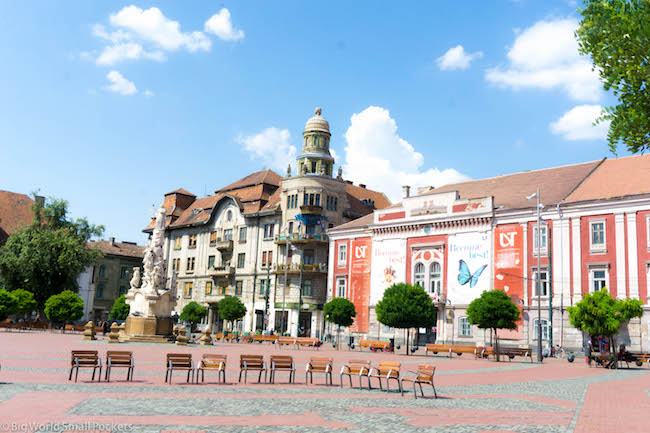 Cross from Belgrade into Romania and head to the student city of Timisoara.
With its wide avenues and gorgeous squares, it's a great place to get a very local feel and to unwind following a no doubt riotous time in Budapest and Belgrade!
Sibiu, Romania : 2 Nights
Stay – PanGeea Hostel

From Timisoara, it's time to head into Romania's countryside to take in the stunning mountain scenery and fairytale castles of Transylvania.
This provides a great contrast to simply city hopping around Eastern Europe and you're likely be amazed to see just how rural and "undeveloped" life in this area still is as horse-drawn carts and flower-filled fields dominate the landscape.
With some extra time up your sleeve, the gorgeous town of Sighisoara is also worth a stop, although do be warned public transport in this part of the world is not the most regular!
Brasov, Romania : 2 Nights
Stay – Kismet Dao Hostel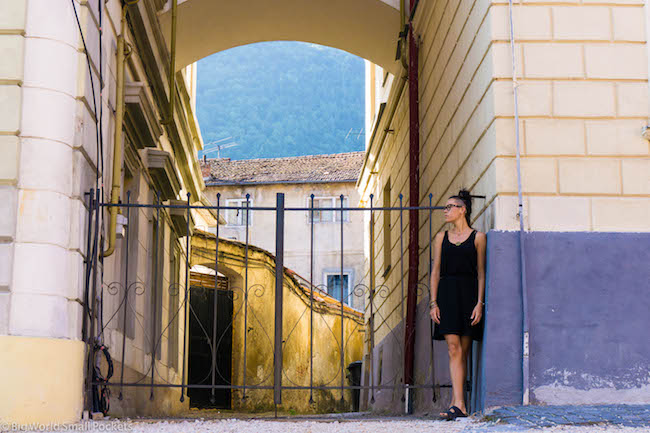 Continue your time in Transylvania by heading from Sibiu onto the town of Brasov.
Another gorgeously, historic spot, no time here is complete without taking the cable car above the Hollywood-style sign and enjoying the view.
Nearby Peles and Bran castle are also worth seeing, although do be prepared for the crowds!
Bran boasts the famous castle meant to have been the basis of Bram Stoker's novel, while there's no doubt Peles is one of the prettiest in the whole of the country.
DISCOVER MORE: 10 Best Things To Do in Romania for Backpackers
Bucharest, Romania : 1 Night
Stay – LeBlanc ApartHotel

End your time in Romania in the nation's capital.
My advice is to avoid the Old Town here – it's completely overrated and not even that old!
Instead, spend your time exploring the nearby suburbs which are filled with independent bookstores, ruin pubs, cool cafes, green parks, crazy statues and some fun street art.
LEARN MORE: The Most Fun Things to Do in Bucharest… On a Budget!
Veliko Taranovo, Bulgaria : 2 Nights
Stay – Hostel Mostel, Veliko
From Bucharest, cross into the next country of Bulgaria and head to the town of Veliko Taranovo, one of my favourites!
Perched on the edge of a valley, wander the small streets here and take in the epic views.
The next day head out on the famous UFO tour run by Hostel Mostel. As weird as it sounds, you won't regret it!
READ MORE: The 10 Most Amazing Things to Do in Bulgaria
Sozopol, Bulgaria : 2 Nights
Stay – Offshore Camping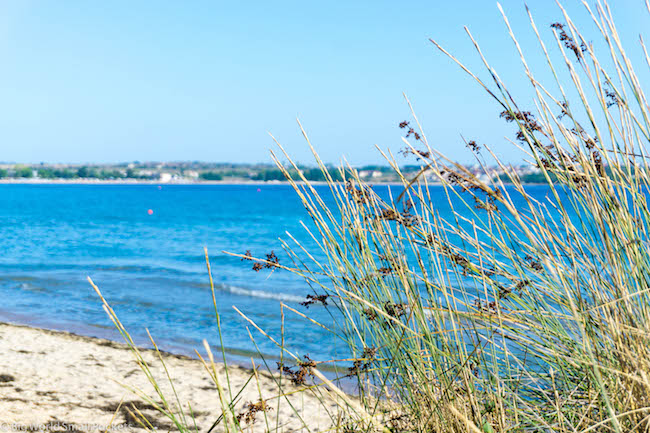 After all the city action, it's time to head to the coast and relax!
Steer clear of the resort-filled areas of Bulgaria's Black Sea and instead head south towards the small city of Sozopol.
The beach just north of here provides a bit of an alternative, young, fun vibe and with cheap camping right behind the dunes, you can't go wrong.
Probably one just for the summer, if you have more time you may want to extend here!
Plovdiv, Bulgaria : 2 Nights
Stay – Hostel Old Plovdiv
I loved Plovdiv so much, even if I couldn't quite put my finger on why.
Destined to be the European Capital of Culture in 2019, this awesome historic city is the country's second largest metropolis, but with its chilled vibe, quaint streets, funky cafes, cool bars, and cobbled charm, it feels a million miles away.
Pretty as punch, top level trendy and beautifully off the beaten track, Plovdiv is the perfect place to spend a few days after the beach!
LEARN MORE: Plovdiv : The Perfect Weekend Getaway You Haven't Even Heard of Yet
Sofia, Bulgaria : 2 Nights
Stay – Hostel Mostel, Sofia
And finally, it's time to end your stay in Bulgaria and your 4 week Eastern Europe itinerary in the capital city of Sofia.
The company 365 here offer an awesome free walking tour, which I think was the best I took in the whole of the region, so this comes highly recommended as you discover Roman ruins, thermal waters and hidden poems.
And, with another day here, why not enjoy one of the great trips offered by Hostel Mostel, including to Vitosha Mountains or Rila Monastery?
DISCOVER MORE: 10 Beautiful Things to Do in Sofia, Bulgaria if You're on a Budget
6 ESSENTIAL PACKING ITEMS FOR EASTERN EUROPE
#1 Good Camera – You will be pretty much snapping non-stop during your time in Eastern Europe and will need a good camera to do this gorgeous part of the world justice. I highly recommend the Sony A6000, which I use for all my travels and love, not least because it's light, compact and robust!
#2 Good Walking Shoes – There will be a lot of walking in Eastern Europe, it's as simple as that! Make sure your feet are comfortable therefore with a pair of New Balance Trainers. Perfect for stylish city strolling as much as monastery mounting, I love mine!
#3 Good Guidebook – I'm still a massive fan of the Lonely Planet Guidebooks and do think their combined Eastern Europe is well put together. Able to save you a lot of money if you want to learn about the history of this part of the world, but not continually pay for a guide, getting the eBook is a great way to keep your luggage weight down too!
#4 Good Water Bottle – All that sightseeing is thirsty work, so make sure you have a metal water bottle that you can refill as you go, because Eastern Europe tap water is generally safe, drinkable… and free!
#5 Good Backpack – And to carry your water bottle, camera and guidebook, you're going to need a decent backpack that will help you balance the weight as you walk and sightsee. In my opinion you can't go past the Bobby Anti Theft Backpack, which is also perfect for helping you avoid pickpockets.
#6 Travel Insurance – And finally, at number 6, I wouldn't go anywhere in the world without proper coverage and always recommend travel insurance from World Nomads as the best option when backpacking Eastern Europe and beyond.
6 Week Eastern Europe Itinerary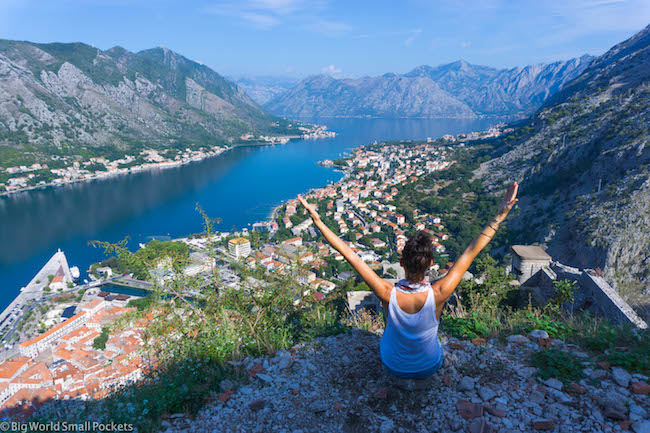 And finally, with 6 weeks for your Eastern Europe itinerary, you can count yourself very lucky!
Follow my 4 week itinerary above and then add in the 14 nights below to discover the best of the Balkans as well.
Skopje, Macedonia : 1 Night
Stay – Get Inn Skopje

Spend 1 night in Macedonia's capital as you cross from Bulgaria into the former Yugoslavia area and prepare to be amazed by the insane amount of weird-ass statues!
Pristina, Kosovo : 1 Night
Stay – The White Tree

Motoring on again, it's time to head to Kosovo, a tiny Eastern European country.
Emerging from civil conflict and coming to independence with a wave of youthful energy and vivacious vibrancy, it's hard not to get caught up in it all here!
Bar, Montenegro : 3 Nights
Stay – The Grove
Montenegro is a beautiful jewel in the Balkans, which is why I've factored in 6 days on this itinerary to spend here.
Awash with gorgeous coastline and stunning mountains, its Adriatic splendour can't be missed.
The Grove is an awesome hostel just outside the coastal town of Bar and makes a wonderful place to unwind and take in the stunning views of this side of Eastern Europe.
Kotor, Montenegro : 3 Nights
Stay – Pupa's Hostel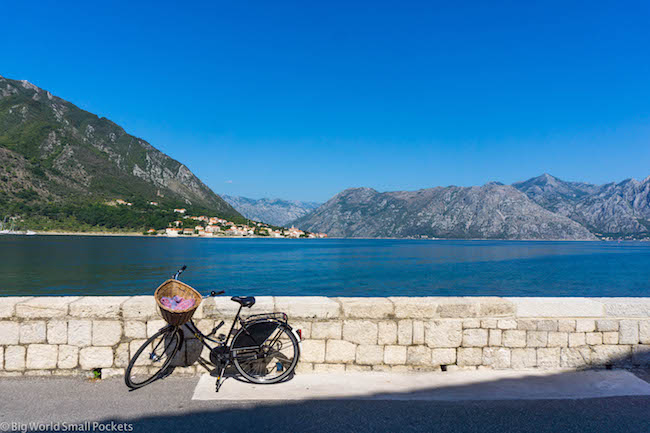 Next up in Montenegro, it's a hop, skip and a jump north to the famous port of Kotor.
Don't miss a hike up to the historic fort or a chance to cycle round the inlet and discover smaller villages such as Perast.
Then, of course, there's always the chance to just lie in the sun, swim in the sea and take in the amazing colours!
DISCOVER MORE: The Ultimate Backpacker Guide to Kotor, Montenegro
Dubrovnik, Croatia : 1 Night
Stay – Angelina Hostel
There's no denying the delight of Dubrovnik and just a small journey north from Kotor, it made sense to include it in this Eastern Europe itinerary.
That said, it is crazy expensive here, so limiting your time in Croatia to just 1 night makes sense for the budget too!
Spend your day exploring the Walled City of Dubrovnik and splurge on walking the walls at sunset when the day trippers have gone home and the light is best!
Don't miss the hidden Buza Bar where you can swim, sunbathe and cliff jump into the dazzling waters below.
LEARN MORE: How to Visit Croatia's Dubrovnik for Less than 80 Euros
Mostar, Bosnia : 2 Nights
Stay – Musala Hostel
And finally it's onto the 12th and last country of your 6 week Eastern European itinerary!
Phew!
Bosnia Herzegovina tends to be a favourite of backpackers not just in the Balkans, but across the whole of Eastern Europe – probably due to its gorgeous mountainous landscape, friendly people and low price tags!
Start your time in the city of Mostar, where you should spend 1 day taking in the UNESCO-listed Stari Most Bridge and quaint Old Town.
On your second day, head out on the Herzegovina day trip – an amazing-adventure filled day that takes in soviet bunkers and waterfall swimming.
Sasha at the great Musala Hostel can help you arrange it.
Sarajevo, Bosnia : 3 Nights
Stay – The Doctor's House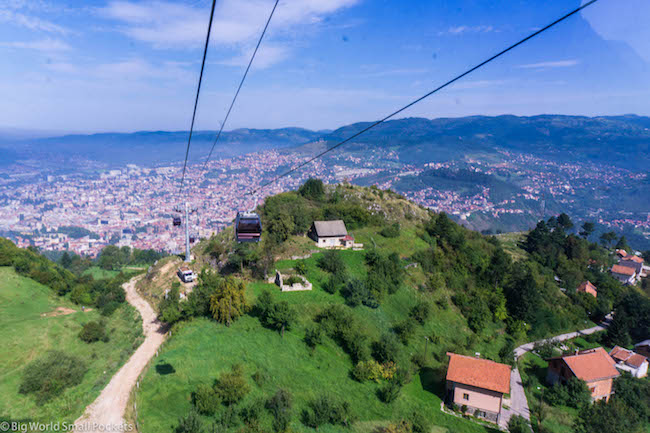 And last, but not least, it's onto Bosnia's capital – Sarajevo.
Catching the train here from Mostar is one of the highlights of this Eastern European itinerary and I'm sure you'll fall in love with this (hilly) city just as much as anyone else.
Don't miss the free walking tours, great museums and bustling marketplace here and, if you have any time left, heading out of town to explore the Old Winter Olympic Bobsleigh Track comes highly recommended – trust me, it's way better than it sounds!
DISCOVER MORE: 15 Amazingly Cheap Things to Do in Sarajevo, Bosnia
PIN IT TO PINTEREST!
So there you have it, 3 ideal itineraries for your Eastern European backpacking adventure.
Have you travelled on a budget in this part of the world?
What were your favourite stops and have I missed any out?
Do let me know in the comments box below…