One of the most buzzing cities in Europe, the Hungarian capital of Budapest is a young, vibrant and fun city, perfect for summer and winter visits alike.
Split into 2 halves by the grand river Danube, the cities of Buda and Pest combine in bringing both a royal grandness and an edgy urban element to this wonderful capital.
But Budapest isn't just great for the culture vibes and architectural diversity, it's also great for budget travellers too with some of the cheapest prices of any capital on the continent.
So here they are, my top 21 things to do in Budapest…
---
Related Posts
---
This page contains affiliate links meaning Big World Small Pockets may receive a small commission on any purchases at no extra cost to you.
All prices given are correct at the time of publication.
---
#1 Drink in a Ruin Bar
It might seem a strange one to start with, but Budapest's growing popularity among budget travellers is increasing thanks to its lively and unique nightlife.
And top of the bill are the city's ruin pubs, which began appearing in the early 2000's when derelict buildings were turned into fun pop-up bars.
A brilliant stroke of entrepreneurial genius, the slightly downtrodden aesthetics and crumbling glory of these buildings perfectly captured the sense of an underground scene, which has now, thanks to its popularity, become quite mainstream!
#2 Visit the Great Synagogue
The largest Jewish house of worship in the world outside New York, visiting the Great Synagogue is definitely one of the best things to do in Budapest.
Built in 1859, this huge religious building in the Pest side of the city can be entered for a fee, but often the lines can be big.
Save time and money by grabbing your skip the line ticket here in advance.
After heading inside, the free to view and very important Holocaust tree memorial at the side of the building, was the most powerful part of the Synagogue for me and shouldn't be missed.
#3 Find a Fun Café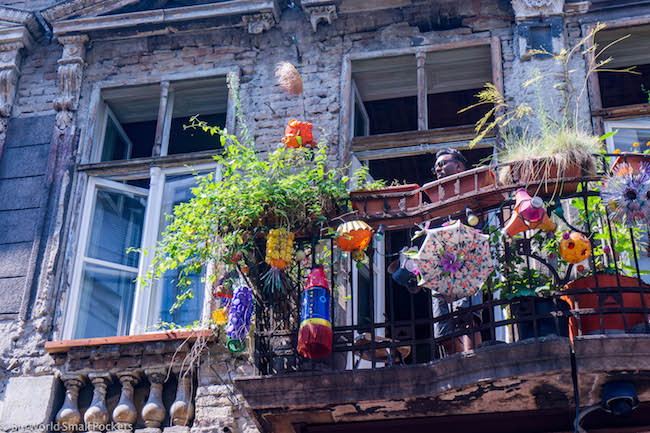 Like most European capitals, the coffee scene is exploding in Budapest with lots of independent cafes popping up offering great coffee at some super affordable prices.
For caffeine addicts like me, heading to a few of the best cafes here is absolutely one of my top things to do in Budapest on a budget, and top of my list are Coop Roastery, Stika & London Coffee Society.
#4 Walk Through Kerepesi Cemetery
A cemetery is always a strange tourist attraction to visit when you travel to a new city, but it can actually be an interesting way to learn a lot about a country's cultural heritage and the people that have helped shape that.
Like Paris' Pere Lachaise, Budapest's Kerepesi Cemetery is where the rich and famous of Hungary lie and walking through it provides you with a great chance to learn more about these people.
Free to enter, making it a great option for budget travellers, there's also complimentary maps available at the entrance that show you where the most notable are buried.
#5 Eat at a Street Market
I was so happy to find that Budapest has a flourishing market scene and that, in the summer at least, loads of street food stalls flood parts of the city offering cheap and delicious grub.
Karavan was my pick of the bunch, with lots of good veggie options to be found there, but the more classic central market hall, or the very hipster Sunday market at Szimpla are also great options.
Plus in the winter months, there's Christmas Markets galore too…. So win win!
#6 Climb St Stephen's Basilica
Finished in 1905 after more than 50 years under construction, seeing St Stephen's Basilica (the flagship religious buildings in this capital) is definitely one of the best things to do in Budapest.
A neoclassical cathedral in style, entrance is via donation, but it's worth the small fee to climb to the dome at the top which really does boast an incredible view.
If you want a guide to take you round to tell you more about this key religious building, then this very well-priced tour, which includes tower access, is a great choice.
#7 Gasp at the Parliament Building
One of the most impressive and largest buildings in the city, there's no question that checking out the Parliament Building is one of the best things to do in Budapest for those on a budget… largely because it is free!
At least, it's free to see it from the outside, which is certainly enough to get a good impression of just how huge this 691 room construction is!
Completed in 1902, it's certainly a formidable and iconic piece of architecture and if you do have a bit more cash, then you can pay to go inside and explore a small selection of its insanely vast interior.
#8 Learn Something at Hungarian National Museum
The nation's flagship exhibition of its historical artefacts, the Hungarian National Museum charts the development of this country in terms of history, geography and people.
There is a small entrance fee, but being so big, it's easy to spend a good few hours here and get your money's worth.
Otherwise, if it's more museums you're after, the House of Terror is another great exhibition space in the city all about the devastating and shock impact of communist rule, in Hungary.
The entrance is slightly more expensive the National Museum, but if you're interested in history it will be worth it.
#9 Stand in Heros Square
The largest and most important square in the capital, Hero's Square is a must-visit monument and standing in it is definitely one of the best things to do in Budapest on a budget.
At the centre is 36m high pillar of Archangel Gabriel in the centre, which is crucially connected to the mythology surrounding St Stephen, the first crowned ruler of Hungary.
Otherwise, more centrally located Erzsébet Square (Elizabeth Square) is another great public space in Pest.
Here you can get a feel for local life as young Hungarians come here in their droves to chill, play music and dangle their toes in the fountains.
#10 Hang in City Park
And if it's green spaces you're after during your in Hungary's capital, then hanging in the huge green city park is absolutely one of the best things to do in Budapest on a budget.
Free, and ideal for picnic or snoozes in the sun, hanging in City Park is a perfect sunny summer afternoon activity in this city.
#11 Soak in a Public Bath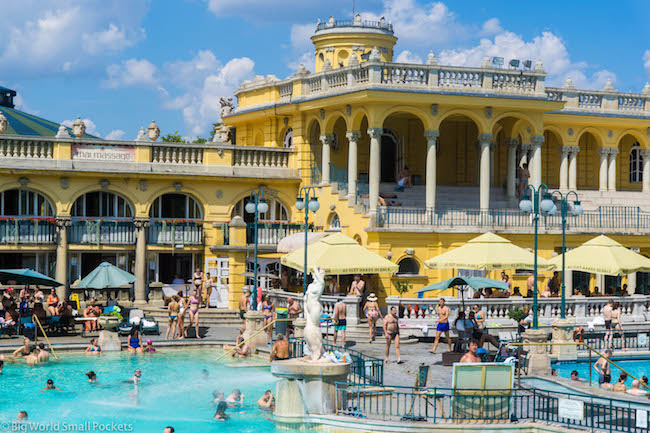 And now we really get going with my absolute favourite thing to do in Budapest and that is to visit one of the thermal baths in the city.
There's tons to choose from, but my favourite are the largest Baths in Budapest – the incredible Szechenyi Baths.
Allow yourself plenty of time here to swim and relax in the various heated pools, as well as enjoy the saunas, steam rooms and thermal waters.
Basic entry to Szechenyi Baths is 18 Euros and includes a locker and unlimited day access.
You can book online here in advance or just turn up and pay on arrival.
If you're doing this, either get here early in the morning to ensure you get a sunbed space and locker, or make it an evening thing and enjoy lounging in the thermal waters as the sun goes down.
Open from 06:00 until 22:00, this is one of the things to do in Budapest that can't be missed!
#12 See Sunset at Chain Bridge
And another one of my favourite things to do in Budapest on a budget is to watch the sunset from the famous Chain Bridge.
Absolutely free, with one of the most iconic views in the city, this is the perfect place to watch and snap a stunning sunset as the golden light bounces off the River Danube.
#13 Hike Up Castle Hill
And if you want to get a bit of exercise in and cross Chain Bridge during the day, then climbing the Royal Steps in Budapest, up Castle Hill, is a great way to stretch the legs in this city.
Otherwise, with less energy, you can take the funicular or hop on board the number 16 bus which leaves from the roundabout at the end of Chain Bridge.
1 ride costs 350 Forints, or buy a pack of 10 tickets for 3000 Forints.
#14 Lookout from the Bastion
And at the top of Castle Hill sits one of Budapest's best-known attractions and city lookouts.
The Bastion is a must-visit spot in Budapest with its glorious elevated views and historical setting.
And taking it all in is absolutely one of the best things to do in the capital…. with your camera!
#15 Snap Matthias Church
And just next to the Bastion is another famous Budapest monument, Matthias Church.
Constructed by prolific architect Frigyes Schulek, with parts that are over 500 years old, this religious building is also on the top of Castle Hill in Buda with some great views over the Danube to Pest.
#16 Wander the Buda Castle
And last but not least on top of Castle Hill and definitely one of the best things to do in Budapest is check out Buda Castle.
The former Royal Palace and now a UNESCO-listed heritage property, Buda Castle is the pinnacle in this city's crown and you can either stroll to from the Bastion and St Matthias Church, or hop back onboard the number 16 bus to get here.
Good for budget travellers that the grounds are free to stroll here, or you can pay an entrance fee to check out the exhibitions inside if you wish.
#17 Check Out the Citadella
After the attractions of Castle Hill, you can head over to the opposing mound – Gellert Hill.
Also located in Buda, on top of this adjacent elevated plot you can check out the famous Citadella which was built in 1848-9.
Having never seen a battle, the inside of this building is bizarrely closed off the public, but admiring it for free from the outside is still perfect for us budget travellers.
#18 Marvel at the Liberty Statue
And then next to the Citadella on Gellert Hill is Hungary's Liberty Statue.
Standing out for miles around, this monument is also known as the Freedom Statue, was erected to commemorate the end of World War II in 1945.
#19 Relax on Margit-Sziget Island
And now we move away from the sights of Buda to some of the trips you can take around this city.
First up is the beautiful Margit-Sziget, or Margaret Island, which is located in the Danube between Buda and Pest and acts as a bit of a city playground.
As such, heading here to relax a little, especially in the sunny summer months, is definitely one of the best things to do in Budapest.
Filled with gardens and trails you can either walk or cycle, Margit-Sziget also has its fair share of swimming pools and spas too, so if you're craving some downtime or a good swim, this is the place to head.
Recommended is Palatinus Strand, which has the largest collection of outdoor pools in the city.
#20 Head Out to Memento Park
And next on this list of the top things to do in Budapest on a budget is a rather bizarre one, but all the more fascinating for it.
Unlike many ex-Soviet countries, which destroyed their monuments to previous leaders, this controversial subject of what to do with the fallen Communist leaders took a different turn in Budapest and all of them were rounded up and put into one place.
And that place is Memento Park.
Located 10km out of the city, there are over 40 statues of Lenin, Marx and others, in a strange, but somehow interesting Cold War memento.
An entrance fee does apply here, but you can get a discount with your ISIC Student Card by and then use public transport to get to the site cheaply too.
#21 Day Trip to Szentendre
And finally, last but not least on this list of the top things to do in Budapest on a budget is to day trip to the cute town of Szentendre, just 19km outside the capital.
Plus you can sail up the Danube to get here!
Szentendre was originally an artist town and despite receiving a lot of day-trippers, its quaint cobbled streets, galleries and cafes still hold plenty of charm.
In the peak summer months, boats leave daily from the dock at Vigado Ter – in Pest – at 10:30am and a one-way ticket will set you back 3200 Forints and takes 1.5 hrs.
The sailing company is Mahut Passnave.
Return tickets are priced at 3460 Forints and the boat leaves Szentendre at 5pm, reaching back to Pest at 6pm.
Get to the dock at 10am to buy your ticket and reserve a spot on the outside deck – the beautiful views and cool breeze as you sail up the Danube will mean you'll want to be outside in the summer at least!
Once you arrive in Szentendre, spend a lazy afternoon taking in the sounds, smells and feels of a Hungarian town, visit the churches or just relax by the river.
You can then either take the Mahut Passnave boat back to the city, or for a much cheaper price, hop on one of the trains that run every 10-20 minutes directly into Buda's Batthyany Ter Station.
Alternatively, check out this bike and boat ride to Szentendre from Budapest, which includes a traditional Hungarian lunch.
Budapest Mini Travel Guide
When to Visit Budapest?
No question in my mind that you should definitely visit Budapest during the summer season.
This will allow you to get the most from the city's lovely setting because, let's face it, Europe is exponentially more beautiful when the sun shines!
The other option for visiting Budapest is during the winter months – a good idea if you want to enjoy some snow!
Just beware that the seasons in this country are quite extreme, so summer days in August can reach well into the high thirties and winters can often be below freezing – pack accordingly!
How to Travel to Budapest?
Getting across from most parts of central or eastern Europe to Budapest is easy via bus or train.
I actually travelled there from Bratislava and found the journey easy and safe.
As always, I book all my train and coach travel across Europe using Trainline – I like the way they compare multiple journeys and use split-fare technology to get you the best prices.
Alternatively, you can also fly into the Hungarian capital from across Europe. As always, check Skyscanner for the best-priced tickets.
Where to Stay in Budapest?
Top 4 Packing Items for Budapest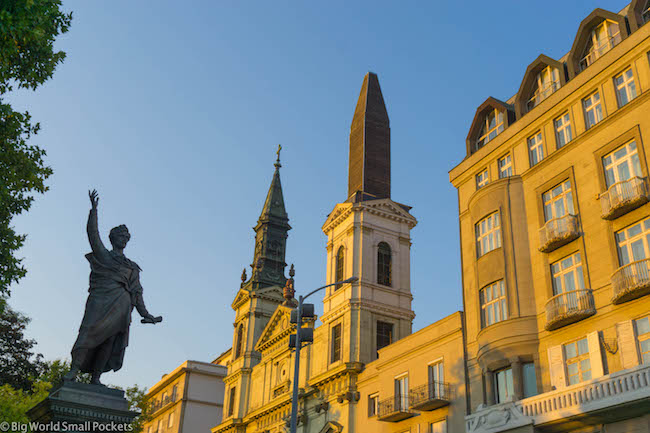 #1 Good Camera – You will be pretty much snapping non-stop during your time in this city and will need a good camera to do this gorgeous place justice. I highly recommend the Sony A6000, which I use for all my travels and love, not least because it's light, compact and robust!
#2 Good Walking Shoes – There will be a lot of walking in Budapest, it's as simple as that! Make sure your feet are comfortable therefore with a pair of New Balance Trainers. Perfect for stylish city strolling as much as monastery mounting, I love mine!
#3 Good Water Bottle – All that sightseeing is thirsty work, so make sure you have a metal water bottle that you can refill as you go, because Hungarian tap water is drinkable… and free!
#4 Good Backpack – And to carry your water bottle, camera and guidebook, you're going to need a decent backpack that will help you balance the weight as you walk and sightsee. In my opinion, you can't go past the Bobby Anti Theft Backpack, which is also perfect for helping you avoid pickpockets too.
Travel Insurance for Budapest
World Nomads offers simple and flexible travel insurance. Buy at home or while travelling and claim online from anywhere in the world.
Alternatively, if you're a long-term traveller, digital nomad or frequent remote worker seeking travel health cover, check out Safetywing's Nomad Insurance policies.
How to Access Money in Hungary?
When it comes to getting paying for things in Hungary, you want to ensure you're not being charged overseas transaction fees or getting poor exchange rates when you use your card abroad, which is why I always take my Wise Card away with me.
The easy way to spend abroad with real exchange rates, no markups and no sneaky transaction fees, you can use your Wise card just like a debit card in Hungary… and it links easily with Google and Apple pay – sold! Get yours here.
SAVE THIS TO PINTEREST!
And there you have it, my list of the 21 top things to do in Budapest.
With prices low across this city, Budapest makes a great destination for backpackers and I hope this list of great ideas will show you how you really can explore this city for less.
And tell me… have you visited Budapest?
What was your favourite thing to do there?