2 of Europe's great capitals, Vienna in Austria and Budapest in Hungary are must-see destinations when you're travelling in this part of world.
Which is easy to do, because these 2 wonderful cities are actually situated incredibly close together, meaning it's easy to visit both in a single trip.
Under 220km apart by train, in little under 3 hours you can hop from classical central Europe to exciting castern Europe and gain a completely different perspective on this region's geography and culture.
And the best way to make this journey, in my opinion, has to be by rail.
And with this mind, I've compiled this article which contains everything you need to know about catching the train from Vienna to Budapest, or visa versa.
It's the perfect way to soak up Europe's diversity in a quick, easy and efficient way and promises 2 glorious city adventures either side of the journey.
So, let's get stuck in….
---
Related Posts
---
This page contains affiliate links meaning Big World Small Pockets may receive a small commission on any purchases at no extra cost to you.
---
Vienna to Budapest Train: The Basics
For the purposes of this article, I'm going to discuss travelling from Vienna to Budapest i.e. in the direction of west to east, but please do bear in mind, you can absolutely travel the other way.
All this information will still apply if you are travelling in the other direction, you'll just have to follow it in reverse!
I often get asked in which direction I recommend travelling i.e. Vienna to Budapest or Budapest to Vienna, but my answer is always the same, it honestly doesn't matter.
Pick the route that works best given your timeframe, your bucket list spots and your itinerary in general.
If you're flying in and out of Europe (or training elsewhere afterwards), then checking the price of any onward journeys may help sway your decision as to which city you finish in.
Distance & Stations
By train, it is 214km (that's 133 miles for us Brits) from Vienna to Budapest.
In general, this makes it a journey time of around 2 hours, 40 minutes by rail.
All trains making this journey run between Hauptbahnhof Station in Vienna (also known as Wien Hbf) and Keleti Station in Budapest.
Both these stations are super centrally located in their respective cities.
This makes them super convenient for travellers, who generally want to base themselves near to the centre of the action!
Services & Networks
There are 2 train services that make this journey.
The first is run by a company called Railjet.
This meant to be the high-speed train (although it really isn't that much quicker), which offers a more luxurious service, including power sockets, free wifi, open plan seats and a restaurant car.
All in all, it's a more modern and swanky service.
The second service is run by ÖBB, which is the national railway system of Austria.
Prices and journey are very similar on both services.
All services running between Budapest and Vienna have toilets, although often with trains in Europe it pays to be prepared with your own paper, wipes and antibacterial hand gel in case there's not any of these things!
Both services leave from and arrive into the same stations and they can both be booked the same way, so the main thing to consider is really what time you want to depart / arrive and / or which service has the best deal on.
Schedule
Between Railjet and ÖBB there are 21 services between Vienna and Budapest daily, but only around 5 are direct.
Do note any changes when booking tickets to ensure you get the direct and fastest trains.
Eco-Travel
The great news is that the train from Vienna to Budapest is electric, which means it has a very low carbon footprint.
If you are trying to travel in a more sustainable, then the train is a great way to go.
Given the fact that it's also fast, pleasant, stress-free and relatively good value, means it's an all-round great option for travelling between Vienna and Budapest, especially for those trying to be more eco-conscious.
Buying Tickets for the Train
So now that we've covered the basics about travelling from Vienna to Budapest by train, it's time to cover how to buy tickets for this service.
As is commonly the case when booking trains that cross European borders, there's essentially 2 options for this journey – booking through the Austrian railway site or booking through the Hungarian one.
However, I very often find these national websites clucky to use, hard to decipher and difficult to pay in foreign currencies or with international cards.
Which is why I always book European trains using Trainline.
They only charge a minimal booking fee (1-2€) and their website is so easy to use in English (or an array of other languages) that it's a no-brainer for me.
You can pay using international cards and you can change the currency to view converted prices.
They also have a great app, which allows you not only to book tickets on the move, but also to store your e-tickets (doing away with the need to print anything out) and check the journey planner – essentially letting you know if the train is on time, late etc.
In my opinion, these are the best services and are very affordable, but if you do want to check out the Hungarian EuroCity trains that make this journey too, head to this official website.
There is an English version of this site that sometimes offer slightly cheaper tickets than Trainline (and that don't charge a booking fee), which can save you a few euros.
However, when you book through Hungarian Railways you have to collect your tickets at a railway station in Hungary before your journey.
If you're starting from Vienna therefore, this is an impossibility!
This is exactly the sort of reason why I recommend booking through Trainline – they just make life so easy for international travellers and their prices are rarely much more than local websites.
You can also book tickets with Trainline 180 days ahead of your journey, which is the longest lead-up time of any train booking website I've found.
So why not check them out?
Get prices for your Vienna to Budapest trains at Trainline here.
Tickets start from less than 20€ per adult without a railcard.
Classes & Seat Reservations
Both 1st and Standard (essentially 2nd class) tickets can be bought for any ÖBB train from Vienna to Budapest.
Railjet only offers standard tickets through Trainline, which come with free wifi and draught beer available on tap!
Through the Railjet website, you can a business class upgrade, which includes reclining leather seats, a complimentary drink and meals served to you.
As a budget traveller, I'd always opt for a standard ticket, especially on a journey as short as that for Vienna to Budapest.
There isn't really any need for anything else as the trains are very comfortable and fit for purpose.
However, if you want to splash out a bit, you can buy a first-class ÖBB train ticket through Trainline.
This upgrade usually only amounts to 10€ more than standard fares and includes lounge access and seat reservations.
Otherwise, seat reservations are not included in ÖBB tickets, but can be purchased for a small extra charge through Trainline – around 3.30€ per seat at the time of booking.
I don't think seat reservations are necessary personally, unless you are travelling as a family or big group and want or need to be seated together.
What to Expect on the Journey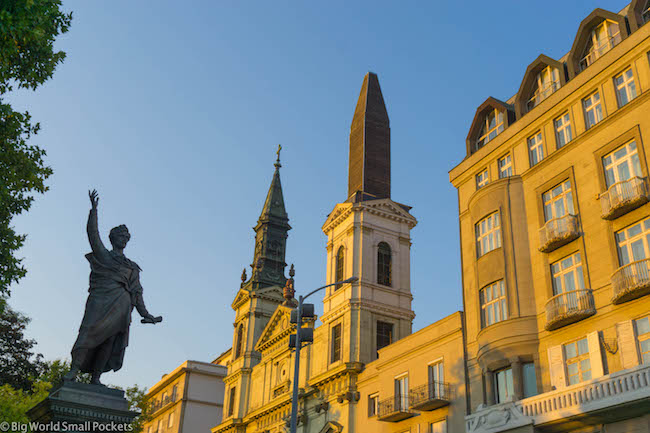 Boarding
As with the vast majority of trains in Europe, there's no need to check in for your Vienna to Budapest train.
You simply enter the station and check the boards for the relevant platform details.
Find the platform, board the train and sit in your reserved seat, or a free seat in the correct carriage class if your ticket is unreserved.
Ensure you then have your tickets to hand for when a conductor or inspector passes by.
I suggest using the Trainline app to store and show your tickets, track your journey and see when your correct departure station is coming up.
Luggage
In terms of practical information for what to expect from the train journey from Vienna to Budapest, then you'll be pleased to know there's no restrictions on luggage allowances.
As long as you can carry your luggage onto the train, there's usually ample rack space at either end of the carriages, as well as above the seats for smaller bags.
As I've mentioned earlier, free wifi and power sockets are available on Railjet trains and that service also has room for bikes to be taken onboard – although cycle spaces are limited and need to be booked in advance.
If you need to arrange luggage storage in either Barcelona or Vienna, I highly recommend LuggageHero – a great left luggage app I've used in Europe myself.
They offer multiple storage locations across both cities and designed with both security and value in mind.
Simple and easy-to-use, with a handy review feature, I really love this great travel tool.
Scenery
It's worth pointing out, straight off the bat, that the journey from Vienna to Budapest is not the most scenic – it's flat and the countryside is fairly uneventful, which means this isn't a journey you make for the views… unless you're big into wind turbines that is!
However, the train between these 2 cities is a great way to whizz across from central to eastern Europe and, as I alluded to in my intro, to visit 2 very different cities and learn about the very different paths history has taken them on.
Inspo for your Time in Vienna & Budapest
If you want to learn more about Budapest, then check out these 2 articles I wrote, which give you the perfect travel lowdown on the city, including how long to spend there and where to stay, as well as the best places to hang, eat, sightsee and enjoy.
When it comes to Vienna travel inspiration, I think this post from my friends over at Two Scots Abroad is super useful.
Alternative Methods to Travel from Vienna to Budapest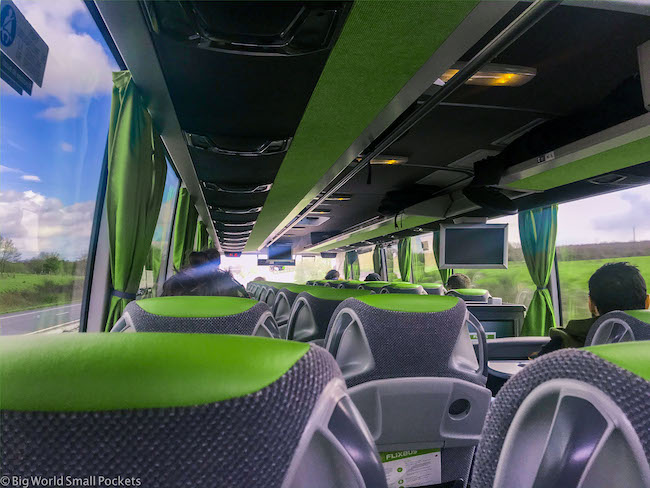 In case you're wondering whether there are other transport methods apart from the train to get between Vienna and Budapest, the answer is yes.
Here's my lowdown on the other alternative methods of travelling from Vienna to Budapest…
Vienna to Budapest by Bus
The Vienna to Budapest bus is definitely the cheapest way to travel between these 2 cities and I've done it myself this way too.
Prices start from just under 10€, which can mean it's half the price of the train.
Although it does take a bit longer, the journey passes soon enough with a good audiobook or movie.
With a bus from Vienna to Budapest, you can expect the journey to take between 3hrs and 3.5hrs – although this is dependent on traffic
This especially true because buses from Vienna to Budapest usually depart from very central stations, meaning they often hit the city traffic.
Although this sounds annoying, it's actually a welcome relief that they leave centrally when you have to get to the station with all your luggage from your accommodation!
Both Regiojet and Flixbus operate services on this route.
Regiojet's services leave from Vienna Main train station (Südtiroler Platz) and arrive into Budapest Kelenfold Vasut.
Flixbus uses different stations – departing from the International Bus terminal at Wien Hbf (the same station the train to Budapest leaves from) and arriving at Budapest Népliget.
Flixbus has free wifi and free power sockets, as well as free luggage allowances, onboard toilets and their app is great for storing eTickets and checking the location of your bus in real-time.
I've used Flixbus as a budget traveller across Europe and can I highly recommend their efficient and safe services.
Book your Vienna to Budapest FlixBus journey here.
Vienna to Budapest by Plane
Although a very short journey, and very bad for your carbon footprint, you can book a flight from Vienna to Budapest.
This is likely to be the most expensive way to make this journey and, after you factor in the time of getting to and from the airport, as well the check-in time, it may not also prove any quicker, but some people still prefer it.
If you want to check prices and departures for flights from Vienna to Budapest, then I highly recommend using Skyscanner because they include budget airlines in their searches and therefore offer some of the best deals around.
Vienna to Budapest by Car
And finally, the last way you may consider travelling from Vienna to Budapest is via 4 wheels.
Either this may involve renting a car and driving the distance yourself, or trying out a carpooling service like BlaBlaCar.
If you want to rent a vehicle then check out Discover Cars for some of the best deals going.
The pros to renting a car are flexibility, but the cons are that it's expensive, requires organisation and involves you having to drive in a foreign country – a no from me!
Renting a vehicle is a much better idea if there's a group of you.
Carpooling is great for budget travellers as you share lifts with others who are already driving the same way.
In this way, it's normally a good chance to meet locals and travel on a very low budget.
Usually, you'll also be taken straight to the door of where you are staying, which also makes life easy.
Just use common sense and exercise caution in terms of safety when carpooling.
Stopping at Bratislava Enroute
Don't forget that in between Vienna and Budapest is the often overlooked capital of Slovakia – Bratislava.
If you're enjoying a European tour, this can be a great city to call in on and explore for a couple of days, or to use as a base if you fancy doing some hiking in the High Tatras.
If you use any of the transport methods mentioned in this post (except flying) you can book services that incorporate a stopover in Bratislava.
For more ideas about what to do in this city, check out my list of the 10 best things to do in Bratislava.
SAVE THIS TO PINTEREST!
And there it is, my guide on everything you need to know about catching the train from Vienna to Budapest.
Have you made this journey?
Which method of transport did you use?
Please leave any information about your journey that may help fellow travellers in the comments box below….