Budapest – it's a tale of 2 cities… quite literally!
Yes split by the mighty Danube, the capital of Hungary really is a 2 for 1 deal – a phrase that is music to budget travellers' ears everywhere!
With Buda on one side and Pest on the other, this city presents a huge range of amazing things to do.
And from time spent sailing the river to climbing the hills and partying in the street, you're going to have a tough job to fit it all in.
So enter my ultimate Budapest itinerary, which will help you, budget traveller, get the best bang for your buck.
---
Related Posts
---
This page contains affiliate links meaning Big World Small Pockets may receive a small commission on any purchases at no extra cost to you.
My stay in Budapest was kindly sponsored by Das Nest Hostel, but as always, all views are my own.
All prices given are correct at the time of publication.
---
Day 1 Budapest Itinerary – Explore Pest
Start your Budapest itinerary by exploring the Pest side of the city.
With most of the action, including the best places for budget travellers to stay, eat and drink, it's a good place to begin.
Most of the activity centres around the Jewish district – wandering the side streets here, getting lost and stumbling upon some lovely cafes and bars is a great way to spend your first morning.
When it comes to coffee shops in Pest, top of my list are Coop Roastery, Stika & London Coffee Society.
For food, check out Caravan and Vegan Kitchen, which both offer street style nosh in fun, outdoor settings that really get going in the evening.
And after dinner, you can't miss the iconic Szimpla – this quirky bar, set in an old abandoned building oozes character and on a Sunday is transformed into a marketplace, where delicious local produce is on sale in a family atmosphere accompanied by live music and a real community feel.
Aside from the eating and drinking, there are a few sights in Pest you can't miss, these include the ornate Parliament building, Grand Synagogue with its poignant Memorial and the huge St Stephen's Basilica.
Erzbet Square is a great space in Pest to get a feel for local life as young Hungarians come here in their droves to chill, play music and dangle their toes in the fountains.
City Park is another top green space in this part of the city and in the heart of it sits the incredible Szechenyi Baths.
These are the most popular and largest Baths in Budapest (and there's a few to choose from FYI), so allow yourself plenty of time here to swim and relax in the various heated pools, as well as enjoy the saunas, steam rooms and thermal waters.
Basic entry to Szechenyi Baths is 18 Euros and includes a locker and unlimited day access.
You can book skip the line tickets here in advance or just turn up, queue and pay on arrival.
If you're just going to tip up (as I did) I highly suggest either getting to these Baths early in the morning to ensure you get a sunbed space and locker or make it an evening thing and enjoy lounging in the thermal waters as the sun goes down.
By doing this you avoid peak crowd time.
Open from 06:00 until 22:00, the Szechenyi Baths are a part of my Budapest itinerary that definitely can't be missed!
In fact, they're on my list of the best things to do across Eastern Europe if you're travelling on a budget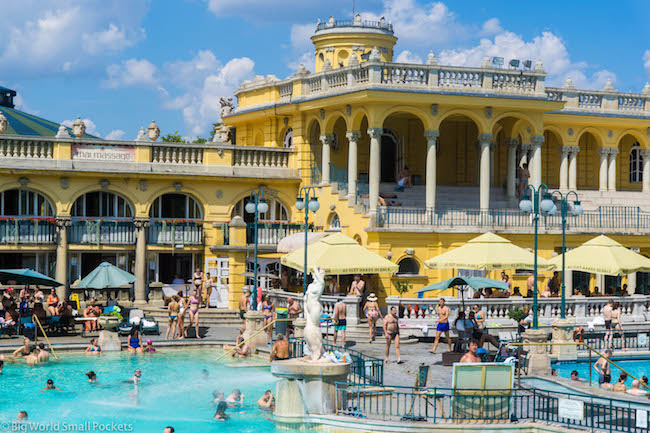 Day 2 Budapest Itinerary – Explore Buda
On day 2 of your Budapest itinerary, it's time to hit the other side of the river and explore the grand old city of Buda.
A walk across the Chain Bridge will give you an awesome opportunity to snap some shots of the beautiful Danube and looking across you can spot the 2 main areas to explore, namely Castle Hill and Gellert Hill.
Starting with Castle Hill you can either hike up, take the funicular up, or hop on board the number 16 bus which leaves from the roundabout at the end of Chain Bridge.
1 ride on the bus costs 350 Forints, or buy a pack of 10 public transport tickets for 3000 Forints. All tickets must be bought at the BKK machines.
At the top of the hill, take in the Bastion and Church and enjoy elevated views across the Danube to the Parliament building.
There's also the UNESCO listed castle here, which you can either stroll to from the Bastion or hop back onboard the number 16 bus to ride there.
The grounds of the castle are free to stroll (my choice) or you can pay an entrance fee to check out the exhibitions inside.
After the attractions of Castle Hill, you can head over to the opposing mound – Gellert Hill – where you can see the famous Citadella and the Liberty Statue, which stand out for miles around.
With any time left on the 2nd day of your Budapest itinerary, head over to Margit-Sziget, an island in the middle of the Danube that is the perfect place to relax as you stroll its gorgeous gardens and pathways, check out the fountains and enjoy a beer.
There's also some baths on Margit-Sziget if you didn't get your fix in Pest!
Taking the trams #4 or #6 is the best way to get to the island and, after you're done, you can hop on either of these trams to get back over to Pest.
Day 3 Budapest Itinerary – Explore Szentendre
And with 1 more day on your Budapest itinerary, I highly suggest getting out of the city to explore one of the gorgeous towns around.
Plus you can sail up the Danube to get here!
Szentendre was originally an artist town and despite receiving a lot of day-trippers nowadays, its quaint cobbled streets, galleries and cafes still hold plenty of charm.
In the peak summer months, boats leave daily from the dock at Vigado Ter, in Pest, at 10:30am and a one-way ticket will set you back 3200 Forints and takes 1.5 hrs.
Return tickets are priced at 3460 Forints and the boat leaves Szentendre at 5pm, reaching back to Pest at 6pm.
Get to the Mahart Passnave dock at 10am to buy your ticket and reserve a spot on the outside deck – the beautiful views and cool breeze as you sail up the Danube will mean you'll want to be outside!
Once you arrive in Szentendre spend a lazy afternoon taking in the sounds, smells and feels of a Hungarian town, visit the churches or just laze by the river.
It really is the perfect way to end your Budapest itinerary.
You can then either take the Mahut Passnave boat back to the city or, for a much cheaper price, hop on one of the trains that run every 10-20 minutes directly into Buda's Batthyany Ter Station.
PIN IT TO PINTEREST!
And there you have it, my ultimate Budapest itinerary for budget travellers.
With lots of free and cheap stuff to see, Budapest makes a fantastic backpacker destination and I hope this 3 day schedule will give you some great ideas.
So tell me… have you visited this city?
What did your Budapest itinerary look like?