I have to admit, when I first visited Prague at the age of 18, I found it widely overrated.
WOAH!
I know right, one of the most popular cities in Europe? Overrated? What was I thinking?
Well honestly, I don't know, so at the ripe old age of 33, I decided to return to this Barque beauty and reassess her.
And so glad I did, because I'm happy to confirm that second time round I found Prague every bit as dreamy as I expected to the first time!
So here's to Prague, finding her amazingness and sharing it!
Here's to spending 48 hrs in the city on a budget, here's my ultimate Prague itinerary for backpackers…
---
Related Posts
---
This page contains affiliate links meaning Big World Small Pockets may receive a small commission on any purchases at no extra cost to you.
My stay in Prague was kindly sponsored by Dakura Vintage Hostel, but as always, all views are my own.
---
DAY 1
MORNING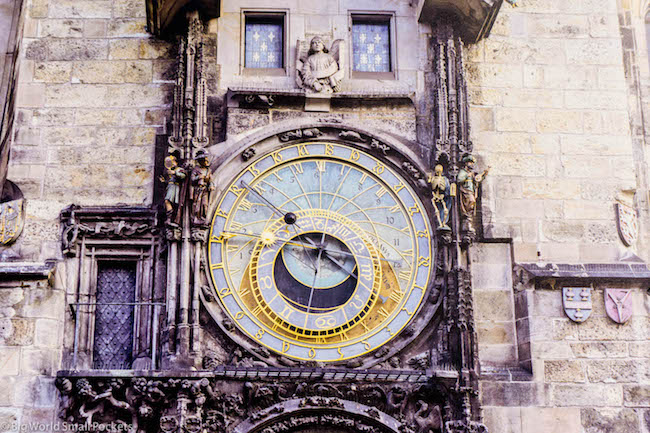 There's no question that on your first morning of your Prague itinerary, you have to hit up the city's famous Old Town.
Start in the Square and take in the amazing Astronomical Clock as it chimes on the hour.
Then stare at the facades of the amazing St Nicholas and Týn Church, before strolling the cobbled backstreets and side alleys here, getting lost in a maze of history and snapping away to your heart's content!
All this is free and won't cost you a penny 🙂
Afterwards, the historic St Wenceslas Statue is also worth a good look.
AFTERNOON
In the afternoon of day 1 of your Prague itinerary, head out of the Old Town via the Charles Bridge and enjoy the street entertainment, river views and great people watching opps as you go.
Enter the area of Malá Strana, on the other side of the bridge, and admire the amazing archway and other churches that dot this historic area.
Checking out the Lennon Wall is a great thing to do this side of the river too, as well as enjoy a picnic lunch in one of the many green spaces including Kampa Park or Vojanovy Sady Park.
There's also a delightful range of traditional Czech pubs in this area, which boast same amazingly good prices, despite the touristy nature of the spot.
After you've relaxed and rehydrated a bit, head on up the hill to the landmark of Prague Castle in the Hradčany district.
While you have to pay to visit the castle, wandering the grounds is free and will still give you an amazing sense of this epic structure and its most famous icon, St Vitus Cathedral.
EVENING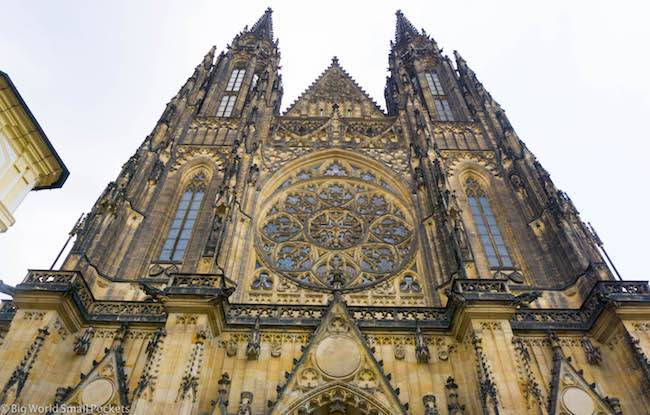 Finish the first day of your Prague itinerary with a sunset stroll to the lovely Letna park, where you can enjoy a beer overlooking the river as the lights of the city twinkle into action.
Then stroll through the Park to the Dejvice area behind it to enjoy a great-priced meal in a very local spot.
DAY 2
MORNING
On day 2 of your Prague itinerary, it's time to get off the beaten track a little and explore some of the less touristy areas of the city, which are just as delightful.
After a night at the Dakura Hostel, start with a superb brekkie and coffee at Café Záhorský round the corner, then head over to Petřín, a park on set on a hill nearby that offers amazing panoramic views of the city.
Free to stroll through, this is the perfect place to spend a free leisurely morning.
AFTERNOON
In your second afternoon in Prague, why not try something a little different and head out from Petřín to one of Prague's islands.
I loved Střelecký Ostrov because of its chilled vibe and grassy spots – the perfect place for a siesta – and where all the locals head in the summer months to enjoy a beer and to relax by the river.
If you still have time, then why not head of the Florenc district of Prague on day 2 as well – there's a great cultural centre in this area that is well worth checking out called Kasárna Karlín.
Also, the nearby pop-up Manifesto Market offers some great-value and delicious street food and craft beers if you're feeling a bit peckish.
EVENING
On the last evening of your Prague itinerary, I highly recommend heading to the Vinohrady area, near the Náměstí Míru tram stop.
This trendy part of town has some great eateries and a very authentic feeling which sees many locals eating out on the streets during the warmer summer months and few other tourists.
Top pick of mine was Kavárna Zanzibar – which boasted a delicious menu (including vegan and veggie options) as well as a relaxed atmosphere and good choice of drinks.
In the daytime, the lovely Slow Café is my top pick for a caffeine refuel!
And if you do feel like a splurge, then the Etnosvět vegetarian restaurant comes highly recommended here too!
More Time On Your Prague Itinerary?
Why not enjoy a day trip to the famous Český Krumlov?
Located in South Bohemia, this fairytale city makes for the perfect Prague pairing!
PIN IT TO PINTEREST!
So there you have it folks, my ultimate Prague itinerary for those on a budget.
As a small city, it is quite easy to see a lot of what this city offers in a short period of time, as well as get out to some of the less-visited, but equally as lovely parts as well.
Enjoy!