Everyone loves a bit of Prague right (and if you haven't been before then you absolutely, definitely, certainly should go!), but it's also very true that there's a whole country to discover beyond Czechia's famous capital.
Selfishly hogging the limelight, the UNESCO-listed city of a hundred spires has put this country on the map, but if you have a penchant for getting off the beaten track like me, then building some other itineraries into your Czech itinerary is totally something you should do.
So to help you out, I've created this brilliant 1 week Czech Republic itinerary.
Bringing you all the famous highlights of this country, as well as many of the lesser known gems, this is the only guide you need to enjoy an amazing 7 days here.
Oh and a quick FYI, don't be confused by my use of the terms Czech Republic and Czechia. One refers to the former name of this country (that most people still use) and the other is the new appellation being ushered in, but not fully cemented yet!
I've used both in this article to cover all bases, but just to be clear, they refer to exactly the place.
And with that out the way, it's time to jump into this brilliant Czech itinerary…
---
Related Posts
---
This page contains affiliate links meaning Big World Small Pockets may receive a small commission on any purchases at no extra cost to you.
---
Day 1-2: Prague
When it comes to kicking off your Czech Republic itinerary, it really makes the most sense to begin in Prague.
Not only is it the transport hub of the country – so likely the easiest place to get to by plane, train or coach (learn more in the travel guide at the end of this post) – it's also a massive bucket list tick on the euro circuit!
With its brilliantly preserved Medieval centre, Prague really is a treasure, filled with cobbled streets, ancient churches, towering spires, old stone bridges, impressive castles, colourful historic homes and bucket loads of ambience – there's no question that entering into the Old Town centre here, also known as Staré Město – is like stepping back in time.
If you've spent any time in France's Alsace region, you'll know what I mean!
Reminding me of this area, Prague can feel a bit like entering Disney's Beauty and the Beast movie – you know, the bit at the start where Belle is singing near her village fountain!
Anywho, I digress, because this isn't Disney, this is really life and as such, it pays to be prepared and to warn you that Prague is far from an undiscovered gem.
In summer it is literally heaving with tourists, so definitely don't expect to have the place to yourself!
BUUUTTT don't let this put you off, because visiting Prague, at least once in your life, is a must.
Try to dodge the majority of the crowds by heading there in June or September, or by getting up early to stroll the streets before everyone else does!
Can't-miss highlights include the famous Charles Bridge, the many historic churches, Prague's National Museum (read all about this great spot in this post I wrote) and Wenceslas Square.
You also can't pass up the opportunity to check out the performing Astronomical Clock (rumoured to be the oldest working clock in the world), which chimes on the hour and has some amazing, moving mechanical parts that date back to 1410.
I've allocated 2 days of this itinerary for your time in Prague.
On day 1, you should arrive, settle in and get your bearings… plus maybe enjoy a historic pub tour in the evening (after all, it's important to immerse yourself in the local culture and Czechs are the largest beer drinking nation per capita in the world!)
This then leaves day 2 for you to get your serious sightsee on!
Thankfully Prague has quite a small centre, so this should be enough time, but do strap in for a full-on day!
A walking, fat tire e-bike or segway tour are all great options to start your morning off with and get you orientated in the city, then check out this post I wrote for the 21 best things to do in Prague for more ideas for the afternoon.
Alternatively, this 2 day Prague itinerary I wrote might also be useful!
In the late afternoon, don't miss the chance to relax and grab a drink on one of the lovely islands in the Vltava River too – it's the perfect city retreat!
I think picking a good place to stay in Prague is key to getting the most from this city, so I really recommend basing yourself near the historic centre if you can.
Miss Sophie's Downtown is a great boutique hotel that offers quirky rooms and super friendly staff just minutes from the train station.
If you're a budget traveller, then I highly recommend Czech Inn, which is located on the other side of the river in a super, local-feeling district.
And finally, for self-catering accommodation, these top-rated apartments, which sleep 2-3 guests and offer high-quality accommodation in a super central location, with beautiful décor and large, comfortable rooms are a winner.
Day 3: Day Trip to Bohemian Switzerland
And it's also important to pick a good place to stay in Prague because, as part of this top Czech itinerary, I recommend you stay in this city for 4 nights.
"What?" I hear you cry, "I thought you said only 2 days in Prague!"
I did, but that's not including a couple of day trips I definitely recommend you make from this city too.
Now you can, of course, make these multi-day trips, when you decamp from the capital go to spend a couple of days in the following areas.
However, if you only have a week to visit the Czech Republic, then time is of the essence my friends!
As such, I advise staying put in Prague – it saves the time of packing up and booking more accommodation too – and just heading out on days trips during day 3 and 4 of your Czech itinerary.
This will give you the chance to get out of the capital and see the diversity of this country as well.
In particular, the first day of the trip will take you into some of the country's most beautiful natural landscapes – the perfect city antidote.
Bohemian Switzerland National Park (which confusingly lies within Czechia's border despite the name), is located in the far west of the country, very close to the German border.
In fact, this national park actually transgressions the German border, into the Saxony region, where it's called Saxon Switzerland National Park.
Here you can enjoy hiking, cycling and kayaking in spectacular forest and river landscapes that also boast the largest sandstone arch in Europe among their many treasures.
Learn more about this national park and what to do there in this article I wrote.
You can travel to Bohemia Switzerland National Park by car, train (to Decin) or even cycle there, but if you're taking a day trip it probably makes the most sense to grab an organised day tour from Prague.
Check out this top-rated option, which includes hotel pick-up and drop off, transport by air-conditioned vehicle, a local English-speaking guide and lunch.
Day 4: Day Trip to Český Krumlov
And now for something wildly different on this Czech itinerary.
Yes it's time to day trip out of the capital again, but this time, we head to the south of Czechia and the amazing castles of Český Krumlov.
UNESCO-listed, and looking like something out of a fairytale, there's some serious gems to be discovered here, but the standout structures are the State Castle and the Castle Tower.
If you're into your Instagram snaps, then this is the place to bring your dress, hat and tripod!
Once the heart of the Bohemia Kingdom, the regal splendour of the beautiful region is clear to see, making this one of the stand-out highlights of this week itinerary in the Czech Republic.
Again you catch the train or drive down to this region, but if you only have time for a day trip from Prague, a tour makes the most sense – this will be the quickest and most efficient way to see a lot.
This top-rated option would be my go-to.
Day 5: Olomouc
And finally, on day 5, it's time to head out of Prague and start moving east to explore yet another region of this country.
And the first stop is the historic city of Olomouc.
Located a couple of hours from Prague, this gorgeous spot which is a university town and boasts a vibrant and young spirit.
Hang out in coffee shops (Cat Cafe is a particular fav), mingle in local bars and explore the beautiful squares and churches of the lovely historic centre.
If you're visiting at the right time of year, then the Christmas Markets here are also amazing and don't miss the opportunity to enjoy a "beer bath" either!
I recommend taking a train for this journey, as it's quick easy and simple to get to Olomouc from Prague's Central station (hl.n) in just a couple of hours.
As always, I use Omio to book my train travel in the Czech Republic, as it easily allows me to compare journey times, prices and schedules in English.
When it comes to where to stay in Olomouc – look no further than this great hostel for budget travellers, this boutique hotel for those who want a bit more comfort, or this top-rated apartment if you're travelling as a family or a group of friends.
Day 6-7: Ostrava & Surrounds
And with the final 2 days on this great 1 week Czech itinerary, I recommend continuing your journey east to your final destination – a great port of call if you plan to continue even further east to either Slovakia or Poland.
Ostrava, Czechia's third city, is located right on the edge of the country, in what was a huge industrial area but is now being wonderfully regenerated.
With plenty of quirky galleries, great museums, wonderful street art, fun shops, eclectic events and cute cafes, Ostrava is beginning to thrive and you can learn about my list of the 13 things to do in this city here.
If you're visiting during the month of July then check if your visit corresponds with the amazing Colours of Ostrava festival, which takes place annually and welcomes international music acts as well as over 20,000 people to Ostrava.
Read about my review of the festival here.
When it comes to sleeping in Ostrava, I recommend either Kampus Palace for budget travellers or Boutique String Apartments for those looking for something with a bit more comfort and space.
And with your last day in the Czech Republic, you may have to head back to Prague if you're leaving the country, or onto Katowice in Poland, which also has an international airport and is just over an hour away from Ostrava.
Otherwise, if you're carrying on eastwards (perhaps to Krakow or Bratislava) then you can afford another day in Ostrava, and I suggest taking a day trip out of the city with 2 great choices on offer.
The first is to head to the beautiful mountain region around the town of Pustevny, where you can ride one of the oldest chairlifts in Europe to enjoy mountain views, nature trails and some step-biking fun.
Alternatively, head to the amazing Tatra Motor Museum in Kopřivnice, followed by lunch and a castle climb in nearby, and nationally listed, Štramberk.
While you're here don't forget to taste the delicious typical biscuit known as an "ear" – it's a bit like a gingerbread – and to see these sweet treats still being made by hand in cafes around this lovely town – the perfect finish to the Czech itinerary.
Czech Travel Tips
How to Travel to Czechia?
If you're coming from further afield to Czechia, it's likely you'll fly into Prague's international airport.
Serviced by many budget airlines, I always use Skyscanner to get the best prices.
Otherwise, if you're coming from nearby parts of central or eastern Europe, then it's easy to travel to Czechia either via bus or train.
Check out Omio, where you can easily compare hundreds of journeys, view timetables, and buy tickets in English.
Alternatively, you can also take an organised tour to Czechia – check out these fantastic options for more info.
4 Key Packing Items for Czechia
#1 Good Camera – You will be pretty much snapping non-stop in Czechia and will need a good camera to do this gorgeous country justice. I highly recommend the Sony A6000, which I use for all my travels and love, not least because it's light, compact and robust!
#2 Good Walking Shoes – There will be a lot of walking in Czechia, so make sure your feet are comfortable therefore with a pair of New Balance Trainers.
#3 Good Water Bottle – All that sightseeing is thirsty work, so make sure you have a metal water bottle that you can refill as you go, because Czech tap water is drinkable… and free!
#4 Good Day Pack – And to carry your water bottle, camera and guidebook, you're going to need a decent backpack that will help you balance the weight as you walk the city streets. In my opinion, you can't go past the Bobby Anti Theft Backpack, which is also perfect for helping you avoid pickpockets too.
Travel Insurance for Czechia
World Nomads offers simple and flexible travel insurance. Buy at home or while travelling and claim online from anywhere in the world.
Alternatively, if you're a long-term traveller, digital nomad or frequent remote worker seeking travel health cover, check out Safetywing's Nomad Insurance policies.
Travel Money in Czechia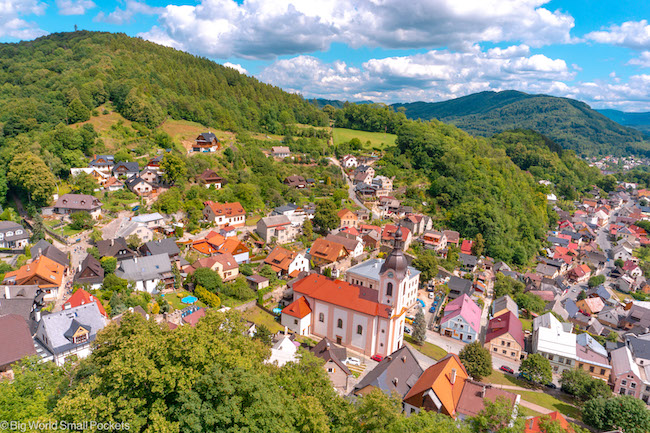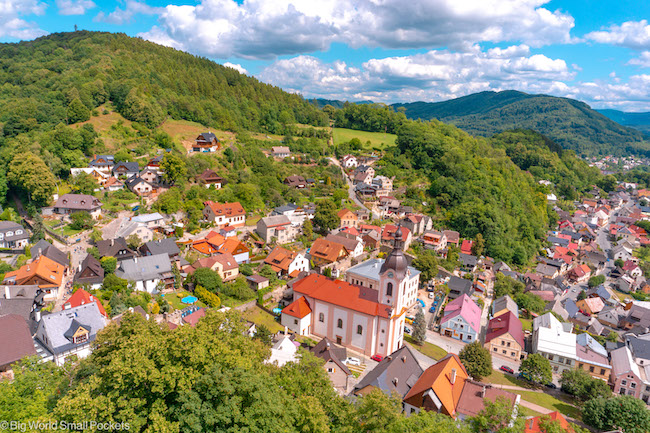 When it comes to getting paying for things in Czechia, you want to ensure you're not being charged overseas transaction fees or getting poor exchange rates when using your card abroad, which is why I always take my Wise Card away with me.
The easy way to spend abroad with real exchange rates, no markups and no sneaky transaction fees, you can use your Wise card just like a debit card in Czechia… and it links easily with Google and Apple pay – sold! Get yours here.
SAVE THIS POST TO PINTEREST!
So there you have it, my ideal 1 week Czech Republic itinerary.
Giving you the full rundown about how to spend 7 amazing days in this country, I hope it's proved useful.
Have you visited Czechia?
What was your favourite part of the country?
Let me know all in the comments below…