Honestly, I'd forgotten how fun festivals can be.
With 2 years of covid buzzing around and the many subsequent pandemic cancellations, festival fun has been pretty far from my mind over the last 24 months.
So far, in fact, that I'd actually totally forgotten just how much joy festivals bring me!
But thankfully, passing through the gates and stepping into the Colours of Ostrava arena in the east of the Czech Republic on a bright blue, hot sunny day in July, made it all come rushing back!
From the amazing music and electric atmosphere, to the super eclectic array of talks and events, not to mention the iconic location of this fantastic Czech festival, there's no question the stage was set for a fantastic 4 days.
So let's dig into why I loved this festival so much, why you should check it out next year, and what practical tips I have that will help you do just that…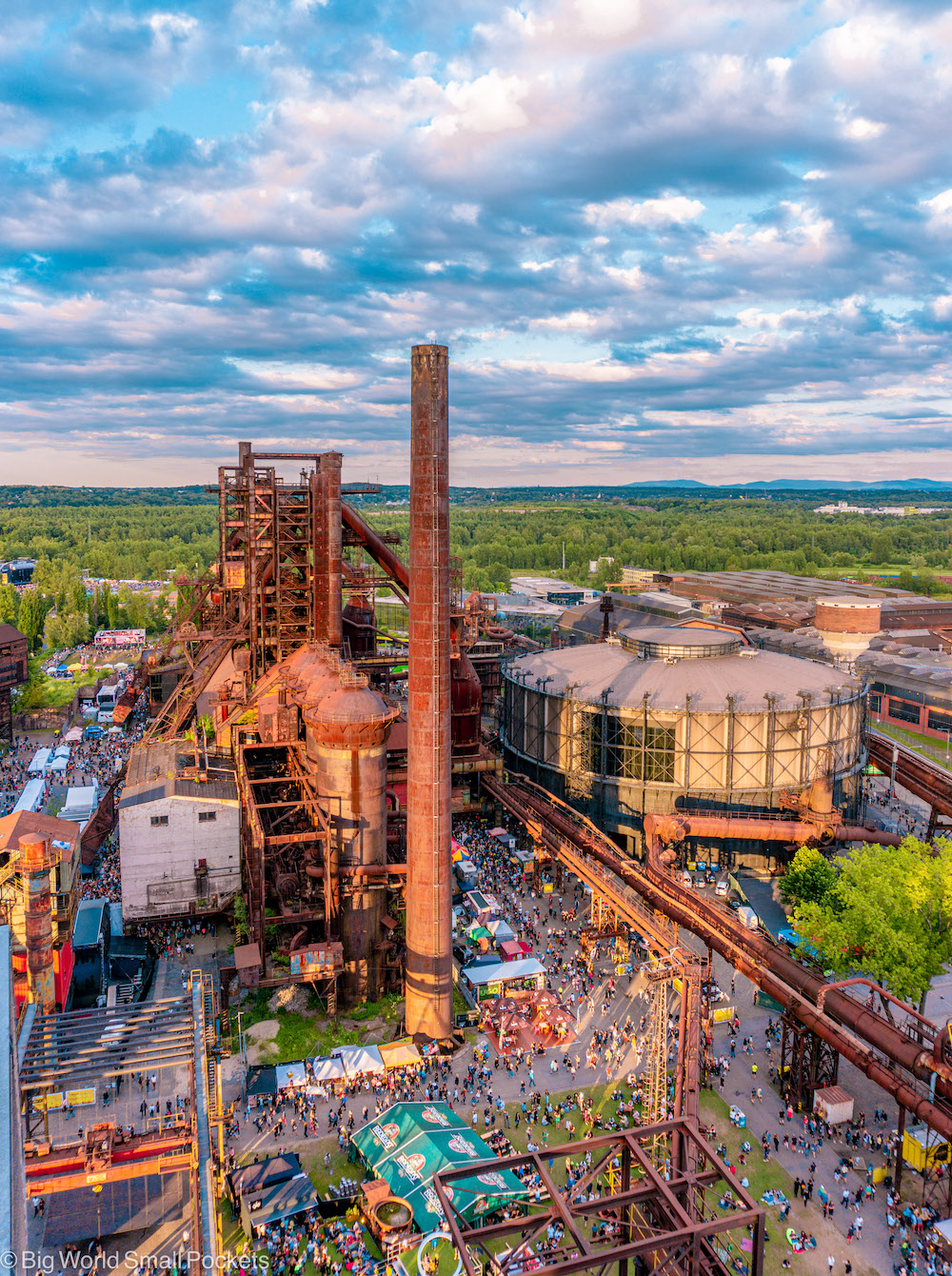 ---
Related Posts
---
My trip to Colours of Ostrava was kindly sponsored by Czechia Tourism Authority but, as always, all views are my own.
This page contains affiliate links meaning Big World Small Pockets may receive a small commission on any purchases at no extra cost to you.
---
What is Colours of Ostrava?
The largest festival in Czechia (the country formerly known as the Czech Republic), Colours of Ostrava is a huge 4 day event that takes place annually in July in the east of the country.
Filled with world class music (some acts you will have heard of, some you won't), as well as a huge range of talks, activities and performances, this huge event is awash with the all usual, fantastic festival fun – camping, crowds, stages, stalls, food, beer, beautiful people… gosh it felt good to get back amongst it all!
Located, as the name suggests (!), in the city of Ostrava, this festival is in the far east of Czechia, actually closer to the Polish and Slovakian borders than Prague.
But, despite being quite far from the capital, this is undeniably a Czech festival, one that the locals seem extremely proud of (and rightly so!)
With 20,000+ tickets on sale, it's one of the biggest festivals in this part of Europe and its reputation is growing every year.
Access to Ostrava is easy (and cheap) via train from Prague and once there, you'll quickly realise the festival site is pretty close to the centre of this former industrial city… and taking place in one of the most striking festival sites ever!
I mean how many festivals have you been to that are set in a former coal and ironworks site, complete with abandoned buildings, renovated walkways, former gas containers and watchtowers you can climb?
Not many I bet!
Dolni Vitkovice
The name of this amazing site is Dolni Vitkovice.
Don't ask me what this translates to, but I'm guessing it was the name of the former industrial plant here.
Now a huge events complex complete with cultural museums, exhibition halls, concert stages and furnace tours, it's an incredibly unique and absolutely amazing location that totally adds to the cultural currency of Colours of Ostrava.
After all, who doesn't want to wander an abandoned site as they make their way from stage to stage, passing over grill-like metal walkways, around enormous factory chimneys, or under huge suspended rust-brown pipes on their way to the next brilliant performance?
The festival embeds itself brilliantly in this quirky and atmospheric landscape and, as a result, the industrial heritage of the site seems to come to life again under the throbbing beats and booming bass of this great musical event.
Without a shadow of a doubt, Colours has brought a degree of cool credibility to this site, indeed to this whole city of Ostrava… and I love that.
Instead of shying away from the somewhat gritty and urban past of its host city, what this festival does instead is platform it, showcase it, bring it back life.
Instead of trying to detach itself from what could be seen as a traditional drab location, Colours of Ostrava thrusts it to the forefront and in doing changes how we might conventionally view it.
When something – be that a space, a city, an industry or a past – becomes associated with a cool, vibrant, youthful and fun festival, something happens to the way we value that place, the way we perceive it, and let me tell you, the result is both exciting and excellent!
Line-Up
But it's not just the location of the festival that showcases something refreshingly unique. Indeed, the diverse and global line-up of acts, speakers, performers and musicians as Colours of Ostrava also make this festival something out of the ordinary.
At Colours of Ostrava 2022 I was lucky enough to see big popular acts such as The Killers, LP and Franz Ferdinand all take to the main stage to the delight of the large crowds.
But alongside these headliners, an interesting range of lesser known, but equally bright acts tended to dominate the afternoons.
Norwegian duo, Kings of Convenience, stuck out with their self-deprecating, lowkey melodies that floated across the grounds and provided the perfect sunny beer backdrop, while Dutch favourites Chef's Special magnificently energised the crowd with the infectious rock hip-hop reggae infusion.
There were some flops too of course – I'll probably won't go back to see Princess Nokia a second time – but also some glorious and unexpected triumphs.
Marina Satti and her wild blend of Greek lyrical traditions and Arabian musical heritage, often underpinned with a punchy electro beat and a dusting of folk overtones, made her one to watch and the ever-fabulous Fatoumata Diawara from West Africa blew the crowd away with her passionate and high energy performance that left me reeling. If you haven't checked her out on Spotify yet then do!
One dance stage – the Glo Stage – kept the EDM fans happy too. Buried deep in the industrial architecture of the festival, this stage capitalised on its visceral, urban and intense location that the marvellous Luvver made the most of.
Colours of Ostrava Vibes
But the main thing I couldn't help notice about the whole of Colours – the Glo Stage included – was how chilled the entire festival was.
Yes despite the large numbers, big crowds and great atmosphere here, the whole thing felt incredibly relaxed and easygoing.
The festival also felt brilliantly accessible; be that for families, younger folks, older folks or those with mobility issues – there was a lot that felt kind, caring and open about Colours, almost as if your neighbour had organised a street party and a few more people had turned up!
Queues for drinks were quick, staff were really helpful (and spoke great English), safety was impeccable and I didn't see a single person getting too angry or too drunk. Coming from a background of British festivals, this amazed me!
There was even a chillout area with alcohol-free bars and sand pits for kids as well as lots of sober activities you could enjoy around the site too.
The very handy festival app you could use to navigate the event was a great resource for finding out who was playing where, as well as keeping up with the latest news and updates, and just wandering the site was a lovely experience with so many different spaces to explore.
And did I mention the price too?
Yes my budget travel friends, this festival is incredibly reasonable too!
4 day entrance tickets cost just 132€ and beers were about 1.50€ a pint… I'm not joking!
This really made me remember how much fun festivals are… as well as how crazily expensive drinks in London can be!
Bolt Tower Finale
Needless to say, 4 days passed in a flash at this amazing event and, as with all the best festivals, I was wrapped in its spell, caught up in its bubble, wrapped in its feelgood fog until the very end.
And simultaneously, very resistant to leave and face the "Real" world again at the end!
But what better way to peep tentatively towards the outside world on the final day of the festival, than by scaling the amazing Bolt Tower at the Dolni Vitkovice site to enjoy the incredible aerial views not only of the festival itself, but also across the city of Ostrava and beyond to the glorious Czech countryside – remembering there was a whole region out there still to discover!
(Discover the best things to do in this city and region here FYI!)
If you do go to Colours of Ostrava, then paying to head up the Bolt Tower to take in the views during golden hour, is a must.
With a cocktail in hand from the brilliantly located café / bar at the top, you'll be treated to sensational panoramic views and a truly great reminder of just how fun festivals are!
So if you, like me, need a memory prompt on remembering the joy festivals can bring, look no further than Colours of Ostrava for your next incredible instalment.
Safe, cheap, feel good and unique, it's the perfect recipe for an amazing time!
Colours of Ostrava Travel Guide
Buy your tickets for the next Colours of Ostrava festival here.
Learn more about the Czech region of Moravia, where Ostrava is located, here.
How to Get to Colours of Ostrava?
If you're already in Prague, then it's easiest to take a train from the city's central station to Ostrava.
This is a comfortable and direct journey that only takes 3 hours. From Ostrava station, it's then easy to get to the festival using organised shuttle buses.
Book your train tickets for travel in Czechia using Omio – they make comparing trips, times and prices really easy in English.
Alternatively, you can also drive to Ostrava from Prague. If you opt for this, then I recommend stopping in at the cute historic city of Olomouc on the way. If you're looking to pick up a good rental deal in Czechia, check out Discover Cars.
If you're coming from Poland to Colours, then you can also fly into Katowice airport which is just an hour from Ostrava and is serviced by many budget airlines. As always, I use Skyscanner to find the best deals on flights.
Alternatively, you can get public transport or a private transfer from the city of Krakow in Poland, which is just a couple of hours away from Ostrava.
Where to Stay in Ostrava? (if you don't want to camp at the festival!)
If you're looking for a budget accommodation option in Ostrava, then Kampus Palace deserves a strong mention here.
Designed as student accommodation, you can nevertheless rent a small apartment here for your time in Ostrava and with modern, clean facilities, great wifi and a super central location, it's an absolute no-brainer for the price!
For something with a bit more comfort and space, take a look at the Sting Boutique Apartments, which get great reviews thanks to their top service, location (some have cathedral views) and value for money.
4 Packing Essentials for Colours of Ostrava
#1 Good Camera – You will be pretty much snapping non-stop Colours of Ostrava and will need a good camera to do this unique festival justice. I highly recommend the Sony A6000, which I use for all my travels and love, not least because it's light, compact and robust!
#2 Good Walking Shoes – There will be a lot of walking during the festival, it's as simple as that! Make sure your feet are comfortable therefore with a pair of New Balance Trainers. I love mine.
#3 Good Water Bottle – All the festival going is thirsty work, so make sure you have a metal water bottle that you can refill as you go, because Ostrava tap water is drinkable… and free!
#4 Good Backpack – And to carry your water bottle, camera and rainjacket, you're going to need a decent backpack for the festival. In my opinion, you can't go past the Bobby Anti Theft Backpack, which looks good too!
Travel Insurance for Czechia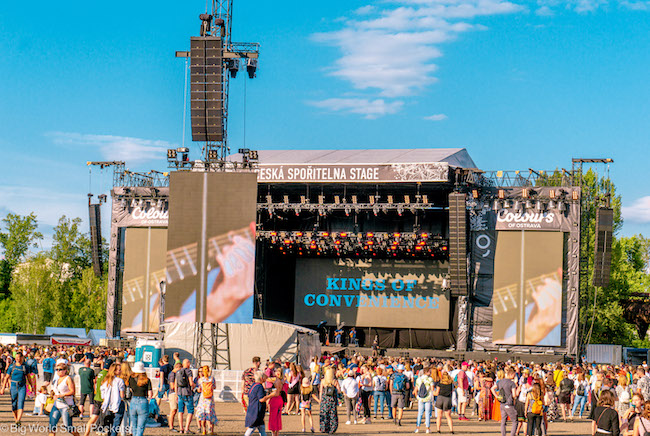 World Nomads offers simple and flexible travel insurance. Buy at home or while travelling and claim online from anywhere in the world.
Alternatively, if you're a long-term traveller, digital nomad or frequent remote worker seeking travel health cover, check out Safetywing's Nomad Insurance policies.
SAVE THIS TO PINTEREST!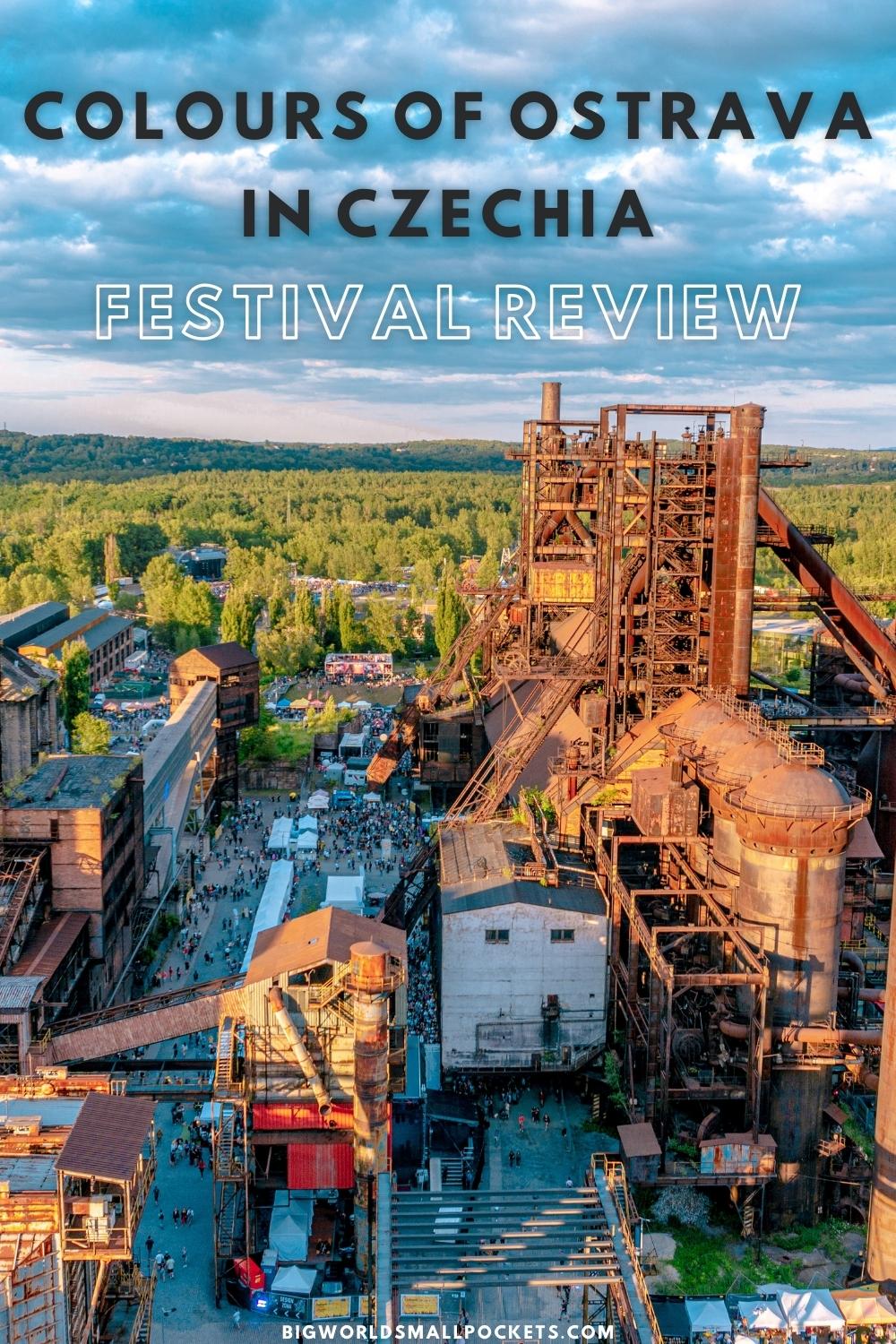 So there you have it, my full review of Colours of Ostrava 2022.
Have you visited this fabulous festival?
Did you love it too?
Tell me all in the comments below…