Having visited the city of Ostrava in the east of the Czechia (the country formerly known as the Czech Republic) twice now, it's fair to say I've got a few ideas about the best thing to do in this surprising city.
On the crossroads between Prague and Poland, Ostrava is a fascinating destination.
Once an industrial heartland with coal and ironworks at the centre of its growth, Ostrava is now a city very much looking to the future.
Quirky event spaces now fill renovated industrial areas, while quirky coffee shops, cafes, art galleries and independent clothing stores are popping up in all sorts of abandoned and former manufacturing locations.
Refusing to turn its back on its gritty history, Ostrava is instead choosing to embrace it, celebrate it and make it pretty trendy in the process… and I love this!
So if you're keen to sample a slice of this exciting city and discover this burgeoning Czech destination for yourself, here's my list of the 13 best things to do in Ostrava and around…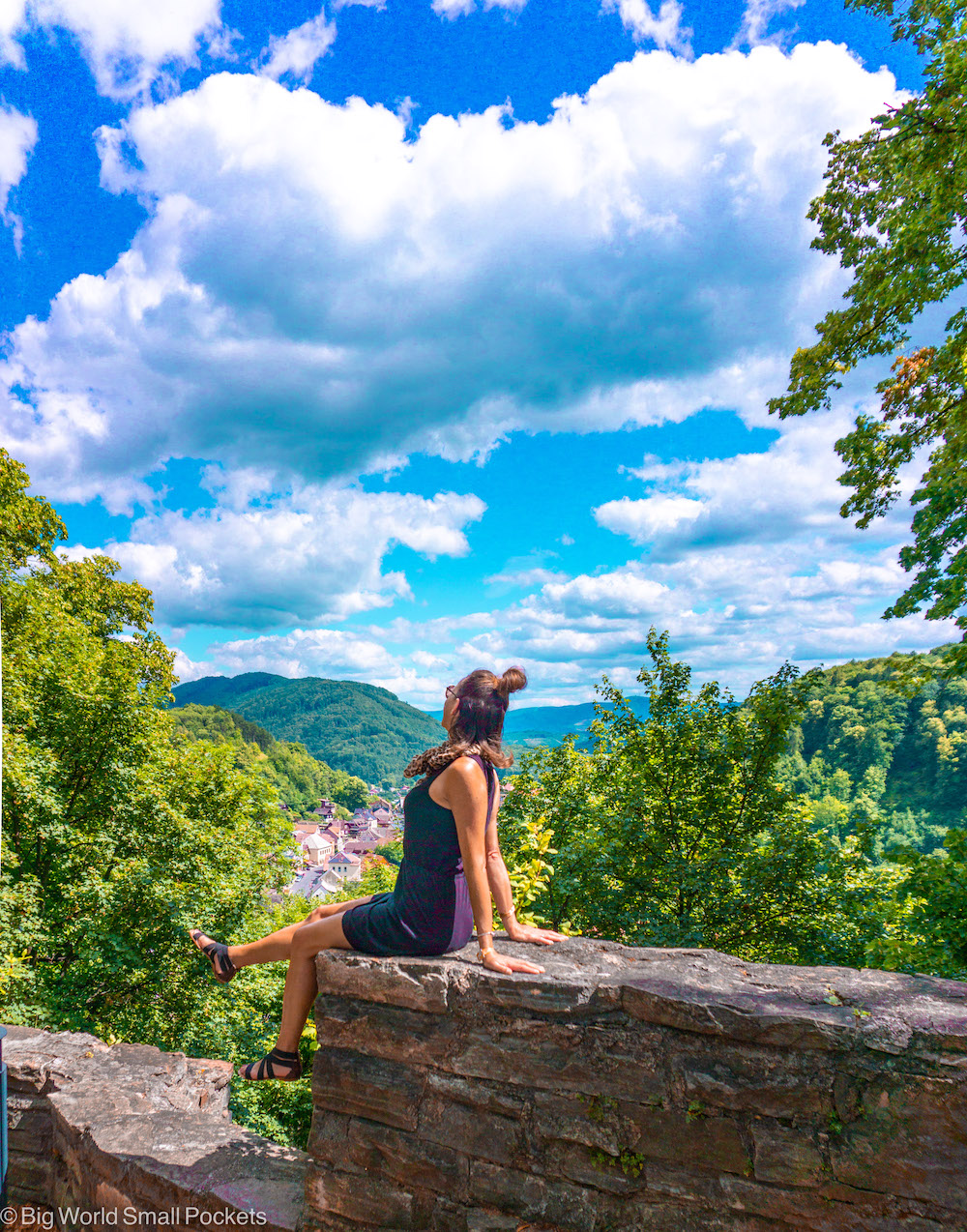 ---
Related Posts
---
My trip to Ostrava was kindly sponsored by the Czechia Tourism authority but, as always, all views are my own.
This page contains affiliate links meaning Big World Small Pockets may receive a small commission on any purchases at no extra cost to you.
---
#1 Take in the View from the Municipal Tower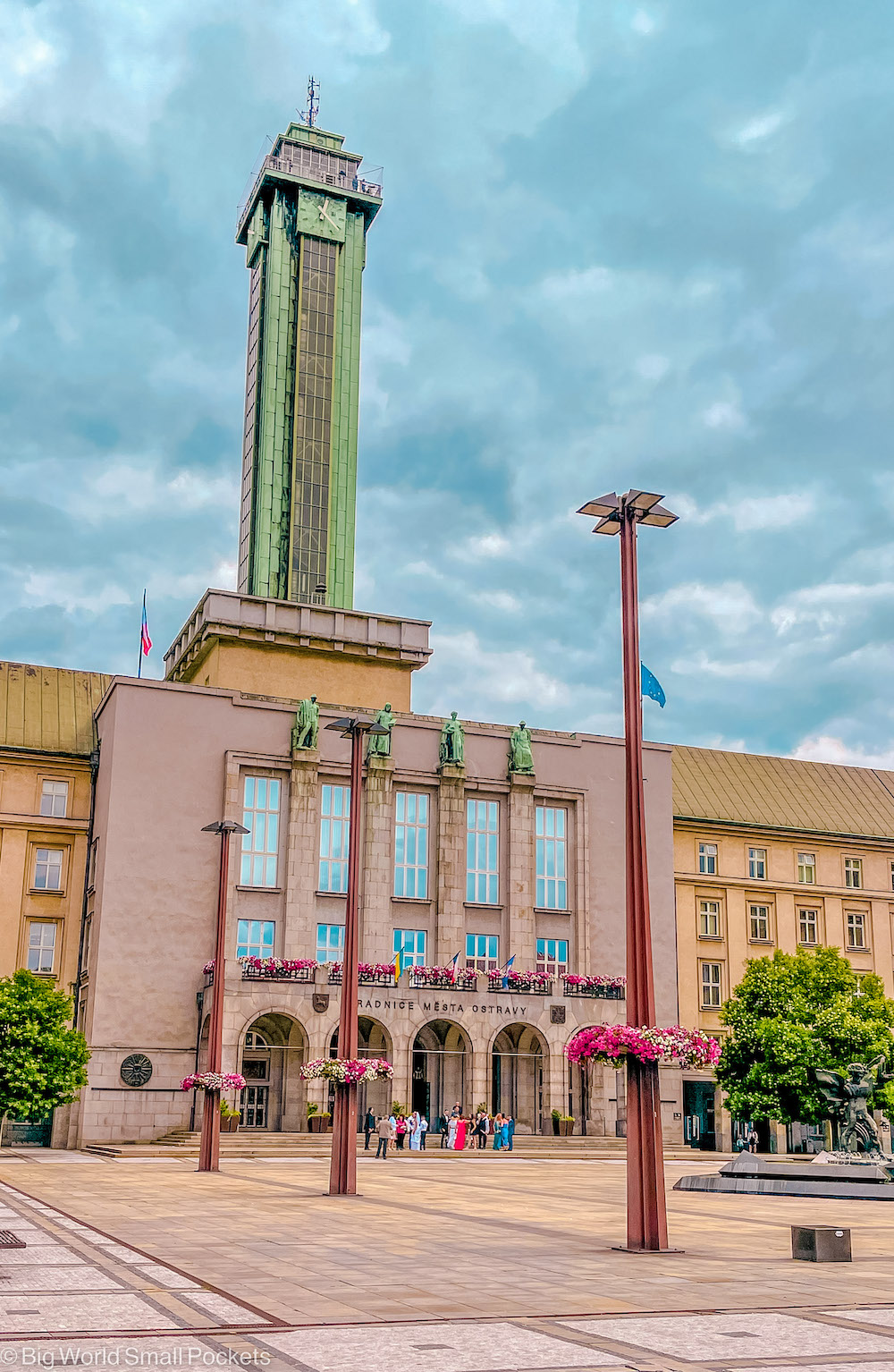 Top of my list of the top things to do in Ostrava is to climb the Municipal Tower, also known as the New Town Hall.
Located in the heart of the city, the iconic town hall is an imposing structure, but amazingly you can take the elevator to the very top of it to enjoy stellar views across the whole of the city.
The perfect way to get a first feel for this city and orientate yourself here, the tower is open from 9am to 7pm and tickets up to the incredible viewing platform, which is 73m high, costs 60 CZK per adult.
#2 Visit the Gallery of Fine Arts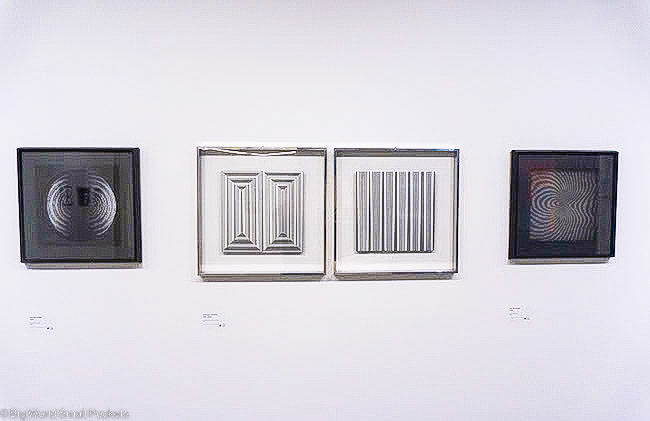 When I said Ostrava was becoming arty and cool, I wasn't kidding and located in a renovated traditional red brick building in the city centre is the Gallery of Fine Arts, which shows just how cultural vibrant this city is.
Founded in 1952, the gallery is open from 10am-6pm, Tuesday through Sunday, and hosts a range of permanent exhibitions in addition to creative workshops and concerts.
Entrance to the permanent exhibitions is free, otherwise special displays and events cost around 100 CZK.. oh, and the coffee shop here is pretty nice too!
If you're into art, don't miss the opportunity to check out several of Ostrava's other gallery spaces too, including the Plato Art Gallery, Saigon Gallery and the Jama 10 Gallery.
#3 Learn About the Region at the Ostrava Museum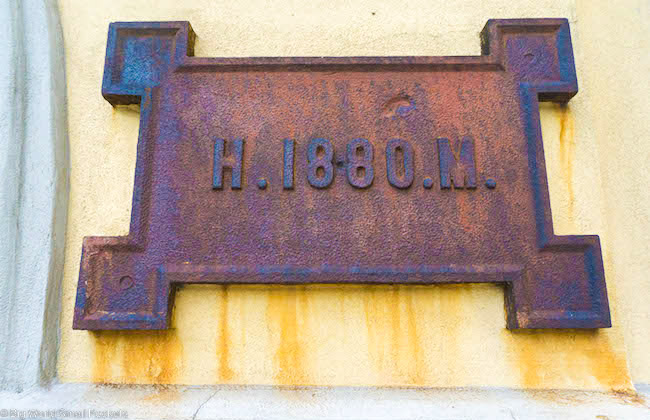 And if you didn't get your full cultural fill at Ostrava's art galleries, then the city's flagship museum is the place for you!
Housed in a beautiful traditional building off the city's central square, this gallery boasts both permanent and temporary exhibitions, which focus on archaeological and historic artefacts, along with unique art pieces related to the town's fascinating past.
A great place to get to grips with the changes this city (and the wider region) have experienced throughout history, the museum is open from 9am-5pm, Monday through Saturday, plus 1pm to 5pm on a Sunday.
The museum's iconic yellow building, which used to be the Town Hall, is also worth a snap!
#4 Stroll the Riverside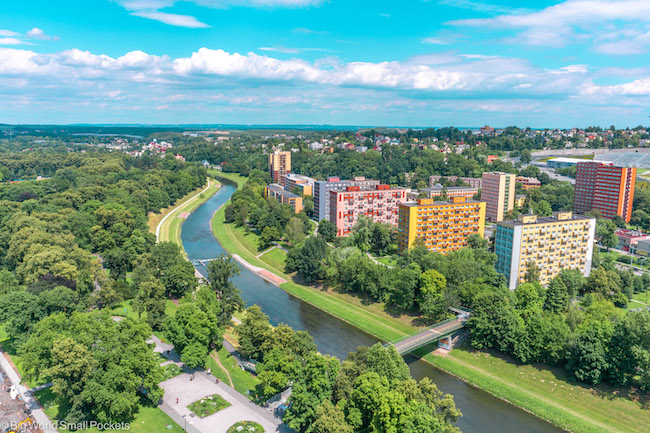 And perhaps after all that cultural injection, it's time to enjoy some of the city's green spaces and definitely one of the best things to do in Ostrava is to stroll the beautiful parklands that line the Ostravice river, which runs through the city.
Located behind the New Town Hall, this lovely manicured green space is a haven for locals in the summer and during my 2nd trip to Ostrava, I even got to enjoy a lovely picnic on the grass here as the sun shone – what a welcome back!
Peaceful, clean and quiet, this is a great space to refresh and revive yourself – it hardly feels like you're in a city at all.
#5 Scale the Artificial Hills
Or, for something a little bit different on the nature front in Ostrava, why not scale one of the many hills that surround the city, and take in some amazing views from the top?
Actually manmade hills, created from the waste of the industrial coal plants, it's pretty amazing to see parts of these mounds still smouldering.
But don't worry, it's perfectly safe to climb them, especially now most have now been reclaimed by nature, with forests dominating the increasingly green landscape of this former industrial city.
The most famous of Ostrava's artificial hills, and probably the best to access, is Ema!
Constructed from 28 million tons of mined material and measuring 314m high, Ema is located on the right bank of Ostravice river and it is actually a protected monument!
#6 Discover all the Street Art
But back to the city centre we now go, because absolutely one of the top things to do in Ostrava is to check out all the street art that fills this city.
When I first visited, there was an amazing photographic exhibition in the central square, but even if there aren't any pop-up events when you visit, there's plenty of cool artwork streaked permanently across the city's buildings.
Most iconic is the Madonna of Ostrava – a huge and beautiful art piece painted onto the side of a large building.
Created by artist Nils Westergard, this is actually the largest street art piece in the whole of Czechia and while I won't tell you where to find it (discovering the Madonna for yourself is all part of the fun!), I will let you know she is pretty near the city's central square.
Enjoy the hunt!
#7 Lunch at HogoFogo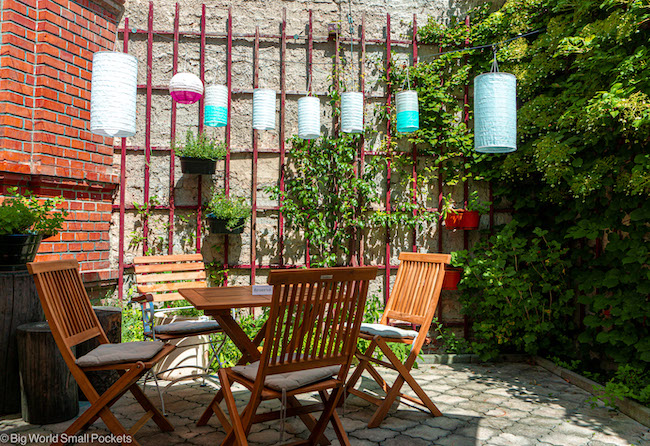 If you're getting a bit peckish after all these fun things to do in Ostrava, then fear not, I've got the perfect lunch spot for you!
Set on the edge of Ostrava's Old Town, and easily walkable, from all the main attractions here, HogoFogo Bistro is a beautiful restaurant come café, which is big on the trendy vibes.
The lovely courtyard, decked with plants and wooden furniture, is the spot to bag for alfresco dining, while inside the gorgeous décor continues amidst a relaxed shabby chic ambience.
Modern cuisine, that combines Czech food with more contemporary international dishes, makes this a great spot for those looking for something a bit lighter, fresher and healthier.
Vegetarians are also well catered for and you can wash it all down with a great glass of wine or large Czech beer – yes please!
#8 Caffeinate at AlterNativa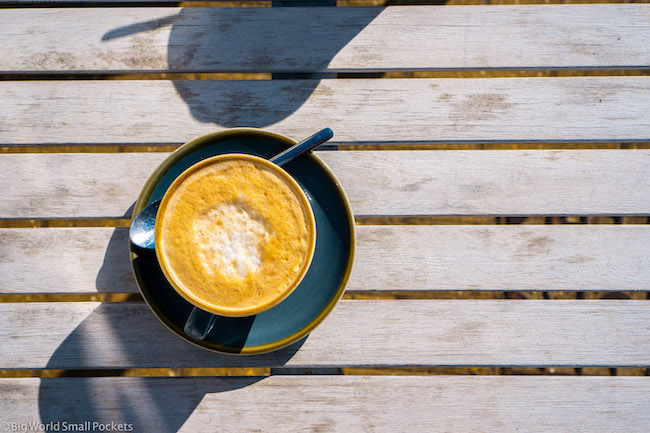 And if you're looking for an after-lunch espresso (and, let's be honest, who isn't when they're on holiday?!) then you can gently stroll off lunch by walking from HogoFogo to AlterNativa Café.
With delicious blends for all you caffeine fiends out there, AlterNativa also has a lovely garden space, complete with sculptures, where you can sip on your coffee and even enjoy a slice of delicious cake for dessert if you wish.
CoKafe is another great coffeehouse in Ostrava that's handily located in the Old Town – I love the decor here.
If you're in Ostrava for a couple of days… then why not try both these coffee spots?
#9 Time your Visit with Colours of Ostrava
And in at number 9 on this list of the best things to do in Ostrava is an event that actually led me to visit this city for a second time.
Taking place annually during the month of July, Colours of Ostrava is a huge Czech music festival – the largest in the county in fact – which takes place right in the city of Ostrava.
Boasting 4 days of amazing performances, talks and events, international and world music acts fill the many stages here in what is an incredibly vibrant and popular event.
Set within the iconic Dolní Vítkovice – a former ironworks in Ostrava, which has been renovated into an amazing and huge event space, this incredible festival is the highlight of the city's calendar and should not be missed if you're travelling in central Europe during the time that it's on.
Learn more in the full review I wrote all about this amazing festival here.
#10 Sample a Sundowner at Bolt Tower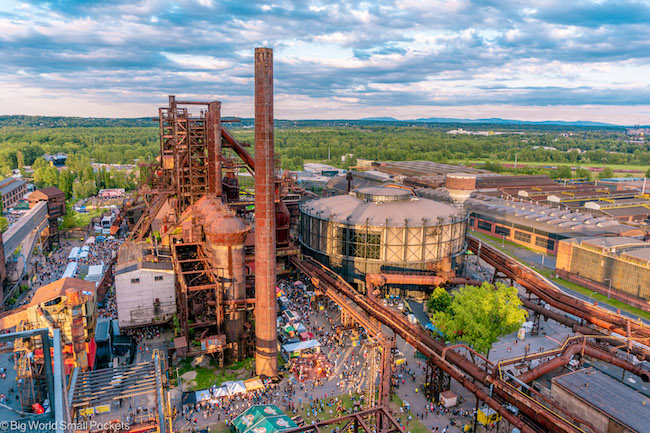 And part of the amazing Dolní Vítkovice site – in fact the most famous part – is the Bolt Tower.
Measuring 345m high, you can ride to the top of this giant structure in a lift and then enjoy amazing views from the top, and even a sundowner cocktail, care of the lovely café / bar here.
Not one of the faint-hearted, strolling the 360 degree walkway here is amazing and it's incredible to think that, in the past up to 1200 tonnes of iron was made in the bowels of this blast furnace every day.
Tickets to access the Bolt Tower cost 200 CZK (this includes 100 CZK to spend in the Bolt Cafe) and can be bought online here.
The viewing platform and café are open from 10am to 8pm daily – but it's really all about timing your visit with that golden hour sunset in my opinion.
#11 Try Step-Biking at Pustevny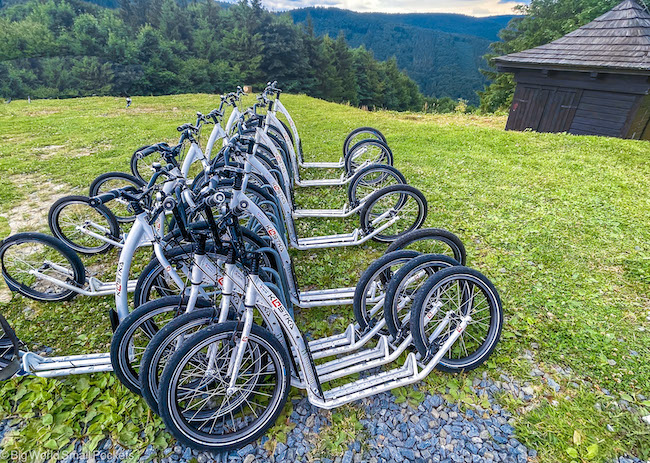 But now we come to something totally different because, for the next entry on my list of the top things to do in Ostrava, it's time to head out of the city on a lovely day trip to the beautiful mountain area of Pustevny.
Yes, little do you realise when you're in the centre of Ostrava, that there's some seriously stunning countryside all around this city, and Pustevny is definitely up there with the top spots!
A snowy wonderland in the winter months, during the summer this is a gorgeous place to take in the fresh mountain air, the elevated views, a spot of hiking and savour a traditional Czech meal.
Park at the bottom of the mountain in the town and then enjoy a thrilling ride up the mountain (to a height of 1200m) in one of Europe's oldest chairlifts.
From here you can then enjoy the sand sculptures, hikes and eateries, as well as the great activity platform and nature trail of Stezka Valaška (an awesome one for families especially), before riding on a stepping bike all the way back down the hill.
This was my first time trying step-biking and I absolutely loved it!
Definitely the best way to descend the hill!
#12 Eat Some Ears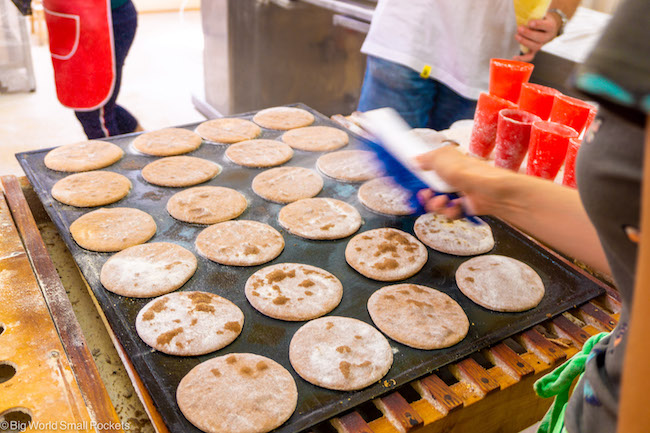 "Eat some ears?", I hear you cry!
Yes that's right!
But I'm not talking about the sort of ears you're thinking of here! Nope, I'm talking about the delicious Czech dessert come biscuit that is called ears and is made exclusively in the region around Ostrava.
In particular, it's the town of Štramberk that is famous for making these sweet, spiced treats – and the ears produced here enjoy a protected food name status as a result, which means only those made in the town can bear the official name.
Stop by Cukrárna U Hezounů – a cute bakery and café – to see this famous sweet snack being produced by hand and to try them for yourself too.
The recipe is a well-guarded secret, but there's certainly cinnamon, cardamon, allspice and some sugar in there!
#13 Take in the View from Štramberská Trúba
And also in Štramberk you'll find the Štramberská Trúba – a historic castle dating back to the 12th century.
Situated above this charming and quaint town – which is a national historic site in its own right FYI and filled with cute, traditional houses – the tower can be climbed and offers (yes you guessed it!) gorgeous views over the pretty, green forests and rolling countryside beyond.
Open between 9am and 6pm in the summer months, and 10am and 4pm in the winter, tickets to climb the tower cost 60 CZK and can be purchased in the café / shop at the foot of the castle.
Ostrava Mini Travel Guide
When to Visit Ostrava?
I highly recommend visiting Ostrava in the summer months of May through September.
This is when most of the city's festivals occur and when the weather is good enough for you to enjoy strolling the centre and the beautiful countryside around.
How to Travel to Ostrava?
If you're already in Prague, then it's easiest to take a train from this city's central station to Ostrava.
This is a comfortable and direct journey that only takes 3 hours.
Book your train tickets for Czechia using Omio – they make comparing trips, times and prices really easy in English.
Alternatively, you can also drive to Ostrava from Prague.
If you opt for this, then I recommend stopping in at the cute historic city of Olomouc on the way.
If you're looking to pick up a good rental deal in Czechia, have a look at Discover Cars.
If you're coming from Poland, then you can fly into Katowice airport, which is just an hour away from Ostrava, and is serviced by many budget airlines.
As always, I use Skyscanner to find the best deals on flights.
Alternatively, you can get public transport or a private transfer from the city of Krakow in Poland, which is also just a couple of hours away.
How to Get Around Ostrava?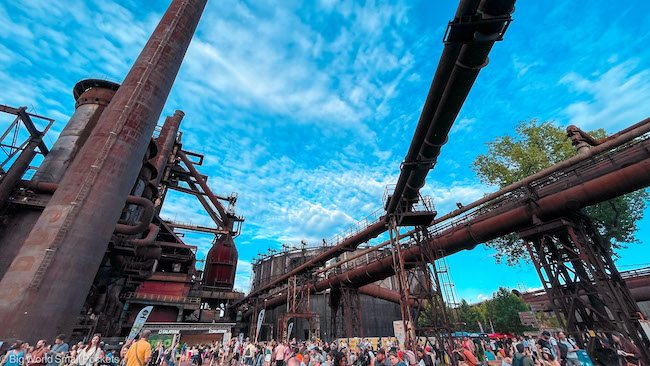 With a small city centre, it's easy to navigate Ostrava on foot.
There's also a great tram system here, which you can pay for onboard using contactless.
Where to Stay in Ostrava?
If you're looking for a budget accommodation option in Ostrava, then Kampus Palace deserves a strong mention here.
Designed as student accommodation, you can nevertheless rent a small apartment here for your time in Ostrava. With modern, clean facilities, great wifi and a super central location, it's an absolute no-brainer for the price!
For something with a bit more comfort and space, take a look at the Sting Boutique Apartments, which get great reviews thanks to their top service, location (some have cathedral views) and value for money.
4 Packing Essentials for Ostrava
#1 Good Camera – You will be pretty much snapping non-stop in Ostrava and will need a good camera to do this unique city justice. I highly recommend the Sony A6000, which I use for all my travels and love, not least because it's light, compact and robust!
#2 Good Walking Shoes – There will be a lot of walking in Ostrava, it's as simple as that! Make sure your feet are comfortable therefore with a pair of New Balance Trainers. I love mine.
#3 Good Water Bottle – All the city sightseeing is thirsty work, so make sure you have a metal water bottle that you can refill as you go, because Ostrava tap water is drinkable… and free!
#4 Good Backpack – And to carry your water bottle, camera and guidebook, you're going to need a decent backpack that will help you balance the weight as you walk the city streets. In my opinion, you can't go past the Bobby Anti Theft Backpack, which is also perfect for helping you avoid pickpockets too.
To learn more about packing for a trip to the Czech Republic, check out this article I wrote, which gives you a complete checklist.
Travel Insurance for Czechia
World Nomads offers simple and flexible travel insurance. Buy at home or while travelling and claim online from anywhere in the world.
Alternatively, if you're a long-term traveller, digital nomad or frequent remote worker seeking travel health cover, check out Safetywing's Nomad Insurance policies.
Recommended Tours of Czechia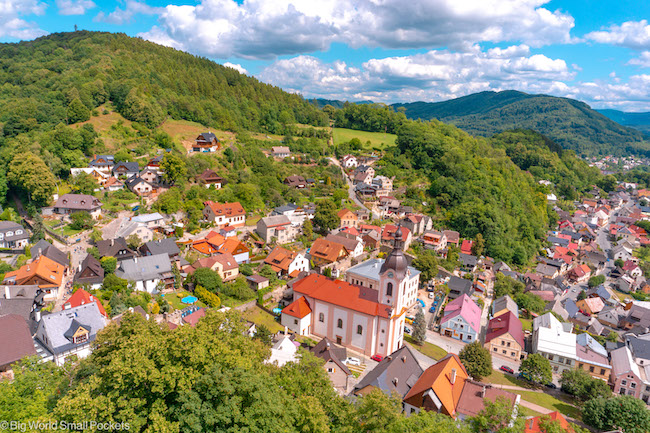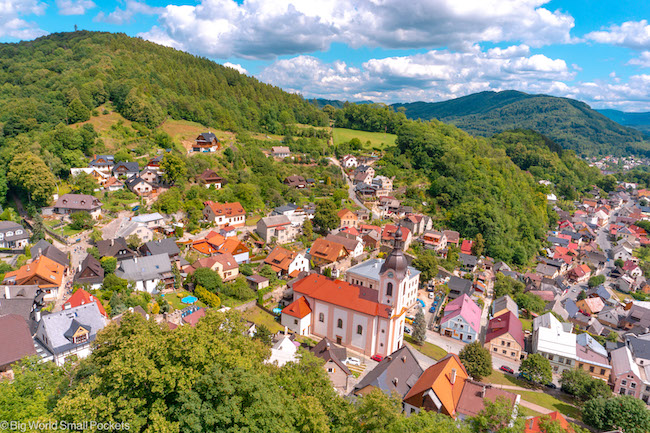 If the sound of Ostrava appeals to you, then check out these top-rated tours to other destinations (besides Prague!) in Czechia too.
Alternatively, if you haven't visited this country before and would like to see Prague (you really must visit at least once in your life), then have a look at these great Czechia tours that do include the capital in their itinerary.
SAVE THIS TO PINTEREST!
So there you have it, my guide to the 13 best things to do in Ostrava.
I hope I've inspired you to visit this more off-the-beaten-path part of Czechia and convinced you that getting beyond the crowds in Prague is absolutely something you should do if you want to really discover this beautiful country, its friendly people and its authentic and unique culture.
Have you visited Ostrava?
What did you enjoy doing there?
Tell me all in the comments below…