The largest museum in the Czech Republic, the Prague National Museum has to be on your list of things to do when you visit this capital.
Housed in one of the city's most beautiful buildings (and that really is saying something), this huge collection (which spans 2 separate, adjoined buildings) is a treasure trove of artefacts and a fascinating way to learn more about the history of Czechia, its geography and people.
So if you're looking for one cultural item on your Prague list, then let me recommend the Prague National Museum – and here's everything you need to know for your visit there.
---
Related Posts
---
My latest trip to Prague was kindly sponsored by the Czechia Tourism authority but, as always, all views are my own.
This page contains affiliate links meaning Big World Small Pockets may receive a small commission on any purchases at no extra cost to you.
---
Visiting Prague's National Museum: The Basics
So confusingly, the Prague National Museum is actually made up of five different museums that are spread throughout Prague and its surrounds.
However, for the purposes of this article, I'm going to stick to talking about the Národní Museum – which is the Museum Complex of the National Museum and the one you've almost certainly heard about and are planning on visiting!
Founded in 1818, its main exhibitions are based around natural science and history.
It's set in the city centre, which makes this is easy to access and is a must-see attraction for tourists and locals alike, including families.
This is the country's flagship museum and is comprised of 2 parts, split across 2 different buildings – the ancient history is housed in the Historic Building and modern history can be found in the New Building.
These 2 buildings are connected to each other by a corridor with a great multi-media display.
Entrance is not free, so tickets do need to bought, but it's well worth doing this to admire the extensive collections here and the gorgeous building that is the museum's home.
How to Get There?
Located at the head of Wenceslas Square (at Václavské nám. 68), in the Nové Město region of Prague, you can easily walk to the National Museum from the historic Old Town in Prague (where the Astronomical Clock and Charles Bridge are) in about 10 minutes.
On the way, you'll pass one of Prague's main shopping streets, which has wide pavements and plenty of cafes to sit and refresh.
If you're walking from Prague's train station instead, then the National Museum is under 10 minutes away towards the south.
You can also catch the #22 tram to the National Museum, or subway line A – stops for all of these are just a short distance away.
How to Buy Tickets for the Museum?
First of all, it's worth saying that each of the 5 national museums is ticketed in its own right – so no combo tickets here I'm afraid.
Tickets for the Museum Complex of the National Museum (ie. the main guy) can be bought at the main entrance via the manned counters there.
Tickets can also be bought online here and are valid for 30 days from the day of purchase.
Tickets cost 250 CZK for adults, 150 CZK for students and senior citizens and are free for children aged under 15 when accompanied by an adult.
Tickets have a QR code and need to be retained throughout your visit to gain access to all parts of this museum – including the modern history section as one ticket grants you access to both the Historical and New Buildings.
If you're wanting to see some of Prague's other main sights including the Prague Castles and Old Town Hall, the check out this combination ticket that will allow you to skip-the-line at all 3 attractions.
Opening Times & How Long to Spend There?
Prague's National Museum is open 7 days a week between 10am and 6pm.
Going either early in the morning, or later in the afternoon, will be the least busy times – ideal for avoiding the queues.
I arrived at 4pm on a weekday and found things delightfully calm.
I'd allow at least 2 hours to explore the Museum – you'll likely want more time for the historical section / building as its more extensive.
What to See in the Prague National Museum?
Where to start with this one!
Well here's my top 4 picks…
#1 Historical Building
Really it depends on your interests in, but when it comes to what to see in the National Museum in Prague, I'd start with the Historical Building itself.
The Historical Building underwent a major reconstruction and was re-opened on 28 October 2018 – marking the 100th anniversary of the Czechoslovak Republic – and forms a significant architectural contrast with the New Building.
Classic, grand and impressive both inside and out, you really should take some time to admire and snap both the interior and exterior of this stunning structure.
The best photos outside can be taken from infront of the fountain, in my opinion, with the glorious building façade in the background.
Then, as soon as you step inside, you'll likely be amazed by the amazing staircases and atrium.
Indeed the main central staircase is an amazing place to get a good view, but wherever you wander around this museum, prepare to be amazed!
#2 The Miracles of Evolution Exhibition
There's a lot of see in the Historical Building and, as I mentioned, this will probably take up the majority of your time in the Museum, but I thought I'd say that my favourite collections were the animal and natural history sections, located on the first floor.
These would be great for kids especially – there's taxidermy a go-go!
#3 Moments of History
The tunnel which connects the Historical Building and the New Building of the Prague National Museum was fitted with a unique multimedia video display in 2019 called Moments of History.
In my opinion, it's now one of the best parts of the museum.
As you walk down this underground corridor, you'll be treated to a moving video representation on both sides of the tunnel, that shows how the Prague skyline has changed over the centuries and decades.
It's a fascinating insight and really clever way to show the way history has left its mark on this capital.
#4 History of the 20th Century
This is a great insight into what is now classed as history!
If you're born in the 1980s, like me, you might be amazed to see items from your childhood in this museum… wtf!
If you owned an Acorn Archimedes computer or a Nokia 3310, then go here to relive the dream we thought they all were!
Hilarious and scary in equal measure!
Is Prague National Museum Good for Families?
In a word, yes!
The Natural History exhibitions are especially popular with kids, as is the multi-media tunnel.
For older kids, the modern history sections in the New Building – especially the recent history parts where you can see early computers and mobile phones, will probably bring great amusement.
What are the Facilities Like?
Toilet facilities are available through Prague's National Museum.
There's also a café and cloakroom (where you can leave bags and costs) in the New Building.
Partial disabled access is available.
Top Tips for Visiting
Bring a good day pack to carry water and your camera, sweater etc with you.
Allow 2 hours for the museum and keep track of time to ensure you get to see both sections of the complex.
Avoid weekends – they are the busiest days.
Bear in mind that professional or commercial photography requires an extra payment, so if you're planning to arrive with a big camera, expect a few questions!
You can also explore the Museum Complex of the National Museum using their handy app.
Download it from the Google or App Store for free and enjoy!
Prague Travel Guide
How to Travel to Prague?
If you're coming from further afield, it's likely you'll fly into Prague's international airport.
Serviced by many budget airlines, I always use Skyscanner to get the best prices.
Otherwise, if you're coming from nearby parts of central or eastern Europe, then it's easy to travel to Prague either via bus or train.
Check out Omio, where you can easily compare hundreds of journeys, view timetables, travel times and buy tickets in English.
Alternatively, you can also take an organised tour to Prague that includes transport, as well as a heap of guided activities in Czech's beautiful capital.
Check out these fantastic options for more info.
Where to Stay in Prague?
Hostel: Located in the Dejvice area of Prague is the amazing Dakura Hostel – an absolute gem of a find in this city.
Set in a historic building built in 1922, which was once a public bathhouse, this "vintage" hostel oozes character and charm, with its Art Deco interior design and beautiful period features.
Spacious, immaculately clean and with a gorgeous garden area that is perfect for relaxing in, I loved the quiet and chilled vibe of the hostel, the friendly staff and the fantastic transport options it had (both tram and metro stops are just a 3 minute walk from the front door) to all the main attractions.
Get the best price for your Stay at Dakura Vintage Hostel here.
Hotel: For something a little more comfortable, spacious and private, I highly recommend Miss Sophie's Downtown Hotel.
A boutique hotel that I stayed in during my last visit to the city, this quirky gem is brilliantly located very near to Prague train station and within a 10 minute walk of the historic centre.
With large rooms, comfortable facilities and great staff, it's a wonderful find for those looking for a modern and independent hotel at a good price.
Book your stay at Miss Sophie's here.
5 Key Packing Items for Prague
#1 Good Camera – You will be pretty much snapping non-stop in Prague and will need a good camera to do this gorgeous destination justice. I highly recommend the Sony A6000, which I use for all my travels and love, not least because it's light, compact and robust!
#2 Good Walking Shoes – There will be a lot of walking in Prague, it's as simple as that! Make sure your feet are comfortable therefore with a pair of New Balance Trainers. Perfect for stylish city strolling, I love mine!
#3 Good Guidebook – I'm still a massive fan of the Lonely Planet Guidebooks and do think their Prague edition is well put together and able to save you a lot of money if you want to learn about the history of this city, but not pay for a guide!
#4 Good Water Bottle – All the city sightseeing is thirsty work, so make sure you have a metal water bottle that you can refill as you go, because Prague tap water is drinkable… and free!
#5 Good Day Pack – And to carry your water bottle, camera and guidebook, you're going to need a decent backpack that will help you balance the weight as you walk the city streets. In my opinion, you can't go past the Bobby Anti Theft Backpack, which is also perfect for helping you avoid pickpockets too.
To learn more about packing for a trip to the Czech Republic, check out this article I wrote, which gives you a complete checklist.
Travel Insurance for Czechia
World Nomads offers simple and flexible travel insurance. Buy at home or while travelling and claim online from anywhere in the world.
Alternatively, if you're a long-term traveller, digital nomad or frequent remote worker seeking travel health cover, check out Safetywing's Nomad Insurance policies.
Where to Travel After Prague?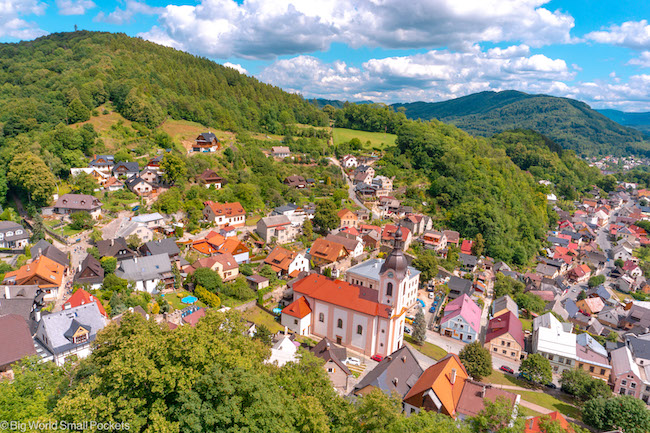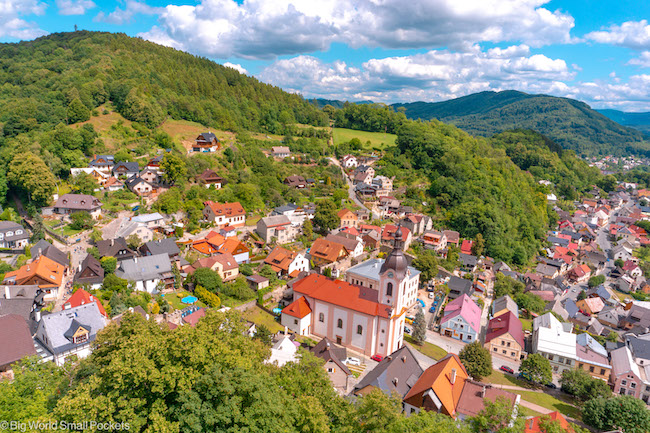 Why not enjoy a day trip to the famous Český Krumlov?
Located in South Bohemia, this fairytale city makes for the perfect Prague pairing!
I also loved the east of Prague, the North Moravia area around the city of Ostrava.
Learn more about this underrated city in this post I wrote about the city.
Otherwise, the Bohemian Switzerland National Park, near the German border, is also gorgeous and can be enjoyed as part of a Prague day trip or an overnight adventure.
SAVE THIS POST TO PINTEREST!
So there you have it, my guide to visiting the Prague National Museum.
I hope I've inspired you to visit this top attraction in the capital, but if you have any more questions, please don't hesitate to drop them into the comments box below and I'll get back to you…