There's been a glut of content on this blog recently about Czechia – the country formerly known as the Czech Republic – and that's down to the simple reason I've been there a lot of late!
Yes having travelled there twice on blog assignments in as many months this summer, it's fair to say I've got the packing list for this country down to a fine art!
Which is why I thought I'd share it with you.
Designed for those travelling to Czechia in the warmer months, which run roughly from May to September and is the time when most people visit the country, this article will start with some packing tips for activities you're likely to enjoy here, followed by a complete checklist to ensure you don't forget a thing!
Time to get cracking…
---
Related Posts
---
This page contains affiliate links meaning Big World Small Pockets may receive a small commission on any purchases at no extra cost to you.
---
#1 Packing for Czech Cities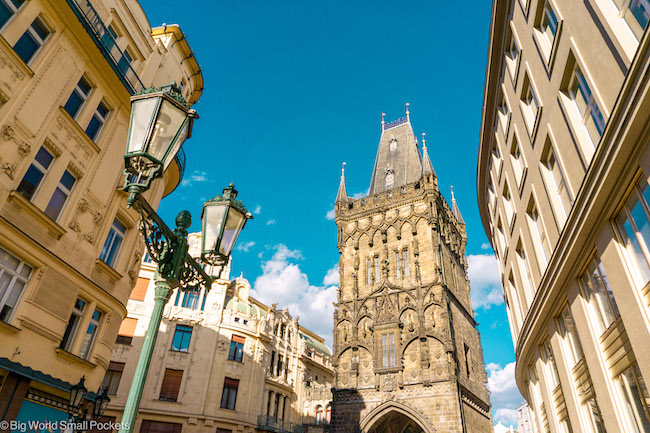 It's very likely that you'll be visiting at least 1 or 2 cities during your time in Czechia, so we're kicking off with some packing tips for these.
Prague is the obvious favourite (and rightly so), but you shouldn't dismiss the country's 2 other major cities – Brno or Ostrava.
As such, you should probably plan for a few good city days during your Czech trip and pack accordingly.
Flat shoes that can be used for comfortable walking are a must, as well as some comfortable shorts or trousers depending on the temperature.
I'd also recommend a good daypack, so can carry things comfortably around with you for the whole day, plus a metal water bottle is a great idea, as Czech tap water is drinkable and free!
Dress codes are pretty relaxed in the Czech Republic and you're fine to wear things above the knee when walking around cities – I just recommend scarves to cover shoulders if you're entering any churches.
People don't get super dressed up for dinner or the evenings in Czechia, so I wouldn't advise bringing anything too fancy, but you may want to bring some nicer jeans, smart casual tops and evening sandals or pumps if you are heading out and about at night.
#2 Packing for Outdoor Activities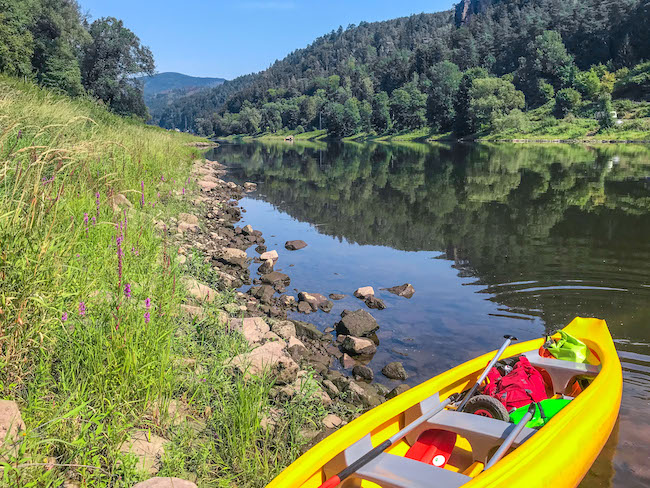 If you weren't in the know yet, then pleasant surprise… Czech has loads of great national parks and beautiful countryside that offers a huge range of outdoor fun.
From hiking and biking to kayaking, SUP-ing and even climbing, it's all on offer and should definitely be taken advantage of in the lovely summer weather.
Bohemian Switzerland National Park in the northwest of the county, and the mountain ranges in the east of the country, offer lots of opps for outdoor fun, so definitely make some you pack some activewear if you're planning on getting amongst it.
None of the hiking is too taxing – so you should be fine with trainers or walking shoes over boots – but hiking trousers or leggings will certainly make enjoying these pursuits easier.
A cap to keep the sun off your face and a small backpack and a buff might also be a good idea and, personally, I always think a thin waterproof / windproof jacket is a good idea even if rain isn't forecast.
#3 Packing for Czech Village & Castles
Even outside of any of Czechia's major cities, there's plenty to be seen, so you should definitely consider some sightseeing days on your itinerary… and pack accordingly!
Top of this list tends to be cute Czech traditional villages, of which there are tons (I love Štramberk especially) and a heck of a lot of castles!
Český Krumlov in the south of the country is a favourite here and can be enjoyed as part of a top Prague day trip or a longer overnight excursion.
There's also brewery tours to consider too.
For all sightseeing days, I recommend comfortable clothes – leggings, shorts or trousers, along with a t-shirt / singlet and a thin jumper.
A scarf can be handy for draping over shoulder if you're heading into any religious buildings or need to protect yourself from the sun.
Comfortable shoes, like trainers, are ideal and don't forget a camera to snap all the beautiful historic sights and sweeping countryside views.
If you want to do an Instagram thing (yes it's a thing), then bringing a nice dress and hat for the castles could be an idea.
#4 Pack Layers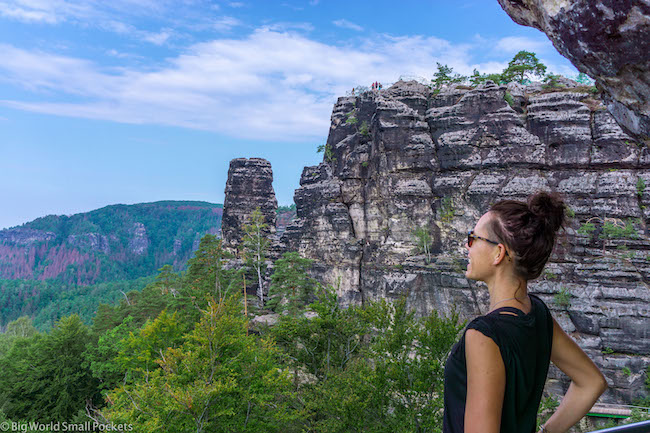 But while I've been listing all the things to take, the next point to make is that taking layers is the key not only to packing light for your Czech trip, but also to ensuring that you're prepared for all circumstances and a range of weather.
Whether it's thin sweaters you can wear under jackets, or leggings you can put on under dresses or long tops, layers provide versatility and are an efficient way to pack too.
Having layers also tend to mean you opt for thin fabrics and these not only take up less room in your luggage but also dry quicker as well.
#5 Packing Cubes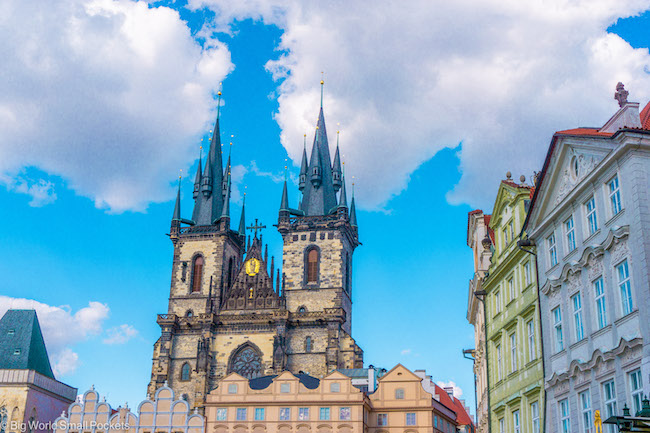 And now seems like as good a time as any to tackle the notion of packing cubes – another key way to ensure all your Czech packing list fits into a small backpack or suitcase.
If you want to compress your gear, so it takes up less space, as well as have it nicely organised, then packing cubes are the answer my friends!
Yes a godsend to disorganised packers everywhere, I absolutely love these packing cubes and personally would never consider heading off to Czechia, or indeed anywhere, without them.
#5 What Luggage to Take?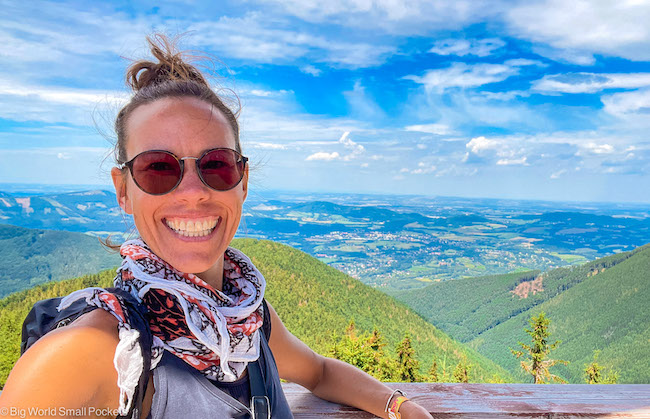 And if you manage to condense your stuff down well, then this whole Czech packing list below should fit into a 30-50l backpack.
I never take anything bigger, even when I'm travelling for 6 months at a time!
This 46l Atmos backpack from Osprey makes a great option or, alternatively, if you're not visiting Czechia as part of a European backpacking trip, but a standalone travel adventure, then a small wheeled suitcase may suit you better.
As always, I recommend taking a suitcase that will fit into the overhead locker on a plane or train, so you don't have to wait for your luggage or risk losing it.
Hard shell suitcases with TSA locks and spinner wheels are the best option. Those with extendable size options are also great, so you can start small and expand if you buy any souvenirs!
Check out this great example I recommend.
#6 Select Footwear Carefully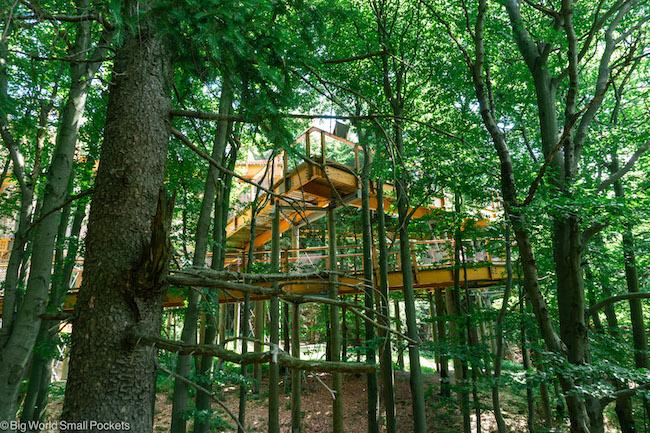 Shoes are one of the things that take up most room in your luggage, so selecting these wisely is a great way to keep your packing weight and size down too.
Try to select shoes that are lightweight, i.e. small, thin sandals, or light trainers, pumps or sneakers.
I'd suggest that for 1-2 weeks in Czechia, 2 to 3 pairs of shoes is the max you should need.
Think about shoes that cover a range of circumstances including sightseeing, walking day trips and nights out.
#7 Don't Forget Sunglasses and SPF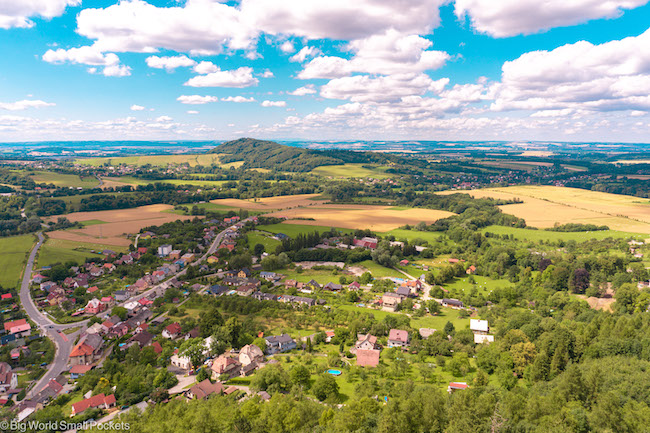 It's worth remembering it can be really sunny during summer in Czechia – think 30 degrees centigrade+ – so you should pack items that protect your face and eyes from those UV rays.
UV-protected sunglasses and a 30+ SPF are therefore great ideas for your Czech packing list.
A hat or cap that protects your head and neck, especially if you're hiking or enjoying any outdoor activities, is also a must.
I'd also advise bringing a good moisturiser you can use on your hands, body and face too in case the sun makes your skin dry.
#8 Invest in a Portable Charger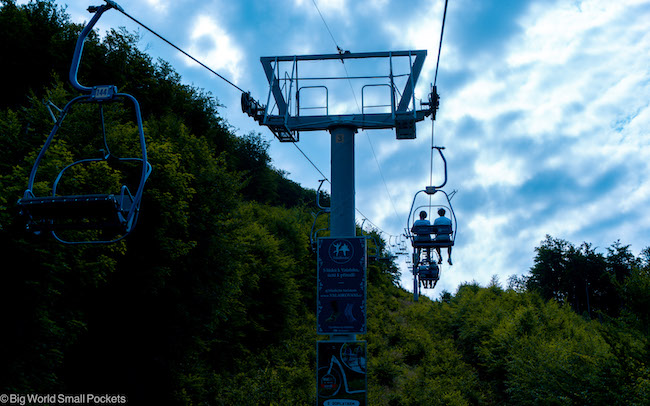 I highly recommend investing in a power pack for your trip to Czechia, so that you can charge your phone when you're out and about.
My go-to brand here is Anker and I actually have 2 of their portable chargers – one that comes out with me during the day and the other that is charging wherever I'm staying, so it's ready to swap over.
For my big camera, I also have a spare battery, so that I can swap batteries around and keep snapping when I'm out for the day.
Complete Czech Packing List
So now we come to my complete Czech Packing List – a full breakdown of all the items you should bring with you on a trip to this country.
Geared towards being comfortable and packing light, the length of your stay in Czechia will, of course, dictate the amount of each item that you need, but here's a checklist of all the gear I'd recommend if you're travelling in this country for a week…
Clothes
7x Singlets / T-Shirts
2x Thin Long Sleeved Tops
2x Jumpers / Sweaters
1x Thin Waterproof / Windproof Jacket – like this one
2x Jeans / Trousers
1x Leggings – love my bamboo fibre ones
2x Shorts
1x Dress
7x Underwear
7x Socks
1x Swimwear
3x Scarves / Buffs
Cap / Sun hat
Nightwear
Footwear
Trainers
Sandals – can't go wrong with a Birkenstock!
Pumps / Flats – Converse are a good casual option
Toiletries
Thin Toiletries Bag with Hook
Shampoo & Conditioner Bars – try these!
Shower Gel / Soap
Deodorant
Face Cleanser, Toner & Moisturiser
Sunscreen & Lip Salve
Toothbrush, Toothpaste, Floss
Razor & Spare Blades
Nail Scissors & Nail File
Tweezers & Safety Pins
Hair Bands & Hair Brush
Cotton Buds / Pads
Band Aids
Paracetamol, Antiseptic cream, Antihistamines
Menstrual Cup
Electricals
Smartphone & Headphones
Portable Charger – Anker for the win!
Camera – Love my Sony A6000
Lens, Spare Battery, Memory Card & Charger
Euro Adapter – Skross are the best I've found
Headlamp & Spare Batteries
Other Things!
Glasses / Contact Lenses if you wear them
Sunglasses with UV Protection
Eye Mask & Earplugs
Day Pack
Water Bottle – Kleen Kanteen ones are great
Travel Insurance Policy – World Nomads offer simple and flexible travel insurance. Buy at home or while travelling and claim online from anywhere in the world.
Passport
Credit Cards and Debit Cards – I always recommend Wise as the best card for good exchange rates and low transaction fees
SAVE THIS TO PINTEREST!
So there you have it, my top tips and complete checklist for what to pack for a trip to Czechia.
Any questions about it, please drop them into the comments below and I'll get back to you.
Any suggestion to add?
I'd love to hear those too!