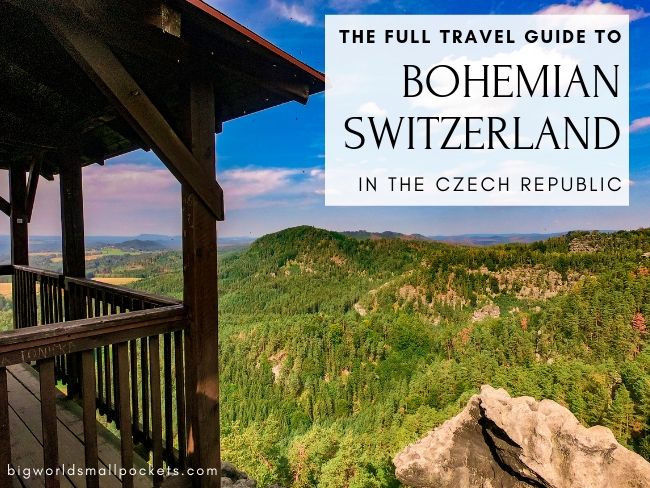 I have to be honest, until about a year ago I had not even heard of Bohemian Switzerland… and that's despite having travelled previously to the 2 major cities nearest to it – namely Dresden in Germany and Prague in the Czech Republic.
And this maybe gives you some idea of a) how off the beaten track this wonderful natural area is and b) how confusing its name is!
Because yes, unlike many of us first assume, Bohemian Switzerland isn't in Switzerland.
In fact, it's not even remotely near Switzerland… if we're talking in European terms that is.
Because Bohemian Switzerland is actually located in…. (drum roll please) the Czech Republic!
An easy train ride, drive or even cycle from Prague, this often-forgotten area is a hidden part of the country that's now making a big splash.
And after the 5 delightful days I spent there, I'm happy to report it's quite a splash.
So here's the full travel lowdown to Bohemian Switzerland if you want to visit this up and coming Czech corner…
---
Related Posts
---
My trip to Bohemian Switzerland was kindly sponsored by the Czech Tourist Authority CzechTourism and the Ustí Region, but, as always, all views are my own.
This page contains affiliate links meaning Big World Small Pockets may receive a small commission on any purchases at no extra cost to you.
---
Why Visit Bohemian Switzerland?
There's lots of great reasons you should visit Bohemian Switzerland, but mainly this is a superb region for anyone looking to get a bit off the beaten track in the Czech Republic.
Yup, if you want to experience real Czech life, with few international tourists, this is a winner of a place to head.
This is especially true if you're on a bit of a European travel circuit, which likely involves spending a lot of time bucket-list ticking in historic cities.
In this case, Bohemian Switzerland also makes the perfect break from busy sightseeing life and the tourist crowds.
For it really is a wonderfully quiet, natural area in which you can truly unwind and relax for a few days… and let's be honest, who isn't into that?!
Bohemian Switzerland is also a fab spot for those active travellers among us, the outdoorsy types who love getting amongst it all.
From hiking to biking, canoeing to climbing, this area offers a wealth of activities that are perfect for stretching those muscles and take in some serious lungfuls of clean air.
With one of Czech Republic's largest national parks situated here, the German border close at hand, a lively local identity and plenty of interesting historical stories, Bohemian Switzerland ticks just about every box… and failing all that, there's a lot of craft beer and micro-breweries you can sample here too.
When to Go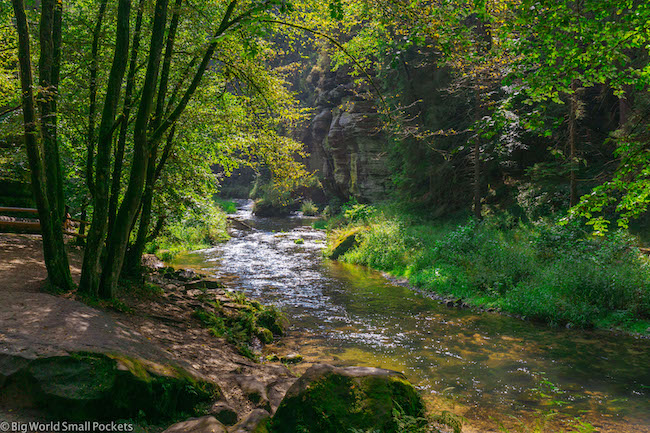 Situated on the edge of Eastern Europe, there's no doubt visiting Bohemian Switzerland is best done in the summer.. especially if you're a winterphobe like me.
From May to September you're like to be greeted with warm sunny days and blue skies, with temperatures ranging between 18 and 33 degrees during the day.
Understandably, like most of Europe, the peak tourist months here are July and August, when the weather is best and the school holidays across the continent are in full force.
Because there's so much outside fun to experience in Bohemian Switzerland, I'd really advise visiting during these time, as even in the height of the season you'll find considerably less tourists here than you would in Prague for example.
And I can definitely attest to this, because despite my visit to Bohemian Switzerland coinciding with a busy August weekend, the whole place still felt wonderfully relaxed compared to the visitor crowds of the capital.
Equally, with cold, snowy winters, the months of October through to April here can be freezing (literally) and would make enjoying the stunning natural surrounds a bit of an arduous chore… for me at least!
Where Is it?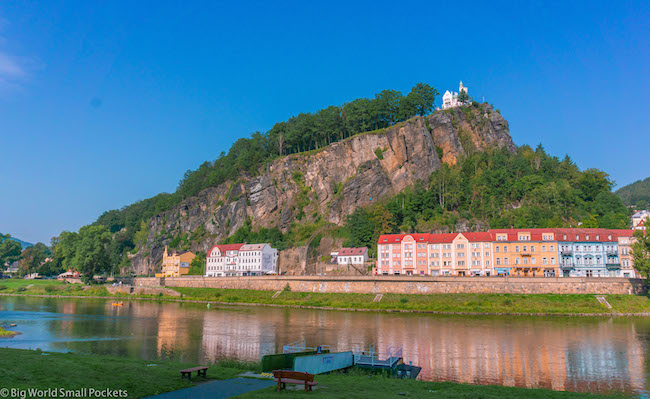 So now we come to the classic question… where the heck is the Bohemian Switzerland region?
And the answer is, confusingly, in the northwest of Czech Republic, in a region called Ústí nad Labem.
Historically part of the Bohemian Kingdom, which is how this national park and the surrounding area came to acquire its somewhat misleading name, the main access point here is a small city of only 60,000 people called Děčín (pronounced de-chin) which is actually just 10km from the German border and situated along the Elbe River.
In fact, this area is so close to the German province of Saxony, that the national park actually straddles the border (although it has a different title on the German side – Saxon Switzerland) which makes hopping across to this other EU country for lunch as easy as making a sandwich.
That said, Bohemian Switzerland – the area and towns around – are distinctly Czech.
It's Czech beer that's drunk here, Czech language that's spoken here and Czech Koruna that you use to pay here.
Getting to Bohemian Switzerland from Prague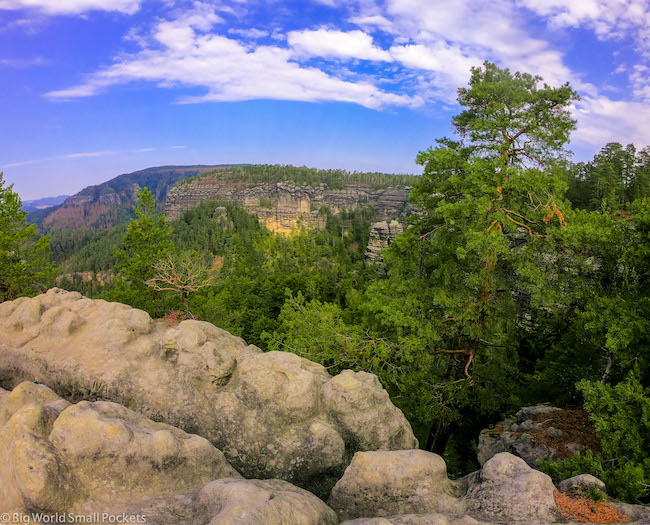 Located around 125km from Prague, the amazing news is that you can get to the delightfully rural area of Bohemian Switzerland from the Czech capital easily and quickly.
With your own vehicle, the simple journey can be made in around an hour and a half and, as you escape the city, there's no doubt the views become more delightful as you go.
I can vouch for this because the views I saw from the train I caught from Prague to Děčín were very pleasant, as trees and green hills increasingly overtook the sight of grey buildings and factories.
Taking under 2 hours on a direct and comfortable train from Prague's Central Station (Hlavní nádraží) – a train, I might add, which boasted both aircon and seat-side charging points in regular class – there's no doubt the 8 euro ticket for this ride was a bargain.
As always, I use Trainline to book my travel across the Czech Republic, and Europe in general, as I find their easy booking process and live departure boards a breeze to use and their prices the best.
Otherwise, the most exciting and adventurous way to reach Bohemian Switzerland from Prague is via bike.
Yup, using the old 2 wheels definitely makes this the eco-choice, because, amazingly, you can cycle here along a designated route that actually extends all the way to Dresden and onto Hamburg in Germany!
A great Czech company, based in Děčín, called Active Point have tons of helpful info on this route and they can even map you an itinerary, building in accommodation and creating a bespoke package so you can enjoy an excellent trip.
Getting to Bohemian Switzerland from Dresden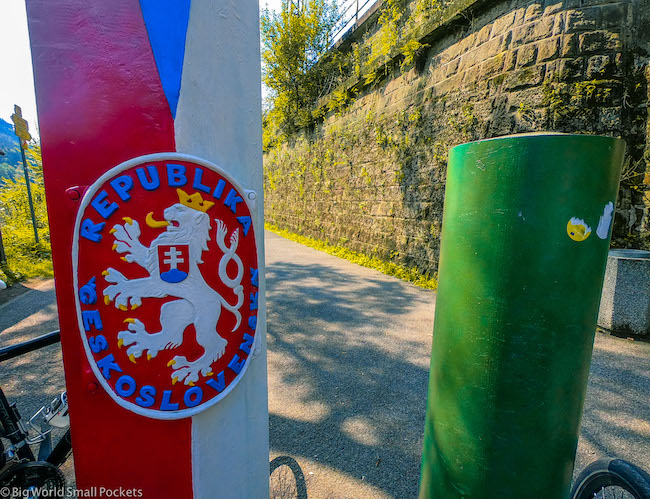 It therefore goes without saying, that you can also cycle from Dresden across the border into Bohemian Switzerland and then onto Prague if you're heading in the other direction.
Equally, trains all the way from Berlin, passing Dresden, head straight into Děčín… or you can make the drive too in just over an hour.
As is the joy of travelling in the EU, borders are generally quick and simple to cross.
THE BEST TRAVEL INSURANCE FOR ACTIVE TRAVELLERS
If you're looking to get outside and active in the Bohemian Switzerland area, then I do highly recommend ensuring you're covered by a travel policy.
My go-to is always travel insurance from World Nomads, which I've used throughout my time backpacking Europe and which I love for its great coverage of active adventures including hiking, rock-climbing and canoeing.
Alternatively, if you're looking for travel insurance with Covid-19 cover, then look no further than Safetywing's great Nomad Insurance policies.
These guys will cover you at some seriously great prices, including if you have to quarantine!
Bohemian Switzerland Day Trip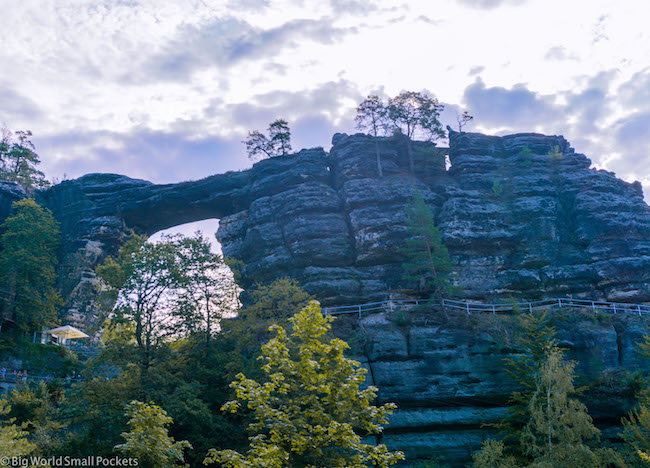 Being so accessible from Prague and Dresden, it certainly is possible to make a day trip to Bohemian Switzerland.
For this, most people use an organised tour that includes return transport and normally involves a day hiking in the national park, primarily to see the main attraction of Pravčická brána, which is the largest sandstone arch in Europe.
After this, lunch at a local restaurant is normally available, followed by a delightful hike and boat trip through the picturesque Hřensko Gorge.
However, if you only make a day trip to Bohemian Switzerland, you really aren't doing this place justice.
For starters, you won't get the chance to really relax in this area, which is what Bohemian Switzerland does best with its quiet local charm and delightful natural surrounds.
Secondly, you won't be able to enjoy the full range of outdoor activities here, of which hiking is just the tip of the iceberg.
As I said before, if you're looking to get off the sightseeing circuit in Europe for a few days, and instead want to savour some tourist-free views and some epic active adventures, then a stay of 2-3 days in Bohemian Switzerland would be ideal.
I actually spent 4 days in this lovely area and still felt like there was more to do and see!
Bohemian Switzerland National Park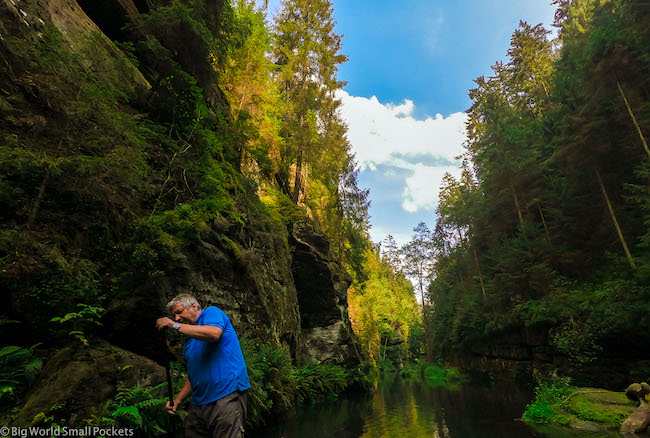 So the main attraction within this area is, of course, the Bohemian Switzerland National Park.
This is where you can enjoy the hike to the largest sandstone arch in Europe, the boat ride through the gorge, as well as a multitude of other hiking and cycling trails.
The whole national park is a large woodland area, home to many local myths and fairy tales, and is a magical, forested glen set to a backdrop of towering sandstone structures, incredible lookout areas and ancient rock castles.
Once part of a prehistoric seabed, hiking here is largely under the shade of huge pine trees and underfoot the sandy terrain gives the impression of an amazing coastal area, even though you're miles from the sea!
The huge rock formations make for some super photo opps and the calm Elbe River, which flows through it, is the perfect accompaniment to the well-maintained and well-marked trails.
Otherwise, you can float up the river too, either in a canoe or a kayak, or ride along peaceful cycle paths that amble alongside it.
Overall, the national park is the jewel in this area's crown and is an easy bus ride from the town of Děčín – in fact local bus number 434 will take you right into the heart of it.
Entrance to the national park is free, although it costs 3 euros to enter Pravčická brána and a similarly small amount to take the boat ride through the gorge.
If you canoe / kayak to the town on the otherside of the German border – called Schmilka – you can enjoy a great lunch here, before getting a small boat (with your bike care of Active Point) across to the other side of the river for 2.50 euro before cycling back to the Czech Republic.
Oh the magic of travelling in Europe!
5 ESSENTIAL PACKING ITEMS FOR BOHEMIAN SWITZERLAND
#1 Good Camera – You will be pretty much snapping non-stop in Bohemian Switzerland and will need a good camera to do this gorgeous part of the world justice. I highly recommend the Sony A6000, which I use for all my travels and which I love, not least because it's light, compact and robust!
#2 Good Walking Shoes – There will be a lot of walking here, it's as simple as that! Make sure your feet are comfortable therefore with a pair of New Balance Trainers. I love mine.
#3 Good Guidebook – I'm still a massive fan of the Lonely Planet Guidebooks and do think their Czech Republic edition is well put together and able to save you a lot of money if you want to learn about the history of this country, but not pay for a guide.
#4 Good Water Bottle – All that outdoor stuff is thirsty work, so make sure you have a metal water bottle that you can refill as you go, because Czech tap water is drinkable… and free!
#5 Good Backpack – And to carry your water bottle, camera and guidebook, you're going to need a decent backpack that will help you balance the weight as you walk the national park. In my opinion, you can't go past the Bobby Anti Theft Backpack, which is also perfect for helping you avoid pickpockets in Prague too.
Things to Do There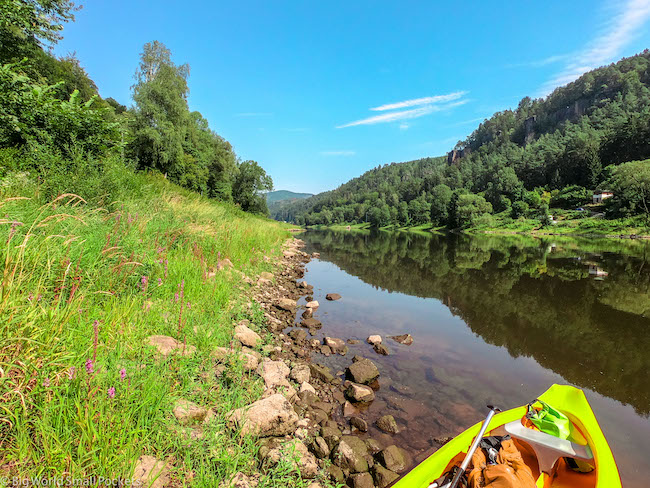 Hiking, camping, rock climbing, canoeing, kayaking and cycling are the main things to enjoy in Bohemian Switzerland.
Most of these are conducted in the national park, with the exception of rock climbing, which mainly takes places along the Via Ferrata, a designated climbing cliff with various pegged trails in the town of Děčín.
Active Point can rent you climbing gear and offer guides if you are a novice, as I was!
Active Point can also supply canoes and kayaks, as well as bikes, and most of the activities, including hiking, can then be enjoyed without a guide – hoorah for ensuring those smaller pockets go just a little further…
I always, I recommend downloading maps.me to ensure you know exactly where you are hiking however, because this app works even if you don't have access to functioning wifi or data.
Day trips with Active Point start from just 10 euros, and one of their best selling tours, in which they rent you a canoe to paddle up the river and across the German border and then drop off bikes (and pick up the canoe) so you can cycle back to Děčín, costs just 24 euros per person.
Stop for coffee at one of the many riverside cafes along the way if you do choose this option, so you can take in the views and peaceful atmosphere.
Bohemian Switzerland Hotels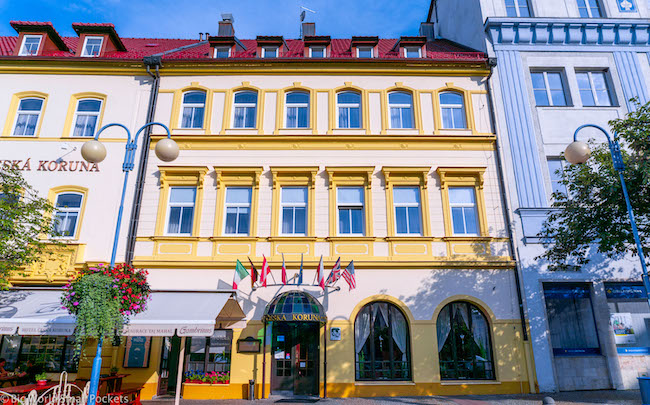 If you're visiting this area for a few days, I would strongly suggest you base yourself in Děčín, so you can have easy access to the national park, the river and the climbing, as well as a good choice of accommodation, restaurants and bars in the evening.
Within Děčín, I highly recommend the very affordable and centrally located Hotel Ceska Crown, which offers 3* comfort and has a designated space to lock up your bike.
Otherwise, Kemp Děčín (Camp Děčín) offers affordable accommodation via tents, yurts and cabins. It also has room for you to pitch your own tent or park your van and is located right on the side of the river.
As I've said before, bikes and canoes / kayaks can be hired from here.
What to Pack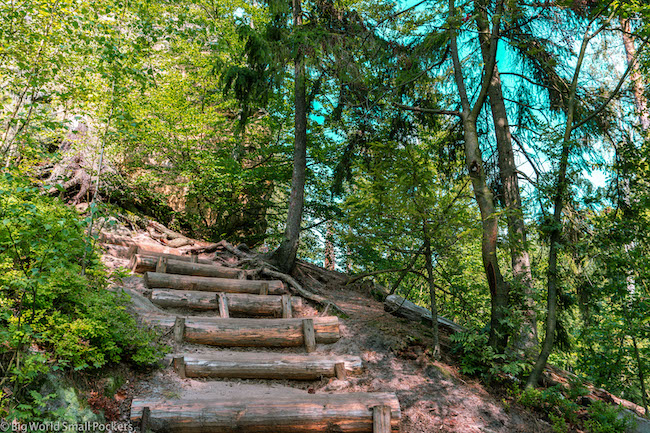 The following would be a great idea to pack for a multi-day, active-led time in Bohemian Switzerland…
Running Shoes or Walking Shoes
Sunhat / Cap
Activewear
Swimsuit
Sunscreen
Insect Repellent
Metal Reusable Water Bottle
Dry Bag
Places to Eat and Drink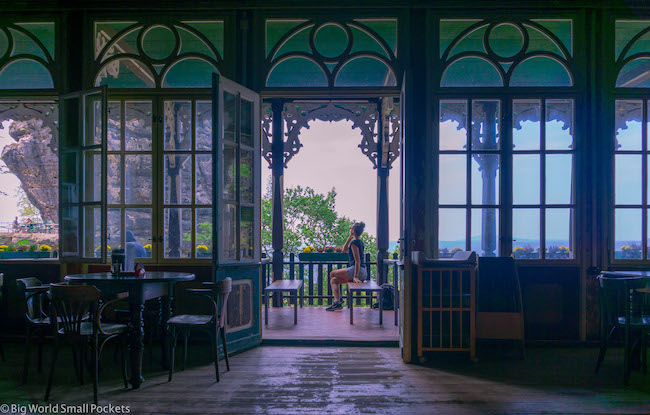 The following are all excellent places I enjoyed eating and drinking in Děčín …
Karls Bar
Nomad Micro Brewery
Fabrika
Coffee & Books
Bio Koko
Tankovna Na Skrivance
Things to Know
There are several ATM's across town that accept both Visa and Mastercard.
Banks, pharmacies and supermarkets scatter Děčín, so you don't need to worry about supplies.
You can also pick up a local SIM card here if you need to, although be aware that roaming within the EU is free – so if you have a SIM card from any other EU country, you don't need to get a new one for the Czech Republic.
The train station in Děčín is centrally located and cycling or walking around town is both easy and safe.
Locals here are very friendly, although not a lot of English is spoken. You may fair slightly better if you have a bit of German under your belt, but sadly this wasn't my strong point either!
Laundry facilities are available at Camp Děčín.
PIN IT TO PINTEREST!
And there it is, my full travel guide to Bohemian Switzerland in the Czech Republic.
Have I convinced you to head to this beautiful, off-the-beaten-track part of the country yet?
Any questions you have, or pieces of advice you can add for other travellers, please drop them in the comments box below…