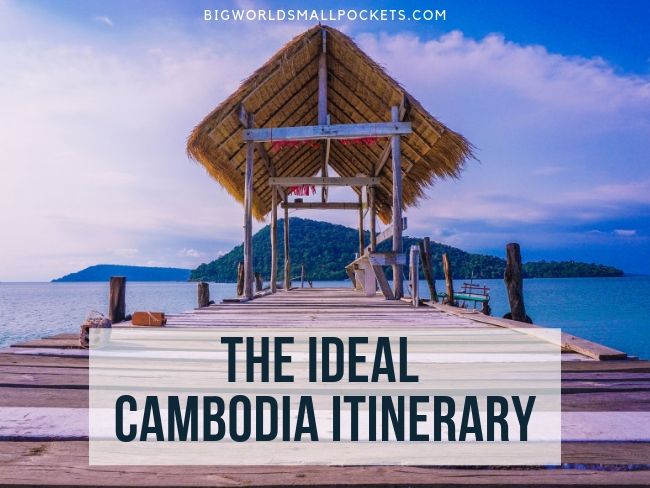 There's many great reasons to travel Cambodia, after all this southeast nation is filled with historical gems, cultural curiosities, unique UNESCO spots and some seriously beautiful landscapes.
And not to detract from any of this, but another great reason to travel Cambodia is because it's fairly small and easily manageable, meaning if you've only got 2 weeks to get a flavour of Southeast Asia it makes the ideal country.
Plus who can forget, it allows you to tick a major treasure, the UNESCO-listed Angkor Wat, off your bucket list too!
So if you're looking to head somewhere for a couple of weeks and want to cram in culinary feasts, cultural delights, beautiful beaches and some seriously superb temples, look no further than my ideal Cambodia itinerary – it will have you seeing all the sights in just a fortnight.. promise!
---
Related Posts
---
This page contains affiliate links meaning Big World Small Pockets may receive a small commission on any purchases at no extra cost to you.
---
Beginning Your Cambodia Itinerary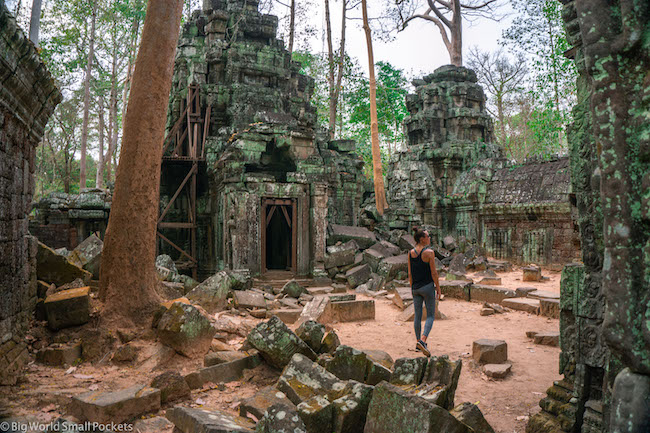 Cambodia has 2 international airports – one located in the capital Phnom Penh and the other in Siem Reap.
Long haul flights generally arrive into the capital, while flights from other areas in the region also arrive into Siem Reap.
As always, I use Skyscanner to find the best flight prices going.
If you do land in Phnom Penh, then I suggest getting an internal flight (or a good coach if you're trying to be eco-minded) as this Cambodia itinerary begins in Siem Reap.
Alternatively, if you're coming from Bangkok, which may have cheaper international flight prices as it's a major airport hub in the area, you can easily travel to Siem Reap in a day overland too.
Check out how I crossed the border from Bangkok to Siem Reap by bus – I definitely recommend this option over flying if you've been travelling in Thailand already.
If you want to know how much this exact itinerary cost me, then check out this budget breakdown post I wrote all about the price of travel in Cambodia.
Your Ideal 2 Week Cambodia Itinerary
Day 1 – 4: Siem Reap
And now to begin this Cambodia itinerary for reals, starting in the country's second-largest city, Siem Reap.
Obviously, this place is most famous for the ruins that lie just beyond it – those of Angkor Wat – but the town is a lively, cultural place in and of itself and definitely worth a day of your time to explore.
For that reason, and because you've likely just arrived into the country, I'd allow yourself a day here to adjust and get your bearings in Cambodia.
During your first day in Siem Reap you can also check out the city temples, visit the night markets, hit Pub Street if you really fancy it, and also organise your Angkor Wat excursion if you haven't already.
Learn more in this post I wrote about the 10 best things to do in Siem Reap.
Alternatively, check out these Angkor Wat tours you can book in advance – a great idea if you're on a tight schedule for your Cambodia itinerary.
You'll likely also want some time to chill by a pool on your first day, as that Cambodia humidity is going to hit you hard!
Thankfully, both my well-priced accommodation options, the Ibis Styles Siem Reap and Onederz Hostel, have pools, so you can also relax, unwind and get accustomed to the jungle humidity.
During the remainder of your time in Siem Reap, you're going to want to explore the amazing place that is Angkor Wat – there's loads of details, including how and where to buy tickets and how to see the best sunrise there in the article I wrote, so I'll spare you the repetition of details.
Suffice to say, I suggest getting a 3 day ticket to this huge temple complex as it's just too massive to cover in one day.
Spreading your visit here over multiple days will also allow you to experience both a sunrise and a sunset within the temple complex (without falling over from exhaustion) and give you the opportunity to walk, cycle and tuk-tuk around the ruins, so that you can cover the close, as well as the further away, temples.
For cycling tours in Angkor Wat as part of your Cambodia itinerary, I recommend TakeMeTour who provided me with a great day trip.
For tuk-tuk tours, check out Onederz Hostel, who have daily departures that team you up with other travellers, allowing you to access the site on 4 wheels for just $8 USD. They have a couple of different routes you can enjoy as well!
Day 5: Battambang
Recommended Hostel: Pomme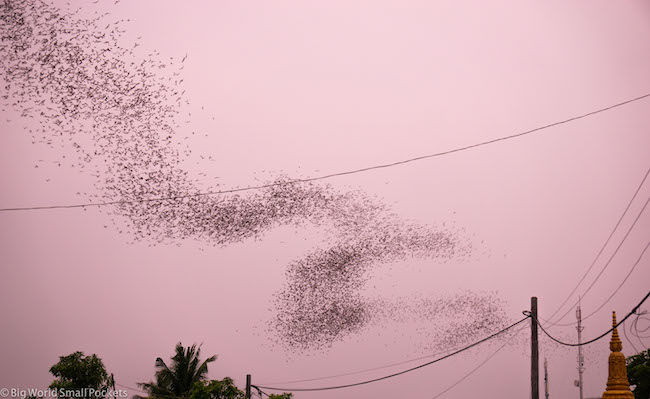 After 4 days, it's time to move on from Siem Reap to the quieter city of Battambang, a few hours away either by bus or boat.
If you're travelling in high season, when the water levels in Lake Tonle Sap are still quite high, then combining a boat trip with your journey to Battambang is a great way to see how the local people live amongst their floating villages. You can even enjoy a sunset dinner tour here.
Otherwise, take an early bus from Siem Reap to Battambang so you have the afternoon to explore this new destination.
Must-sees in Battambang include the heritage walk, which is self-guided and takes in the beautiful faded French colonial architecture this destination is famous for and the good café scene here.
After that, you can ride on the traditional bamboo train, before heading to the famous bat caves in the evening.
For around $10 USD, a local tuk-tuk driver can offer you a return journey from central Battambang to the cave and also wait for you there too.
Do a hike around the cave to see the temples at the top, before returning to watch the sunset spectacle that literally sees thousands of bats exiting the cave mouth at the same time.
It really is quite the spectacle and definitely a must on this Cambodia itinerary.
Day 6 – 7: Phnom Penh
After a bit of quiet downtime in Battambang, it's then straight back into the Southeast Asian chaos as the next place to head on your Cambodia itinerary is the country's capital Phnom Penh.
This certainly isn't the greatest city in the world, but it is definitely worth a couple nights of your time here.
Arriving from Battambang, the bus to get to Phnom Penh will take you a few hours, so on your arrival I'd suggest just spending your time getting acquainted with the city, especially its riverside promenade, which is the best place for a stroll and to get a feel for local life here.
There's also several good cafes in the capital to check out including Vibe, Backyard, Feel Good and Daughters.
You might also want to use this first day in the capital to plan your trip to Phnom Penh's main highlights… although highlights is definitely the wrong use of the word, seeing as the sights I'm talking about refer to Cambodia's horrific genocide.
If you weren't in the know about this tragic and horrendous event, then this is the time to educate yourself as you visit the so-called Killing Fields and the infamous S-21 prison, which acts as the genocide museum.
You'll want to allow a full day to soak in the visceral and confronting nature of visiting these 2 sites, and to do them and the victims, justice.
Onederz Hostel in Phnom Penh organise daily tuk-tuk transport to both sites for $7 USD per day by pairing you with other travellers to share the ride and keep costs down. This is a great option for budget, solo visitors.
Day 8 – 10: Kampot & Kep
After 2 days in the capital, it's time to move onto a quieter spot, so next up on this Cambodia itinerary are the semi-twin towns of Kampot and Kep.
Located out to the east of the country, near the southern Vietnamese border, Kep is on the coast, while Kampot (about an hour away) is situated on a river inland.
Many travellers base themselves in one of the towns (normally Kampot) and day trip to the other from there.
I'd allow 3 days to see both these destinations – 1 day to arrive from Phnom Penh and get your bearings, 1 day to explore Kampot and the other to explore Kep, including the nearby Rabbit Island.
In Kampot, a quiet country town, you can enjoy kayaking on the river, cycling in the surrounding countryside or hiking to nearby waterfalls. You can also check out the local pepper farms – Kampot pepper is famous the world over – enjoy some time in the local cafes (Simple Things was my fav), snap the crumbling colonial architecture or go for a sunset river cruise.
There's also a number of good spas in Kampot if you need a massage or a yoga class (Banteay Women's Spa is great for both) or you can head out of town on day trip to explore the Bokor Hill Station and other natural areas around.
Day 11 – 14: Koh Rong Sanloem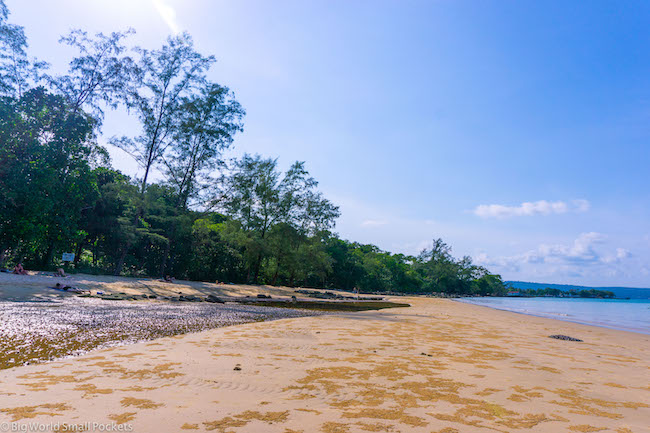 And last but not least on this Cambodia itinerary, is probably my favourite spot in the country.
Yes Koh Rong Sanloem really is the jewel in Cambodia's crown as far as I'm concerned and if you can allow longer than 4 days here you should!
But don't get me wrong, that's not because of the amount of things to do here, because this place really is all about chilling out.
So kick off your flip flops, roll out your towel and get ready to enjoy the beach life in this patch of paradise.
The smaller of the 2 islands in southern Cambodia, I'd definitely recommend visiting Koh Rong Sanloem over its larger neighbour and you can easily get boats here from the mainland city of Sihanoukville.
If you accidentally miss the last boat and have to stay in Sihanoukville. (which you should avoid at all costs if you can!) Onederz Hostel is the place to rest for the night.
Then, in the morning, hop on the first boat and get to the island, where it's hammock lying, sunset watching, beer reclining and sea swimming for you!
There is some snorkelling and hiking to do too if you're feeling active, otherwise kick back and enjoy the last few days chilling on your Cambodia itinerary.
For more info about this island, check out my full guide to Koh Rong Sanloem.
End of Your Cambodia Itinerary
And now it's time to make your way back home.
Boo hiss!
Head to Phnom Penh to grab your international flight or you continue onto Vietnam and the amazing city of Ho Chi Minh – I absolutely loved this place!
READ MORE: How to Cross the Border from Kampot to Ho Chi Minh
PIN IT TO PINTEREST!
And so there you have it, my ideal Cambodia itinerary.
Have you travelled to this Southeast Asian gem of a country?
Do you have any advice to add to the above?
If so, please help other travellers out, by leaving your thoughts in the comments below…