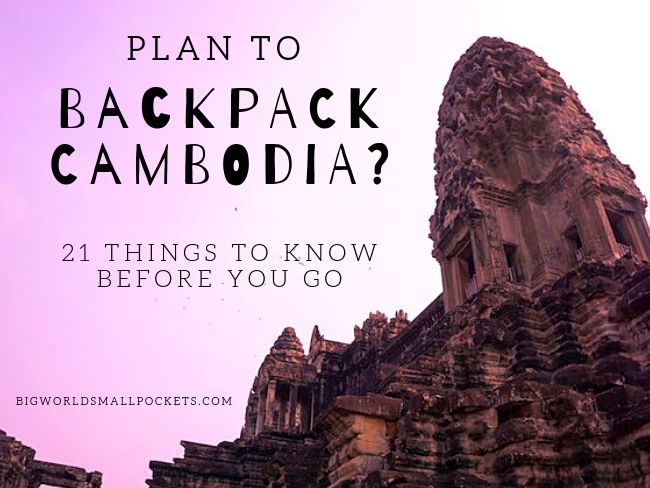 The little gem of Cambodia is a backpackers' paradise!
Offering a wealth of things to see and do, travelling here is easy and cheap, with tons of services, places to stay and transport set up especially for budget travellers.
Offering a slower pace of life than you'll experience in neighbours Vietnam and Thailand, those who backpack Cambodia often find it a welcome relaxed break between these more hectic nations.
As such, I highly recommend including this Khmer country in your travel plans if you're touring Southeast Asia and to help you out, here's the 21 things you need to know if you want to backpack Cambodia.
---
Related Posts
---
This page contains affiliate links meaning Big World Small Pockets may receive a small commission on any purchases at no extra cost to you.
---
#1 Climate
Situated in Southeast Asia, Cambodia boasts a tropical climate – meaning it's hot most of the year.
Within this, Cambodia has 3 main seasons:
Dry and Very Hot: Known as summer, this is the time before the rains come and largely runs during the months of March and April. Expect dry,and dusty and sweaty conditions at this time!
Wet and Hot: This is the period following summer when the rains come to Cambodia, cooling things down but also bringing storms and occasional flooding from May until October. The countryside however gets much greener as a result!
Dry and Cooler: Known as winter, the dry and cooler (read. still pretty hot) season in Cambodia runs largely from November to February.
#2 When to Backpack Cambodia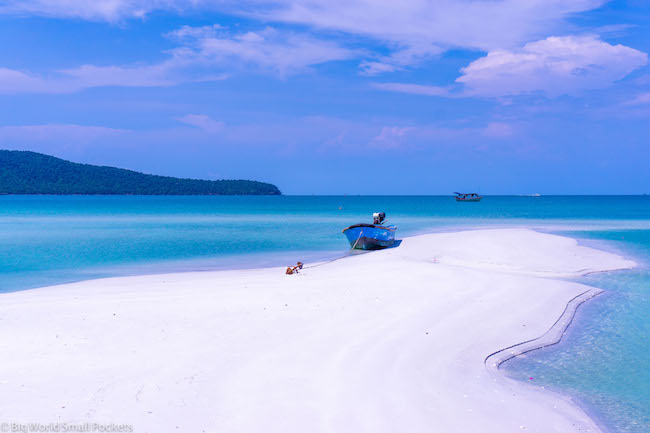 Choosing when to backpack Cambodia largely depends on your priority.
There's no question the best weather is during the dry and cooler winter months, but this is when most tourists visit, so expect higher prices and bigger crowds at this time. Transport around the country and accommodation should be booked in advance at this time of year.
The shoulder season during the dry and very hot months of March and April is a good time to backpack Cambodia if you deal ok with humidity and high temperatures. This is when I went and I loved it, although I do have a broken thermostat so…!
With crowds thinning out, prices are lower and you're less likely to have to book much stuff in advance. The biggest holiday season of the year for locals – Cambodia New Year – falls during these months however, so do consider this when planning your itinerary as travel can be difficult at that time.
Finally, the wet season definitely sees the tourist numbers thinning across Cambodia, but daily, heavy rain showers can put a dampener on planned activities and island time.
#3 How Long to Go For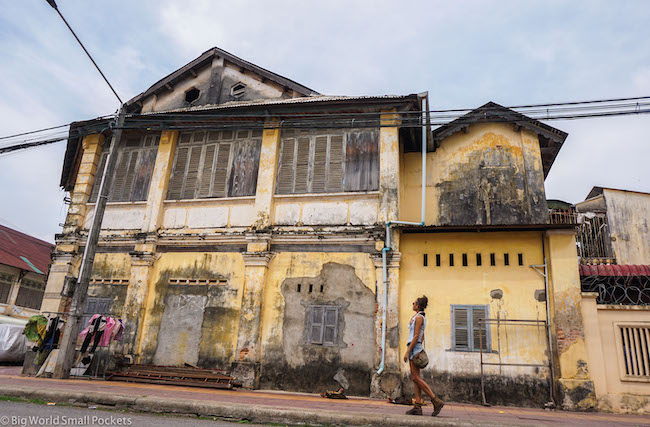 While not a huge country, Cambodia offers those wishing to backpack her a lot of diverse stuff to see and do.
As a rough guide, 2 weeks is the minimum amount of time you should allow to see most of the major sights in the country.
3 weeks will give you time to cover everything and to enjoy a slightly slower pace.
4 weeks – the length of most tourist visas – will allow you to backpack Cambodia at a very leisurely pace, travelling across large swaths of the country and spending a good amount of time on the islands where basically everyone extends their stay!
#4 Best Places to Visit When You Backpack Cambodia
And one of the most important things to know if you do want to backpack Cambodia and are trying to plan your time here, is where to go in this country.
Here's a list of my favourite spots:
Siem Reap & Angkor Wat: You can't come to Cambodia and miss its most famous attraction. Yes UNESCO-listed Angkor Wat is a must during your time here and the nearest access point to this temple treasure is the city of Siem Reap, where you should plan to stay for at least a few days. Here's how to catch the best Angkor Wat sunrise.
Battambang: A cute city with a relaxed pace and some delightful architecture, Battambang is most famous for its Old Bamboo Train and impressive bat display – it's more impressive than it sounds I promise! Most travellers spend a night or 2 here.
Phnom Penh: Cambodia's capital, Phnom Penh offers visitors a riverside setting with Mekong views and important sites that chart the shocking history of Cambodia's recent genocide including the Killing Fields and S21 Prison. 2-3 nights in Phnom Penh is a good amount of time for most travellers.
Kampot & Kep: 2 destinations very near each other, Kampot is a relaxing country town with some good cafes and interesting day trips, while coastal Kep offers some sea air and island stays. Many travellers stay in 1 location and day trip to the other.
Koh Rong Sanloem: This is the smallest of the 2 Koh Rong islands in the south of the country and a mecca for those who backpack Cambodia. Prepared to get stuck thanks to the chilled vibes and rustic feel of this drop of paradise. For more info check out my ultimate guide to Koh Rong Sanloem, which includes info on how to get there, where to stay and what to do.
Get more info about all these spots and more in my list of the top 10 things to do in Cambodia!
#5 Getting to Cambodia
International airports can be found in both Siem Reap and Phnom Penh meaning easy connections can be made from other countries in Southeast Asia as well as further afield.
Cambodia has land borders with Laos, Thailand and Vietnam, all of which can be easily crossed care of straightforward bus connections.
For more information about crossing from Bangkok to Siem Reap, check out my post about this journey here.
For more information about crossing from Kampot to Ho Chi Minh, take a look at my article that explains how I did it here.
For all border crossings when you backpack Cambodia, check 12Go, which is a great website offering schedules, prices and the ability to book border buses online securely.
I highly recommend Giant Ibis, who offer a sterling long distance bus service, which includes helping you navigate immigration – couldn't be easier!
Book all border buses online at least 1 day in advance.
#6 Cambodia Visa
Before you cross any borders however, do check your eligibility for a Cambodian visa.
As a British citizen, I was entitled to a 30 day tourist visa, which I could be granted on entry at some land borders and at both international airports.
If you plan to arrive in Cambodia overland, check if the border post of your intended crossing offers visa on arrival.
If they don't, I suggest you get a Cambodia Visa online in advance, which you can do very simply via the official government website. Check the site for details of whether you are eligible.
If you are, you will pay a small admin fee to get your visa online, but you may be forced to pay "a handling fee" at any land border anyway, and some overland crossings require you to have a visa in advance, so I vote it as a good option regardless.
In all honesty, I advise getting an eVisa regardless of whether you are travelling to Cambodia by land or air, it makes immigration so much simpler and will also save you a full page sticker if you're short on pages in your passport as I was!
#7 Budget When You Backpack Cambodia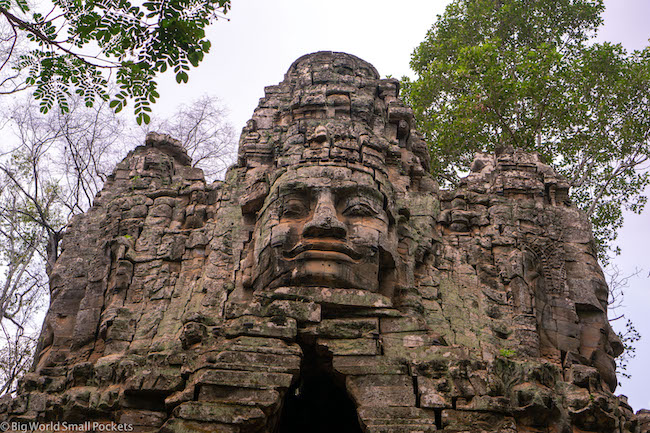 While Cambodia, like most of Southeast Asia is "cheap" to travel, it's not as economical as it once as and you may be surprised to discover how much you do spend while there.
Indeed, many travellers I met on the road in this country were shocked by how much they spent in Cambodia, citing it was "not as cheap as they expected."
Generally speaking, a budget of £30 / 35 Euros / $45 USD should be allocated for backpackers.
This will include a mix of dorm rooms and private rooms during your stay, all bus / boat travel, a mix of restaurant and street food meals, drinks and day trips / excursions including the hefty entrance fee to Angkor Wat. Learn more in this post.
You can spend less if you are travelling on an absolute shoestring and you can definitely spend more!
#8 USD or Riels?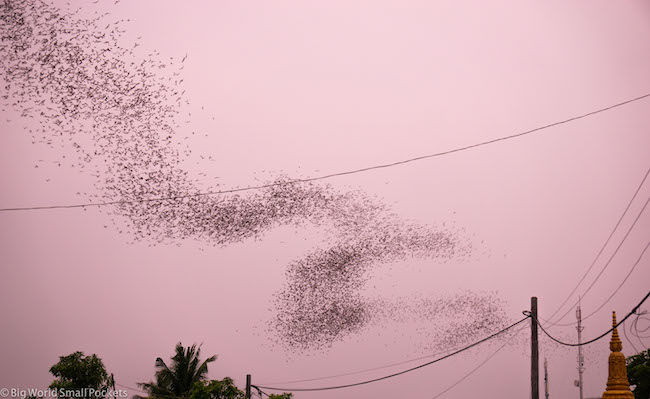 Cambodia uses a dual currency system so local Cambodian Riels (KHR) and USD are used interchangeably throughout the country.
Many tourist prices for accommodation, long-distance buses and day trips are quoted in USD.
At the time of publication, $1 equated to 4000 KHR, which comes in denominations of 100, 500, 1000, 2000, 5000, 10000, 20000 and 50000 notes, as well as the almost worthless 50, 100, 200 and 500 Riel coins!
#9 ATMs
ATM's are plentiful across Cambodia and accept both Visa and Mastercard without issues.
ATM machines here allow you to withdraw both USD and KHR, which is very handy.
#10 Getting Around Cambodia
Buses around Cambodia are plentiful and easy to use, making them the best way to travel when you backpack Cambodia.
Often, between tourist destinations, buses are laid on exclusively for travellers and these generally pick you up and drop you off at your accommodation making them very straightforward to get.
For long distance buses in the country, such as between Phnom Penh and Sihanoukville, I recommend using luxury buses instead of minivans. Giant Ibis and Champa Mekong are both good companies.
You can book tickets with them, as well as many other buses around Cambodia online at 12Go. I recommend booking buses a day before your date of travel as tickets do sell out, especially in high season.
#11 Getting Around Cities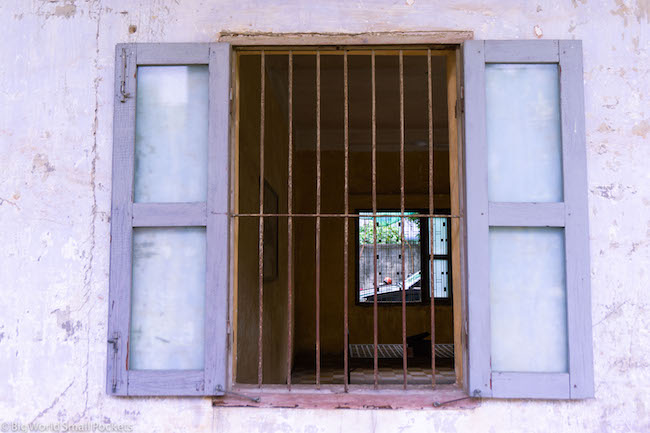 For transport in and around cities in Cambodia, scooters can be hired from most hostels as well as rental companies on the street.
Otherwise, tuk-tuk and taxis are common.
Use the ridesharing apps Grab or PassApp to ensure you don't get ripped off and to help you navigate any language barriers.
Alternatively, Bookaway is a great travel website that compares buses and flights across Cambodia. Check it out here.
#12 Best Hostels When You Backpack Cambodia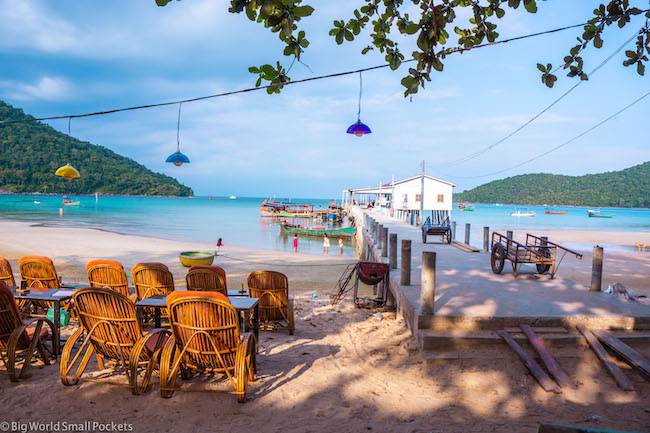 And now we've come to where to stay when you backpack Cambodia.
Hostels are plentiful and easy to research, as you can read reviews as well as book online.
Here's my pick of the bunch – all personally tried and tested!
Siem Reap: Onederz Hostel
Battambang: Pomme
Phnom Penh: Feliz Hostel
Kampot: Ganesha Eco Lodge
Sihanoukville: Onederz Hostel
Koh Rong Sanloem: Hornbill Guesthouse
#13 Internet Access
And you'll be delighted to know that all the above hostels, as well as every other hostel I stayed at in Cambodia, had free wifi.
In fact, free wifi in Cambodia is everywhere including cafes and even buses – god love SE Asia!
You can also easily pick up a tourist SIM card in Cambodia.
I got mine with Unitel and paid $15 USD for a 2 week SIM with 15GB of high-speed data + unlimited low-speed data and free calls.
You can pick up a SIM at any airport or at the many vendors on the street.
#14 Conscious Travel When You Backpack Cambodia
One of the things I loved most about backpacking Cambodia was the amount of conscious travel solutions there were.
From eco-tours and cafes supporting disempowered local women, to shops selling fairly-traded souvenirs and natural beauty products, it's great to know that when backpack Cambodia you can spend your money wisely in ways that help local people.
#15 Language
Khmer is the name of the local language in Cambodia and it also has its own alphabet, which renders it largely indistinguishable for foreigners.
Thankfully, almost everyone who works in the tourism industry in Cambodia speaks English and, certainly at your accommodation, fluent English speakers will be on hand to help you where needed.
#16 History
If you weren't aware, Cambodia has suffered what can only be described as a truly horrific genocide.
Take the time to learn about this country's tragic recent story at the Killing Fields and S21 Prison in Phnom Penh.
At Angkor Wat, you'll then have a chance to balance the books and learn about Cambodia's historic glory days when the empire based here ruled huge swathes of this part of the world.
#17 Day Tours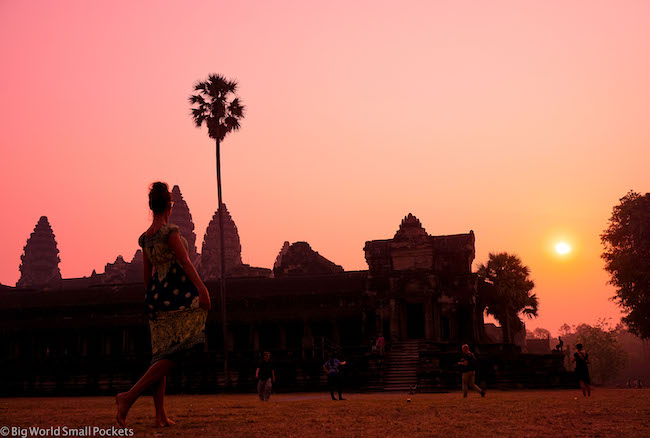 And a great way to learn about this history and visit lots of the amazing attractions in Cambodia is to enjoy a number of day trips.
These can easily be arranged online, in advance.
If you plan to backpack Cambodia on a tight timeframe, then I highly recommend TakeMeTour, who I used for several trips in the country, including a day cycling day around Angkor Wat.
#18 Water & Food When You Backpack Cambodia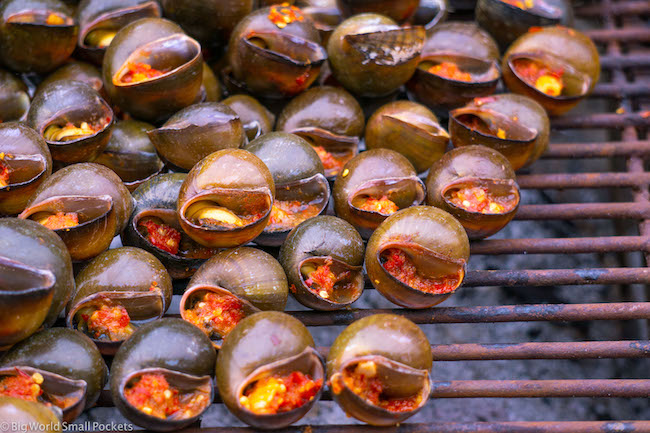 Tap water in Cambodia is not drinkable.
Bottled water is easily and cheaply available, but help the environment by bringing a metal water bottle instead and refilling it at hostels across the country who often offer free drinking water.
You can also help the environment by bringing a metal reusable straw with you to Cambodia so can enjoy all of the delicious fruit juices here without adding to the amount of plastic waste.
Food is Cambodia is cheap, especially on the street, and is similar to Thai food.. ish. Vegetarians may struggle – you have been warned – but fried rice with veg is plentiful… of course!
#19 Shoes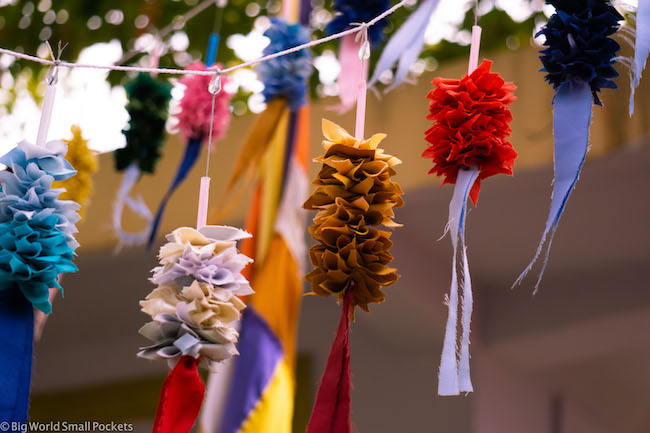 Sandals are going to be your best friend in Cambodia – not only because of the heat, but because you have to remove footwear when you go into basically any building in this country, including hostels.
This is common across Southeast Asia, so do yourself a favour and bring some sandals, like Birkenstocks, that you can easily slip on and off.
Learn more about what to pack for your Cambodia trip here.
#20 Solo Female Travel
I backpacked Cambodia as a solo female, as well as met many others doing the same when I was there, and can definitely attest to the fact that travelling alone as a woman is both safe and easy here.
You'll meet lots of people, receive little to no male harassment and will feel safe walking around by yourself, even at night in most tourist destinations.
#21 Crime Risks When You Backpack Cambodia

And on this note, it's worth pointing out that crime against tourists in Cambodia is low and overall I'd rank it as an incredibly safe country to backpack.
The main things to watch out for are being ripped off, classic travel scams and pickpocketing on the street – bag snatching in Phenom Penh is particularly prevalent, so do watch your phones etc when you're walking in this city, especially when it comes to passing mopeds.
The biggest danger (to the world) in Cambodia is the litter / trash situation, which is disheartening to say the least.
PIN IT TO PINTEREST!
And so there you have it, the 21 things you need to know before you backpack Cambodia.
Have you travelled to this Southeast Asian gem?
Do you have any advice to add to the above?
If so, please help other travellers out, by leaving your thoughts in the comments below…