Despite Vietnam and Cambodia bordering each other, you may be surprised to know that these 2 countries feel entirely different and that, stepping across the border into one and out of the other, will have you assuming you've been transported to another world.
Crazy, I know!
However, this does mean they make a great complimentary set of destinations and knowing that many travellers like to piece them together to create one fabulous trip, I'm combining these 2 great Southeast Asian countries here to bring you a top month long Vietnam and Cambodia itinerary.
Given that both these countries have a wealth of sights to visit, beaches to enjoy and adventures to experience, this will be a jampacked itinerary that aims to get you seeing as much of both countries as possible.
Honestly though, you could eke out this itinerary to fill 2 months' worth of travels, especially if you check out my add-on section at the end of the article
Otherwise, if you only have a shorter timeframe, such as 2 or 3 weeks, either consider limiting yourself to just one country (by checking out my standalone Vietnam itinerary or Cambodia itinerary) or pick and choose the destinations you want from the below list and create your own combination.
You see loads of options!
So let's get started…
---
Related Posts
---
This page contains affiliate links meaning Big World Small Pockets may receive a small commission on any purchases at no extra cost to you.
---
Arriving into Hanoi to Begin Your Vietnam and Cambodia Itinerary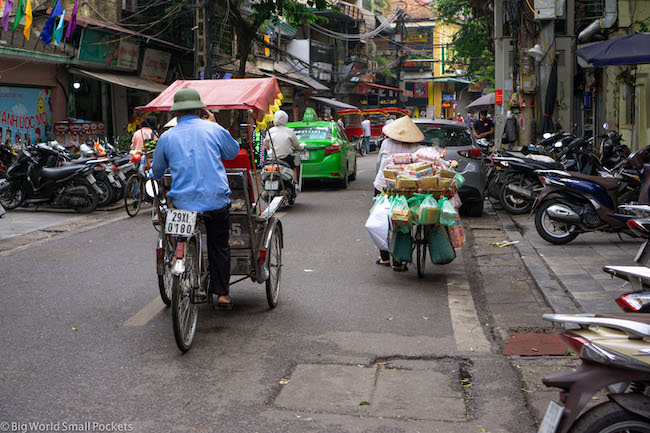 For the purpose of this Vietnam and Cambodia itinerary, I suggest beginning your adventures in the north of Vietnam, and the capital of Hanoi, as this will help you carve out the smoothest and quickest itinerary route without having to double-back on yourself.
Hanoi is also a popular gateway to the region, with many well-priced flights arriving here from across the world.
As always, I use Skyscanner to find the best flight deals and Bookaway to find the best bus journeys.
Day 1 & 2: Hanoi, Vietnam
Welcome to Vietnam!
You're straight into the Southeast Asian madness here in Hanoi – a bustling city, whose old quarter streets will quickly have you seeing, smelling and tasting many of the delights of this region.
Don't miss the opportunity to sample the amazing Vietnamese coffees on offer here – especially the acquired taste of an egg coffee – and there's loads of cafes where you can do just that.
My favourite has to be Hidden Gem, which is tucked down a back street, but well worth seeking out.
Other sights to see in this city include the Ho Hoan Kien Lake and Den Ngoc Son Temple, the nearby puppet theatre, St Joseph's Cathedral and the famous Hanoi Street Train.
The Hanoi Social Club is a wonderful place to eat, drink and unwind.
Learn more about the top things I recommend doing in this city here.
Day 3 & 4: Cat Ba Island, Vietnam
Stay: Homestead Hostel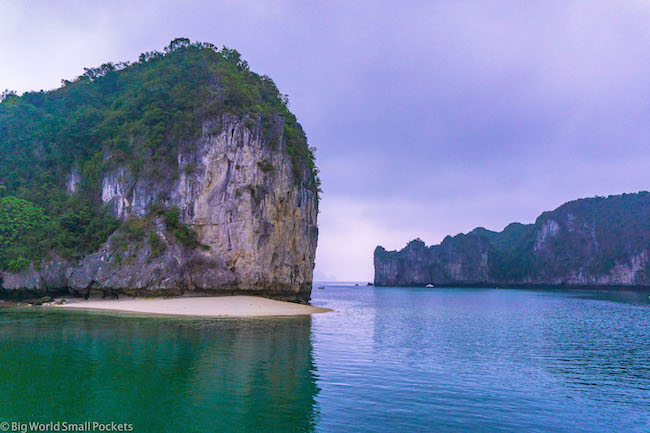 From Hanoi make your way via bus and boat to Cat Ba Island care of the Cat Ba Express service. I paid $28 USD for this return service from the capital.
Cat Ba Island is a much better bet for those who want to see Hanoi Bay scenery on a budget – a crucial point to note if you're a backpacker making this Vietnam and Cambodia itinerary. Here's a full blog post all about it.
Just south of this famous World Heritage Site, heading out on a cheap day cruise from Cat Ba Island to Lan Ha Bay to experience an identical landscape will cost you a fraction of the price that it will on a direct tour from Hanoi to Halong Bay.
For a day cruise that included kayaking through remote parts of the bay with no other tourists (which you won't get in Halong Bay itself) I paid just $23 USD with Cat Ba Ventures.
If you have spare time on Cat Ba Island, then enjoying some hiking in the national park, that occupies a large swath of land in the centre of this island, also makes for a fab day trip.
Day 5: Bus to Phong Nha, Vietnam
Head back to Hanoi from Cat Ba Island on day 5 in time to catch a night bus from the capital to the town of Phong Nha.
I highly suggest booking your night bus in advance through a great website called 12Go.
This night bus trip cost me $9 USD.
Day 6 & 7: Phong Nha, Vietnam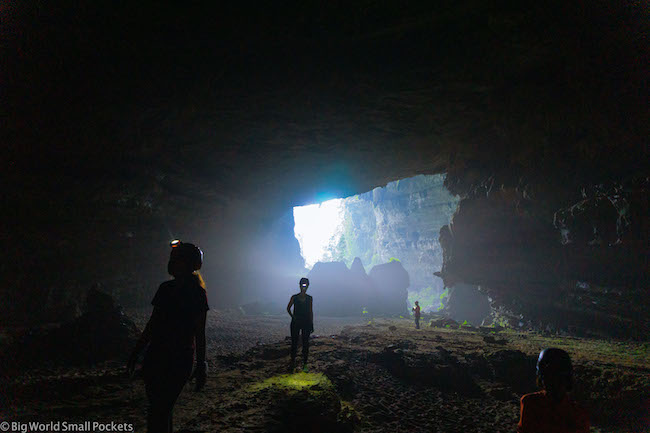 You'll arrive into Phong Nha early in the morning if you take the night bus from Hanoi, which means you have the whole day to explore this tiny town as well as the lovely Phong Nha-Ke Bang National Park and caves that lie on its outskirts, including Dark Cave and Paradise Cave.
Phong Nha is all about the caves actually – they are incredible and huge, in fact they're UNESCO listed – and booking on a trip to explore some that lie further out from the town is a must on your Vietnam and Cambodia itinerary.
I ventured out on a one day tour with Oxalis to the Tu Lan Cave to do just this and found it was one of the best days of my whole time in Vietnam.
This makes it well worth the splurge, but do ensure you book in advance as places sell out quickly.
You can learn more in the ultimate travel guide to Phong Nha I wrote following my time there.
THE BEST TRAVEL INSURANCE FOR YOUR CAMBODIA AND VIETNAM ITINERARY
I'd never even consider travelling to Vietnam or Cambodia without proper coverage and always recommend travel insurance from World Nomads which I've used throughout my time in these 2 countries and beyond.
I love that World Nomads' policies cover of a wide range of adventure activities – which is definitely needed for a country like Vietnam – as well as their great customer service and the fact that you can easily claim or extend your coverage while you're still abroad, online.
Alternatively, if you're looking for travel insurance with Covid-19 cover, then look no further than Safetywing's great Nomad Insurance policies.
These guys will cover you at some seriously great prices, including if you have to quarantine!
Day 8: Hue, Vietnam
After your amazing time caving in Phong Nha, it's time to continue south to the city of Hue, which boasts another UNESCO-listed site, namely its old imperial city.
If you get to Hue by lunchtime, the afternoon should give you plenty of time to explore this fascinating site (which closes at 5pm) and impart a real sense of stepping back in time.
Entrance to the Royal Palaces cost me 150,000 Vietnamese Dong (₫) for a single entry ticket, or, if you have time, combine this with a trip to the tombs, which lie just outside the city of Hue.
A combination ticket for both attractions, which lasts for 1 day, costs 280,000₫.
Hue is a very chilled city, set along a river and boasts some nice parklands to stroll in and good cafes to drink in too.
Day 9, 10, 11 & 12: Hoi An, Vietnam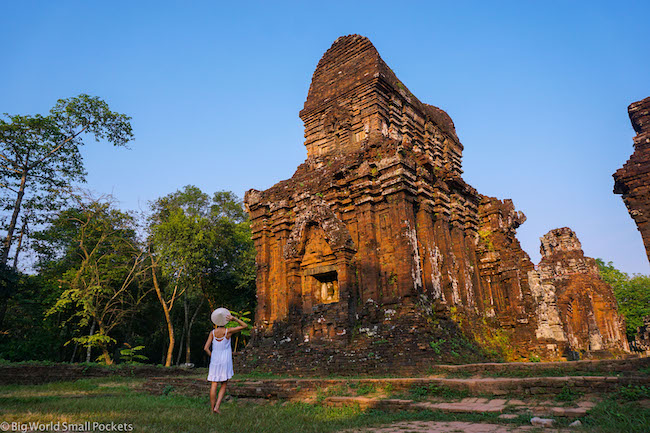 And from Hue, it's then a short journey to the fab city (also UNESCO-listed) of Hoi An.
This destination is a traveller favourite on any Vietnam and Cambodia itinerary and many people end up spending longer here than they planned, as they quickly fall in love with the quaint streets and charming atmosphere.
You can either travel by bus here direct from Hue, or you can enjoy an Easy Rider tour, which takes you on the back of a bike to sightsee some of the places in between these 2 cities including the famous Marble Mountains and Thanh Toan Bridge.
Once in Hoi An, spend at least a day exploring the gorgeous old town, which is particularly beautiful at night with all its glowing lanterns, and then consider some of the great day trips on offer here, including those to the UNESCO My Son ruins, the nearby beach at An Bang, a snorkelling trip to the Cham Islands or a fabulous Vietnamese cooking class.
Learn more about the top things to do in Hoi An in this post I wrote about visiting the city.
READ MORE: The 15 Best Things to Do in Vietnam
Day 13, 14 & 15: Ho Chi Minh City, Vietnam
And finally, it's onto your last destination in Vietnam, namely the amazing city of Ho Chi Minh, which lies in the south of the country.
The main sights in the centre of the city can all be seen in an easy day, but it's the atmosphere of this place that really captured me.
There's also some great day trips to enjoy from Ho Chi Minh, including to the Chu Chi Tunnels and the Mekong Delta.
You can learn more in my post about the top 17 things to do in Ho Chi Minh.
GETTING FROM HO CHI MINH CITY TO CAMBODIA ON YOUR VIETNAM AND CAMBODIA ITINERARY
You can easily use the services of Champa Mekong to cross from Ho Chi Minh City in Vietnam to Kampot in Cambodia, tickets for which can be booked online via the secure website 12Go.
Learn more about how I crossed the border from Kampot in Cambodia to Ho Chi Minh here.
Otherwise, if you're looking to take a slightly different route, I suggest using a bus company called Giant Ibis to get from Ho Chi Minh City to Phnom Penh. Again, you can book tickets online care of 12Go.
I've used this Giant Ibis many times in Southeast Asia, including when I crossed the border from Bangkok to Siem Reap, and can't fault their service or how easy they make border journeys.
Day 16, 17 & 18: Kampot, Cambodia
And now we're into the final 2 weeks of this Vietnam and Cambodia itinerary.
You'll no doubt have had a crazy schedule if you followed my above 2 week schedule for Vietnam, so Kampot makes for the perfect place to chill out.
Here you can enjoy kayaking on the river or waterfall hikes, trips to pepper farms or some great massage and spa options.
There's also day trips to Bokor Hill Station available, as well as sunset river cruises or even escapes to the seaside town of Kep, which is just a couple of hours away.
Or you can just wander the old town centre of Kampot and soak in its relaxed atmosphere.
A great place to do that from is a café called Simple Things, which has a delicious healthy menu and daily yoga classes.
Day 19, 20, 21, 22 & 23: Koh Rong Sanloem, Cambodia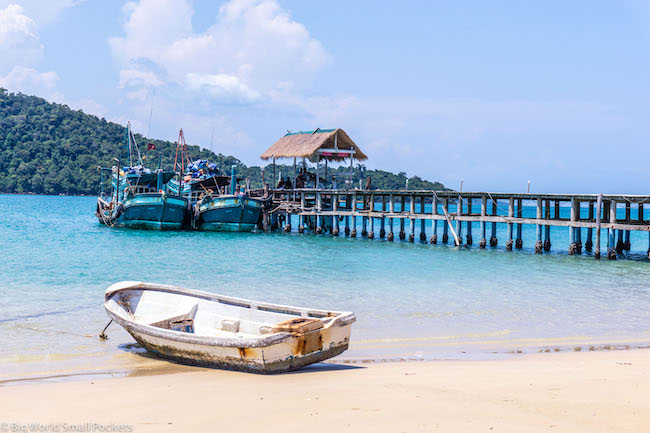 I won't say too much about this paradise island, because I want you to discover the joys of it for yourself, but arriving here really is the perfect way to unwind and trust me, you'll want to stay longer.
The smaller of the 2 islands in this part of Cambodia, Koh Rong Sanloem offers some wonderful beachside chill time on a jungle-clad island gently lapped by tropical blue waters.
Take a look at my ultimate guide to Koh Rong Sanloem, which contains tons more info if you decide to head here… which you definitely should!
5 PACKING ESSENTIALS FOR CAMBODIA & VIETNAM
#1 Lonely Planet Guidebook – The Southeast Asia Lonely Planet is excellent and very helpful for any trip to these countries with lots of top tips and recommended places to eat.
#2 Walking Shoes – There's likely to be a lot of walking in Vietnam and Cambodia especially around those temples and cities! As such, I advise packing a pair of good runners, like these New Balance trainers, which were perfect for my time here.
#3 European & British Power Adapters – Vietnam and Cambodia have a mix of power outlets, but generally opt for a mix of the European and British ones, so make sure you come prepared with a Skross world adapter.
#4 Camera and Lens – I love my Sony A6000 mirrorless, which was ideal for capturing the colour, chaos and cuisine and charm of these countries.
#5 Travel Scarf – A great multi-purpose travel item that can be used to safely store valuables as well as cover your shoulders while you explore many of Vietnam and Cambodia's top sights, a Sholdit travel scarf is a must for me!
Day 24 & 25: Phnom Penh, Cambodia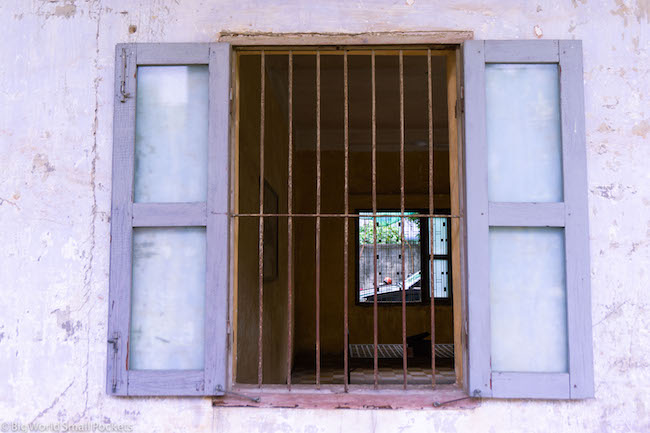 If you can tear yourself away from the island bliss of Koh Rong Sanloem, then the next stop on your Vietnam and Cambodia itinerary should be the capital of Cambodia, Phnom Penh.
You can take a Giant Ibis bus to make the long journey from the mainland town of Sikhounville (which is where the boat from Koh Rong Sanloem docks).
The journey to Phnom Penh will then likely take all day and have you arriving into the capital in the early evening.
Wander along the lovely riverside promenade to get a feel for the city, before checking out its main attractions the following day.
These are namely the infamous Killing Fields and S-21 Prison.
Very harrowing sites that pay witness to the awful genocide that befell this country, they are highly informative and should not be missed if you really want to learn a bit more about Cambodia.
Onederz Hostel can arrange joint tuk-tuks that will pair you with other travellers so you can see both sites together, in a day, for just $7 USD.
Day 26: Battambang, Cambodia
After Phnom Penh, it's then back on a bus to head for Battambang, a small city that boasts some beautiful colonial architecture, heritage walks and an old bamboo train you can still ride.
My favourite thing to do here however was visit the bat cave entrance which, at sunset, will allow you to see more bats than you can ever possibly imagine, exiting a huge cave mouth in one crazy spectacle.
I paid $10 USD for a return tuk-tuk (including waiting time) from Battambang to the cave in time for sunset.
BOOKING BUSES TO / AROUND VIETNAM AND CAMBODIA
You can book bus tickets both across borders, as well as within these 2 countries online via the secure website 12Go, who I used throughout my time here and highly recommend.
Day 27, 28, 29, 30: Siem Reap, Cambodia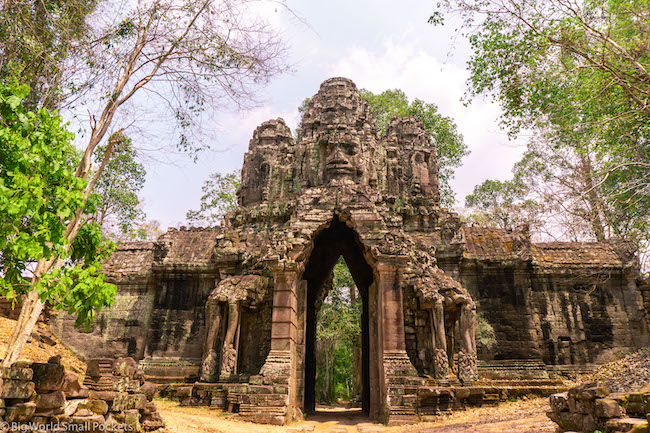 And last but not least on this Vietnam and Cambodia itinerary, it's time to head to Siem Reap… home to the world famous and UNESCO-listed Angkor Wat complex.
Siem Reap the city has quite a lot going on in its own right and it's well worth spending a day exploring here.
Top of the list are the night markets, river strolls and massages, but you can discover more in this list I wrote about the best things to do this city.
You can also use this day to plan your Angkor Wat experience and top of the list has to be seeing an Angkor Wat sunrise.
Tickets to this famous temple complex, which is HUGE FYI, can be bought at the entrance for varying amounts of time, but I highly suggest the 3 day ticket, which will allow you to return to the complex on a few occasions to see as much of it as possible.
As it gets incredibly hot and humid here, sightseeing this massive site in a day is exhausting, so why not take it at a more relaxed pace and spend a few days there so you can see the main temples, as well as some of the smaller ones, a sunrise as well as a sunset, and have the opportunity to cycle as well as walk amidst the jungle, ruins and villages here.
Again, Onederz Hostel boasts some great shared tuk-tuk tours, which are priced at $7 USD each and combine you with other tourists to help keep costs down.
This hostel also boasts 2 pools, which is ideal for the crazy heat you'll experience here.
Then it's time to head home… onwards!
Grab a domestic flight from Siem Reap to Phnom Penh and here connect with your international flight. Again, I'd use Skyscanner to find the cheapest tickets available.
Alternatively, hop on a bus from Siem Reap to Bangkok to explore your next Southeast Asian country, Thailand!
Got More Time for Your Vietnam and Cambodia Itinerary?
If you have more time for your Vietnam and Cambodia itinerary, then I'd highly recommend the following places, which are also great destinations I simply didn't have the opportunity to fit into my month long plan…
Da'Nang – Beachside city near Hoi An in Vietnam. Great for a few days chilling.
Sapa – Amazing place for trekking and homestays in the north of Vietnam. Travel here from Hanoi. Check out this excellent multi-day trip if you want to book ahead of time.
Ninh Binh – Described as Halong Bay onland, this remarkable landscape can be fitted into your Vietnam and Cambodia itinerary between Cat Ba Island and Phong Nha.
Dalat – Hilltop town famed for its adventure activities in the south of Vietnam.
Mekong Delta – You can take a day trip from Ho Chi Minh City to the Mekong Delta, but if you really want to get into the culture of this unique area in south Vietnam why not consider a 2 day excursion?
Pho Quoc – Arguably Vietnam's best beachside spot, fit a few days relaxing on this island into your itinerary between heading from Ho Chi Minh City towards Kampot in Cambodia.
PIN IT TO PINTEREST!
And there you have it, my list complete Vietnam and Cambodia itinerary.
Have you travelled to these amazing countries?
Which was your favourite place on this list or have I missed somewhere out?
Tell me all in the comments below…