So you're thinking of visiting Vietnam? Well, what a blooming great idea! And here's the perfect 2 week itinerary for you!
This country is definitely my favourite in the Southeast Asia region with its wealth of fun adventures, great coffee, delicious food, bustling culture and next level natural attractions.
I've chosen to write a 2 week Vietnam itinerary (although you could definitely spend a lot longer here) because, for many of us Europeans, entry to Vietnam can be granted without a visa for up to 15 days.
Anything longer than this and you'll need to apply for a visa (which is a right faff) making 2 weeks a great option for those who want a first taste of this fab destination.
I'm also writing a 2 week Vietnam itinerary because that's how long I spent in this country, meaning this itinerary follows the exact route I took from north to south.
A word of warning however, Vietnam is a huge country and travelling from the bottom to the top of it in 14 days is going to involve some serious moving and not much chilling!
As such, many people prefer to spend 2 weeks solely in either the north or the south of this country, which you can certainly do given the amount there is to experience here.
Because of this, I've also included 5 more ideas throughout this article, either if you have longer than 2 weeks in Vietnam or if you want to stick to just the north or the south, meaning this Vietnam itinerary has you covered on all bases!
So here we go…
---
Related Posts
---
This page contains affiliate links meaning Big World Small Pockets may receive a small commission on any purchases at no extra cost to you.
---
2 Week Vietnam Itinerary Overview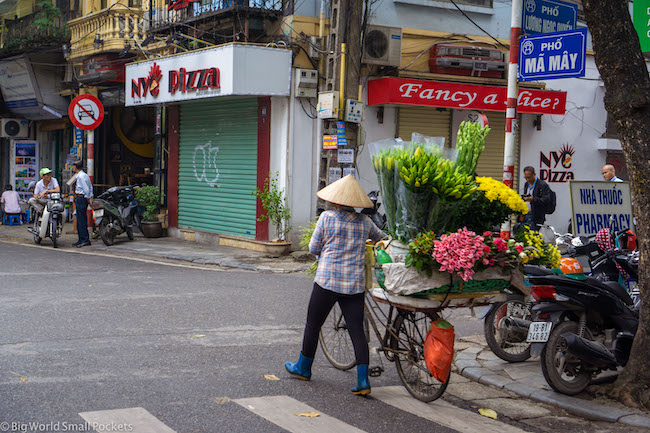 As I've explained in the introduction, this 2 week Vietnam itinerary covers the whole country beginning in the south and making its way north covering the following destinations:
Days 1-4: Ho Chi Minh City (including day trips to Cu Chi Tunnels and Mekong Delta)
Days 5-8: Hoi An, Da-Nang and Hue
Days 9-10: Phong Nha
Days 11-12: Cat Ba Island
Days 13-14: Hanoi
If you want to cover this amount of ground, then do bear in mind it's a pretty full-on schedule (involving you taking some flights and overnight buses), but will have you seeing the best of this country and getting a great insight into its cultural and geographic diversity.
Also, if you want to know what you should budget for this trip, check out this full Vietnam budget breakdown post I wrote after making this exact itinerary myself.
Getting to Ho Chi Minh City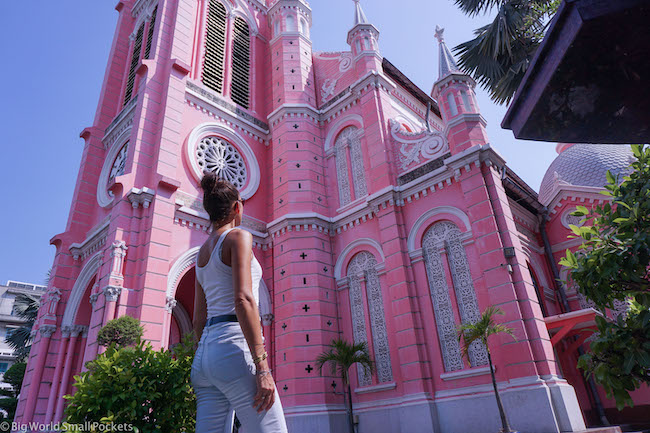 To begin this itinerary, you need to make your way to Ho Chi Minh City, the main hub in the south of Vietnam formerly known as Saigon.
With an international airport, you can catch flights from around the Southeast Asia region and the world to HCMC (as it's known) and I always use Skyscanner to find the best deals.
Otherwise, if you're in the neighbouring country of Cambodia, you can access Ho Chi Minh cheaply and easily by bus.
With border crossings possible from both the Cambodian capital of Phnom Penh and town of Kampot, check out this post, which gives exact details of how I personally bussed across the border from Kampot to Ho Chi Minh.
Whether you're travelling to Vietnam from Phnom Penh or Kampot, I highly recommend checking out the great bus booking site 12Go, which has all the details and prices of buses that ply this route.
A top comparison site, with secure booking facilities, I always use 12Go to book my overland travel in Asia.
Day 1-4: Ho Chi Minh City
Ho Chi Minh City is nothing if not a rude awakening to travelling in Vietnam… and I mean this in the best way possible!
An absolute assault on the senses, this fast and frantic city will quickly get you into the high energy swing of Vietnam cities, as well as give you an insight into the number of motorbikes here and an education in how you cross the road trying to avoid them!
Day 1
On your first day in the HCMC, you'll probably just arrive and sort some travel admin, like finding your accommodation, getting some cash and sorting out a SIM card, especially if you're travelling here on a long flight or bus journey.
While most tourists here stay in the heart of the city's zone 1, I'd highly suggest staying out in a more local suburb instead to get a more genuine feel of how people live here.
Right in District 4 in a very safe and fun location, DaBlend Hostel is my budget accommodation pick when it comes to finding somewhere to stay in Ho Chi Minh City.
Private rooms, dorms, a guest kitchen and several roof terraces complete the picture at this friendly, clean and welcoming backpackers.
Day 2
On day 2, it's then time to head out into the city and explore its main sights.
Almost all of these are located in Zone 1, so grab a Grab motorcycle ride here and then set out on foot to explore the wealth of museums, heritage buildings and cultural attractions there are to discover.
For more information, check out my list of the 17 best things to do in Ho Chi Minh City, which is a post entirely dedicated to this day!
Day 3
On day 3 and 4, I recommend taking some day trips out of Ho Chi Minh City to explore the areas around.
First up, I'd head to the Cu Chi War Tunnels care of a great tour.
Including transport out to these tunnels, as well as a professional guide who will explain a lot about the American War and the resistance fighters who built and lived in the tunnel network, this makes for an absolutely fascinating day trip, especially if you want to learn more about this period of Vietnam history.
To top this off, the tour includes a traditional Vietnam breakfast in a local café – a great cultural insight – as well the chance to crawl in and through the tunnel network, which is seriously eye-opening stuff.
If you only have time for one day trip from Ho Chi Minh City, make it this one!
Day 4
And on your last day in Ho Chi Minh City as part of this 2 week Vietnam itinerary, I recommend heading out on another day trip, this time to the Mekong Delta.
From viewing bustling river markets to seeing local stilt houses, this is a great way to experience what life is like down in the very south of Vietnam.
Check out this top-rated day trip if you want to see the best of the Mekong Delta in 1 day.
More Time for Your Vietnam Itinerary: Idea 1
And if you have more than 2 weeks for your Vietnam itinerary, or you want to travel slower and stick to just the south of the country, then why not stay a little longer in the Mekong Delta, travelling deeper into its tributaries and away from the main tourist towns?
Including a homestay experience, a 2 day Mekong Delta excursion will grant you a unique and memorable opportunity to see what life is like in this steamy and tropical part of the country.
Day 5-8: Hoi An, Da'Nang & Hue
Having spent at least 4 days in the south of the country, it's now time to move on towards its central belt for days 5-8 of this Vietnam itinerary.
If you want to do this cheaply (and or have a bit longer for your trip) then a train or overnight bus is a good way to get to this region from Ho Chi Minh City.
Otherwise, taking a flight from HCMC to Da'Nang is the quickest and most efficient way to travel this big distance and means you can be in Hoi An in just a few hours door to door.
Day 5
I suggest starting your time in central Vietnam in the gorgeous town of Hoi An – a favourite with tourists the world over.
The charming riverside setting and quaint feel of Hoi An is hard to put into words and after the hustle and bustle of HCMC, it can come as a welcome relief!
Arriving on day 5 in the morning, I suggest you spend the afternoon wandering the delightful cobbled streets of Hoi An, checking out the beautiful shops, cafes and views.
At night, the town comes to life under a glow of traditional lanterns, so don't miss a romantic sail on the river or a delicious local meal overlooking it.
Learn more in my post about the 13 best things to do in this charming, UNESCO-listed, city.
Day 6
On day 6, take a small group trip to the amazing ruins of My Son.
UNESCO-listed and one of my favourite set of ruins in the whole of Southeast Asia, thanks to their wild jungle setting, being here at dawn as the breaking colours of the day bounce off these ancient stones really is something else.
Spend the afternoon of day 6 chilling in Hoi An, at the nearby beach of An Bang, or enjoying a market and cooking class!
When it comes to a budget place to stay in Hoi An, I highly recommend the wonderful Love.ly Hostel, where I spent a delightful few days in a private, ensuite room.
With home-cooked dinners, a social atmosphere and free breakfast, this is the place to get all the best info about what to do in the Hoi An section of your Vietnam itinerary.
Day 7
On day 7 of your Vietnam Itinerary, it's time to leave Hoi An and head north to the main city in these parts, Da'Nang.
One night is enough for this city, with the main attraction being the fire-breathing dragon bridge at night, but the nice coastline here makes this a top place to head if you want a good beach day.
I recommend staying in a rental property in Da'Nang as there's loads of great options.
This beautiful 2 bedroom apartment is right by the beach and guests love the comfort and facilities it offers.
Day 8
And on day 8 of your Vietnam itinerary, it's time to head north again to the city of Hue.
The former capital of Vietnam, the imperial walled city that is still here makes for a great afternoon as you explore the UNESCO grandeur of what once was.
Wandering along the river in this quieter city is also nice and you can check out the Royal Tombs here too if you have a bit more time – learn more in this list of the 15 best things to do in Hue.
When it comes to accommodation in Hue, I highly recommend the locally-owned and lovely Bon Ami guesthouse, which has private rooms in a great location for bargain prices!
More Time for Your Vietnam Itinerary: Idea 2
If you've got the good fortune of more time to spend in central Vietnam, then I'd either stay another night to take in the wonder of Hoi An more, and / or I'd take a day trip between Hoi An and Hue.
An easy rider day trip is a really fun way to make this journey as the scenic, winding road between the 2 locations makes for a great adventure with lots of cool stops to check out on the way.
Or check out the minivan tours from Hoi An to Hue, which makes 5 stop enroute, for ideas and prices.
Day 9-10: Phong Nha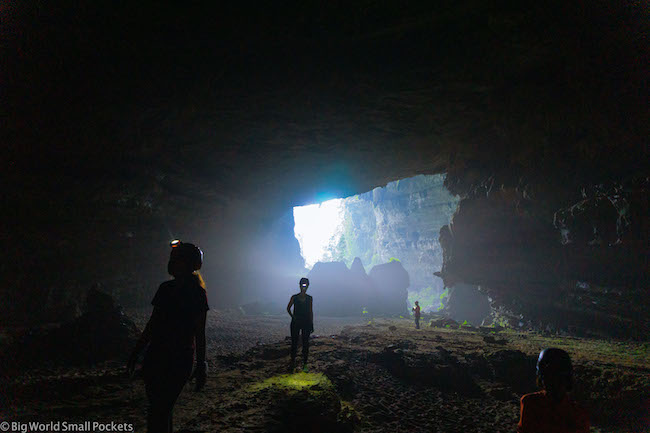 Phong Nha is a bit of a curveball on this Vietnam itinerary and most travellers with only 2 weeks in this country seem to skip it.
But if you want my advice however, you shouldn't, because Phong Nha is absolutely one of Vietnam's top highlights in my opinion and was certainly one of my favourite places in the whole country – read why here.
The main reason for this is not the town, which is a rather uneventful, one-street affair, but the incredible UNESCO-listed network of caves that exist in the landscape around, boasting some of the largest caves in the world.
Getting to Phong Nha, which is located closer to the northern region of Vietnam and over by the Laos border, is a long trip from Hue.
Unfortunately, there's no obvious airport you can fly to and the trains aren't great either, because you have to connect with a bus that gets you from the nearest rail station at Dong Hoi to Phong Nha.
As such, I highly recommend taking an overnight bus from Hue to Phong Nha, which is a direct service getting you into this town early in the morning – perfect for making the most of your time there.
When it comes to budget places to stay in Phong Nha, I recommend Central Backpackers Hostel if you want somewhere with a pool and a social atmosphere.
Otherwise, Happy Homestay offers a quiet and more lowkey place to stay.
Day 9
After your night bus journey, take it easy today and enjoy the caves around the town of Phong Nha itself.
These include Paradise Cave and Phong Nha Cave, which are both located within Phong Nha National Park and can be accessed care of a rented scooter or a simple day tour.
Day 10
And on day 10 of your Vietnam itinerary, it's time to head to some of the bigger and more impressive caves that lie further out from the town of Phong Nha in the dense and wild landscape around.
You'll need to take a tour with a qualified guide to enjoy this caving experience and I used Oxalis.
A little bit on the pricey side, this highly-professional outfit were excellent and I'm so glad I splashed out on one of their trips because this was definitely one of the best days I had in Vietnam.
You can learn more about my experience here, but do be aware you need to book your 1 day trip with Oxalis at least a week in advance because they sell out quickly.
More Time for Your Vietnam Itinerary: Idea 3
With more time for your Vietnam itinerary, I'd definitely extend my stay in Phong Nha so I could enjoy an overnight cave tour with Oxalis.
They have several different ones to choose from, but they all look epic.
If you're after a wild adventure, this is definitely the idea for you!
Day 11-12: Cat Ba Island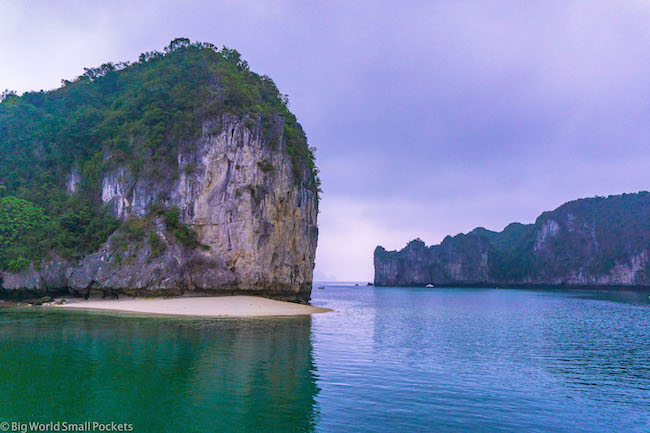 And from Phong Nha, it's now time to continue north to the island of Cat Ba in Lan Ha Bay.
To get here, you have to travel to Hanoi first, but getting an overnight bus direct from Phong Nha to Vietnam's capital will then allow you to connect directly to the Cat Ba Express service, which runs direct from Hanoi to Cat Ba Island every morning.
Utilising a minivan and then a boat, this service will drop you straight at your hostel door in Cat Ba, where I highly recommend Cat Ba Green Hostel as the best place to stay on a budget.
Day 11
The morning of day 11 will be taken up travelling to Cat Ba Island from Hanoi and I then suggest spending the afternoon checking out the National Park which sits at the heart of this island and offers some lovely hiking opportunities.
Day 12
On day 12 of your Vietnam itinerary, it's time to explore Lan Ha Bay, which is the main reason to come to Cat Ba Island.
Sitting just below Halong Bay, Lan Ha Bay, offers exactly the same incredible geography, with thousands of limestone islands dotted in the bay you can sail, snorkel and kayak around.
Being outside the UNESCO-listed zone however, Lan Ha Bay offers way less crowds, is far less polluted and is a lot cheaper to visit than it's better-known counterpart!
If you want to visit Halong Bay on a budget day trip therefore, this is the alternative one for you!
Learn everything you need to know in my post specifically about Cat Ba Island, which describes exactly how you can bag an amazing trip for a fraction of the price of a Halong Bay cruise.
More Time for Your Vietnam Itinerary: Idea 4
If you have longer than 2 weeks for your Vietnam itinerary, consider adding in a side trip to Ninh Binh, before Cat Ba Island, which is described as Halong Bay on land.
An amazing landscape, it's definitely worth exploring this place via a rented scooter and your 2 legs for a couple of days.
Day 13-14: Hanoi
And finally, it's time to round off your 2 week Vietnam itinerary with a couple of days in the chaotic capital of this country – Hanoi.
I'd base yourself in the historic Old Quarter of this city, which offers bustling market streets, plenty of amazing cafes and some interesting temples and cultural attractions to check out.
The puppet theatre and cathedral are both top hits with tourists you should try to cover too.
Little Charm Hostel, with its indoor pool and central location, comes highly recommended if you're looking for somewhere affordable to stay in Hanoi.
Dorms here are great, with wide, comfy beds, aircon, lockers, privacy curtains and individual charging units.
More Time for Your Vietnam Itinerary: Idea 5
And with yet more time for your Vietnam itinerary, it's time to continue north to the amazing hiking destination of Sapa.
Booking a 2 day tour from Hanoi to Sapa is a great way to soak in the incredible landscape of this destination and its homestay opportunities offer a great way to interact with locals and support more sustainable forms of tourism.
Departing Hanoi
With an international airport just out of the city, you can catch flights to many other Southeast Asian countries, as well as to destinations in Europe, North America and Australia from Hanoi, with ease.
As always, I use Skyscanner to find the best deals.
Otherwise, if you're heading off to the neighbouring country of Laos, you can get there care of a long and arduous bus ride, which crosses the border and heads to Luang Prabang.
Book your tickets with 12Go, a website I always use to book my overland travel in Asia and then check out this post I've written about the best things to do in Luang Prabang for some top ideas about what to see in this city.
Mini Vietnam Travel Guide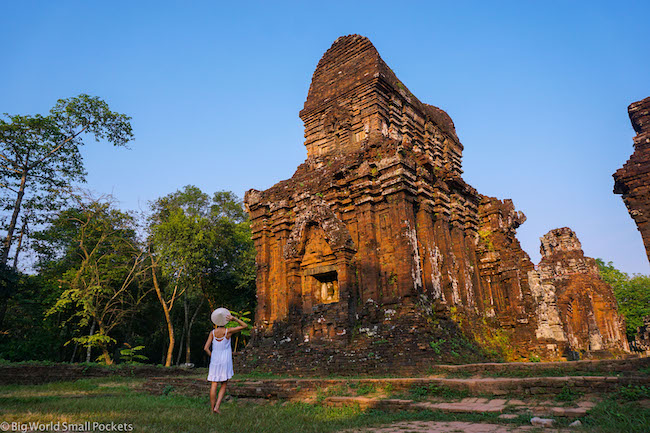 When to Visit Vietnam?
Situated in 2 different parts of the country, it can be difficult to find a time when both Hanoi and Hoi An are enjoying their peak travel climate conditions.
The best time to visit Hoi An is during the cooler drier season which, in this central part of Vietnam, lasts from March to August.
March through May are perhaps the optimum months in the central coast.
At this time the humidity is not too bad and the water conditions are good if you want to explore the coast and islands as well as Hoi An.
Outside of the months, Hoi An can experience monsoons and stifling humidity.
In contrast, Hanoi can be cold and wet.
As I wrote about my post about the 15 things to know before you travel Vietnam, the shoulder seasons of Spring and Autumn are the best time to visit Hanoi and the north of Vietnam.
These generally include the months of March and April as well as September and November.
Travel Insurance for Vietnam
World Nomads offers simple and flexible travel insurance. Buy at home or while travelling and claim online from anywhere in the world.
Alternatively, if you're a long-term traveller, digital nomad or frequent remote worker seeking travel health cover, check out Safetywing's Nomad Insurance policies.
5 Packing Essentials for Vietnam
#1 Lonely Planet Guidebook – The Vietnam Lonely Planet is excellent and very helpful for any trip to this country with lots of top tips and recommended places to eat.
#2 Walking Shoes – There's likely to be a lot of walking in Vietnam especially around those temples and cities! As such, I advise packing a pair of good runners, like these New Balance trainers, which were perfect for my time here.
#3 European & British Power Adapters – Vietnam has a mix of power outlets, but generally opts for a mix of the European and British ones, so make sure you come prepared with a Skross world adapter.
#4 Camera and Lens – I love my Sony A6000 mirrorless camera, which was ideal for capturing the colour, chaos, cuisine and charm of Vietnam.
#5 Travel Scarf – A great multi-purpose travel item that can be used to safely store valuables as well as cover your shoulders while you explore many of Vietnam's top sights, a Sholdit travel scarf is a must for me!
And, if you want a full item by item checklist for what to wear and pack for a trip to Vietnam, then check out this epic list I compiled after my time in the country.
PIN IT TO PINTEREST!
So that's it folk, my complete 2 week Vietnam itinerary!
If you want to see the best of this country from south to north, then this is definitely the route I'd advise taking.
Hope the post has been helpful and you have an amazing time travelling in this incredible country.