Looking for an amazing day in Vietnam you won't forget in a hurry? Then visiting the Phong Nha caves in the centre of the country could be just the answer!
Technically speaking, Phong Nha is the name of one particular cave, within one particular national park in Vietnam.
But like me, most people don't realise that until they visit the area.
So for the purposes of this article, I'm going to use the term "Phong Nha caves" as a short-hand travel term for the entirety of this incredible Vietnamese cave network.
For incredible it certainly is!
In fact, this cave network is so huge and impressive, that it's UNESCO-listed and rumoured to hold some of the largest caves in the world… I know!
As such, this guide is going to cover the entire area, as well as everything you need to know and prepare for your trip to this part of Vietnam.
Because if there's one thing you should do when it comes to the caves of Phong Nha, it's don't miss them!
---
Related Posts
---
This page contains affiliate links meaning Big World Small Pockets may receive a small commission on any purchases at no extra cost to you.
---
Why Visit Phong Nha Caves?
So, as I've alluded to in the introduction, the Phong Nha cave network is a must-visit Vietnam spot in my opinion.
UNESCO-listed, ultra-impressive and absolutely massive, I also liked this part of Vietnam because it was different – another diverse string in this country's already incredible offering.
We all know Vietnam has lovely islands, vibrant culture, delish food, crazy cities and some epic UNESCO treasures like Halong Bay, but who knew it had amazing caves as well?!
The Phong Nha cave area also provides travellers with a chance to enjoy more outdoor and active adventures in Vietnam – yet another reason why I liked it.
After all, it's not every day you get to go caving in Southeast Asia!
Combined with the already available hiking, kayaking and biking opportunities that exist in this country – caving was another fantastic adventure I was able to enjoy here.
And as far as I know, Phong Nha is the only place you can do this!
I also liked Phong Nha, and recommend you visit here too, because it's not hugely popular with tourists.
Most travellers on a tight itinerary in Vietnam miss it out and, while it can't be said to be off the beaten track, this part of Vietnam is considered something a little different.
Just what I like!
Where is Phong Nha Cave?
Situated between the central belt of Vietnam and its northern region, Phong Nha is normally a stop between the cities of Hue and Hanoi on most travel itineraries.
It can also be fitted in if you're travelling south from Ninh Binh too.
Located in the west of Vietnam, closer to the Laos border than the coast, Phong Nha isn't the easiest to get to, but this does help keep the masses away!
Most of the caves can be found in a protected area about 70km from the town of Phong Nha itself.
How to Travel to Phong Nha?
Located between Hue and Hanoi, the easiest and most convenient way to get to Phong Nha is by bus.
And that's because, brilliantly, services run direct into the town of Phong Nha, which acts as the access point for the whole cave area.
Both night and day bus services call in here from Hue and Hanoi and, although buses aren't usually the quickest method of transport in Vietnam, it is the most direct and simple method for getting to Phong Nha.
The other alternative is to take a domestic flight or a train, but both of these options involve an arrival in Dong Hoi – a city some 1.5 hrs away from Phong Nha by bus.
The hassle and time involved in doing this really makes getting a bus direct to Phong Nha the best option in my book.
Buses here are also very cheap!
As always in Vietnam, I use 12Go to book my bus tickets in advance. I love how their site makes it easy to compare journeys and pay for tickets securely, in English.
Alternatively, check out Bookaway who have some of the best deals going for bus and train travel in Vietnam.
When to Visit?
Located in the northern-ish region of Vietnam, the climate in and around Phong Nha can be a little temperamental!
In the winter months of May to October, it can get pretty chilly here but does tend to be drier.
In the summer months of November through February – when it's high season in most of Southeast Asia and the south of Vietnam – it's often raining very heavily in the north of this country, including around Phong Nha.
As such, my best suggestion is to visit during the shoulder months of April or October, when the weather tends to be dry and not too hot.
The south of Vietnam is also ok to visit during these months too, which makes them good all-round months to visit the country as a whole.
Perfect Phong Nha Itinerary
I'd recommend a stay of 2-3 nights in the Phong Nha Cave region – depending on what time of the day you arrive.
If you arrive in the evening from Hue, as I did, then day 1 will likely just involve checking into your accommodation, settling in and wandering Phong Nha town, which is really just a one-street village with some restaurants, guesthouses and rental shops lining it.
I'd then suggest spending day 2 exploring the caves near the town, which you can do independently by hiring a scooter and heading to nearby Phong Nha Ke Bang National Park.
Here you'll find Dark Cave and Paradise Cave, which are easy to access without a tour or guide. Entrance costs 250,000 VND and then it's a 1km walk to the caves.
On day 3 of your Phong Nha cave itinerary, I then suggest taking a tour to some of the deeper and further away caves – the ones you really can't access by yourself.
If you arrive early on day 1, instead of in the evening, then condense the first 2 days of the above itinerary into 1 and use the remaining 2 days to take an extended Phong Nha overnight cave tour.
Learn more about these options further on in this article.
What to Prepare in Advance of Your Visit?
So yes, one of the things you should prepare in advance of your trip to the Phong Nha cave region is your 1 day or overnight cave tour.
And that's because there's only a few companies that offer them, given the special equipment and license etc you need.
One of the few, and by far the best as per the online reviews and my personal experience, is Oxalis.
Oxalis run tours to several different caves deep within the Phong Nha area and for some of the most challenging and remote, they are the only company to go there.
Because of this, plus their professionalism and range of tours, Oxalis trips book out quickly.
I only realised this when I was on the bus to Phong Nha, but luckily found 1 place left on 1 tour for the next day.
However, I don't recommend leaving it this late, as you'd hate to go all the way to the Phong Nha caves and not be able to experience them at their best.
As such, one thing you should definitely do in advance of your trip is book your Oxalis tour for the dates and tour you want!
World Nomads offers simple and flexible travel insurance. Buy at home or while travelling and claim online from anywhere in the world.
Alternatively, if you're a long-term traveller, digital nomad or frequent remote worker seeking travel health cover, check out Safetywing's Nomad Insurance policies.
And finally, you should check you have the right sort of clothes for your Oxalis tour. Details of what you'll need can be found on the company website and more info is given later on in this post too.
Phong Nha Cave Tours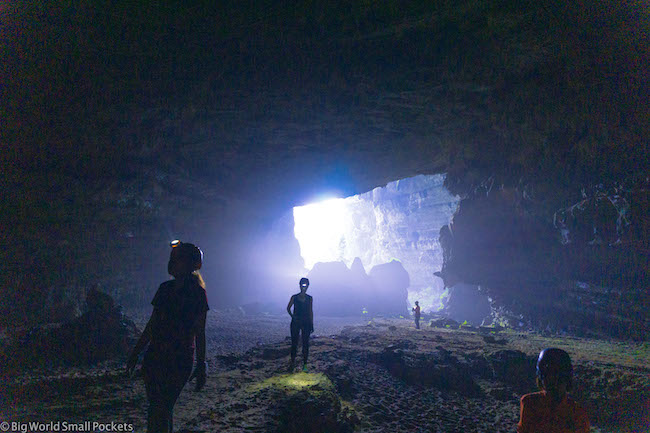 So yes, you should definitely take a Phong Nha cave tour if you're coming all this way, you should definitely go with Oxalis (this was not sponsored FYI!) and you should definitely book it in advance!
As per my itinerary above, I suggest either a 1 day or overnight cave tour in Phong Nha and, wonderfully, Oxalis offer many different options, so check out their website for details including tour length, difficulty rating and availability.
I took their 1 Day Tu Lan Experience (because it was the only one they had space on), but I absolutely loved it and definitely count it among my best days in Vietnam, if not the whole of Southeast Asia.
Prices start from 1,800,000 VND per person and this tour runs every day except Friday. Included is 8km of trekking, 500m of caving and the chance to marvel at the beauty of 2 dry caves and swim in a waterfall.
If I had booked earlier however (and had a bigger budget!), I'd love to have taken one of Oxalis' 2 day tours in the Phong Nha area, which involve spending a night out in a cave.
Top of my list would be the overnight Hang En Endeavour tour, which costs 6,500,000 VND per person.
Essential Packing List for Phong Nha Caving
Yes, so one of the things you must think about in advance of your Phong Nha cave trip is whether you have the right sort of clothing.
If not, it pays to pick up the bits you might be missing in advance of your arrival here, as there aren't really any suitable shops in Phong Nha town itself.
Thankfully I had all the gear required for my tour with me, but if not, it would have been a problem, given how last minute my organisation for this part of Vietnam was in general!
Top of the list for Phong Nha cave gear is suitable socks – you need good hiking ones that are at least ankle length to reduce the chance of blisters and to provide suitable protection.
This pair
would be ideal.
You'll also need good waterproof shoes to go over the socks. These should have excellent grip and tread, but still be light and flexible for the scrambling and clambering required.
Thankfully Oxalis have boots perfect for the job, in many different sizes, which you can rent at their office or registration centre once you've booked your tour.
I'd also advise a good, light, thin, waterproof jacket for your caving adventure, this North Venture 2 would be perfect, as well as trousers or leggings you can happily climb, hike and move in.
As always on outdoor pursuits of this nature, layers are key, so bring thin long sleeve tops you can layer over singlets for protection, as well a cap and scarf or buff for sun protection.
A decent day pack to carry everything in, as well as water and lunch, is also required and this backpack from Osprey would be ideal given its design for active situations.
A spare pair of dry clothes you can change into for the bus ride home would also be a good idea, because sometimes the weather and conditions out in the deeper caves is hard to predict given the tropical feel and elevation too.
And nobody wants a soggy and shivering journey home!
You might also want to bring insect repellent, as well as a towel and shower gear – more on this later!
What is a Tour With Oxalis Like?
And talking of journeys, it's great to know that if you book any Oxalis tour, this company will pick you up and drop you off at your accommodation in Phong Nha either side of the tour.
This is usually done with a minivan, where you meet your fellow group participants, and then drive an hour to Oxalis' National Park depot.
Here you'll find the company's registration centre, located on the edge of deeper cave networks, from where you'll begin your adventure.
You can leave your dry set of clothes and anything else not required for the active part of the day at the registration centre, as well as rent boots and any other items of clothing you might need too.
And yes, there's hot showers here you can use before your journey back to Phong Nha too, so I'd also advise leaving your shower stuff and towel for when you return post-caving.
They also sell beer for the end of the day – hoorah!
It might be useful to know too (as it was for me), that Oxalis will drop you back at your hostel in time for any night bus departures so, if you're heading onto Hanoi next for example, you can do this all in the same day!
Just take your shower stuff and clean set of clothes, then after your cave adventure, you're ready to head straight on the night bus, which will pick you up from your hostel normally around 8pm.
Where to Stay & Eat in Phong Nha?
Because it's a small place, Phong Nha doesn't have a huge range of accommodation options, but it certainly has enough.
Most of those available are guesthouses or homestays and are perfectly comfortable – check out the best picks here.
King of the hostel scene in this town is Central Backpackers, which boasts a great location on the main street, a swimming pool with loungers and a lively bar.
If you're looking for somewhere more chilled and personal, then Tropical Valley Homestay gets repeatedly rave reviews.
This place is also well-situated, at the top of the main street, which is basically a strip comprised of eating spots.
For fellow vegetarians, don't miss the Veggiebox Restaurant, which was a delightful find in Phong Nha!
Mini Travel Guide to Vietnam
How to Get to Vietnam?
Most people arrive into Vietnam by air and land in one of its 2 largest cities.
Both Hanoi in the north, and Ho Chi Minh City in the south, have international airports with flights arriving regularly from around the world and Southeast Asia region.
As always, I use Skyscanner to find the best rates, as they include budget airlines, like Air Asia, in their searches.
Alternatively, if you're already in a neighbouring country, such as Laos or Cambodia, it's easy to arrive into Vietnam by bus, as I did.
Learn all about my journey crossing the land border between Kampot in Cambodia and Ho Chi Minh City in Vietnam here and use 12Go to book all your bus and train travel both in and around Vietnam – this site is the best!
Travel Insurance for Vietnam
World Nomads offers simple and flexible travel insurance. Buy at home or while travelling and claim online from anywhere in the world.
Alternatively, if you're a long-term traveller, digital nomad or frequent remote worker seeking travel health cover, check out Safetywing's Nomad Insurance policies.
5 Packing Essentials for Vietnam
#1 Lonely Planet Guidebook – The Vietnam Lonely Planet is excellent and very helpful for any trip to this country with lots of top tips and recommended places to eat.
#2 Walking Shoes – There's likely to be a lot of walking in Vietnam, especially around those temples and cities. As such, I advise packing a pair of good runners, like these New Balance trainers, which were perfect for my time here.
#3 European & British Power Adapters – Vietnam has a mix of power outlets, but generally opts for a mix of the European and British ones, so make sure you come prepared with a Skross world adapter.
#4 Camera and Lens – I love my Sony A6000 mirrorless, which was ideal for capturing the colour, chaos and cuisine and charm of Vietnam.
#5 Travel Scarf – A great multi-purpose travel item that can be used to safely store valuables, as well as cover your shoulders while you explore many of Vietnam's top sights, a travel scarf is a must for me!
How to Save When You Spend in Vietnam
When it comes to paying for things in Vietnam, you want to ensure you're not being charged overseas transaction fees or getting poor exchange rates when using your card abroad, which is why I always take my Wise Card away with me wherever I travel.
The easy way to spend abroad with real exchange rates, no markups and no sneaky transaction fees, you can use your Wise card just like a debit card in Vietnam… and it links easily with Google and Apple pay – sold! Get yours here.
SAVE THIS ARTICLE TO PINTEREST!
Have I convinced you to add the Phong Nha caves to your Vietnam list now?
I hope so, and also that this post has given you all the info you need.
And just to make it clear, I paid fully for my Oxalis tour and am not affiliated with them in any way.
I just totally back what they offer and their level of professionalism and organisation!
If I've missed anything, then please don't hesitate to drop your questions or thoughts into the comments box below. I'd love to hear from you…