We all know that swooping in and out on a tick-off-and-on-to-the-next-one coach tour, is no way to see any part of any country.
But this never applied more so than to Todra Gorge in Morocco – one of my absolute favourite places in this country and, in my opinion, one of its most underrated too.
And that's because, for most tourists, this is nothing more than a quick day trip at best – a rushed visit as part of a tour to somewhere else – normally the Sahara desert at Merzouga.
But driving simply up and through the gorge, perhaps getting out to snap a photo and shop for a souvenir, before they hop back onto the bus, means these tourists will never know how amazing this area really is.
An absolute must on any Morocco travel itinerary, I ended up spending far longer in this gorge area than the 1 night I expected and, ever since, have wanted to share with you why you should do the same!
So here it is, one of my top Morocco tips, because trust me, those day trippers to Todra Gorge really are missing out!
---
Related Posts
---
This page contains affiliate links meaning Big World Small Pockets may receive a small commission on any purchases at no extra cost to you.
---
Grab Your Copy of How to Travel Africa for Less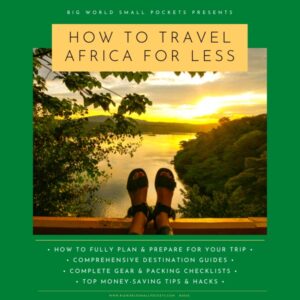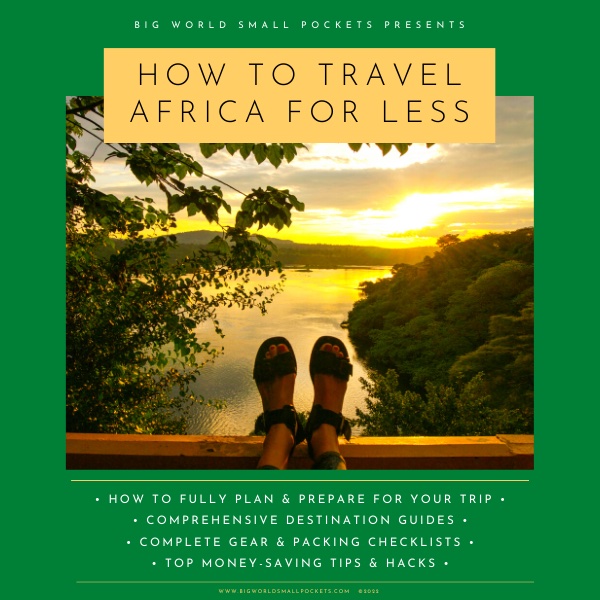 My ultimate guide to travelling Africa on a budget is now available, meaning you can finally get ALL my top tips for adventuring around all, or parts, of this amazing continent in one handy eBook, including…
Full Planning & Preparation Guides
Detailed Destination Info
Complete Packing & Gear Lists
Top Money-Saving Tips & Hacks
Where Is & What Is Todra Gorge?
Before we dive into why I loved the Todra Gorge area quite so much, perhaps I need to explain a little about where exactly this place is and what you can expect there.
Situated in the High Atlas mountains of Morocco, the Todra Gorges are a series of deep-sided canyons carved out of the eastern side of this range by fast-flowing rivers on their way down to the coastal plains.
Offering incredible desert scenery and dramatic cliff-like terrain, snaking trails lead through these high limestone wadis, along which are strung traditional Berber villages and palmeraies.
Offering some amazing hiking and photography opportunities in dry season, the gorges in this area are also popular with rock climbers.
Save for the most famous canyon in the area – the mighty Todra Gorge – few tourists really explore this region and less still choose to spend more than 1 night here.
As such, tourism here is low level and the whole area feels delightfully uncommercialised and wonderfully authentic.
Set to a stunning natural backdrop, with a safe and slow-paced rural way of life, Todra Gorge is the perfect place to unwind and relax in Morocco, especially after time in the far more bustling and hectic destinations of Marrakesh and Fez.
It is one of a few gorge areas in Morocco – the other main one being Dades Gorge, which lies still to the west of the Todra, also within the High Atlas area.
Todra Gorge Facts!
Todra is actually the name given to the last 600m of the canyons as they wind down from the High Atlas mountains.
At this point, the base of the canyon in Todra Gorge remains very thin, but its 300m+ high walls give it a very dramatic formation, leading it to be called one of the most spectacular gorges in the world.
A river still runs through the canyon, which is fairly low-lying in the dry months, but can swell considerably in the wet season.
Nomadic herdsman are often to be seen in the area too and, at night, you'll likely be treated to one of the most incredible starry night skies you've ever seen!
The nearest town to Todra Gorge is Tinerhir (sometimes spelt Tinghir), which sits on a major road and is therefore very easy to get to, especially from Marrakesh and Merzouga.
Slightly further away from the gorge is the city of Ouarzazate (which boasts the nearby film set location of Ait Ben Haddou), and which has even better transport connections and lies even closer to Marrakesh.
Learn more about getting to Todra Gorge later on in this article.
At this stage, it's also worth pointing out that there is a small village of Ait Baha which lies almost at the mouth of the gorge.
With a few local guesthouses, a handful of places to eat and the most wonderful and welcoming atmosphere, this is the best place to base yourself here because, as I said in my introduction, if you don't spend at least a couple of days at Todra Gorge, you really are missing out… and here's why!
Todra Gorge: 7 Reasons The Day Trippers Are Missing Out!
#1 Todra Gorge Hike
First up on this list of why day trippers are missing out when it comes to Todra Gorge, is the hiking.
If you read this blog regularly, you'll know I love nothing more than a good old walk and that's why I'm putting this one first.
Yep, Todra Gorge is a great place to go for a hike and, if you stay in the village of Ait Baha, you're likely to be able to enjoy one right from the door of your accommodation.
The mouth of the gorge lies just 15 minutes by foot from the village, so walking up to and through the gorge is an easy and spectacular option.
But off the beaten track it is not.
In fact, this is where the day trippers drive, so if you really want to go and explore a little more, then I highly recommend the Loop Hike, which is a wonderful Todra Gorge hiking trail you can make unguided.
The trail takes around 4 hours and leads you from Ait Baha up through the Gorge, off on a path to your left by Auberge Le Festival hotel, and then up the canyon into the beautiful desert surrounds, before taking you back down again into the village in one big loop.
I highly suggest downloading maps.me before you embark on this hike as, if you're anything like me you'll a) get lost and b) not see another soul for hours – which when you're hiking alone in the desert and the sun is starting to go down can be a little disconcerting!
But stick to the trail (if it's not well-defined you've lost it, so stop and look around) and you'll have the most wonderful experience, with some incredible landscapes and perhaps interaction with a nomadic family who live remotely out in these bare hills.
In true Moroccan style, they'll probably invite you for tea, so take this opportunity for a wonderfully genuine cross-cultural interaction – didn't I tell you this place was amazingly authentic!
Don't set off on this trail without snacks, good walking shoes, sun protection and water however – there's more about this in the packing section at the end of this article.
#2 Desert Scenery
So yes, if you hadn't guessed already from the above hiking point, another reason the day trippers to Todra Gorge are missing out is the fabulous scenery.
Honestly, if you're a desert lover like me, you'll find this place mind-blowing and if you're a desert-lover and a photographer, well, I don't know what you'll blow, but it will be something big!
Because as that golden hour, hits the red canyon walls, the light display you'll get is like nothing else… and that's not even mentioning as the sunrise glow hits the green palmeraies or the milky way lights up overhead at night.
Honestly, day trippers won't even get half a sense of just how majestical this place is, so if staring at some incredible natural landscapes is big on your Morocco travel list (and why wouldn't it be), Todra Gorge is hard to beat!
#3 Todra Gorge Rock Climbing
And sticking with the landscape theme, for those who really want to get amongst it, you'll be delighted to know that Todra Gorge is a famous Moroccan rock climbing spot.
Slowly gaining quite a reputation, there's now over 400 established climbing routes around here and several companies – operating out of Tinerhir/ Tinghir and Ait Baha – who can take you to them.
Some routes are well-bolted, while others are less so, meaning it's a good idea to check with a local company first as to the latest maintenance reports.
It's also a good idea to know a bit about difficulty levels and grades when it comes to rock climbing… and where you sit on the scale!
Aventures Verticales are a good resource in this area and you can also rent climbing equipment from them or take guided trips.
And if rock climbing isn't your thing, then you can enjoy a horse-riding experience in and around the gorge too.
#4 Support Sustainable Tourism
Which leads me nicely onto my 4th point about why day trippers are missing out when they rush into and out of Todra Gorge.
And that is because they're neglecting the ability to support small-scale and sustainable local tourism.
As an under-developed tourism spot in Morocco, most businesses in the area are owned and run by locals and by staying in the village, eating near here, hiring a guide or buying something at a shop, you are supporting them.
Day trippers who bus into and out of Todra Gorge quickly, rarely support local businesses and are instead giving their money to larger tour agencies who operate out of bigger cities.
In these traditional and rural parts of Morocco, making a living can be hard and putting some money directly into local hands is a great reason to stay longer here and help support the community in a sustainable way.
#5 Stay in a Berber Village
And one of the key ways to do this is to stay near Todra Gorge.
Yes you can stay in Tinerhir / Tinghir, but as a fairly large town some 15km from the gorge and along a major road, I'm not sure why you'd do this.
Instead, I recommend heading from Tinerhir to the village of Ait Baha, which you can easily do in a shared taxi for 10 MAD (if you wait for it to fill) or 50 MAD if you want a private ride.
Right by the gorge, this wonderful friendly, welcoming, safe and authentic Berber village boasts some incredible natural scenery and is the perfect place to soak in some traditional Moroccan culture.
And I can't think of anywhere better to stay in Ait Baha than the wonderful Casa Rural – Kasbah Des Piramides.
This charming guesthouse is owned and run by a local family and offers incredible value with rooms and terraces that have some seriously epic views.
Breakfasts are included and delicious, wifi is good and the water is hot!
Plus the dinners here (including for vegetarians) were among the best I had in Morocco.
Ideal for budget travellers, I wouldn't hesitate to recommend this place and to return there too!
Get the best rates at Casa Rural – Kasbah Des Piramides here!
Otherwise, you can view other accommodation options in the area here.
#6 Palm Grove
And one of the main reasons I loved this place so much was because of the beautiful views it had over the palmeraies.
For those not in the know, palmeraies (or palm groves) are like communal gardens / farms that occupy a valley space in the desert gorges and make use of the natural waterways that flow through here to grow fruits and vegetables.
They are the bread basket of this desert land and their rich green foliage and naturally irrigated waterways make them stand out.
The example in Ait Baha is beautiful and the lady who owns Casa Rural – Kasbah Des Piramides wonderfully explained to me how everyone in the village owns their own plot and grows something different.
Taking time to stroll through this verdant oasis, past fig trees, date palms, tomato crops, alfalfa beds and many more crops, was absolutely magical as everyone working there stopped to say hello to me and chat in broken French.
Again a magnificent and wholly natural cultural exchange and insight.
Visiting, snapping, learning about and admiring the palmeraies is one of the most fascinating things about Morocco travel and something day trippers to Todra Gorge likely just miss out on totally.
#7 Chill
And lastly, the major thing day trippers miss out on when they swoop in and out of Todra Gorge is the opportunity to chill.
For this is honestly one of the most relaxing, unwinding and enjoyable places to chill in Morocco; a place where local life oozes by as the sun lazily shifts overhead.
Groups of local women sit on steps on the late afternoon to share stories of the day, while children ride past on bikes and men smoke together outside shops.
Everyone says hello and waves, asks you where are from and invites you for a tea in this village where Moroccan hospitality is at its finest.
On my way to find my hostel, 3 separate people pointed me in the right direction (without being asked to) and the whole time here I felt incredibly safe.
Days spent staring at the view from the roof terrace went by, as casual strolls through the palmeraies and to the gorge became daily routines.
Those rushing in and out will get to experience nothing of this peaceful and laidback desert community vibes, as hours shift into days, days into weeks and the remote and offgrid nature of this desert place slowly seeps under your skin.
So I hope that's given you an idea of why you should definitely spend more than a day in Todra Gorge and if I have convinced you to do that, here's a quick travel guide to help you further…
Todra Gorge Mini Travel Guide
How to Travel to Todra Gorge?
The easiest way to get to Todra Gorge and the village of Ait Baha is to take a shared taxi from the town of Tinerhir / Tinghir.
These leave from the Grand Taxi station near the hospital in the centre of Tinerhir / Tinghir and take around 20 minutes.
If you're happy to wait, the shared taxi rate for a full vehicle is 10 MAD, otherwise the full car costs 50 MAD.
To get to Tinerhir / Tinghir you can either get a bus from Rissani to the east (if you're coming from Merzouga) or from Ouarzazate or Marrakesh in the west.
If you're coming from destinations further afield, such as Casablanca or Agadir, you'll need to get a bus to Marrakesh and then change onto a different bus from there.
As always in Morocco, I recommend the bus companies CTM and Supratours, who both have regular services across the country.
Otherwise, if you're looking to get from Marrakesh to Todra Gorge as part of a tour, these guided tours will stop by the gorge on their way to the desert… although you'll be counted as a day tripper!
Perhaps better, therefore, are longer tours across Morocco, which do involve an overnight stay in Todra Gorge.
When To Visit?
There's no question, the best time to visit Todra Gorge is during the dry months between March and October.
Within this period, the spring months of March – April and autumn months of September – October are the best, as the weather is dry and warm, but not too hot for hiking.
Todra Gorge weather in the summer can be extremely hot and unbearable – this is the desert after all!
Learn more about the best time to visit Morocco overall here.
Best Things to Do in Todra Gorge?
I've already discussed this in detail above, but as a quick round-up, the best things to do in Todra Gorge revolve around the natural world and beautiful landscape here.
They are:
Hiking, horse-riding and rock climbing
Photographing, view-staring and chilling!
Where to Stay?
As you know, my advice is absolutely to stay in the wonderful Berber village nearest to the gorge, that is Ait Baha.
And within this village, I can't recommend the locally-owned Casa Rural – Kasbah Des Piramides enough.
Clean, comfortable, authentic and well-priced, with the loveliest hosts and the best views, this place is an absolute winner.
I dare you not to extend your stay!
Safety and Wellbeing Tips
As a solo female traveller, safety when travelling alone in remote areas is also big on my radar.
But I'm glad to say I felt very safe in Ait Baha, even when hiking alone.
As always, I just suggest not walking out alone at night however and definitely ensuring you have sufficient maps and supplies when going hiking.
World Nomads offers simple and flexible travel insurance. Buy at home or while travelling and claim online from anywhere in the world.
Alternatively, if you're a long-term traveller, digital nomad or frequent remote worker seeking travel health cover, check out Safetywing's Nomad Insurance policies.
Things To Pack for the Gorge
A set of warmer clothes are definitely something I'd advise for your evening in Todra Gorge as nights here can get quite fresh.
I highly advise
You also don't want to forget about some great photo-kit to capture your amazing desert experience.
I recommend
Like I've mentioned before, I also recommend taking a travel water filter bottle with you to Morocco, so you can turn any freshwater into safe drinking water – a saving grace for the environment and your health.
My Life Straw Go Water Filter Bottle was ideal for my Morocco travels, especially in Todra Gorge when I could fill my bottle from the river!
PIN IT TO PINTEREST!
I hope I've given you all the info you need to extend your trip to Todra Gorge beyond a day trip… and that it's clear just how much I loved this place.
I absolutely urge you to include this incredible spot in your Morocco travel plans too and look forward to hearing how you found it afterwards in the comments box below…