If you're looking for a holiday with some winter sun on a small budget, then the coastal spot of Agadir in Morocco is hard to beat.
With quick flight connections from the UK, as well as many other European destinations – under 3 hours! – Agadir and its surrounding towns make the perfect option for a quick winter getaway, no matter whether you're after sand, sea, sun or surf!
So read on to learn why your next winter break on a budget should be a holiday in Agadir, Morocco…
---
Related Posts
---
This page contains affiliate links meaning Big World Small Pockets may receive a small commission on any purchases at no extra cost to you.
My time in Agadir was kindly sponsored by Teletext Holidays but, as always, all views are my own.
---
Grab Your Copy of How to Travel Africa for Less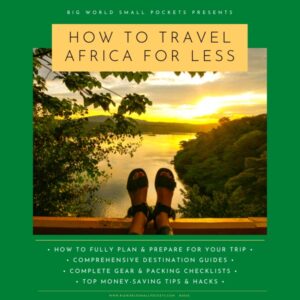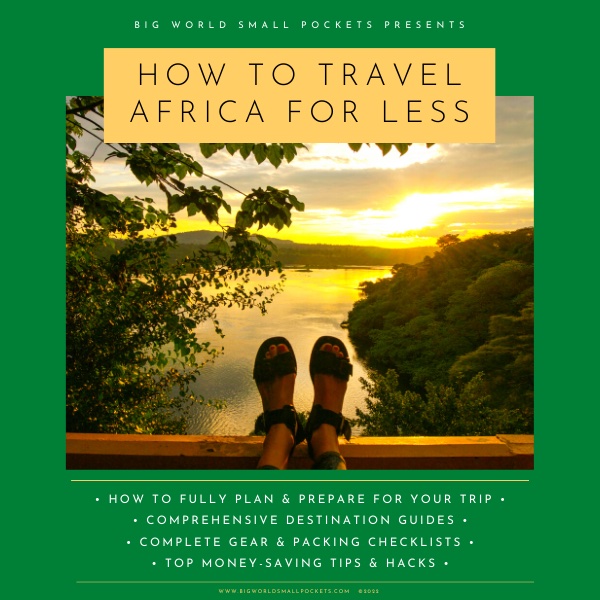 My ultimate guide to travelling Africa on a budget is now available, meaning you can finally get ALL my top tips for adventuring around all, or parts, of this amazing continent in one handy eBook, including…
Full Planning & Preparation Guides
Detailed Destination Info
Complete Packing & Gear Lists
Top Money-Saving Tips & Hacks
Where is Agadir?
So let's start by talking about where exactly Agadir is.
Located on the Atlantic coast of Morocco in North Africa (which is a country that boasts 2 coastlines, desert, mountains and a ton of ancient medinas FYI), Agadir is one of this nation's largest cities.
But don't let that put you off, for while this is a bustling port town in part, Agadir also has an amazing long strip of golden sand and a beautiful promenade, making it perfect holiday material.
And this is enhanced by the fact that Agadir is in the south of Morocco, giving it some of the best weather in the country, year-round!
What's the Weather Like in Agadir?
Now seems like the perfect time to talk about the weather in Agadir and why it's ideal winter holiday material.
Agadir sits in a region that boasts an average of 340 days of sunshine a year.
Situated on the coast, the city is backed by desert, at the foot of the Atlas mountains, meaning it has a very dry climate and rains are rare.
Temperatures tend to be stable and good year-round too – averaging between 20 and 27 degrees celsius across all 12 months, making it perfect for getting outside no matter the month.
This means when Europe is cold, especially during the months of October through April, Agadir is still wonderfully pleasant and ideal for grabbing a few rays… or a few waves!
As such, I really think the best time to visit Agadir is during the European winter months, when those delightful temperatures can be enjoyed to the max.
You'll also get clearer skies at this time of year, because some hazy cloud can build with the heat of the summer.
Check out AccuWeather to get an idea for what the weather is like right now and get inspired for your Agadir holidays today!
Flights to Agadir
And another reason why Agadir is the perfect spot for a winter holiday on a budget, is the short flight time from Europe, which makes heading here for a week, or a weekend, ideal.
In just 3 hours from the UK, and a few hours from most other major European cities, Agadir is just a hop, skip and a jump into the warmth!
From the UK alone, there's 6 different airlines that operate direct flights.
These are Ryanair, easyJet, Royal Air Maroc, TUI Airways, Brussels Airlines and Lufthansa.
You can fly straight into Agadir with any of these, which saves a lot of time and money, because you don't have to route through Marrakesh or Casablanca.
The Agadir airport code is AGA and the airport's official name is Agadir-Al Massira.
The airport is just a short distance from the city centre, which equates to a 20 minute taxi ride and the fare is only 200 Dirham, which is about $20 USD / £15 / 18 euros.
As always, I recommend checking out Skyscanner for the best deals around.
Taxis can be found outside the arrivals terminal and it's a flat rate fee into town.
Travel from Agadir to Marrakesh
Alternatively, if you are undertaking a bit of a Morocco itinerary, then you'll be pleased to know it's easy to get to Agadir from many other places in the country too.
Both by flight and bus.
Domestic flights from Agadir depart from Casablanca, Rabat, Fes, Tangier and Marrakesh.
However, if you are coming from the tourist capital of Marrakesh for your holiday in Agadir, then I suggest hopping on a bus instead.
Not only will this be much cheaper and better for the environment, but it will only take you around 3 hours too.
This is the method I used to travel to Agadir, care of Supratours, who offered a smooth and easy bus connection for 100 Dirham.
Supratours have 13 bus connections a day from Marrakesh to Agadir and their departure terminal is handily right by Marrakesh's central railway station.
The Supratours terminal is very clean and comfortable, with a café, toilets and ample seating, meaning it's easy to chill here between connections if that's what you need to do.
Otherwise, I suggest arriving here at least 30 minutes before your bus leaves, or longer if you need to buy a ticket and / or pay for your luggage to go in the hold, which costs 5 Dirham.
You can learn more at the Surpatours website, which does allow you to book online for some services.
Failing that, CTM is another bus company that offers a Marrakesh to Agadir route.
Although tickets with these guys tend to be slightly more expensive, you can book and pay for them online (using international bank cards) up to 72 hours before the bus departure time.
Agadir's History
So now we turn to Agadir itself.
Once inhabited by local (and likely nomadic) Berber tribes, the city starting growing into a small fishing village populated by many Portuguese and German people during the colonial era.
Indeed this part of Morocco was once considered a part of Portugal, but later came under French protectorate rule around 1920, when a larger port was built and behind it, the Talborjt district, which remains in Agadir today.
The city started its life as a tourist destination in 1950, growing to a population of around 40,000, but in 1960 suffered a devastating earthquake.
Almost all infrastructure was destroyed in this tragedy and many thousands of people lost their lives.
Today, in Agadir's outskirts, a few old city walls from pre-1960 are still visible, but these are few and far between, indicating just how catastrophic the effects of the earthquake were.
After being rebuilt slightly further south, Agadir now comprises of a large, bustling town and then a stretch of hotels and restaurants strung along the coast.
It is a surprisingly large city (home to around 500,000 people) but most visitors, obviously, tend to stick to the coastal strip and the few streets that run inland from here.
The industry largely revolves around tourism, fishing and agricultural exportation.
Agadir Beach
There's no denying Agadir's beach, and that of the nearby Bay of Taghazout, are some of the most beautiful stretches of coastline in the whole of Morocco, if not the whole of North Africa.
They also have the added bonus of year-round warm weather and good sea temperatures, which the Mediterranean coast to the north doesn't.
Agadir's beach is huge, sandy, clean and very pleasant.
A massive sweep of sand, it's typical of Atlantic coast beaches and is backed by a headland to the north, before trailing off into the distance if you look to the south.
This is a public beach, so you can enjoy it for free, which is wonderful for budget travellers.
However, many hotels here also have their own private sections, complete with sunbeds and umbrellas, which you can enjoy for free too if you are staying with them.
Behind the beach is a long, wide and pedestrianised promenade, known as the Corniche.
This leads all the way to Agadir's marina, which sits under the headland to the north of the bay and is ideal for strolling both in the day and in the evening.
Restaurants line it and without cars, it's very peaceful.
Used by tourists and locals alike, this is a great place for families, friends and couples to stroll, taking in the sea views and people-watching.
I walked alone here and felt very safe as there were many people around at most times of the day.
Swimming is possible in the Atlantic Ocean here too, which is warm enough to enjoy most days of the year.
However, please be careful of strong currents, especially as I didn't encounter any lifeguards during my time in Agadir, and only go in as deep as you feel comfortable and can stand.
There's also many beautiful beaches to the north of Agadir you should either experience for the day, or stay at, if you visit this part of Morocco.
Top of the list is the surfing mecca of Taghazout, where the laidback, barefoot vibes mean most tourists end up spending longer here than they planned!
Just 17km away, it's easy to take a local bus to Taghazout for the day or longer if you wish.
Learn more in my list of things to during your Agadir holiday below…
Top Things to Do in Agadir
But it's not all about the beach if you don't want it to be.
That's because, being in Morocco, Agadir also boasts a wealth of cultural experiences you can enjoy too.
Here's my pick of the bunch…
#1 Eat
Agadir has some wonderful places you can try local Moroccan cuisine and these don't have to be expensive either.
For authentic and well-priced food, I highly recommend heading into the city a little i.e. away from the Corniche and more touristy areas, as prices are better here.
Just a few streets away, Daffy is a great restaurant that does delicious traditional food for next to nothing.
It doesn't serve alcohol, because it's locally-run, but I enjoyed an amazing and huge meal here – and I mean huge – for just 65 Dirham… what a bargain!
Search Duffy on Google maps to see you how close this spot is to your accommodation.
#2 Stroll the Gardens
We've talked about strolling the Corniche, but there's also several lovely parks and gardens to stroll in Agadir too, which make for a nice change of scene and offer the opportunity for a bit of shade if it's getting really warm.
There's lots of green spaces around the city, but my favourite had to be Jardin d'Olhao, which has some beautiful flowers and a very peaceful feel to it.
It's also free to enter.
#3 Visit Birds Valley
If you want somewhere to stroll a little closer to your hotel however, then why not check out Agadir's Birds Valley.
This is also free to enter and has many benches where locals gather to relax and chat.
#4 Marvel at the Grand Mosque
If cultural sights are more your thing, then don't miss Agadir's largest mosque, which is in the Talborjt region of the city.
Known as Mohamed V Mosque, this is a beautiful construction, which forms a key part of local life here.
#5 Soak in a Hammam
Another super way to experience some real Moroccan life is to try out a hammam i.e. a public bath.
There are many cheap ones you can frequent with locals, but if you're feeling a bit unsure, then the spa come hamman at Argan Palace, is a great way to ease yourself in!
#6 Buy Some Argan Oil
And while we're talking about Argan Oil, you can't miss the opportunity to learn more about this product and pick up some of this incredible stuff while you are in Agadir – indeed the south of the country is known as the best place to do just this.
There's several stores in Agadir that sell Argan Oil produced by local cooperatives and you can also head out on a tour to one of them if you like.
The cooperative Afos-Khofas is one such example and, with a shopfront in Agadir, it's easy to contact them.
I actually picked up some lovely Argan oil soap here – it makes for an ideal souvenir!
You can email them at [email protected] or call /Whatsapp them on +212 661 874 426 to arrange a tour if you wish.
#7 Shop at the Souk
And while we're talking about souvenirs and shopping, then one of the best things to do in Agadir is definitely to head to the local souk.
With 10 doors, each of which make for a great photo opportunity, this is a super spot to pick up some bargains, get some fresh picnic goods or enjoy an orange juice or cheap lunch… local style!
If you feel a bit nervous visiting here by yourself, then you can always hire a local guide.
I highly recommend Ismail who showed me a lot in Agadir, driving me to many places I wanted to visit and sharing some of the history of them with me too.
His prices were excellent, so contact him on +212 668 593 675 or +212 668 722 596 to arrange a tour if you wish.
#8 Scale to the Kasbah
And one of the best places Ismail took me was up to the Kasbah, a set of ruins situated on the headland over Agadir.
Offering magnificent views, you'll either need to take a taxi or enjoy a long walk up here!
Usually, a taxi would cost around 50 Dirham return.
If the ruins are closed, then you can walk around the back of them to get the views and a crumbling sense of what they once were.
There's also a few boards here giving more information about the history of the site.
#9 Check Out the Museums
And finally, last on my list of the best things to do in Agadir, besides the beach, is to visit the city's museums.
There's 2 main ones to check out – the Memory Agadir Museum, which has some amazing photos of the city pre-earthquake and costs 20 Dirham to enter and the Museum of Culture, which gives a good insight into traditional Berber practices.
Best Agadir Day Trips
So now that we've covered the best things to do in Agadir itself, as well as this city's beautiful beach, it's time to talk about the great day trips you can take from this city too.
#1 Taghazout
I've spoken about it further up in this article, but taking a day trip or an overnight excursion to the epic surf spot of Taghzaout is absolutely one of the best things to do while you are in Agadir.
It's close, there are many places to stay there, some great eateries and it's easy, quick and cheap to get there by local bus.
#2 Paradise Valley
A lovely natural spot many local families come to picnic and stroll through, Paradise Valley is best accessed by private vehicle so consider hiring a car to get here.
Due to lack of rainfall recently, many of the lovely waterfalls have now sadly dried up, but the swimming holes still have enough water for a dip and the trails and sense of peace here are delightful.
#3 Taroudannt
Known as little Marrakesh, visiting Taroudannt for a day (or longer) is definitely one of the best things to do in Agadir.
Amazing souks and traditional culture will greet you in this town, whose backdrop of snow-capped Atlas Mountains takes some beating!
Explore the red-mud ramparts and medina of this lovely place and you can't miss the sunset views as the golden light bounces off it either.
#4 Tafraoute
Fast becoming a popular tourist spot, although still way off the beaten track compared to Agadir and Marrakesh, this is a lovely destination to visit if you want to soak up some of Morocco's best landscapes.
A pretty town, full of pink houses and market streets, Tafraoute is surrounded by red-granite mountains, so it's all about getting out to explore the gorges, rock formations, palmeraies and archaeological sites of this amazing area either on 2 feet or 2 wheels.
Plenty of guides in the town offer trips and you can get here by bus from Agadir for around 80 Dirham.
Safety & Wellbeing Tips
I travelled to Agadir as a solo female and am pleased to say I felt totally safe the whole time.
This includes wandering along the Corniche at night, eating alone and hanging out at the beach.
I was never hassled and when I needed to shop in the souk for souvenirs, or wander in the city to find a laundry service and buy a Moroccan SIM card, I was always helped by friendly locals.
As such, I definitely consider Agadir a safe destination.
Infact, I'd happily include the whole of Morocco in this category and this goes for solo female travellers as well as families, groups and couples.
What to Pack & Prepare
When it comes to your Agadir holiday, there's a few things I'd suggest preparing and packing for your trip…
#1 Travel Insurance – World Nomads offers simple and flexible travel insurance. Buy at home or while travelling and claim online from anywhere in the world.
Alternatively, if you're a long-term traveller, digital nomad or frequent remote worker seeking travel health cover, check out Safetywing's Nomad Insurance policies.
#2 Morocco Lonely Planet – A great guidebook if you're travelling to Agadir and want to learn more about Morocco, its history, culture and best places to visit, the Morocco Lonely Planet is a must for me!
#3 LifeStraw Filter Bottle – I'd definitely advise travelling with the LifeStraw Filter Bottle to Agadir, because the tap water here isn't safe to drink.
However, with the LifeStraw Go Water Filter Bottle, it is!
Simply fill the bottle up at any non-salt tap or water source and then use the inbuilt filter straw to enjoy potable and safe to drink water easily and cheaply wherever you are!
Genius!
#4 Sarong – I'd never holiday in a beach destination like Agadir without taking a good sarong with me.
Learn why I never travel without a sarong here and check out these beautiful designs if you're looking for some ideas!
#5 Birkenstocks – You'll definitely want some good beach footwear to enjoy your Agadir holiday and I simply wouldn't be without my Arizona Birkenstocks in this situation.
Perfect for kicking on and off at the beach, as well as sightseeing in, these are ideal for the hot weather you'll get on your winter break here.
PIN IT TO PINTEREST!
So I hope you've enjoyed my article about why a holiday in Agadir is the perfect winter break on a budget.
Fingers crossed, it's given you all the info you need.
An easy introduction to travelling in Morocco, Agadir is a great place to begin your time in, or get a taster of, this country.
And tell me, have you visited Agadir?
What was your experience like?
I'd love to learn more in the comments box below…