I realised as soon as I started planning my 2 week trip to Morocco that I was going to do this country a serious injustice.
And that's because there's just so much to see and do in this delightfully diverse nation, that a fortnight was never going to cut it.
From ancient cities and UNESCO-listed ruins, to soaring mountains, a sprawling desert and 2 coastlines, Morocco is just about as varied as it gets.
And let's be honest, in just 2 weeks, you're never going to see it all.
But what I did learn from my time here, is that in 2 weeks you can see a good amount of it.
Yes you can get a really great flavour – a wetting of your Morocco whistle as it were – that hopefully will leave you eager to come back and explore more in this charming destination.
At least, that's what it did for me!
So here it is – my ultimate 2 week Morocco itinerary that follows the exact route I took through this country so that you can be assured all the info is 100% genuine and 100% recommended.
Hope it has you wanting to come back for more too 🙂
---
Related Posts
---
This page contains affiliate links meaning Big World Small Pockets may receive a small commission on any purchases at no extra cost to you.
---
Grab Your Copy of How to Travel Africa for Less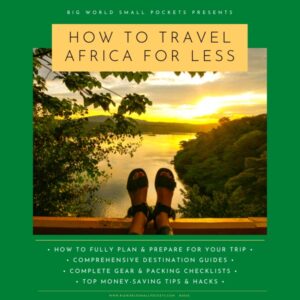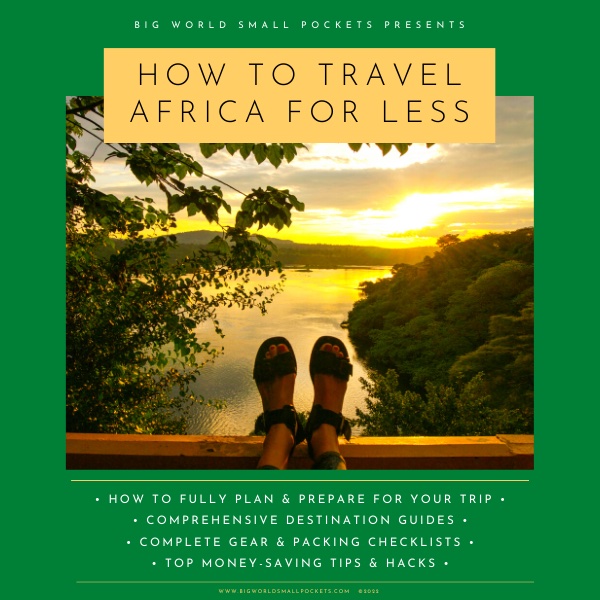 My ultimate guide to travelling Africa on a budget is now available, meaning you can finally get ALL my top tips for adventuring around all, or parts, of this amazing continent in one handy eBook, including…
Full Planning & Preparation Guides
Detailed Destination Info
Complete Packing & Gear Lists
Top Money-Saving Tips & Hacks
Day 1-2: Tangier
Stay: Syra Das Hostel
Start this Morocco itinerary in Tangier – a coastal city in the north of the country.
Tangier makes a great entry point if you're arriving into Morocco from Spain via a ferry or there's an international airport here too.
As always, I use Skyscanner to find the best flight deals.
Tangier's historic centre is the place to head for when you arrive.
A cultural mixing pot of North African and European influences, the layered history here is unrivalled elsewhere in the country and makes this city both unique and fascinating.
Home to many famous artists over the years, a slight bohemian feel oozes from the walls of this city and is evident in some of the iconic cafes that line its streets, in particular Café Hafa, which sits on a hill above the Kasbah.
Café Tingis and Gran Café de Paris are also good options!
Down in the Kasbah – the main centre of the action in Tangier – it's wandering the thin, maze of alleys that's the main attraction here.
Absolutely authentic and boasting a fabulous museum, the Kasbah is the place to get enjoy getting lost in Tangier.
The Grand Socco and Petit Socco – 2 of Tangier's most famous squares are also lovely spots to visit and sit in for a while, especially as the former of these 2 also boasts a bustling souk.
In the evening, it's all about visiting the atmospheric Cinema Rif in Tangier.
Showing mainstream, as well as arthouse movies, there's also a lovely café here where you can enjoy a drink.
On day 2, you can explore Tangier further or head out on one of the many city's great day trips along the coast where capes, caves and ruins can be found.
Check out this top-rated day tour that leaves from Tangier for more info.
Day 3-4: Chefchaouen
Stay: Casa Amina Hostel
On day 3 of your Morocco itinerary, it's time to head off early in the morning for your next destination, which is the Blue Pearl of Morocco – the wonderful mountain town of Chefchaouen.
The best way to get there from Tangier is either via bus or a shared taxi.
You can learn more about both these options in a specific post I wrote about how to get to Chefchaouen.
Once in Chefchaouen, head for the historic medina, which is where I suggest you stay and spend your time – walking the beautiful streets, snapping the views and enjoying a bit of retail therapy.
Check out my list of the 13 best things to do in Chefchaouen for more ideas.
With a second day in this lovely town, I recommend heading out on a day excursion to the nearby Akchour Waterfall or hiking into the Rif Mountains.
Day 5-6: Fez
Stay: Moroccan Dream Hostel
On day 5 of your Morocco itinerary, it's time to move on again – this time to the wonderful city of Fez, which sits at the foot of the Middle Atlas Mountains.
One of my favourite destinations in the whole of Morocco, the UNESCO-listed medina in Fez is wonderfully authentic and wandering here feels like stepping back in time as camels and carts push goods through the thin, winding alleys.
Check out this post to find out exactly how to get to Fez from Chefchaouen and then prepare to spend a day getting lost amongst the stalls, tanneries, mosques, fountains and historic sites of the ancient medina.
Don't forget to find the beautiful Parc Boujloud too for a chill the afternoon, and in the evening you must climb up to the Merenid Tombs for an epic sunset show.
Check out my list of the best things to do in Fez if you want to know more!
On your second day in Fez, you can either spend more time exploring the souk or head out on a day trip to the nearby UNESCO-listed ruins of Volubilis, the holy site of Moulay Idriss and the historic city of Meknes.
This is a great day trip option for these sights you can book in advance.
Return to Fez in the early evening and enjoy a traditional hammam after your long day.
Day 7-8: Merzouga Desert
Stay: Dar Tafouyte
I suggest getting an early night on day 6, because come day 7 of your Morocco itinerary, you'll be up early and off on a tour to one of Morocco's most iconic destinations – the Sahara desert.
If you've never been to the desert before, then you're in for a big treat here!
While you can travel to the desert independently via a night bus, I suggest taking a tour for ease and convenience, especially if you're on a short trip to Morocco and want to fit a lot in.
Getting the right tour will be crucial to your enjoyment, so hop over and read this article I wrote about how to have the best desert experience in Morocco to ensure you do just that.
I won't go into too much detail here, but if you're sorting out your desert time independently then I'd allow 1 night in Merzouga and 1 night in a desert camp.
This the structure most tours follow too, so it's likely you'll spend day 7 driving to Merzouga and then heading out via a camel to a desert camp.
You'll then return back to Merzouga on day 8 and spend a night relaxing there.
Day 9 -10: Todra Gorge
Stay: Casa Rural Kasbah Des Pyramides
On day 9, it's time to head out of Merzouga and continue through the arid landscape of Morocco on your way to Marrakesh.
Instead of having the desert tour take you all the way to Marrakesh however, I suggest jumping out at the city of Tinghir instead.
From here, find a Grand Taxi and head 20 minutes north to the wonderful village of Ait-Baha.
Located right near the famous Todra Gorge, this is a delightfully relaxed hamlet where it's easy to spend a few days exploring the gorge and its surrounds, as well as Berber culture and the role of the palmeraies and valleys in this part of the country.
Most people only hit up the gorge as part of a day trip, on their way back from the desert, but I think these guys are seriously missing out!
The Todra Gorge area was one of my favourites in the whole of Morocco and I highly recommend you make sure to stay here a night or 2!
Get all the lowdown on why here.
Day 11-12: The Coast
Stay: Hotel Al Mamoun
After 2 days in the paradise of Ait-Baha, tear yourself away and catch the early morning bus from Tinghir to Marrakesh – stopping to see the famous film set location of Ait Ben Haddou, enroute.
This used to be a key stopover on the caravan trading route from Mali to Marrakesh and the thousand-year Ksar here was been beautifully restored for the film industry.
After getting your movie buff kick, it's time to continue your journey onto the coast via Marrakesh.
From Tinghir, I suggest taking catching the Supratours bus – this will take you through Ouarzazate (where you can hop out to visit Ait Ben Haddou) and onto Marrakesh.
From here, I then suggest changing bus to head straight out to the coast – save exploring Marrakesh for later.
Choosing your spot on the Morocco coast will on depend what you're after.
If surfing is your thing, then it's hard to overlook the wave-mecca of Taghazout.
To get here, catch a bus to Agadir and then change onto a local bus to make the 20km ish journey north up the coast to the smaller tourist town of Taghazout.
Otherwise, if it's a bit of history and culture you're after, then the delightful spot of Essouria takes some beating.
Surpatours buses run direct services to both Essouria and Agadir from the same station in Marrakesh you'll arrive into from Tinghir / Ouarzazate.
Once you get to the coast, it's all about chilling out and enjoying that sea air!
Day 13-14: Casablanca / Marrakesh
And then, it's sadly time to start rounding up your Morocco itinerary and thinking about heading home.
Most flights will depart from either Casablanca or Marrakesh, so making your way to either one of these large cities to spend your last few days and buy some souvenirs from the bustling souks is the perfect way to round up your trip in this amazing country.
Staying in a fancy riad to treat yourselves in these busy cities is a great way to end your time in style and don't forget to get your last fill of delicious Moroccan cuisine too!
In fact, these are 2 of my top things to do in Morocco!
2 Week Morocco Tours
If this is your first time travelling in North Africa, or perhaps your first time travelling solo, then you may feel more comfortable exploring Morocco as part of an organised tour.
Otherwise, check out my article about the 21 things to know before you travel Morocco, which may have some useful planning info for you too.
Top Travel Tips for Morocco
Best Time to Visit Morocco?
The spring and autumn months are the best times to visit Morocco.
With a largely south Mediterranean climate, traveling to this country in either April, May, September or October will allow you to enjoy a pleasant climate perfect for outdoor activities, sightseeing and hitting the beach.
Learn more in this complete guide to the best time to travel to Morocco.
How to Get There?
Flights to the country's main international airport, Casablanca, arrive from cities across Europe and beyond.
You can also fly to Tangier and Marrakesh easily.
As always, I use Skyscanner to find the best flight deals.
Alternatively, you can catch the ferry from Spain to Morocco.
How to Get Around?
Trains, domestic flights and buses all allow you get around Morocco.
Here's guides I wrote about making some of the most popular tourist journeys
If you want to visit off the beaten track spots, hiring a car is really the best way to travel the county.
Check out these great Morocco rental car deals.
Top Morocco Tours
Alternatively, if you'd rather not travel Morocco independently, these top tours are another great way to experience the country.
Safety Tips for Your Morocco Itinerary
As a solo female traveller, safety when travelling alone (especially in remote areas) is also big on my radar.
Although I have heard and read reports about female travellers being harassed in Morocco, I haven't experienced any of that myself and can only say that I felt incredibly safe here the whole time.
That said, there's a lot of common sense involved in safety too.
My advice is to stick with other travellers, don't wander out alone at night and always be clear about your boundaries in all situations.
You'll also want to ensure you drink enough water in Morocco's hot and dry climate as dehydration is probably one of the biggest dangers here.
Travelling with a LifeStraw Go Water Bottle, which you can use to purify water from any fresh water source, is a top option to help you do this.
I bought one for my trip to Morocco – as it then allowed me to drink the tap water safely – and now wouldn't be anywhere without it!
Sun protection is another thing to factor in for this country and packing clothes (like a cap or hat) and lotion that will protect you from the strong UV rays is definitely recommended.
You'll also want to make sure you pack plenty of warm clothes for the desert – it gets freezing here at night – including a good coat and a hat is a must, we can't have you catching a cold now!
Travel Insurance for Morocco
World Nomads offers simple and flexible travel insurance. Buy at home or while travelling and claim online from anywhere in the world.
Alternatively, if you're a long-term traveller, digital nomad or frequent remote worker seeking travel health cover, check out Safetywing's Nomad Insurance policies.
Travel Money for Morocco
When it comes to paying for things in Morocco, you want to ensure you're not being charged overseas transaction fees or getting poor exchange rates when using your card abroad, which is why I always take my Wise card away with me wherever I travel.
The easy way to spend abroad with real exchange rates, no markups and no sneaky transaction fees, you can use your Wise card just like a debit card here… and it links easily with Google and Apple pay – sold! Grab yours here.
Top Things To Pack for Morocco
And on that note, I wanted to compile a packing list to make sure you're suitably prepared for this Morocco itinerary.
So yes, warm clothes are definitely something I'd advise for your desert time no matter whether you're travelling Morocco in the summer or winter months – it's honestly cold at all times of the year in the night here.
I highly advise:
Outside of desert nights, key things to pack for this Morocco itinerary include:
You also don't want to forget about some great photo-kit to capture your amazing Moroccan experience.
I highly recommend
Like I've mentioned before, I also recommend taking a travel water filter bottle with you to Morocco, so you can turn any freshwater source into safe drinking water – a saving grace for the environment. My Life Straw Go Water Filter Bottle was ideal for my Morocco travels.
The Morocco Lonely Planet and a Moroccan Arabic Phrasebook, may also come in very handy.
PIN IT TO PINTEREST!
Well that's my ultimate 2 week Morocco itinerary folks.
Honestly, you could easily spend a month in this country and not see anything, so I've had to be selective with the places I choose to include.
However, I think this busy itinerary will have you seeing a great amount of the country's diversity, as well as a mix of its best cities and top natural attractions, as I've aimed to provide a good balance.
What do you think?
Is this a top overall Morocco itinerary?