All in all, having visited several times, it ends up that I've spent a couple of months in Morocco total… and I still haven't seen all this country has to offer!
Deceptively big and brimming with diversity, it's just not possible to see the best of Morocco's coastline, mountains, deserts, gorges, cities and ruins in one trip – unless you're staying for a very long time that is!
Or unless you run through this list of the 21 best things to do in Morocco, which will have you covering all the highlights!
For while I certainly haven't seen all of Morocco (just one reason this country keeps calling me back!) I've certainly seen a good chunk of it, meaning I wanted to bring you the top things to do in this epic destination so that you can get a good flavour and, hopefully fall in love with the place, too!
So here it is, my list of Morocco's wonderful highlights that will give you a great starter sample of the treasures that lie in store for you here.
---
Related Posts
---
This page contains affiliate links meaning Big World Small Pockets may receive a small commission on any purchases at no extra cost to you.
---
Grab Your Copy of How to Travel Africa for Less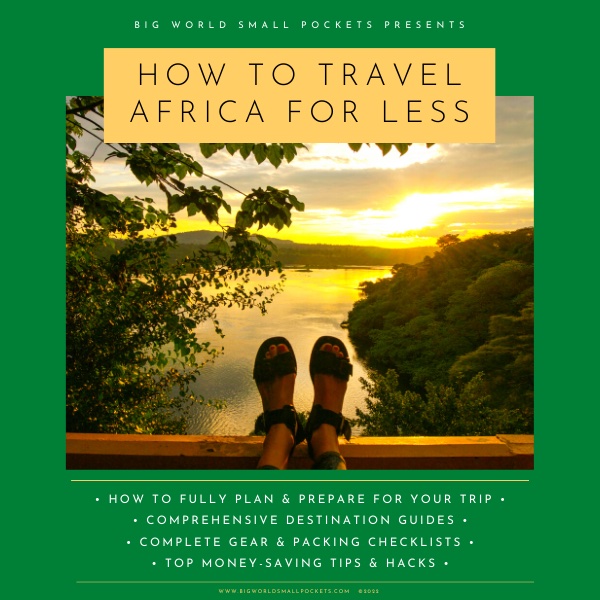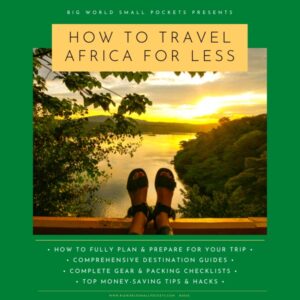 My ultimate guide to travelling Africa on a budget is now available, meaning you can finally get ALL my top tips for adventuring around all, or parts, of this amazing continent in one handy eBook, including…
Full Planning & Preparation Guides
Detailed Destination Info
Complete Packing & Gear Lists
Top Money-Saving Tips & Hacks
#1 Hike Todra Gorge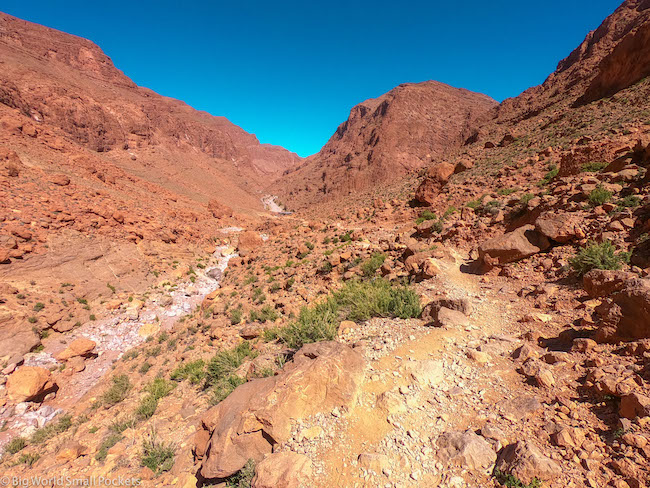 Coming in at number 1 on my list of the top things to do in Morocco is a surprising one that many of you might scoff at, but stick with me here!
For while Todra Gorge is a box ticker many people see for a few hours as part of their desert tour from Marrakesh, if you stay a night or 2 in this wonderful area you'll discover so much more!
Turning out to be my favourite place in Morocco, staying in a local guesthouse in the nearby village of Ait-Baha provided a wonderfully authentic culture experience, mountains of epic desert scenery (literally) and some great hiking and climbing.
The perfect chilled antidote to hectic and touristy Marrakesh, this really is a dream spot among the remote valleys at the foot of the Atlas Mountains.
Learn more in this full Todra Gorge travel guide I wrote following my magical time there.
#2 Spend a Night in the Desert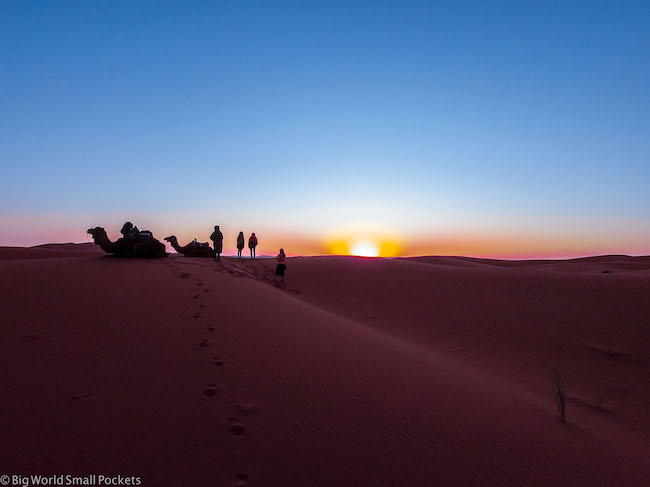 Next up, one of the best places to visit in Morocco has to be the stunning sands of the Sahara… and if this is your first time to a desert, then hold onto your hats – you're going to be blown away!
From nights spent under the stars in a desert camp to sunsets watched from the back of a camel, the wonder of the desert never ceases to amaze me and my time in Morocco's didn't disappoint.
Possible by independent means, most people however, choose to take a Morocco desert tour to make life easier.
Learn about how to organise and prepare for both options, including itineraries, prices and what to expect, in my ultimate travel guide to the Morocco desert.
#3 Surf
Moving now from the dry arid parts of the country to the wild Atlantic coast, if there's one thing Morocco is becoming increasingly well known for, its waves!
Tons of surf schools are now popping up in the southern part of the coastline, most sandwiched between the cities of Agadir to the south and Essaouira to the north.
Taghazout seems to the epic-centre of the action, but all the lovely villages along here boast some tourist treats and I'm not just talking surfers here – yoga retreats and lovely seaside apartments breaks are also part of the bill.
Check out this brilliant surf camp in Taghazout, if you're looking for a gem.
#4 Eat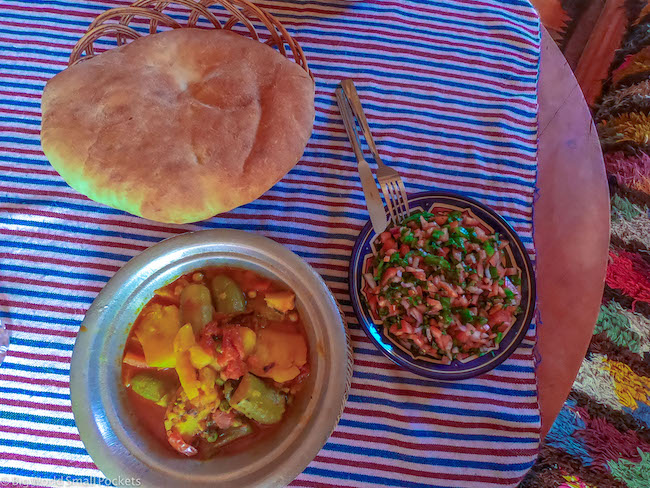 And sticking with the monosyllabic theme when it comes to the top things to do in Morocco, eat has to be up there!
If you haven't tried Moroccan cuisine yet, where have you been?
Well, obviously not Morocco, because here you can't move for delicious local food, which is always washed down with a glass of fresh mint tea.
Tagines, salads, fresh fruit and dates make up the average set menu and vegetarians are well-catered for usually.
While the cities will boast more upmarket restaurants, it's the authentic small villages, towns and souks that you need to head for to enjoy the real Moroccan feasts!
Otherwise taking a local food tour or cooking course can be a great way to learn more about the crucial role food plays in this country's culture.
#5 Get Lost in Fez
But now we head back to the beaten track, with an absolute must-visit place in Morocco and somewhere I head on every trip – that is the beguiling city of Fez.
Located in the centre of the country travel-wise, Fez often forms a cross-roads for those heading between the north and south, the coastline and the desert.
So pass through this city you probably will, and stay overnight in this city you absolutely should!
The historic medina in Fez is one of the oldest cities in the world and stepping inside this UNESCO treasure is like stepping back in time.
Put down your map, relax and prepare to get lost in the maze of streets which has dazzled travellers for hundreds for years.
Check out my list of the best things to do in Fez for more ideas, or learn how to get from Marrakesh to Fez (or visa-versa) in this post I wrote.
#6 Snap Chefchaouen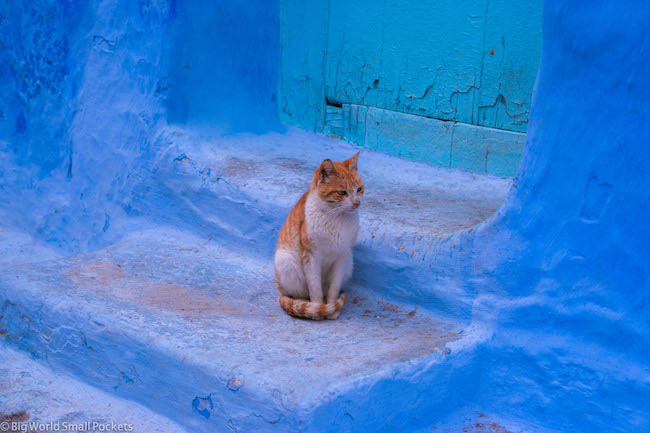 And from Fez, if you're heading north, it's likely your next destination will be Chefchaouen in the Rif mountains.
Learn more about how to get to Chefchaouen in this article I wrote, otherwise just know that this delightful town, nicknamed the Blue Pearl of Morocco, is another must-see spot.
Famous for its blue walls, streets and houses, the ancient medina (yes another one) is centuries old and its charmingly small nature and gorgeous elevated setting, makes it a popular jewel in Morocco's travel crown.
Learn more in this list of my top things to do in Chefchaouen.
#7 Caffeinate in Tangier
And from Chefchaouen, many people then head onto the Mediterranean port city of Tangier.
Another ancient city and popular, in times gone by, with many European and North American bohemian artists, Tangier has always been and remains a fusion of Western and Arabian influences.
Situated at the tip of Africa, just a few km from the south of Europe, this is really no surprise and often makes Tangier either the first or last stop on many people's Morocco itineraries.
Many ferries from Spain arrive into Tangier, but staying a few nights in this city, on your way into or out of the country, should definitely be factored in.
Strolling the old streets and souks of the medina here is wonderful, but it's really the historic coffee shops, where the smell of bohemian smoke still hangs in the air, that can't be missed!
If you really want to understand Tangier, this highlights day tour around the city with a local guide comes highly recommended.
#8 Learn Arabic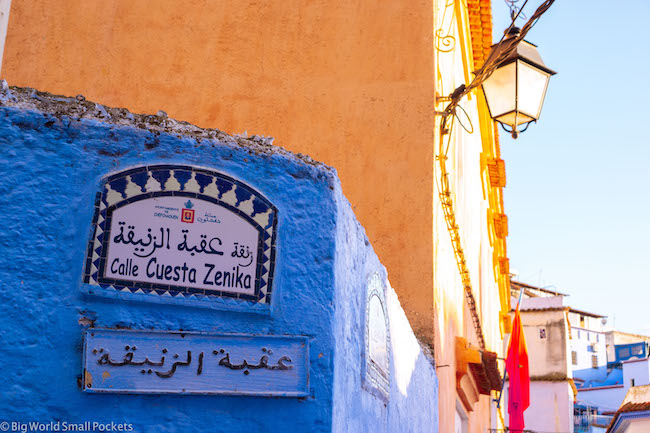 And perhaps, while you're hanging around in Tangier's cafes, it's time to brush up on (or pick up some) Arabic.
In fact, Morocco is a great place to learn Arabic full stop and if you're serious about this, many good language schools across the country cater for tourists and offer lessons at some great prices.
Otherwise, you're always likely to find someone wanting to practice their English in Morocco and conversation-swapping, even on an informal basis, can be a wonderful way to get an insight into the people who populate this wonderful country.
For more information about languages spoken in Morocco, as well as 20 other things to know before you travel to this country, check out this article, which is chock-full of useful tips.
#9 Hike the Atlas Mountains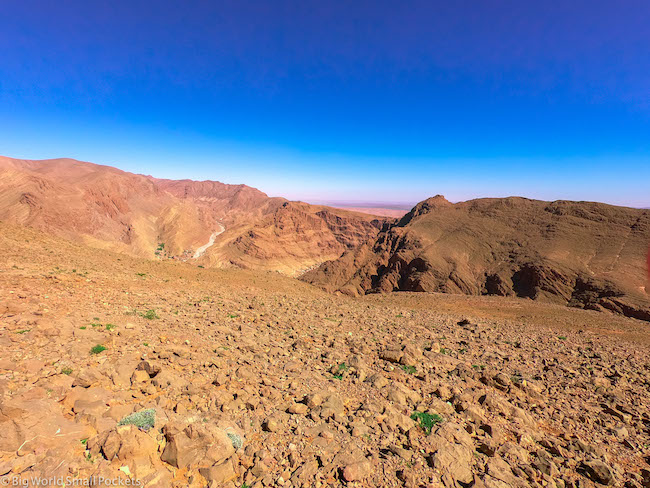 But enough of all this coffeeshop and language-learning lark, now it's time to get out there again, into the wilderness and what Morocco does best.
And that is stunning landscapes!
(Actually, this is just one of the things Morocco does best, because there's a few… but I digress.)
Needless to say, the dramatic scenery in this country is pretty impressive and sitting among its greatest claims to fame are the soaring Atlas Mountains.
Hiking in these elevated (and often snowy) peaks, off the beaten track, and with few other people around, you'll feel miles from anywhere, let alone the desert, which actually lies just at the foot of them.
So grab a guide, strap on your hiking boots and harness your sense of adventure – hiking in Morocco's Atlas mountains is definitely one of the best things to do here.
Check out this top-rated trekking day trip from Marrakesh if you're looking to book something in advance.
#10 Tick Marrakesh Off Your List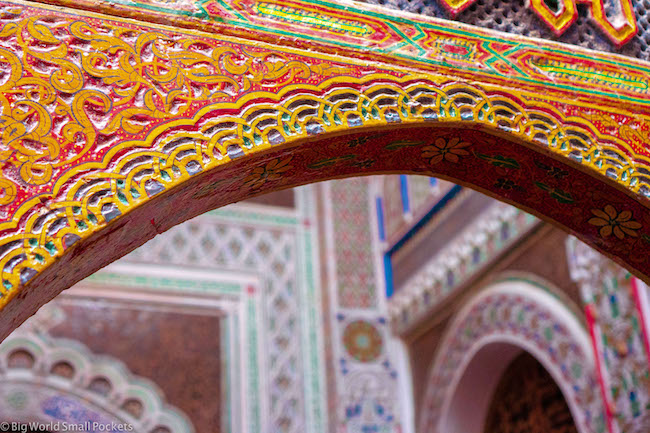 And then, come down from the Atlas with a thud (literally and metaphorically) as you land in the bustling and chaotic city of Marrakesh.
Even though this isn't my favourite city in Morocco, it's one of those places many people feel they just have to tick off their bucket list.
So gather your nerves, leave your valuables in your room and head into the souks of the country's tourism capital and the full sensory assault!
If you feel more confident with a guide, then books yours here.
#11 Shop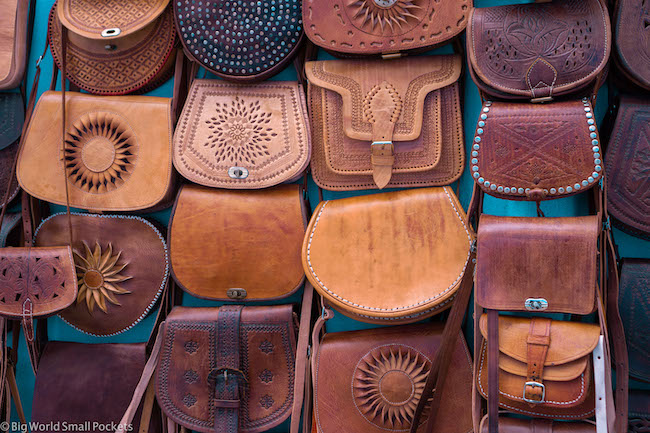 And one thing you can't miss doing in the souks of Marrakesh, or any Moroccan souks for that matter, is shopping!
From beautiful textiles to leather goods, spices to ceramics, there's so many gorgeous souvenirs to pick up in Morocco, you'd better bring an empty bag with you!
Ohhhh and my top tip when it comes to authentic souk-shopping in Morocco?
Head to the Souss Valley town of Taroudannt, near Agadir, to see how trading has taken place in this part of the world for generations.
#12 Stay in a Riad
It's a classic, but it's still a goodie!
Yes one of the things you have to do in Morocco (no matter your budget), is stay in a traditional riad.
Depending on your style, this could be a luxury number in Marrakesh or a hostel riad in a Chefchaouen, but whatever your travel style experiencing a bit of riad life, especially from the rooftop, is a must on your Morocco list.
Learn more about what to budget for your Morocco trip is this article I wrote about the costs of travelling in the country.
#13 Experience Casablanca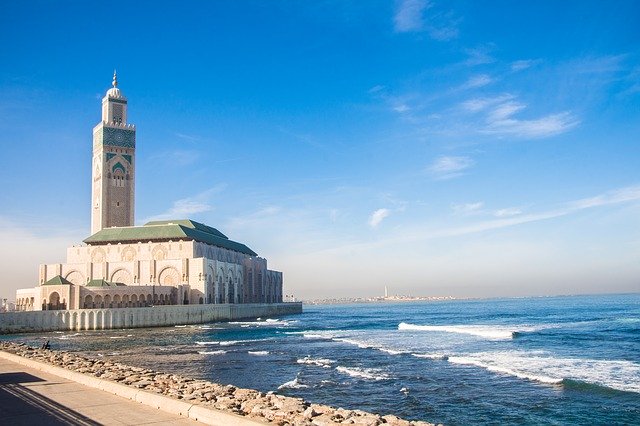 Made famous by the film, most people have a bit of a shock when they turn up in Casablanca these days to find a huge modern metropolis filled with people.
Yes, this coastal city is actually the most populated place in Morocco, but spend a few days in the country's beating heart and the madness of this place soon gets under your skin.
Exploring the art deco architecture remains a traveller favourite here and taking a city tour is a great way to get to learn more about it.
This Casablanca day tour comes highly recommended.
#14 Visit Tétouan's UNESCO Centre
And jumping from one extreme to another, a city that's far-less crowded than Casablanca, Tétouan (located between Tangier and Chefchaouen) oozes authenticity.
Its UNESCO-listed historic centre here is the main attraction, but it's the people-watching and genuine everyday sense of what real life is like in Morocco that makes spending a night in Tétouan one of the best things to do in this country.
#15 Marvel at Roman Ruins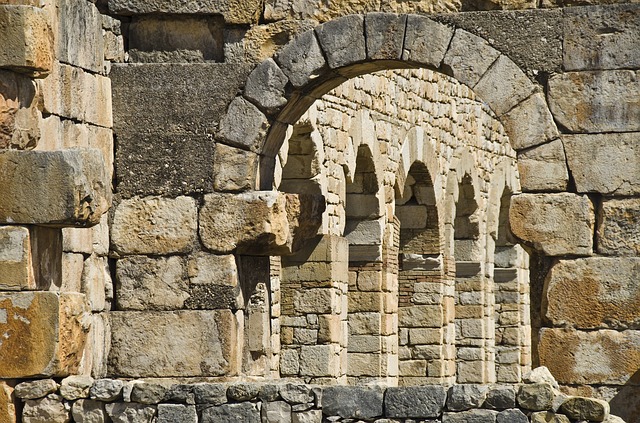 And if it's historical treats you're after, then you'll be hard-pressed to find better in Morocco than the amazing UNESCO-listed ruins of Volubilis.
Located between the city of Meknes (also UNESCO-listed) a few hours from the median of Fez (also UNESCO-listed – are you getting the picture yet?) these are the country's finest Roman ruins and are well worth a look in.
#16 Step Back in Time at Moulay Idriss
And right near the Volubilis ruins is another UNESCO-listed spot (I kid you not!) and a very important pilgrimage site – that is the holy city of Moulay Idriss.
Easily accessible from Meknes too, most tourists however tend to visit the white-washed hilltop site of Moulay Idriss from Fez as part of a day tour that also covers Volubilis and Meknes.
A brilliant way to cover a lot of ground in a short amount of time and to learn a lot of history care of your guide, this well-reviewed day tour is a great option.
#17 Enter the Movies at
Aït Benhaddou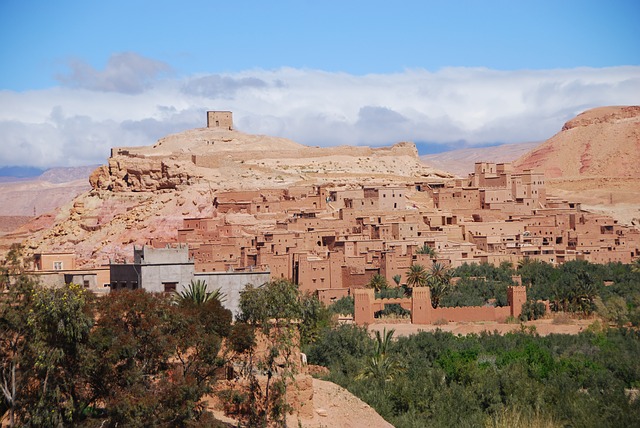 And now we head back to the desert lands and to discover a piece of Moroccan history that's been brought into the 21st Century.
The ancient Kasbah of Aït Benhaddou (traditionally a mud or stone wall fort in the desert that usually housed a small village inside) has been carefully restored for the movie / TV industry and is now the place where some very famous films were shot.
The list includes Babel, Lawrence of Arabia and Game of Thrones!
An ancient stop on the caravan trading routes from Mali and Sudan to Marrakesh, Aït Benhaddou is now well worth a few hours of your time if you're passing through nearby Ouarzazate – not least for the stunning views of the high Atlas its position affords.
#18 Bliss Out in Essaouira
After all this landlocked time however, you may well be clamouring for the sea and top of the list when it comes to towns on Morocco's coast is Essaouira.
An old fishing port, pretty, charming and now wildly popular with travellers of an arty-persuasion, this is the place to come and kick back for a few days to enjoy strolling and the sea air.
And the fact that Essaouira is just a few hours from Marrakesh makes it brilliantly easy to visit too!
#19 Relax in a Palmeraie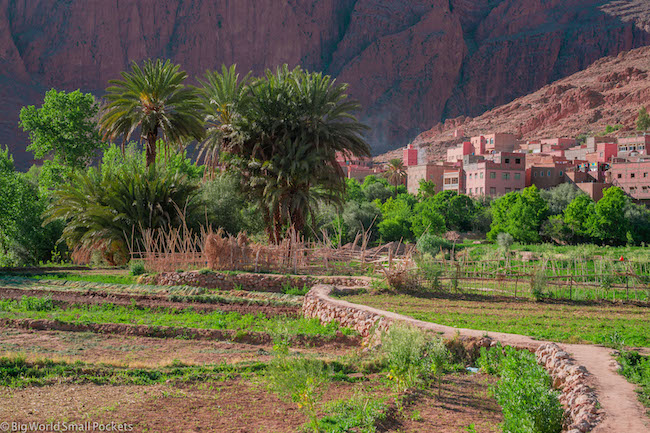 The other best place to relax in Morocco is in the villages surrounding the desert palmeraies.
Essentially an oasis in the desert, these green patches of lush foliage and agriculture are the breadbasket of life in the arid south of this country and have sustained life in its villages for thousands of years.
The Dades, Draa and Ziz Valley have wonderful examples of palmeraies and the local villages surrounding them usually offer fantastic homestay opportunities away from the travel crowds.
If you want to chill in an authentic Berber village and enjoy nature and the desert at its best (plus some good hiking!) – these are the places to head for.
#20 Get Off the Beaten Track in the Anti Atlas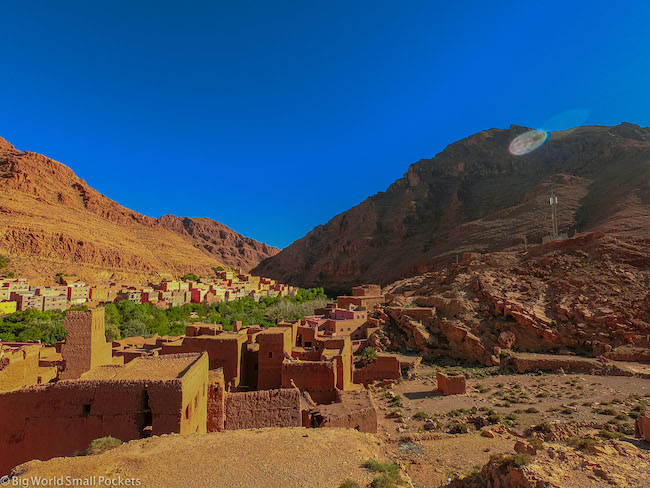 And sticking with the "off the beaten track" theme (you know I love it if you read this blog often), another great place to enjoy some hiking, traditional villages and stunning scenery away from the crowds in Morocco is the Anti Atlas.
Lying in the south of the county, this is a beautiful area full of outdoor activities to enjoy amidst the remote mountain range and its valleys.
The town of Tafroute, with its pretty red, granite surrounds makes for a great base, with plenty of cycling, hiking and climbing activities on offer.
Plus of course, there's a great local hammam or 3 to enjoy after the physical exertion!
#21 Hit the Beach at Al-Hoceima
And finally on this list of the best things to do in Morocco is an option that the local tourists know about, but few international ones do.
The region of Al-Hoceima on the Mediterranean coast is a lovely resort area with a gorgeous strip of coastline and a stunning national park to boot.
Quiet, safe and relaxing, the sweeping Corniche here, along with the choice of 3 lovely beaches and plenty of hiking or biking opportunities in the national park, makes this place a must if you're looking for unspoilt surrounds.
When To Visit Morocco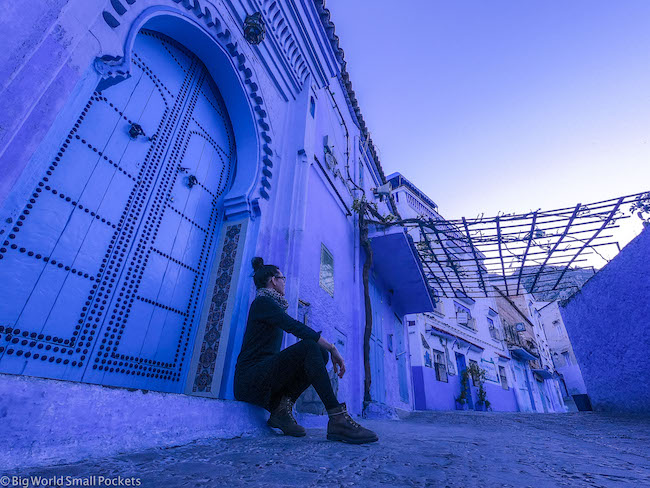 Stretching from the Mediterranean Coast to the Sahara Desert, Morocco really is a year-round destination thanks to its good range of geographies and climates.
Spring and Summer (Feb-July) are the best times to hit the north of the country when the temperatures there are warmer and the wildflowers in abundance.
The further south you go, it's arguably better to visit in the Autumn and Winter months (Sept-Jan) when the temperatures are more bearable, especially in the cities and the desert.
If it's the Atlantic coast you're after, then consider the best surfing months (Dec-Mar).
If you're looking to travel across Morocco, visiting several regions, then I recommend either the Spring (March & April) or Autumn months (September & October) as the best all-round times to visit.
I've visited this country at both these times and found it the perfect mix between good tourist numbers and the best climate range across the board.
Travel Safety in Morocco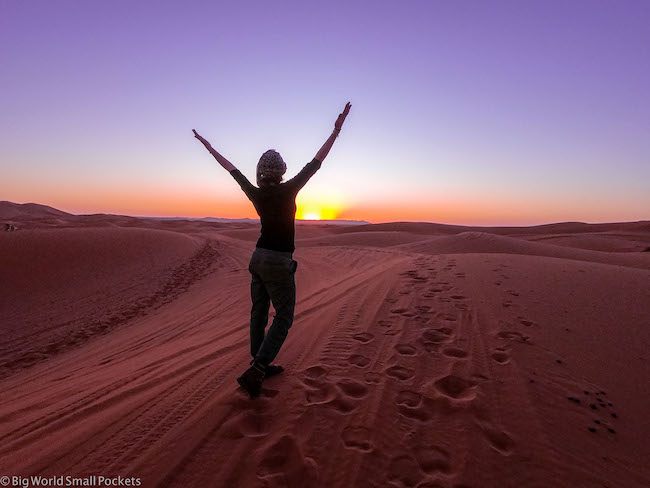 First up on my advice about safety and wellbeing in Morocco is to ensure you have travel insurance that covers you for travel here.
As always, I highly recommend travel insurance from World Nomads, who I've used whenever I've travelled to Morocco and elsewhere in Africa.
If you're travelling more long-term, like me, then I do suggest checking out the health cover offered by SafetyWing too, who specialise in providing cover for digital nomads and those on the go a lot!
As a solo female traveller safety, especially when walking alone, is also big on my radar.
But I'm glad to say I felt very safe the whole time in Morocco, including when hiking or wandering the streets of a medina after dinner.
As always, I advise being sensible, having a SIM card loaded with data and knowing where you are staying etc.
I also suggest all travellers dress modestly in Morocco to show respect for the local culture.
I advise covering your chest, arms and legs.
6 Essential Packing Items for Morocco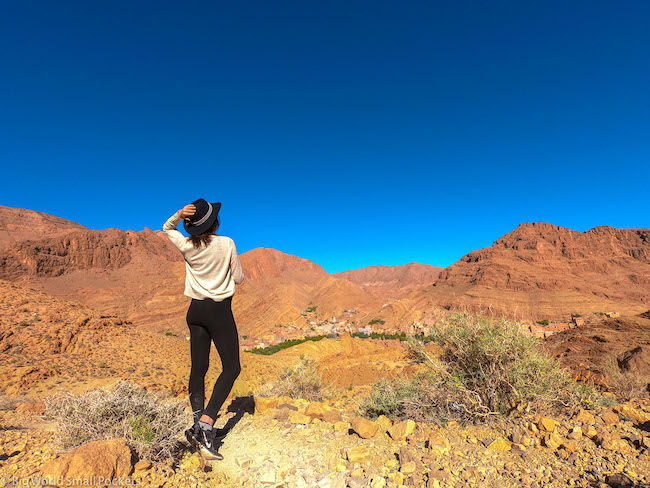 #1 I found having a guidebook in Morocco very useful and highly recommend the Morocco Lonely Planet, which has loads of great information and useful tips.
#2 I do also recommend taking a French phrasebook with you to Morocco. Either that, or an Moroccan Arabic Phrasebook will come in very handy.
#3 I'd definitely advise some good walking shoes like these if you're heading to any mountain or desert areas in Morocco – sandals won't always cut it I'm afraid!
#4 A headlamp is a must for me when I travel in Africa. My Black Diamond Storm hasn't let me down yet!
#5 You'll want a good camera to photograph all the amazing parts of this Moroccan town and I think the Sony A6000 is perfect for the job. Learn why I rated it my best camera for travel in Africa here.
#6 A decent daypack you can then carry your camera, phrasebook, guidebook, water and snacks in, would also be very helpful. As you may know by now, I love my Bobby Anti Theft Backpack for this purpose! Check out why in this review I wrote.
For a full list of what to wear in Morocco, check out this perfect packing list I wrote.
PIN IT TO PINTEREST!
Do you agree with my list of the 21 best things to do in Morocco?
Which was your favourite?
And did I miss any out?
Let me know all your thoughts in the comments box below…