One of Morocco's most popular destinations, there's no getting away from the fact this blue pearl of a town is now firmly on the traveller map – mostly due to Instagram!
I first visited Chefchaouen long before Instagram however (yup, I'm that old… or as I prefer to think, I've been travelling for a long time!) but am delighted to say that on my latest visit in 2020, this jewel hadn't lost much of its charm.
This means Chefchaouen is still a top spot to hit up on your Morocco itinerary and if you're planning to do that as an independent budget traveller (like me), here's the full lowdown on how to get to Chefchaouen including buses, shared taxis and tours….
---
Related Posts
---
All information in this article was correct at the time of publication, but please ensure do double-check travel timetables as schedules and prices can alter. Costs are given in Moroccan Dirham = MAD
This page contains affiliate links meaning Big World Small Pockets may receive a small commission on any purchases at no extra cost to you.
---
Grab Your Copy of How to Travel Africa for Less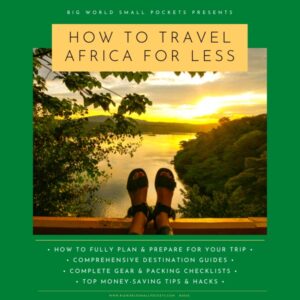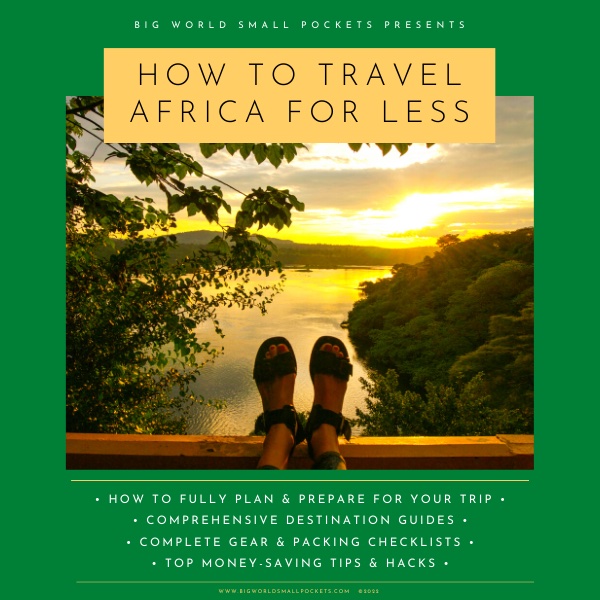 My ultimate guide to travelling Africa on a budget is now available, meaning you can finally get ALL my top tips for adventuring around all, or parts, of this amazing continent in one handy eBook, including…
Full Planning & Preparation Guides
Detailed Destination Info
Complete Packing & Gear Lists
Top Money-Saving Tips & Hacks
Where is Chefchaouen?
Located in the north of Morocco, in the area largely known as the Mediterranean part of the country, Chefchaouen is in fact situated in the Rif Mountains.
This means, despite its proximity to the coast, Chefchaouen actually sits at a height of around 500m and is only accessible via a twisting, narrow mountain road.
A small place with an ancient medina, Chefchaouen's traditional feel means it is not a major urban centre and therefore isn't connected in the way you might expect such a popular tourist destination place to be.
Instead, you'll need to travel to a major city in Morocco first and from there take a bus to Chefchaouen.
Such major cities include Fez, Marrakesh, Casablanca and Tangier, which all have international and domestic airports.
As always, I recommend checking out Skyscanner for the best deals on flights.
The latter, Tangier, also has good ferry connections, so this is probably the place you'll arrive into if you get a boat to Morocco from Spain.
Learn more in my full guide to getting the ferry from Spain to Morocco here.
How to Travel to Chefchaouen?
How you get to Chefchaouen will, of course, depend on where you're coming from, so to make this post as useful as possible, I've included how to get to this town from all the nearest major cities in the country.
As I explained, you'll then need to get a bus to Chefchaouen, as there is no airport or train access to this town.
Buses generally arrive into Chefchaouen's New Town – where the Gare Routiere is situated along Avenue Maghreb Arabe.
This is where you'll need to come to book tickets for your departure bus too – or save yourself the hassle and do it when you arrive… if you're that organised!
From the Gare Routiere, you'll then have to take a taxi to Chefchaouen's medina – a ride which should cost 10-15 MAD.
Taxis will normally drop you at Hotel Parador, from where you can walk into the historic medina.
Another option outside of a bus ride to Chefchaouen is, of course, a private taxi – but given the distances from major urban areas, this is likely to be very expensive.
Alternatively, shared taxis and tours to Chefchaouen are the other ways to get here.
You can learn more about all of these under the relevant sections below.
So let's get cracking… here's how to get to Chefchaouen in Morocco.
How to Get from Tangier to Chefchaouen
Buses from Tangier to Chefchaouen take around 3.5 hours, but can involve a twisty-turning ride through the mountains, so if you're not good on buses do bear this in mind!
CTM buses run from Tangier to Chefchaouen.
These guys offer safe and comfortable rides across Morocco and are a very well-organised and reputable company.
They ticket your luggage and have their own private bus depots, which means they are very tourist-friendly.
In Tangier, the CTM bus station is located just off the road that takes you out to Tetouan – along La Rocade 9.
To get between here and the city centre of Tangier you'll need to take a taxi.
CTM operate 1 service per day to Chefchaouen at 12:15 pm, which fills up fast, so you must book your ticket 1 day in advance.
Tickets cost 45 MAD + 5 MAD for each piece of luggage in the hold.
Buy a ticket ahead of time by going to their bus depot, or if you're really organised, you can pay (via an international bankcard) on their website up to 72 hours before the bus departure time.
There is also a smaller company – Nejma Chamal – who run buses to Chefchaouen from Tangier too.
If you find CTM are full, head to the main bus station in Tangier – the Gare Routiere along Avenue Idriss 1er – and find this other company instead.
The Gare Routiere is a more chaotic place than the CTM station, with many public buses coming and going, but rides from here with Nejma Chamal will be slightly cheaper.
The Gare Routiere is also closer to the centre of Tangier than the CTM station.
Nejma Chamal buses depart Tangier for Chefchaouen at 1pm and 5:45pm and make a stop in Tetouan, although double-check these departure times as they are subject to change.
On the return journey, they depart Chefchaouen for Tangier at 2pm, 3:15pm and 6pm.
Shared taxis to Chefchaouen can also be sourced from the Gare Routiere.
(Learn more about catching shared taxis in the Tetouen section below).
As I mentioned earlier, if you don't want to get a bus to Chefchaouen from Tangier, then consider a day trip instead.
This well-rated option includes a local guide and an easy hotel pick-up / drop-off.
While this one also ties in a side-trip to the lovely waterfalls of Akchour.
Finally, if you don't want to take a day trip, you can take a grand taxi – which is a private, long-distance ride.
How to Travel from Tetouan to Chefchaouen
If you want to stop on the way between Tangier and Chefchaouen, then a good place to do just that is the city of Tetouan.
With a UNESCO-listed heritage medina, this very authentic city makes the perfect place to break up the journey.
Buses to Tetouan leave regularly from Tangier and take around 2 hours.
Otherwise, found out more about how I travelled to Tetouan as part of my Spain to Morocco ferry adventure here!
While you can get public buses from Tetouan to Chefchaouen, the easiest route is to travel by shared taxi instead.
These are direct, and therefore faster, and provide a good experience because you'll almost always just be with Moroccan people.
Usually you have to wait for shared taxis to fill up, but as there's only 5 seats this doesn't take too long.
In my experience, I waited just under 10 minutes for this to happen and the trip cost me just 35 MAD for a 1 hour journey.
I like that you don't have to book this service in advance, as you have to for many bus tickets to Chefchaouen.
Shared taxis are also a good option because they take you much closer to the old medina of Chefchaouen where you're likely to be basing yourself.
You can actually walk from where they stop into the medina in around 5 minutes.
Just follow the signs or download the relevant maps.me onto your phone before your journey.
This also means you save the time, hassle and cost of having to take a taxi from the new town bus station to the old medina in Chefchaouen – another advantage!
Shared taxis in Tetouan leave from along Avenue Hassan I and, travelling as a solo female, I found them very safe and easy.
How to Get from Fez to Chefchaouen
If you're following the popular travel route in Morocco – going from north to south – then it's quite likely that after Tangier / Tetouan and Chefchaouen you'll be moving south onto Fez.
Either that, or you'll be making the route in the opposite direction i.e. travelling from Fez to Chefchaouen and then onto Tangier / Tetouan.
Either way, you're going to need to know how to get to Chefchaouen from Fez or visa versa!
The cheapest way to do this is via public bus, on a route that takes around 4.5 hours.
I travelled with the popular tourist bus company CTM on this journey – you can reserve tickets on their website 72 hours ahead of the journey, which made them a good choice for me, as I didn't want to walk all the way to the new town just to buy a ticket.
Because buy a ticket in advance you must.
There's only 4 CTM services between Chefchaouen and Fez and, given the amount of tourists, they all book up, so you certainly need to pay for your seat at least 1 day in advance.
The most popular bus times are the 10:45am and 1:30pm departure slots because these both see you arriving into Fez before dark – something you definitely want to do in order to maximise your chances of finding your hotel in the twisting turning medina here.
The later buses depart from Chefchaouen for Fez at 3pm and 6pm.
My ticket with CTM cost 80 MAD + 5 MAD for a bag to go in the hold.
Coming the other way from Fez to Chefchaouen, CTM buses depart at 8am, 11am, 4:15pm and 11:45pm.
The last option isn't great because you arrive into Chefchaouen around 3:30am!
As always I advise you double-check departure times on the CTM website as they may alter.
If CTM is full, you didn't reserve ahead of time, or you want a slighter cheaper option, then the bus company Nejme Chamal, also ply this route.
Both CTM and Nejme Chamal buses depart Chefchaouen from the main bus station here i.e. the Gare Routiere along Avenue Maghreb Arabe in the new town.
CTM buses arrive into a private station located in Fez's new town located along Rue Tetouan.
Nejme Chamal arrive into Fez's regular Gare Routiere.
From both these locations, you will then have to take a taxi to one of the gates of Fez's medina if that's where you're staying… which you should!
I stayed at Moroccan Dream hostel in Fez, which was nearest the Gate R'cif.
A taxi from the CTM station to Place R'cif cost me 20 MAD.
If you don't want to take a bus between Fez and Chefchaouen, then private transfers are available – check out this top-rated option.
Alos don't forget to allow a few days to explore the amazing and ancient city of Fez. Here's my full travel guide to the city.
How to Travel from Casablanca to Chefchaouen
CTM run one direct bus per day between Casablanca and Chefchaouen.
Conveniently it's an early morning departure from Chaouen (around 7am), because this is a long ride – around 7.5 hours.
Again, you'll need to book this bus at least 1 day in advance.
The price is 165 MAD + 5 MAD per bag in the hold.
Going the other way, there's again one direct bus, care of CTM, from Casablanca to Chefchaouen with a departure time of 1:30pm from Casablanca, meaning you arrive into Chefchaouen about 9pm.
Nejme Chamal also run buses to Casablanca.
They depart from Chefchaouen at 6am, 7:30am and 9:15am (subject to change).
Outside of direct buses, your other option is to take a train from Casablanca to Fez and from there a bus to Chefchaouen.
If you are taking this route however, don't miss the opportunity to explore the amazing destination of Fez as part of a stopover.
Learn more about this epic Moroccan destination in my full travel guide to Fez.
Trains to Casablanca also run from Tangier, so you could head on a bus to this city from Chefchaouen and then on to Casablanca instead via train from there.
How to Get from Marrakesh to Chefchaouen
And finally, if you're looking to get between Marrakesh and Chefchaouen, you'll have to make a stop as well because there's no direct service and it's too long to make in one go.
Again, the stop that makes the most sense to work into your journey is Fez here.
Marrakesh to Fez is best made by train – it's cheaper and quicker this way – but check out this post which details 5 options for a Marrakesh to Fez journey with all the pros and cons
Spend a couple of nights in Fez and then hop on a bus to Chefchaouen.
CTM and Nejme Chamal both ply this route.
I've talked about the CTM timetable in the Fez section above.
Nejme Chamal leave Chefchaouen for Fez at 8:30am, 9:30am, 11:45am, 12:30am, 1:15pm and 6pm (subject to change).
For more information about travelling costs in Morocco generally, check out this article that outlines what I spent during a 2 week trip there.
Once in Chefchaouen…
Once you've made it to the bus station in Chefchaouen's new town, I then suggest catching a taxi to the historic medina and spending your time mostly in and around here.
As a small town, 1 or 2 days should give you plenty of time to explore here.
If you fancy heading out around the town for some hiking, then allow yourself a couple more days – learn more in my article about the best things to do in Chefchaouen which covers this.
I also suggest you stay within Chefchaouen's historic medina and my top choice for budget travellers here is Casa Amina.
The location and small, homely feel of this budget hostel were brilliant and, because all private rooms have shared bathrooms, the prices are hard to beat!
Plus there's great wifi connection and plenty of mint tea on offer!
Book your room at Casa Amina for the best rates here.
When it comes to eating, I recommend heading to Veranda Cafe for breakfast and juice with amazing views!
For lunch check out Hamsa, which is just away from the central Kasbah, and for dinner it's all about Clock Cafe.
This place has a lovely rooftop terrace for sunset views and some great cultural entertainment on each evening.
All of the above are veggie-friendly too.
Travel Safety in Morocco
As a solo female traveller safety, especially when walking alone, is also big on my radar.
I'm glad to say I felt very safe the whole time in Chefchaouen, including when hiking to the Spanish Mosque or wandering the streets of the medina after dinner.
As always, I advise being sensible however, having a SIM card loaded with data and knowing where you are staying and going etc.
I also suggest all travellers dress modestly in Morocco to show respect for the local culture.
Women especially should be careful to cover chest, arms and legs.
World Nomads offers simple and flexible travel insurance. Buy at home or while travelling and claim online from anywhere in the world.
Alternatively, if you're a long-term traveller, digital nomad or frequent remote worker seeking travel health cover, check out Safetywing's Nomad Insurance policies.
6 Essential Packing Items for Morocco
#1 I found having a guidebook in Morocco very useful and highly recommend the Morocco Lonely Planet, which has loads of great information and useful tips.
#2 I do also recommend taking a French phrasebook with you to Morocco. Either that, or an Moroccan Arabic Phrasebook will come in very handy.
#3 I'd definitely advise some good walking shoes like these if you're heading to Chefchaouen – sandals won't cut it on the cobbled streets I'm afraid!
#4 A headlamp is a must for me when I travel in Africa. My Black Diamond Storm hasn't let me down yet!
#5 You'll want a good camera to photograph all the amazing parts of this Moroccan town, then I think the Sony A6000 is perfect for the job. Learn why I rate it the best camera for travel in Africa here.
#6 A decent daypack you can then carry your camera, phrasebook, guidebook, water and snacks in, would also be very helpful. As you may know by now, I love my Bobby Anti Theft Backpack for this purpose! Check out why in this review I wrote.
PIN IT TO PINTEREST!
So there it is guys and gals, my full lowdown on how to get to Chefchaouen in Morocco.
Have you visited this Blue Pearl of a town yet?
Where were you coming from and how did you make the journey?
If you have any more information to add to the above, I'd love to hear from you.
Please drop any up-to-date info you gather into the comments box below so you can help fellow travellers out.
Thanks so much, Steph 🙂