They are 2 of the most visited places in Morocco, so there's no question that at some point in your Morocco itinerary you're likely to visit Marrakesh and Fez.
Meaning you're also likely to have to travel between them.. which is why I've written this post!
Located either side of the Atlas Mountains, at a distance of just over 571km apart, it's not always quick or easy to decide how to travel between these 2 cities however, which is why I've broken down the options for you.
Giving you 5 ways to make the journey, alongside weighing up the pros and cons of each, I'm bringing you the full lowdown on how to get from Marrakesh to Fez, so let's get stuck in…
---
Related Posts
---
This page contains affiliate links meaning Big World Small Pockets may receive a small commission on any purchases at no extra cost to you.
---
Grab Your Copy of How to Travel Africa for Less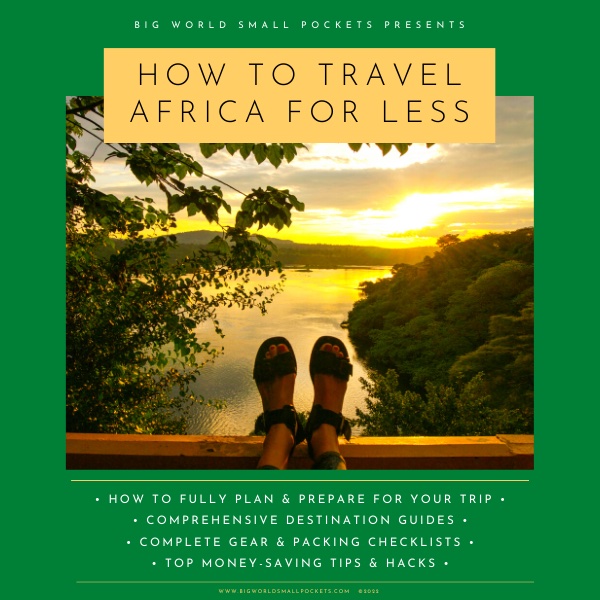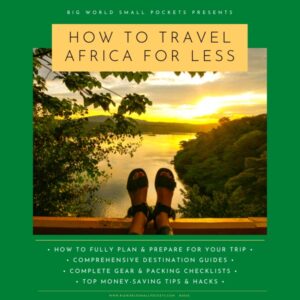 My ultimate guide to travelling Africa on a budget is now available, meaning you can finally get ALL my top tips for adventuring around all, or parts, of this amazing continent in one handy eBook, including…
Full Planning & Preparation Guides
Detailed Destination Info
Complete Packing & Gear Lists
Top Money-Saving Tips & Hacks
#1 By Plane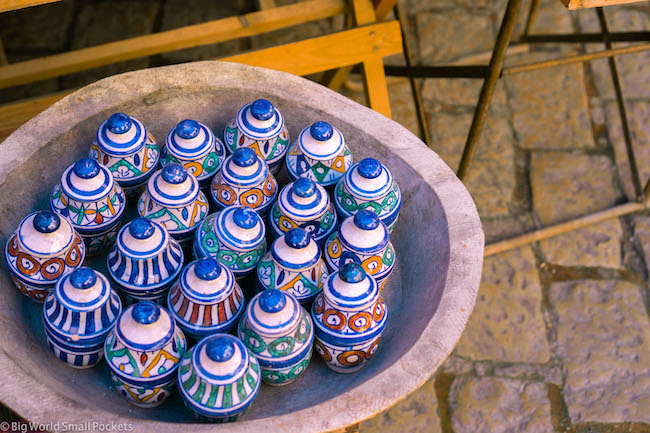 Your first option to get between Marrakesh and Fez is to fly.
There are several domestic flights a day traversing this route, but most have inconvenient stopovers in Casablanca.
To get a direct service, consider flying with Air Arabic Maroc who offer at least 1 direct flight daily between Marrakesh and Fez.
The journey time on this is just over an hour and prices usually start from around $60 USD.
As always, I suggest checking Skyscanner to find the best deal.
The Marrakesh Menara airport (code is RAK) is situated about 8km from the medina centre – so you'll need to catch a taxi here.
Do make sure you build the taxi fare into your costings – estimated around $10 USD – as well as any check-in luggage fees you might need to pay.
The Fez airport is situated a lot further out from the city – some 18km from the historic medina.
Again, do ensure you allow for the time and cost of a taxi ride here, which should be a fixed rate fee of 120 MAD for this ride.
Taxis can be found waiting right outside the arrivals hall in Fez.
Otherwise, you can book an airport transfer that will take you straight to your Fez accommodation from the airport if you want to avoid any hustle.
It goes without saying that flying from Marrakesh to Fez is the quickest option here, but is also likely to be the most expensive as a result.
Given the taxi rides to the airports and the time necessary for check-in, this option includes quite a lot of hanging around time too.
Unlikely to give you much of a cultural experience, flying between Marrakesh and Fez airports is also the worst option for your carbon footprint.
For this reason, many travellers prefer overland forms of transport and I'd tend to agree.
#2 By Train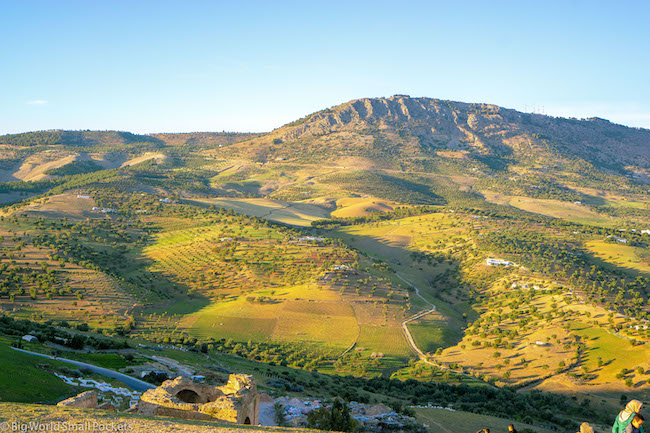 Second up on this list of how to travel from Marrakesh to Fez is the train option.
Providing a unique travel experience, with lots of flexibility and good value, the train is a very popular option for people looking to make this journey.
The route is direct and can be enjoyed as part of a day journey which will take around 7-8 hours depending on the service.
The Marrakesh train station was opened in 2008, so is a new, clean and comfortable station.
It's located much closer to the historic medina than the airport (it's essentially in the new town) and catching a taxi here should only cost you around $5 USD.
With 9 daily trains between Marrakesh and Fez, there are plenty of journeys to choose from.
The first one leaves at 5:40am in the morning and the last one at 5:40pm in the late afternoon. This one arrives into Fez just after midnight.
Prices start from around $20 USD.
I'd advise booking your train ticket in advance with via the website ONCF website.
I would also suggest you check this website to view the most up-to-date timetables, as this information is subject to change.
Failing that, you can book a ticket at the train station, or you can just turn up and try and wing it – although I only suggest doing this in the morning so you have a day full of options ahead of you!
First-class and second-class tickets are available, but due to the low prices of fares, many tourists opt for first-class services which offer a bit more comfort for only a few more dirham.
Both classes have air-conditioning, but second class is a little more crowded.
Also first class comes with the chance to reserve your seat, whereas as second-class seating is offered on a first-come-first-serve basis.
Between Marrakesh and Fez, the train stops at Casablanca, Rabat and Meknes, but long enough for you to get out, unfortunately – if you want to see any of these destinations you're better booking a ticket only as far as the one you want to stay at.
You can learn more about visiting Meknes, in particular, as part of the Fez travel tips at the end of this article.
The Fez train station is small, clean and easy to navigate.
Located only around 5km from the medina's famous blue gate, once you reach Fez, exit the train station and there should be taxis waiting to take you to the historic medina – where I suggest you stay.
Learn where I stayed in Fez, and what I recommend you do there, at the end of this article.
Trains are a great way to travel between Marrakesh and Fez because they offer great value, comfort, a reasonable journey time and a novel travel experience.
There's also a good number of services to choose from each day, which offers a high level of flexibility.
All in all, it's a winning option if you want to travel directly between these 2 cities.
#3 By Bus
And the third option when it comes to getting from Marrakesh to Fez is by bus.
There's several companies plying this route, but as always I recommend CTM and Supratours as the best ones to use.
For both these premium services, you can book using their websites and the journey takes around 7 hours
Some services run through Casablanca – or you can change there – which is another good option, especially if you want to check out this city too.
Alternatively, you can go to the respective CTM and Supratour depots to book your tickets – both these companies tend to have private stations in each city, meaning you don't have to navigate the crowds and chaos of the main bus stations.
Overall, CTM and Supratours provide a more peaceful and easy travel experience for not much more expense.
In Marrakesh, the Supratours station is located right near the train station, which makes it very easy if you have further onward connections by rail.
There's one direct bus per day with Supratours to Marrakesh, it leaves at 9:45 pm and is therefore a night bus – a great option if you miss the last train or want to save on accommodation costs!
In Fez, the Supratours bus station is also located near to the train station as they are owned by the same parent company.
Slightly further out, the CTM bus station is located in Fez's New Town – a 10-15 minute taxi ride from the old medina that should cost you around 15-20 MAD.
CTM buses leave fez for Marrakesh at 6:30m in the morning and at 8pm at night.
Again, the night service here makes a good option if you miss the last train or want to save on a night's accommodation!
Buses are the cheapest way to travel between Marrakesh and Fez and are therefore perfect for those on a real budget – especially if they allow you to save on the cost of a bed!
The drawback with buses is that direct services are infrequent, so unless you want to travel at night, I'd take the train.
#4 By Private Transfer
If you want to travel with a bit more comfort than public transport routes offer, then another way you can journey between Marrakesh and Fez is via private transfer.
Being a budget traveller, this is not an option I've used myself as the costs didn't offer good value for me.
However, if there's a group of you, this may be a viable option.
Check out this service which allows you to book a private transfer online, in advance, through a reputable operator.
#5 With a Tour
And finally, the last way on this list of how to get from Marrakesh to Fez is a bit different, but offers a great option for those looking to see and experience as much in Morocco as possible.
Not normally a fan of a tour (as you'll know if you read this blog regularly), this is however a great way to combine your journey from Marrakesh to Fez (or visa-versa) with a chance to see one of the country's top sights… and that is the Sahara desert!
Yes, using a desert tour which starts in one city and finishes in the other, is a great way to incorporate the costs and distance of the journey between the 2 cities into one handy package.
Heading to the Merzouga desert, as I did from Fez with a tour, also allows you to see the Middle Atlas Mountains on your way to the Sahara.
Once in the Sahara, you'll usually spend 1-2 nights in and around the sand dunes (including a night in a desert camp), before then carrying onto Marrakesh via Ouarzazate and the High Atlas Mountains, stopping along the way at places like Ait-Baha and Todra Gorge.
Tours also run in the other direction from Marrakesh to Fez and take in the same sights, but in reverse.
Most tours take 3-4 days.
You can also take a shorter excursion, by getting off the tour at any of the major stops after Merzouga and staying there to explore longer at your own pace – which is exactly what I did in the case of Todra Gorge.
Merzouga desert tours vary wildly in quality and price, so do make sure you know what you're getting yourself into, what you're paying and what your expectations should be.
You can learn more about all of this in my designated article about Morocco Desert tours, and how to ensure you pick the best one!
My Top 15 Quick Fez Travel Tips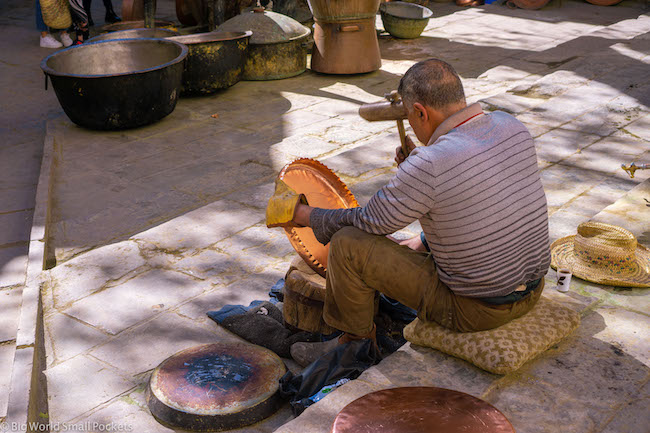 #1 When it comes to where to stay in Fez, for budget travellers I highly recommend Moroccan Dream Hostel. I stayed here and loved my time hanging out on the rooftop with other travellers and the manager Karim. The location is perfect and the price is spot on.
#2 Taking a guided tour in the Fez medina can be a great way to get your bearings in this crazy souk area to start with. This top-rated option offers great value and gets rave reviews.
#3 Ditch the google maps in Fez's medina and opt for maps.me instead – it's much better at helping you find your way through the narrow streets.
#4 Don't miss the tanneries, Seffarine Square, Parc Boujloud or sunset views from the Merenid Tombs when you are in this city – learn more in my article that lists all the best things to do in Fez.
#5 Try to avoid visiting Fez on a Friday – everything in the historic medina is shut on holy day.
#6 Fez is a great place to try a traditional Moroccan hammam or cooking class. There's plenty to choose from, so ask at your hotel for top recommendations.
#7 Travel insurance. World Nomads offers simple and flexible travel insurance. Buy at home or while travelling and claim online from anywhere in the world.
Alternatively, if you're a long-term traveller, digital nomad or frequent remote worker seeking travel health cover, check out Safetywing's Nomad Insurance policies.
#8 Consider heading off to see the Blue Pearl of Morocco – Chefchaouen – after your time in Fez. This top-rated day tour is a great option for those on a tight timeframe and gets brilliant reviews.
#9 Remember to dress appropriately in Fez's historic medina. Women I suggest wearing things that cover the chest, arms and extend below the knees. My combination of a black knee-length thin tunic, over Boody's breathable bamboo leggings, my black Arizona Birkenstocks and a thin travel scarf worked well.
#10 Tap water isn't drinkable in Fez, but save on the plastic usage and disposal by travelling to Morocco with a Lifestraw Go Water Filter Bottle – wouldn't be anywhere without mine now.
#11 While those working in the tourist industry in Fez are likely to speak English, many locals in the medina will not. Pick up either a French phrasebook or a Moroccan Arabic phrasebook and learn a few phrases – you'll be amazed at the reception this gets you!
#12 I travelled as a solo female in Fez and felt very safe. Women shouldn't fear wandering the medina alone – just use your common sense when doing this. Honestly getting lost at night is a bigger danger than anything else, but it's still not worth it, so always be sensible, especially after dark!
#13 The best tourist restaurants are near the Blue Gate in the medina – head here to eat a delicious 3 course, healthy Moroccan meal for next to nothing – vegetarians are catered for.
#14 You can see the best of Fez's UNESCO-listed medina in a day, so if you have another one to spend in this city, consider a day trip to the UNESCO-listed Roman ruins of Volubilis. Tying this in with a trip to the ancient city of Meknes and the holy town of Moulay Idriss, makes this well-rated day trip an excellent option.
#15 And finally, don't head to Fez without a good camera. One of the most authentic destinations in Morocco – where little has changed for hundreds of years – snapping the genuine cultural feels of this place is a must. I highly recommend the Sony A6000 mirrorless, which I have and I love! Small, compact and robust, it's the ideal camera for travel adventures in Africa.
PIN IT TO PINTEREST!
So there it is, how to travel from Marrakesh to Fez with 5 different options for you to consider.
Have you made this journey recently?
Which option did you go for?
If you have any updated info to add that might help other travellers out, then please drop it into the comments box below…
Thanks, Steph 🙂