If you planning on visiting Morocco, then it's likely that visiting the expansive sands of the Sahara desert is part of your trip plans… and so it should be!
After all, it's one of my top things to do in Morocco!
One of the shining jewels in this country's travel crown, a trip to the desert in Morocco is an amazingly unique adventure you're unlikely to forget.
Or at least it should be, if you're willing to take the time to ensure you get the experience you're looking for.
Because a bad time in the Morocco desert will certainly be something you want to forget!
And who wants this from a much-awaited bucket list experience?
Not a desert-lover like me, that's for sure!
I honestly wanted to gain as many details as I could, trying different routes and itineraries to bring you the full lowdown in this article, which is why I've been to the magical Sahara in this country twice!
And here's the result – my crucial tips and all the info you need for the best Morocco desert experience…
Oh and if you're looking for a tour company who offer imperial city and desert tours, starting from a range of cities including Marrakech, Casablanca, Fez and Tangier, look no further than To Morocco Travel. All their tours are full customisable and small group focused.
---
Related Posts
---
This page contains affiliate links meaning Big World Small Pockets may receive a small commission on any purchases at no extra cost to you.
---
Grab Your Copy of How to Travel Africa for Less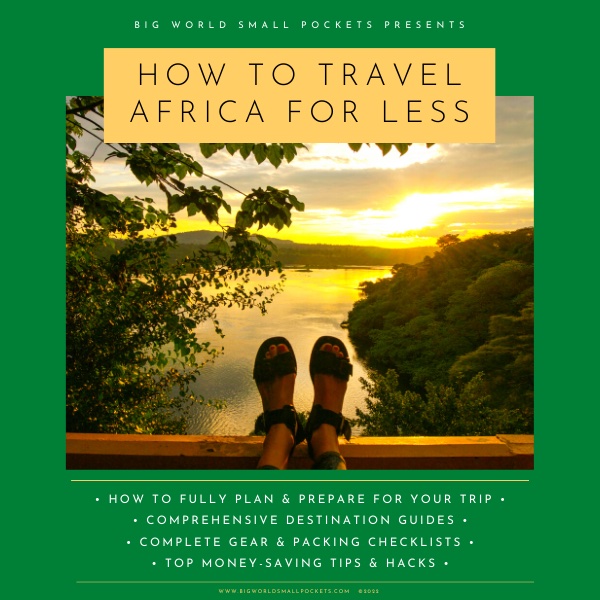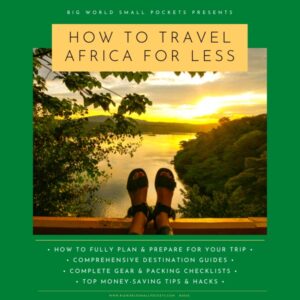 My ultimate guide to travelling Africa on a budget is now available, meaning you can finally get ALL my top tips for adventuring around all, or parts, of this amazing continent in one handy eBook, including…
Full Planning & Preparation Guides
Detailed Destination Info
Complete Packing & Gear Lists
Top Money-Saving Tips & Hacks
Where is the Desert in Morocco?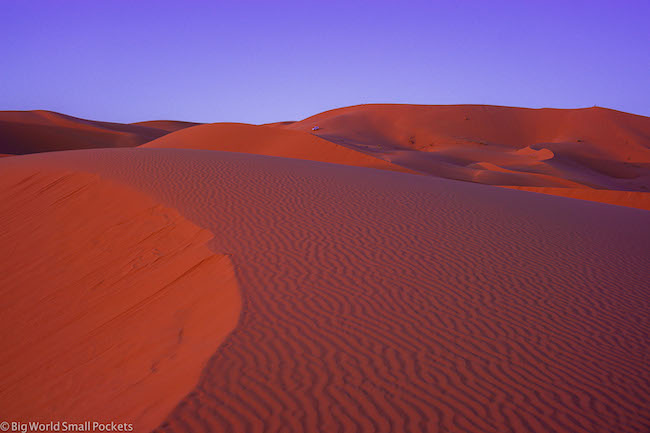 So the first thing you need to know when it comes to having the best Morocco desert experience, is which desert to visit.
And there's essentially 3 options to choose from.
#1 The stony desert surrounds of Marrakesh aren't really a desert, but are often used for desert day trips from this city and generally include a bit of driving and a camel ride.
#2 The less visited and more remote desert area around Zagora in Southern Morocco, which is home to Erg Chigaga. Trips to this desert are really only run from Marrakesh.
#3 The most popular and most iconic-looking desert dunes around Merzouga. Home to the Erg Chebbi dunes, trips to this desert operate from both Marrakesh and Fez.
Which Morocco Desert to Visit?
Deciding which Morocco to desert will be crucial to ensuring you have the best experience for your budget and timeframe.
#1 Desert Lands Around Marrakesh
If you're looking for a desert day trip, then the only option for you really is to visit the desert area around Marrakesh.
This is also the cheapest option, so if you're on a mega tight budget you may choose this anyway.
That said, you can get a public bus and go and spend a few days in the area around Ouarzazate for not much more and I recommend this just as much to be honest.
Learn more here.
#2 Zagora Desert
The second option to visit Zagora Desert is also an option for those looking to get to the desert from Marrakesh.
The journey here from this city is just 6-7 hours, which means this is the most common option for 2 day / 1 night desert trip due to the relatively short driving distances.
Far less visited than other desert areas, this is a great possibility for those looking to get off the beaten track, but due to fewer visitors, it's worth pointing out this is not the cheapest option.
This area is home to the wonderful Erg Chigaga dunes, however these are much further away.
Their gateway, at M'Hamid, is 3 hours from Zagora and the dunes are still a 56km offroad 4wd ride from there.
As such, if you head to Zagora for your Morocco desert experience and aren't paying big bucks for a super remote, private trip to Erg Chigaga, it's likely to be a stony desert you see, not those strikingly huge Sahara sands.
#3 Merzouga Desert
Lastly, we come to the Merzouga Desert, which is in the east of Morocco is home to the famous Erg Chebbi dunes.
This is the most popular desert area to visit in Morocco, so it has the most crowds, but also some of the best prices and can be accessed from both Marrakesh and Fez
Drive times from Marrakesh are longer, meaning at least a 3 day / 2 night tour will be necessary from this city.
From Fez, 3 Day / 2 Night tours are also available, as are 2 day / 1 night tours.
Equally, you can visit the Merzouga desert independently.
Overall, I'd suggest that for most people looking to get the best Morocco desert experience, they should head to the Merzouga.
This Morocco desert area provides the most options and the best value for money in my opinion, coupled with that quintessential desert landscape you desperately want to see.
And who can blame you!
So read on to learn more about my experience of visiting the Merzouga desert, both independently and as part of a tour, and my top tips following them…
How to Get to Merzouga Desert?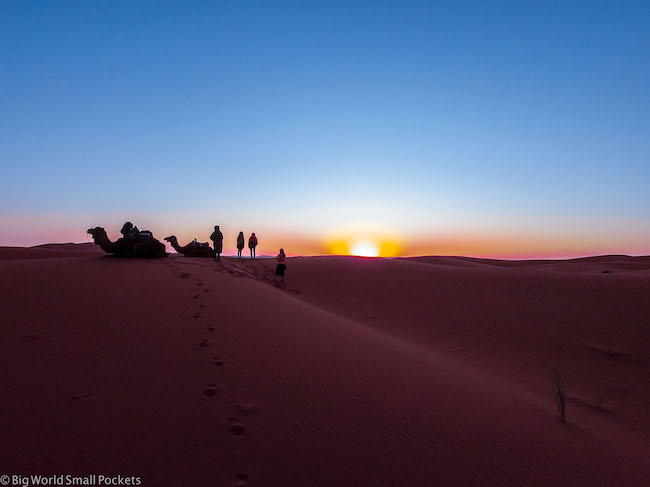 Merzouga is the access town for the desert in the east of Morocco.
It's incredibly close and the dunes rise from the town's doorstep, literally!
It is connected with a paved road and it has a good number of hotels, guesthouses, restaurants, cafes and shops tailored to the tourist business that drives it.
Getting to Merzouga with a Desert Tour
Let's start with the tour option when it comes to getting to the Merzouga desert, because this seems the easiest to go with.
Quite simply, if you book a desert tour to visit Merzouga from either Fez or Marrakesh your transport to the area will be included.
As should your journey back.
And at this point therefore, it seems worth pointing out that, brilliantly, you can start your tour from one of these cities and then finish it at the other.
What I mean by this is, that you can begin your tour in Marrakesh and finish it in Fez, or visa versa.
This is another reason why I recommend Merzouga as the best desert to visit in Morocco, especially when compared to the desert near Zagora.
Quite simply, being able to visit the Merzouga dunes easily as part of your Morocco itinerary – incorporating your transport between Fez and Marrakesh into this – equals all the wins in my book!
Check out this tour which begins in Fez and ends in Marrakesh as an example.
Getting to Merzouga Independently
If you want to travel to Merzouga independently, then you can either drive there or get a bus.
However it's worth pointing out you can't really visit the desert independently, so you'll then have to find a tour or guide from Merzouga.
This can go one of 2 ways in my experience.
Either you can score a bargain because you manage to get the last few spaces on a tour leaving shortly and you can haggle well
Or you end up paying more than you would normally because the operators know you're only in Merzouga to visit the desert and because you're not buying a bigger package with transport and multi-nights' accommodation included too.
Honestly, which side of the coin you manage to land in this price dilemma is largely down to chance… and your personal barter skills.
If you'd rather sure things up beforehand, you can book an overnight trip to a desert camp from Merzouga online.
Check out this best-selling option if you're keen.
Anyway, with that info out the way, it's now worth saying that for independent travellers there is a paved road all the way to Merzouga, which makes getting here fairly easy.
Just take the usual precautions you would when motoring in such a hot, dry and remote area, including carrying plenty of water to drink and for the radiator!
If you're getting public transport here, then you can't make it all the way to Merzouga and instead have to take a bus to Rissani.
I'd highly suggest heading to Rissani from Fez, as it's just too far to complete in one stretch from Marrakesh.
Buses from Fez to Rissani run overnight and, for travellers, I'd advise either CTM Buses or Surpatours – their overnight services are better and more secure and you can book tickets online via their respective websites.
This also saves having to go to their terminals to enquire about timetables and pay, which are both located in Fez's new town, far out of the historic Medina where you're likely to be staying.
At the time of writing, I know that the CTM bus leaves Fez daily at 9:30pm for Rissani-Errachidia.
From Rissani, you can then take public shared taxis the 1.5hrs to Merzouga.
Do be warned however, that touts may come on heavily in Rissani, trying to sell your tours, accommodation, or even saying the road to Merzouga isn't it open… it is!
Basically the paved road used to only extend to Rissani, so these guys got all the desert tourism.
But about 15 years ago, the bitumen got extended to Merzouga, meaning the Rissani crew lost all their business – hence why, when I passed through there, they were hustling super hard.
Up to you whether you then decide to take a tour from Rissani or try to get to Merzouga – it basically comes down again to luck and haggling ability, so it's impossible for me to predict where you'll get the best deal.
Use your instinct.
Independent Travel vs Morocco Desert Tours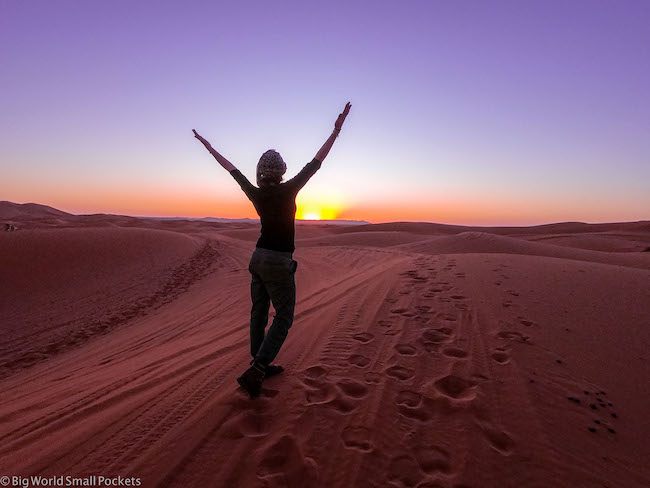 Having experienced both a Morocco desert tour and one independently arranged, I'm in a good position to compare the 2 options.
Independently doing it is more fun (aside from the hassle I got in Rissani) and potentially allows you to score a much cheaper deal.
However, it does take longer.
After the early morning arrival in Rissani, you'll have to get to Merzouga by finding and waiting for public transport – you should be there by lunchtime – and then finding somewhere to stay or someone to take a tour with either that evening or the following day.
This gives you more flexibility to move at your own pace i.e. you might want to spend the first night in Merzouga and head out to the desert camp the next night, but you will have to do more legwork comparing prices and finding info etc.
If you're really tight on budget however, then you don't even have to stay in a desert camp and potentially can save quite a lot of money by bedding down in Merzouga and simply booking either a sunset or sunrise camel ride on the dunes only.
In this way, an independent version could work out cheaper and more relaxed.
However, if you're short on time, not confident with haggling, or perhaps haven't travelled much in North Africa, then a tour might be a better option for you.
With everything included and guaranteed (get what you were offered in writing always) you'll know exactly what you're paying for and won't have to do any of the legwork with trying to piece the different elements of the adventure together.
Basically it's an easier, quicker experience and may not work out that much more expensive depending on how long you are going for etc.
Sahara Desert Tours: The Basics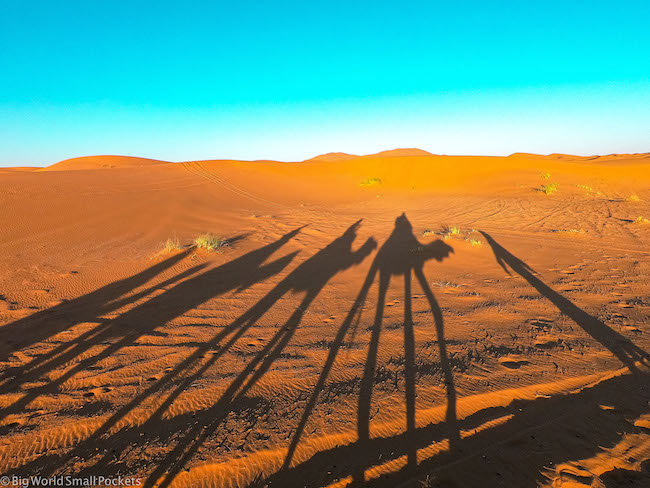 Tour Durations and Structures
So the first thing to know when it comes to your Sahara Desert tour in Morocco is about duration and tour structure.
In general, the tours from Marrakesh last 4 Days / 3 Nights, although they can be up to 5 days or as short as 3.
Get more details in the specific section about Marrakesh tours below.
Desert tours from Fez generally last 3 Days / 2 Nights, but it is also possible to arrange a 2 Day / 1 Night trip if you're on a really tight schedule or trying to save costs.
Learn more in the specific section about Fez desert tours further on in this post.
As I've said above, it's also worth knowing that tours which start from Marrakesh can be arranged so they drop you off in Fez at the end, and visa-versa.
Accommodation
Generally, the tours all involve 1 night in a desert camp in the dunes outside of Merzouga.
The other nights are all accommodated in hotels / guesthouses within Merzouga, on in towns on the way there.
With most people spending 1 night in a desert camp and 1 night in Merzouga, all other nights on the tour will be spent in locations enroute to or from this town, most likely around Ouarzazate if you're travelling from Marrakesh or in the Ziz Gorge / Middle Atlas area if you're travelling from Fez.
Food & Water
2 meals a day tend to be included in all tours and are usually taken at the accommodation where you're staying.
Lunch, any snacks and all drinks therefore need to be paid as extras.
To save money and plastic when it comes to drinking water, I highly recommend investing in a LifeStraw Go Water Filter Bottle.
I love mine and used it throughout my time in Morocco to filter water from the tap making it potable and safe to drink.
I'm a vegetarian and while I could be catered for, I made sure to specify this and remind guides during the tour too – make sure you do the same!
Camel Rides & Luggage
To get to your desert camp in the dunes around Merzouga you'll likely ride on the back of a camel to get there and back, or to watch sunrise or sunset.
I'll talk more about camel rides below, but right now, I want to let you know that if you're riding a camel to your desert camp, you'll only be able to take 1 small bag with you.
Therefore, when you arrive in Merzouga, make sure you have a small daypack with everything you'll need for a night in the desert already packed – including suitable clothes and a few toiletries, plus any camera equipment.
Prices and Tiers
Basically, there are 3 tiers of tour – luxury, mid-range and budget – which pretty much do what you'd expect in terms of numbers in the group and level of accommodation.
Budget can be a pretty grim affair with lots of people crammed into a minibus and shared tents in the desert and basic dorm-like accommodation in other locations.
Mid-range generally involves groups of around 6-8 people and while shared bathroom facilities may feature, private bedrooms are offered.
Luxury generally denotes private or small group tours in smaller vehicles with accommodation in glamping desert camps and high-quality hotels elsewhere.
I'll talk more about what you should pay for the types of tours below, but regardless, you need to be very clear about what your tour includes and doesn't include, what the level of accommodation and food will be, how many in your group and the stops you'll enjoy along the way.
In general tours from Marrakesh seems to be a little cheaper than those from Fez, possibly due to competition.
Booking
You can either book Moroccan desert tours when you are in the country or before your arrival.
In all honestly, prices are likely to be cheaper once you are in the country, but the quality won't be as good.
Operators selling tours online require good customers reviews to market their products and you have in writing with them what you are paying for.
This makes them far more likely to deliver high quality and what has been promised.
Check out this well-priced Merzouga Desert Tour for some ideas.
In reverse, touts on the street and local agents are less likely to care about your experience and feedback, they simply want to get the best margin.
Even if you book what is described as a midrange tour with street or hostel agents (like I did) you're likely to end up with something way more budget and who can you feedback to?
No one!

Marrakesh Desert Tours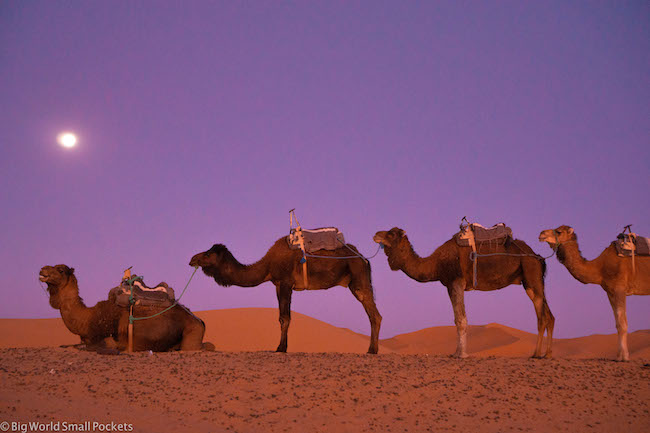 Marrakesh desert tours to Merzouga generally last 4 days and run as follows:
Day 1 – Drive from Marrakesh and visit Ouarzazate and the film set location at Aït Benhaddou. Continue on and visit Todra Gorge, stay the night near Tinghir
Day 2 – Drive to Merzouga. Arrive around 3-4pm. Take a camel ride into the desert around 5pm for sunset. Spend the night at a desert camp.
Day 3 – Sunrise camel ride back to Merzouga from camp at 6:30am. Breakfast in Merzouga at 8am. Enjoy day in Merzouga and night at accommodation there.
Day 4 – Travel back to Marrakesh or onto Fez from around 9am, arriving in the evening.
For this sort of tour you're looking at a cost of around $200 – $300 USD per person for a midrange to budget tour.
3 day tours, which drive you straight back to Marrakesh or onto Fez around 9am after breakfast on day 3 are also common, costing slightly less.
Fez Desert Tours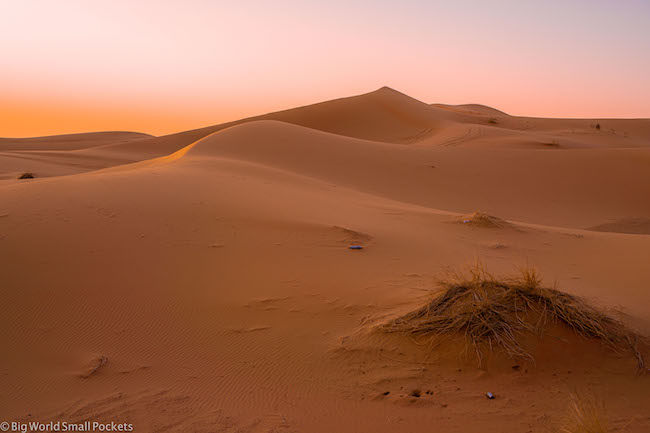 Fez desert tours to Merzouga generally last 3 days and follow the below schedule:
Day 1 – Drive from Fez through the Middle Atlas and the Ziz Gorge enroute to the desert, making a few lookout and viewpoint stops. Arrive in Merzouga around 4pm and spend the night here.
Day 2 – Spend the day in Merzouga and surrounds, before taking a camel ride into the desert in the late afternoon. Enjoy sunset and the night at a desert camp.
Day 3 – Sunrise camel ride back to Merzouga from camp at 6:30am. Breakfast in Merzouga at 7:30am. Travel back to Fez or onto Marrakesh around 9am.
For this sort of tour you're looking at a cost of around $150 – $230 USD per person for a budget to midrange option.
2 day tours, which send you straight out to the desert camp on arrival in Merzouga on day 1, and then drive you back to Fez or onto Marrakesh on day 2 are also possible.
This is a very tight schedule as you'll get to Merzouga around 4pm and then leave on the camel around 5pm.
In the morning you'll return from the desert at 8am and be off to either Fez or Marrakesh around 9am.
However, if you're on a tight timeframe it can be perfect.
Personally, this was the trip I made, when I arranged for the tour to drop me off in Tinghir enroute to Morocco, instead of taking me back to Fez.
This worked out so well, as I was delighted to spend my second night in an authentic village, just north of Tinghir, rather than Merzouga
Check out this well-rated Fez desert tour if you're looking to do something similar.
Desert Tour Company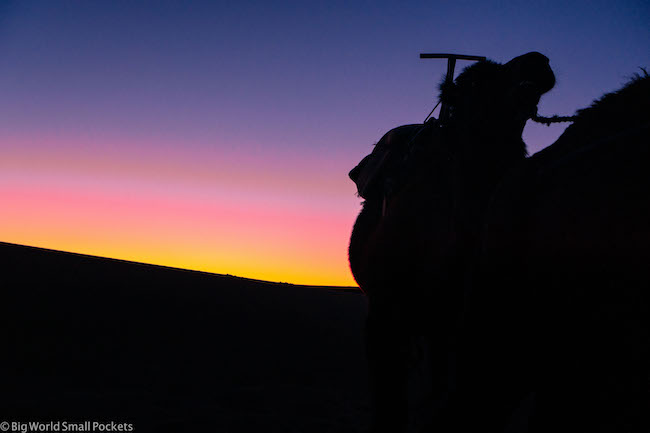 If you book on the street or via an agency on Marrakesh, it's unlikely you'll ever get to find out the name of the tour company you visited the desert with.
Again, booking online helps you ensure that you do and that you can read other travellers' feedback and leave your own too.
Click the links with recommended tours throughout this article to learn more.
Warning about Camel Rides!
The one thing you do tend to get with a more luxury tour is a 4wd lift to the desert camp and / or back.
While this might not sound as fun as a camel ride across the dunes, once you've been on a camel for around 20 minutes, you'll likely long for a 4wd.
And I say this being someone whose pretty fit and active and loves outdoorsy stuff.
Camels are uncomfortable, so if you suffer from backache or hip problems think carefully about how much camel riding you want.
Likely a short 15 minute sunset or sunrise dune stroll will do it.
If you're pregnant, it's a no-no, so use a 4wd vehicle to get to and from Merzouga.
As discussed if you're travelling to your camp by camel, then you can only take 1 small daypack, which includes adequate water.
I advise having this ready before your desert trip begins.
Other luggage can be left at your accommodation in Merzouga when the camel rides departs from and arrive back to the following morning.
Morocco Desert Camps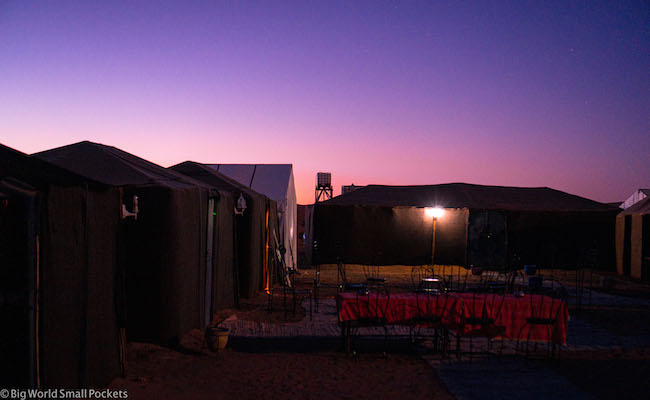 The night in a desert camp forms the backbone of most Morocco desert tours, so make sure yours includes one if you're keen on this.
(Other options include just heading to the dunes for sunrise or sunset before returning to Merzouga).
Midrange and budget tours normally involve large tents – which are either shared or private – with a shared bathroom.
There's also a large communal tent where you will eat dinner and an outside area with a fire pit for stargazing.
Camps generally involve around 10-15 tents, which can each sleep between 2 and 5 people.
Desert camps are basic, but those in the midrange category at least have running water and electricity.
Obvs no phone signal or wifi though.
There's also no drinking water, so take plenty. I recommend at least 1x 1litre per person for the night.
You'll also need a small bag for clothes / nightwear and a toothbrush etc.
As it's quite basic, most people will be happy with just 1 night in the desert camp.
You'll then spend the night after (or possibly before) at a hotel in Merzouga, where facilities will be a lot more comfortable.
The one I experienced was called Dar Tafouyte.
It had a pool and lovely, clean rooms with wifi.
Without a tour, a night here costs about 35 euros.
Dar Tafouyte was the perfect place to chill after a big day's driving from Fez followed by camel ride and night in the desert.
If you're looking to keep your tour short however, then night in Merzouga is likely to be the part you skip out, which is only really a shame if you want to chill peacefully on the edge of the desert a bit more… no bad thing!
That said, there's lots of lovely chill places elsewhere in Morocco to do this, like the place I headed after my tour – Todra Gorge.

Top Travel Tips for Morocco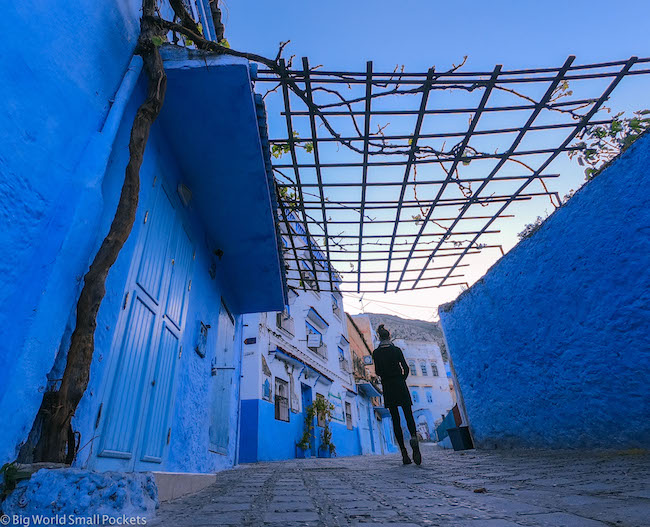 Best Time to Visit Morocco?
The spring and autumn months are the best times to visit Morocco.
With a largely south Mediterranean climate, traveling to this country in either April, May, September or October will allow you to enjoy a pleasant climate perfect for outdoor activities, sightseeing and hitting the beach.
How to Get There?
Flights to the country's main international airport, Casablanca, arrive from cities across Europe and beyond.
You can also fly to Tangier and Marrakesh easily.
As always, I use Skyscanner to find the best flight deals.
Alternatively, you can catch the ferry from Spain to Morocco.
How to Get Around?
Trains, domestic flights and buses all allow you get around Morocco.
Here's guides I wrote about making some of the most popular tourist journeys
If you want to visit off the beaten track spots, hiring a car is really the best way to travel the county.
Check out these great Morocco rental car deals.
Top Morocco Tours
If you'd rather not travel Morocco independently, then check out these top Morocco tours that will get you around the country with the safety of a group and a guide.
Safety Tips for Your Morocco Itinerary
As a solo female traveller, safety when travelling alone (especially in remote areas) is also big on my radar.
Although I have heard and read reports about female travellers being harassed in Morocco, I haven't experienced any of that myself and can only say that I felt incredibly safe here the whole time.
That said, there's a lot of common sense involved in safety too.
My advice is to stick with other travellers, don't wander out alone at night and always be clear about your boundaries in all situations.
You'll also want to ensure you drink enough water in Morocco's hot and dry climate as dehydration is probably one of the biggest dangers here.
Travelling with a LifeStraw Go Water Bottle, which you can use to purify water from any fresh water source, is a top option to help you do this.
I bought one for my trip to Morocco – as it then allowed me to drink the tap water safely – and now wouldn't be anywhere without it!
Sun protection is another thing to factor in for this country and packing clothes (like a cap or hat) and lotion that will protect you from the strong UV rays is definitely recommended.
You'll also want to make sure you pack plenty of warm clothes for the desert – it gets freezing here at night – including a good coat and a hat is a must, we can't have you catching a cold now!

Travel Insurance for Morocco
World Nomads offers simple and flexible travel insurance. Buy at home or while travelling and claim online from anywhere in the world.
Alternatively, if you're a long-term traveller, digital nomad or frequent remote worker seeking travel health cover, check out Safetywing's Nomad Insurance policies.
Travel Money for Morocco
When it comes to paying for things in Morocco, you want to ensure you're not being charged overseas transaction fees or getting poor exchange rates when using your card abroad, which is why I always take my Wise card away with me wherever I travel.
The easy way to spend abroad with real exchange rates, no markups and no sneaky transaction fees, you can use your Wise card just like a debit card here… and it links easily with Google and Apple pay – sold! Grab yours here.
Top 7 Things To Pack for Morocco
Here's my top 7 recommended packing items for Morocco or take a look at this full Morocco packing list I wrote.
PIN IT TO PINTEREST!
Well, that turned into a marathon post!
But I hope I've given you all the information you need to know to ensure your visit to the Morocco desert is the best experience possible.
Let me know, in the comments below, if you have any further questions, otherwise enjoy your trip to the Sahara!