If you're looking to travel in a more eco-friendly way, or a more adventurous way, then catching the ferry from Spain to Morocco is a great way to start!
Connecting the link between 2 continents in an easy and accessible way, this is where the excitement of an overland adventure can really kick in – as you venture from what it is likely a more familiar continent to a far less familiar one, care a thrilling boat ride.
After all, I should know.
Yes, from Spain to Morocco by boat is a journey I've made twice now and this, the third instalment of my 2020 overland adventure, shows exactly how I did it on the most recent occasion, giving tons of practical details so you can follow suit AND know what to expect… which is more than me!
It also details the 11 other possible boat routes between these 2 countries you can enjoy, and I pay special attention to the ones that are the most popular, useful, fastest and cost-effective for travellers.
If you weren't already in the know, then 2020 is the year I've decided not to fly and this post continues tracking my journey from the UK to Northern Africa overland, showing you exactly how I made the final stretch of this journey on what has been the 1st leg of my 12 month adventure.
I hope you find it helpful 🙂
---
Related Posts
---
This page contains affiliate links meaning Big World Small Pockets may receive a small commission on any purchases at no extra cost to you.
My bus journey to Spain was sponsored by Flixbus and my ferry from Spain to Morocco was sponsored by FerryHopper but, as always, all views are my own.
---
Grab Your Copy of How to Travel Africa for Less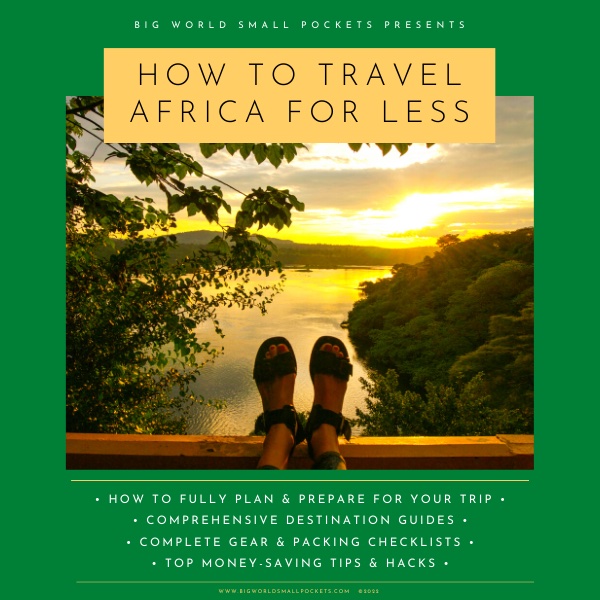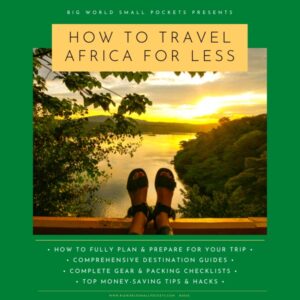 My ultimate guide to travelling Africa on a budget is now available, meaning you can finally get ALL my top tips for adventuring around all, or parts, of this amazing continent in one handy eBook, including…
Full Planning & Preparation Guides
Detailed Destination Info
Complete Packing & Gear Lists
Top Money-Saving Tips & Hacks
Which Route to Take on a Ferry from Spain to Morocco?
So the most important thing to know when it comes to getting the ferry from Spain to Morocco is that there many different routes to choose from.
And by that I mean several different departure ports in Spain you can leave from and several different arrival ports in Morocco you can enter the country through.
Choosing which route therefore will depend on several factors including:
Where in Spain you are based / travelling or can access easily
Where in Morocco you want to begin your adventures / travel to
Your Budget
Your Timeframe
How Well You Travel at Sea
Whether You Have a Vehicle With You
Below is a complete list of all the ferry services between Spain and Morocco, so you can start getting ideas of where they leave from and arrive into.
It's worth noting these ferries also travel in the opposite direction – from Morocco back to Spain as well – so if you're planning on leaving the country via a sea crossing too, you can use the same info!
My first piece of advice would be to google the various Spanish ports – which I've named first in the following list – and see which fits with your travel itinerary best.
Next, I'd consider the possibilities for the Morocco arrival ports from the Spanish option you've selected. Google them too and see which fits best with your travel plan.
Finally, once you have an option with a departure and arrival point, check both the duration and price of your trip, as well as the potentials for vehicles / cabins etc and ensure these fit with what you're looking for.
You can do this, by checking out FerryHopper, my go-to site for booking ferries from Spain to Morocco, or checking out the information below, which gives details about the most popular routes.
And don't forget, one of the best things about travelling from Spain to Morocco by ferry… there's no luggage weight restrictions!
That's one less thing to worry about at least!
Complete List of Spain to Morocco Ferries
#1 Barcelona to Tangier Med
#2 Barcelona to Nador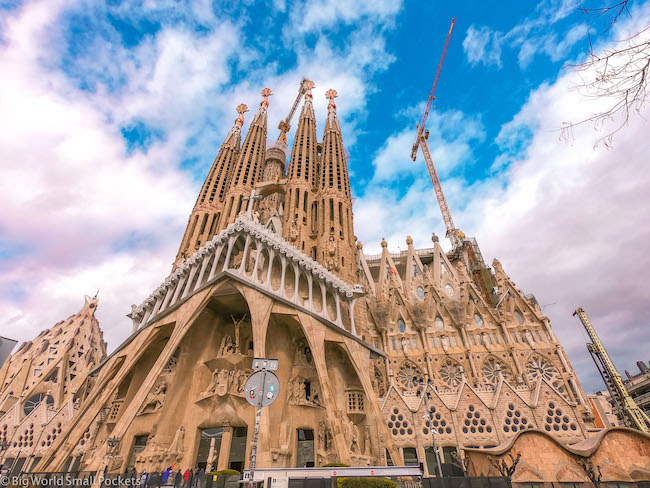 Barcelona is a popular tourist city in the Catalonian district of Spain in the northeast of the country.
This is a great departure port if you also want to tie in a visit to this wonderful city.
However, ferries to Tangier Med and Nador from Barcelona take much longer than those from the south of Spain because the distance is much greater.
It's also worth noting Tangier Med is an hour's drive away from the city of Tangier itself, so do bear this in mind.
Barcelona to Tangier Med is the route I took on my latest Spain to Morocco ferry crossing, so get all the info on this wild ride later on in this article!
#3 Algeciras to Tangier Med
#4 Algeciras to Ceuta
Algeciras is a port in the South of Spain.
It's not the most attractive city as it's a highly industrial place, so not somewhere you necessarily want to visit or hang around in.
That said, it is fairly easy to access and offers some of the quickest crossings to North Africa, which makes it a popular choice.
Sailings from this part of Spain to Tangier Med only take around 2 hours and to Ceuta it's even less at around 1 hour.
Tangier Med is 40km from Tangier however, so you'll need to catch a taxi to this city from the port, which does hike up the time and price slightly however.
Alternatively, Ceuta is a Spanish enclave in North Africa.
If you travel here, you will cross customs when you leave Ceuta and enter Moroccan territory.
This can make it a gentler entry if it's perhaps your first time in this part of the world.
#5 Tarifa to Tangier Ville
#6 Gibraltar to Tangier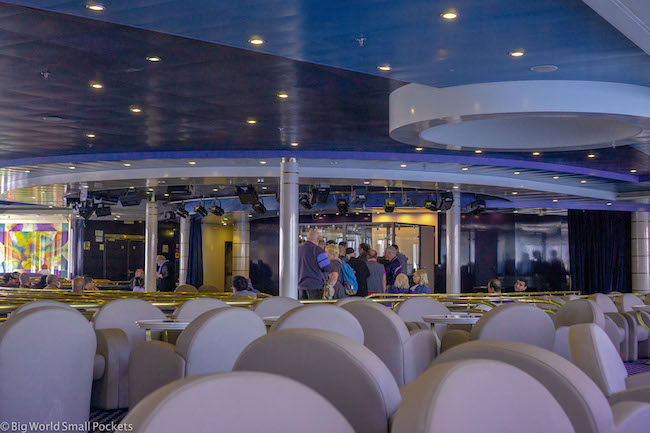 The shortest crossing from Spain to Morocco by ferry is between either Tarifa and Tangier or Gibraltar and Tangier.
Both crossings take under 1 hour (incredible right!) and are open to both foot and car passengers.
The Tarifa service is operated by 2 ferry companies that leave from this lovely Spanish Medieval town famous for its white sandy beaches as well as windsurfing and kitesurfing possibilities.
Gibraltar is a tiny British self-governing overseas territory linked to Spain by a small isthmus.
It's well connected by road and bus, but you'll have to pass a border to enter here and then again for Morocco.
Both these crossings make good day-trip or short-stay options due to their speed and price
#7 Almeria to Nador
#8 Almeria to Melilla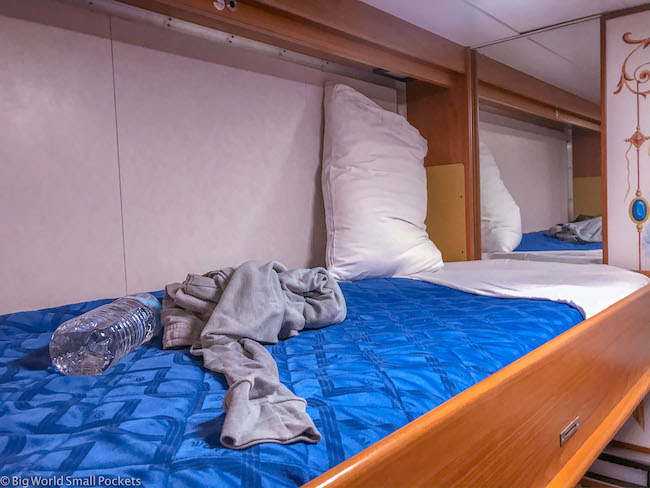 Almeria is another port in the south of Spain and, being slightly further to the east of many of the others on this list, is in the region of Andalusia.
This region is growing in popularity as a tourist destination, but is still quieter than other southern regions in the country, which can make it a nice choice for those venturing off the beaten track.
Ferries from Almeria in Spain run both to Nador, on the northeast coast of Morocco, or nearby Melilla, which is an area around 16km north of Nador.
Like Ceuta, Melilla is a Spanish enclave in North Africa, rather than Moroccan territory, which means you won't pass immigration control until you leave it.
#9 Motril to Nador
#10 Motril to Al Hoceima
#11 Motril to Tangier Med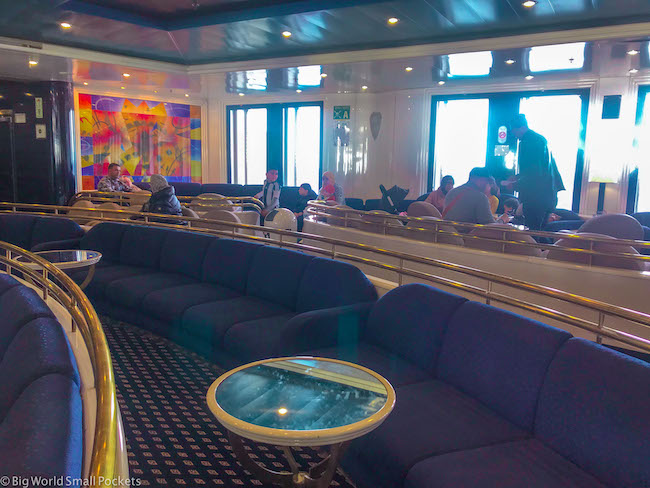 Motril is the name of a Spanish port also in the southeast of that country, although it is some 120km north of Almeria.
The closest departure point to the tourist favourite of Granada, Motril ferries to Morocco are a great option for those wanting to explore this famous Spanish city before hopping across to North Africa.
Sailings take between 4 hours (to Nador) and 9 hours (to Tangier Med), but this is the only route that arrives into Al Hoceima – a wonderful place between Tangier and Nador that boasts a great beach and lovely national park for hiking.
If you are looking to get off the beaten track in Morocco, this is certainly a top option.
#12 Malaga to Melilla
And finally, the last one on this list of ferries from Spain to Morocco is the route that runs from Malaga to Melilla.
Operated by 2 companies, this 6 hour crossing has 13 services a week and is a great choice for those who want to enter Spanish territory in North Africa and then cross into Morocco.
If you're based in or near Malaga, this is a quick and easy service that makes sense for those travelling with a vehicle mostly, as Melilla is a bit cut off by public transport.
Most Popular Spain to Morocco Ferry Routes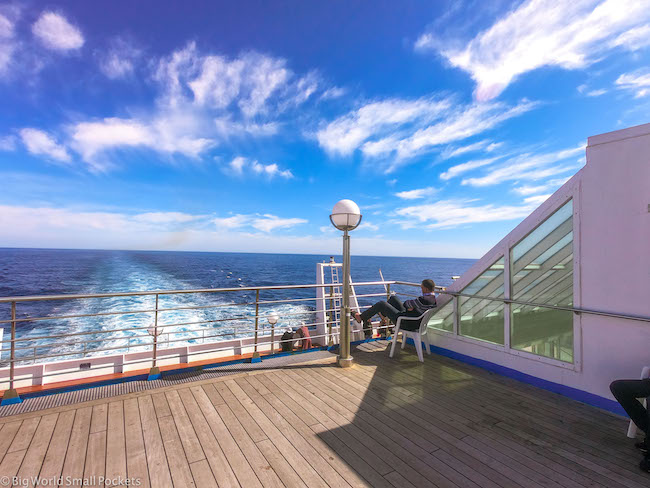 The most popular routes for travellers when it comes to the ferry from Spain to Morocco are:
Algeciras to Tangier Med
The reason this route is so popular is is that both these crossings are short in duration, well-priced and easy to make.
There's a lot of information about them online and the port of Algeciras, on the Spanish side, is easy to access.
In addition, Tangier Med makes a good arrival point for visiting the popular tourist destinations of the ancient city of Tangier, the beautiful Rif Mountains and the UNESCO-listed town of Chefchaouen.
The Algeciras ferry route to Tangier Med is operated by 5 ferry companies, with an average of 28 sailings a day to choose from.
Companies that operate this route include Balearia, Trasmediterranea, FRS, Inter Shipping & AML.
The faster ferries (Inter Shipping, AML and FRS) take around 1.5 hours to make the crossing, with Balearia and Trasmediterranea ferries taking slightly longer at 2.5 hours.
Both foot passengers and those with vehicles can make this crossing, with prices that starting from around 20 euros per person.
This makes it one of the best-priced options when it comes to getting from Spain to Morocco by ferry.
Just remember this service arrives at Tangier Med, from where you'll have to take a taxi to the nearest cities of Tangier or Tétouan.
If you're arriving late at night, this might not be ideal as the journey is around 1 hour to both and check-in at your accommodation might not be open if you arrive after midnight.
Book your Algeciras to Tangier Med journey here.
Algeciras to Ceuta
The ferry crossing from Algeciras to Ceuta is operated by 3 companies, both of which take roughly 1 hour.
The prices for the FRS, Trasmediterranea and Balearia sailings are roughly 35 euros for a foot passenger, but you can take a vehicle too.
The advantages to this crossing are the speed – it's definitely one of the fastest routes – and the fact that you arrive into Spanish territory, which may help nervous travellers.
You only cross into Morocco on leaving Cueta and therefore can technically remain within Spain if you wish too – although you'll pay Spanish rates, in euros, for any accommodation and food you buy here.
Tarifa to Tangier Ville
But by far the most popular ferry route for tourists looking to cross from Spain to Morocco is the ride from Tarifa to Tangier Ville.
Not only is this a super-fast and affordable link, but it also takes you into the heart of Tangier, meaning you don't have to mess around with long taxi rides from Tangier Med after your arrival, but instead can enjoy just a quick ride to reach the centre of this historic city.
Equally, Tarifa is a wonderful place in Spain to visit, which means you really do get the best of both worlds.
There's 12 crossings a day on this route, so many options to choose from that take between 1-2 hours and prices are very reasonable.
My Experience from Barcelona to Tangier Med
While all the above 3 routes are great options for travellers, I opted for a different ferry from Spain to Morocco myself.
Of course I did!
The route I took was from Barcelona to Tangier Med.
This was operated by GNV (an Italian ferry company) as part of a service that runs twice a week connecting one of Spain's most beautiful and famous cities with the north of Morocco.
The crossing takes 28 hours, which is one of the longest sailings between the 2 countries, but if you're coming from France, like I was, this option can be quicker overall.
What I mean by this is that I could travel overnight to Barcelona from Paris (care of a brilliantly affordable and efficient bus service from Flixbus) and then take a day-long boat straight to Morocco, as opposed to taking a much longer bus or train journey (including some changes) from Paris to the south of Spain and then a shorter boat ride from there.
The other added bonus to choosing this ferry route was that I could stop in Barcelona and explore this city enroute.
Having not visited this gorgeous destination in a while, this seemed like a great add-in option, so check out this post I wrote about visiting Barcelona on a budget if you're heading this way too.
My Flixbus from Paris to Barcelona overnight was a superbly economical way to get between these 2 cities and I then enjoyed a wonderful day strolling around Barcelona, before boarding my ferry to Morocco in the evening.
How chill!
If this sound appealing to you as well, and you're coming from the French capital too, then learn how to visit Paris on a budget here.
The GNV ferry I took then left from Barcelona's main port, which I could easily get to, care of a bus from the city centre, for around 2 euros.
I had to go this port earlier in the day to collect my paper ticket (after booking online with FerryHopper) and was able to suss out where exactly the GNV departures left from and what facilities there were at that time.
Toilets were available, as well as a few chairs, but outside of that, the port was really just a waiting room for the foot passengers – those travelling with cars could wait in their vehicles.
As such, I don't recommend getting to this ferry port too earlier (an hour before departure as a foot passenger should be fine) and instead suggest you go check out Barcelona.
After all, La Rambla is just a short walk away!
That is unless you need to go and collect your paper ticket for the crossing, following your online reservation, like I had to. In that case, go to the port, collect your ticket and then head out to explore Barcelona.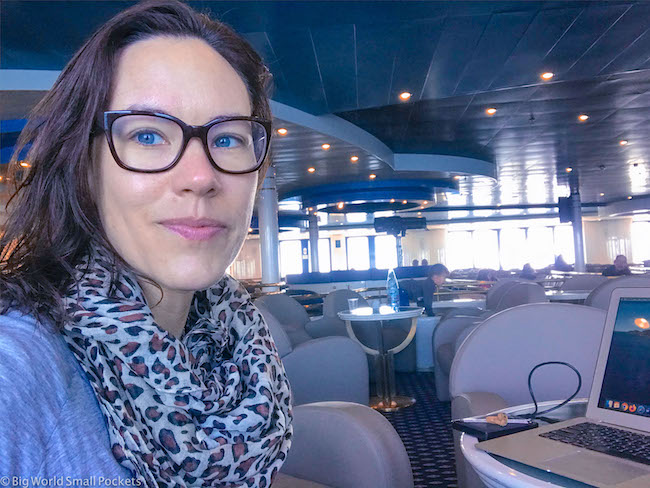 The one thing I would advise for this ferry journey however is to take a cabin.
As a long journey, you certainly won't regret spending that little bit more money to be comfortable and get some sleep.
This is especially true because the GNV ferry leaves Barcelona in the evening (about 6:30pm), so hopping onboard and into your bed for the night is the perfect way to get this sailing off to a good start.
Cabin rooms are separated by gender (if you book a shared one – privates are available too fyi) and comprise of 4 beds (2 fold-down ones above) and an ensuite bathroom with a shower.
There's not much room for luggage, but if you're only travelling with a backpack you should be able to tuck this under your bed or into one of the wardrobes.
I'd also pack some food and water with you, because while there are facilities onboard, the quality is poor and the prices inflated.
The ferry I caught looked like it was an old cruise chip, so there were hundreds of cabins, complete with several restaurants and lounges / sitting areas.
It was actually pretty comfortable and clean (if not a little tired looking) and definitely exceeded my expectations.
You can go out on deck or enjoy some time in the bar too, so nice!
Outside of that, make sure you bring some entertainment with you on this journey – be it downloaded podcasts, Netflix, audiobooks (I love Amazon Audible) or card games.
I felt very safe on the boat, especially as there were other solo female travellers and lots of families onboard.
Announcements were all made in English, French, Italian and Arabic, so the only thing I was missing was wifi!
The crossing was also pretty smooth, apart from when we first left Barcelona, but it's worth pointing out at this point that the length of your crossing will depend on the state of the sea and the weather.
As it was, we didn't end up leaving Barcelona until midnight due to high winds, which meant instead of getting into Tangier Med as scheduled, which actually arrived at 2am!
So, if there's one piece of advice I can give you about getting this ferry service, it's be prepared to go with the flow and don't have tours or expensive hotels etc booked for the next day, because you might not make it in time!
Yes, no question that when taking this service you need to factor in some flexibility.
To add insult to injury, Tangier Med is not the sort of port you want to arrive into in the middle of the night, especially if you are travelling alone, don't speak Arabic and your hotel in Tangier closes at midnight, as mine did!
Thankfully, my Spanish had allowed me to connect with a fellow female cabinmate on the ship, who was born from Morocco, but now lives in Spain.
This amazing woman thankfully took me under her wing at this early hour in the morning and so it was on arrival in Tangier Med – having already missed the opportunity to check-in for the hotel booking I made in Tangier – that I took a taxi with her to her home in Tétouan, where she let me stay the night for free!
I honestly think this woman was my guardian angel, as I would have been screwed without her, and I can never repay her kindness, which saved me in the early hours of that morning.
It was the perfect introduction to Moroccan hospitality.
If you're not as lucky as me in this instance however, then my tips would be to have some Moroccan Dirham and euros with you already so you can pay for a taxi immediately on leaving the port and to have an accommodation reservation in Tangier with 24 hour reception, so you are able to still check-in no matter what time you arrive.
Probably a good idea to forewarn the accommodation of this too.
Taxis line up just outside of the port gate in Tangier Med, so follow your way through the terminal, pass security, go down into the car park and then find the taxis that are waiting just are outside the port gate.
Get ready to haggle and watch your bags. Taxis to Tangier should cost around 30-40 euros.
In advance, I'd also advise having my accommodation "favourited" on google maps on my phone, or on a downloaded version of maps.me, so you can show the taxi driver exactly where to go if your Arabic isn't up to scratch.
The other thing to note when departing from the ferry is that you'll be instructed to get out of your cabin around 2 hours before docking so staff can clean them and get ready for the next set of passengers.
Having already had a shower and got your stuff packed in advance, say by around 9pm on the day of arrival, is therefore a good idea.
You then have to sit in the communal areas until the ferry docks, which for us was around 1am.
On leaving the ferry as a foot passenger, a shuttle bus will then take to you the terminal from the ship, and it's then around a 5-10 minute walk to the taxi queue (it's a big terminal!)
And finally, the last thing to note for all passengers, is that Moroccan immigration sail on the ferry.
This means, in the morning after leaving Barcelona, you must proceed to the main sitting / lounge area on the ship with your passport to receive your entry stamp to Morocco.
This is essential, as you will not pass immigration on arrival in Tangier Med and if you leave the boat without getting stamped in, will find yourself in Morocco illegally.
There's 2 queues at the immigration point on the boat – one for passports (aka all passengers) and the other for vehicles. Foot passengers need only go through the first one.
So the great things about this ferry ride were:
Chance to explore Barcelona
Didn't have to travel all the way to the south of Spain for a ferry
Comfortable, clean + safe
Well-priced, under 90 euros with a cabin
The cons were:
Strong possibility of delay
Arrive into Tangier Med – 1 hour from Tangier by taxi (adding expense and time)
Likely to arrive in the middle of the night
How to Book Ferry Tickets?
The way I advise booking your boat ride from Spain to Morocco, or indeed the reverse, is care of a great website I recently discovered called FerryHopper.
I love this site because it lists many different ferry rides across the Mediterranean making it easy for you to compare them based on price, duration, route, facilities and more.
This is a godsend for those attempting a non-fly year like me!
As you have seen, there's many different ferry routes that travel from Spain to Morocco, so being able to compare them all in one place is super handy.
I also love FerryHopper because it's great for budget travellers – tickets at the lowest prices, with no hidden fees or extra costs – and it goes without saying that boat travel is great for those trying to travel in a more eco-friendly way too.
What to Pack & Prepare?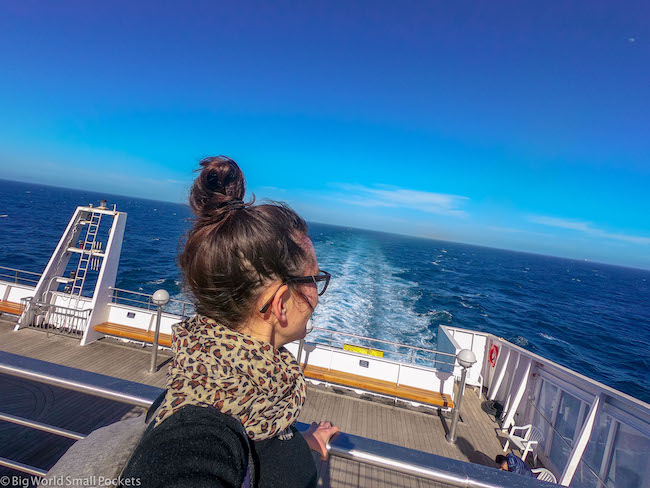 When it comes to taking the ferry from Spain to Morocco there's a few things I'd suggest preparing…
#1 Transport to Port – First up, you need to arrange how you will get to the ferry port. If you're not travelling with your own car, I highly suggest checking out Flixbus who offer brilliant-priced journeys across Europe.
#2 Ferry Ticket – I'd definitely advise booking your ferry ticket in advance and highly suggest FerryHopper for this job. See why above.
#3 Travel Insurance – World Nomads offers simple and flexible travel insurance. Buy at home or while travelling and claim online from anywhere in the world.
Alternatively, if you're a long-term traveller, digital nomad or frequent remote worker seeking travel health cover, check out Safetywing's Nomad Insurance policies.
#4 Entertainment – Be it downloaded Netflix shows, Amazon Audible audiobooks and podcasts, or more traditional books and card games, taking some entertainment you can enjoy offline is a great option when catching the ferry from Spain to Morocco.
#5 LifeStraw Filter Bottle – I'd definitely advise travelling with both snacks and water for this journey and highly recommend the LifeStraw Filter Bottle here, because you can fill it up at any tap or water source and be assured it's potable and safe to drink. Game-changer, just check it out!
#6 Travel Pillow, Travel Blanket,Ear Mask and Ear Plugs – who doesn't want to be ultra-cosy and sleep well on their journey?!
PIN IT TO PINTEREST!
So I hope you've enjoyed my article about catching the ferry from Spain to Morocco and it's given you all the info you need to know.
I really loved this part of my overland adventure – it felt so thrilling and different to be travelling by sea instead of air – and I highly recommend this as a clean, green and super fun to begin your time in Africa!
Have you experienced a ferry from Spain to Morocco?
Let me know about your experience in the comments box below..