If you haven't heard the news yet, then I'm not sure where you've been!
Because it's pretty big alright guys!
Yup in the year of 2020 I've made a pledge not to fly… for 12 whole months.
And for a travel blogger that's no mean feat.
If you've already read the blog about why I've decided to do this here, then you'll know I'm currently in the throes of planning a massive overland journey that will take me from the UK to North Africa, back through Central Europe to Moscow, across Russia to Central Asia and then back through the Caucasus countries as well as Southern and Eastern Europe home to the UK.
Phew!
It's going to be epic, but make no mistake, there's a lot and a mean A LOT of planning to do.
And it will all start with making my big leap out of the British Isles and across to mainland Europe in a few weeks time.
So read on if you want to learn all about how to travel from London to Paris by bus… basically I've done all the research plus the legwork and combined it here, so you don't have to, hoorah!
---
Related Posts
---
This article was sponsored by Kiwi.com but, as always, all views are my own.
This page contains affiliate links meaning Big World Small Pockets may receive a small commission on any purchases at no extra cost to you.
---
Top Tool For Finding London to Paris Bus Information
The first thing when it comes to researching how to travel from London to Paris by bus is to find a good tool with all the information you need.
And I'm delighted to say that my recent discovery of the website Kiwi.com has proved just the ticket… literally!
A super handy booking portal that covers flight, train and bus travel for journeys across the world, this awesome tool is going to come in very handy when I'm trying to find information about all my overland trips this year, I can tell you.
In terms of London to Paris travel, Kiwi.com is great because it not only compares the prices, journey times and frequency of making this journey by train vs by bus, but it also compares all the individual bus services too.
This means whether I want to get the cheapest price, the quickest journey time, the most convenient arrival or departure slot or the best overall option, Kiwi.com can handily give me all these details with just a few simple clicks.
And what this does, is make it really easy me for to decide what journey to take amongst a whole plethora of options.
The Cheapest Option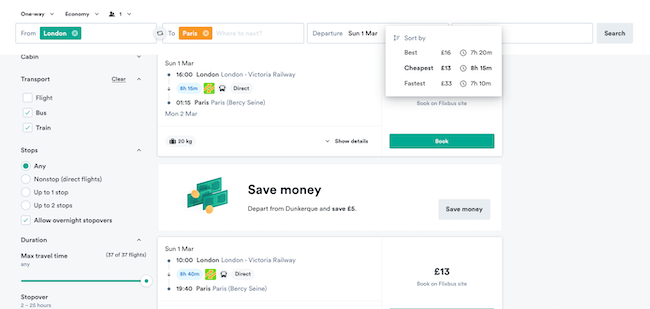 Because there is just that, a huge plethora of options for travel between London and Paris, which can be a little overwhelming to say the least.
Even if you take out flying, there's still the options of the Eurostar, the ferry and train combination or the bus route.
But if you ask me, it really is hard to overlook the bus option and why's that?
Because, my budget friends, it's undoubtedly the cheapest!
For as little as £13 – and yes that's cheaper than it can cost to get across London – you can take a bus all the way from London to Paris!
Hoorah!
As, I've said before, Kiwi.com wonderfully compares all the prices and clearly displays them to you as part of its handy search tool, so if price is a key consideration for your travels from London to Paris too, then the bus is a hard option to beat!
And Kiwi.com lets you book right through their site as well, meaning once you've found that killer £13 deal, you can grab it right there and then.
Otherwise, you can also set up a price alert through their site, meaning you can stay informed, via email, of when the cheapest fares do become available… winning!
Where to Catch the London to Paris Bus From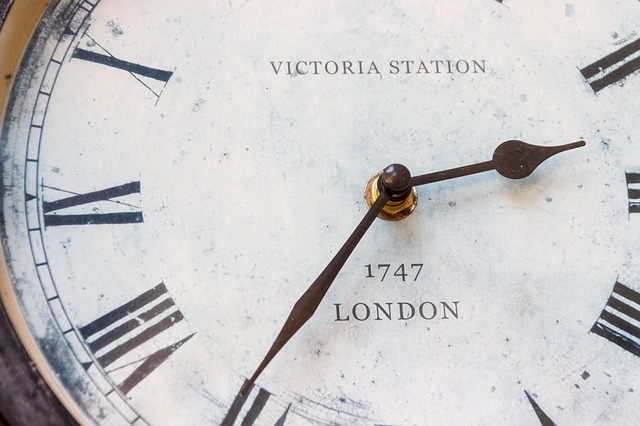 And now we come to the practical details of catching the bus from London to Paris.
There are essentially 2 companies that run direct buses from London to Paris – BlaBlaBus (formerly Ouibus) and Flixbus.
Both depart from Victoria Coach Station, London's main bus hub.
Victoria Coach Station is about a 5-10 minute walk from the main Victoria Rail and Underground Station, so please remember to factor this walking time into your journey.
Victoria Coach Station is also notoriously confusing to find too, so I do suggest factoring in a bit of time to get lost as well!
Plus, please ensure you have Google maps or maps.me open on your phone to assist you!
Victoria Coach Station is located at 146 Buckingham Palace Road, Belgravia.
Probably the easiest way to get there is to take a tube or train to Victoria Station and then walk… providing you've got either a wheeled suitcase or a light backpack!
Oh and while we're on that subject, another one of the great things about Kiwi.com is that they tell you the luggage restrictions of your journey too, care of handy little suitcase and carry-on icons!
Things to Remember For Your London to Paris Bus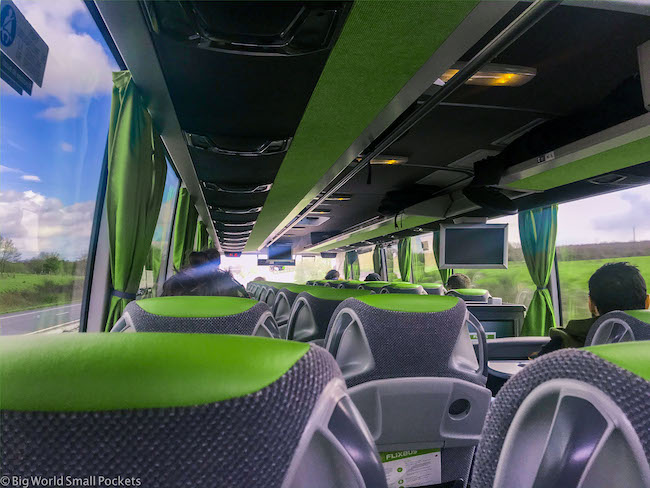 As this is an international service, which utilises the Channel Tunnel, you'll need to bring your passport for your London to Paris by bus journey, as well as any required visa and / or paperwork to cross the international border.
You'll also need to arrive nice and early to ensure a smooth boarding process at Victoria.
I recommend arriving at least 45 minutes prior to your departure, not least because Victoria Coach Station can be confusing inside too and sometimes locating the correct platform takes a while!
If you do arrive early, then there are cafes and coffee shops within the terminal if you need a snack.
I'd also advise packing some snacks for the journey, as well as plenty of water, because the shortest time for a London to Paris bus trip is given as 7hr 10mins by Kiwi.com – a fact I learnt by using their handy filters, which allow you to view journeys by their price and length, so you can always find the quickest or cheapest journey.
Given the length of getting from London to Paris by bus (you didn't think it was going to be cheap and fast did you?) I'd also recommend taking a blanket and a travel pillow with you on this journey, plus possibly an eye mask and some ear plugs too if you're looking to get some sleep!
This is absolutely what I'm going to do as I plan to take a night bus from London to Paris – it seems like the best option for such a long journey and will also save me a night's accommodation costs.
By using Kiwi.com's "starred" feature I can run through all the available services, starring all those that travel overnight and then simply go to my favourites list to compare this smaller list of journeys and decide which ones suit me best.
After all, I do not want to be getting into Paris at 4am, meaning the later I can leave London (there's one at 22:00) the better!
Arriving into Paris
Another thing it would be wise to remember before catching your London to Paris bus is to change some money into Euros, so you have some for when you arrive in France.
This will make life much simpler if you need to buy water, food or grab some public transport when you disembark, instead of having to run around to exchange money first.
It's also likely that any exchange places near transport hubs will have worse rates, so be scout-prepared and do this before you leave London!
If you are British, I recommend getting the Starling Banking app too, where you can open a current account that won't charge you for card payments or ATM withdrawals abroad – I love it!
That said, having a few euros in your pocket in cash when you arrive, will definitely be a good thing and don't forget if you have a UK SIM card in your smartphone, you won't be charged roaming fees for using it in France… happy days!
The London to Paris buses from Victoria Coach Station generally arrive into 1 of 3 stations in the French capital. They are:
Paris Bercy Seine
Charles de Gaulle Airport
Paris Gallieni (Bagnolet)
I'd carefully consider where you are staying in Paris when selecting your arrival station to ensure it's one that's easy for you to get to, especially if you have a lot of luggage.
Onward Journey From Paris
That is of course, unless you've got an onward journey to make from Paris, in which case, I'm going to want to time my arrival station to match up with my departure station if possible… or as close to.
This is where Kiwi.com is really going to help me plan a lot of this year without flying, because through them I can easily map out my onward journey from Paris using their multi-city feature.
Building in an itinerary, where I can specify the number of nights I want to stop-over in Paris for, this brilliant website will easily allow me to research all my next moves.
For example, after Paris, I'm planning to head to Barcelona, from where I'm planning to catch a ferry to Morocco.
Given that I'll travel overnight to Paris and arrive in the morning, I'd then like a few full days in the capital to rest before heading off to Spain.
Using the filter options, I can select just buses and trains for this journey only, as well as the number of stops I'm prepared to make enroute, and if I want the cheapest, fastest or best overall route.
And if I didn't want to stop at Paris on the way, but instead push right through to Barcelona, I can opt for this too, by modifying my search dates.
Doing this I can see that, after a few hours in Paris, I can get to Barcelona either by train quickly or by bus cheaply via Toulouse.
At Toulouse, I'd have an hour layover, but perhaps the best thing about booking through Kiwi.com is their guarantee service.
This is an amazing feature that covers you if there's a schedule change, cancellation or delay that affects your trip.
In this instance, Kiwi.com will either buy you an alternative ticket to your final destination or offer you an amount to be refunded.
And this is all in the event of self-transfers, which normally you aren't covered for at all!
Winning!
And if you want to learn what happened after I arrived in Barcelona, check out this post about my journey by ferry from Spain to Morocco.
Keeping it Green
Taking the London to Paris bus really is a great way to keep your carbon footprint down too, and with online tickets, available anywhere anytime with Kiwi.com, there's no paper or need to print anything either.
And it's not just the planet that will thank you for travelling by bus from London to Paris, but also your wallet.
With fares as low as £13, this is a massive saving on the Eurostar, which despite only taking 2hrs 30 minutes, costs at least £46.
And with a long trip ahead of me, there's no question that budget is all-important here, meaning the start of my 12 months without flying will definitely kick off with me travelling from London to Paris by bus.
And I've got to admit, I'm pretty excited about that!
Check out more top deals from Kiwi.com below…
All of these utilise their Nomad feature, which helps you plan multi-leg journeys at the cheapest prices, building in stopovers and including both flight and overland travel options.
Otherwise, check out their Radius feature, which uses an Explore Map to help you choose a destination from your current location based on the best deals available.
What are you waiting for?
PIN IT TO PINTEREST!