Well congratulations!
Signs indicate that if you're reading this post, you're probably thinking about travelling to Peru and let me just start by saying you definitely should!
One of the South American giants, this country is a feast for travellers and while I certainly wouldn't consider it off the beaten track, there's still plenty of less or undiscovered gems to unearth in this dazzling diversity destination.
And when it comes to the costs of travelling Peru, this is a good yardstick to use too.
Yes there's many well-trodden parts of Peru, like Machu Picchu, which unsurprisingly can be a little pricey to visit, but there's also a lot of places where you can find some amazingly affordable travel experiences too.
And of course, there's always cheaper ways to see the popular hot spots as well!
So read on to learn more about how much it costs to travel Peru and what your trip budget might shape up to be if you're planning on visiting soon…
---
Related Posts
---
This budget is based on the trip I made to Peru in late 2019, with all prices correct at this time.
This page contains affiliate links meaning Big World Small Pockets may receive a small commission on any purchases at no extra cost to you.
---
An Intro to this Peru Travel Budget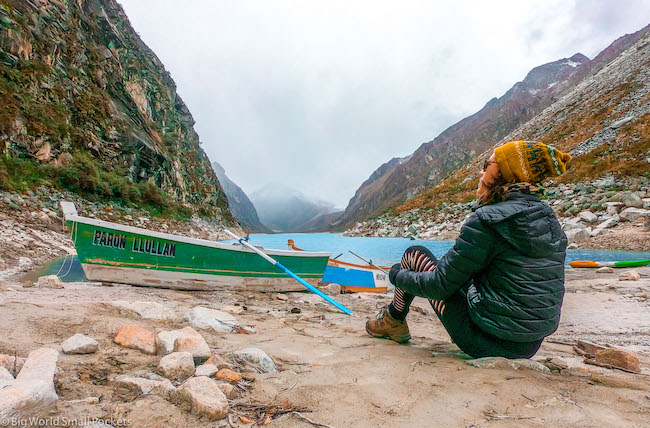 This budget is based exactly on my travels in this amazing country in late 2019, so you can trust it's entirely authentic.
Obviously it involves travelling in Peru on a budget i.e. eating in cheap, local restaurants and staying at cheap local hostels, because I'm a budget travel blogger, yet it also includes some added extras, which perhaps might not be considered budget travel items, but which are incredibly worthwhile – such as some epic hiking trips, which you quite frankly can't miss in Peru.
In terms of structure, I'm going to give you a breakdown of different travel categories so that, if you are travelling for longer or with a bit more / less cash, you can do your own workings about how much it might cost you to travel in Peru.
And then, at the end, we look at overall costs of what an average 2 week budget trip to Peru might set you back.
This budget won't include the cost of any visas (although for Peru you probably won't need one), nor the cost of international flights, (I always use Skyscanner to find the best deals) so don't forget to factor those in as well.
The budget also doesn't include prepping any gear you might need for your trip or taking out travel insurance.
World Nomads offers simple and flexible travel insurance. Buy at home or while travelling and claim online from anywhere in the world.
Alternatively, if you're a long-term traveller, digital nomad or frequent remote worker seeking travel health cover, check out Safetywing's Nomad Insurance policies.
And with that preamble out the way, let's get on with answering the question about how much it costs to travel in Peru….
#1 Accommodation
With Peru now well and truly on the traveller map, there really is every bracket of accommodation available here – from dorm beds in huge hostels to ritzy luxury hotels, especially in destinations like Cusco.
And as a budget traveller, there's no prizes for guessing which end of the scale I inhabited!
But even with a mix of dorm beds and private rooms in hostels (with a bit of camping thrown in here and there), I wouldn't consider Peru super cheap on the accommodation costs.
In fact, outside of hiking excursions, accommodation is one of biggest costs when you travel Peru because it's a service aimed at the tourist market and therefore higher than any of the local services like food and transport.
In fact, accommodation accounted for around 25% of my total spend in the country (and yes I use a very geeky, but helpful app called TravelSpend to track this stuff!)
Accommodation in tourist hot spots such as Lima (where basically everyone passes through) or Cusco (where lots of travellers base themselves) tend to be higher than those in smaller villages or towns that receive fewer tourists.
As an example, I paid $10 USD for a dorm bed in Lima and $25 USD for a private room – not bad if you're sharing the private room, but harder to stomach if you're a solo traveller.
FYI. I highly recommend staying in the Barranco area of Lima (it's def the best) and La Unsha Hostel there is great!
In smaller towns, such as Paracas on the coast or Pisac in the Sacred Valley, a private room set me back just $12 USD and a dorm was more like $7 USD.
Across the whole country, you can benchmark a dorm at between $6-11 USD and a budget private room at $12-$25 USD.
So choose your accommodation type, multiply this by the number of nights you're planning to spend in Peru and you've got your rough accommodation budget mapped out!
And if you want to learn about some of the best hostels, then check this list of my recommended backpackers in Peru and my top picks for hostels in Cusco.
Standards of budget accommodation in Peru tend to be very good and most backpacker hostels are clean with good wifi, free breakfast and open-air communal areas.
One thing to watch out for is hot water (make sure they specifically say they have it) and kitchens – it's often cheaper to eat out in Peru and the food is so delicious here why wouldn't you!
When you're out hiking in this country, camping is often the only option.
Most multi-day trekking tours provide tents and mattresses, but you'd be wise to bring your own sleeping bag and silk liner, otherwise you'll have to hire one.
When it comes to your own gear, make sure it is suitable for cold, altitude conditions.
#2 Transport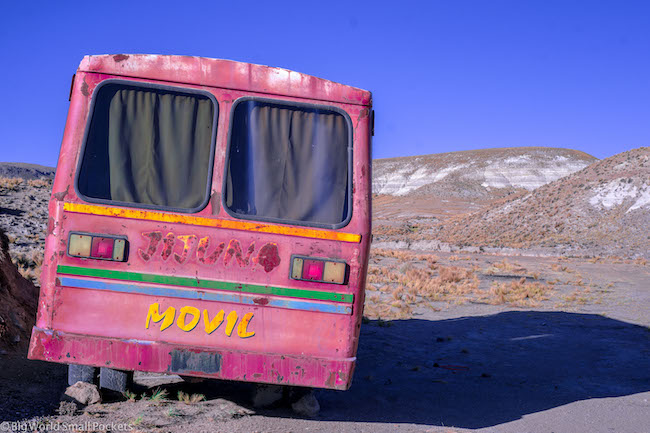 The thing we have to remember about transport when we're talking about how much it costs to travel in Peru, is how huge this country is!
15 hours on a bus and you barely scratch the surface of this giant nation.
Because of this, most people who only have a short time to visit usually stick to the south of the country exploring Lima, Arequipa, Cusco and their surrounds.
Nevertheless even sticking to just these destinations requires long journeys between them.
Long-Distance Buses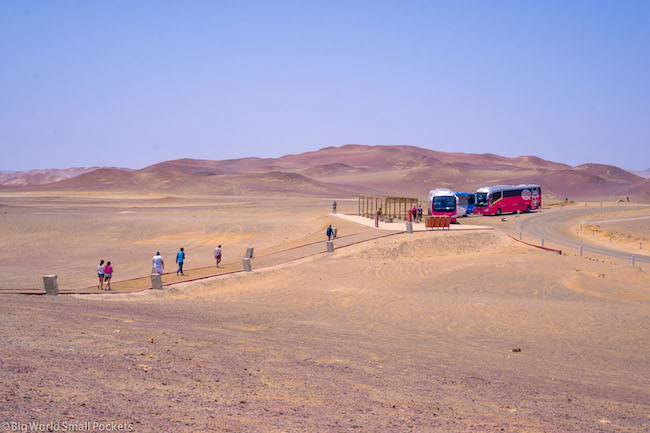 The cheapest way to do this is via an overnight bus service, which will save you the cost of a night's accommodation.
Bus services tend to vary in Peru, based on price, but most are very affordable, especially if you avoid the tourist-geared services which offer more luxury. Compare prices here.
Cheaper companies are Oltursa, Civa and Movil, but if you're travelling overnight you may consider the few extra dollars to take a luxury service a good investment… I certainly did!
Cruz Del Sur are one such luxury company, otherwise the excellent Peru Hop service is ideal for solo travellers, or those hitting up South America for the first time, with their guided bus services that offer great security and set routes that mean you have to organise less!
As a guide, here's some bus prices for popular Peru journeys:
Cruz Del Sur from Lima to Huaraz: $28 USD
Oltursa from Lima to Arequipa: $28 USD
SuperCiva from Arequipa to Cusco: $16 USD
Peru Hop from Lima to Arequipa and onto Cusco with 7 stops included: $179 USD
Flights
If you're short on time, or don't fancy a long bus ride, then you can also use domestic flight services to get around Peru.
Obviously these will be more expensive and increase your carbon footprint, but they will be quicker.
Here's some example flight prices in Peru:
Lima to Cusco: $40 USD
Arequipa to Lima: $35 USD
It's worth noting that domestic flights in Peru (and neighbouring countries such as Bolivia and Chile) tend to offer quite good value for money, but that crossing international boundaries in the sky, tend to hike prices up significantly.
BUDGET TIP: If you're travelling between different countries in South America therefore, it can often be cheaper to fly domestically, but cross borders by land.
Taxis & Collectivos
For small travel distances in Peru, such as within Lima, ride-sharing apps like Uber are the best way to go.
Ensuring you don't get ripped off, as well as helping you navigate any language barriers, you can learn more about why I love ridesharing apps when I travel here.
You can expect to pay around $5 for an Uber ride in Lima between, say your hostel in Barranco / Miraflores and a centrally-located long-distance city bus station.
There's also a metro in Lima it's safe to use and here, like every other town in Peru, collectivos are in operation.
Collectivos are minivans used to travel short distances around cities or between villages and nearest towns.
They are incredibly cheap with most rides I took costing under $1 USD, and the best way to discover routes near where you're staying is to ask at your accommodation reception desk.
#3 Tours & Activities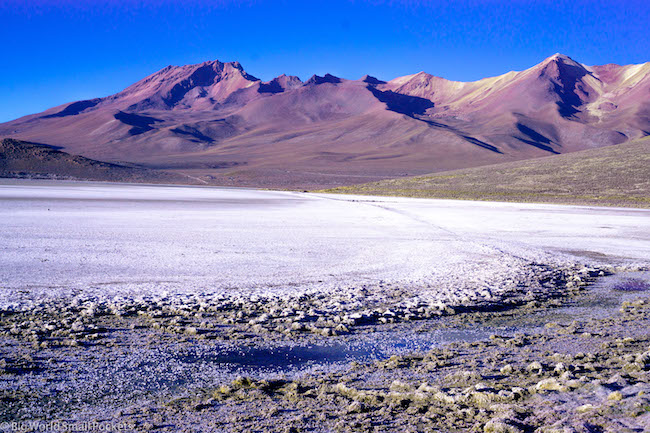 There's no getting away from the vast quantities of tours and activities you can enjoy in Peru and the fact that there's no point trying to cover them all – either in your trip or here in this article… the possibilities are just too endless!
So, to give you some ideas, I'm going to stick to some of the country's greatest highlights giving you an idea of prices here, as well as some handy budget tips about how to do some of them cheaper:
Budget Alternative: Independent day drip to Pachacamac ruins: $15 USD. Learn more in my post about the best Lima day trips.
Budget Alternative: Alternative 3 Day Colca Canyon Adventure with Le Foyer Hostel: $155 USD, or there's a 2 Day option available for $105 USD. And you can get a further 10% off these prices by emailing Hendry at Le Foyer Hostel in Arequipa at [email protected] and quoting BWSP! Learn more about the amazing experience I had on my alternative Colca Canyon tour with Hendry in my post here.
Budget Alternative: Take a few days to see the ruins and traditional towns in this area, which allows you to take in the ruins via public transport and without a guide, making it much cheaper. When it comes to spending the night, I recommend the towns of Ollantaytambo (stay at Mama Simona) and Pisac (stay at Wolf Totem).
Inca Trail to Machu Picchu from Cusco: $677 USD or the Salkantay Trek to Machu Picchu from Cusco: $369 USD
Budget Alternative: Lose the crowds and the hefty price tag and get your big Cusco hike fix via the much more undiscovered Choquequirao Hike for around $250 USD. Heading to a set of ruins only currently accessible on foot (although they do plan to build a cable car to them, so get in quick!) this is a tough hike that you can even make without a guide if you have the camping gear and the stamina! Learn more in my post about my Choquequirao trek experience.
Budget Alternative: Ditch the train and go for the option that takes you by bus to Hidroelectrica, from where you can walk to Aguas Calientes and then up to MP: $36 USD. Learn more in this post I wrote, or check out more details here.
And don't forget, in all the major cities in Peru there's free walking tours that will cost you just a few dollars in tips.
Plus, in so many areas of Peru there are trails, sights and markets you can enjoy for nothing.
#4 Entrance Fees & Guides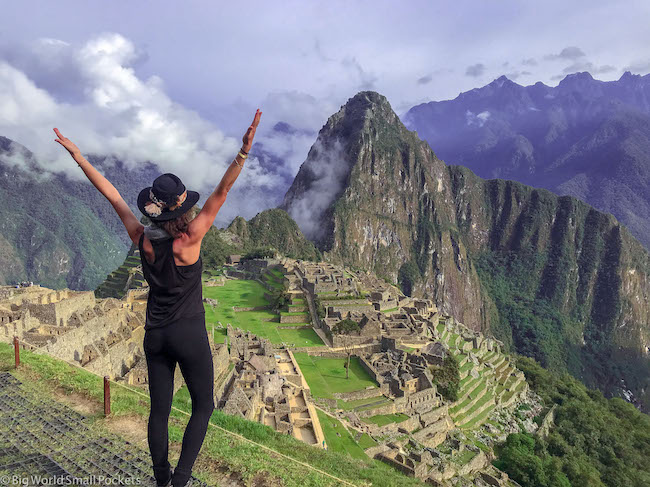 Entrance fees and guides can be hard to price up in Peru, because if you take a tour or a guided trek to many of the most popular ruins and sights, these will be included in the price.
See the above section on tours and activities for more deets.
Otherwise, if you take some of my budget alternative tips, it's likely you'll pay entrance fees yourself as you independently travel to different attractions.
Of course, there's many free and cheap attractions in Peru, but for the big daddies you gotta cough up.
Here's some examples:
Entrance to Pachacama Ruins by Lima: $4 USD
Hot Springs Entrance in Colca Canyon: $3 USD
Santa Catalina Monastery Entrance in Arequipa: $12 USD
Entrance to Inca Museum in Cusco: $2.50 USD
Entrance to Choquequirao Ruins: $18 USD
Entrance to Machu Pichu: $65 USD
Cusco Tourist Ticket (10 days): $40 USD
This last option is a great money saver if you think you'll be visiting a lot of the ruins around Cusco as it's a combined entrance ticket that will save you money if you're visiting just 2 or 3 sights including museums. It covers 16 sights in total, both in and around Cusco.
The 10 day option is good if you have a decent amount to explore all this city has to offer otherwise, there's a couple of smaller circuit 1-2 day options too for $20 USD. Learn more about the Cusco Tourist Ticket here.
#5 Food & Drink
For those not in the know, I've got good news!
Peru is a foodie paradise and eating / drinking all the local goodness here is a huge part of your travel experience to come!
And if you eat locally, which you definitely should, then food and drink here is very affordable too.
Most hostels and hotels in Peru include breakfast in their prices.
While this is often a simple affair of cereal, fruit, yoghurt and toast, it's an ample start to the day and one less meal to worry about.
When it comes to lunch, a fresh juice plus a sandwich in a local market will set you back just $1-3 USD, as will a good espresso coffee at a tourist café.
Supermarkets are plentiful in Peru and good value offering packets of nuts, seeds, crackers and other snacks that are good for hiking trips. They also sell big bottles of water.
The best value here is to buy a 5l bottle and then decant it into a smaller metal water bottle you carry with you during the day. This saves money and plastic waste.
Most supermarkets only offer dried goods however, so head to the great local markets to pick up fresh fruit and vegetables for just a few dollars.
Beers are cheap in Peru too, especially when bought in a store, or at a cheap local place, costing $1-2 each.
For dinner, if you eat in local cafes / restaurants, you can expect to pay around $5 USD for a good feed.
If you want to splash and out in a fairly decent restaurant in Peru however – which you can certainly do in Lima and Cusco – then prices start from around $12 USD including a drink
#6 Other Expenses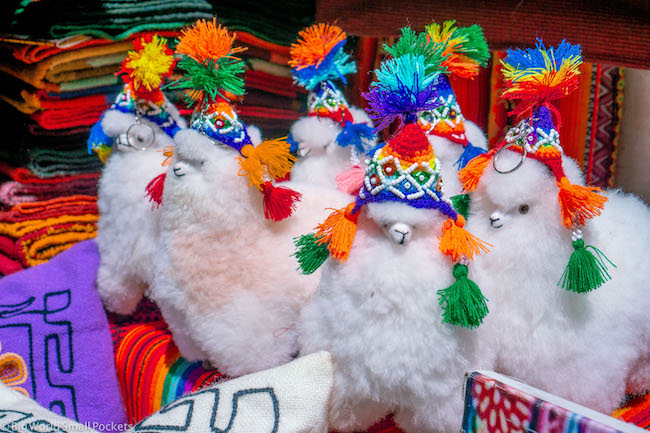 And finally when it comes to Peru travel costs, you've got to factor in all those other incidental expenses like laundry (once a week should do it) and possibly a SIM and data package too.
I used several different SIM cards while in Peru (I was there over 2 months so needed to mix it up), but as a benchmark, you're looking at around $15 USD for a 30 day tourist card with around 10GB data .. yes I use a lot, it's a work thing!
Laundry in Peru can normally be arranged through your hostel or at local laundromats in larger towns.
In general, you'll pay by the kg, with an average weekly load costing around $3-4 USD.
Sometimes you can pay more for express services, which can be very handy if you only have a day or so between hikes and no clean socks!
How Much Does it Cost to Travel Peru?
2 Week Example Trip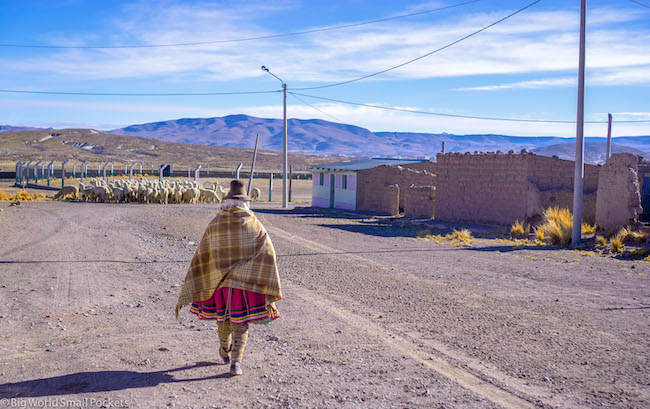 I wanted to give an example trip at the end of this article about how much it costs to travel in Peru, so you can see in practice what you might need for a trip.
For this, I've chosen a 2 week backpacker trip for a solo traveller, based on my suggest Peru itinerary, which I think has you seeing the best parts of this huge country in a limited time.
Here's what an example budget might look like…
Total Accommodation in Dorm = $10 x 14 nights = $140 USD
Total Transport Spend = $125 USD including 2 domestic flights, several taxi rides and some long-distance bus rides
Total Tours and Activities = $280 USD including budget trips to the Colca Canyon, Rainbow Mountain and Machu Picchu.
Total Entrance Fees & Guides = $110 USD
Total Food and Drink spend inc. coffee and alcohol = $145 USD
Other Expenses = $20 USD
The rough amount you can therefore expect to spend in Peru over a fortnight is around $820 USD.
This is roughly $55-60 USD per day, which is in the region of £40-45 GBP per day or 50-55 Euros.
Please remember this is based on a budget travel tier and will vary wildly depending on how many activities you do, whether you stay in dorms or private rooms and how much you eat and drink!
You could cut this significantly by travelling only on buses (not domestic flights) or taking out a few large ticket items such as side trips to destinations around Cusco and Arequipa… although given these were some of my highlights in Peru, I'd think carefully about this!
Sometimes you've got to ask yourself what you'll remember more – the few dollars saved or the amazing time you had!
PIN IT TO PINTEREST!
And there it is guys, the full breakdown of my answer to the question – how much does it cost to travel Peru?
Do you think this is cheap or pricey?
Let me know your thoughts in the comments below…