So many travellers just seem to overlook Lima, the capital of Peru, and disregard both spending much time there, as well as many of the great trips you can take in a day or 2 from the city.
But if you do give Lima a bit more credit and a bit more of your time, you'll discover there really is a lot to see and explore.
Honestly, Lima is a fascinating city once you begin to scratch under the surface, and travelling to a few nearby destinations will give you a far greater insight into just how diverse and delightful Peru is.
So here we go, my list of the best 7 Lima day trips you can't miss!
---
Related Posts
---
This page contains affiliate links meaning Big World Small Pockets may receive a small commission on any purchases at no extra cost to you.
My journey through Peru was kindly sponsored by Peru Hop and my stay in Lima was kindly sponsored by La Unsha Hostel, but, as always, all views are my own.
---
#1 Chorrillos Hill
We're going to begin this list nearest Lima and work our way outwards from there, so the first of the top Lima day trips here is one just south of the city centre, in the suburb of Chorrillos.
If you're staying in either Miraflores or Barranco when you're in the capital (which you should!) then Chorrillos is just a hop, skip and a jump south either by local bus, or better on 2 wheels!
That's because a cycling tour to this area on the outskirts of the capital is definitely one of the best Lima day trips, especially when you get to the top of the El Morro Hill here and take in the amazing views which give an unparalleled perspective over the whole city.
Check out this great cycling tour to Chorrillos, which begins from Miraflores and ends at the hill, to learn more.
#2 Pachacamac
And carrying on south from Chorrillos, you'll soon hit the next one on this list of the best day trips from Lima, namely Pachacamac.
This important archaeological site is UNESCO-listed and has a great museum, which makes the perfect introduction to the many ancient Peruvian cultures.
Entrance is 15 Soles for foreign adults and you can easily pass an hour or 2 checking out the exhibitions and wandering the ruins, which are spread across a large area.
You can take a tour to Pachacamac, but if you're looking to see this place on a budget, it's also easy to get there as an independent traveller.
The best way to do this, either from the Miraflores or Barranco districts of Lima, is to take an Uber to Ricardo Palma University, where you'll likely be dropped off in the car park at the front of the university.
From here, make your way down the steps to the bus stop under the yellow bridge you'll see, which is called Puente Benavides.
Here, ask for buses going to "Pachacamac", "las ruinas" or "el museo" or hop on any bus destined for Lurin.
The bus is 2 Soles to Pachacamac and the bus driver will let you down just outside the entrance if you ask.
For the return journey, there is a bus stop on the other side of the road directly outside the museum entrance from where you can return to Puente Benavides.
#3 Caral
And sticking with the ancient ruin theme, it's time to head north out of the capital for this one on my top Lima day trips list.
Caral is another UNESCO-listed archaeological site in Peru, which is actually over 200km from the capital.
As such, it is a full and expensive day to get here.
That said, this is the most ancient city in the Americas and therefore is probably worth it!
To put it in perspective, Caral was already well established when the Egyptian pyramids were just being built!
Check out these day tour options for Caral, as you'll need a guide to make this excursion, but if you're into your history, it will be worth it!
#4 Chincha & Hacienda San Jose
And for number 4 on this list of the best Lima day trips, we move to another period in Peruvian history, namely that of the Spanish colonial era.
Hacienda San Jose was then a working farm, which was built on the back of slaves the Spanish invaders bought over, largely from Africa.
In its "heyday", Hacienda San Jose produced vast quantities of sugar, cotton and honey, which was then exported to Europe.
Now a 4* star hotel, Hacienda San Jose is still home to the so-called Slave Tunnels, and you can actually walk down inside and through them to learn more about how people were moved illegally in and out of the farm and kept in terrible conditions during the time of colonialisation.
An Afro-Peruvian population still live in the nearby town of Chincha today and, learning about their cultural and collective history adds another angle to the diversity of this country.
A great way to visit this location is with Peru Hop – a super hop on hop off bus service for independent travellers in Peru – who build a free guided tour of Hacienda San Jose it into their Lima day trips itinerary.
#5 Paracus National Reserve & Islas Ballestas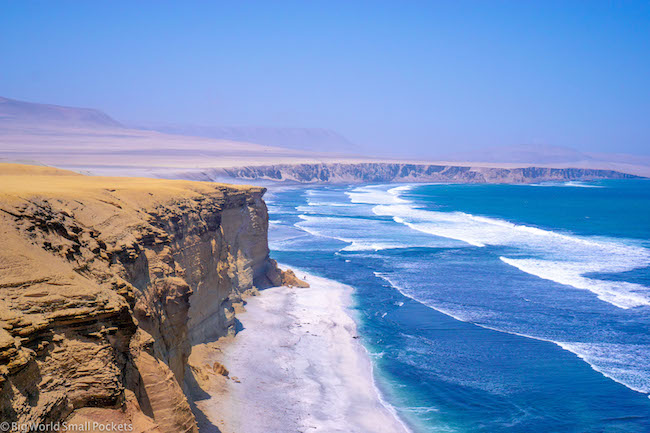 And now a change of tact, as this list of the best Lima day trips moves onto explore some of the amazing natural landscapes around the capital too.
First up is the coastal town of Paracus, which is home to 2 amazing reserves.
The first, Islas Ballestas, is an offshore reserve made up of lots of small islands and is known as the poor (wo)man's Galapagos.
Of course, I had to go!
2 hour boat trips run to these islands twice daily from Paracus and include an English-speaking guide.
As part of this you'll see a huge array of wildlife including pelicans, sea lions, penguins and crabs.
Take a hat and a coat for this trip as it can sunny or rainy and the birds overhead can make quite a mess!
Transport to Paracus can be arranged through Peru Hop. And these guys can also arrange your boat trip to Islas Ballestas, as well as FREE tours to the Paracus Natural Reserve, the other main attraction to see in this area.
The coastal desert of Paracus Natural Reserve has some amazing lookouts, where the red sand meets the blue Pacific Ocean and, while you can cycle here from the town, the strong wind often means a bus trip is much more comfortable!
If you want to spend longer in Paracus, then I can highly recommend Paracus Backpacker House – a superb budget option which has a lovely roof terrace and guest kitchen.
In town, the cafe Fruzion provides great breakfasts and veggie options and you can get a discount there with Peru Hop too!
There's a small market to check out in Paracus town as well, plus the beach to stroll and pedalos to hire.
There's 2 ATM's in Paracus, with the one from BCP being better because it doesn't charge for foreign transactions.
#6 Ica & Huacachina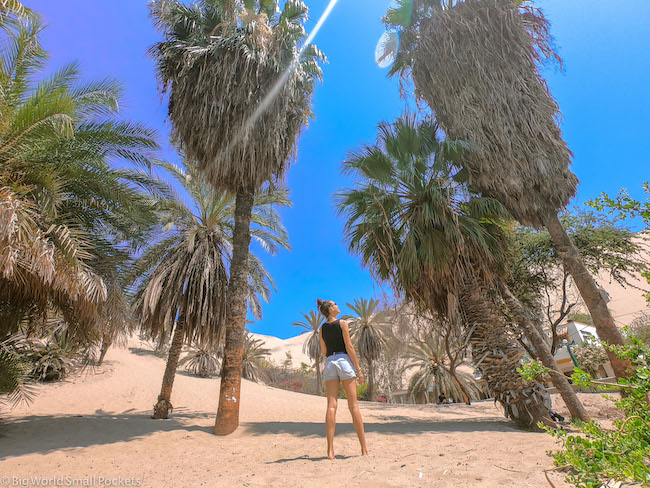 Another great 2 day trip option from Lima with Peru Hop, is to head down to the desert oasis of Huacachina, famous for its sand dunes and sandboarding.
While Ica is a city of 1 million people, 15 minutes down the road, the tiny hub of Huacachina is nothing more than a resort built in the middle of the desert around the oasis.
It is very touristy, but the amazing dunes that surround it and the epic sand boarding and dune buggy opportunities here definitely make it one of the best Lima weekend trips.
Organise your amazing excursion to slide down, over and around these dunes at sunset through Peru Hop and bring your GoPro to capture the action – it's insanely fun!
Also don't forget your sunglasses, buff or scarf, sweater or jacket and trainers for this trip, but leave your fear at home!
If you feel like staying longer in Huacachina, then the excellent Banana's Adventures comes highly recommended, as does Wild Olive (which has a good pizza restaurant attached).
Do be aware that things are a little more expensive in Huacachina due to its small / remote location and that there are no ATMs here. Some places do accept card, but I suggest you bring all the cash you need.
In addition, it's useful to know that weekends in Huacachina get very busy with local tourists, so book accommodation well in advance during this time and during the holiday seasons.
And when it comes to Ica, it's also about the Pisco, which is what this town is famous for!
Head to Ica with Peru Hop and you actually get a free pisco tour at the renowned El Catador vineyard thrown in with your ticket… and it includes tastings!
#7 The Nazca Lines
And finally we move to the last entry on this list of the top Lima day trips you can't miss.
While this is a bit of schlep from the capital, it is well worth it if you are carrying on south afterwards and again, Peru Hop includes a stop here in their Arequipa-bound itinerary
The Nazca Lines are still one of the great mysteries of the ancient world and are UNESCO-listed.
Nobody knows how these 2,000 year old geoglyphs, which are spread over 80km of desert, were created.
What we do know is that, in one of the driest places on earth, they have been preserved in pristine condition and form a huge catalogue of human, animal and plant shapes only discernible from above.
The Nazca Lines can be viewed partially from a viewing tower along the highway, which costs 7 Soles to go up – or is free with your Peru Hop tour – although getting here in one of their buses will take you longer than a day from Lima!
Otherwise, you can take a flight over the Nazca Lines to truly appreciate them from above as part of one of the best Lima day trips.
Flights depart either from the tiny airport near the town of Nazca, or from the capital, which is the quickest and most efficient way to see this marvel.
It is a bit of a splurge at around $100 USD per person, but safety is crucial here and if paying a bit more guarantees that, then it's a small price to pay.
Mini Travel Guide to Lima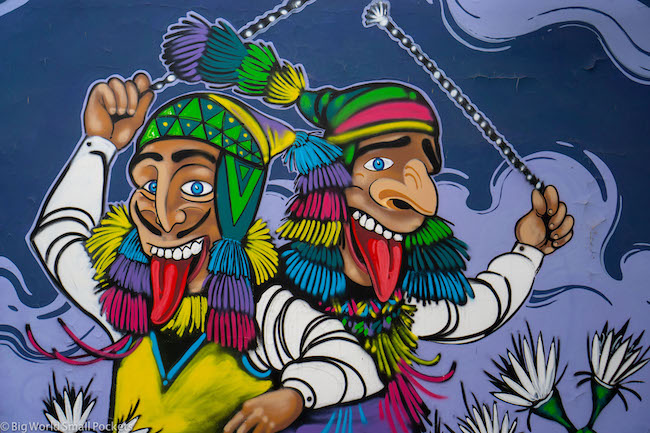 Best Time to Visit?
The best time to visit Lima, in my opinion, is during the dry season in the Andes aka winter in this country – a season which runs largely from the months of June through to October.
Learn more in this article I wrote all about Peru's climate, weather and the best time to go.
How to Get to Lima?
You can arrive into the international airport in Lima.
As always, I recommend Skyscanner for finding the best deals.
How Long to Spend There?
I'd recommend a stay of at least 2 days in Lima, which will give you enough time to explore all 3 districts of Miraflores, Barranco and the historic centre.
If you're then wanting to explore some of these top Lima day trips, I'd give yourself anything up to a week in the capital, which is the amount of time I spent there!
Best Budget Accommodation in Lima?
There's no question in my mind that Barranco is definitely the best district to stay at in Lima.
And the best place to stay in Barranco is La Unsha Hostel.
Centrally-located, immaculately clean and with one of the best free hostel breakfasts I've ever seen, this is a great spot to meet other travellers and chill in one of the many communal spaces.
And best of all, they have super hot water and good wifi!
Book your spot in either a private room or a dorm at La Unsha HERE!
Wellbeing & Safety in Lima
As a solo female traveller, safety when travelling alone (especially in remote areas) is also big on my radar.
Although I have heard and read reports about female travellers being harassed in the capital, I haven't experienced any of that myself and can only say that I felt safe here the whole time.
That said, there's a lot of common sense involved in safety too.
My advice is to stick with other travellers, don't wander out alone at night and always be clear about your boundaries in all situations.
You'll also want to ensure you drink enough water as dehydration can be a problem here.
Travelling with a LifeStraw Go Water Bottle, which you can use to purify water from any fresh water source, is a top option to help you do this.
I bought one for my trip to South America – as it then allowed me to drink the tap water safely – and now wouldn't be anywhere without it!
Sun protection is another thing to factor in here and packing clothes (like a cap or hat) and lotion that will protect you from the strong UV rays at that elevation is definitely recommended.
You'll also want to make sure you pack plenty of warm clothes for the evenings in Lima, including a good coat, gloves, scarf and a hat is a must, we can't have you catching a cold now!
Travel Insurance for Peru
World Nomads offers simple and flexible travel insurance. Buy at home or while travelling and claim online from anywhere in the world.
Alternatively, if you're a long-term traveller, digital nomad or frequent remote worker seeking travel health cover, check out Safetywing's Nomad Insurance policies.
Recommended Peru Tours
If you're not totally comfortable with travelling this country independently, then a small group or guided tour is a great option that will have you seeing the best of Peru safely, securely and easily.
Check out these top picks for some super ideas and prices.
Want to Volunteer in Peru?
If you want to combine your time travelling in this South American country with giving something back, then why not consider volunteering in Peru?
It could even help you save money and travel for longer!
You can access loads of great volunteer opportunities in this country when you sign up to Worldpackers. Learn more here.
Travel Money in Peru
The easy way to spend abroad with real exchange rates, no markups and no sneaky transaction fees, you can use your Wise card just like a debit card in this country, and it links easily with Google and Apple pay. Grab yours here.
5 Peru Packing Essentials
#1 Good Camera – I would never even think of travelling to Peru without a camera good enough to capture the amazing landscape and people of this country. Both my Sony A6000 and GoPro Hero have been perfect for the job!
#2 Waterproof / Windproof Jackets – With so much of this country situated high in the Andes, taking a waterproof and windproof jacket is essential if you're going to be hiking or sightseeing in the mountains. I highly recommend the North Face Venture 2.
#3 Hiking Boots – You can't come to Peru and not do some trekking, so make sure you come prepared with some good, supportive hiking boots… I've never worn mine so much in my life! These Keen Targhee II's are the ideal solution.
#4 Day Pack – Also for the hiking and sightseeing, a good daypack to carry water, snacks, camera, hat, gloves and other clothing layers is key in Peru! This one from Osprey is my pick.
#5 Travel Scarf – And finally, I've just discovered the amazing travel wraps from Sholdit and am so happy I took mine to Peru. Acting both as a scarf to keep you warm and a place to store your valuables while you're out and about, this great invention is perfect for travel in South America.
To learn more about what to pack for a Peru trip in general, check out my ultimate Peru packing list.
PIN IT TO PINTEREST!
Et voila!
My list of the 7 best Lima day trips that will have you exploring more of Peru than just the capital both quickly and easily!
Are you planning a trip to Peru?
Will you visit places outside of Lima?
Let me know any questions you have in the comments box below…