If there was ever a country that pushed choosing the best things to do there to the max, it was likely to be Vietnam.
Vast and diverse, with more UNESCO sites, authentic culture, delicious cuisine and controversial history than you can shake a stick at, this Southeast Asian gem has it all.
Home to the Mekong River and the ocean, bustling cities, beautiful beaches, caves, lakes, mountains and temples galore, I honestly had a hard time even knowing where to begin when it came to picking this country's highlights.
But pick them I have – and in doing so entirely convinced myself that I need to return to this country and explore more!
And so here they are, my list of the 15 best things to do in Vietnam.
Enjoy… I know you won't have a choice in this delightfully authentic Southeast Asian nation.
---
Related Posts
---
This page contains affiliate links meaning Big World Small Pockets may receive a small commission on any purchases at no extra cost to you.
---
#1 Caffeinate in Ho Chi Minh City
We're going to begin this list of the best things to do in Vietnam in the south of the country, because that's where I began my journey and also because this is one of my favourite spots.
Yes the crazy city of Ho Chi Minh really is something to behold and you should allow at least a few days of your itinerary to soak it all in.
The main attractions in the city can be visited in a day, but the real gems lie in the surrounding suburbs, so I highly advise getting out there, and staying out there, to find the best stuff Ho Chi Minh has to offer.
And that includes the coffee shops, which Vietnam is famous for.
There are some epic locals ones in Ho Chi Minh and simply wandering through the narrow alleys to stumble upon hundreds of options, and getting hell-buzzed in at least a few of them, is definitely one of the best things to do in Vietnam.
READ MORE: The 17 Best Things to Do in Ho Chi Minh City
#2 Enjoy a Homestay in the Mekong Delta
Just south of Ho Chi Minh, essentially the part of Vietnam that sticks out like a curvy bottom, is the amazing Mekong Delta.
Unsurprisingly, given its name, this part of the country is dominated by the mighty Mekong River and it's a vast lowland area of tributaries, floating markets and small local towns is a real feast for the senses.
Many people just take a day trip from Ho Chi Minh to the Mekong Delta, but you'll certainly miss the best parts of this area then, as you can't get into the depths of this region that way.
As such, I highly advise taking a 2 or 3 day trip into this area, which will allow you to stay overnight in a local homestay and make the best of your efforts to explore this area – it's certainly one of the top things to do in Vietnam.
Check out this great 2 Day Mekong Delta tour for an idea of a good itinerary.
#3 Crawl Through the Cu Chi Tunnels
A great trip I made with me TakeMeTour was to the Cu Chi Tunnels – which is a top day trip from Ho Chi Minh you definitely shouldn't miss if you want to learn more about the infamous war that blighted this country for decades.
Absolutely one of the best things to do in Vietnam, crawling through these underground warrens gives you an unparalleled insight into what the dedicated fighters went through and with a local guide, it's a great opportunity to get a Vietnamese perspective on it all.
#4 Get Active in Dalat
A hilltop town in Southern Vietnam, famed for its adventure activities, Dalat is the place to get your adrenaline fix in this country.
From mountain biking to hiking, canyoning to climbing, there's plenty to get your teeth into here, which is why most travellers find themselves spending longer in Dalat than they planned.
This is due, by and large, to the glorious climate too, which is much cooler thanks to the height of this town and the beautiful surrounds.
Colonial French villas dot the landscape and farms with strawberries adorn the waterfalls, lakes and green countryside.
Check out this great option for a full day motorbike adventure to explore the city of Dalat, one of its famous lakes and picturesque surrounds.
#5 Become Enchanted in Hoi An
And now, as we start to move on with this list of the best things to do in Vietnam, we head to the mega drawcard of the country, the quintessentially charming, postcard-perfect, hauntingly beautiful (is that enough superlatives yet?!) town of Hoi An!
Whichever way you look at it, this place is certainly not off the beaten track and is filled with crowds of tourists most days of the week, but stay a few days, explore the city outside of peak day-tripping hours, and I challenge you not to fall in love with it like everyone else!
From the quaint cafes and independent shops to the cobbled streets, streetside markets and, of course, the nightly lantern displays, this place is about as gorgeous as it gets.
Go, prepare to be enchanted and soak it all in with these top things to do in Hoi An.
#6 Explore the Imperial Citadel in Hue
And if it's culture you're after, or a bit of historical flair, then you certainly can't go wrong with the former Vietnamese capital and modern-day city of Hue.
The Imperial Citadel here is UNESCO-listed and well worth a day of your time exploring and realising the grandeur of the former royal family.
There's also a number of Royal tombs to explore around and a combination entrance ticket here is a great way to keep costs down.
Otherwise, just enjoy strolling along the riverside of this much quieter and more relaxed Vietnamese city – a night here is undoubtedly one of the best things to do in Vietnam if you feel like relaxing.
#7 Taking an Easy Rider
To get you from Hoi An to Hue, one of the best things you can do is take an easy rider!
If this sounds a little confusing, then let me explain…
An easy rider is basically a day trip on the back of a Harley Davidson that gets you from A to B with all your luggage – essentially it's a mix between a scenic day trip, a bus ride and a real adventure.
The stunning ride from Hoi An to Hue is one of the most popular places to enjoy this experience with several companies offering good options.
Alternatively, you can make this same journey in a minibus tour for only $12 USD and see all the sights with a greater degree of comfort.
Otherwise, you could always rent a motorbike to make the drive yourself or, indeed, make a journey through the whole of Vietnam on the back of a rented motorbike independently.
I know plenty of people who have done it and they all loved it, which is why I've included this excursion on my best 2 week Vietnam itinerary.
#8 Beach it Up in Da'Nang
Because renting your own motorbike in Vietnam really does give you the ultimate freedom, meaning you can stop anywhere you like for as long as like… within the realm of visa and financial limits of course!
And one of those places you may want to stop for a little longer is Da'Nang.
A city set on the beach between Hoi An and Hue in central Vietnam, this is a large city which has recently undergone a lot of restoration and is now a beachside mecca for those looking to have fun in the sun.
There's some great accommodation deals to find here if you want to put down your bag and chill on the beach for a bit and, if you do, you can't miss the spectacle of the fire-breathing dragon statue night!
#9 Go Caving on Phong Nha
And now heading inland from the coast, and to show you just how diverse Vietnam is, we are going to zip across the country to the tiny town of Phong Nha, which boasts some massive caves.
Yes, the cave-filled landscape around Phong Nha actually has some of the biggest ones in the world and, once again, it's another UNESCO-listed spot in this country!
I'd take at least 2 nights to explore this area because, while the town isn't much, the epic day trips you can make here (either by yourself to spots like Phong Nha-Ke Bang National Park, Dark Cave and Paradise Cave, or with a tour to some of the larger caves such as Tu Lan) are absolutely one of the best things to do in Vietnam.
In fact, I think the day I spent caving in this magnificent area was one of my favourite days in Southeast Asia and I'm glad I splurged a bit on it as a result!
Here's my ultimate guide to visiting Phong Nha if you're thinking of heading there too.
#10 Snap Away at Ninh Binh
Described as the Halong Bay on land, visiting this remarkable landscape is definitely one of the best things to do in Vietnam and I'm sad I didn't leave enough time on my itinerary to do it justice.
The landscapes here, as you drive, hike or scooter around them, are something else, and ensuring you've got your camera at the ready to snap the dramatic rising limestone rocks from the lush green paddies below is a must.
Tam Coc, a town outside of Ninh Binh city, is generally seen as the best place to get your snaps.
#11 Trek in Sapa
And if you are into your dramatic landscapes, it probably doesn't get better than Sapa, the hiking capital of Vietnam and definitely one of the places most travellers to this country list as their favourite.
Booking a multi-day excursion to this part of the country, which includes a homestay, is a great way to tick the cultural box as well as support remote communities in this northern Vietnamese outpost.
Trips often include return transport from Hanoi and include a few days either hiking or horse riding through this lush green land.
Check out this top-rated 2 day tour to get some idea of prices.
#12 Ride the Ha Giang Loop
And now we head right up to the far north of the country, and about as close as China as you can get, care of the Ha Giang province, where most people come to make the epic multi-day motorbike loop.
One traveller I met rated it as the "best travel experience he's had anywhere, ever" and if that wasn't enough to convince you, then the trekking day trips from the main access town of Dong Van, as well as the various markets and lookouts around here should!
When I get back to Vietnam – which writing this article has actually spurred me on to do! – one of the first things on my list is Ha Giang!
#13 Eat in Hanoi
Of course, no trip to this country would be complete without feasting your heart out, so undoubtedly one of the best things to do in Vietnam is EAT!
And there's few places better for this than Hanoi, the bustling capital of the country which is something of a street food mecca!
Most tourists base themselves in the old quarter of Hanoi which has a bustling and authentic scene across its thronging streets and ancient market places, but just about anywhere in this city will unveil some culinary treats… and that includes for vegetarians, as I found Vietnam probably the easiest Southeast Asian country to eat well in!
And while you're feeling adventurous on the tastebud front, don't miss the chance to try a famous Vietnamese egg coffee – the cafe Hidden Gem's version is a strong player!
#14 Sail Halong Bay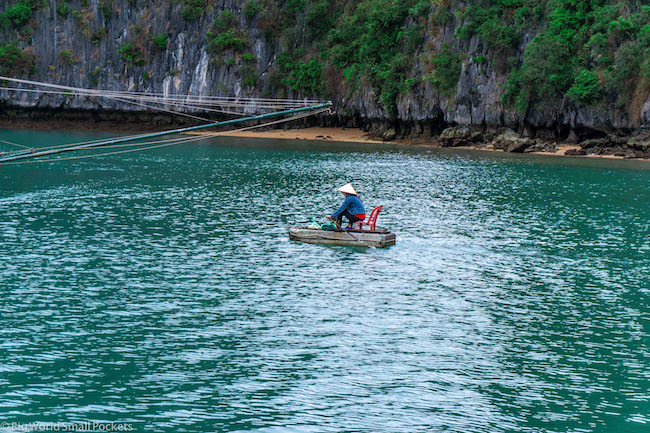 And it's from Hanoi that you're going to get the chance to visit what many people think of as the jewel in this nation's crown and certainly one of the most traditional things to do in Vietnam.
Another UNESCO-listed spot, this is a natural wonder dotted with 1600 limestone islands, which most people cruise around on a so-called junk boat for between 1-3 days.
When it comes to bucket-list ticking, this is definitely one of the top things to do in Vietnam.
But for me personally, I'd heard too many horror stories of crowded conditions, trash, pollution and noise that it put me off.
Instead I…
#15 Kayak Lan Ha Bay from Cat Ba Island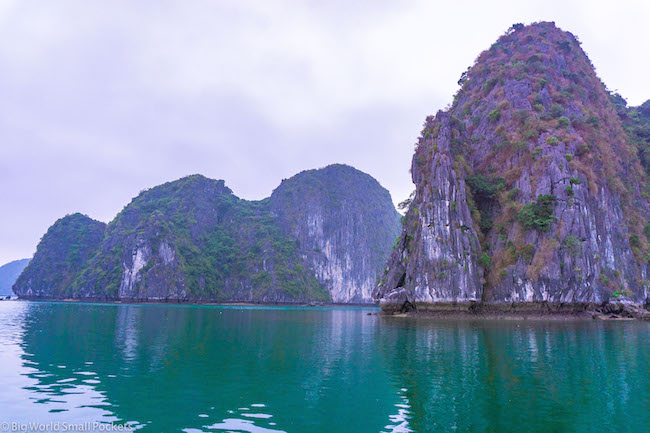 Yes instead of sailing Halong Bay, I cruised the neighbouring Lan Ha Bay on a kayak, care of a tour which departed from Cat Ba Island.
Lan Ha Bay's landscape essentially looks exactly like Halong Bay's except its name isn't quite so famous, which means it has half the crowds and a tour there has half the price tag too.
Instead of departing from Hanoi, like the Halong Bay trips, day trips to Lan Ha Bay leave from Cat Ba Island, which is a place accessible from Hanoi by boat and bus and which has lots of accommodation options and eateries, as well as a national park all of its own.
Kayaking for fewer dollars with less people, through an equally dramatic landscape, definitely made this one of the best things to do in Vietnam in my opinion and I arranged this day trip for $23 USD through Cat Ba Express, who I also used to get to Cat Ba Island from Hanoi.
Learn more about this trip and Cat Ba island in my designated post about how to see Halong Bay the cheap way!
PIN IT TO PINTEREST!
And there you have it, my list of the 15 best things to do in Vietnam.
Have you travelled to this amazing country?
Which was your favourite thing to do on this list or have I missed something out?
Tell me all in the comments below…