The perfect antidote to the generally frantic vibes of most Southeast Asian cities, I would describe Luang Prabang as a breath of fresh air, if it wasn't for the insane level of heat I experienced when I was there, meaning the air was anything but fresh!
That aside however *clears throat* hopefully you get the point I'm trying to make, which is that Luang Prabang is extremely chilled, calm and quiet for a city in this part of the world.
It actually feels much more like a small country town and with a midnight curfew in place and a strong Buddhist lineage here, it's the perfect place to unwind.
Which is probably why I stayed there a week, having just run (or at least it felt like I'd run) my way through Vietnam.
The other reason I stayed a week is because I loved Luang Prabang – there was just so much stuff to see there and around the city.
So here's my best of the bunch – the top 17 things to do in Luang Prabang, Laos…
---
Related Posts
---
This page contains affiliate links meaning Big World Small Pockets may receive a small commission on any purchases at no extra cost to you.
---
#1 Tick Off Those Temples
The number 1 thing you have to do in Luang Prabang is to tick off some of those UNESCO temples.
Listed as a World Heritage Site because of the large proliferation of important Buddhist temples here, going to Luang Prabang and not visiting at least a couple of them is like going to Thailand not seeing her islands… oh wait, that's what I did.
Ok, never mind, you get the point – go to some temples in Luang Prabang ok!
Do remember to dress respectfully if you're visiting any however, with knees and shoulders covered. Elsewhere in Luang Prabang it's fine to walk around with shorts etc.
Most of the temples are free of charge to visit here, with the exception being the main one at the end of town called Wat Xiengthong – this costs 20,000 Kip to enter and is probably worth it, because it's the big daddy, as it were, and there's a lot going on here.
#2 Cruise to the Pak Ou Caves
In case you hadn't noticed, Lung Prabang is situated right on the Mekong River and cruising a couple of hours up this important waterway will give you some lovely views, as well as the chance to visit the Pak Ou Caves.
Another famed Buddhist site / shrine, noted for its miniature statues, there's literally hundreds of them here spread between both the lower and upper caves.
#3 Eat Along the Mekong
And sticking with the Mekong vibes, eating along this river is definitely one of the best things to do in Luang Prabang, especially of an evening, when the watery, red sunsets over the water here complete the perfect Laos picture.
#4 Try as Many Bakeries & Cafes as You Can
There's no doubt that food is a major part of any Southeast Asian trip, so I'm giving food 2 spots on this list of the best things to do in Luang Prabang!
Yes, happy to say I had a field day sampling pretty much all Luang Prabang's cafes when I was there (for professional purposes only you understand) and definitely found some favourites, which include Saffron (great coffee), Novelty (good French baked goods) and La Batienne (nice setting).
That said, the much-hyped Jomo was wildly overrated in my opinion.
And when it comes to restaurants, Tungor is awesome for French food, Amigos does a sterling effort for Mexican in Laos and Utopia is king of the good vibes!
#5 Get Stretchy at Utopia
And it's not just eating and drinking that you can enjoy at Utopia.
No this great riverside café, with literally the most chilled feel (and seats to match) ever, also offers daily yoga classes – winning!
So if you feel like stretching it out in Laos to some beautiful views and good feels, head to Utopia in the morning for one of their drop-in sessions.
#6 Enjoy a Massage
And continuing the self-love vibes, there's no question that getting a massage is absolutely one of the best things to do in Luang Prabang.
A bit like Thai massage (no oil, pressure point based, hard as hell but brilliant) Laotian massages are slightly gentler, but many of the same principles are applied – literally!
I treated myself to a massage at the excellent Burasari Spa, which was like a delightful retreat and a completely relaxing treat I'd highly recommend.
That said, there are plenty of cheaper options around town and normally you can just walk in, right off the street, and get kneaded to a pulp, sorry I meant massaged, right then and there.
#7 Dip in the Kuang Si Waterfall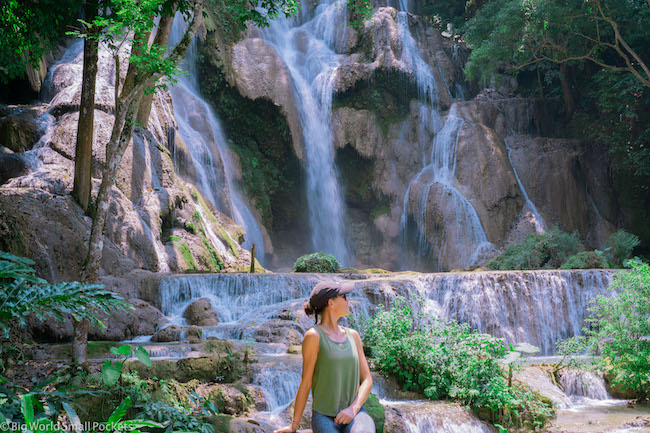 And then it's time to head out of town and to explore some of the things to do around Luang Prabang.
King of this list is definitely taking a trip to the Kuang Si Waterfall, which is utterly spectacular.
If you take just one day trip in Laos, make sure it's this.
This gorgeous fall is just an hour drive from the city and set in a beautiful rainforest area, the whole picture is a treat.
Best of all though, is the fact you can take a dip in this beauty and cool off from that crazy tropical heat – big bonus!
#8 Head Out on a Trek
You can also enjoy several hikes around Luang Prabang, that are well worth doing if you have the time.
Best to take a guide here to ensure you don't get lost, so that your return transport is included and to allow you to view some of the local villages in the area to get a bit more of a feel for the rural Laos culture.
There are many eco-outfits in Luang Prabang offering hiking trips that range from a day up to 3 days.
Check out TripAdvisor for the latest reviews and remember that paying a bit more to a company with some socially conscious credentials will mean you're contributing to worthy projects that help the many disadvantaged communities in this country too.
#9 Hit the Night Market
And what better way to finish your trekking or time at the waterfall than with a good feed?
And there's no better place to head in Luang Prabang for that than the busy night market, which is definitely one of the best things to do here.
Situated along the main street, which is closed off to traffic in the evening, this is a pedestrian-friendly affair, where stalls selling souvenirs, food and more, crowd the street and offer some excellent bargains.
It's said that many of the souvenirs you can buy in Thailand are actually made in Laos, so get your bargain gifts here and don't miss the many beautiful fabrics and textiles that are typical of this country.
#10 Visit the Local Market
And if it's markets you want, then heading to the local market in the morning (much more local than the night market FYI) is definitely one of the top things to do in Luang Prabang.
Peruse the food on offer, even if you don't feel like buying any of it (especially some of the more "crazy to western eyes stuff" i.e. live snakes and dead wild birds still not skinned) and check out the spices and other goods – this is a great way to get a feel for real Laos culture.
#11 Watch Monks in the Morning
Another of the best things to do in Luang Prabang in the morning is to get up early to see the monks receiving alms.
This is definitely a top way to get a feel for Laos culture, as the many monks here still live traditionally, going out with their begging bowl each morning to receive the gifts of food that will comprise their meal for the day.
Head out before dawn at around 5:30am to the main street to see this incredible procession, of sorts, and to offer sticky rice, which you can buy then and there, to the lined-up monks who begin their day like this each and every morning.
Other side streets, also provide a chance to see this "spectacle", as many local people wait outside their homes to make their offerings and to receive blessings.
#12 Join an Orange Robes Tour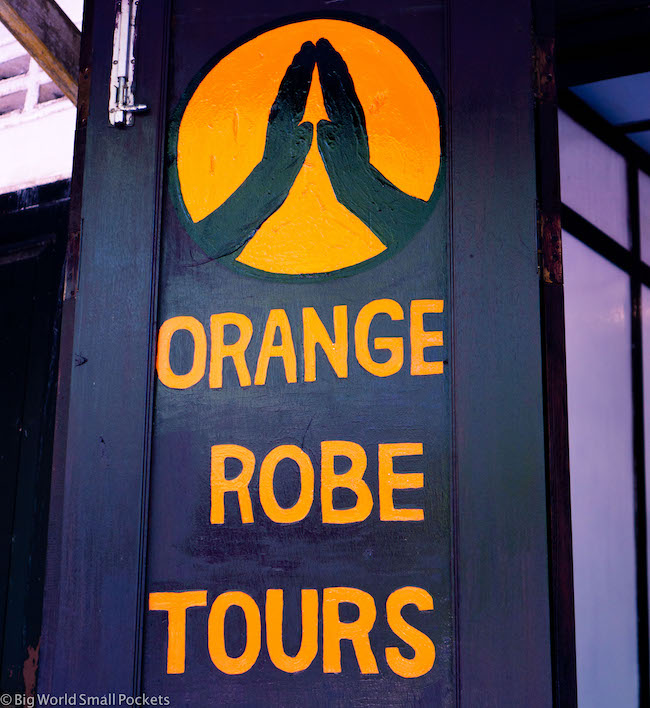 And you can learn more about Buddhist culture, and Laotian Buddhist culture in particular, by signing up to an Orange Robes Tour.
A socially-conscious project set up by a young British guy, formerly a monk novice, this tour allows foreigners intimate access to a temple, followed by an hour of guided meditation and is led by former novice monks too.
A great way to learn from the horse's mouth as it were, this is an eye-opening and educational experience about what it really means to be a Buddhist monk in Luang Prabang in this day and age.
#13 Visit the Royal Palace & Prabang Buddha
And finally, on the Buddhist front, one of the top things to do in Luang Prabang is to visit the Royal Place and Prabang Buddha.
Situated right in the centre of the city, along the main street, you really can't miss these 2 places, which sit next to each other and comprise 2 some of the most important places in Laotian history – I mean, this city is named after one of them… or at least the famous relic that used to be housed inside!
#14 Watch Sunset From Phu Si
Oh sorry, I missed one, there's a temple on top of a hill right in the centre of Luang Prabang called Phu Si that you should check out too.
But mostly this is for the views of the city, as its elevated position gives an epic perspective of the whole landscape, including the conjoining rivers, especially at sunset.
#15 Walk the Bamboo Bridge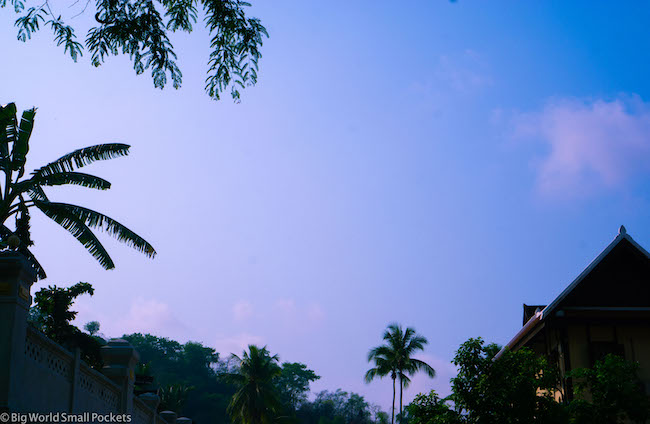 And talking of rivers, no time in Luang Prabang would be complete without crossing one of them.
You can either sail across the Mekong to see the village on the other bank, or, more fun, you can stroll the bamboo bridge that straddles the Nam Khan River.
This is only possible in the dry season as the bridge is washed away / dismantled during the rainy season and then rebuilt again each year.
#16 Unwind at Ikon Bar
So now for something a bit different, if you want to have a bit of fun and unwind in Luang Prabang, then look no further than Ikon Bar where you can enjoy a drink and some cultural events all at the same time most evenings of the week.
#17 Contribute at Big Brother Mouse
And finally, in at number 17, is probably my favourite thing to do in Luang Prabang, namely to go and check out the great initiative that is Big Brother Mouse.
This super project runs twice daily (once in the morning and again in the evening) and is a great way for tourists to connect with local people, exchange conversation and help the people of Luang Prabang improve their English.
For just 2 hours you can sit down, share information about your life, listen and learn about Laos culture and know you're helping out in some respect too – great feeling all round.
Mini Travel Guide to Luang Prabang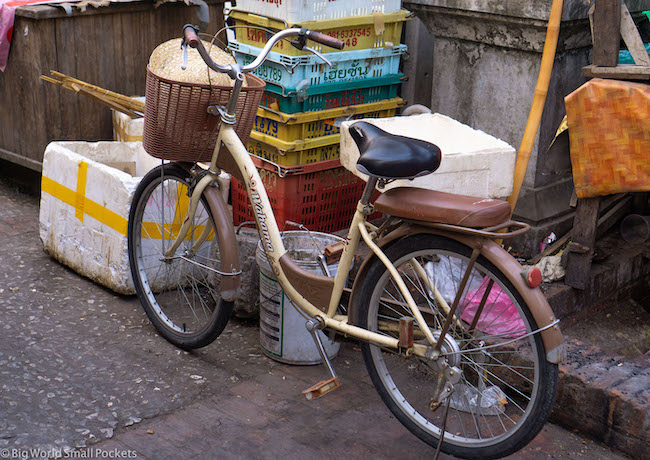 Best Budget Accommodation in Luang Prabang
I spent a full 8 nights – my entire time in Luang Prabang – at the fab Little Freedom Friendlys Place.
Bit of a mouthful and not the catchiest name in the book, but what this place perhaps lacks in a marketing strategy, it more than makes up for in great budget guesthouse vibes.
With private, ensuite rooms with aircon that can be found at a bargain price, I'm delighted to say the location is close to the centre of town, the wifi great and the swimming pool a big hit!
These guys offer a laundry service and can book your day trip to waterfalls, you bus ticket to Vietnam or your Mekong sail to Thailand – easy and brilliant!
How to Get to Luang Prabang?
You can book bus tickets for destinations across Laos, as well as across the border from other neighbouring countries in Southeast Asia, online via the website 12Go.
I used this site throughout my time in the region and highly recommend it for its simple and straightforward layout and its secure online payment service.
As an example, there's a 24hr bus to Hanoi, Vietnam which will cost you around 390,000 Kip. Or a sleep bus to Vientiane, Laos which will set you back around 190,000 Kip. Finally a sleeper bus also goes to Chiang Mai, Thailand and will cost around 350,000 Kip.
The 2 day Mekong river journey to Huay Xi, from where you can cross to Chiang Rai costs around 280,000 Kip. You can read all about my experience making this journey here.
Don't Travel to Luang Prabang Without…
#1 Birkenstocks – A good pair of sandals are king in Singapore and I love my Arizona Birkenstocks which were perfect for keeping my feet cool and supported at the same time. Literally wore them all day every day in this country!
#2 British Power Adapters – Singapore primarily uses the British format for its power outlets, so make sure you come prepared with a suitable Skross adapter.
#3 Camera and Lens – I love my Sony A6000 mirrorless, which was ideal for capturing this diverse and delightful country.
#4 Light, Waterproof Jacket – Situated in the tropics, it can rain anytime in Singapore, sometimes without much notice and, as such, a thin, light waterproof jacket you can easily stuff into a bag is key to being prepared when sightseeing in this city. I love my North Face Venture 2, which was ideal for this destination.
Travel Insurance for Laos
World Nomads offers simple and flexible travel insurance. Buy at home or while travelling and claim online from anywhere in the world.
Alternatively, if you're a long-term traveller, digital nomad or frequent remote worker seeking travel health cover, check out Safetywing's Nomad Insurance policies.
Travel Money in Laos
When it comes to paying for things in Laos, you want to ensure you're not being charged overseas transaction fees or getting poor exchange rates when using your card abroad, which is why I always take my Wise card away with me wherever I travel.
The easy way to spend abroad with real exchange rates, no markups and no sneaky transaction fees, you can use your Wise card just like a debit card here… and it links easily with Google and Apple pay – sold! Grab yours here.
PIN IT TO PINTEREST!
And there you have it, my list of the top 17 things to do in Luang Prabang.
Have you been to this gorgeous city?
Did you love it as much as me?
What was your fav thing to do there?