If you're planning to travel in Vietnam, then here are the 15 best places to visit you can't miss.
Before I stepped foot across the border, I honestly had no idea how delightfully diverse, climatically different, geographically varied and huge Vietnam was – seriously poor research on my part I know!
Which is why I ended up only having 15 days in this country and running around like a lunatic trying to squeeze in as much as I could to this crazy short timeframe!
But squeeze in as much as I could, I certainly did… and that's taking into account the large distances between locations in this, long thin country too!
Needless to say, I left Vietnam pretty exhausted, but very happy, because this place is truly spectacular and I absolutely loved it.
No question I'll be back, but until then, here's my list of the 15 best places to visit in Vietnam…
---
Related Posts
---
This page contains affiliate links meaning Big World Small Pockets may receive a small commission on any purchases at no extra cost to you.
---
#1 Ho Chi Minh City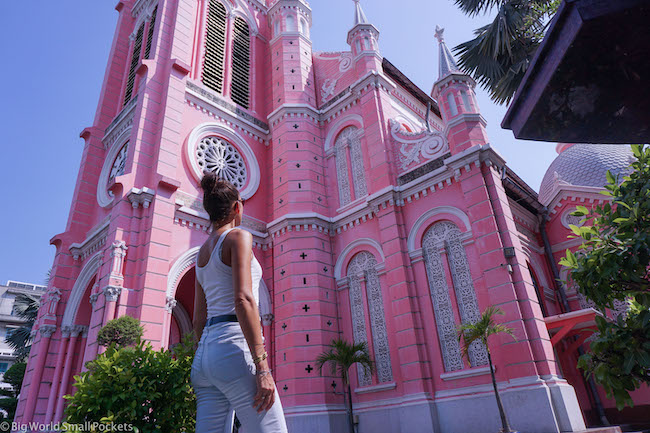 Stay: DaBlend Hostel
Coming in at number 1 on this list of the best places to visit in Vietnam, it's probably my favourite city in the country – Ho Chi Minh.
I absolutely loved my time here and ended up spending longer than I planned because there's so much to see and do both in and around the city… and don't even get me started on the food!
All the major tourist sights in District 1 are a great intro to Ho Chi Minh, but it's all about getting out to the surrounding, more local areas, if you really want to soak in the colours, chaos, authenticity and charm of this place… as well as its best coffee!!
Highly recommended are district 10 and 3, where just wandering around, high as a kite on caffeine, and seeing what you stumble upon (including pink churches) is quite the adventure!
READ MORE: 17 Best Things To DoHo Chi Minh
#2 Phu Quoc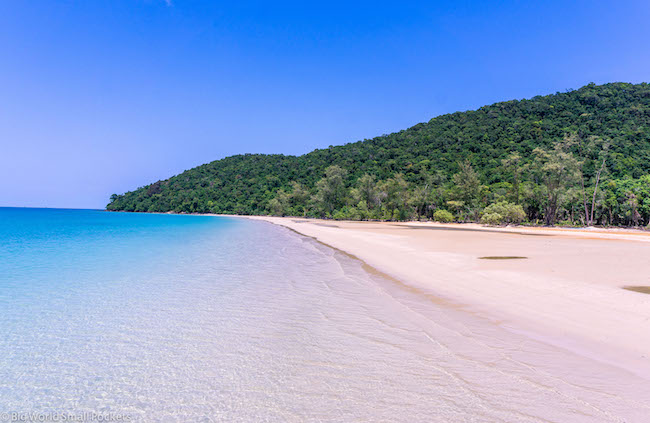 Stay: 9 Station Hostel
This paradise island definitely offers Vietnam's best beaches in my opinion, so if it's sand, sea and sun you want, this is certainly the spot to head.
Every bit as beautiful as the idyllic spot of Koh Rong Sanloem in nearby Cambodia, Phu Quoc is however more developed and therefore more pricier, but worth it if you need some island time!
Diving, kayaking and motorbike jungle rides are all possible here, as well as the obligatory sunbathing, hammock-swinging and seafood feasting of course.
#3 Cu Chi Tunnels
The Ch Chi tunnels lie north of Saigon, but are still within the Ho Chi Minh area, and therefore make a great day trip from the city as one of the best places to visit in Vietnam.
This is due, not least to the fact they provide a great opportunity to become more acquainted with the hugely complex and hugely horrific war in Vietnam that lasted many decades.
The option to actually crawl through the tunnels used by Guerrilla fighters here, which are set amidst dense jungle, really is quite extraordinary and gave me a whole new appreciation for how resilient, hardcore and determined these people were.
I took a tour to this location with TakeMeTour, which also included breakfast at a local café and lunch, as well as an excellent English speaking guide – such a super way to learn more about Vietnamese culture, history and politics.
#4 Mekong Delta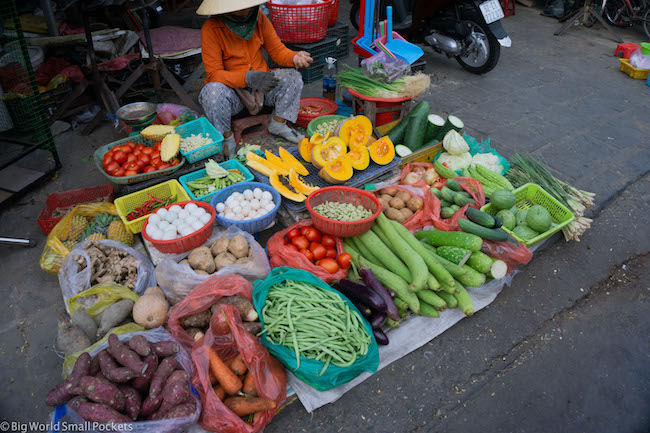 I actually crossed through the Mekong Delta area – which is the kind of the bulgy butt of Vietnam that juts out from Ho Chi Minh – on my way to this city from Cambodia!
And if you cross the border from Kampot to Ho Chi Minh too, you'll do the same.
Stopping to take in the amazing floating markets here, as well as some of the excellent homestay experiences in this part of the country is a great opportunity to get into the very chilled pace of life along the delta.
Otherwise, you can visit the Mekong area on a number of popular day trips or overnight excursions from Ho Chi Minh.
Check out the trip offered by TakeMeTour – a company who employ local guides and who I've used across Southeast Asia – highly recommended!
#5 Dalat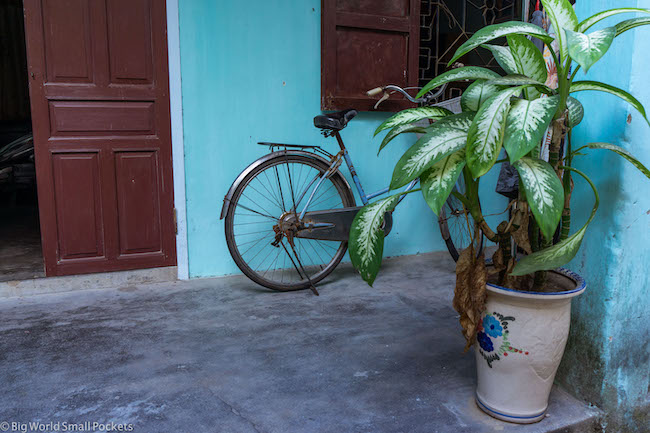 Stay: Cozy Nook Hostel
Feeling much more similar to north of the country given its mountainous landscape, Dalat is like a breath of fresh air after the sweaty south and definitely one of the best places to visit in Vietnam.
Due to the high altitude, the weather tends to be cooler here – perfect for all those outdoor activities on offer!
From trekking, mountain biking, canyoning and climbing, there's no shortage of epic ways to soak in this area at its best.
Or, if you prefer things a bit more sedate, the old French colonial buildings make for some great snaps and you can't miss the so-called "crazy house" either!
#6 Hoi An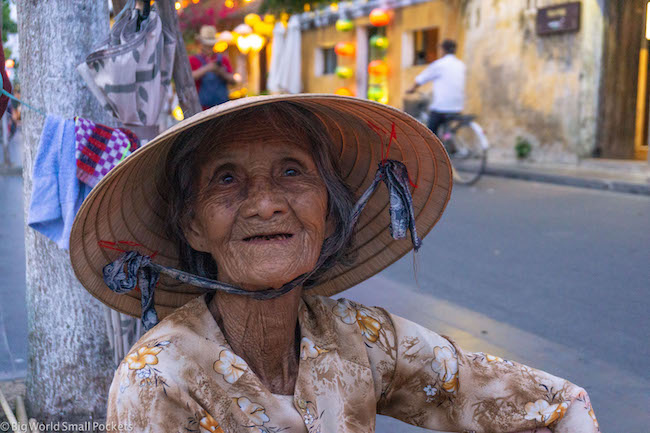 Stay: Love.Ly Hostel
Probably the crown in Vietnam's tourist crown, Hoi An is wildly popular, especially with tour groups, so definitely don't expect to have this place to yourself!
What you can have however are some of the prettiest historic, colonial streets you've ever seen, pasted against the backdrop of a flowing river and gently swinging Chinese-style hanging lanterns.
This UNESCO beauty is also worth a stop for its great food and markets, as well as its nearby beach.
Small, charming and relaxed, it's also a nice respite from the hectic pace of Vietnamese cities, so it really is no surprise this picturesque beauty always seems to keep travellers for longer than they plan!
And while you're in Hoi An, don't miss out on a trip to the fabulous nearby My Son ruins.
Nearly deserted and shrouded in jungle foliage, this UNESCO site is one of the best set of temples I visited in Southeast Asia and can be visited easily by hopping on an inexpensive half day tour.
Both Hoi An and My Son definitely make it onto my ideal 2 week Vietnam itinerary.
Learn more about both of these destinations in my list of the 13 best things to do in Hoi An.
#7 Da'Nang
Stay: Terra Cotta Homestay & Hostel
Just north of Hoi An, Da'Nang is a large coastal city that apparently used to be something of a backwater, but now is certainly reinventing itself with a ton of tourist development going on.
Located right on the coast, Da'Nang actually makes a nice stop for a few days if you want to hit the beach and enjoy some good eating and nightlife.
The Golden Bridge is a popular, if not pricey trip, otherwise the abandoned waterpark, Marble Mountains, or the fire-breathing Dragon statue all are good cheaper alternatives!
#8 Hue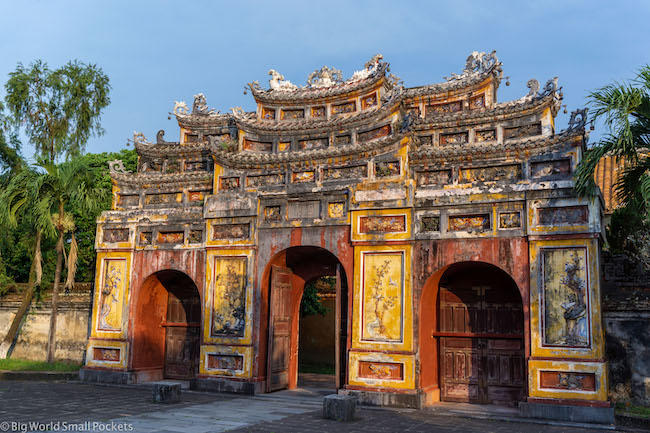 Stay: Bon Ami Hostel
Once a home to an Imperial Citadel, there's no doubt Hue has faded over the years, but this very relaxed city, set along a meandering river and still boasting the ancient citadel, as well as some nearby tombs (all of which you can visit in a day or 2) definitely makes this one of the best places to visit in Vietnam's central belt.
#9 Tam Coc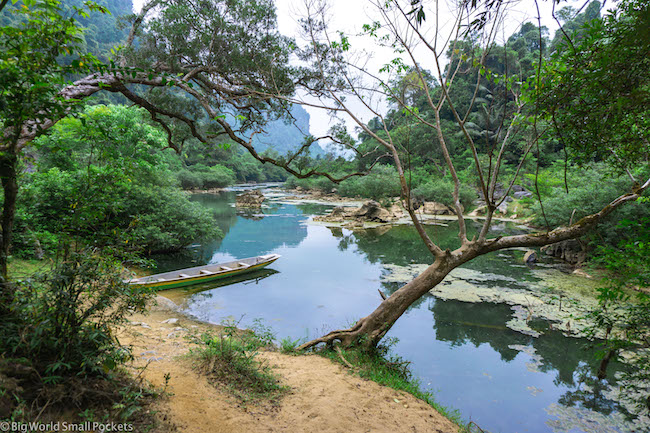 Stay: Tam Coc Central Bungalow
And now we begin creeping north on this list of the best places to visit in Vietnam as we hit Tam Coc, near the city of Ninh Binh.
Famed for its giant, limestone rock formations, this place has been described as "Halong Bay" on land!
You can motorbike or cycle through the incredible landscape here, as well as enjoy a boat trip to some caves and through rice paddies.
Whatever you do, just make sure you get here – the sunsets are to die for and many rate it as their fav spot in the whole country!
#10 Phong Nha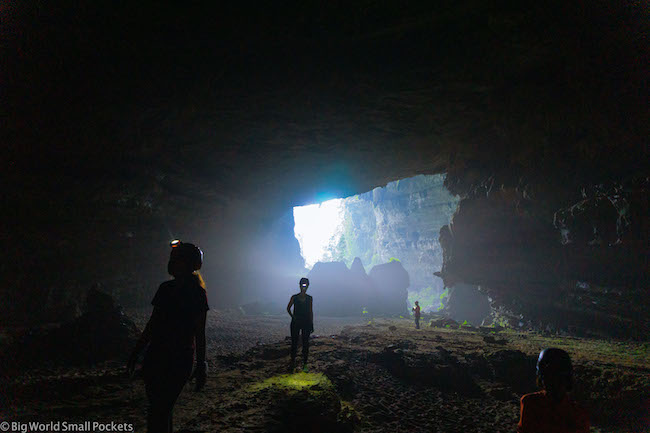 Stay: Linh's Homestay
UNESCO Phong Nha National Park is all about the caving…
…And what caving!
With the largest known cave IN THE WORLD, as well as some pretty epic runners up, this place is definitely one of the best places to visit in Vietnam and worth the slightly out of the way journey to get here.
Phong Nha is actually best slotted in between Tam Coc and Hue during your Vietnam route, with direct bus connections between both.
And once in Phong Nha, I recommend spending at least 3 nights here, so that you not only get to experience the caves near to town – like Paradise, Dark and Phong Nha, but also some of the further away beauties, such as Ha Tien and Hang En, care of some epic day trips with the great company Oxalis.
Indeed I took a 1 day trip with this company and absolutely loved it.
The scenery, guides, trekking, caving and landscape were all superb and I only wished I booked far enough in advance to secure a place on a longer, multi-day trip with these guys to be honest!
Learn more about Phong Nha in the ultimate travel guide I wrote about this Vietnam destination here.
#11 Ha Giang
And now we head right up to the far north of the country, and about as close as China as you can get, care of the Ha Giang province, arguably the BEST place to visit in Vietnam by those who've been there.
Trekking day trips from the main access town of Dong Van are wildly popular, as are the markets and lookouts; but by far the jewel in the Ha Giang crown is the multi-day motorbike loop here, which one travel fanatic I met rated as the "best travel experience he's had anywhere, ever."
Food for thought indeed!
#12 Cat Ba Island
Stay: Secret Garden Hostel
And, following on from Ha Giang, another one of the best places to visit in Vietnam if you want to get away from the crowds is Cat Ba Island.
Situated over on the coast, a few hours journey from Hanoi, this island makes a super base if you want to explore the stunning coastal scenery nearby.
However the island is beautiful in its own right too.
Forget the town, which is a good accommodation base but otherwise awful, and head inland to the national park – here great hiking trails, nature and lookouts await you.
READ MORE: Cat Ba Island, Vietnam: THE Spot for Good Value Halong Bay Trips
#13 Lan Ha Bay
Despite the national park situated at its heart, most people actually visit Cat Ba Island because they want to go to Lan Ha Bay, which is exactly why I went there too.
And I'll let you in on a little secret…
… You'll probably notice that the very famous Halong Bay is actually missing from this list of the best places to visit in Vietnam.
And that's because it's now become so overrun with tourist boats, ruined by pollution and is so horrendously expensive that I didn't want to include it.
In fact, so many travellers I met in Vietnam relayed such awful experiences to me, that I didn't even go to Halong Bay!
Instead, I went to the area just south of it, which is essentially the same landscape, just demarcated by a different name because it stretches into a different province.
And that name is Lan Ha Bay.
Lan Ha Bay is Halong Bay without the awful level of crowds or trash.
It is also way cheap to visit.
Just compare the price of a day trip to Halong Bay (which generally has to be taken from Hanoi at a cost of at least $150 USD) with a day trip to Lan Ha Bay from Cat Ba Island (price $23 USD).
Yup no brainer for me either!
Loved kayaking through caves in Lan Ha Bay with not a single other tourist boat around.
Winning!
#14 Sapa
THE place to go trekking in Vietnam, Sapa is again located in the north of the country and accessible from Hanoi.
Many companies based in the capital provide multiple day trekking trips, which include transport to Sapa, but you can also just get a bus to this town and then arrange a tour once you're there.
Whatever you do, just don't miss this epic destination, or one of its multiple-day treks with a homestay – undoubtedly one of the best experiences you'll have in the country.
#15 Hanoi
Stay: Little Charm Hanoi Hostel
And last but not least, it's the crazy capital Hanoi that makes it onto my list of the 15 best places to visit in Vietnam.
Allow yourself at least 1 day at either the start or end of your trip to soak in this bustling city – including its historic Old Quarter, its wealth of temples and its amazing coffee shops – my favourite of which had to be Hidden Gem… trust me, it is!
READ MORE: The Top 15 Things To Do in Hanoi
Mini Vietnam Travel Guide
When to Visit?
Vietnam is a pretty tricky country when it comes to the best travel season.
This is due to the fact that the climate varies wildly between north and south Vietnam, meaning there's only a few months of the year when it's possible to visit both without being caught in a monsoon!
The best time to visit the south of Vietnam is between November and April, which coincides with high season across most of mainland Southeast Asia.
When it's warmer in the north (from April until November) it's monsoon season and raining a lot in the south!
2 of the best months to travel to Vietnam therefore are when you stand a good chance of sun at both ends of the country – namely during April and November.
How to Get There?
Most people arrive into one of Vietnam's 2 major cities – Hanoi in the north and Ho Chi Minh in the south – if their travelling from abroad.
As always, I use Skyscanner to find the best flight prices.
Otherwise, if you're already within Southeast Asai, it pays to know you can easily travel overland into Vietnam from Laos and Cambodia.
12Go are my go-to site for booking trains and buses across the region, so check them out.
You can also get step-by-step info on how I crossed from Bangkok to Siem Reap here.
How to Get Around?
Because this country is so huge, domestic flights are the easiest and the quickest way to travel here.
Pacific Airlines, Bamboo Airways and Vietjet are the budget airlines you need to check for the lowest costs.
As an alternative, buses and trains are much cheaper and also incredibly frequent and easy to catch across Vietnam.
With big distances to be covered, taking night buses can be a great way to traverse the huge stretches between cities in Vietnam without wasting a travel day (if you're short on time) and without having to pay for a night in a hostel (if you're short on funds).
Booking buses or trains in advance is a great idea when you travel Vietnam and I highly recommend the website 12Go, who offer a great price comparison for all services across the country, as well as a secure and easy online booking process in English.
You can also book trains and buses in Vietnam through Bookaway – another great price comparison site.
And for travel within towns in Vietnam, it's got to be Grab!
Essentially a ridesharing app, like Uber, Grab in Vietnam includes both car, as well as motorcycle services – which are even cheaper and more fun!
Don't Visit Vietnam Without…
#1 Lonely Planet Guidebook – The Vietnam Lonely Planet is excellent and very helpful for any trip to this country with lots of top tips and recommended places to eat.
#2 Walking Shoes – There's likely to be a lot of walking in Vietnam, especially around those temples and cities! As such, I advise packing a pair of good runners, like these New Balance trainers, which were perfect for my time here.
#3 European & British Power Adapters – Vietnam has a mix of power outlets, but generally opts for a mix of the European and British ones, so make sure you come prepared with a Skross world adapter.
#4 Camera and Lens – I love my Sony A6000 mirrorless, which was ideal for capturing the colour, chaos and cuisine of Vietnam.
#5 Travel Scarf – A great multi-purpose travel item that can be used to safely store valuables as well as cover your shoulders while you explore many of Vietnam's top sights, a travel scarf is a must for me!
Travel Insurance for Vietnam
World Nomads offers simple and flexible travel insurance. Buy at home or while travelling and claim online from anywhere in the world.
Alternatively, if you're a long-term traveller, digital nomad or frequent remote worker seeking travel health cover, check out Safetywing's Nomad Insurance policies.
Travel Money in Vietnam
When it comes to paying for things in Vietnam, you want to ensure you're not being charged overseas transaction fees or getting poor exchange rates when using your card abroad, which is why I always take my Wise card away with me wherever I travel.
The easy way to spend abroad with real exchange rates, no markups and no sneaky transaction fees, you can use your Wise card just like a debit card here… and it links easily with Google and Apple pay – sold! Grab yours here.
PIN IT TO PINTEREST!
And there you have it, my list of the 15 best places to visit in Vietnam.
Have you travelled in this amazing country?
Which was your favourite place on this list or have I missed somewhere out?
Tell me all the in comments below…