Let's make this very clear from the start people – I absolutely love Chiang Mai and compiling this list of top things to do there was hard!
Having not really been a huge fan of Thailand until this point and expecting a tourist-laden, inauthentic, hectic city, there's no doubt that the charm and character of Chiang Mai completely can't me off-guard and quite frankly, landed me on my ass with amazement!
After travelling in Asia for some months, it really was nothing sort of wonderful therefore that, on arriving in Chiang Mai, I found myself in a large country town brimming with temple treasures, hidden heritage, cute cafes, quirky shops, delicious healthy food, terrific trekking, lovely lookouts, epic massages, hip hostels, conscious business, yoga, meditation and markets.
I mean honestly, what more could a travelling girl ask for?
Not much is the answer, and I quickly set about devouring everything Chiang Mai had to offer with a suitable level of enthusiasm.
So trust me when I say this is the complete list of Chiang Mai things to do, because I've done them all… and loved every minute of it.
---
Related Posts
---
This page contains affiliate links meaning Big World Small Pockets may receive a small commission on any purchases at no extra cost to you.
My time in Chiang Mai was kindly sponsored by Thunder Bird Hostel and TakeMeTour but, as always, all views are my own.
---
#1 Caffeinate Heavily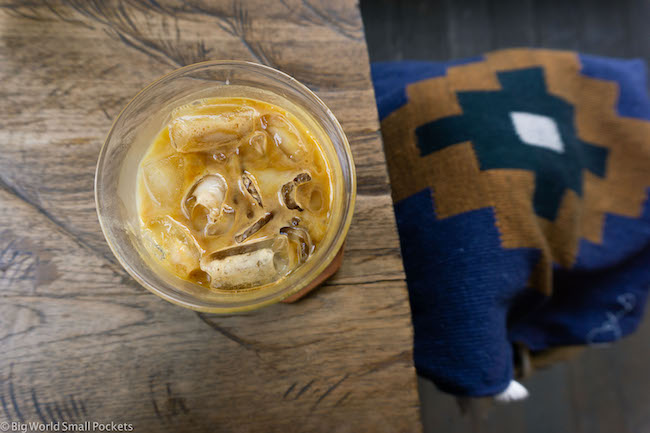 First in on my list of the top Chiang Mai things to do is caffeinate heavily, because I'm a coffee addict and that's just the way things are!
And I'm delighted to say Chiang Mai has some beauties.
Merely for professional purposes, you understand, it's a fair to say a gave a lot of them a good go.
From hipster On Off Coffee and Graph Cafe, to vegan-friendly Cool Muang, there's loads of places here that seriously know their coffee stuff and it's great to see many of them using local products.
After all, who knew coffee grew in Thailand?
Not me, until I visited Chiang Mai!
And if it's something more to down to earth you're after, as well as a good hearty breakfast, then you can't overlook Smoothie Blues, situated just outside the Tha Phae Gate, this is a great local place with some yummy western food and delightful, friendly staff.
#2 Stretch at Yoga
I was so happy to find that Chiang Mai is a yoga mecca and there are tons of classes running daily that you can simply drop into… and this was in the low season, so lord knows it will be raining yoga there in the high one!
Suffice to say, one of the best Chiang Mai things to do is definitely stretch it out with some yoga!
I tried out 2 places, both near the historic quarter and both with morning and evening drop-in classes. Both cost me 250 Baht for a drop in session and come highly recommended.
The places I tried were called Freedom Yoga and Hidden House Yoga and both get my thumbs up!
#3 Hike in Doi Inthanon
And if this active streak is grabbing you when in Chiang Mai, then definitely one of the best things to do here is hike in and around Thailand's highest peak.
Situated in the Doi Inthanon National Park, at a lofty 2566m, there's also many waterfalls and traditional villages to see in this park too – making it the perfect day trip from Chiang Mai.
My favourite part however, was definitely the hike I did along the Kaew Mae Pan Nature Trail, which had some amazing views and forest scenes.
It was made even better by the incredibly knowledgeable guide I had, who came from the local area and knew so much about the plants, people and wildlife of this park.
As such, I highly recommend booking a day trip to Doi Inthanon with TakeMeTour, the company I used and who were excellent!
I love their easy and secure online booking system and use of local guides. They are also an economical option because everything is included – great when you consider the park is a couple hour's drive from Chiang Mai and the entrance fee alone is 300 baht for a single foreigner.
It was so nice to get out of the city and into nature with TakeMeTour and booking a full day trip is definitely the simplest way to navigate a day out to Doi Inthanon.
#4 Eat Healthy
And it's not just the hiking and yoga boxes that Chiang Mai ticked for me either!
That's right, for once in Southeast Asia I was able to get a whole heap and range of delicious, healthy, vegetarian meals – because sometimes I just want a fresh salad and nothing that's been fried!
Glad to say Chiang Mai completely sorted me out in this regard and from vegan restaurants to vegetarian cafes, juice bars to sourdough bakeries, there was so much so choice here I was in heaven!
My pick of the bunch were Bodhi Tree, Taste of Heaven, Reform Kafe and DA's Home Bakery – which is just right opposite Thunder Bird Hostel!
And if it's not veggie you're after especially, but just good food (both Thai and Western) then there's plenty of that too!
Look no further than Kanjana, Ginger & Kafe and Asian Roots… and the list just goes on and on!
#5 Find a Friend at an Animal Café
And if it's less the food you're worried about and more the novelty, then Chiang Mai delivers too, with several animal cafes dotted around, including a guinea pig café!
Not personally my thing, but I know lots of people love them, which is why it's on this list of Chiang Mai the best things to do.
#6 Hang with the Locals at Warotot Market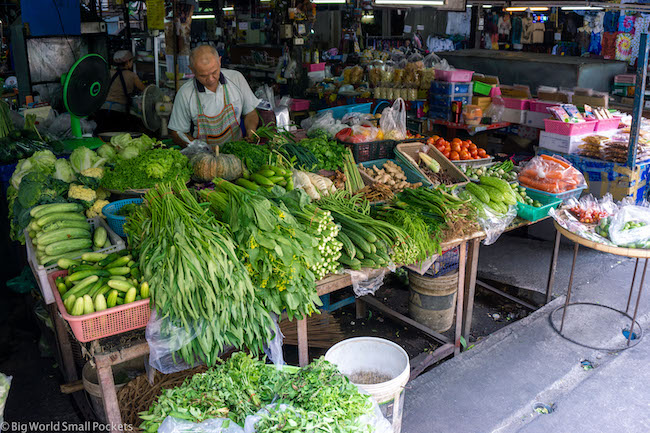 And finally, sticking with the food theme, if you want to pick up some fresh local produce to cook yourself or picnic with, then look no further than the Warotot Market.
A world away from the souvenir-laden night markets, this is a very local affair, just outside the historic quarter, where you're bound to find some great fresh food at some even better prices.
A very authentic experience.
#7 Shop at the Sunday Night Market
That said, if it is souvenirs you want, or tourist trinkets, the night markets of Chiang Mai are hard to beat!
Packed the brim with people, there are hundreds of stalls here selling everything from food to clothes.
There's also local musicians and dancers to keep you entertained.
My favoruite was the Sunday Night Market which is held along the Tha Pae Walking Street.
#8 Find the Abandoned Women's Prison
But if you want to get off the main tourist trail, then there's plenty of that do in Chiang Mai too, not least a visit to the abandoned women's prison, which makes for a fascinating (if not slightly creepy) thing to do here.
With loads of cool graffiti and an eerie atmosphere, this place is worth the small to medium trespass to grab some incredible shots!
Learn more about this place in this great article by Kathmandu & Beyond.
#9 Check out the Street Art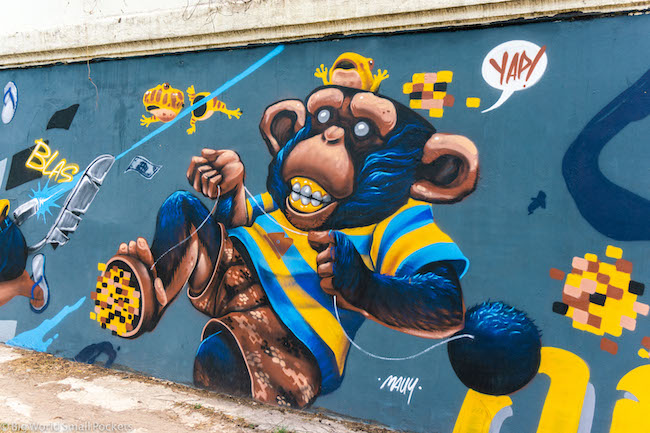 And it's not just the abandoned female prison that has loads of cool graffiti, nope the alleys of this city are laden with it too, so checking out some of the cool street art is certainly one of the best Chiang Mai things to do that won't cost you a cent.
#10 Stay at Thunder Bird Hostel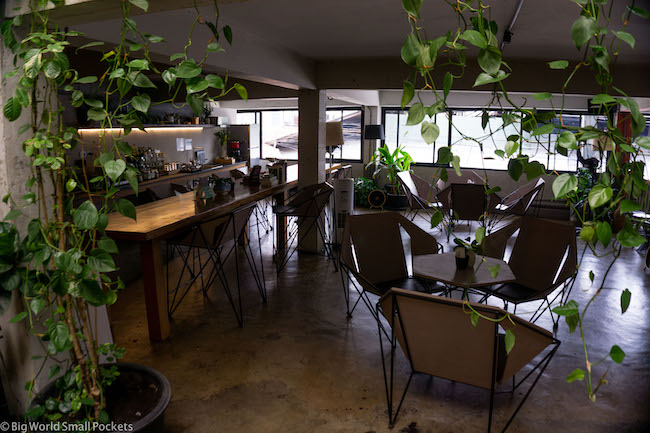 I've said it before, but I'll say it again, one of the best things to do in Chiang Mai is stay at Thunder Bird Hostel!
Centrally located, most of the stuff that I mention in this article is within walking distance of this place, meaning it's so easy to navigate Chiang Mai for cheap from here.
If you are heading further afield however, there's a handy bus stop within a 1 minute walk from the Thunder Bird Hostel front door which, for 20 Baht, can take you places outside the city, including the airport and…
#11 Day Trip to Doi Suthep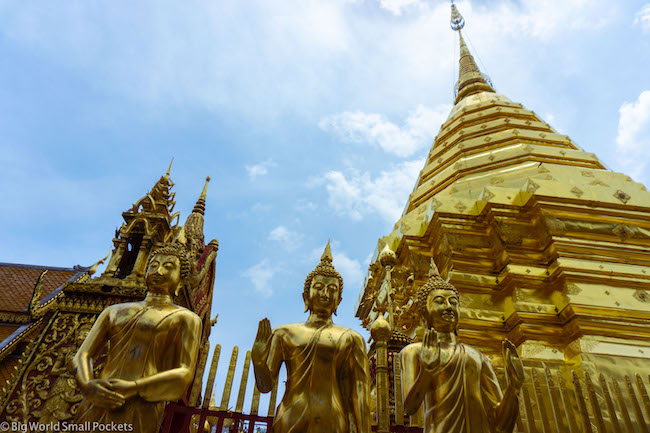 …Wat Phra That Doi Suthep!
Yes this is Chiang Mai's most prolific temple and is situated on a hill outside the city, again making for a great day trip.
Simply catch the R1 bus here from along the main road outside Thunder Bird Hostel and ride until the bottom of the hill.
Here you'll transfer to a tuk tuk, which can then shuttle you up the hill and back to the temple for around 50 Baht.
Alternatively, you can hike up the hill, stopping at waterfalls along the way, but as it's a 12km uphill walk, and it was 40 degrees when I visited Chiang Mai, so I didn't really fancy it!
Entrance to the temple itself is 30 Baht and it's a really beautiful one, making a trip here undoubtedly one of the best Chiang Mai things to do.
#12 Tick Off Some Temples
There's also a ton of other temples down in Chiang Mai's centre that you'll just stumble upon as you walk around this city.
It's just one of the reasons why wandering the streets here is so delightful.
#13 Wander the Moat
Wandering the moat, which edges the historic quarter, is also a lovely place for an amble in Chiang Mai, complete with its picturesque bridges.
#14 Snap the History
And, as you're wandering along the moat, you can't help but notice the Old City Walls and Gates, so, take some time to learn about the history of Chiang Mai while you're here and what this ancient city meant to the kingdom of Lanna!
There's also several monuments, like that of the 3 Kings, to take a look at while you're in town too.
#15 Tai Chi With the Locals
And then you can really get involved with locals at one of their Tai Chi sessions if you fancy it.
Just head to the Chiang Mai Public Park – Nong Buak Hard – and you'll see loads of Thai people practising in the early morning, as well as enjoying aerobics, jogging and cycling – all before it gets too hot!
#16 Learn to Cook Thai Food
And along with learning to exercise like a local, you can also learn to cook like one too.
In fact, taking a Thai cooking class is undoubtedly one of the top Chiang Mai things to do and many people head from around Southeast Asia to enjoy one here.
GetYourGuide have some great options for culinary day experiences that come highly recommended.
#17 Ride in a Songthaew
And after your class, it's time to ride the local way too – using one of the iconic red tuk-tuks here, or Songthaew, as they are otherwise known.
Just to confuse things, they are sometimes called Rot Dang too!
A lot of fun, and quite schmick, dive into one of these glorified pick-ups to hustle across town or to get to…
#18 Climb the Sticky Waterfalls
… the sticky waterfalls!
Yes, another popular out of town spot, you'll need some transport to get out to these small cascades, known to be sticky because of your ability to climb them!
Just check the water levels before you head out there.
#19 Browse the Bookshops
And finally, bringing it back down, there's few better Chiang Mai things to do in my opinion than aimlessly wandering the streets here, with few plans!
I've already discussed the glorious café, restaurants, markets and street art you can discover as you amble around, but it's worth mentioning some of the quirky bookshops in this city too, where I spent many a good hour it must be said!
My picks are The Lost Book Shop and On the Road Books.
#20 Relax with a Massage
And rounding it off in the best way possible, there's no question that one of my favourite Chiang Mai things to do is relax and zone out with a massage.
From regular Swedish to reflexology to traditional Thai, there's plenty on offer here, so not enjoy a different one every day!
Perception Blind Massage and Women's Massage Centre By Ex-Prisoners, are both socially-conscious places to get a massage and support local people; otherwise, Fah Lanna Spa and Sense Massage offer something a bit more upmarket and often have some good offers running for those of us on a budget too.
Mini Chiang Mai Travel Guide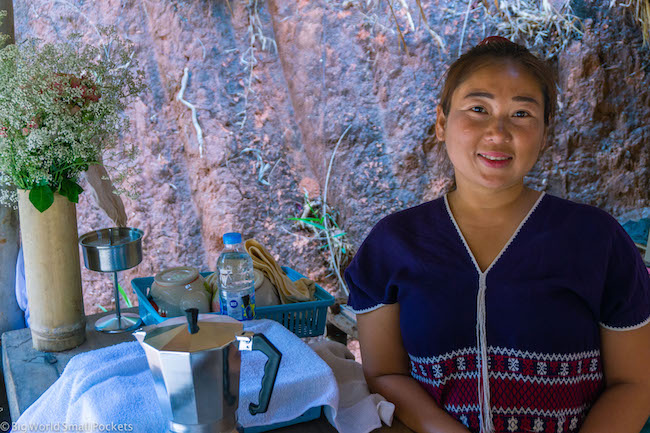 How to Get to Chiang Mai?
One of the cheapest ways to get around Thailand, including to Chiang Mai from Bangkok or Chiang Rai, is by bus.
Booking buses (or trains) online is much easier and faster than heading to a travel agent, and I always use 12Go to search timetables, prices and book when I'm travelling in this country and throughout Southeast Asia.

How Long to Spend in Chiang Mai?
I would honestly allow yourself at least 5 days in Chiang Mai if you want to tackle most things on this list.
And if you want to tackle some of them more than once, then consider staying at least a week in this city to take advantage of all the amazing yoga, meditation, food, massages and markets on offer.
Best Hostel in Chiang Mai
The hip, happening and happy vibes at Thunder Bird Hostel in Chiang Mai are contagious – trust me! – and half the reason I stayed in this city so long (and wanted to stay longer) was because I loved this hostel so much.
Set in an old market hall, I loved the very urban, airy, aesthetic of this place – its minimal décor and trendy street feel.
And that's not to mention the onsite vegan café, quirky bar, public piano, ping-pong table, workspace, roof terrace and guest kitchen!
The whole place is spotlessly clean, the bathrooms huge and the beds super comfortable. Even the dorms here come with aircon, as well as huge lockers and there's a personal reading light and charging point for each bed.
No question this is one of the best hostels I've ever stayed in and its perfect location, right in the heart of Chiang Mai's historic quarter, and within easy walking distance of everything, only sealed the deal.
Book your stay at Thunder Bird Hostel here!
Don't Forget to Pack…
#1 Lonely Planet Guidebook – The Thailand Lonely Planet is excellent and very helpful for any trip to this country with lots of top tips and recommended places to eat.
#2 Walking Shoes – There's likely to be a lot of walking in Thailand's cities, especially pedestrian-friendly Chiang Mai, so, I advise packing a pair of good runners, like these New Balance trainers, which are perfect for city strolling.
#3 European & British Power Adapters – Thailand has a mix of power outlets, but generally opts for a combination of the European and British ones, so make sure you come here prepared with a Skross world adapter.
#4 Camera and Lens – I love my Sony A6000 mirrorless, which was ideal for capturing this crazy country, its culture, countryside and cuisine, as its very best.
#5 Travel Scarf – A great multi-purpose item that can be used to safely store valuables and cover your shoulders while you explore Thailand's temples, there's no way I would come to this country without a travel scarf – just so damn handy!
Travel Insurance for Thailand
World Nomads offers simple and flexible travel insurance. Buy at home or while travelling and claim online from anywhere in the world.
Alternatively, if you're a long-term traveller, digital nomad or frequent remote worker seeking travel health cover, check out Safetywing's Nomad Insurance policies.
Travel Money for Thailand
When it comes to paying for things in Chiang Mai, you want to ensure you're not being charged overseas transaction fees or getting poor exchange rates when using your card abroad, which is why I always take my Wise card away with me wherever I travel.
The easy way to spend abroad with real exchange rates, no markups and no sneaky transaction fees, you can use your Wise card just like a debit card here… and it links easily with Google and Apple pay – sold! Grab yours here.
PIN IT TO PINTEREST!
And there you have it, my complete list of the top 20 things to do in Chiang Mai, Thailand.
Did you love this city as much as me?
What was your favourite part of it all?
Do let me, and other travellers know, by using the comments below…