"How much does travel in Ethiopia cost?" is a question I get asked a lot, like, a lot!
And the answer I always give is "well it depends."
And it does depend.
Totally and utterly depends on a huge variety of features.
So while I honestly always want to try and give an accurate answer, the reality is, that's just not possible.
But what I can do is outline some of the costs I've collected from my 3 visits to this country to try and help you work out your own budget, depending how long you plan to stay in the country, what you want to do there and your travel style.
So here goes… how much does travel in Ethiopia cost?
---
Related Posts
---
This page contains affiliate links meaning Big World Small Pockets may receive a small commission on any purchases at no extra cost to you.
---
Grab Your Copy of My Real Travel Guide to Ethiopia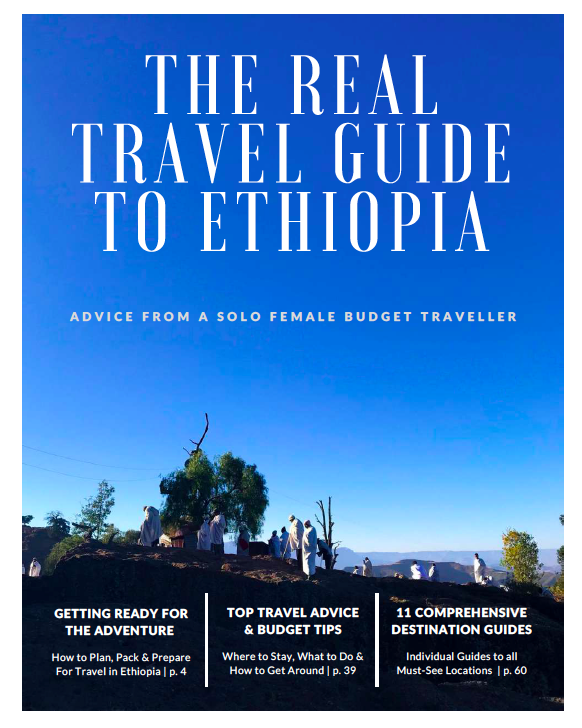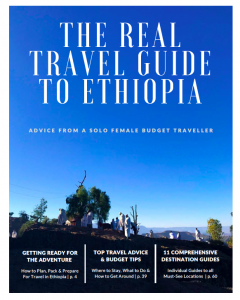 My ultimate guide to travelling in Ethiopia is now available, meaning you can finally get ALL my tips for adventuring in this amazing country in one handy eBook, including
11 Complete Destination Guides to the Best Cities & Attractions
Recommended Places to Stay
Recommended Guides & Tour Companies + Contact Details
Money-Saving Tips + Budget Planner
Advice on What to Expect & How to Stay Safe
Packing Checklist
Itinerary Schedule
Overall Budget
The first thing I'd encourage you to do is head over to my Ethiopia itinerary post and check out the 2 week itinerary and then come back here!
To give you some idea of prices, I'm going to cost out this specific itinerary so you've got some parameters.
This budget will be costed exactly based on the trip I've done, staying in the same hotels, visiting the same attractions and eating at the same places.
Obviously, this will involve travelling on a budget i.e. eating in cheap, local restaurants and staying at cheap. local guesthouses.
That said, it will include some added extras, which perhaps might not be considered budget travel items in other places around the world but which, in Ethiopia – which as I've pointed out before is not that cheap to travel – certainly are the cheapest way to do things if you actually want to see and experience this country's best places.
This includes things like tours to the Danakil Depression and hiking trips to the Simien Mountains, which you can't experience unless you employ the services of authorised guides etc.
This budget will also include domestic flights, because again while taking the bus is the far cheaper option, for many budget travellers, time is still of the essence and their priority is seeing Ethiopia in a couple of weeks rather than saving a couple of hundred dollars.
It's also worth pointing out that the 2 week Ethiopia itinerary I'm working off, literally isn't possible to undertake if you don't fly – you simply can't cover the distances required in any other way.
Worth pointing out too, is the fact that this budget does not include international flights, visa expenses or insurance costs, so don't forget to factor those in as well.
First up I'm going to give you a breakdown of each category, so that those of you who are travelling for longer or with a bit more / less cash, can do your own workings.
Then, at the end of this post, you'll find the complete budget breakdown of my proposed 2 week itinerary.
Hope it helps!
#1 Accommodation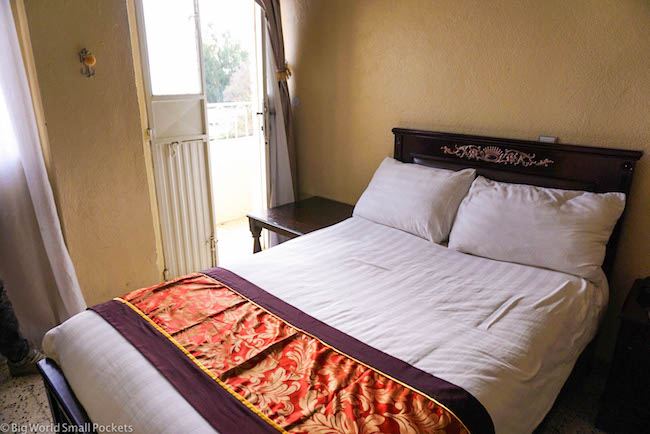 Accommodation costs aren't cheap in Ethiopia, primarily because tourism didn't develop here from the backpacker market.
As such, it's really only in the 2 years that I've been visiting the country, that there's been a growth in shoestring, long term nomads travelling here.
What this means, is that there are very few hostels in Ethiopia and almost all accommodation is in twin / double rooms – the cheaper ones with shared bathrooms.
These rooms start from a minimum of $10 USD a night, but normally you'll pay closer to $15-20 USD.
For private bathrooms you could be looking more at $25 USD per night and this would still count as the budget end of the market.
For mid-range hotels, you're looking at around $50-70 USD a night, especially in Addis where this type of accommodation is more common.
Elsewhere, it's luxury resorts or lodges that tend to predominate and these can reach up to some crazy prices around $100-200 USD a night.
6 ESSENTIALS YOU NEED TO PACK FOR ETHIOPIA
#1 Hiking Shoes – Something with good grip and ankle support is essential for climbing to the churches of Ethiopia or hiking in the Danakil Depression. Keen Targhee II's are a great choice.
#2 Small Backpack – You'll want something you can put your camera, guidebook, sunscreen and water into when out and about in Ethiopia, as well as something secure given the increasing level of petty theft I've heard about on my most recent trip to the country. The Bobby Anti-Theft Backpack is perfect for this purpose and I always travel with mine.
#3 Headlamp – Great for helping you to really see and snap the Ethiopian church artwork in low light conditions, I really wouldn't be without my Black Diamond Storm headlamp in Ethiopia, especially given the frequent power cuts!
#4 Good Camera – I love my Sony A6000 Mirrorless camera, which is small, light, compact and robust – perfect for African travels.
#5 Hiking Trousers – With long trousers the order of the day just about anywhere in Ethiopia, you'll want a pair that allow you to go hiking and climbing too. Columbia do a good range for women.
#6 Sarong or Shawl – A great one for ladies to cover your shoulders when entering the churches of Ethiopia or covering your nose and mouth if you're heading up Erta Ale Volcano in the Danakil, this travel scarf, also has a great secret storage pocket ideal for small valuables.
#2 Food & Drink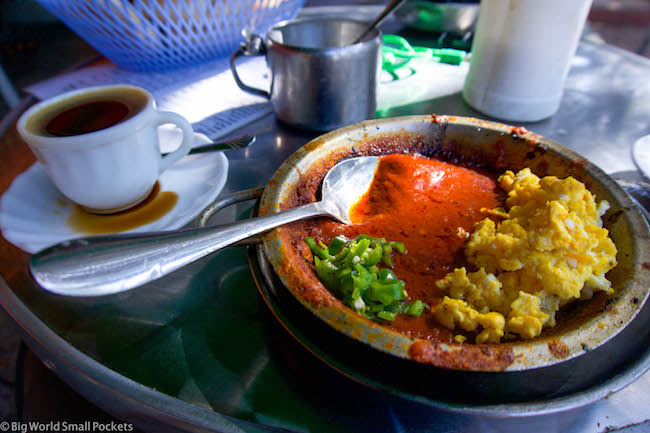 Thankfully, following on from the accommodation costs, food and drink in Ethiopia is crazy cheap… if you eat in local cafes that is.
Almost no accommodation spots in Ethiopia have kitchens, but most nightly rates do include breakfast – which leaves you 2 meals per day and some drinks to pay for.
Good news is that the amazing Ethiopian coffee is super cheap on the street – at 5 Birr – and local beers are normally little more than a dollar or 2. The same goes for soft drinks and local wine.
If you eat in local cafes / restaurants, especially outside of Addis, then you're not likely to pay more than $2-5 USD for a meal either.
This means you should be able to get by on around $10-20 USD a day when it comes to eating and drinking – it just depends how much and in what quantities you like doing that stuff!
LOOKING FOR A BUDGET TOUR IN ETHIOPIA?
If you're interested in an unforgettable, well-priced tour in Ethiopia with guides you can trust, then email me at [email protected] with details of where you want to go and I'll send you my top recommendations – simple!
#3 Transport
Transport costs can make a huge difference when it comes to the price of travelling in Ethiopia, based on how much time you have in the country and how much you want to see.
What I mean by this is, if you want to whiz around Ethiopia and see most of the major sights in 2 weeks, you're going to have to fly.
If you've got longer or skip a few of the big attractions, then taking at least a few local buses might be an option open to you.
As a guide, a local, one way flight between Lalibela and Makele may costs you around $40 USD, whereas a bus will cost you maybe $4 USD!
This flight price I've given above is based on the assumption you're eligible for the local flying discount by having an international flight into Addis with Ethiopia Airlines…. otherwise you're going to pay even more!
The other difference when it comes to transport costs are that some tours include them i.e. a Tigray Church tour may include transport from Makele to Axum, in which case you'll be saving this cost altogether, or at least absorbing it.
READ MORE: The 10 Best Things to do in Ethiopia
#4 Entrance Fees & Guides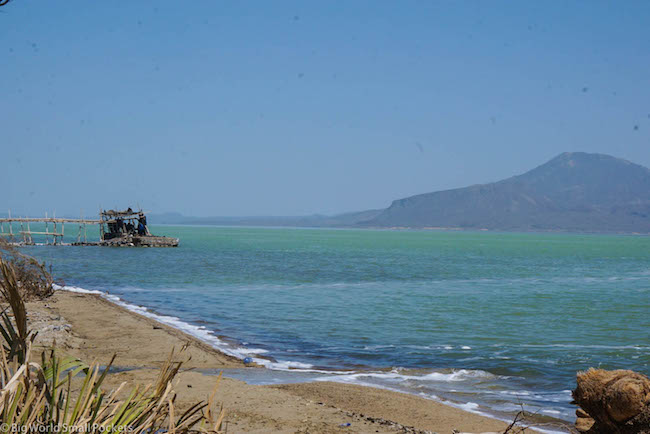 Annoyingly high in Ethiopia, you have to pay to get into almost any church, museum or site of special interest here.
Unsurprisingly these costs can quickly mount up, especially when each one is pegged at around 200-300 Birr.
Some, like the National Museum in Addis are much cheaper at around 10 Birr, while others like the Lalibela Churches are an eye-watering packet more at $50 USD – of course this includes entry to all the town churches over multiple days, but it can still be hard to stomach!
Again, taking a tour to almost any site should include entrance fees and will help you absorb this cost, however do make sure you clarify this.
Any tour fees should also include English-speaking guides, so again make sure yours does.
Outside of this, guides are rarely included in entrance fees in Ethiopia and you'll have to pay separately for them.
Often at major tourist sights, like the Royal Enclosure in Gonder or the Simien Mountains National Park office, you'll find established guide associations.
Quite remarkedly organised for Ethiopia, these associations work on a rotational basis and are staffed by a series of trained and official guides, who just stand in line and wait for the groups to come.
Rocking up here is probably the cheapest way to get a guide in Ethiopia, but will still set you back a couple of hundred Birr for a half day.
THE BEST TRAVEL INSURANCE FOR ETHIOPIA
I would never think of travelling to Ethiopia without proper coverage and always recommend travel insurance from World Nomads who I've used during my time in this country and throughout Africa.
I love their great coverage of hiking activities – crucial for travel in a country like Ethiopia – as well as their excellent customer service and ability to claim online, which is very handy if you're travelling in remote places for a long time.
#5 Tours & Activities
And coming in at number 5, it's another big ticket item in Ethiopia, namely tours and activities.
These is where your budget can really spiral if you're not careful.
Tours to some places like the Danakil Depression are necessary and therefore a worthwhile splurge in my book, otherwise you're not going to see this incredible landscape.
Ditto the Simien Mountains and Bahar Dar (for the Blue Nile Falls and Lake Tana Monasteries) where boat / 4wd transport is required to get to these sights any way.
Otherwise, I don't think tours are necessary if you're on a budget and a confident African traveller.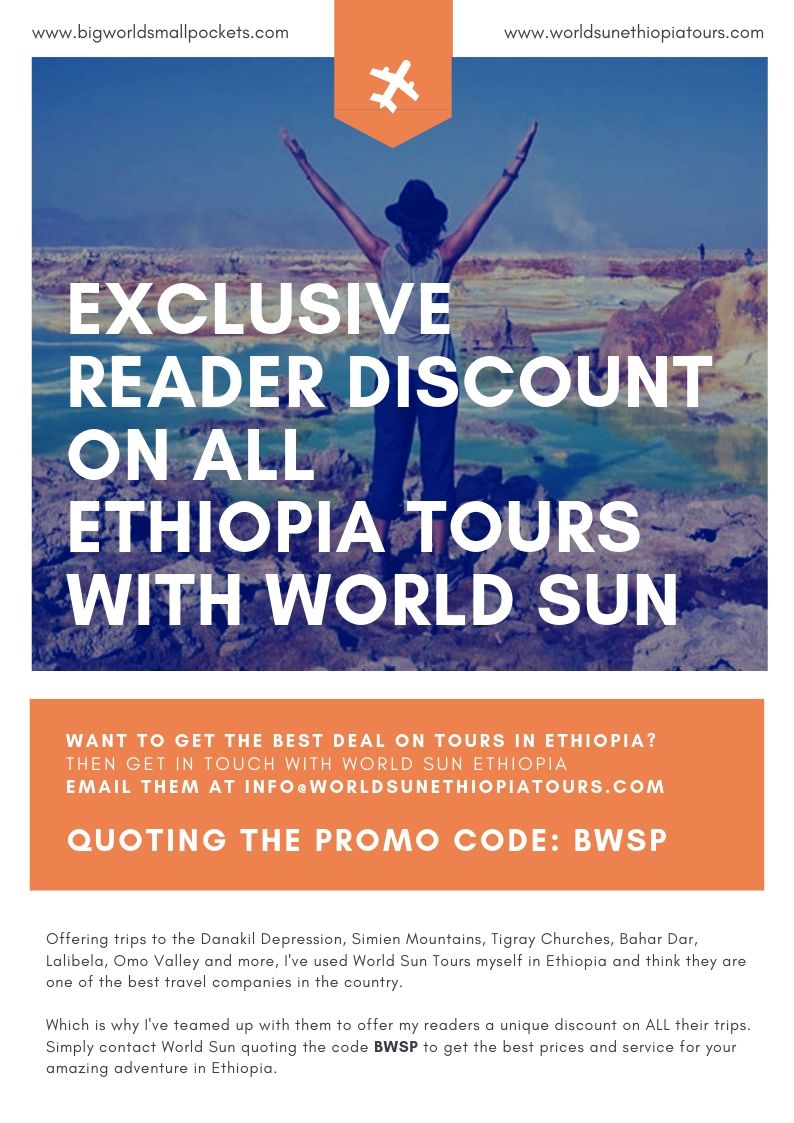 #6 Other Expenses
Then you've got to factor in all those other expenses like international flights, visa costs (it's normally $50 USD for a single-entry tourist visa to Ethiopia), laundry (once a week should do it) and possibly a SIM and data package too.
These costs all add up too and shouldn't be forgotten about as part of your budget either.
The Final Budget Breakdown
And finally, here it is, the complete budget breakdown of what it costs to travel in Ethiopia for 2 weeks on a budget….ish!
PIN IT TO PINTEREST!