Most famous as the centre of Ethiopia's rock-hewn churches, Lalibela is a town soaked in magic and mysticism.
A small, rural village, an unassuming place set amidst a stunning highland landscape, Lalibela is home to some of the finest UNESCO rock-hewn churches in the world.
In true Ethiopian form, these churches sit alongside a unique, ancient, fascinating and untainted culture.
With no gift shops, no souvenir touts, no staged cultural shows, Lalibela is refreshingly real.
Dry, dusty and full of donkeys, complete with some incredibly elevated views, this is a living breathing African town that leaves you feeling like you've stepped back in time.
To put it simply, Lalibela is breathtaking.
The first place I visited in Ethiopia after Addis Ababa, Lalibela left me spellbound and set the tone perfectly for my unfolding love affair with this country.
I remember gushing on Instagram about my experiences as I struggled to believe the reality of this rich and enchanting place I was witnessing.
So if you're heading to Ethiopia, it goes without saying Lalibela has to be on your itinerary. Here's everything you need to know…
---
Related Posts
---
This page contains affiliate links meaning Big World Small Pockets may receive a small commission on any purchases at no extra cost to you.
---
Grab Your Copy of My Real Travel Guide to Ethiopia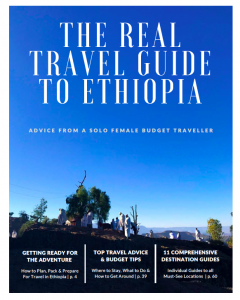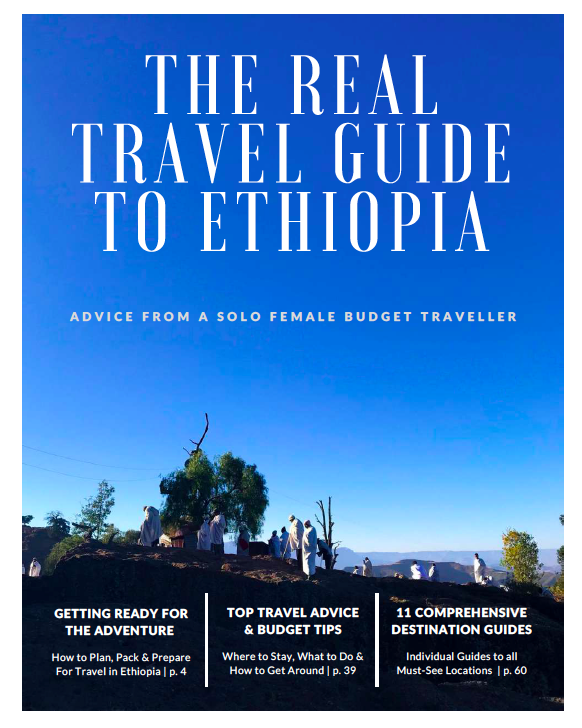 My ultimate guide to travelling in Ethiopia is now available, meaning you can finally get ALL my tips for adventuring in this amazing country in one handy eBook, including
11 Complete Destination Guides to the Best Cities & Attractions
Recommended Places to Stay
Recommended Guides & Tour Companies + Contact Details
Money Saving Tips + Budget Planner
Advice on What to Expect & How to Stay Safe
Packing Checklist
Itinerary Schedule
When to Visit Lalibela?
The best time of year to visit Lalibela, infact to visit Ethiopia as a whole, is during the dry season of October to March.
Within those months, I highly recommend visiting Lalibela at the weekend.
On Saturday there's a great local market to experience here and Sunday is the time to visit the rock-hewn churches, when white-robbed locals descend in their hundreds for a dawn mass service that puts a whole new level of understanding onto the otherwise usually empty stone church structures.
To see the churches really packed, you need to visit during Ethiopian Christmas, which takes place in this country in January.
This is when thousands of pilgrims flock to Lalibela for the major religious ceremony of the year and while prices rocket at this time and the town is packed, it's a spectacle worth the crowds.
TRAVEL INSURANCE FOR ETHIOPIA
World Nomads offers simple and flexible travel insurance. Buy at home or while travelling and claim online from anywhere in the world.
Alternatively, if you're a long-term traveller, digital nomad or frequent remote worker seeking travel health cover, check out Safetywing's Nomad Insurance policies.
Lalibela Climate
During the dry season you can expect stunning clear, blue skies in Lalibela and warm temperatures around 27 degrees C.
Situated at elevation however, the evenings can be chilly here as the wind picks up and the temperatures drop to around 10 degrees C.
As such, bring a jumper and a warm hat!
How to Get There?
You're likely to be accessing Lalibela from either the capital, Addis Ababa, or north from Makele.
From both Makele and Addis you can fly direct to Lalibela for around $80 USD – bookable online or in any Ethiopian Airline office.
Top Ethiopia Travel Tip
Save a huge amount on domestic flights within Ethiopia by flying into the country with Ethiopia Airlines.
Having an international flight with this domestic carrier allows you to access local flight prices, which are up to 2 thirds cheaper.
Check out my post about the EVERYTHING You Need To Know About Travelling in Ethiopia for more great tips.
The Lalibela airport is situated 23km out of town.
Book your accommodation in advance and you can arrange a pick up for 100 Birr.
Otherwise, you can also catch the bus to Lalibela from Makele or Addis, although do beware this is one of the worst roads in the country – and that's saying something!
From both these destinations, you also have to change buses in Woldia and pick up a connection to Lalibela from there, so get prepped for a full day adventure if this is going to be your transport of choice.
Suggested Lalibela Itinerary
I spent 3 nights in Lalibela, which was a good amount of time, but you could easily spend longer if you wanted to see more of the out of town attractions (see below).
At a minimum, 2 nights would give you 1 day to explore the churches in town and a 2nd day to head out of Lalibela to take in some of the stunning viewpoints, hikes and churches that lie dotted in the countryside outside of town.
These will both be busy, long days with a lot of sightseeing and walking, so schedule in a 3rd day if you want some time to relax and or visit the town churches again.
Lalibela Rock-Hewn Churches
Lalibela's biggest drawcard is of course its UNESCO rock-hewn churches.
Split into 2 main groups – the Northwestern cluster and the Southeastern cluster – these are complimented by 3rd isolated church of St George's or Bet Giyorgis.
You can see all 3 of these groups in 1 full day. And it will be a full day.
The key to enjoying Lalibela is to take your time and soak it all in.
Tickets to the entire town site are valid for 5 days (and so they should be for $50USD!) , so if you have the time, don't hesitate to visit the churches on a second day to allow their splendour to really soak in.
If you do only have 1 day, then I recommend starting your day early (especially if visiting on a Sunday so you can view the mass ceremony at 6am) and beginning with the Northwestern cluster.
Tour these churches, until the site closes for lunch at 12pm.
Then at 2pm return to explore the Southeastern churches, ending with St George's Church in the afternoon to grab some stunning pics in the late day sunglight.
Visiting hours finish at 5pm.
6 THINGS TO PACK FOR LALIBELA
#1 Headtorch – required for those all too often power cuts. I always go for Black Diamond.
#2 Toilet Paper – most places don't provide it, although the Red Rock Lalibela Hotel does!
#3 Long, Thin Trousers – perfect for the cold evenings and conservative dress standards during the day
#4 Good Camera – an absolute must if you're looking to capture the incredible landscape and cultural practices of Ethiopia. I love my mirrorless Sony A6000, which is light, compact and robust – ideal for Africa travel
#5 Hiking Boots – necessary for dusty roads, walking and cold nights. KEEN Women's Targhee II Mid Waterproof Hiking Boot are a great option.
#6 Travel Scarf or Sarong – whether it's covering your shoulders in the churches, wrapping round you at night as a shawl or using as a protection for the dust, this is a great multi-purpose travel item for Lalibela.
To Guide or Not to Guide?
Always looking to do things on the cheap, I'm not usually one for taking a guide, but Lalibela is one place I'm glad I made the exception.
Honestly, you just can't appreciate the depth and intricacies of legends and local customs that surround Lalibela without one and I know for a fact my time here was deeply enriched by doing so.
There's little signage around the rock-hewn churches of Lalibela and guides can show all the best photo spots, advise you of any local etiquette and fill your brain with so much information you'll be struggling to learn any more!
LOOKING FOR A BUDGET TOUR IN ETHIOPIA?
If you're interested in an unforgettable, well-priced tour in Ethiopia with guides you can trust, then email me at [email protected] with details of where you want to go and I'll send you my top recommendations – simple!
Things to Do Around Lalibela
As I said before, if you have the time, it's well worth taking a day to explore some of the attractions around the town of Lalibela too.
Mulu will happily plan an itinerary for you or, if you do some research yourself, investigate the churches you might want to visit and he can arrange transport and act as your guide.
Top of the list is Na'akuto La'ab, which is 7km from Lalibela and has a 200 birr entrance free. Best seen in the afternoon, this is a good sunset watching spot.
Yemrehanna Kristos is a natural cave church 42km from Lalibela and costs 400 birr to enter. It's meant to be one of the oldest in area and a spectacular sight as it has been built, rather than excavated, from the rock. A visit here can be combined with a trip to 4 of the other major churches in the area as a part of a full day trip.
Head to Ashetan Maryam for sunset straight from Lalibela. Situated at over 3000m above sea level, it's worth the 200 birr entrance fee just for the views alone. Getting here either involves a 5 hour hike or a $10 USD half hour tuk tuk ride. Again Mulu can help arrange.
Where to Stay in Lalibela?
When it comes to budget accommodation in Lalibela, you can't go past the excellent Red Rock Lalibela Hotel, which boasts some wonderful ensuite rooms, all with hot water and private balconies that start from just $15 USD a night.
Prices include free wifi and complimentary breakfast.
The Red Rock Lalibela Hotel is incredibly central – within walking distance of the rock-hewn churches – and offers some epic views from its elevated position.
All in all, it's a winner.
Check out my full review of Red Rock Lalibela Hotel here.
Restaurants in Lalibela
The following restaurants in Lalibela come recommended:
John's Café
Seven Olives
Ben Ababa
Amenities in Lalibela
Although only a small town, Lalibela has most of the amenities you could need.
There's a few banks, with the Commercial Bank of Ethiopia offering an ATM machine and the ability to change USD to Ethiopian Birr.
The Ethio Telecom office here, which is amusingly just a tin shed, can hook you up with a local SIM card from Monday – Saturday if required.
Small shops, roadside sellers and tuk-tuks are plentiful in Lalibela and the Red Rock Hotel offers a laundry service.
PIN IT FOR LATER!
There's no way an Ethiopian itinerary could be complete without a trip to Lalibela and hopefully this article has shown you just why.
Definitely one of the country's most fascinating destinations, it's a perfect introduction to the sometimes baffling, often understated beauty of this fabulous African country.