If you didn't already know, visiting the ancient city of Lalibela in Ethiopia is an absolute must if you're spending any time in this wonderful country.
Displaying some of the most incredible rock-hewn churches in the world, this is Africa's Petra in all its glory… and with the half tourists!
A UNESCO World Heritage Site and definitely one of the most sensational places I've been in the world, to experience Lalibela is to step back in time to a world where mysticism and magic dominates.
Honestly, I can wax lyrical about this place, and I will do in a forthcoming blog post, but right now, I want to tell you about the fantastic Lalibela Hotel I found, perfect for those on a budget, who want to be right in the centre of the action.
---
Related Posts
---
My stay at Red Rock Hotel was kindly sponsored, but as always, all views are my own.
This page contains affiliate links meaning Big World Small Pockets may receive a small commission on any purchases at no extra cost to you.
---
Grab Your Copy of My Real Travel Guide to Ethiopia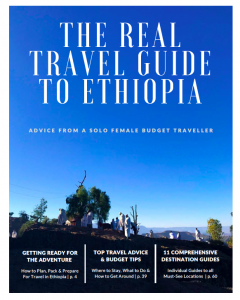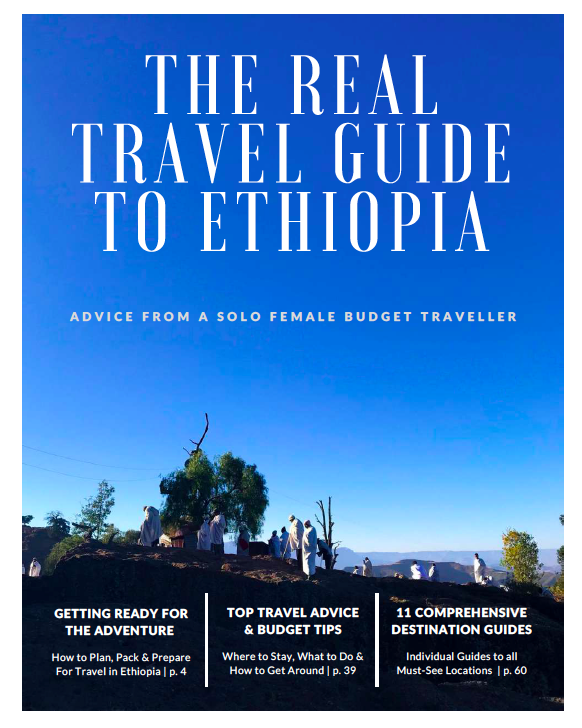 My ultimate guide to travelling in Ethiopia is now available, meaning you can finally get ALL my tips for adventuring in this amazing country in one handy eBook, including
11 Complete Destination Guides to the Best Cities & Attractions
Recommended Places to Stay
Recommended Guides & Tour Companies + Contact Details
Money Saving Tips + Budget Planner
Advice on What to Expect & How to Stay Safe
Packing Checklist
Itinerary Schedule
Centrally Located
And when I say right in the heart of the action, that's exactly what Red Rock Lalibela Hotel was.
Perfect for solo travellers, everything could easily be reached within walking distance from the hotel door, which meant heading out by yourself – even at night – couldn't have been easier or safer.
Being so centrally located, the Red Rock Lalibela Hotel is also perfect for those on a budget as you can avoid having to take tuk-tuks when heading out for dinner or to see the famous rock-hewn churches, which are just a 5-10 minute stroll away.
There's also banks, shops, restaurants and the Ethio Telecom office (which, as I discovered, is very handy if you want to pick up a cheap SIM card) all just a 2-3 minute walk from the front door.
LOOKING FOR A BUDGET TOUR IN AFRICA?
If you're interested in an unforgettable, well-priced tour in Africa with guides you can trust, then email me at [email protected] with details of where you want to go and I'll send you my top recommendations – simple!
Peaceful and Safe
But despite being in the heart of the action, Red Rock Lalibela Hotel, feels amazingly quiet, peaceful and safe.
It's the perfect stop to relax after a long, hot day of sightseeing and with a great restaurant on site, if you don't even feel like venturing out after all those churches, you don't have to!
And because the food was so delicious and well-priced, I have to admit, that on more than 1 occasion I didn't bother!
Can I recommend the Fasting Food option here – a delicious vegan Injera dish – which, despite being so flavoursome, I couldn't even finish because it was so big!
6 PACKING ESSENTIALS FOR ETHIOPIA

#1 Headlamp – required for those all too often power cuts. I always recommend Black Diamond as the top travel brand in this area.
#2 Toilet Paper – most places don't provide it, although Red Rock Lalibela Hotel does!
#3 Long, Thin Trousers – perfect for the cold evenings, hiking trips and conservative dress standards during the day.
#4 Good Camera – an absolute must if you're looking to capture the incredible landscape and cultural practices of Lalibela. I love my mirrorless Sony A6000, which is light, compact and robust – ideal for Africa travel!
#5 Hiking Boots – necessary for dusty roads, walking to the churches and cold nights. KEEN's Targhee II Mid Waterproof Hiking Boot are a great option.
#6 Travel Scarf or Sarong – whether it's covering your shoulders in churches, warding off the dust from your nose and mouth or wrapping round you at night as a shawl, this is a great multi-purpose travel item for Ethiopia.
Free Coffee, Free Wifi, Free Breakfast!
And it wasn't just the food I loved here, but of course the coffee too!
In fact, Red Rock Lalibela Hotel, actually has a famous Ethiopian coffee ceremony set up right in the reception area, so there's some of the country's black gold available anytime of the day.
Absolute dream!
And not only is it available, it's also FREE!
Yes free unlimited Ethiopian coffee. Does it get better than that?!
Well actually yes it does – there's also free wifi and free breakfast!
Errr… hello!
This definitely makes the Red Rock Lalibela Hotel, the bargain of the century and here's why…
Fantastic Value at the Best Spot in Town
From just $15 USD (price correct at time of publication) you can have your own private room at Red Rock Lalibela Hotel, with your own ensuite bathroom and private balcony.
But wait, this isn't just any old balcony.
This is a balcony with stunning views over the whole valley.
And I mean the whole valley.
There are waves and waves of mountains as far as you can see here and perched on a hill, the hotel is the perfect place from which to enjoy Lalibela's spectacular scenery.
From sunrise to sunset, you are treated to the most incredible landscape right from your bed (if you draw the curtains) and snapping the scene as the light changes across the day was something I spent way too long doing!
But once you get here, you'll understand why.
Honestly, this place is breathtaking and Red Rock Lalibela Hotel, capitalises on this to the max.
Great Staff
But a setting alone, doesn't make a great hotel, more often than not it's the staff that do and here, they were marvellous.
With excellent English, friendly smiles and a wonderfully helpful service, I really could not fault this group of fantastic ladies.
In fact, I struggled to find any fault at all with the Red Rock Lalibela Hotel… even after wracking my brains for this review!
TRAVEL INSURANCE FOR ETHIOPIA
World Nomads offers simple and flexible travel insurance. Buy at home or while travelling and claim online from anywhere in the world.
Alternatively, if you're a long-term traveller, digital nomad or frequent remote worker seeking travel health cover, check out Safetywing's Nomad Insurance policies.
And There's More…
From the piping hot water here (a dream during the cold evenings here and trust me I like my showers HOT!) to the beautiful grassy garden at the back of the hotel, or the shady terrace at the front, there was literally nothing missing from this incredibly well-priced accommodation option.
There's even a super cheap laundry service available to guests (my clothes came back in an afternoon) and a shuttle to the airport can be ordered for you for just 100 Birr (about $4 USD).
Sure, we had power and water failures, but what's a night in Ethiopia without even of these things!
And anyway, I prefer my coffee by candlelight!
TO GET THE BEST RATE ON YOUR STAY AT RED ROCK LALIBELA HOTEL BOOK HERE.