The great commercial hub of Tanzania, Dar Es Salaam is a buzzing, working city that has a raw energy to it unmatched by any other large metropolis in East Africa I've visited.
Having wondered round for a full day in the city, compete with my camera (albeit my small Canon point and shoot one) I can totally attest to how safe I felt here and how warm and welcoming the locals were.
Even the huge central market was pretty hassle-free and using tuk-tuks to navigate the city couldn't have been easier!
I highly recommend spending at least one day checking out this great city and so, to get you inspired, here are my top 10 things to do in Dar Es Salaam.
---
Related Posts
---
This page contains affiliate links meaning Big World Small Pockets may receive a small commission on any purchases at no extra cost to you.
---
Grab Your Copy of How to Travel Africa for Less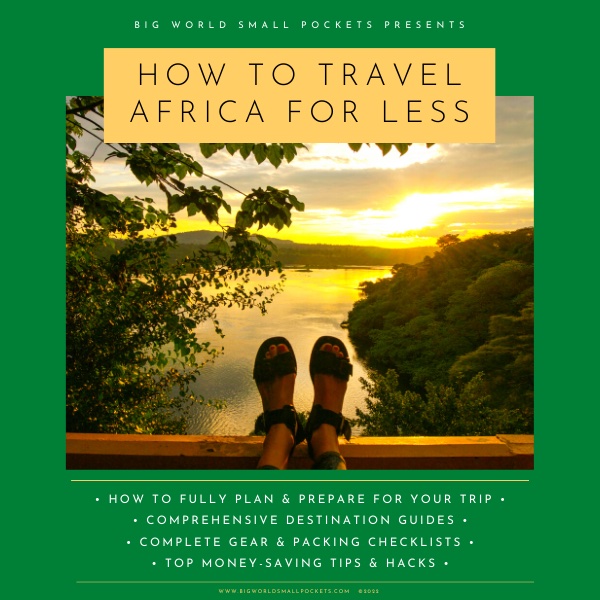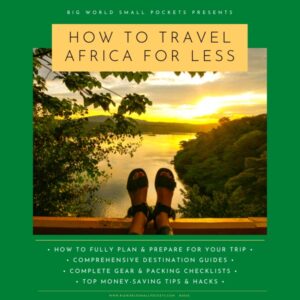 My ultimate guide to travelling Africa on a budget is now available, meaning you can finally get ALL my top tips for adventuring around all, or parts, of this amazing continent in one handy eBook, including…
Full Planning & Preparation Guides
Detailed Destination Info
Complete Packing & Gear Lists
Top Money-Saving Tips & Hacks
#1 Check Out the Karikoo Markets
Coming in first is the Karikoo market, Dar's largest and most fun market.
Open 7 days a week – I know because we visited on a Sunday! – this place is stocked full of anything and everything you might need.
From fruit, veg, fish and meat to grains, spices, clothes and hardware, this indoor market is all arranged in sections and aisles.
But outside, as it spills into the surrounding streets, Karikoo Market becomes decidedly more disorganised and chaotic!
Crazy, but friendly fun, spending some time wandering here is definitely one of the best things to do in Dar Es Salaam.
#2 Catch the Ferry Across Bay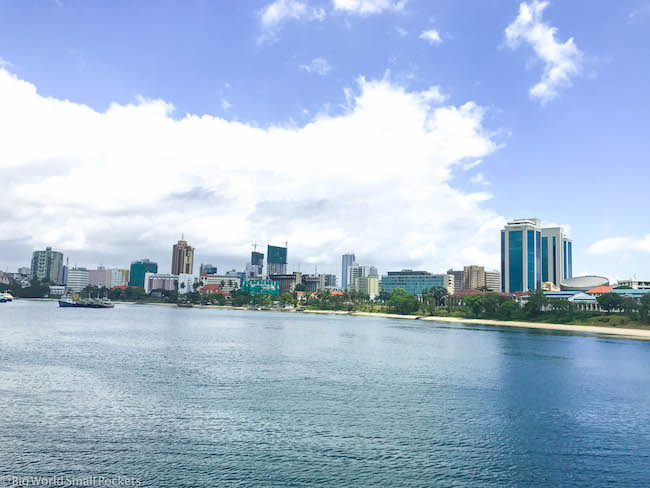 Steaming along on a boat is one of my favourite ways to travel and here, in Dar Es Salaam, it's also one of the best ways to see the city.
For just 200 Tshil (10 US cents), this ferry ride is going to give you a great view of the city from water, and as you pile on with all the locals, quite the cultural experience too!
My tip is to go up the stairs as you board and sit on the top deck. From here you can really enjoy the view of colourful outfits and the jostling chitter chatter below, all to the moving backdrop of Dar Es Salaam's cityscape.
#3 Snap the Bicycles
If you've seen any of my posts about Amsterdam, you'll know I'm a huge fan of cities with lots of bikes, especially if they're cool vintage bikes!
Well, guess what?
Dar Es Salaam is a city packed with cool vintage bikes!
*Cue me taking too many pictures as the locals starred on highly bemused!*
If you're a fan of a beautiful bicycle too, then snapping this delightfully quirky facet of the city is definitely one of the best things to do in Dar Es Salaam.
#4 Visit the Fish Market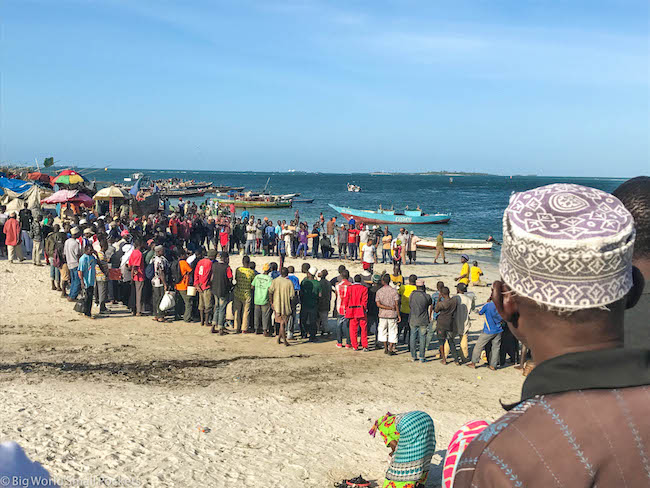 Situated right by the ferry terminal, visiting the fish market is definitely one of the best things to do in Dar Es Salaam, providing a very rich and genuine cultural experience.
This best time to go here is definitely early in the morning when the full market bounds into action.
From the fish buying/selling section, as it comes in straight off the boat, to the fish eating section where large women bend over large pots and cook up a fishy storm, this place offers a full sensory experience.
Read: Smelly!!!
But it's also very visually striking and a super place to photograph the wooden boats coming right in with their haul.
We actually visited the market late afternoon on a Sunday and were treated to an impromptu Capoeira session on the beach below, complete with a big cheering crowd, which was also very interesting to see.
#5 Camp at Mikardi Beach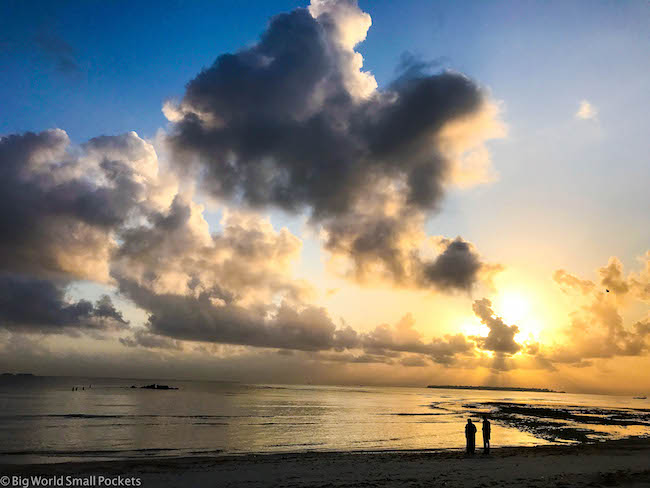 Located on the south side of the river, Mikardi Beach is where the Dar Es Salaam locals go to party at the weekend!
We actually camped here and were treated to quite the good time!
While you have to pay a cover to get into the bars here, joining the locals on the beach is free and you're going to be treated to an awesome sunrise too!
Honestly this place feels like some Indian Ocean beach resort, so it's hard to believe there's a big bustling port just around the corner!
#6 Stroll Coco Beach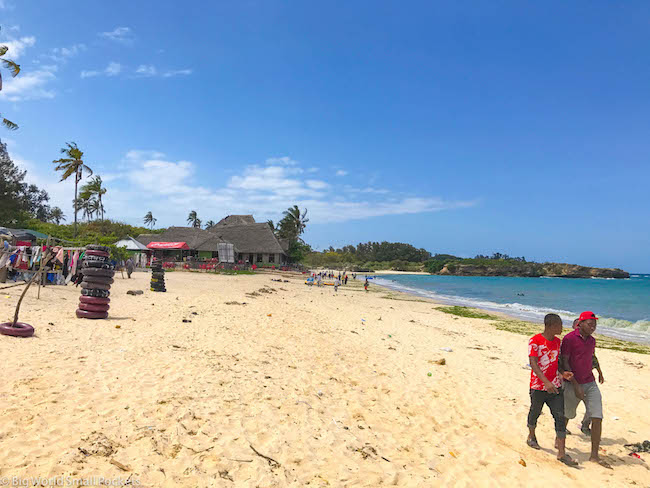 At the opposite end of the city to Mikardi Beach, Coco Beach which is north of Dar in the Oyster Bay area, is the posher end of town.
Marked by its embassy buildings and large expat homes, this is an interesting area to stroll around.
Down at the beach however, things feel far more local.
Sitting at a beach bar / diner for a beer or lunch here and people watching is definitely one of the best things to do in Dar Es Salaam.
#7 Kanga Shop on Uhuru Street
Dar Es Salaam is a great place to get some Africa fabrics if you're wanting any for souvenirs or yourself.
And the best place to head is Uhuru Street in the city centre.
Actually more like an extension of the Karikoo Market, it can be hard to distinguish where one market ends and another begins, but as long as you find the spot, who cares right?!
Make sure you check the label on any fabrics and avoid those made in China if you want real local products.
The stiff waxed lengths of cloth are the best – these are what local women use for carrying items on their head / for carrying babies or for wearing!
#8 Munch Local Food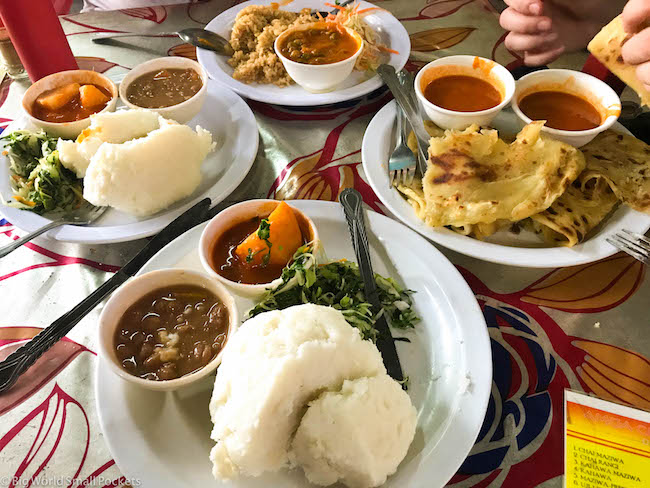 Located on the Swahili Coast, Dar Es Salaam is a city that infuses a fascinating array of cultures… and it's no surprise its food reflects this.
Sampling some of the local treats therefore is a must while you're in the city.
From sugar cane juice, to tamarind treats, ugali – a maize porridge, pilau rice, local greens, meat, fish or a delicious chapatti, it will just cost a few dollars to try it all!!!
To find the best local spots to grab some food, ask in the Karikoo Market and enjoy the results!
#9 Take a Tuk-Tuk Ride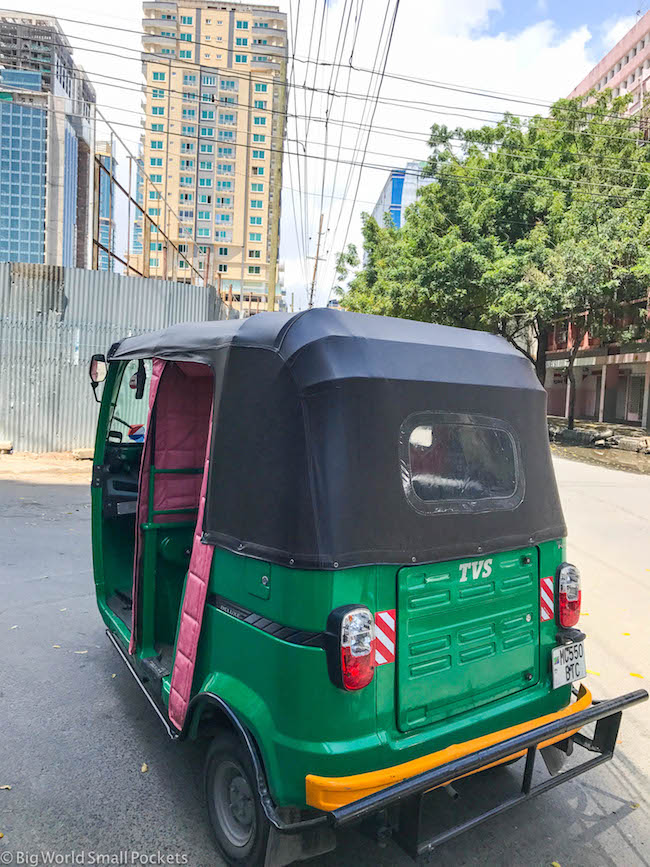 No trip to Dar complete without at least one ride on a tuk-tuk!
If you thought Asia was full of them, you should wait until you get to East Africa!
Cheap, plentiful and lots of fun, taking a tour with these guys across the city is an awesome thing to do in Dar and seeing how many people you can squeeze into the back and haggling over price is just all part of the experience.
And that's not to mention when you get a puncture on the side of the road too!
#10 Discover the Azania Lutheran Church
The white, waterfront building of the Azania Church is a Dar Es Salaam icon you should definitely check out during your time in this city.
Built by German missionaries in 1898, it definitely stands out architecturally with its red-tiled roof and window canopies.
Still in active use for services, heading in to view the Gothic interior or to listen during the beautiful choir rehearsals is a great thing to do in Dar Es Salaam.
Dar Es Salaam Travel Guide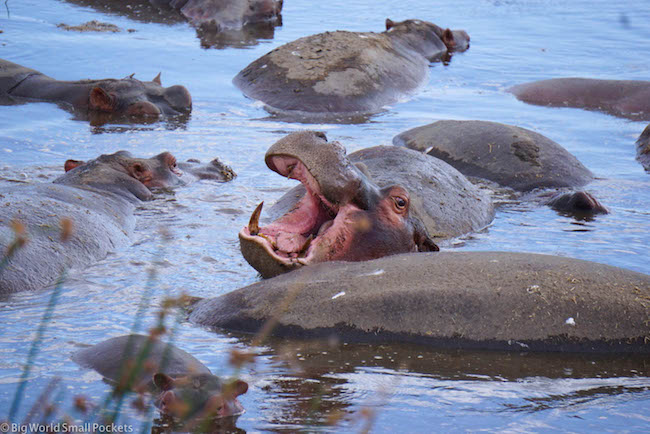 How Long to Spend in Tanzania?
When it comes to planning your Tanzania travels, the first thing you probably need to consider is how long you want to spend in this country.
I spent 3 weeks here, but totally appreciate that not everyone might have this length of time at their disposal.
I'd therefore suggest a stay of around 10 days in Tanzania is a good option for most people.
If you'd like to include Kilimajaro or the Masai Mara in your trip, then I'd extend your trip to 14-18 days.
How to Travel to Dar Es Salaam?
Flying is the most common way to get to and from this city.
Tanzania's main airport, Julius Nyerere International Airport (DAR), is located near to Dar Es Salaam and would be the easiest option to arrive into.
As always, I use Skyscanner to find the best flight deals.
Local buses are also an option for travel to Dar Es Salaam.
This will be a cheap and fun experience, but may not be that comfortable!
You can also hire a car and self-drive in Tanzania – although please be aware of the driving conditions and safety warnings before doing this. Check out these top car hire options in Tanzania if you're still keen.
Finally, you can also take a tour to explore Tanzania, which will remove all the organisation and a lot of the stress from your trip.
If you're looking for some epic tours in Tanzania that include Dar es Salaam, then check out these brilliant options, which offer a ton of flexible solutions depending on your budget, travel style and length of trip.
Where to Stay in Dar Es Salaam?
When it comes to budget options for accommodation in this city, The Slow Leopard Hostel has a great location, onsite restaurant / bar and continues to get rave reviews from travellers thanks to the friendly staff and great vibes. Choose from dorms or private room when youbook your stay here.
Alternatively, for something with a bit more comfort and space, check out Alexanders Hotel, which is conveniently located in the Masaki part of Dar Es Salaam, is beautifully decorated and serves delicious seafood in its onsite restaurant.
Travel Insurance for Tanzania
World Nomads offers simple and flexible travel insurance. Buy at home or while travelling and claim online from anywhere in the world.
Alternatively, if you're a long-term traveller, digital nomad or frequent remote worker seeking travel health cover, check out Safetywing's Nomad Insurance policies.
5 Essential Items for Tanzania Travel
#1 Tanzania Lonely Planet – I'm always a big fan of the Lonely Planet and their Tanzania edition is great for its accommodation and tour recommendations.
#2 Headlamp – Given the power outages you're bound to experience in Tanzania, having a headlamp in your bag is an absolute must. I wouldn't be without my Black Diamond one.
#3 Sarong – Whether it's to wear on the beaches of Zanzibar or to protect yourself from a dusty safari ride in the Serengeti, there's few items as versatile as the trusty sarong when it comes to Tanzania travel. I love the beautiful designs and great prices of One World Sarongs range.
#4 Insect Repellent – Much as I hate nasty chemicals, a good DEET repellent is essential for Tanzania travel where malaria is a real risk. I recommend a 30% DEET product to keep those pesky nippers at bay.
#5 Sun Hat – Located as close to the equator as it is, the sun is Tanzania is super strong and a sunhat to protect your face is highly recommend. I'm a big floppy hat fan and love this Hello Sunshine design.
PIN IT TO PINTEREST!
So that's my list of the top 10 things to do in Dar Es Salaam, Tanzania's most exciting city.
Have you visited this bustling place?
What was your favourite thing to do there?