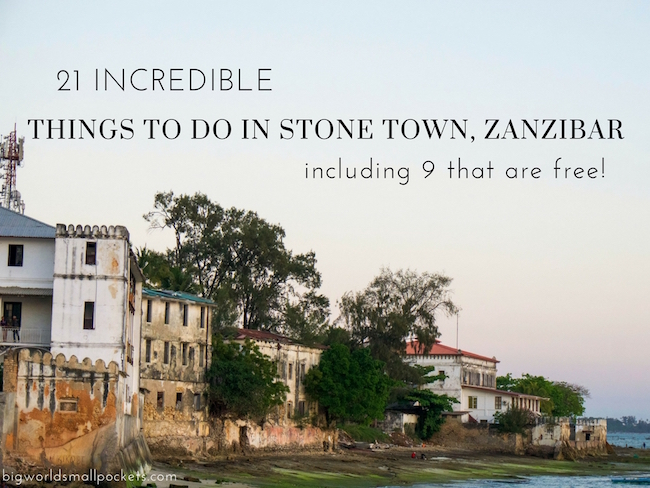 ** Spoiler Alert ** Stone Town in Zanzibar is one of my favourite places on earth.
Sorry I can't help it, but I'm in love!
That means this post is going to involve me repeatedly telling you how totally amazing the whole city is and going on and on about all the incredible things to do there!
But stick with me, because it's going to be worth it.
Trust me, almost any visit to Stone Town will be the start of a love affair for you too.
For me it's a love affair that began as soon as I stepped off the ferry from Dar Es Salaam, and that I've been unable to shake off ever since.
From the moment I strolled along Stone Town's seafront promenade with my backpack on my back, gazing at the turquoise Indian Ocean, smelling the spiced tea and hot grilling chapattis, hearing the call to prayer echo out from the nearest mosque, basking in the sun and being greeted so warmly by every local I met, I was hooked.
And it didn't end there.
Stone Town instantly enthralled me, enchanted me, wrapped me up in an exotic love affair and wouldn't let me go.
Spending time there is somehow like stepping back in time – a place where faded colonial buildings rub shoulders with vibrant, bustling markets, where donkeys navigate tiny narrow streets as children, dashing home from school in traditional dress, weave in and out of them, where ancient carved doorways sit slightly ajar, their secrets just out of reach…
… sorry, but I did warn you I was going to wax lyrical!
But I'll stop now, for the introduction at least, and instead let you enjoy my list of the best 21 things to do in Stone Town, Zanzibar – 9 of which are totally free – HOORAH!
---
Related Posts
---
This page contains affiliate links meaning Big World Small Pockets may receive a small commission on any purchases at no extra cost to you.
---
#1 Fill your Stomach at the Forodhani Gardens Food Market
Coming in first, is my favourite thing to do each and every evening in Stone Town, Zanzibar. This means if you arrive in the late afternoon, it's probably one of the first snaps of the place you'll get.
And that thing is the amazing Forodhani Gardens Food Market.
Set right on the seafront, you can pick up a beautiful breeze here as tens of late night food alfresco stalls serve up a delicious selection of local Zanzibar cuisine.
From the famous Zanzibar pizza to meat kebabs, local fish, coconut bread, grilled cassava, roasted corn, chunky sweet potato, garlic chapatti and amazing fresh fruit selections, you can eat your heart out for a few dollars here amidst a great atmosphere.
#2 FREE!! Wander the Old Fort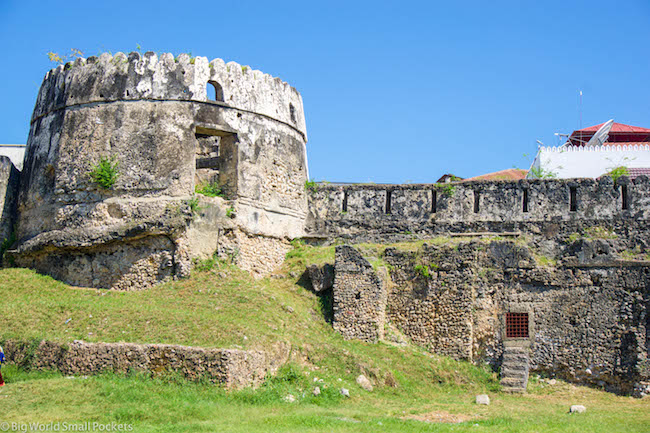 Now housing an art gallery and curio market, the Old Fort is an impressive, if not crumbling structure along Stone Town's promenade.
Stepping inside here is free, mostly because there isn't a lot to do.
That said, wandering around, marvelling at the ruins, snapping them against the blue sky and enjoying some peace and quiet is a great free thing to do in Stone Town.
#3 See the Giant Tortoise on Prison Island
Probably the town's most popular day trip, the tour to Prison Island to see the giant tortoises is a really great thing to do in Stone Town, Zanzibar.
If you don't want to book in advance, you can easily get the best deal by strolling past the Old Fort and interacting with the local guides / sellers there who can cheaply organise this excursion on the day for you.
Lasting roughly 3 hours, you should be able to make this trip for around $15 USD, which will include your boat ride there, the $4 USD entrance fee to see the giant tortoises and some snorkelling gear so you can enjoy the blue waters around the island.
Otherwise, check out this top-rated 3 hour tour to Prison Island if you want to lock something in ahead of your trip or ensure you get a high-quality private tour.
Also on Prison Island is an old colonial hospital / quarantine space. Built in 1893, it was originally designated as a prison (hence the name) but repurposed to contain the cholera and bubonic plague epidemics that authorities fear would spread to Zanzibar on ships sailing in from Bombay and Egypt.
This old hospital is definitely worth a stroll and the tortoises are pretty remarkable too, but even the boat ride here is beautiful as the colours of the Indian Ocean flash past you.
#4 Learn About Zanzibar's Sultans at the Palace Museum
At just $3 USD, the entrance fee to Stone Town's iconic Palace Museum is well worth it, given you'll get a good hour's worth of interesting history about the island care of a free guide (tip additional).
As such, the Palace Museum is a great intro to the history of Zanzibar and I highly recommend heading here earlier on during your time in Stone Town to grasp the heritage of the island and its wealth of different influences.
#5 FREE!! Join the Fish Auction at the Darajani Markets
Taking place every afternoon, a trip to the fish aisle in the Darajani Markets, is a great local experience that always attracts plenty of action… and you're likely to be the only Mzungu there!
Slapping down the latest catch on the slab of stone at the end of the aisle, watch as locals barter and bargain for the best fish price amidst a competitive atmosphere of banter and bravado!
If you're not so up for the bustle, bartering and busyness of the fish auction, then the market in itself is also one of the best things to do in Stone Town.
Great for getting your hands on some fabulous spices, freshly baked bread, meat, fruit and vegetables (beautifully arranged in neatly stacked piles), you can easily buy tons of food here for just a few dollars.
I highly recommend heading to the markets around 5pm, when the evening traders – located outside the market walls – start setting up for the busy night ahead at the same time as the closing day traders wind up their stalls in a colourful kaleidoscope of market madness.
#6 Sunset Drinks at Africa House Hotel
This is a bit of Stone Town splurge, but one that is highly worth it!
Yep, heading to the iconic Africa House Hotel to watch the sunset from their rooftop terrace is something of a Stone Town rite of passage.
This really is the perfect sunset-watching spot with an elevated setting perfect for catching views of the passing dhows.
Top Budget Tip: If you can't stretch to drinks at Africa House, then a great cheap alternative I found in Stone Town, was at a bar called Sana Karibuni, which is located right on the beach. With your feet in the sand here you can enjoy happy hour sunset drinks for a fraction of the Africa House Hotel price.
#7 FREE!! Marvel at the Mix of Religious Building
If Stone Town is anything it's an amazing mix of cultures jostling peacefully alongside each other and becoming all the more richer for it.
A great way to soak this all in is take a trip to all the town's different types of religious buildings. From Anglican Churches to Hindu Temples and Islamic Mosques echoing with the call to prayer, exploring all these different facets of Stone Town is a great way to get a feel for the place.
Most famous are the whitewashed Malindi Mosque and the historically fascinating Church near the Former Slave Market.
#8 Pay Witness to the Former Slave Market
This is definitely one of the absolute musts when it comes to things to do in Stone Town, Zanzibar.
Costing $5 USD, but worth every cent, especially given the free and highly informed guide you have the option of engaging, you'll need at least a couple of hours to absorb everything in this UNESCO-funded museum.
Jam-packed full of interesting info, this slave market museum has been very well put together.
Make sure you don't miss the slave chambers located underneath the gift shop… seriously sobering stuff.
#9 FREE!! Snap a Doorway… or 5!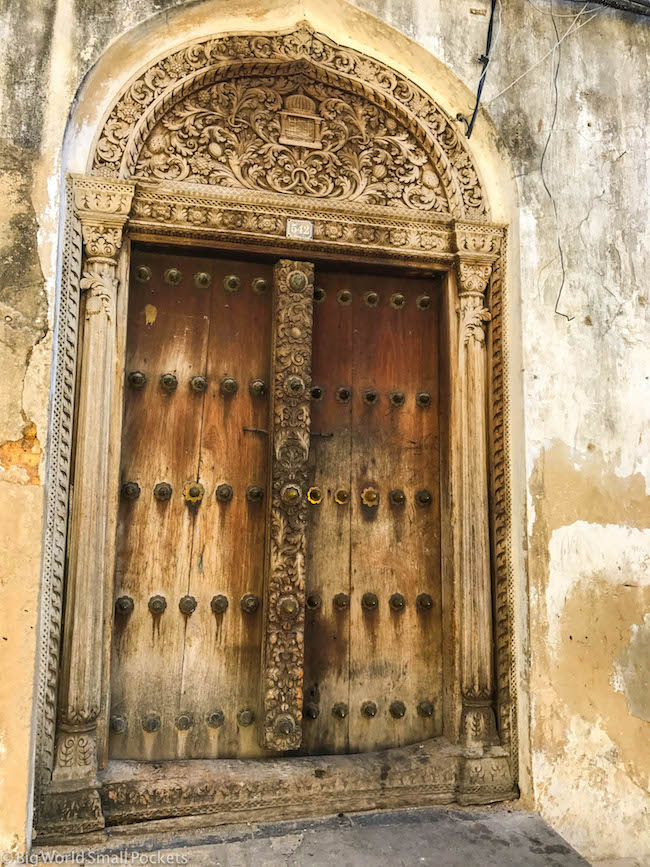 No trip to Stone Town could ever be complete without photographing a memory card full of carved doorways!
Exquisite, even in their crumbling state, these wooden beauties somehow typify this city and its exotic sense of a lost world.
#10 FREE!! Get Lost in the Narrow Streets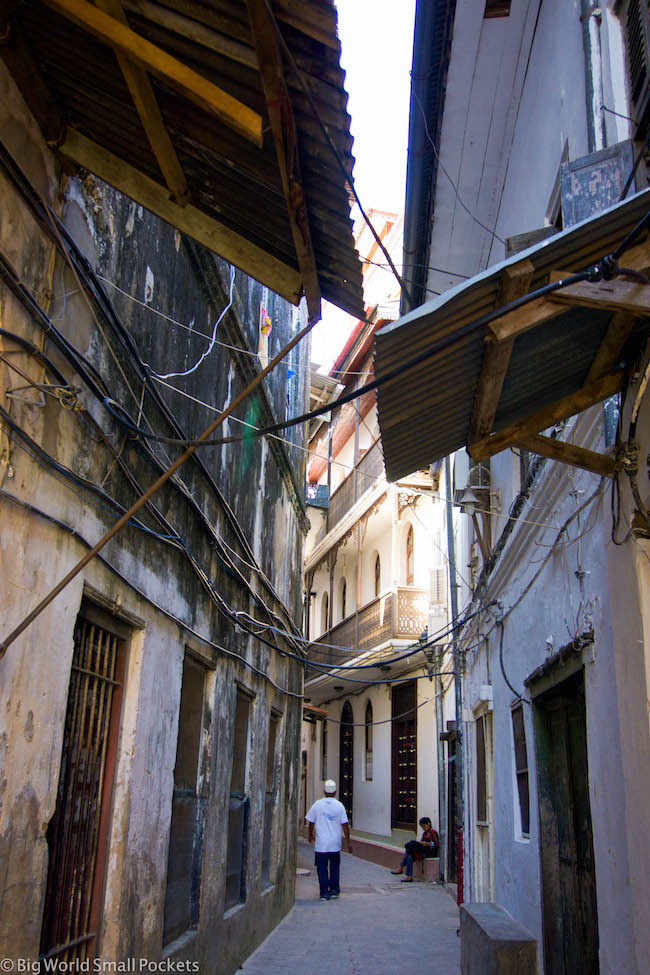 While maps of Stone Town are available, they're near-useless when it comes to navigating this ancient city. You will, therefore, get lost hundreds of times!
But don't fret, getting lost is probably one of the best things to do in Stone Town, Zanzibar. In fact, I'd hasten to add it's actually a crucial part of the experience.
So relax a bit, put down the map and just allow yourself to wander for a few hours.
Embrace the idea you'll go round in circles, and don't forget to greet the locals with a cheery "mambo" as you do.
On the way, stumble upon hidden treasures and slightly ajar doorways that reveal local life behind their walls.
If you are worried about getting lost however, then maybe joining a tour that includes a stop in Zanzibar would be better for you. Check out these good options for some ideas.
#11 Visit the House of Wonders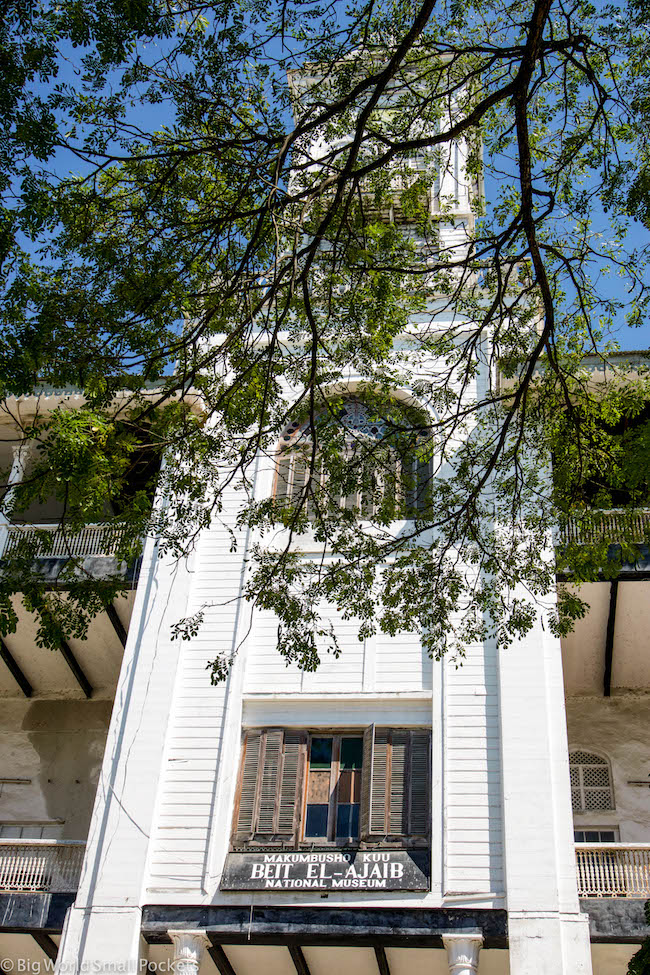 Unofficially known as the House of Wonders, Stone Town's National Museum is located right on the seafront.
This is flagship building reflects the efforts being made to restore the city after it was designated a UNESCO World Heritage Site, and is well worth a visit.
#12 FREE!! Take a Trip to the Old Dispensary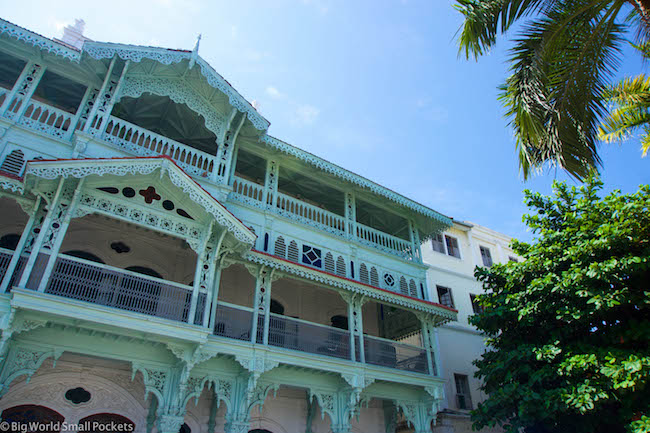 Stone Town's former hospital, there sadly isn't much to see in the Old Dispensary now, but the beautiful old building itself is well worth a look and a quick snap.
#13 Sample the Street Food
From covered doorways promising steaming chapattis, roasting corn, grilling kebabs and coffee carts on every corner, Stone Town is a street food paradise!
Get your snacks, including sweets, breads, samosas, fruits or vegetables simply as you stroll along.
My favourite?
A hot chapatti wrapped in newspaper for 400 shillings of course!
#14 FREE!! See Freddy Mercury's House
Call me stupid, but I literally had no idea Queen's Freddy Mercury was born and raised in Stone Town!
That was until I learnt you could see the house where he grew up of course.
Even though it's just a yellow façade, I still found it exciting to stand outside this building and read the little information board by the doorway that proudly marks the spot.
#15 FREE!! Peer into the Persian Baths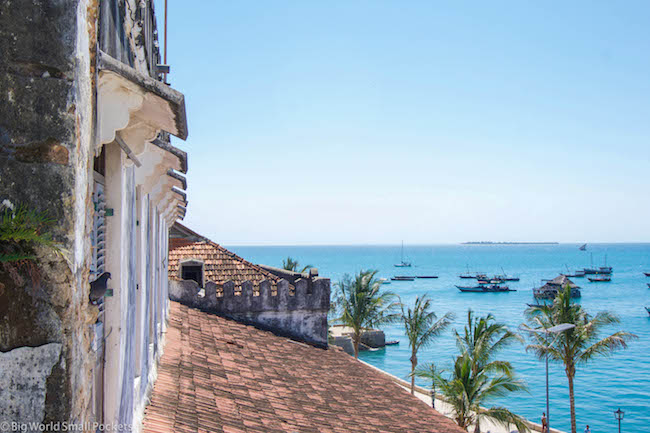 Officially you can't enter the old Persian Baths in Stone Town, but peering through their gates and imagining what life was like hundreds of years ago is still one of the best free things to do in Stone Town.
The question is, has much changed here since?
#16 Experience Coffee Roasting at the Zanzibar Coffee House
Stopping for a coffee in this great roasting house is an awesome way to sample one of Tanzania's most famous products and one of its award-winning baristas to boot.
The coffee here really is sensational and the historic building is pretty awesome too.
Head up to the roof terrace to take in a view at the same time and even indulge in a delicious breakfast if your budget stretches.
I had the homemade granola, fruit and yogurt, washed down with a double flat white – yum!
#17 FREE!! Make an International Call at Jaws Corner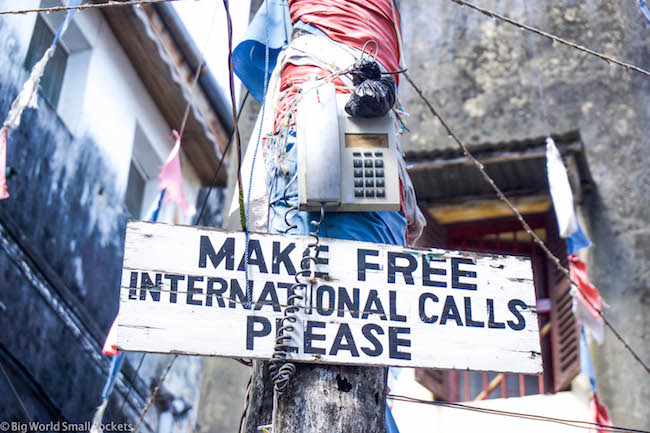 Acknowledged as the centre of Stone Town (although it's hard to be sure in the mass of winding streets!) the red bunting that adorns Jaws Corner looks a bit like Tibetan prayer flags.
In the centre is a great sign with a phone strapped to a pillar inviting free international calls!
Around it, coffee-drinking locals sit outside shops and on the raised pavements playing bao and discussing the day amidst colourful food stalls.
Grab a cup, pay a few Tanzanian shillings and join them for a great cultural experience.
#18 Take a Spice Tour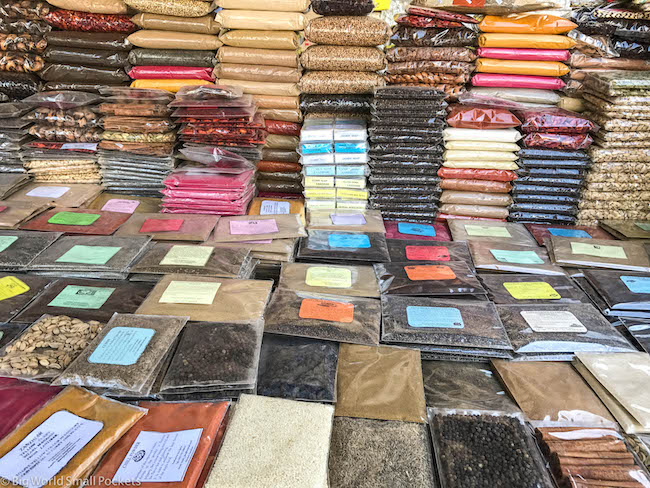 Out of town, a Spice Tour is another great Stone Town day trip.
Costing $10 USD, this 2 hour tour can be arranged easily and quickly with the sellers / guides located near the Old Fort.
As part of it, you'll get to sample local spices, as well as learn about their history and production within the context of the great trading port of Zanzibar.
#19 Sip on a Spiced Tea
Bursting with delicious ginger, cinnamon, star anise, cloves and chilli flavours, there's nothing that says Stone Town to me quite like a delicious cup for Spiced Tea.
Embodying the local spice culture and strong Asian influences here, the tea normally comes served black with a pot of sugar and milk to add on the side.
The Mzungu-friendly Stone Town Café does a great one and they have free wifi!
Otherwise down near the port, a few local cafes and street vendors serve up delicious brews too.
#20 Tuck in at Lukmaan Restaurant
Always popular with the travellers seeking a more local experience, Lukmaan Restaurant situated near the former Slave Market, has a great selection of Tanzanian dishes that are tourist-friendly.
Very affordable and set up in a buffet-style, this is an endearing favourite, that's great for groups or families.
#21 Enjoy Some Souvenir Shopping
From locally-made bags to kangas (African fabrics worn by local women), carvings, t-shirts, trousers, purses and textiles, the souvenirs in Stone Town range from tacky to tasteful.
Either way, there's plenty on offer and supporting local businesses by grabbing some souvenirs here is a great way to take some amazing memories of this place with you.
PIN IT TO PINTEREST!
So there you have it, my top 21 things to do in Stone Town, Zanzibar!
Have you visited this amazing African city?
What was your favourite thing to do there?