Whichever way you look at it, Serengeti is one of the greats!
When many of us dream of an African Safari adventure, it's the Serengeti our minds turn to – exotic images of roaming giant mammals striding through the Savannah grass under a big African sky filling our visual imagination.
And you know what?
It's just like that!
Yup, the Serengeti is one of those places that lives up to every imagined picture you've created in your mind.
It really is the classic landscape, the wealth of animals and the great expanse of savannah and sky you've dreamed about.
In short, unlike many of those bucket list big ones we finally see, the Serengeti is every bit as wild and wonderful as you imagine.
Here's exactly why it won't disappoint, but will you blow your mind instead!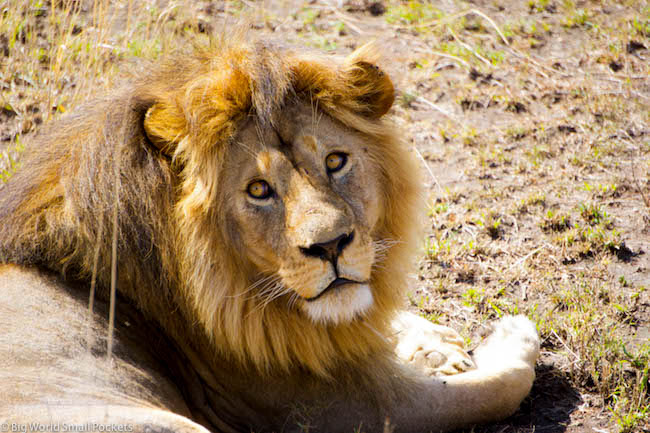 ---
Related Posts
---
This page contains affiliate links meaning Big World Small Pockets may receive a small commission on any purchases at no extra cost to you.
---
Size & Location of the Serengeti
Let me start off by saying the Serengeti is absolutely HUGE!
Like massive!
And that this will definitely blow your mind!
It trumps most other national parks in Africa, offering unparalleled panoramas of a sort you just don't get anywhere else.
Trying to take in the enormity of this park can certainly be mind-blowing.
You can drive around the Serengeti for 3 days and not even touch the sides… much like we did!
Located in the north of Tanzania, the Serengeti can be found in East Africa and is one of this region's, if not continent's, most impressive natural spectacles.
Access is most easily organised from the town of Arusha.
This is a tourist-friendly place with lots of amenities, accommodation and food options – a good place to base yourself before you head out on a Serengeti safari.
Conveniently, Arusha is also often the starting point for Kilimanjaro hikes, so if you're heading up this giant mountain too, Arusha really is your one-stop shop!
My Serengeti Safari
Yes I was lucky enough to have spent 3 days in the Serengeti and what 3 days!
This top African safari experience was part of my amazing 2 month overland trip, which took me from Joburg to Nairobi on the adventure of a lifetime.
Read more about planning such an adventure in this post I wrote all about how to organise your perfect overland trip in Africa.
As part of this, we hit up the Serengeti from the city of Arusha in Tanzia in early October when the landscape was dry and super hot.
Although we didn't see the Serengeti in its lush green state, the lack of long grass provided some excellent wildlife spotting opportunities.
This is even considering we drove through the park in our overland truck.
Yes visiting the Serengeti in our overland vehicle means we weren't able to take many of the smaller tracks in the park, but even from the main road we got to see a crazy amount of animals – in particular, lion after lion after lion!
Not bad hey!
If you are able to visit the Serengeti in a 4wd vehicle and access some of the more remote parts of the park, I'm sure you'd be treated to even more splendid spectacles.
Wealth of Wildlife
For there's no doubt that the wealth of the wildlife in the Serengeti will blow your mind.
Most famous for the wildebeest migration that comes from Kenya's Masai Mara, which is physically linked with the Serengeti (it's actually only got a different name because the Mara lies across the border in Kenya), we managed to see the start of this incredible spectacle while we were here.
And when I say we saw lion after lion after lion, I'm not joking!
We saw so many lions, we stopped taking photos of them!
From cubs playing to couples mating, and even a female lioness devouring a zebra, we definitely got the full feline experiences in the Serengeti.
A real highlight had to be when a male lion chose to lie in the shade of our vehicle.
Like right next to our vehicle!
This meant we were engaged in a lion stand off as we actually couldn't move until he did and of course, we got some wonderful close up shots of his incredible face and mane as a result.
As well as lions, we also saw monkeys galore, giraffes, zebras, hippos, ostriches and a huge range of antelope, elands and topis, as well as hyenas and buffalos.
The latter 2 of these keeping many of us awake most of the night as they prowled our campground, snorting, laughing and scavenging around our tent!
Camping in the Park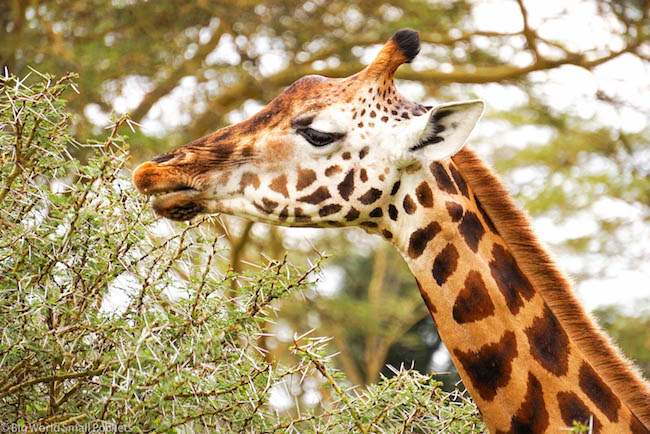 So yes, the ability to camp in the Serengeti is another reason this place will blow your mind!
We spent 2 nights in 2 different campgrounds in the park, a favourite being the Ngirii campground in the Seronera area of the Serengeti.
Camping is basic of course – you're in the wilds here – but the exhilarating feeling of really being out in the wilds of Africa is hard to beat!
As we ate round the campfire under a huge starry African sky, huddled in our blankets (it gets cold here at night), we all knew we were making memories we would never forget!
Price & Access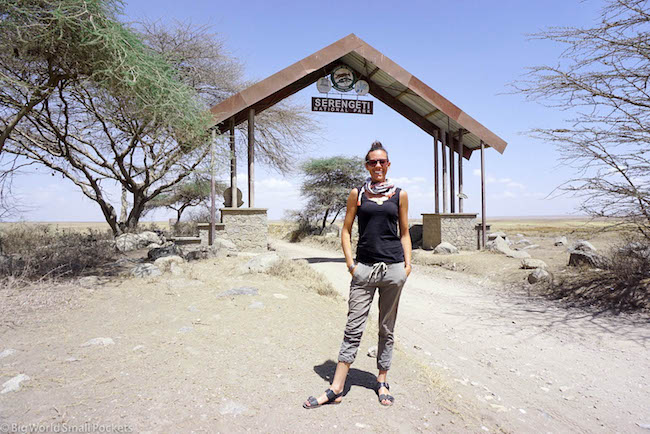 It's likely the price of the Serengeti might also blow your mind.. and not in a good way!
Ha ha!
Yes this park ain't cheap!
You also get a limited time with your permit – i.e. you pay per 24hrs, which makes timing your arrival very important.
The best idea is to get to the park entrance around lunchtime, this gives you a whole afternoon to safari in the Serengeti, as well as the following morning.
In this way, you hit the 2 peak times of dawn and dusk for animal spotting during your Serengeti safari.
Cultural Experience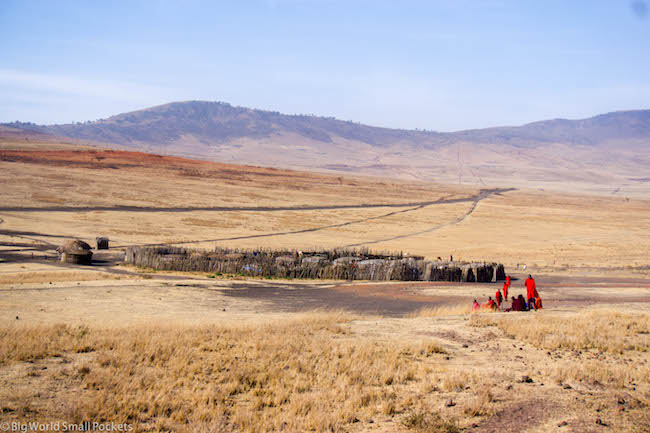 As well as the wildlife, the cultural wealth of the Serengeti is likely to blow your mind too.
As you drive towards the main park entrance, the expansive landscape is dotted with traditional Masai villages.
In this spellbinding, but remote and arid scenery, it's mind-boggling to think that humans survive out here – without any visible water sources and many dangerous animals on the prowl.
The hardy and resourceful Masai people are highly recognisable by their bright-coloured traditional clothing and their villages – literally in the middle of nowhere, they are fenced by tree branches to keep their animals in… and the wild ones out.
For the Masai are herdsman, nomadic herders of camels and cattle as well as sheep and goat.
Their diet largely consists of animal milk, meat and blood and often you'll see a Masai male, miles from anywhere, leading his herd to…
… well we (in our western minds) we were never quite sure to be honest!
Transport and Tours
You can actually visit the Serengeti independently, or rather you can drive through it on a local bus and spot animals as you go!
We actually saw this bus route (yes weirdly a "main" road runs through the Serengeti) and it was amazing to see a public bus full of people peering out the window at lions!
Otherwise, you'll have to take a tour to visit the Serengeti.
Personally, this is what I'd advise, because paying for a professional guide to lead you around the park is going to add a huge amount to your experience.
Their knowledge of animals, their habitats and where they're likely to be found will mean you'll learn and see a lot more.
Many tours can be picked up last minute from the nearby Tanzanian city of Arusha.
If you want to know about the best companies I advise taking a tour with, please email me on [email protected] for more personalised info or check the below travel guide.
If you're interested in an unforgettable, well-priced tour in Tanzania with guides you can trust, then email me at [email protected] and I'll send you my top recommendations – simple!
Alternatively, I'm currently offering my readers an exclusive discount on all Absolute Africa tours, meaning you can now travel even more in this amazing continent for even less!
Simply send this top African overland tour company an email to [email protected], quoting the discount code BWSP, and start planning your incredible trip with them today!
Otherwise, I also recommend you check out Safari Bookings for your Serengeti tour, then have loads of amazing options suitable to a range of budgets, travel styles and dates.
Ngorongoro Crater, Tanzania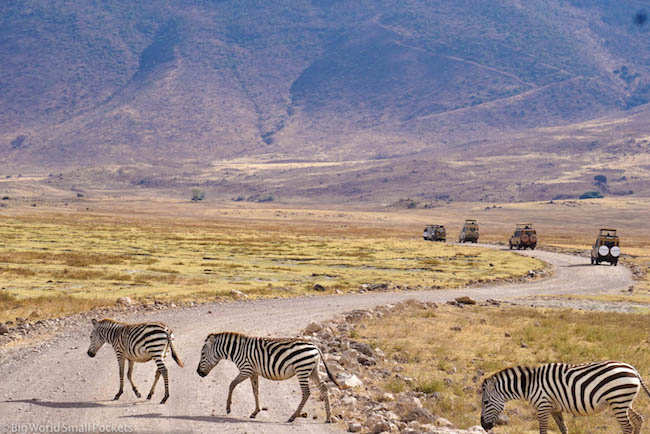 And if you do take a tour to the Serengeti, please please please make sure it includes a trip to the Ngorongoro Crater too.
This place is something else!
A huge national reserve that essentially links onto the Serengeti, this spectacular wildlife spot is situated slightly closer to Arusha, so many tours take a trip here either on the way there or back.
In fact, it's quite a short drive from Arusha to the Ngorongoro Crater and the entrance to this reserve is situated at an amazing lookout.
Here you can peer down from an elevated position and take in the huge bowl-shaped hole in the earth spreading before you.
Slowly you realise those dots you can see are elephants and the more you look the more and more you see.
This lookout is truly breathtaking and even made several of our group quite emotional it was so spectacular.
There's no doubt it'll blow your mind too!
After you've drunk in this view, you then continue in your 4wd down into the crater and, if you're lucky like us, enjoy an incredible safari tour for the whole afternoon.
From zebras to elephants, caracal to rhinos, bustards, warthogs, jackals, lions, hippos, ostrich and giraffe, the ability to spot wildlife here is sensational, because essentially it's contained within the bowl of the crater and therefore very concentrated.
Our highlight had to be a pack of hyenas eating downed buffalo!
Wow!
At night, we camped on the top of the crater, which was FREEZING, but provided starry skies like I've never seen before!
That's what happens when you're above 2000m, even in Africa!
If you head to the Serengeti, there's no doubt that a visit to the Ngorongoro Crater might blow your mind even more!
When to Visit the Serengeti?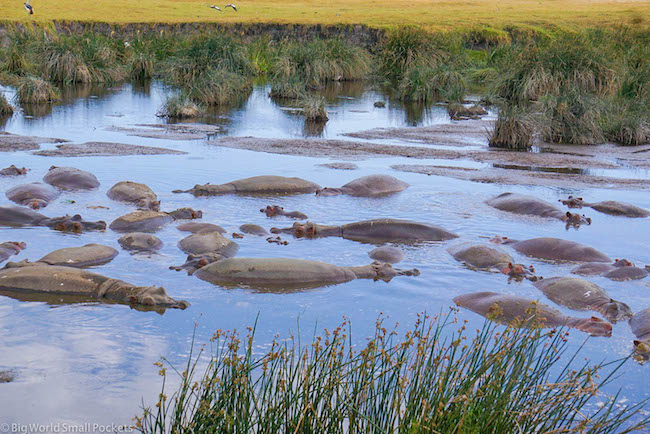 But knowing when to visit the Serengeti is crucial for getting the safari experience you want.
As I mentioned earlier on in the article, I visited this incredible wildlife park during the dry season, which meant not much vegetation or water around, but lots of clear landscapes ripe for wildlife spotting.
This makes the dry season, which runs from June to October the best time for your Serengeti safari in my opinion.
The only thing to bear in mind is that it's likely to be more people and higher prices at this time.
If you prefer fewer crowds and lower prices, then the dry-ish weather of the shoulder season in from November to February is probably a good option for you.
The time I would avoid visiting the Serengeti, as well as Tanzania in general, is during the wet months that usually fall between March and May.
It's likely to be a fairly soggy and unpleasant experience during this time!
Serengeti Mini Travel Guide
Travel Insurance for Tanzania
World Nomads offers simple and flexible travel insurance. Buy at home or while travelling and claim online from anywhere in the world.
Alternatively, if you're a long-term traveller, digital nomad or frequent remote worker seeking travel health cover, check out Safetywing's Nomad Insurance policies.
5 Packing Essentials for a Serengeti Safari
#1 Lightweight, Camera with Zoom Lens – I love my Sony A6000 with 55-210mm lens
#2 Pair of Binoculars – They don't have to be too expensive, lightweight is more important! My Eurohike pair where cheap and perfect!
#3 Sunhat – Things get hot here so do be prepared! I love this Hello Sunshine sunhat and don't forget the sunscreen to go with it!
#4 Tanzania Lonely Planet – Great maps and tons of useful info, I wouldn't be without my Tanzania Lonely Planet Guide.
#5 Thermal Fleece – It gets seriously chilly in the Serengeti at night and you'll definitely want a sweater. If you're camping, consider a thermal fleece like this once from North Face that will keep you super snug.
SAVE THIS TO PINTEREST!
So I hope I've convinced you that the Serengeti will blow your mind!
It certainly did mine!
Have you visited this world-class national park?
What was your experience like?