The basically untravelled capital in an untravelled country, I really did not have high hopes when I arrived into Khartoum – my first stop in Sudan.
Actually, I felt pretty nervous about this city, what with my lack of Arabic, lack of Lonely Planet and lack of any idea about what to expect!
However, I was amazingly surprised to discover an incredibly safe city jam-packed with interesting stuff to do, and some of the friendliest people on earth.
Khartoum! Who knew?
Ok so there are some grievances, essentially the traffic is horrendous and it's unbearably hot even for a sun lover like me, but the pluses far outweigh the minuses as you can see from these 15 amazing things to do in Khartoum.
---
Related Posts
---
This page contains affiliate links meaning Big World Small Pockets may receive a small commission on any purchases at no extra cost to you.
---
Grab Your Copy of How to Travel Africa for Less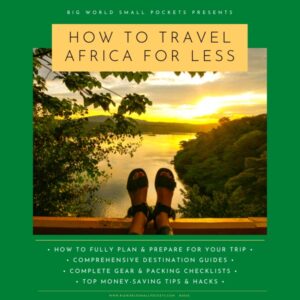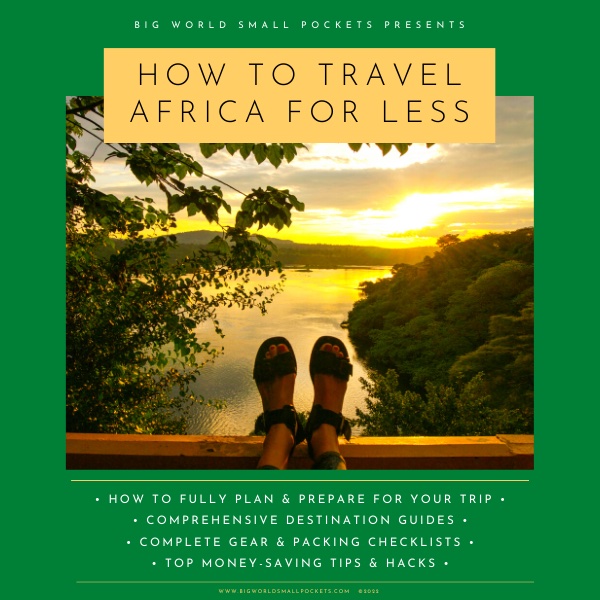 My ultimate guide to travelling Africa on a budget is now available, meaning you can finally get ALL my top tips for adventuring around all, or parts, of this amazing continent in one handy eBook, including…
Full Planning & Preparation Guides
Detailed Destination Info
Complete Packing & Gear Lists
Top Money-Saving Tips & Hacks
#1 Visit the National Museum
Coming in at the top of my list of things to do in Khartoum, it has to be visiting the National Museum of Sudan.
Costing just 10 SDG (Sudanese Pounds), that's 0.30 USD to you and me, this is an absolute steal.
In fact, I didn't even pay when I visited because the guard just waved me in for free!
And what I saw inside blew my mind!
Sudan has just as much aged history as Ancient Egypt, but no one knows about it here and the exhibits of mummy cases, stone tomb statues and hieroglyphics are not even in glass cabinets in this museum.
Were you so inclined, you could even touch these 2,000 year old artefacts and certainly you can take hundreds of photos and marvel at them without any crowds what so ever.
There's also full stone tombs that have been reconstructed here in the museum, as well as a fascinating exhibition of early Christian art that looks very similar to that which I saw in Lalibela, Ethiopia.
All in all, this museum was a total surprise and a total delight. No trip to Khartoum is complete without visiting it.
#2 Marvel at the Sufi Dancing
Each Friday night, a magical spectacle unfolds in Khartoum whereby members of the Sufi faith, an ancient and mystical form of Islam, work themselves into a trance-like state and dance on holy day.
You're definitely going to see other tourists at this weekly event, but it's still a genuine practice that is well worth checking out.
#3 Walk Over the Nile

Khartoum is where the Blue Nile from Ethiopia and the White Nile from Uganda meet and the city is set at this intersection.
I've been to both sources of this famous waterway and seeing them come together was like completing the picture!
Strolling across the world's longest river on one of the impressive bridges that straddle it is definitely one of the best things to do in Khartoum – just don't take any photos of the bridges, it's strictly forbidden.
#4 Check out the Jazz Café
Pretty much the only live music venue in the city, heading down to the Jazz Café is definitely one of the best things to do in Khartoum.
Situated in the Riyhad part of the city, this is where the local hipster youths hang out and it's great to see this side of modern Sudanese culture.
With open mic night on a Wednesday, there's live music almost every other night and a good crowd of trendy, young students always happy for you to join them.
5 Essential Packing Items for Sudan
#1 Headscarf or Sarong – Female travellers especially may feel they want to wear a headscarf in Khartoum like I did. Although it's not strictly necessary for travellers, it may make life easier.
#2 Long, Thin Trousers – Legs need to be covered in this strict Islamic culture, but due to the extremely hot climate, having a thin linen or cotton pair like this is ideal.
#3 Sunglasses – Did I mention Khartoum was hot! Like 40 degree hot! Sunglasses are essential here to protect your eyes from the UV rays and the dust!
#4 Long-Sleeved Thin Top – Like legs, arms should be covered in Khartoum, so a cotton, thin long-sleeved top is going to be necessary.
#5 Arabic Phrasebook – Even in the capital of Sudan, few people speak English, so getting your hands on the Lonely Planet Middle East Phrasebook before you leave home will help you in Khartoum no end.
#5 Wander to the Art Galleries
Sticking with the cultural scene, there's a number of good art galleries in Khartoum that I'd highly recommend visiting while you're in the city.
My favourite is Mojo, but Dabanga also gets favourable reviews from local ex-pats.
Both are situated near the Khartoum 3 district.
#6 Sail on the Nile
Surely one of the best ways to take in Khartoum's riverside setting is to jump onboard a local boat and enjoy an hour long trip along the water here.
Possible from a number of places within the city, this is an activity best organised as a group to help keep the price down.
TOP TIP: Download the app Tirhal onto your smartphone. The Khartoum version of Uber, this is an amazing tool for helping you get around the city without being ripped off. Learn more HERE.
#7 Take Coffee with Locals in the Al Sunut Forest
This place looks less like a forest and more like an unused patch of urban scrub, but it's situated right next to the university and is where many students hang out during their lunch hour.
Even just walking past, I was invited for coffee with them and it was great to hear about life in Khartoum from some local young people and to swap and share stories with them.
TRAVEL INSURANCE FOR SUDAN
World Nomads offers simple and flexible travel insurance. Buy at home or while travelling and claim online from anywhere in the world.
Alternatively, if you're a long-term traveller, digital nomad or frequent remote worker seeking travel health cover, check out Safetywing's Nomad Insurance policies.
#8 Watch the Wrestling
Not only is Friday night the time to see Sufi Dancing in Sudan, but another of the best things to do in Khartoum also takes place on this evening – namely local wrestling!
This is a bizarre aspect of Sudanese culture, which otherwise is very modest and restrained, but the locals love it and if you head to see the matches each and every weekend you're likely to be the only tourist!
TOP TIP: The traffic can be horrendous in Khartoum, especially between the hours of 10am and 4pm, so do allow plenty of time (perhaps double what you estimate) to get to anywhere in the city during this time.
#9 Drive to Tuti Island
Situated in the centre of the Nile, Tuti Island is like an urban retreat in Khartoum and hiring a taxi to drive you round this peaceful enclave is a lovely afternoon activity.
Here you can see the confluence of the Blue and White Nile specifically, as well as ride on the world's most famous river.
It's also just nice to take in the views of a very genuine Khartoum life demonstrated by the people who live here and to marvel at the agricultural production that happens so close the country's capital.
#10 Hit Up the Camel Market
The capital of Sudan is actually comprised of 3 separate cities that come together under the umbrella of Khartoum for administrative purposes.
The northern part of the city, Omdurman, is home to a great camel market and if you're yet to witness such a spectacle heading here to check out the chaos is definitely one of the best things to do in Khartoum.
TOP TIP: Banks shut for the day at lunchtime across Khartoum, so if you need to change money, always make sure to do it before 12pm.
#11 Wander the Stalls of Souk Shabi
Khartoum's largest souk, aka market, is a feast for the sense on all levels.
You can easily get lost in here for a few hours as you wander the many food, clothes, jewellery, fabric, homeware and spice stalls.
#12 Be Amazed by the Presidential Palace
Situated on Nile Street with some incredible riverside views, the Presidential Palace in Khartoum is hard to miss!
Again, do not take photos of this site as it's strictly forbidden – even to walk past it on the same side of the street isn't allowed – but enjoy the view of the gated luxury that seems to go on for ver as you drive past in a taxi or tuk-tuk.
TOP TIP: The best wifi in Khartoum can be found at the Corinthia Hotel. This 5* accommodation was definitely out of my price range, but brilliantly you can sit in reception and use the wifi for free to your heart's content!
#13 Drink Tea on the Nile
A lovely, early evening thing to do in Khartoum is to head towards the Burri Alsharif section of Nile Street and enjoy a local tea or coffee by the river.
There's tons of cafes here that line the water and you can relax outside with a hot drink and watch the world go and the sun set.
Parista Café does an excellent western-style coffee I can definitely vouch for if you're longing for a good cappuccino!
#14 Swim at the Greek Club
If Khartoum's heat and dust is getting to you, why not head to the one place in the city where you can enjoy a swim.
The Greek Club near the corner of Africa Street and El Mek Nimir Avenue is a haven in this desert city and the pool and lounges here give travellers a good chance to enjoy the sun without the need for layers of clothing.
Entrance is just 100 SDP and it's open all day, everyday, until 7pm.
TOP TIP: MTN is the best provider of SIM cards in Khartoum, which can be picked up for as little as 10 SDP. You then have to buy scratch vouchers and enter the codes to top up credit for calls and texts. Data packages are also available and the 3G here is good right across the country – hoorah!
#15 Lunch at Ozone Cafe
The number ex-pat café in Khartoum, Ozone is the place to head if you want some international food for lunch, like a delicious salad or freshly-pressed juice.
The garden setting is super peaceful and if you're craving a bit of home and familiarity heading here is definitely one of the best things to do in Khartoum.
Nearby, other great places to eat in Khartoum include Laziz (amazing falafels) and Top Kapi – a yummy Turkish restaurant.
PIN IT TO PINTEREST!
So that's my list of the best 15 things to do in Khartoum, Sudan.
Who knew this capital was so full of amazing stuff to discover and how safe and relaxing I would find my time here to be.
Have you visited Khartoum?
What was your favourite thing to do there?