No matter which way you look at it, Sudan just isn't one of those well-travelled destinations.
In fact, it's a critically under-travelled destination, with hardly anything known about it by much of the outside world.
While this makes it an incredibly exciting place to adventure, it can also make it a little tricky, because finding out information, especially important information, is easier said than done!
When I decided to head to Sudan from Ethiopia it was on the back of recommendations from a few other adventurous travellers I'd met who had been there… and who loved it.
Luckily I took some good notes of my conversations with them, because otherwise I would have found it really difficult to glean much information about what I should expect in this conservative, desert country.
But now, having travelled Sudan and loved it, I wanted to share some the key bits of information to help others who may be thinking of voyaging to this African land too.
Hopefully having a bit more info at your disposal will also encourage you to explore this hidden gem, a decision you definitely won't regret.
So here they are, the 33 things you NEED to know before you travel Sudan…
---
Related Posts
---
This page contains affiliate links meaning Big World Small Pockets may receive a small commission on any purchases at no extra cost to you.
---
Grab Your Copy of How to Travel Africa for Less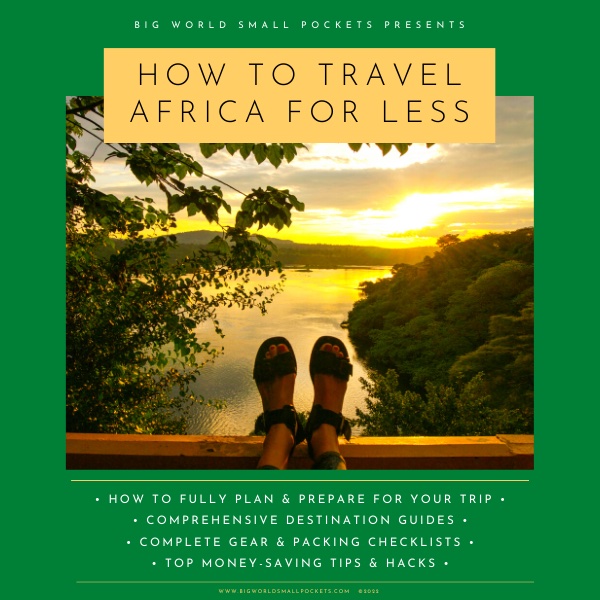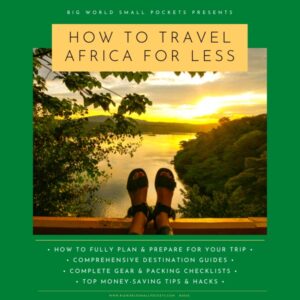 My ultimate guide to travelling Africa on a budget is now available, meaning you can finally get ALL my top tips for adventuring around all, or parts, of this amazing continent in one handy eBook, including…
Full Planning & Preparation Guides
Detailed Destination Info
Complete Packing & Gear Lists
Top Money-Saving Tips & Hacks
#1 Get a Visa Beforehand
First up, the most important thing to know before you travel Sudan is that you need to get a visa in advance of your arrival.
Sudanese visas are not available at any border (land or air) and must be arranged either via the Sudanese embassy in your country of residence, or in the country you're visiting directly before Sudan.
I got my Sudan visa in Addis Ababa, Ethiopia and you can learn exactly how HERE.
The easiest Sudan visa to get is a 14 day transit visa, which will give you 2 weeks to see the country.
This visa cost me $68 as a British citizen and was completed in one day.
The visa will take up a full page in your passport.
In general, 14 days should allow you plenty of time to see Sudan's main attractions, spend time in Khartoum and get a good flavour for this amazingly off the beaten track country.
#2 You Need to Register Your Visa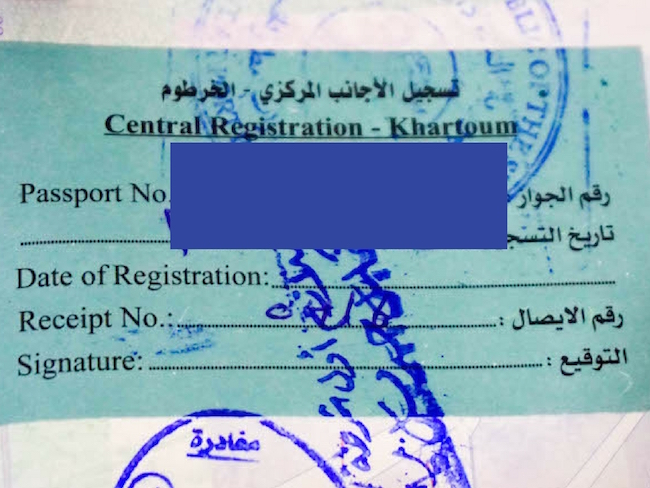 Once you do have your Sudan visa and you've entered the country, you then have 3 days to register your visa.
This needs to be done at a Sudanese Police Office and, if my experience is anything to go by, it can take a while, so make sure you don't leave it until the last minute!
Essentially when you register your visa, you're looking to get a green sticker which takes up half a page in your passport.
I've heard it's possible to register your visa in Wadi Halfa – the border town if you're crossing into Sudan from Egypt – but I got my done in Khartoum, the capital.
Found out exactly how I registered my Sudan visa in Khartoum HERE.
#3 You Need to Get a Travel and Photography Permit
But the fun doesn't end there!
Oh no, as well as registering your visa, you also need to get a travel and photography permit in Sudan, especially if you are leaving Khartoum at any point.
This can be arranged for free, but again, there's a fair amount of legwork you have to do in order to get it, including having a spare passport photo with you.
You can find exactly how I managed it in Khartoum HERE.
Once you have your travel and photography permit, you'll also need to make copies of it (I suggest around 10) and travel with these at all times.
You'll often get stopped at checkpoints when you travel in Sudan and the officials there will want to see, and keep, a copy of this permit each and every time.
5 Essential Packing Items for Sudan
#1 Headscarf or Sarong – Female travellers may feel they want to wear a headscarf in Sudan to fit in. Although it's not strictly necessary for foreigners, it may make life easier.
#2 Long, Thin Trousers – Legs need to be covered in this strict Islamic culture, but due to the extremely hot climate, having a thin linen or cotton pair like this is ideal.
#3 Sunglasses – Did I mention Sudan was hot! Like 40 degree hot! Sunglasses are essential here to protect your eyes from the UV rays and the dust!
#4 Long-Sleeved Thin Top – Like legs, arms should be covered in Sudan, so a thin long-sleeved top like this one is a must.
#5 Arabic Phrasebook – Even in the capital of Sudan, few people speak English, so getting your hands on the Lonely Planet Egyptian Arabic Phrasebook before you leave home will help you in this country no end!
#4 Buses are Regular and Comfortable
So, talking of travelling around Sudan, it's worth knowing that in general the roads here are quite good and bus travel between all major towns is fairly easy and comfortable – hoorah!
In general, you'll be riding on coaches, which come complete with some rather interesting décor, televisions screens and most importantly, aircon!
Bus travel is cheap (usually around 10 SDP for a 4 hour ride) and runs 7 days a week, although I'd advise starting out early in the morning if you have a way to go.
Seats are allocated to you on your ticket and big bags are stored underneath.
Tickets are available on the day of travel from the place where the bus leaves.
On smaller distances, between nearby towns for example, regular minivans normally ply the route.
#5 Currency is the Sudanese Pound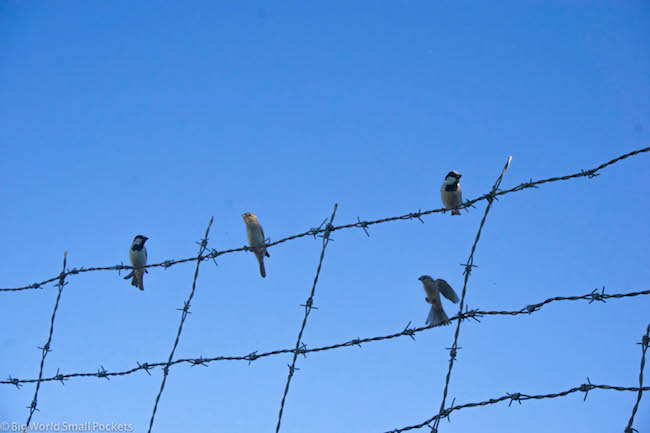 So it might be good to mention at this point how you pay for the buses, or anything in Sudan for that matter.
The answer is with Sudanese Pounds (SDP).
First up, it's important to know there are 2 exchange rates when you travel Sudan – the official one you'll receive at banks, and the unofficial or black market one you can access illegally.
Currently, the exchange rate in Sudan is fluctuating a lot, but when I was there in March 2018, the official exchange rate was 29SDP = $1 USD and the black market rate was 32SDP = $1 USD.
Do beware of dodgy cops who may try to frame you exchanging money on the black market – it happens!
And for this reason, and because the difference was so low between the 2 rates, I generally stuck to changing my money via official outlets.
Just about the only currency you can exchange for SDP is USD.
#6 Your ATM Card will not Work
So when it comes to money for your Sudan travels, the key thing to know is that your ATM card will not work here.
Indeed you cannot access any foreign money whilst in Sudan and paying via credit card is unheard of.
As such you'll need to calculate what you think you will spend whilst in Sudan and bring this full amount (plus a bit extra for emergencies) with you in USD cash.
Bigger note denominations will receive a better exchange rate on the black market and you need to make sure the notes are new and in good condition.
TRAVEL INSURANCE FOR SUDAN
World Nomads offers simple and flexible travel insurance. Buy at home or while travelling and claim online from anywhere in the world.
Alternatively, if you're a long-term traveller, digital nomad or frequent remote worker seeking travel health cover, check out Safetywing's Nomad Insurance policies.
#7 Accommodation in Sudan is Cheap
So what are the prices of things when it comes to Sudan travel I hear you cry?!
Well, let's start with hotels, which are generally dirt cheap and basic.
Yes in many places in Sudan I found the cheapest rooms ever, some costing as little as $1 USD a night!
Of course, these are just rooms in peoples' houses, but in many towns in Sudan there are no other options.
Most of these places don't provide sheets, especially as it's so hot in Sudan, so my silk sleeping bag liner really came into its own in this country.
My trusty airplane blanket was also well used, as was my microfiber travel towel!
Obviously, in Khartoum, there are a greater range of hotels and in some of the other major towns you can find more official accommodation options too.
If you feel like a MASSIVE splurge, then the Nubian Rest House in Karima is an incredible Sudan treat!
#8 Food in Sudan is Cheap
Like most accommodation you'll be staying in when you travel Sudan, food here is also basic and cheap.
As a vegetarian, I lived off the standard Sudanese dish of ful – which is essentially mashed beans mixed with peanut oil and then served and scooped up with bread.
Sometimes there is a soft cheese grated on top and a mix of raw onion and tomato thrown in.
I'm a vegetarian who likes beans, so was totally happy with this, but meat-eaters will also find chicken available.
Some fruits like bananas, as well as eggs, are also fairly easy to get hold of.
On average, a serving of ful will set you back just 20 SDP.
The other great food you can sometimes find is tamia – aka falafel.
A tamia sandwich will set you back 5 SDP on the street.
#9 Tea and Coffee Rule the Day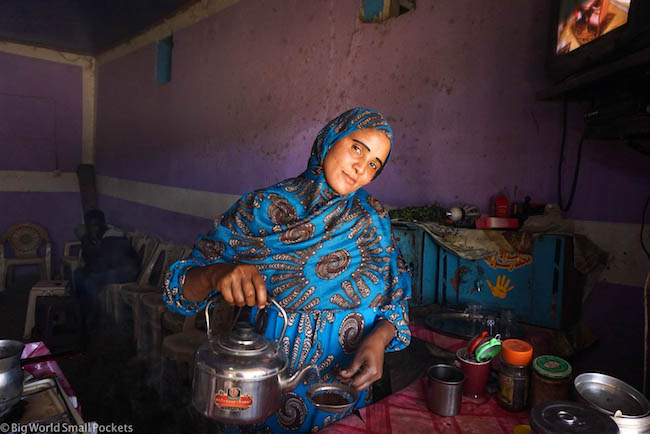 Tea and coffee is ubiquitous in Sudan and a huge part of everyday life here.
Normally served on the street by women each with their own mini stand, the coffee is Turkish-style, black and with lashings of sugar.
It also comes flavoured with things like cinnamon and cardamom and costs 10 SDP for a short cup.
#10 Drinking in Sudan
Everywhere you go in Sudan, you'll see large clay pots on the street filled with water for people to drink for free. However unless you've been in Sudan a LONG time, I wouldn't advise this!
Instead, bottled water is a must here, as tap water is most certainly not potable for foreigners.
Fresh orange juice is readily available in Sudan and delicious.
Make sure you request no sugar if this is your preference!
With strict Sharia law in place in Sudan, alcohol is illegal.
Do not attempt to bring alcohol into Sudan or source it while you are here.
#11 Modest Clothing is a Must
Along with a lack of alcohol, Sharia law in Sudan means it is a very conservative country and all clothing should be long and loose.
For women, this means long sleeves, non-exposing necklines and ankle-length skirts or trousers.
Men also need to be well-covered in long sleeves and long legs.
#12 Taking the Veil
It is also a requirement for local women in Sudan to take the veil and while wearing a headscarf isn't necessary for foreigners, you may want to adopt it.
I certainly did when I was in Sudan, both as a respect for the culture and in an attempt to blend in as much as possible.
READ MORE: Solo Female Travel in Sudan: Is it Safe?
#13 There are Few Tourists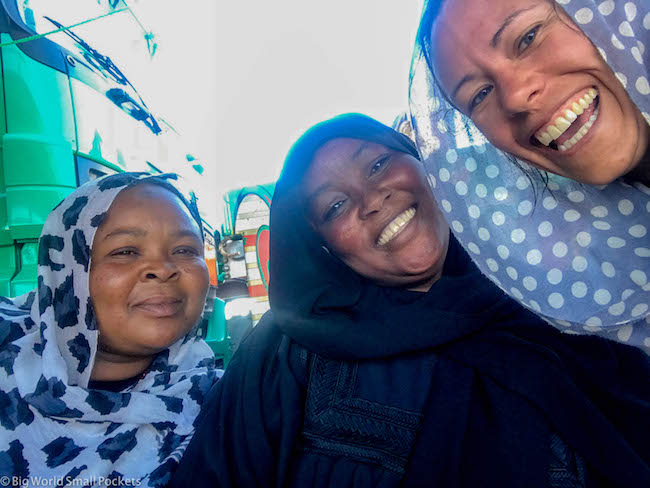 However my attempt to blend was pretty much futile, as I was largely the only tourist I ever saw in Sudan!
Being white, tall, female and alone, I pretty much stuck out like a sore thumb from a million miles away.
And with no other tourists around – I was definitely the only white person in many of the towns I visited.
As such, you must be prepared for the fact you'll be stared at a lot when you travel Sudan, as well as photographed and asked questions!
#14 It's Safe and Friendly
That said, I never once felt threatened or unsafe in Sudan, even as a solo female traveller.
In fact, Sudan is one of the most hospitable and welcoming countries I have ever travelled in.
With so few tourists, the Sudanese people are super interested to find out why you are there (hence all the questions), to practice their English and to learn more about the outside world, from which they largely feel very cut off.
Not yet used to tourism and jaded by large amounts of visitors, interactions in Sudan with local people are highly genuine, stress-free, hassle-free and untainted by dollar signs.
#15 You'll be Invited into People's Homes… a Lot
Emphasising the insane hospitality of the Sudanese people is the fact that it's basically impossible here to walk down any street in the country without being invited into people's homes several times for tea or food.
Needless to say these people won't ever accept any money, despite the tough economic conditions in which they exist.
They genuinely do seem to get an almost wondrous sense of pleasure and pride from making you feel as welcome as possible in their country – as if their own sense of satisfaction is actually derived from how much they can give you.
Sadly, this sort of real generosity can be hard to believe as a westerner and takes some getting used to.
Don't be surprised in Sudan if taxi drivers, shopkeepers and cafes owners won't let you pay!
#16 Bring a Phrasebook
What does make interaction hard with the beautiful Sudanese people however is the language barrier, because very few people here speak English, especially outside of Khartoum.
Therefore I highly advise bringing a phrasebook with you when you travel Sudan.
The best one to bring would be the Lonely Planet Egyptian Arabic Phrasebook, which details the language most similar to the Arabic spoken in Sudan.
It's also a good idea to learn a few Arabic basics before you arrive in Sudan, such as Hello, Thank You and your numbers 1-10.
#17 Get Google Translate
As well as a phrasebook, Google Translate will become your new best friend in Sudan!
Bookmark it on your phone, it will be invaluable here!
#18 Buy a Sudanese SIM Card
And of course, the best way to access Google Translate when you travel Sudan is to buy a SIM card and data package while you are here.
There are several operators, but I recommend MTN, who I found had excellent coverage across the country.
If you're arriving into Khartoum airport, MTN have an office, with English-speaking staff (cue. gasps of amazement and delight!) in the Arrivals Hall – hoorah!
Buying a SIM here will set you back just 10 SDP and a 1GB data package will then cost you an extra 40 SDP.
To buy more credit, simply head to any newsagent or street stall and purchase a voucher, which you can scratch off and use to top-up your balance.
Amazingly I found the 3G network across Sudan to be excellent and there was even wifi in some of the places I stayed – amazing!
#19 It's HOT!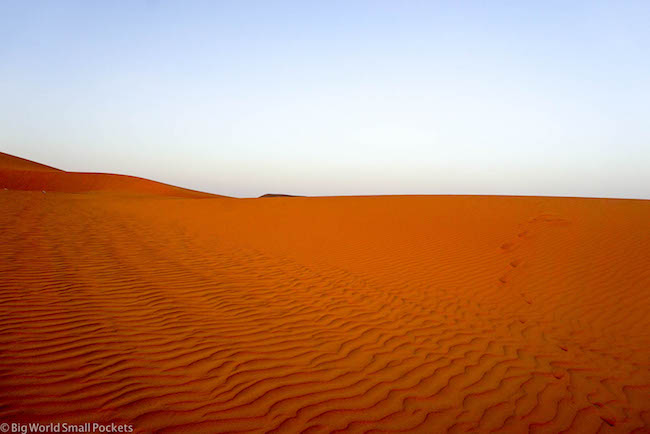 Moving onto the climate, one of the things you definitely need to know is that Sudan is hot and dry, like seriously hot and seriously dry.
In fact, I think it ranks as one of the hottest countries in the world.
And so, because you have to be well-covered in clothing here, thin, breathable garments are a must.
As is sunscreen and a hat, if you're not wearing a headscarf.
Due to the extreme temperatures, I only recommend sightseeing in Sudan during the early morning and late afternoon.
The rest of the time you'll just need to rest in the shade!
That said, because this is a desert country, Sudan can also get cold at night once the heat of the sun vanishes.
Packing one sweater that you can pull on of an evening would therefore be an excellent idea.
#20 Mozzies and Malaria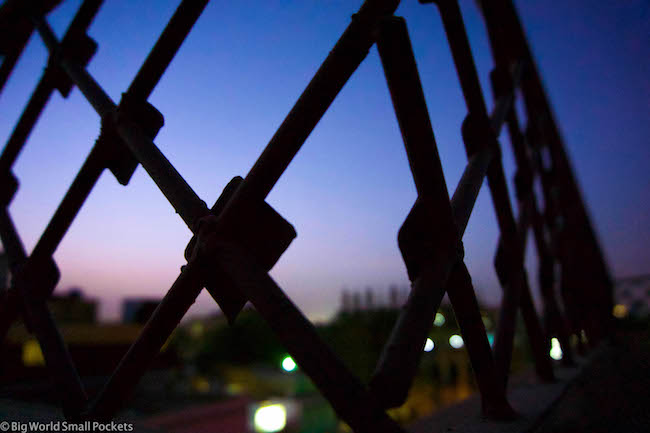 Due to the climate, it's a no-brainer that mosquitos can be a big problem in Sudan and that malaria is present here.
I recommend a 30% DEET repellent to keep the pesky nippers away.
#21 Multiple Plug Sockets
In Sudan a mix of European and British plug sockets are common and you never really know which you are going to find!
A Skross World Adapter is therefore a great purchase to allow you the flexibility you'll need when charging your camera, phone and other electricals in Sudan.
#22 Old Time vs New Time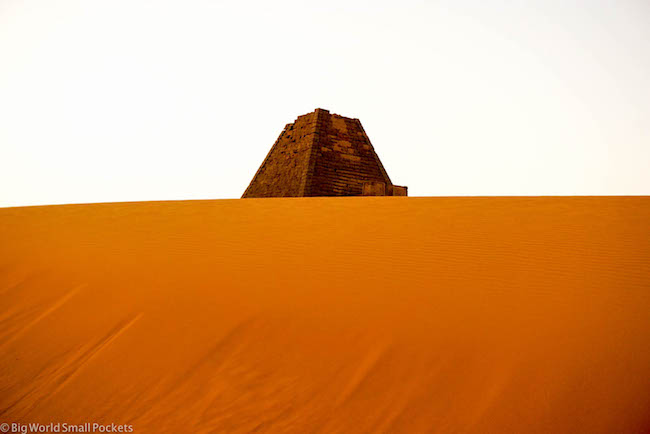 And plug sockets aren't the only thing that switches up without warning in Sudan.
Like their neighbours Ethiopia, Sudan also have a double time system, or at least they do unofficially!
Named Old Time and New Time, back in 2017 the Sudanese government changed the clocks by 1 hour, but much of the country hasn't caught on yet and still operate on the Old Time, which is essentially 1 hour behind the New Time.
Do make sure therefore that you clarify whether any bus departures etc, are being given to you in the Old or New Time!
#23 Taking a Train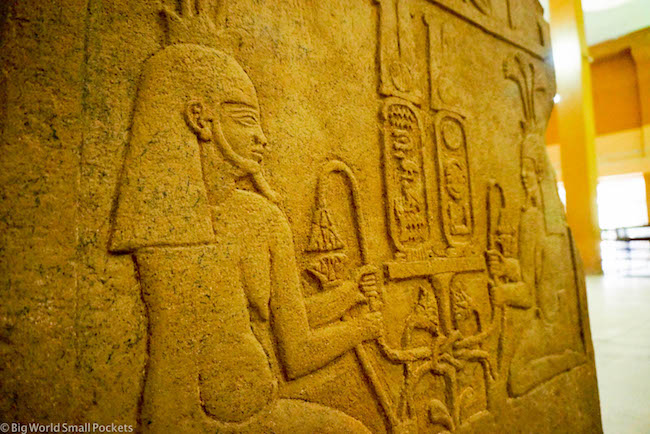 One place where this 2 time system confusion has led to a few travellers being caught out, is with the trains!
Because yes, Sudan also has a train network.
Running largely from Khartoum through the north of the country, trains are slower but an alternative way to travel to buses.
Tickets for trains should be purchased a day in advance.
#24 Taking a Tuk-Tuk
For short distance travel, say between a bus station and your hotel, tuk-tuks are common in Sudan… and cheap.
Normally around 15-30 SDP for a ride, they are particularly ubiquitous and helpful in the capital Khartoum.
#25 Horrendous Traffic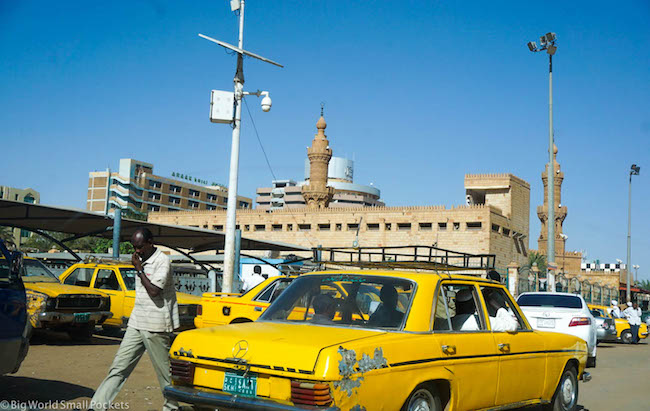 The traffic in Khartoum is horrendous.
You have been warned!
Always double your estimated journey time in Khartoum to allow for the swarming traffic at every turn.
#26 Tirhal Saves the Day
Another great way to travel in Khartoum is via the app Tirhal.
Essentially like Uber, it's the perfect way to ensure your driver knows where you want to go even if you don't speak Arabic and you know the rough price in advance.
Tirhal operates through an app, which you should download, but fares are paid in cash to the driver.
#27 Weekend Warning
As an Islamic country, Friday and Saturday form the weekend days in Sudan.
Reduced opening hours and transport links are common at this time.
#28 It's a Land of Ancient Treasures
Sudan is a very ancient land and home to more pyramids than Ancient Egypt – who knew right?!
The best sets of pyramids are the Meroe ones near-ish to Khartoum and those in Karima.
Here you're unlikely to see another tourist and there's certainly no barrier, ticket office or signs!
It really is an amazing experience to just stumble through the desert and discover 5,000 year-old stone structures reaching for the heavens, with not another soul in sight.
READ MORE: The Perfect Sudan Travel Itinerary
#29 The Spitting and the Sheesha
The Sudanese spit and smoke.
A lot.
It's part of their culture
You'll get used to it.
#30 The Street Snacks
Street snacks are great in Sudan and can provide a welcome relief from all the ful for many travellers.
Common finds include sesame snaps, peanut brittle, dried dates, toasted salty sunflowers seeds and bags of cooked chickpeas.
Of course, the usual offering of sweet biscuits, cakes and chocolates are also widely available.
#31 No Israeli Stamps
If you've got an Israeli stamp in your passport you won't be allowed into Sudan.
Getting a new passport or using a second passport (if you're lucky enough to be one of those people) is the only way to get around this.
#32 No Exit Visa Required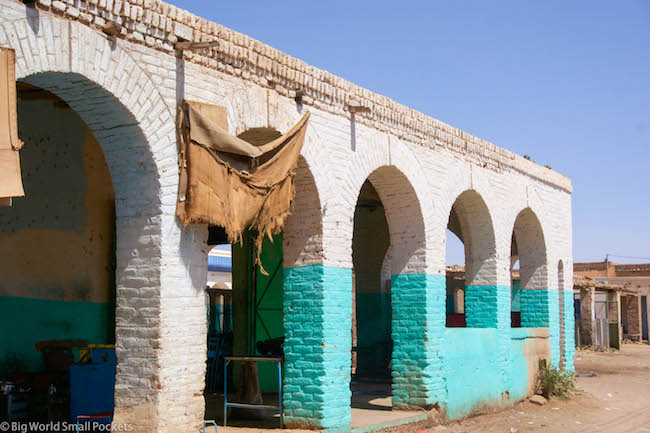 Despite what the British Foreign Office say on their website, you do not need an exit visa in advance of the border to leave Sudan.
When I exited through Wadi Halfa to Egypt, I just had to pay the official for the stamp at the border crossing, so do keep some SDP in case this happens to you as well.
You can read more about my land exit from Sudan to Egypt HERE.
#33 It's Amazing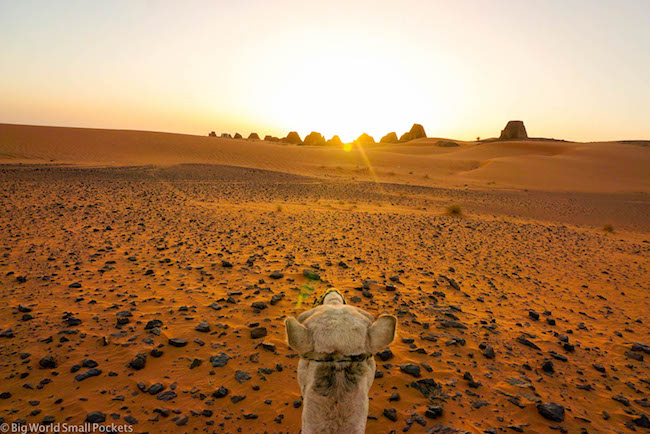 And the most important thing you need to know about Sudan travel is…. that it's amazing!
Cheap, wild, raw, untainted, off the beaten track and with some of the friendliest people on earth, adventuring in this desert land is an experience you'll never forget.
Go and go now, before it changes!
PIN IT TO PINTEREST!
So there you have it, my list of the 33 things you NEED to know before you travel Sudan.
Please don't hesitate to contact me if you have any more questions about travelling in Sudan and don't hesitate to let me know your stories and experiences of this country if you've been there too!