When most people think of Sudan they certainly do not picture unique, luxury resorts in the desert.
More often than not, it's fearful and negative images they conjure up instead – concerns about safety, security and cleanliness above all.
Sitting under a blanket of stars, safe and warm, deep in the desert as the sun sets behind ancient pyramids is far from most people's minds, but contrary to popular belief, this is exactly what you can experience in Sudan and let me tell me, it's every bit as mind-blowing as it sounds.
Here are 2 fabulous places to stay in Sudan…
---
Related Posts
---
My stay at the Meroe Camp and Nubian Rest House was kindly sponsored by the Italian Tour Company – Sudan; but, as always, all views are my own.
This page contains affiliate links meaning Big World Small Pockets may receive a small commission on any purchases at no extra cost to you.
---
Grab Your Copy of How to Travel Africa for Less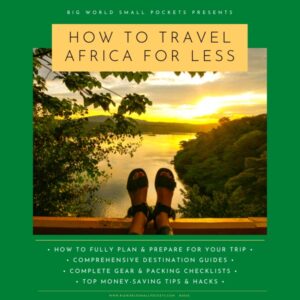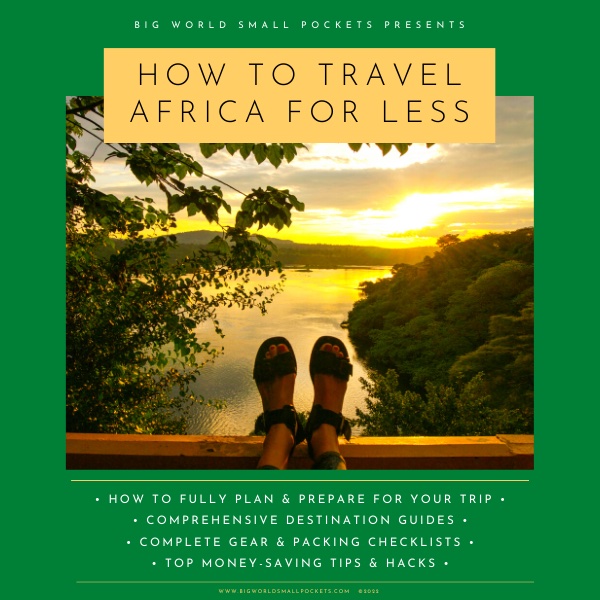 My ultimate guide to travelling Africa on a budget is now available, meaning you can finally get ALL my top tips for adventuring around all, or parts, of this amazing continent in one handy eBook, including…
Full Planning & Preparation Guides
Detailed Destination Info
Complete Packing & Gear Lists
Top Money-Saving Tips & Hacks
Gorgeous Places to Stay in Sudan
Yes in the heart of this arid and remote African country lies 2 very special places, sensitively built into the sandy landscape around them, they prize the highest levels of comfort and service.
This isn't an opulent luxury, dangling chandeliers and stiffly unformed staff – it is better!
Real, genuine and totally unique, the Meroe Camp and Nubian Rest House are constructed in line with the climate, environment and culture that is so specifically Sudanese.
Having the chance to stay at either, or better both, of these properties, is a must if you travel to Sudan and for me, a solo female traveller, 8 months deep into a long African journey, it was with a huge sigh of gratitude and relief that I found myself there.
Like an oasis in the desert, these places sparkle in their character and comfort, giving travellers the chance to experience the magic of Sudan – a country that boasts some of the friendliest people on earth, some of the most ancient structures and landscapes, but lacks the infrastructure to attract the visitors it deserves.
The Meroe Camp and the Nubian Rest House make this possible.
They open up the country to visitors in a way nowhere else does, allowing them to sample the beauty of Sudan without comprising on safety or sophistication.
And what they bring is the splendour and vastness of the desert to you, a land where even the stars and the silence seem to speak.
Meroe Camp
My first taste of this delight was at the Meroe Camp.
Perfectly placed next to the Meroe pyramids, it is around a 3 hour drive from the capital Khartoum to get here.
But what a world away!
The city feels like a distant memory here as you are quickly and totally immersed into the beautiful Saharan desert, surrounded only by local villages and the 2,500 year old pyramids that hardly anyone knows about.
Arriving by bus, I was dropped at the side of the highway, but could see the camp, its large white safari tents, faintly in the distance.
Sending a car to meet me – a welcome pleasure in the burning Sudanese sun – I was driven to the camp and before I knew it, was sat on their delightfully shady deck staring out onto the desert with a perfectly refreshing glass of hibiscus juice.
Honestly, I could have stared at that view forever; the shifting sands and wandering camels feeling like something out of a movie – and that's without the pyramid backdrop!
But I was eager to see my safari tent and so was kindly led by the incredibly hospitable staff to my room for the night.
If you're worried this sounds all too much like camping for your liking, then please think again, for the Meroe Camp is definitely in the glamping category!
Beautiful, large, permanent safari tents, with comfortable beds and lovely, simple furnishings are the type of accommodation here and they fit so perfectly with the desert landscape around that it feels like luxury, but in a totally understated way.
Behind the bathrooms, one per tent, are private and easily reachable as sensitive solar lights gently twinkle and light the way after dark has fallen.
Like the deck, each tent has a stunning view onto the pyramids and it's here you must head as soon as the sun begins to cool off in the late afternoon.
And this is just what I did!
Kindly organised by the camp, I caught my camel at 4:30pm and as we slowly ambled across the desert sand dunes towards the pyramids, the sun getting lower and lower in the sky, I had one of my heart-exploding Africa moments!
This continent is INSANE!
Plain and simple – IT'S THE BEST!
Spending 2 hours in the desert, snapping the pyramids before 'cameling' back to camp as darkness fell, dinner was soon ready and eaten under more stars than I could count!
Then into the silence of the desert and slumber I feel, dreaming of exotic travels in faraway lands becoming reality.
Nubian Rest House
Waking from my dream, or perhaps not, my next night was then spent at the Nubian Rest House.
The sister property to the Meroe Camp, this place is nestled near the town of Karima, along the edge of the Nile slightly further north in Sudan.
It features more traditional structures than the Meroe Camp, built in the Nubian style – which is the name of the ethnic group that live in this part of the country.
Set around a green, grassy lawn, private bungalow-type villas give amazing views onto one of Sudan's most famous mountains – Jebel Bharkal.
Again the service here was impeccable.
From the friendly welcome to the complimentary tea and coffee, as well as tons of free and helpful advice, I could quickly feel myself slipping back into that desert daze.
Sat on the veranda of my spacious and spotlessly clean bungalow, staring at Jebel Bharkal from the brick-arched windows, part of me doesn't want to share this place with anyone, to risk spoiling, its secret, its solitude, its sense of slipping into another world.
But I can't resist I have to share with everyone how amazing this place is!
For it truly is an oasis in the desert, a stunning hideaway that is without a doubt of the most incredible places I've stayed in Africa.
In fact, I'm calling it THE place you have to stay in Sudan and if there was ever a time for a splurge, this is surely it!
Boasting hot water, air-con, mosquito screens, fans, wifi, home-cooked meals and Instagram-worthy snaps to die for, this place has it all.
Oh, and of course it's got pyramids too!
Yep just a 10-minute walk across the dunes and you'll find them.
2,500 year old structures, standing in the sand, silent, solitary and not a single other person there.
From the pyramids, it's then a short climb up to the top of Jebel Bharkal from where you can view the sunset over ancient temples, the Nile and the endless desert.
This truly is the ancient land time seems to have forgotten about.
And I can still barely believe I've had the chance to discover it.
5 Essential Items to Pack for Sudan
#1 Bradt Travel Guide – There's no doubt Sudan is off the beaten track and a guidebook will help you navigate the country a lot. So far, Bradt have the only publication I know of.
#2 Arabic Phrasebook – English speakers are thin and far between in Sudan, so I highly suggest packing a phrasebook if your Arabic is anything as bad as mine!
#3 Headscarf – Sudan is a strict Islamic country. Even though headscarves aren't mandatory for foreign women to wear, you might like to don one any way as I did.
#4 Natural Sunscreen – The sun is soooo hot in Sudan, that sunscreen is a no-brainer. Try to get a natural product and avoid all those nasty chemicals.
#5 Linen Trousers – Covering legs is a must in Sudan and some thin, linen trousers are perfect for the job.
Italian Tour Company Sudan
Both the Meroe Camp and Nubian Rest House are owned by the Italian Tour Company – Sudan.
This highly experienced and professional travel organisation have been working in Sudan since 2000 and are able to offer breathtaking and safe trips to this off the beaten track country.
Alternatively, if you want to travel independently in Sudan, you can choose to book a night, or 3!, at their beautiful accommodation properties, which really do take in the best of this country's sites.
Despite my budget travel passion, there's no question I would treat myself to a stay at them again.
For truly they will make your trip to Sudan unforgettable.
PIN IT TO PINTEREST!
Did you know Sudan had such unique and amazing places to stay?
When are you booking your trip here?!