Wildly off the beaten track, and all the more exciting for it, Sudan is still very much a burgeoning travel destination… but one that has huge potential.
Travelling overland from Cape Town to Cairo, I passed through Sudan and spent 2 amazing weeks here in a country that defied all expectation.
Because I have to say, I was pretty intimidated by the thought of travelling as a solo female in Sudan. However I bit the bullet and went for it… and boy am I glad.
With some of the friendliest people in Africa – quite a claim in these here parts – some wildly amazing desert landscapes, mind-blowing ancient pyramids and prices that are so cheap it's hard to fathom, there's no doubt that my experience of travelling in Sudan will stay with for me a long time.
And so, to help encourage others to also explore this incredible country and to assist in some trip planning, here's my ideal Sudan travel itinerary…
---
Related Posts
---
This page contains affiliate links meaning Big World Small Pockets may receive a small commission on any purchases at no extra cost to you.
All prices given are correct at the time of publication.
---
Grab Your Copy of How to Travel Africa for Less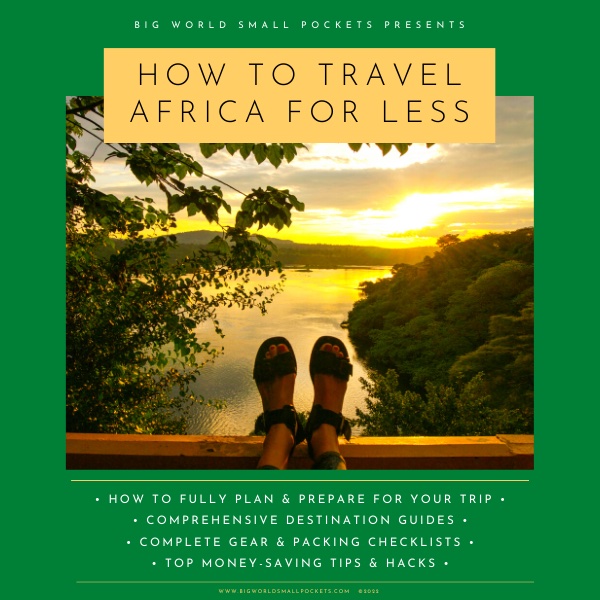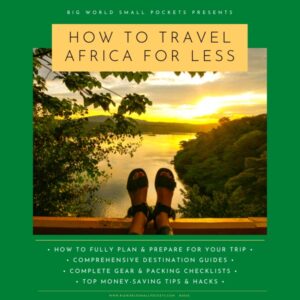 My ultimate guide to travelling Africa on a budget is now available, meaning you can finally get ALL my top tips for adventuring around all, or parts, of this amazing continent in one handy eBook, including…
Full Planning & Preparation Guides
Detailed Destination Info
Complete Packing & Gear Lists
Top Money-Saving Tips & Hacks
Day 1-3: Khartoum
With the only international airport in the country, Khartoum is probably the most likely place you'll be starting your Sudan travels.
It's also a great place to find your feet in this culturally different country and to help you get some travel admin sorted like visa registration and your travel permit.
FOR MORE INFO SEE: The 33 Things You Need to Know about Sudan Travel
As such, I'd advise giving yourself at least 3 days in Khartoum as there really is an amazing wealth of treasures to be unearthed in this very safe city – in fact I was amazed just how much there was to do here!
From the incredible National Museum with its wealth of ancient treasures, through to local cultural attractions such as camel markets and Sufi dancing ceremonies, right up to taking tea by the Nile and exploring this river's beautiful islands, Khartoum is a surprisingly rich feast.
I actually ended up spending 6 nights in Khartoum – a lot to do with how lovely my couchsurfer host was – and also enjoyed checking out Souk Shabi, Ozone Café and marvelling at the presidential palace.
THE BEST TRAVEL INSURANCE FOR SUDAN
I would never think of travelling to Sudan without proper coverage and always recommend travel insurance from World Nomads which I've used during my time in this country and throughout Africa.
I love their great coverage of – crucial for travel in a country like Sudan – as well as their excellent customer service and ability to claim online, which is very handy if you're travelling in remote places for a long time.
Day 4: Meroe
It's time to start heading north up the Nile after you're finished in Khartoum as this is where many of Sudan's treasures lie.
First up, I suggest heading to the Meroe Pyramids, which are located near the town of Shendi where you can find some cheap budget accommodations options.
Getting a bus here from Khartoum is easy and will take only 2-3 hours, but I'd suggest heading off early, as you'll want to get to Shendi in the morning, so you have plenty of time to dump your bags and then head out of town to see the pyramids in the afternoon.
Otherwise, you can treat yourself to an amazing night in the Meroe Camp, which is an accommodation option located right by the pyramids, literally in the middle of the sand dunes!
Owned by the Italian Tour Company – Sudan, the Meroe Camp is definitely not a budget option, but it's wild desert safari tents and epic pyramid views go some way to justifying the expense.
LEARN MORE: An Oasis in the Sudanese Desert: Meroe Camp
If you are going to stay at the Meroe Camp, you can continue on the bus past Shendi and then literally ask the driver to drop you off on the highway when you see the pyramids on your right-hand side.
If there's any confusion, just ask for the "Tarabil", which is pyramid in Arabic.
The camp will then come and collect you from the highway, although you'll need to call them, which is why I recommend getting a Sudanese SIM card during your travels here.
Wherever you end up staying, I'd recommend reaching the pyramids around 4pm so you can enjoy a stellar sunset there and walk around these ancient structures without getting burnt to a crisp by the desert sun!
Camel rides are also possible here and can be a lot of fun!
Day 5: Atbara
To be honest there isn't a lot to see in Atbara, but it makes a good stopover on your Sudan itinerary from Shendi / Meroe and means you don't have to rush in the morning of day 5.
Atbara is also a good opportunity to see a real working Sudanese town as it's likely you'll be the only tourist there.
Stay at Adel Hotel, which has rooms for 500 SDP, free wifi and English-speaking staff.
From here you can walk around the town, exploring the souk and railway museum.
Day 6-7: Karima
Probably my favourite town in the whole of Sudan, it's worth giving yourself 2 nights to explore Karima and its surrounds.
Staying in Atbara the night before will allow you to set off earlier to Karima and you'll likely arrive there in just a few hours, meaning you'll have the rest of the day to discover this beautiful desert town.
Heading to the souk is a great thing to do here, especially on Mondays, which is market day.
With plenty of friendly and colourful characters to be found, walking to the edge of town will also give you a chance to snap the mighty Nile, which cruises past here bringing its life-saving water supply with it.
Then, later in the afternoon, it's time to head to the town's most famous attraction, its pyramids.
Free to enter and with not another soul in sight (at least when I visited), this is an amazing spectacle set in the middle of the dunes on the edge of town – maybe a 15-20 minute walk away.
After the pyramids, it's time to scale the nearby Jebel Bharkal – the sunset and epic views this sacred mountain gives over the surrounding sandscape are quite incredible.
You can also look down on some temple ruins from Jebel Bharkal, as well as snap the town of Karima from an impressive height.
The next day head out of Karima to explore some other of the historical attractions that lie around this town, including the Nuri Pyramids and also the tombs at El-Kerra.
Public buses run to both of these, or else there are taxis can take you too.
When it comes to staying in Karima, there's 1 budget option in town – Nasa Hotel.
Otherwise the ITC-run Nubian Rest House, is another insane splurge that might just capture you with its proximity to the pyramids and level of European luxury.
Day 8: Dongala / Kerma
From Karima it's time to continue your Sudan travel itinerary north.
Head towards the town of Dongala and either use this as a base to explore Old Dongala, or swap buses and continue onto the town of Kerma (pronounced Karma).
I opted for Kerma on the back of a recommendation by a Sudanese travel guide I met in Karima who told me this town houses some of the most important ruins in the whole country.
From Dongala, the bus will drop you on the highway outside Kerma and you can then hop on another local minivan to get into the town itself at a cost of just 5 SDP.
Staying at the wonderful Nile Hotel in Kerma is a must, where the friendly owner Abdul Aziz will look after you in true Sudanese style.
A bed here costs just 30 SDP – that's $1 USD – and Abdul speaks good English, so please call him on +113 265 238 if you have any problems finding the place.
His brother also has a delicious falafel stall set up right outside and can fill you up for just 5 SDP a sandwich!
Once you've settled in at the Nile Hotel, head to Duffufa, which is the main archaeological site near the town.
There's a great little museum here, where the very intelligent and interesting manager – Muthof – kindly showed me around.
It's best to get a taxi to Duffufa from the Nile Hotel and then ask the driver to wait for you, as you can see the whole place in under an hour. Don't pay more than 100 SDP.
Entry to the Museum is 25 SDP and entrance to the archaeological site is meant to be $10 USD, but tell the guard you don't need a receipt and 100 SDP should do it!
You will also need your passport to get in here.
5 Essential Packing Items for Sudan
#1 Headscarf or Sarong – Female travellers especially may feel they want to wear a headscarf in Sudan to fit in. Although it's not strictly necessary, it may make life easier.
#2 Long, Thin Trousers – Legs need to be covered in this strict Islamic culture, but due to the extremely hot climate, having a thin linen or cotton pair like this is ideal.
#3 Sunglasses – Did I mention Sudan was hot! Like 40 degree hot. Sunglasses are essential here to protect your eyes from the UV rays and the dust!
#4 Long-Sleeved Thin Top – Like legs, arms should be covered in Sudan, so a thin, long-sleeved top like this one is going to be necessary.
#5 Arabic Phrasebook – Even in the capital of Sudan, few people speak English, so getting your hands on the Lonely Planet Egyptian Arabic Phrasebook before you leave home will help you in this country no end!
Day 9: Soleb Temple & Abri
Leave Kerma on day 8 of your Sudan itinerary and head towards to the Nubian town of Abri.
On the way, you can jump off the bus and make a side trip to Soleb Temple, which is situated on an island in the middle of the Nile.
Local fisherman can take you across.
Then it's back on the bus to Abri, where the Nubian Guest House, also known as Megzoub Guest House, is a lovely place to stay for 300 SDP a night.
Situated on the banks of the Nile, the traditional décor here and free wifi make it a great spot to relax for the afternoon.
You can also visit the Souk in town and stroll round the village, where you're likely to be invited into peoples' homes multiple times in true Sudanese style!
Day 10: Wadi Halfa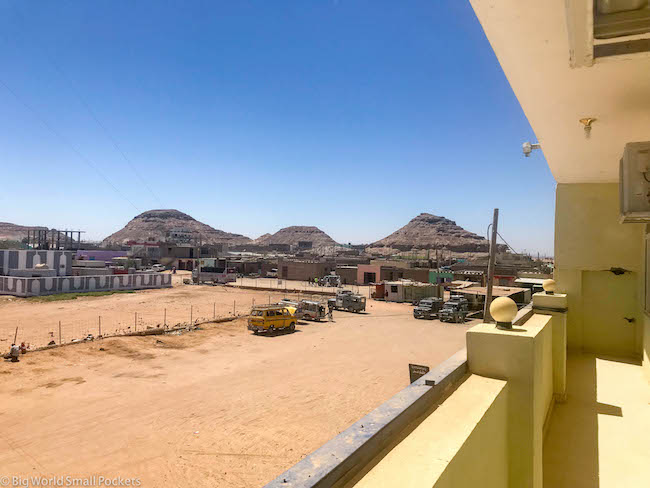 Finish your Sudan itinerary in the border town of Wadi Halfa, from where you can easily cross into Egypt in the morning.
Hotel ElHarm is a great place to stay in the centre of town, with the Souk and bus station all within easy walking distance.
Rooms cost 150 SDP here and there's free wifi and an English-speaking owner.
Book your border bus ticket for Egypt that night and get ready for a full day of country-crossing adventure starting at 7am in the morning!
LEARN MORE: How to Travel from Sudan to Egypt Overland
More Time For Your Sudan Travel Itinerary?
With more time up your sleeve in Sudan, I'd recommend heading to the south of the country and a small town called Wassala that I heard a lot of good things about.
Otherwise the coastal destination of Port Sudan can give you your ocean fix.
PIN IT TO PINTEREST!
So there you have it, my ideal Sudan travel itinerary.
I hope you enjoy your time in this fascinating country as much as I did mine.
And please, do let me know your stories below. Sudan sees so few tourists it would be really great to hear from others who have been there…