Yes that's right, in case you somehow hadn't heard me screaming it from the rooftops yet… I love Ethiopia!
For years of being somebody that found it impossible to name their favourite country when asked, I can now give a very easy and definitive answer and I love it!
I love it that this is now a simple question for me (because I get asked it a boring amount of times!) and I love that my answer is some bonkers, African, off beat destination few have had the privilege to explore.
Go Ethiopia again!
But what is it about this country that instantly captured my heart, my imagination and day after day had me squealing with joy and crying at its beauty?
Well here I reveal as much as I can in words about why I love Ethiopia and think it's the best travel destination IN THE WORLD!
---
Related Posts
---
This page contains affiliate links meaning Big World Small Pockets may receive a small commission on any purchases at no extra cost to you.
---
Grab Your Copy of My Real Travel Guide to Ethiopia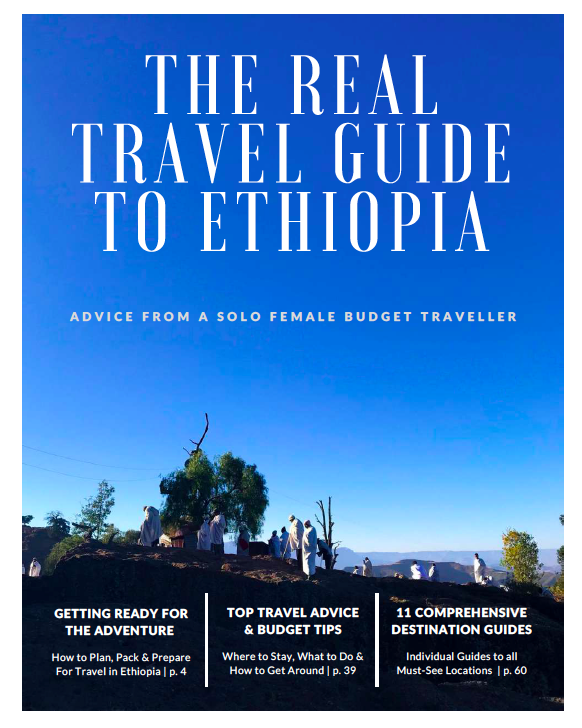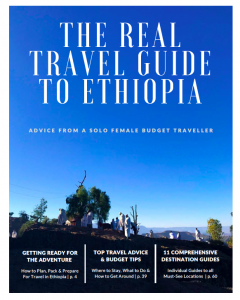 My ultimate guide to travelling in Ethiopia is now available, meaning you can finally get ALL my tips for adventuring in this amazing country in one handy eBook, including
11 Complete Destination Guides to the Best Cities & Attractions
Recommended Places to Stay
Recommended Guides & Tour Companies + Contact Details
Money Saving Tips + Budget Planner
Advice on What to Expect & How to Stay Safe
Packing Checklist
Itinerary Schedule
#1 The Food Factor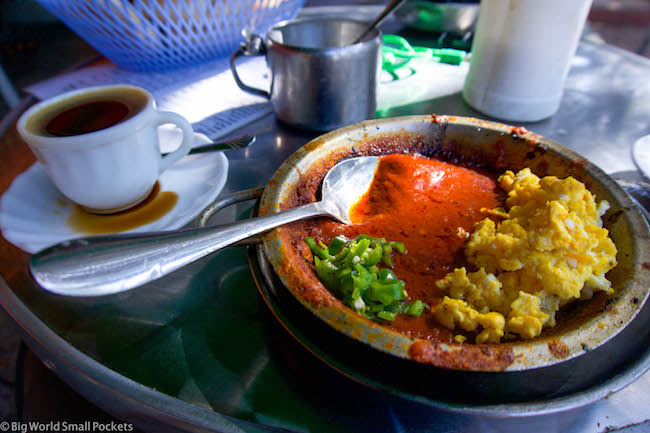 First up, the nosh!
Yes as a veggie / vegan, Ethiopia is a delightful haven for me of meat-free fabulousness.
As a devoutly religious country, many Orthodox Christians here fast for a significant part of the year (think like 2/3's of it) and avoid all meat, fish and dairy at this time.
So usher in the delicious veggie fodder!
In addition to this factor (and don't worry meat-lovers you won't feel short-changed there's plenty for you too) the availability of fresh produce here, the huge range of spices and the delicious combinations they assemble, means with or without animals included, Ethiopian food is delicious.
It's also healthy, spicy and CHEAP!
3 more factors that tick some big boxes for me!
#2 The Coffee Factor
Closely following the food factor is the coffee factor on my list of reasons why I love Ethiopia.
Yes, the prestigious home of coffee, this caffeinated, life-saving drink, takes on almost a sacred significance in Ethiopia.
Anywhere that treats coffee with that level of respect is a winner in my book!
First up are the ceremonies, when coffee is served with friends amidst a waft of incense, roasting beans and special pots boiling on open fires.
When asked why they spend over 1 hour to create, pour and drink 3 shots of espresso, Ethiopians will likely meet your question with a confused expression and the reply, "because it's beautiful".
Enough said!
Known as buna in Amharic, the coffee here is served black, with lashings of sugar (unless you request without) and is made in a kind-of similar way to Turkish coffee, although it tastes more earthy.
It's the real deal and it's also crazy cheap!
#3 The People Factor
There sure are some friendly folk in Africa and there sure are some more than friendly folk in the Middle East and in the middle of these parts of the world sits Ethiopia, which somehow manages to capture the welcoming nature of both and combine them into a totally unique level of hospitality.
I do have to admit I was pretty intimidated before I arrived in Ethiopia, not knowing anyone who had been there and really unsure of what to expect.
But I needn't have worried because I've rarely felt safer in my life.
Especially as a solo female, I feel like I was extended the sort of welcome and generosity reserved for royalty. (Only next door neighbour Sudan came close to even touching it!)
As a devoutly religious country, there's also very little violent crime in Ethiopia and even in the supposed big bad city of Addis Ababa, I felt safe walking around by myself at dark in many areas.
#4 The History Factor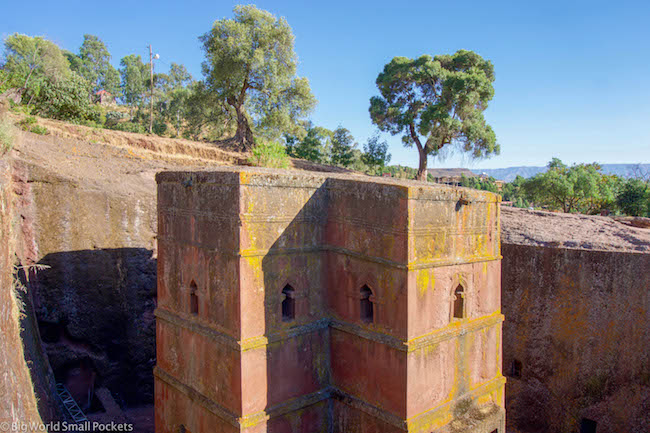 It's got the oldest human ancestor remains ever discovered in the world, some of the oldest churches in the world, ruins from some of the oldest human civilisations and many ancient living cultural practices that have changed little in thousands of years.
Yes, if it's real, genuine and unbelievable history you're after, Ethiopia is your bag!
I know it's mine.
From scaling the aerial rock monasteries of Gheralta, to walking into the mysterious tombs of Axum, marvelling at the crumbling Medieval castles of Gondar, silently witnessing the Orthodox Sunday mass at Lalibela or seeing Lucy in the National Museum, history is so rich, layered and present in Ethiopia it's almost impossible not to be blown away by it!
#5 The Nature Factor
So we've talked about the human history, but what about the natural history!
Well hold on guys, because in Ethiopia you're got some of the world's most dramatic scenery, formed millions of years ago by some serious seismic action.
First up, the Danakil Depression.
The hottest, driest place on earth and also one of the lowest, this arid, lava desert lies in the north-east of Ethiopia and is like nowhere I've ever been.
From bubbling sulphur pools, to live volcanoes, salt lakes and expansive lunar-like flats, this place is absolutely mad!
Of course, I loved it!
Then there's the UNESCO-listed Simien Mountains National Park with its great hiking opps and endemic Bleeding-Heart baboons, the Bale Mountains National Park with yet more hiking and the rare Ethiopian Fox, and finally there's the start of the Nile, Lake Tana and the Omo River with its hippos and crocs galore.
#6 The Culture Factor
Like many countries in Africa, distinct ethnic groups, with totally unique identities, jostle together in Ethiopia and the wealth of cultures as a result is quite astounding.
From the communities of the Omo Valley, who still live traditional subsistence lives, to rich Islamic culture towns like Harar, through to the urban elite of the capital Addis Ababa and finally to the Orthodox Priests of Ethiopian's northern churches, this is just a snapshot of the rich cultural diversity here.
What amazes me in Ethiopia is how strong these cultures remain, with many still conducting cultural practices that have hardly changed over thousands of years, largely influenced by the fact the country was unaffected by waves of colonial armies.
There's also a huge plethora of ethnic dialogues to parallel these various cultures and even the national language, Amharic, is an ancient Semitic language with a unique alphabet, script and set of sounds.
Culture in Ethiopia is still mostly untainted by mass tourism too.
The practices and processes I saw were, for the large part, real, genuine and not adopted for show or a quick dollar.
The Sunday masses in Lalibela with their wafting incense and rhythmic chanting are entirely authentic, as are the priests who live high up rock-hewn churches in the Tigray region, the ladies that serve sorghum bar in local houses in the Afar region are as genuine as can be and the markets of Harar stuffed full of spices see few tourists.
#7 The Diversity Factor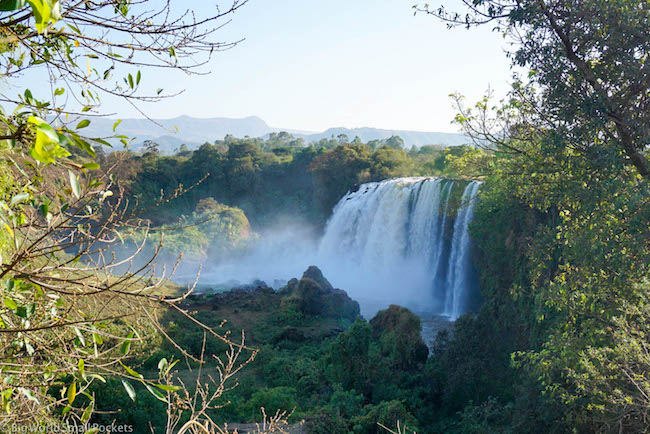 So you can probably tell from everything I've described so far that Ethiopia is a dazzling land of spectacular diversity.
From mountains, lakes, rivers, forest and waterfalls situated at altitude, to flat tropical plains dotted with wild animals and tiny, remote villages, to bustling cities full of young students and finally to dry, flat lava landscapes, Ethiopia has it all.
And while the roads here are pretty atrocious, domestic flights are cheap, easy and plentiful.
This makes it fairly simple to hop between the variant topographies of this large country even in a short amount of time.
LEARN MORE: 57 Things You Need to Know About Travel in Ethiopia
#8 The Bonkers-Factor
But even better than the diversity, is what I call the bonkers-factor!
I guess this applies to how mad I find a country… in a good way!
It's about how much a travel destination challenges my Western perceptions, ways and means, because I absolutely love this.
And Ethiopia did this is to the MAX!
Being well-accustomed to "African time" already, Ethiopia however, is a whole other thing!
For one, they literally have a different time system.
Sitting within in the GMT +3 timezone, the Ethiopian clock actually runs 6 hours behind this.
So when the sun rises for them at what would be 6am, they call it 12. When it is what we'd call midday, they say it is 6.
HA!
Does this give you a slight hint into how bonkers Ethiopia is?!
They've also got a different calendar (they are about 7 years "behind" our western calendar) and concepts such as time management, efficiency and organisation literally do not exist.
I mean, at all.
It's amazing! (if not a little frustrating at times).
You've really just got to go with the flow here, because this is how people live their lives in Ethiopia.
Largely with complete trust in God, they don't feel they control their destiny anyway, so they certainly don't expect to be able to control when buses leave, when shops are open or whether the electricity supply works.
Such a delight for me to learn!
#9 The Unique- Factor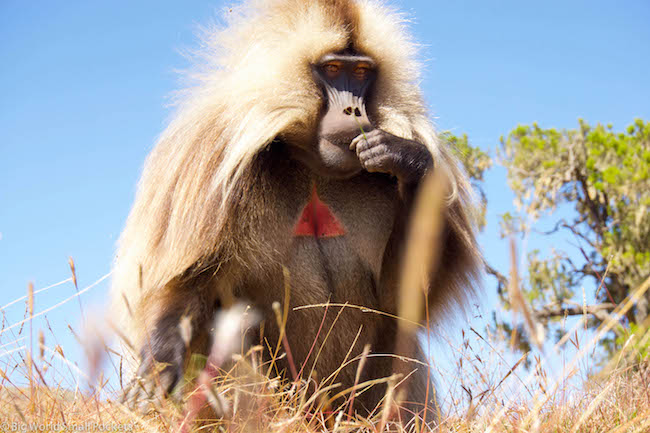 So if you hadn't guessed already from everything I've just said, I'll spell it out now…
Ethiopia is totally and utterly unique!
There is nowhere else like it on earth that I've been – not to the north, south, east or west.
It stands alone, it stands proudly and it stands defiantly.
I honestly don't know how it developed such a different style of food, language, life, culture, geography and coffee to its neighbours, but it has and its kept hold of them, strongly, tightly, steadfastly.
It's honestly pretty amazing that in 2018 a country like this still exists.
Of course, Ethiopia has not been immune to the influences of western culture, modernisation or urbanisation, and nor should we expect it to have been, but there is a delight in the fact it still remains very, very different.
Getting under the skin of this country still evades me.
Just when I think I understand something in Ethiopia, suddenly the rug is pulled from under my feet and I land back on my arse just as confused and confounded as when I started.
And I love this!
It pushes me, opens my mind and spurs me on!
So thank you Ethiopia for being so utterly evasive and excellent, I love you!
Mini Travel Guide to Ethiopia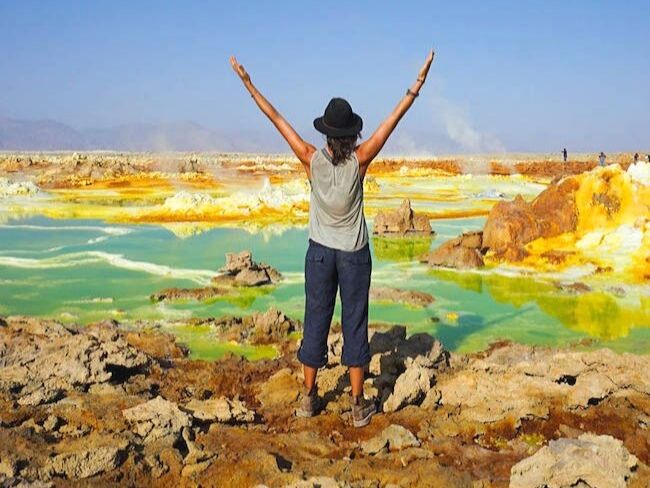 How to Get to Ethiopia?
Unless you're travelling overland from Kenya, the vast majority of people will arrive into Ethiopia via the country's only international airport in the capital Addis Ababa.
As always, I suggest using Skyscanner to get the best prices on flights.
The airport is quite central and just a short taxi ride away from the major, more well-heeled areas of the city, where most travellers tend to stay.
A taxi fare should cost under $10 USD.
Learn more about getting money in, and visas for, Ethiopia as part of this article I wrote about the key things to know before you travel to this country.
When to Visit & How Long to Stay?
No question in my mind that you should definitely visit the city of Addis Ababa – and the whole of northern Ethiopia – in the dry season.
This runs roughly from December to April.
Outside of this, the wet conditions can make access and enjoyment harder!
How to Get Around Ethiopia?
Buses and domestic flights are the best way to travel around Ethiopia.
Learn more in this article.
Where to Stay in Addis Ababa?
If you're looking for the best place to stay in Addis Ababa on a budget, then I can highly recommend Mr Martin's Cozy Place.
For something more private, the Victoria Guesthouse in Addis gets rave reviews.
Travel Insurance for Ethiopia
World Nomads offers simple and flexible travel insurance. Buy at home or while travelling and claim online from anywhere in the world.
Alternatively, if you're a long-term traveller, digital nomad or frequent remote worker seeking travel health cover, check out Safetywing's Nomad Insurance policies.
Best Ethiopia Tours
If you're interested in an unforgettable, well-priced tour in Ethiopia with guides you can trust, then email me at [email protected] with details of where you want to go and I'll send you my top recommendations – simple!
Otherwise, check out these great options, which cover Addis Ababa and beyond!
5 Essential Packing Items for Ethiopia
#1 Headlamp – Required for those all too often power cuts. I love my trusty Black Diamond.
#2 Toilet Paper – Most places don't provide it.
#3 Long, Thin Trousers – Perfect for the cold evenings and conservative dress standards during the day. Columbia has a great range for women.
#4 Good Camera – An absolute must if you're looking to capture the incredible landscape and cultural practices of Ethiopia. I love my mirrorless Sony A6000, which is light, compact and robust – ideal for Africa travel.
#5 Hiking Boots – Necessary for the dusty roads, walking and cold nights. KEEN Women's Targhee II Mid Waterproof Hiking Boots are a great option I highly recommend.
PIN IT FOR LATER!