A WORD OF WARNING!
Visiting Ethiopia's Tigray Churches will require nerves of steel, a disregard for treacherous heights and all the adrenaline you can possibly muster…
…but trust me, if you can harness all of these, then visiting this totally unique and breathtaking (literally) destination is going to be one of the most amazing travel experiences you'll ever have!
FACT!
Yup, it may sound grandiose, but really I do think this is one of Ethiopia's Africa's most spellbinding destinations and here's why….
---
Related Posts
---
My trip to the Tigray Church was kindly sponsored by Teddy Zion Tours, but, as always, all views are my own.
This page contains affiliate links meaning Big World Small Pockets may receive a small commission on any purchases at no extra cost to you.
---
Grab Your Copy of My Real Travel Guide to Ethiopia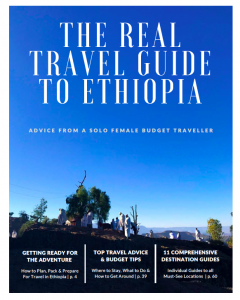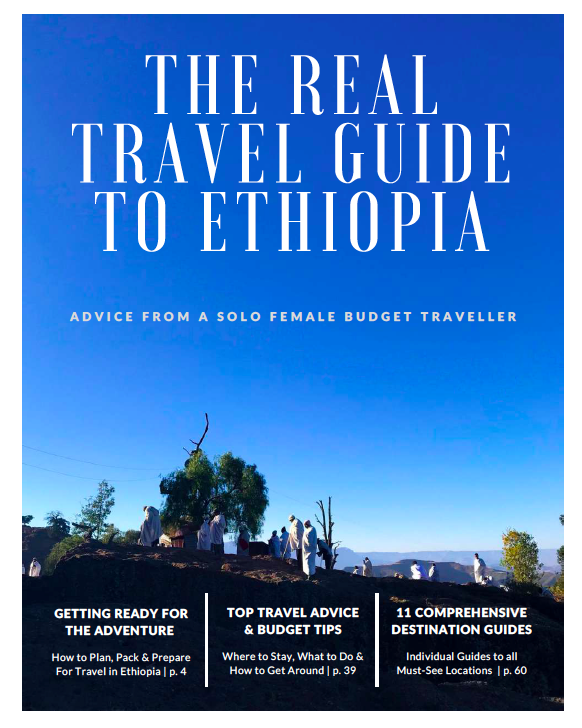 My ultimate guide to travelling in Ethiopia is now available, meaning you can finally get ALL my tips for adventuring in this amazing country in one handy eBook, including
11 Complete Destination Guides to the Best Cities & Attractions
Recommended Places to Stay
Recommended Guides & Tour Companies + Contact Details
Money Saving Tips + Budget Planner
Advice on What to Expect & How to Stay Safe
Packing Checklist
Itinerary Schedule
Where are the Tigray Churches?
Located in Ethiopia's mountainous north-eastern region, the Tigray Churches are some of this country's oldest and most preserved Orthodox places of worship.
Set between the cities of Makele and Axum, they can be hard to access by independent travellers, who at the very least need to take a local guide from the nearby town of Hawzen to see them.
Most people, however, choose to take a tour to see these fantastic edifices, which is exactly what I did with Teddy Zion Tours.
Departing from Makele, I spent 2 days with this company exploring the fascinating rock churches and beautiful landscape of this region, which sits at an impressive average height of 2500m above sea level.
The Gheralta Church Group
There are almost 120 churches within the Tigray region, split into 5 main groups.
The group that most people visit is the Gheralta Church Group, which is nearest to Hawzen (or Hawzien) and therefore easiest and quickest to access.
If you only have a day or 2 to explore the Tigray Churches, then sticking to this section is advised.
After all, there's plenty here to keep you entertained including 3 of the most impressive Tigray Churches – Abuna Yemata, Maryam Korkor and Daniel Korkor.
What are the Tigray Churches?
Hewn out of the rocky landscape by hand with axes, rocks and chisels, the Tigray churches are almost like cave structures with many of the sitting at great heights atop precarious ledges!
And here we're talking about structures created by hand, oral history has it, in the 5th century!
Yes, in this African land of ancient Christian wonders, these churches stand out as truly spectacular, and that's really quite a feat.
Inside they are filled with wonderous and equally-aged religious murals painted directly onto the walls using natural pigments that are literally hundreds of years old, as well as aged artefacts of deep religious significance and devote priests who closely guard their safety.
Unlike the monolithic and semi-monolithic rock churches of Ethiopia's city of Lalibela, most of the Tigray churches are cave churches, which means they are fully embedded into the rock and utilise the existing natural rock structure.
Honestly, it's an amazing feat of engineering when you see them and makes them feel incredibly secluded, secretive and special.
It also makes seeing them a wild adventure, which is perhaps why there are so few tourists here!
How Old Are the Tigray Churches?
The fact that many of the Tigray Churches are cave churches is also perhaps why they are still so shrouded in mystery, with little clear and determined history known about them.
In fact, despite their clearly jaw-dropping beauty and significance, UNESCO has only just registered these churches as sites of special interest.
Less an indication of their importance and more a testimony to their remoteness and inaccessibility, visiting here feels truly off the beaten track.
In truth, as the local guide told me, nobody really knows how old these places of worship are.
And so, in true Ethiopian style, a trip to the Tigray Churches is like stumbling (or rather scrambling) into a lost world, a mysterious map of hidden treasures and well-guarded myths.
TRAVEL INSURANCE FOR ETHIOPIA
World Nomads offers simple and flexible travel insurance. Buy at home or while travelling and claim online from anywhere in the world.
Alternatively, if you're a long-term traveller, digital nomad or frequent remote worker seeking travel health cover, check out Safetywing's Nomad Insurance policies.
Climbing to the Tigray Churches
Some say these churches were built at such a height so that monks and priests could conduct their spiritual lives away from the temptations of earthly pleasures.
Some say they were constructed at such elevations to protect the religious traditions and practices from other invading belief systems.
And some say the churches were painstakingly etched out of the towering mountains so that the monks who lived here could be closer to the heavens.
Whatever the reason for the precarious and isolated location, the people that constructed these sacred places knew how to do it well!
Because believe me, after you scale up here and, spellbound, take in the never-ending views spreading before you, you'll realise how breathtaking this place is in every way!
Yes climbing to some of the best Tigray churches is certainly not for the faint-hearted!
TEDDY ZION TOURS

I have decided that while many travellers in this continent love the acronym TIA (This is Africa) for the times when things inevitably go wrong, take longer than usual planned or go wildly off course, I'm upping the game with TIE!

Standing for This is Ethiopia, TIE is actually a step above TIA, where even more chaos, and confusion can occur!

Yep if you ever intend to make fixed plans for your time in Ethiopia don't get too attached to them is all I can say!

And so it was on the morning my tour with Teddy Zion was due to start.

Being well-accustomed to the usual Ethiopian timekeeping (and being quite a fan of it myself!) I was unsurprised when half an hour after the allotted time, Teddy still hadn't appeared.

However, once an hour had passed, I thought it best I call him just to double-check everything was still going ahead as per our emails in the proceeding days!

But alas, Teddy had either forgotten me or got his dates confused, as he confided in me he'd not remembered to sort out a driver!

Oops!

However, in true TIE form and despite my assurances I could wait until the following day, Teddy hastily arranged everything and I was soon being picked up by 2 friendly locals in their brand new minivan and whizzing towards the Tigray churches.

I understand that tourist operators in Ethiopia face huge barriers and I really don't want to discourage or hamper any of their efforts, but it was a real shame that the 2 guys who I eventually worked out were to be my tour guides had never been to Hawzen or the Tigray churches before!

They were almost as clueless as I was as about how long getting to the churches took, where to stay and what the itinerary should be.

They didn't know if I needed to buy water and food or whether that was being supplied and they had no idea when I asked them what I needed to pack for the hike!

Oops again!

And so, while Teddy had kindly made a tour schedule for me incorporating 4 Tigray Churches over the 2 days – we actually only managed to complete one half of the intended programme due to the disorganisation and delay, which was a real shame.

That said, these 2 guys were some of the friendliest, kindest and most generous Ethiopian's we'd met and as soon as I'd let go of the idea of sticking to the schedule, we all had a great time!

They completely looked after me in every way and with just the 3 of us, it was really like getting a private tour. Now you can't complain about that!

I also met Teddy himself at the end of the trip in Axum and he was very apologetic about the way things had started out.

A really lovely guy, he is clearly very knowledgeable about the Tigray area and well-connected there.

With excellent English and a great, friendly demeanour, I'd still recommend his company… just make sure you have his phone number to hand!
2 Day Tigray Church Itinerary
So, as I explained, I sadly wasn't able to make the 2 day itinerary of the Tigray Churches Teddy had planned.
If, however, you do have 2 days, my suggestion would be to head to the churches of Mikael Debre Selam and Mikael Imba in the Atsbi Cluster, where I was meant to go.
You could then quickly swing by the ancient St George's Church, near the town of Hawzen before spending the night in this town.
I did actually manage to get to St George's Church on my 1st day, and found its ancient relics such as the Cold Crosses and goatskin religious books fascinating.
Just outside St George's we also saw ancient stone bells, hung up with wire in a wooden frame. Acting as a rudimentary gong, the priest still strikes these stones with smaller rocks to create a ringing sound as a way of calling his congregation to mass!
1 Day Tigray Church Itinerary
With just 1 day to explore the Tigray Churches, you want to make a quick getaway from Makele to ensure you have the most time possible to explore and aren't trekking in the full heat of the day.
You also want to limit your visit to the 3 main highlights among the Tigray Churches – namely Abuna Yemata, Maryam Korkor and Daniel Korkor, all set near the town of Hawzen.
The drive from Makele to Hawzen is around 2 hours where you can pick any last-minute essentials for your hike like water or coffee!
In Hawzen you can also find a guide to assist your hike because, trust me, you'll need one!
Official guides for the Tigray Churches work as part of an association and operate on a rotational basis. Just do check your assigned guide has a level of English you can understand however!
With guide in tow, you can quickly head from Hawzien to explore the churches of Maryam Korkor and Daniel Korkor.
After this, I'd recommend returning to Hawzen for lunch and a rest, before attempting to the climb Abuna Yemata – the grand finale if you will.
After this, a 2 hour drive north will land you in the town of Axum for the night, where the Atse Kaleb Hotel is a good budget accommodation option with a lovely courtyard. It is also very well-located and has free wifi.
LOOKING FOR A BUDGET TOUR IN ETHIOPIA?
If you're interested in an unforgettable, well-priced tour in Ethiopia with guides you can trust, then email me at [email protected] with details of where you want to go and I'll send you my top recommendations – simple!
Maryam and Daniel Korkor
It's a good 1.5 hour hike to the top of the cliff where both the churches of Maryam Korkor and Daniel Korkor are located.
There is some scrambling involved and all in all you'll ascend about 300m quite sharply.
Needless to say however, the views across the valley alone are worth it!
When you reach the top, these 2 small churches provide a beautiful, peaceful ambience.
About as atmospheric as you can get, the tiny wooden doorways of these chapels cast thin rays of light onto the spiritual paintings you'll find inside.
Out of the 2, I actually found the smaller Daniel Korkor the more stunning, with its size and artwork quite incredible.
Originally constructed as a prayer room, it's really not hard to imagine reclusive monks over a thousand years ago chanting in this evocative space.
Abuna Yemata
The piece de resistance among the Tigray Churches, you can't miss Abuna Yemata.
With shorter climb than that to reach the Korkor churches, this is nevertheless one hell of an experience!
You'll start with a regular uphill hike on a trail, but after about 30 minutes reach a point where you have to remove your shoes!
After this, experienced scouts are required to help you, as you attempt to scale, aka rock climb, a 150m cliff face without ropes!
It's an adrenaline-pumping experience to say the least, but when you reach the top you'll feel on top of the world… and quite literally you almost are!
After this, it's a 200m walk along a rocky ledge – note no health safety barriers so don't look down – before you finally reach probably the most inaccessible church on earth!
And what a jewel she is.
My guide said that many people burst into tears when they step into the tiny chapel and I can quite honestly believe it, especially after the treachery to get here!
Stepping through the tiny doorway, your eyes are greeted by floor to ceiling murals or stunning clarity and colour.
The silent priest can show you goat-skin religious texts thought to be hundreds of years old, as well as other precious artefacts, which it's easy to believe have been kept safe at the top of this mountain for a very long time.
Whatever your thoughts, the sacredness of this place is palpable and for probably 20 minutes my guide and I just sat there in silence, taking in this hidden jewel in a cave deep in Ethiopia.
In a land of so much mysticism, this is where I truly felt it the most, as the magic of Ethiopia washed over me.
8 PACKING ESSENTIALS FOR THE TIGRAY CHURCHES
#1 Hiking Boots – Something with good grip and ankle support is essential for climbing to the churches. Keen Targhee II's are a great choice.
#2 Small Backpack – You'll want something you can put your camera, suncream and water into when climbing the Tigray Churches so you can keep your hands free. My Bobby Anti-Theft Backpack was perfect for this purpose.
#3 Headlamp – Great for helping you to really see and snap the church artwork in low light conditions, I really wouldn't be without my Black Diamond Storm headlamp in Ethiopia.
#4 Camera – I love my Sony A6000 Mirrorless camera, which is small, light, compact and robust – perfect for African travels.
#5 Suncream and Hat – This is a no brainer.
#6 Hiking Trousers – With some rock climbing involved, you'll want to wear trousers or cargo pants that won't restrict the reach of your legs! Columbia do a good range for women.
#7 Sarong or Shawl – A great one for ladies to cover your shoulders when entering the churches.
#8 Tip Money – Required for the priests, guides and scouts.
Needless to say, you'll need a high level of fitness to enjoy the best of the Tigray Churches.
You'll also need to bring your sense of adventure and nerves of steel.
Climbing up to the more difficult churches is not recommended for those with back, knee or heart conditions.
You also shouldn't attempt to climb far if you suffer from vertigo or are afraid of heights.
That said if you do make it up here, especially to Abuna Yemata, the Tigray Churches are bound to be a highlight of your trip to Ethiopia, if not your whole bucket list!
LIKE IT? PIN IT!