Situated in Kenya's most famous tourist spot, Diani Backpackers is the excellent proof that you don't have to have a lot of money to enjoy Africa's top destinations!
Among the 5* all-inclusive resorts and exclusive boutique apartments, Diani Backpackers shines like a budget travel diamond in this otherwise inaccessible world and allows us shoestring travellers to relax and indulge at one of the world's most picturesque stretches of sand.
For picturesque it certainly is!
---
Related Posts
---
My stay at Diani Backpackers was kindly sponsored, but as always, all views are my own.
This page contains affiliate links meaning Big World Small Pockets may receive a small commission on any purchases at no extra cost to you.
---
Grab Your Copy of How to Travel Africa for Less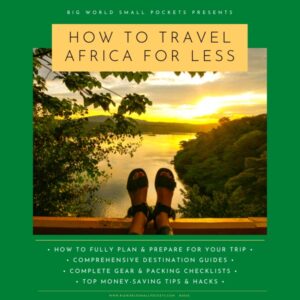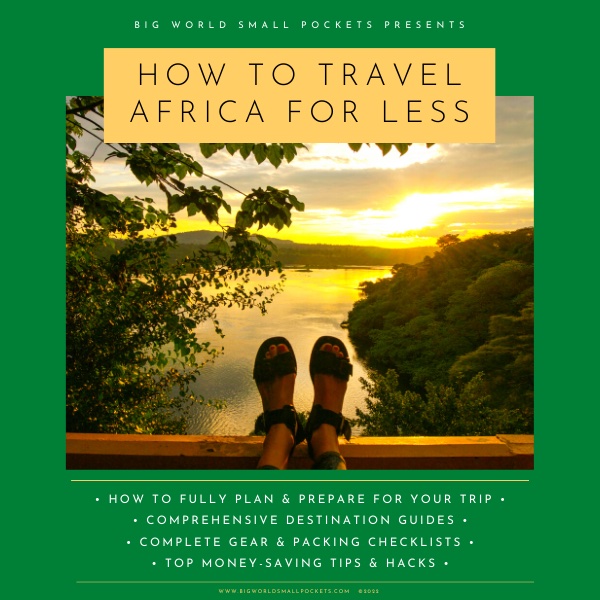 My ultimate guide to travelling Africa on a budget is now available, meaning you can finally get ALL my top tips for adventuring around all, or parts, of this amazing continent in one handy eBook, including…
Full Planning & Preparation Guides
Detailed Destination Info
Complete Packing & Gear Lists
Top Money-Saving Tips & Hacks
Diani Beach
In fact, Diani Beach is picture-postcard perfect with the turquoise Indian Ocean tidal range sweeping up and down an idyllic stretch of white powder sand beneath a dazzling blue sky.
It's the sort of beach that glistens and etches itself into your memory bank.
From skydiving to scuba diving, sunset dhow rides to safari in the nearby Shimba Hills, there's ton to do in and around Diani making it an absolute perfect spot to kick back on your East Africa adventure.
I headed here after my Absolute Africa 48 day overland trip and it really was the perfect way to unwind after some pretty hectic and fast travel months.
And of course, the place I instantly chose to stay was Diani Backpackers.
LEARN MORE: 14 Spellbinding Things to Do in Kenya

LOOKING FOR A BUDGET TOUR IN KENYA?
If you're interested in an unforgettable, well-priced tour in Kenya with guides you can trust, then email me at [email protected] and I'll send you my top recommendations – simple!
Diani Backpackers Location
Located at the far end of the Diani strip (for that's all Diani really is – one long strip of beach) this Backpackers sits a short distance off the main road up a short, dirt track.
Not only does this location make it more affordable, but it's totally suited for those who want to enjoy the beach, with the nearest sand between your toes available just a 5-minute walk away.
On the way down to the beach, you'll also pass a small collection of simple stalls, which are great for stocking up on any basic supplies and giving you a slim sense of local life here outside of the insulated resorts.
With the rest of town, just a short 20KES tuk-tuk ride away, everything is within easy reach including local bars, restaurants, supermarkets and banks.
Amenities
Set around a lovely pool in some gorgeous gardens, Diani Backpackers is also the perfect place to chill if you can't be bothered to venture out!
There's a volleyball court, some epic daybeds and well-stocked bar to ensure you have all you need!
The onsite restaurant also serves up a delicious menu from 7am to 9pm where ordering anything from fresh fruit salad and yogurt to wonderful curries and mega sandwiches is pretty much possible anytime of the day, care of the great kitchen staff.
Sadly there's no guest kitchen at Diani Backpackers, which did become a bit annoying during my 10 day stay, but with the hostel food being well-priced and the local shops just down the road, I managed to get by just within budget!
BOOK YOUR DIANI BACKPACKERS STAY AT THE BEST RATES HERE!
TRAVEL INSURANCE FOR KENYA
World Nomads offers simple and flexible travel insurance. Buy at home or while travelling and claim online from anywhere in the world.
Alternatively, if you're a long-term traveller, digital nomad or frequent remote worker seeking travel health cover, check out Safetywing's Nomad Insurance policies.
Accommodation
And that's even when I was sleeping in a room with aircon!
Yes the private rooms at Diani Backpackers have aircon – cue: huge intake of delightful breath – a first for my Africa trip!
And what a joy it was in this steamy, scorching spot!
Coupled with my enormous, comfy bed and ensuite bathroom, this private room felt super luxurious and I definitely caught up on some well-needed sleep!
Otherwise, if private rooms are a little out of your budget, there's of course multiple dorms to choose from, including one with a baobab tree growing in the centre – my favourite!
And if you are in a dorm, secure lockers are provided and mosquito nets too, so chances you're going to sleep like a baby as well!
Staff & Security
So on top of the great location, super amenities and top accommodation, Diani Backpackers also shines out in terms of staff and security.
Permanent guards, night managers and gates ensure the safety of guests and their belongings and if you need to venture out at night, tuk-tuk drivers or boda-boda drivers can be called to meet you at the gate.
Staff couldn't go out of their way to help enough and the place is spotlessly clean as a result.
PIN IT TO PINTEREST!
So it's probably pretty easy to tell, I was a big fan of Diani Backpackers.
If you're looking to enjoy the beautiful beaches of Kenya's coast on a budget, this has to be the number one choice!