I guess when most people think of Kenya they think of a trip that involves sensational safaris and some crazy African cities.
At least I know I did.
But away from the wildlife spotting opps (which are sensational btw) and those crazy cities (Nairobi I'm looking at you!) Kenya also boasts a stunning coastline.
With the turquoise Indian Ocean lapping at its white sand heels, this is picture-perfect paradise at a fraction of the Caribbean price.
From the famous resort beach of Diani Beach, to the quieter creek area of Kilifi and the madness of Mombasa, here's my quick guide to the Kenya Coast…
---
Related Posts
---
This page contains affiliate links meaning Big World Small Pockets may receive a small commission on any purchases at no extra cost to you.
---
Grab Your Copy of How to Travel Africa for Less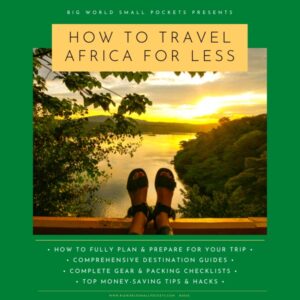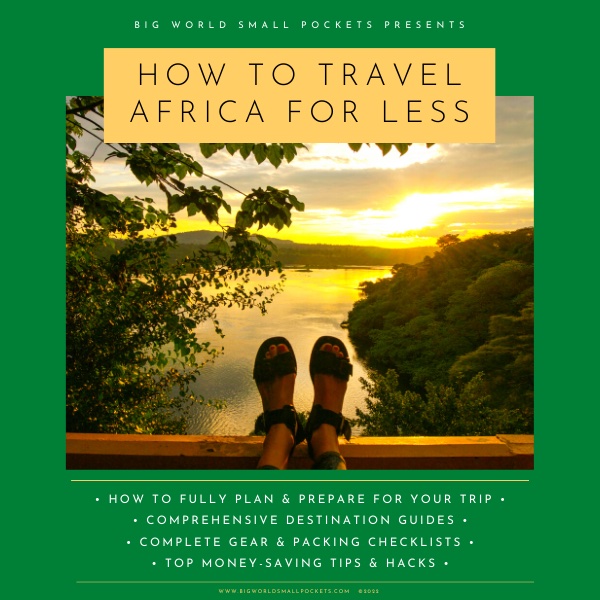 My ultimate guide to travelling Africa on a budget is now available, meaning you can finally get ALL my top tips for adventuring around all, or parts, of this amazing continent in one handy eBook, including…
Full Planning & Preparation Guides
Detailed Destination Info
Complete Packing & Gear Lists
Top Money-Saving Tips & Hacks
How to Get to the Kenya Coast?
Getting to the Kenya Coast is super easy and, amazingly for Africa travel, you've got multiple options.
Flying
When it comes to flying, you can actually jet straight into Mombasa, Lamu or Malindi if you're looking for the most direct option.
Many international flights arrive into Mombasa or you can pick one of the budget airlines that fly to here and other airports on the coast from Nairobi.
Train
There is a direct train from Nairobi to Mombasa, which has now been converted to a high-speed option that only takes around 4 hours.
No doubt something of the charm of the overnight service that used to run has been lost, but at only $7 USD it's hard to quibble with the new prices.
The only problem can be getting the tickets.
The trains fill up fast – despite running daily – and tickets must be bought a few days in advance either from the train station in person or via the Kenya mobile payment method M-Pesa.
Sadly neither of these options is very tourist-friendly!
Bus
The longest, slowest and cheapest of them all, the bus from Nairobi is a gruelling overnight slog filled with the usual chaos and capers of African bus rides.
There's regular services however and tickets are easy to get hold of.
Once you arrive in either Malindi or Mombasa, local matatus (minivans) can be used to get you to your specific destination.
How to Get Around?
Getting around the Kenya coast is fairly easy, with Mombasa acting as the central hub between the northern and southern destinations.
A combination of boda boda (motorbike taxis) tuk tuk rides and matatus can get you most places.
The only exception is Lamu – far in the north of the Kenya coast.
Road travel here is not advised due to security risks.
As such, I'd highly suggest flying straight to Lamu from either Malindi, Nairobi or Mombasa if you want to get here.
TRAVEL INSURANCE FOR KENYA
World Nomads offers simple and flexible travel insurance. Buy at home or while travelling and claim online from anywhere in the world.
Alternatively, if you're a long-term traveller, digital nomad or frequent remote worker seeking travel health cover, check out Safetywing's Nomad Insurance policies.
Kenya Coast Culture
The Kenya Coast is part of Africa's Swahili coastline, with its steamy climate and tropical melting pot of cultures.
With much of Asia just a hop, skip and a jump across the Ocean and the Kenya's colonial past, European, African and Arabic influences jostle peacefully alongside each other here to create a fascinating mix.
Believed to be the oldest living Swahili settlement, Lamu is a fantastic example of this, but Mombasa too has its fair share of interesting influences.
As always culture is reflected in local food and the Kenya coast boasts some great street food including samosas and chapattis – yum!
Dress standards tend to be a but conservative on the coast than elsewhere in Kenya, aside from the beach that is where swimsuits and sarongs are de rigeur.
5 ESSENTIALS TO PACK FOR THE KENYA COAST
#1 Kenya Lonely Planet – I'm always a big fan of the Lonely Planet and their Kenya edition is great for its maps and tour recommendations.
#2 Headlamp – Given the power outages you're bound to experience in Kenya, having a headlamp in your bag is an absolute must. I wouldn't be without my Black Diamond one.
#3 Sarong – Whether it's to wear on the beaches of Kenya or to protect yourself from a dusty safari ride in Tsavo National Park, there's few items as versatile as the trusty sarong when it comes to Kenya travel. I love the beautiful designs and great prices of One World Sarongs.
#4 Insect Repellent – Much as I hate nasty chemicals, a good DEET repellent is essential for Kenya where malaria is a real risk. I recommend a 30% DEET product to keep those pesky nippers at bay.
#5 Sun Hat – Located as close to the equator as it is, the sun is Kenya is super strong and a sunhat to protect your face is highly recommend. I'm a big floppy hat fan and love this Hello Sunshine design.
Top Places to Visit
Mombasa
Capital of the Kenya Coast, Mombasa is a bustling port city.
There's not a huge amount to do here, but it's quite possible you'll spend a night or 2 here on your way to other coastal destinations.
Top sites include the UNESCO-listed Fort Jesus and the crumbling old town.
Kilifi
This gorgeous, relaxed spot has a friendly local community and an arty-alternative crowd of expats that tend to orbit around Distant Relatives backpackers.
Set on the banks of a creek, there's tons to do in Kilifi including visiting local markets, swimming in the nightly bioluminescence and enjoying sunset dhow rides.
However, if you just feel like relaxing with a good book and enjoying the sunshine as part of your Kenya itinerary, this is the perfect place to do that too.
READ MORE: Creating Conscious Connections : Distant Relatives Ecolodge & Backpackers in Kenya
Lamu
As I said before, Lamu really is best reached by plane from either Malindi, Mombasa or Nairobi as road travel here isn' t considered safe.
Budget airlines FLY540 and Safarilink both offer competitive prices, which you can quickly compare at Skyscanner.
Get a return ticket to Manda Island and from there hop on the short ferry to the island of Lamu itself.
There's no cars on Lamu, only donkeys wandering the ancient streets of this UNESCO World Heritage-Listed town, as mosques sing out their call to prayer and the smell of simmering samosas lies thick in the air.
While there are some attractions to visit in Lamu, and beautiful beaches to explore too, this is the sort of destination where the essence of it is the real attraction, so take a deep breath, relax and spend your wandering and getting lost in the fascinating streets of this remote community.
If you like the sound of Lamu, then you'll also love Zanzibar's capital Stone Town in Tanzania.

Check out my list of the Top 21 Things to Do in Stone Town for more insight.
Diani
If you're an ocean person, like me, then Diani is likely to be one of your favourite spots on the Kenya coast.
This resort town really is an Indian Ocean paradise, with white sand continually lapped by azures tides and palm trees that perfectly frame the picture.
If you're feeling active, there's skydiving, scuba diving and kitesurfing all on offer here, as well as boat trips and snorkelling trips to enjoy, as well as day trips to the Shimba Hills National Reserve.
Otherwise enjoying a stellar sunset from near the Kongo Mosque is a must, as is hammock swinging!
And for unwinding in the evening, it's all about Forty Thieves – a great beachside bar where locals and tourists mingle together until the early hours!
Yes there's a lot of resorts that line the beach at Diani, but the sand is still very much public property meaning you can easily enjoy it on any budget too!
READ MORE: Diani Backpackers : Reviewed
Watamu
Visiting Watamu for a day or 2 is another great beach spot on the Kenya Coast if you enjoy being dazzled by spectacular beaches and / or visiting ancient ruins, which are tucked away in the jungle nearby.
And don't forget to indulge in some gelato or a good espresso as you soak up the incredible coastal views in Watamu too – the plethora of Italian tourists here means high-quality ice cream and coffee is assured – yes please!
LOOKING FOR A BUDGET TOUR IN KENYA?
If you're interested in an unforgettable, well-priced tour in Kenya with guides you can trust, then email me at [email protected] and I'll send you my top recommendations – simple!
Other Great Destinations on the Kenya Coast
Tiwi Beach
Malindi
Tsavo East & West National Parks
Where to Stay on the Kenya Coast?
Mombasa – Tulia House Backpackers
Kilifi – Distant Relatives Ecolodge & Backpackers
Lamu – JamboHouse Lamu
Diani – Diani Backpackers
When to Visit?
The best time to visit the Kenya coast is during one of the country's 2 dry seasons.
The first of these runs between January and February, and the second is between the months of July and October.
Dry weather will definitely be the best for enjoying the glorious beaches here, not to mention diving, snorkelling, wildlife day trips and access to the coast in general!
Avoid the April to June long rain season, when heavy and sustained downpours will really put a dampener on things!
Learn more about the best time to visit Kenya here.
SAVE THIS TO PINTEREST!
So that's my quick guide to the Kenya Coast.
Have you visited this awesome part of Africa?
Let me know your fav spot in the comments below…