One of the most diverse countries in East Africa, Kenya really does have it all.
Whether you're looking for the ultimate safari experience, a hiking adventure or a chance to relax on white-sand beaches, this fantastic country has it all – at a good price too!
In between all this, there's an incredible array of cultures, stunning scenery and some of the friendliest people in the world.
And that's why, whenever I get asked the question "I have 2-3 weeks to visit Africa, where should I go?", my reply is always clear and quick… Kenya!
So to explain exactly why, here's 14 spellbinding things to do in Kenya that will make you book a trip there today!
Oh, and I'm currently offering my readers an exclusive discount on all Absolute Africa tours in Kenya, meaning you can now travel even more in this amazing continent for less!
Simply send this top African overland tour company an email to [email protected], quoting the discount code BWSP, and start planning your incredible trip with them today!
---
Related Posts
---
This page contains affiliate links meaning Big World Small Pockets may receive a small commission on any purchases at no extra cost to you.
---
Grab Your Copy of How to Travel Africa for Less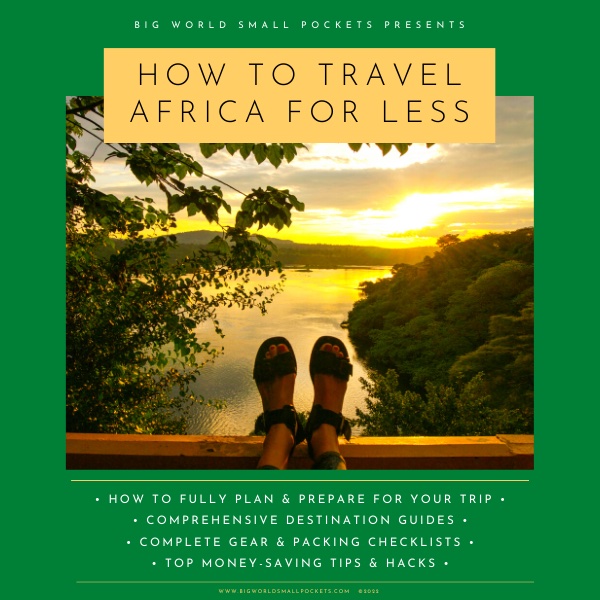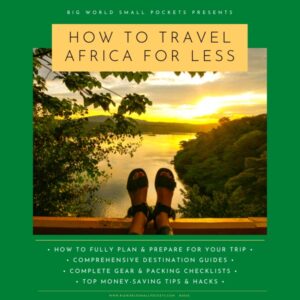 My ultimate guide to travelling Africa on a budget is now available, meaning you can finally get ALL my top tips for adventuring around all, or parts, of this amazing continent in one handy eBook, including…
Full Planning & Preparation Guides
Detailed Destination Info
Complete Packing & Gear Lists
Top Money-Saving Tips & Hacks
#1 Hit the Beach at Diani
Coming in first is one of Kenya's biggest drawcards and, if you're an ocean person, like me, then it's likely to be one of your favourite spots in the country too.
Diani Beach really is Indian Ocean paradise, with white sand continually lapped by azures tides and palm trees that perfectly frame the picture.
This is where you come to unwind in Kenya, to relax, indulge and enjoy little more than the stellar views, ocean swims and hammock swings.
Yes there's a lot of resorts that line the beach, but Diani Backpackers is a super accommodation option for shoestring travellers and the sand is still very much public property meaning you can easily enjoy it on any budget!
Check out my full review of Diani Backpackers here.
With a coastline to die for, hitting the beach at Diani is definitely one of the best things to do in Kenya.
#2 Swim in the Bioluminescence at Kilifi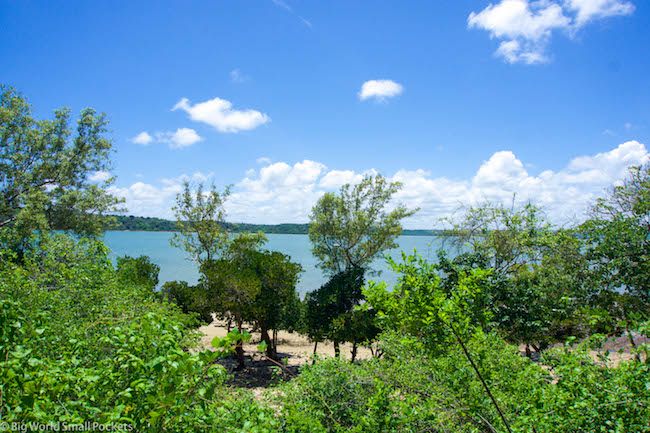 Just further up the coast from Diani, is the gorgeous Creekside town of Kilifi.
This blossoming town is full of a growing creative set that make it a really fun hub of artistic and environmental talent.
As well as super lovely little cafes and yoga studios, the scenery here is also pretty amazing, with the creek providing the perfect place for a sunset dhow ride… or 2.
However, it's after dark that this place becomes really magical, when the natural bioluminescence in the tidal creek provides a shimmering, sparkly, nighttime swimming experience.
The permaculture, eco-resort come backpackers called Distant Relatives is very much in the centre of the cultural action in Kilifi and just a few minutes walk to the creek.
One of the best places to stay in Kenya, check out my full review of Distant Relatives here.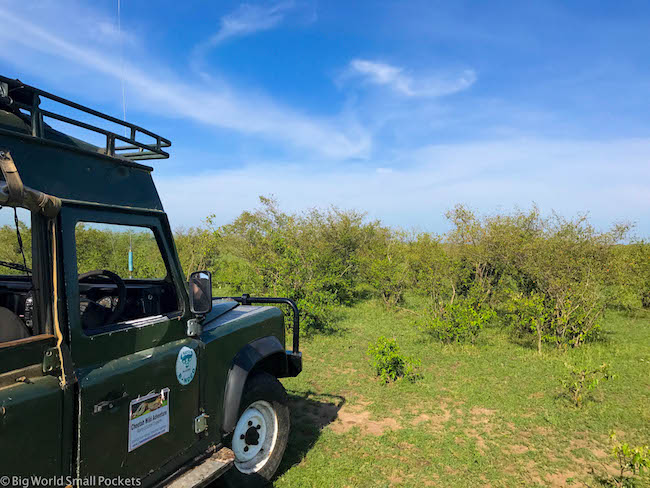 #3 Hike Mount Kenya
Mount Kenya carries with it a range of accolades.
Not only is it Africa's 2nd highest mountain, situated almost right on the equator, but it's also a UNESCO World Heritage Site and a UNESCO Biosphere Reserve.
It's also a national park… obvs!
The 3rd highest peak of Mount Kenya is usually the summit reached for by most hikers and there are many guided trips that run along different routes to get there.
The altitude and challenge of this hike should be taken very seriously but, if you decide you're up for the challenge, the views and the experience will be unparalleled.
Check out Kiboko Adventures if you're planning on a Mount Kenya trek. With the promo code: BWSP you can get a 5% discount off any of their tours, so drop them an email today at [email protected].
LEARN MORE: 22 Things You Need to Know About Travel in Kenya
#4 Soak up the Views at Watamu
And continuing your way further up the Kenya Coast, just north of Kilifi is the beachside town on Watamu, which is located near the city of Malindi.
Visiting Watamu for a day or 2 is definitely one of the top things to do in Kenya if you enjoy being dazzled by spectacular beaches and / or visiting ancient ruins, which are tucked away in the jungle nearby.
And don't forget to indulge in some gelato or a good espresso as you soak up the incredible coastal views in Watamu too – the plethora of Italian tourists here means high quality ice cream and coffee is assured… yes please!
#5 Wander the Streets of Lamu
Sitting right at the northern tip of Kenya's coastline is the incredible UNESCO World Heritage City of Lamu.
Thought to be the oldest, living Swahili town, this ancient trading port is the perfect place to absorb the unique culture of the coast here, with a sense that things have changed little for hundreds of years.
With no cars allowed in this walled city, donkeys provide the primary methods of transport, as mosques sing out their call to prayer and children in traditional dress dash through the streets to the smells of wafting samosas.
While there are some attractions to visit in Lamu, and beautiful beaches to explore too, this is the sort of destination where the essence of it is the real attraction, so take a deep breath, relax and spend your wandering and getting lost in the fascinating streets of this remote community.
#6 Spot More Animals Than You Can Count in the Masai Mara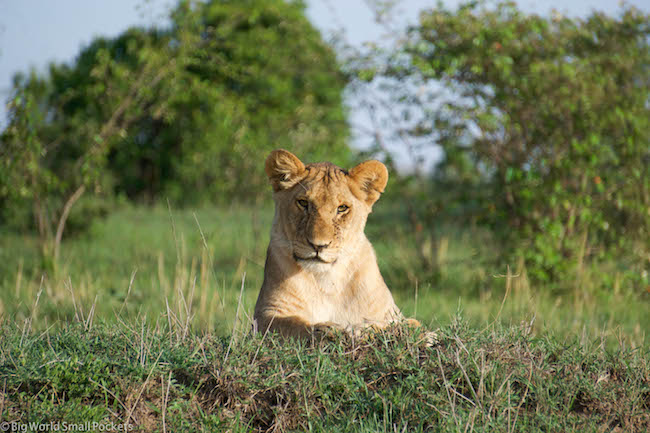 Honestly, no trip to Kenya would be complete without a few days spent in the Masai Mara and though this is likely to be one of the pricier destinations in the country, it's one of the absolute must-do things to do in Kenya.
And that's because I really think the Masai Mara (or the Mara as its affectionately known) provides the best safari in Africa, given its stunning setting, amazing concentration of animals and the fascinating culture of those who have traditionally lived here.
It really is the full package and whether you want to spot the Big 5, snap some classic African landscapes, or visit a Masai village, this place provides it all… and more!
Discover why the Masai Mara is one of the top 7 Kenya national parks here.
#7 Follow in the Footsteps of Bill Gates at Eldoret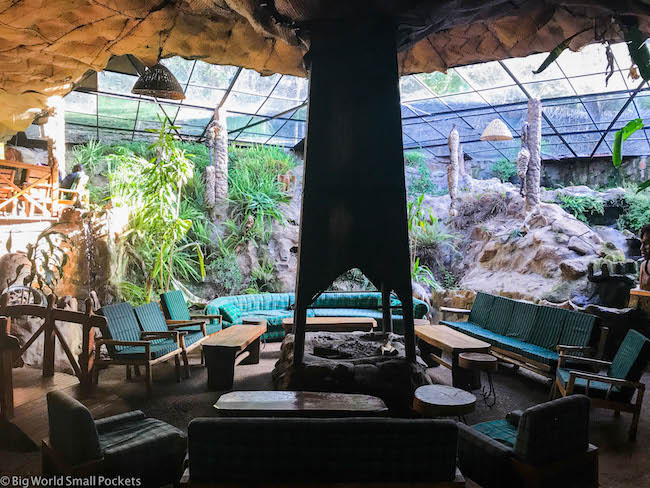 Set near the border of Uganda, Eldoret is a lovely highland town in the Rift Valley, which serves as a great launchpad into Kenya if you're crossing the border or looking to experience some of the many attractions around.
Perhaps the town's personal and biggest claim to fame however, is its connection to Bill Gates, who spends a lot of time here as part of his foundation work.
In fact, you're able to spend a night where Bill normally stays, for a bargain price!
While I'm sure Mr Gates gets the red carpet and the suite rolled out for him, camping at Naiberi River Campsite & Resort is cheap as chips and the incredible underground lounge, complete with roaring fire, is a real delight is this highland (read. coldland) town.
#8 Revel in the Chaos of Mombasa
Back on Kenya's coast, the important port city of Mombasa is one of the best destinations to explore when it comes to things to do in Kenya, even if only for a night.
The UNESCO-listed Old Fort Museum is definitely the highlight attraction in this ancient city, but absorbing the chaos in the streets of this bustling city or checking out the markets is just as, if not more, fun in my opinion.
#9 Snap a Rhino in Lake Nakuru National Park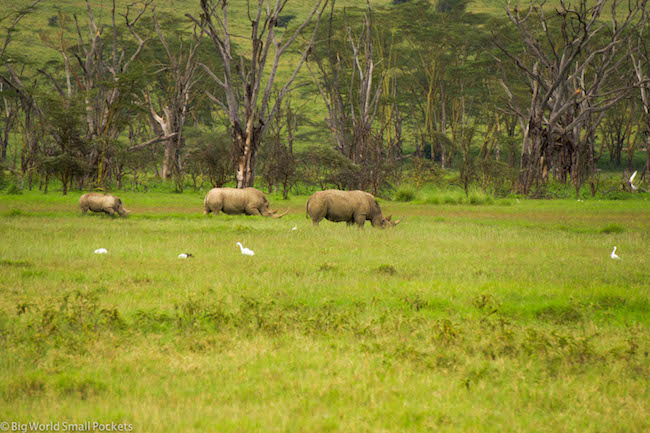 In case you weren't aware, rhinos are critically endangered with so few of them left in the wild that it's feared within 20 years there could be none left.
This means seeing them, even within National Parks, can be incredibly hard, simply because there aren't many around.
Imagine our amazement then when we saw we a family of 7, plus a baby, in Lake Nakuru National Park in Kenya.
One of Kenya's best national parks, Lake Nakuru is a hotspot for rhinos and definitely one the top places to grab a glance of these incredibly rare animals.
Heading here is another of the best things to do in Kenya, especially if you're keen to tick these horned-beauties off your bucket list.
#10 Marvel at the Elephants in Amboseli National Park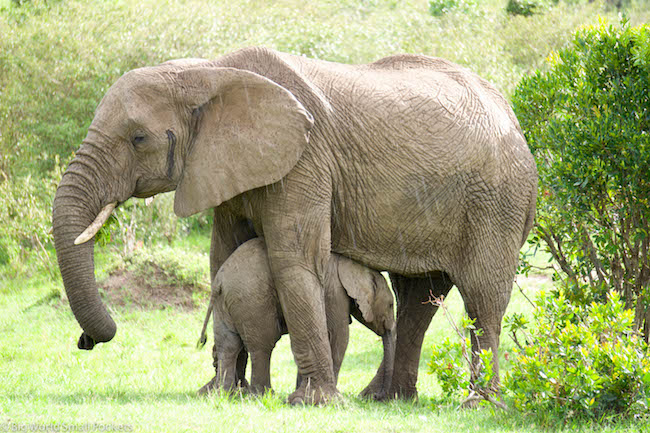 Coming in at number 8 is another of Kenya's top national parks, but instead of rhino spotting like at Lake Nakuru, in Amboseli it's all about the elephants.
Few people can forget the first time they see the huge lumbering, grey mass of an elephant in real life, which even given its size, is unequivocally adorable.
Spotting one of these amazing creatures in the wild, complete with the towering backdrop of Mount Kilimanjaro (the highest peak in Africa situated in neighbouring Tanzania) behind it therefore, is definitely an experience hard to pass up when visiting Kenya.
#11 Shop for Souvenirs in Nairobi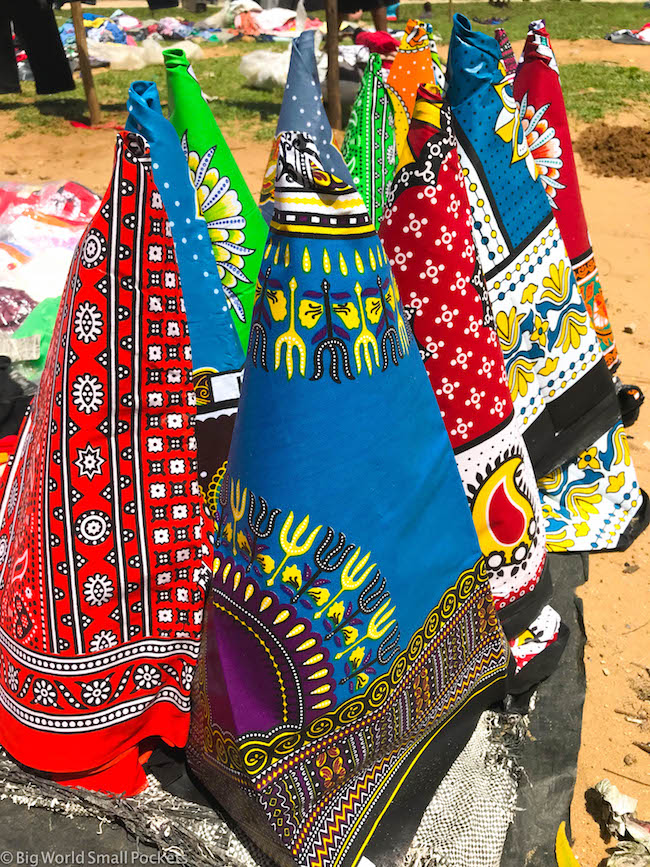 Nairobi tends to get a bad rap when it comes to African cities and is often better known for its high crime rates than its wealth of cultural and natural attractions.
From National Parks to Gardens, Churches to Museums, there's a fine array of things to do in Nairobi – check out my top 10 list here – and that's without considering the souvenir buying opportunities, which are some of the greatest in the whole country.
Plenty of markets in the centre of town offer numerous opportunities to snap up a bargain, just be sure to keep your valuables close to you!
#12 Escape the Safari Crowds at Tsavo East National Park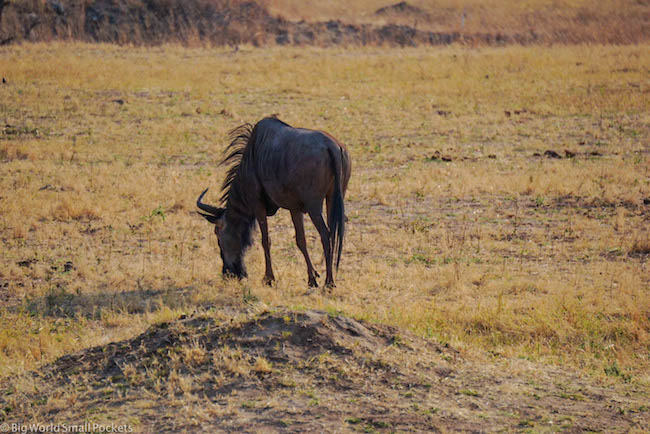 If you're looking to escape the crowds on a safari, the wonderful Tsavo East National Park is a great option in Kenya.
The largest national park in the country, this reserve boasts some incredible wildlife spotting opportunities due to the fairly dry, flat landscape and has a wonderful wild feel to it.
Close enough to explore from Mombasa and Diani, this exceptional park makes the perfect short break from the coast if you're looking to get your safari fix.
#13 Cycle in Hells Gate National Park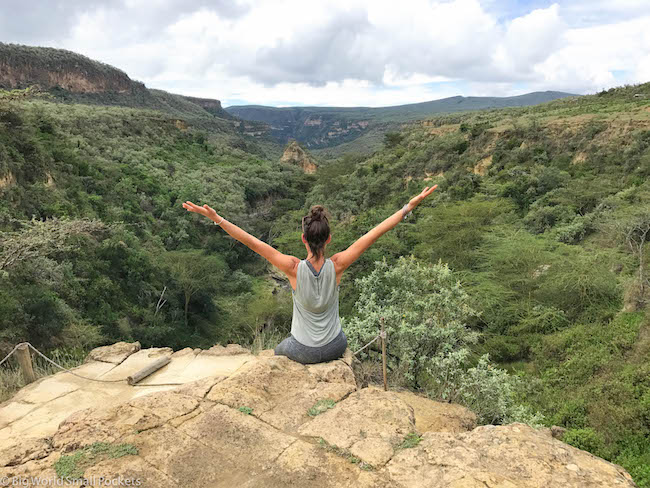 And if you're keen to get away from the crowds and have an entirely unique sort of safari, then can I please recommend a cycling safari in Hells Gate National Park as one of the best things to do in Kenya.
Getting up with the sun to cycle past giraffe, zebra and warthog less than a metre away is an unforgettable way to start your day in this country.
With the wind in your hair and the early morning light just peeping through, you're bound to get some epic close up photos, that you'd never achieve from the distance of a vehicle.
After the 8km cycle, you'll then enjoy an amazing hike in the geothermal landscape, trekking through gorges and past natural hot springs with some seriously killer lookouts.
Check out these safari adventures that include a visit to Hell's Gate if you want to book something secure in ahead of your trip.
And don't forget to read the full article I wrote about why Hells Gate National Park provides a totally unique safari experience.
#14 Enjoy a Sunset Cruise on Lake Naivasha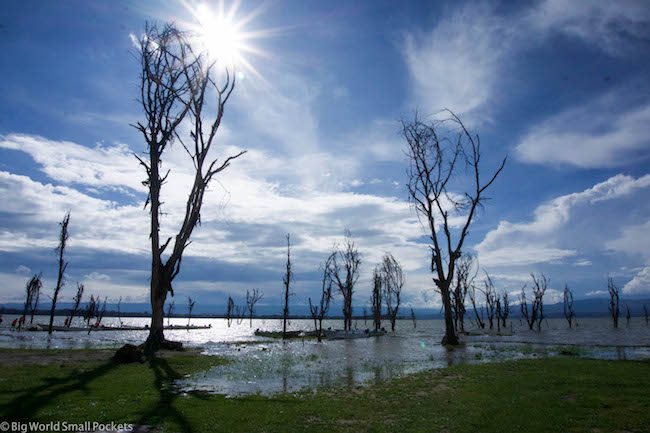 And last but not least on my list of the best things to do in Kenya comes a stunning sunset cruise on Lake Naivasha.
Situated in the Rift Valley, not far from Hells Gate National Park, is the beautiful lake of Naivasha.
Enjoying a sunset cruise here is the best way to snap some of the incredible birdlife and to watch local fisherman as they sail next to hippos to grab their dinner.
Perhaps best of all however are the photos you can grab of the otherworldly-looking trees that seem to eerily grow forth from this huge freshwater oasis.
Kenya Mini Travel Guide
When to Visit?
The best time to travel Kenya is during the long dry season from June through October or the short dry season from January to February.
Learn more in this post I wrote all about the best time to visit Kenya.
How Long to Spend There?
I'd suggest at least 2 weeks in Kenya to ensure you have the chance to tick most of the major sights off your list.
This country is huge and travelling between places takes a lot of time, which you'll need to factor in as well.
Best Safaris in Kenya
I travelled through Kenya as part of an amazing adventure with Absolute Africa who I highly recommend for their excellent prices, great customer service, wonderful itineraries and amazing overall experience.
And you can now get an exclusive discount on your Absolute Africa safari when you email them at [email protected] and quote the code BWSP.
For other Kenya tour choices, including those with a more comfortable travel style check out these top options.
Travel Insurance
World Nomads offers simple and flexible travel insurance. Buy at home or while travelling and claim online from anywhere in the world.
Alternatively, if you're a long-term traveller, digital nomad or frequent remote worker seeking travel health cover, check out Safetywing's Nomad Insurance policies.
Travel Money in Kenya
When it comes to paying for things in Kenya, it's great to know that accommodation and tours can generally be paid for by card.
ATMs are also available in most major towns.
Whether you use ATMs or pay by card however, you'll want to ensure you're not being charged overseas transaction fees or getting poor exchange rates, which is why I always take my Wise card away with me wherever I travel.
The easy way to spend abroad with real exchange rates, no markups and no sneaky transaction fees, you can use your Wise card just like a debit card in Kenya… and it links easily with Google and Apple pay – sold! Get yours here.
LIKE IT? PIN IT!
So that's my list of the 14 most spellbinding things to do in Kenya.
Have they got you booking your trip there already?
Or perhaps you've been to Kenya before?
In which case, let me know your favourite thing to do there in the comments box below…